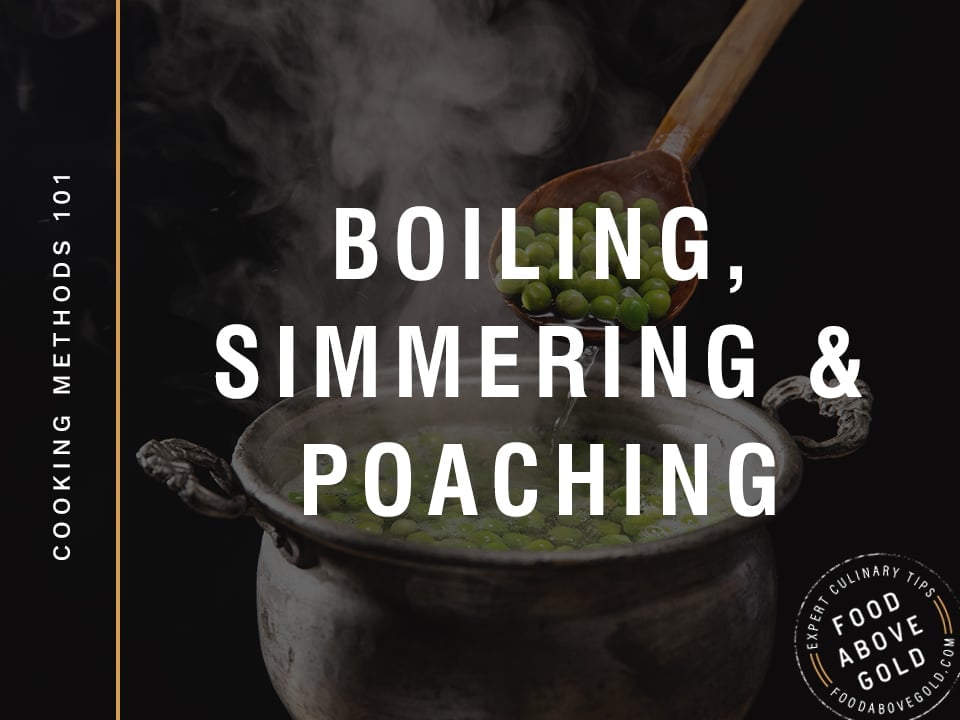 Hi there! Welcome to our beginners guide to understanding poaching, simmering, and boiling. I don't know about you, but, culinary school education aside, when I think of poaching, simmering, and boiling the first thing that pops into my mind (besides maybe eggs) is making Kraft Macaroni and Cheese. Standing over the pot desperately waiting for the water to get hot enough to finally dump in the contents of the box (I later mastered the amount of time it took to get the noodles done by putting them in the cold water first and then letting it come to a boil - I was impatient) . You'd watch it get to the point where it's starting to steam and the bubbles are starting to form around the outside of the water. Then you finally get the slow simmer and you know it's almost time. Then finally, like a blessing from heaven, it starts to boil! You drop in the noodles with such excitement and vigor, knowing that in a few (slow) minutes you will be able to enjoy the very fake deliciousness. Mmmm...
Keep all that in mind as we go through the breakdown.
What is poaching, simmering, and boiling? How do I do it?
Poaching, simmering, and boiling are all moist-heat methods of cooking that surrounds the food entirely in water or flavored liquid at specific temperatures.
Poaching is usually done in a small amount of water around 160°F to 180°F (This is usually the point where the water is steaming, the bubbles are starting to form on the top of the water against the side of the pan, and you may even notice the water starting to move slightly.). Most often poaching is used for delicate items - such as fish, or eggs that are not in the shell.
Simmering is when you cook in liquid that is gently bubbling. Usually this is around the 185°F - 205°F range. Simmering is often ideal because it does not aggressively move around your food, which can be detrimental to its texture and flavor.
Boiling is when you cook in a liquid that is boiling rapidly and aggressively. Let's recall high school science - what temperature is this? You got it, 212°F! Boiling is usually used for items that can withstand the intense agitation - like pasta or vegetables. Interesting fact: If you try to boil meat, it with make the proteins toughen up, making it difficult to chew.
You may notice that when you are following a recipe that is going to be simmering, it first tells you to bring it to a boil. This is to compensate for the change in temperature from adding in your food (which is usually cold from being in the fridge). That way, when the water drops to the temperature range you are going for, you can adjust the heat to keep it there.
My rule of thumb is, if my food is cold from the refrigerator, go to a low-range temperature of the next step higher (so if you're poaching, go into the simmering range about 190°F ) and add your food. If your food is room temperature, go to the higher range of the method you are using (so if you're simmering and want to add room temperature diced onions, carrots, and potatoes, go around 200°F). If your food is already hot (like if you pan-fried some beef and are moving it and its juices to a different pot that has ingredients that are already cooking) aim for the low to mid-range temperature of the method you are using.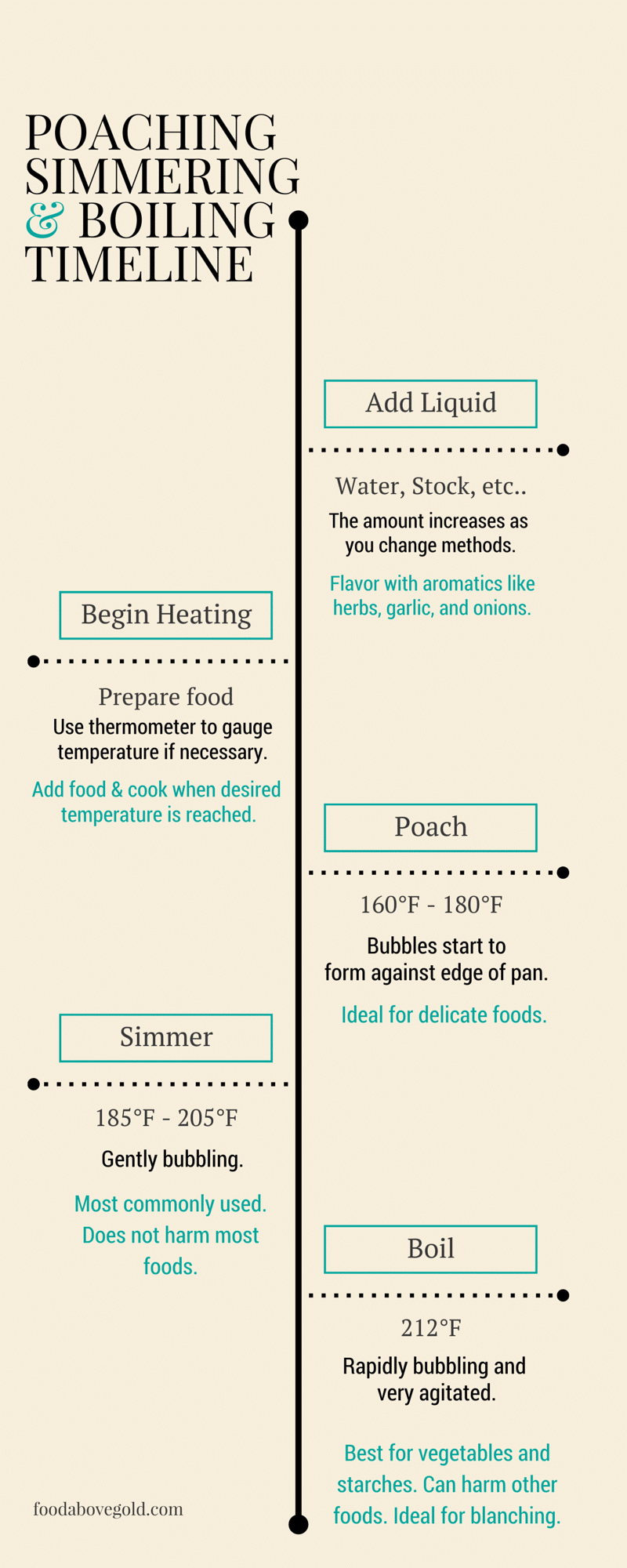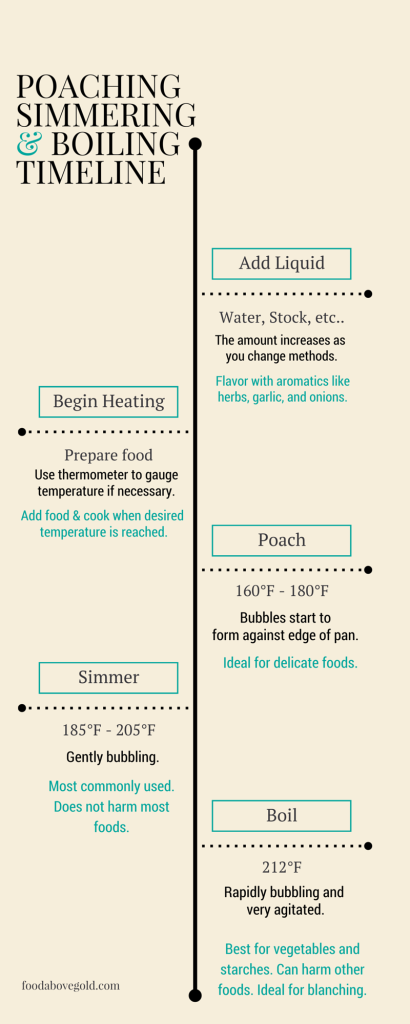 What is blanching?
One major technique that uses this method is "blanching". Blanching is primarily used to partially cook something, or to retain or improve color before finishing cooking by another method, like sauteing or grilling. Blanching is done by dropping your food (usually vegetables) into boiling liquid (usually water) and cooking for a brief amount of time, going for an al-dente level of doneness (maybe even a little less depending on how you are using it later). This often brings out the color of the food you are cooking, making it look more desirable; broccoli, asparagus, and green beans are great examples of this. Once you get it to the level of doneness you want, you remove it from the boiling liquid and plunge it into ice water. Don't worry if it results in the water turning the color of the food you are cooking, the finished product is usually beautiful, and that's what matters. You then can finish cooking the item by reheating it using another method, like sautéing, baking, or roasting.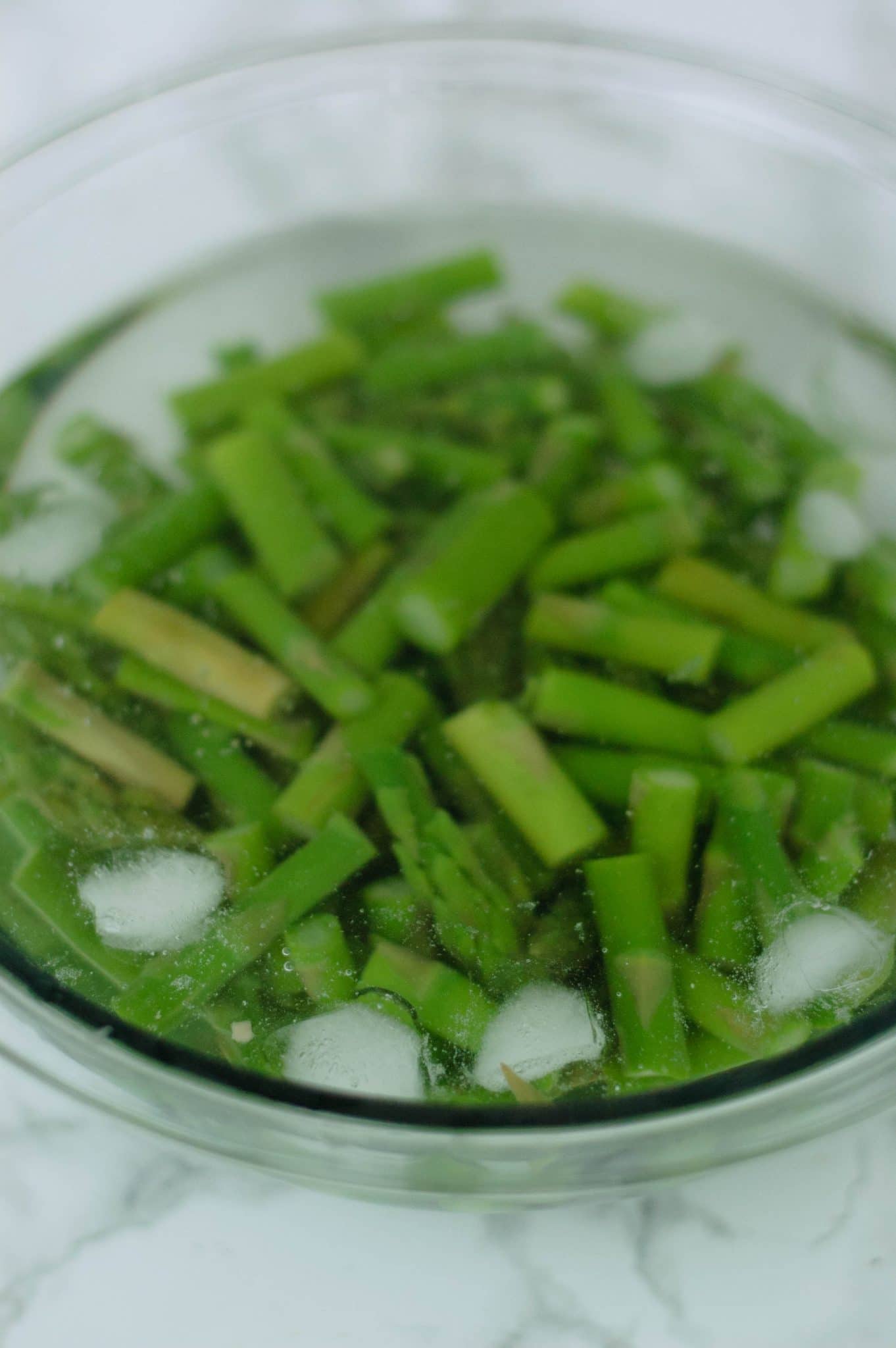 What are your favorite things to make by poaching, simmering, and boiling?