This easy baby back ribs dry rub is so good you'll want to use it on everything you grill. Smoky, and just a little bit sweet, you don't even need barbecue sauce to enjoy these dry rubbed ribs!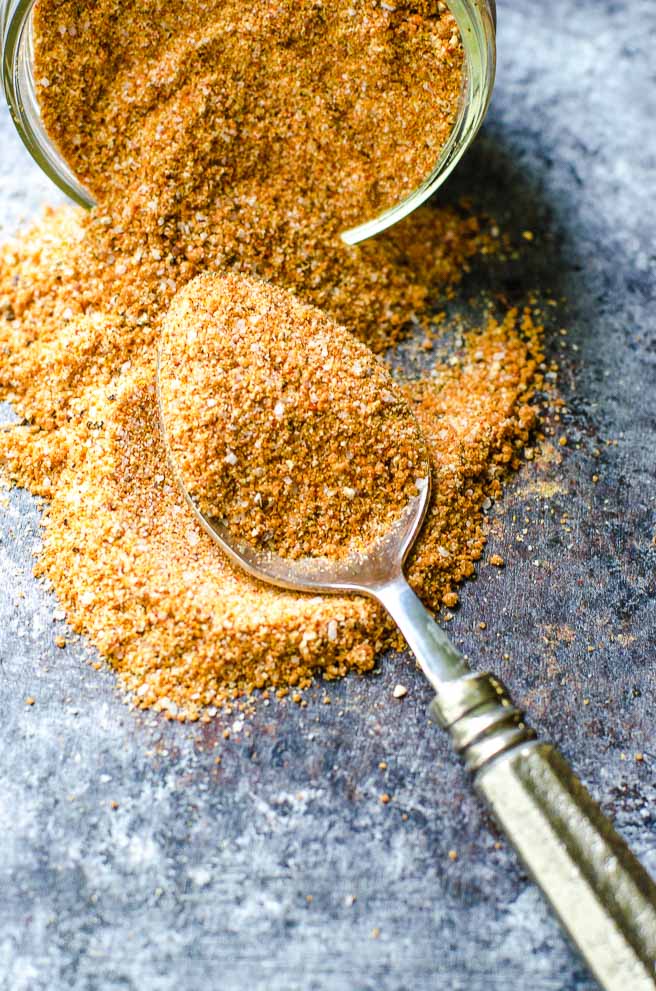 This dry rub recipe is unique because it focuses on a rarely used ingredient for ribs: ground coriander. The coriander is a perfect accompaniment to any good rib recipe though because it is just a little bit sweet with a light and bright citrus hint. Since it has a natural sweetness, it also allows you to bring down the amount of brown sugar, allowing for this easy homemade baby back ribs dry rub to shine.
What Is A Dry Rub For Ribs?
A dry rub is a combination of herbs, spices, and aromatics with salt. It gets applied to the meat about two hours before cooking to provide flavor and trap in moisture.
It does this by working like a dry brine. The salt pulls out the natural moisture from inside of the meat while replacing it with the spices. This creates a type of "crust" that then re-releases the moisture back into the meat while cooking.
If done correctly, the rib rub can completely replace a wet bbq sauce. Plus, you'll still get moist and tender ribs that are falling off the bone.
Can I Leave a Dry Rub On Ribs Overnight?
If you are using the dry rub recipe in conjunction with a bbq sauce, you only need to leave it on for about two hours. If you're planning to enjoy the slab of ribs with purely the dry rub, overnight is best.
You don't want to go longer than overnight (10-12 hours) though. This dry rub recipe is very well salted to get that moisture-locking effect, so if it is on for too long it can dry out the meat similar to curing.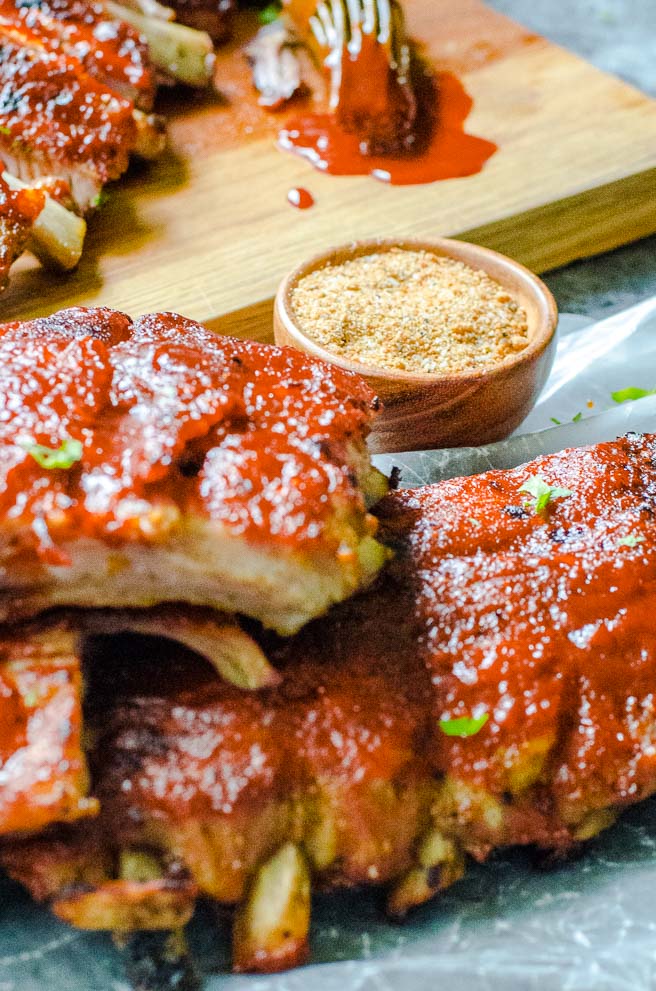 How To Make This Homemade Dry Rub Recipe Even Better
The most important thing with making a homemade dry rub is to use quality ingredients. While that seems straightforward, a lot of times our spices are older than we think. If they're too old or haven't been protected correctly, they can lose their potency. This gives you a lackluster flavor on your bbq ribs.
Dried Spices 101. This explains how to check if your spices are still good. It also tells you how to hack your way to knowing when to throw them out next time.
If you aren't using a charcoal grill or smoker for this recipe, you can still get a nice smoky flavor from the smoked paprika. If you want to take it up a notch, you can mix one teaspoon of your favorite liquid smoke in with the oil before adding the dry rub.
BBQ Week
This is the last in a series of delicious recipes to serve at a cookout. All week, myself and a bunch of other food bloggers have built the ultimate bbq guide. If you want to try some of the other amazing recipes, check out the list below.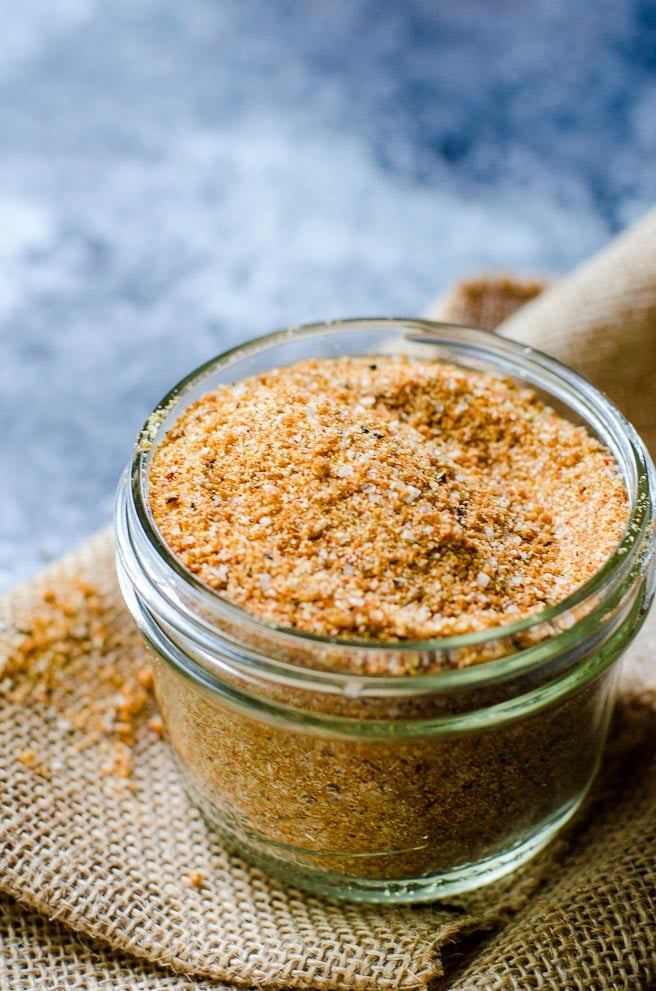 Baby Back Ribs Dry Rub Recipe
There is a lot of debate in the world of barbecuing about whether or not you should remove the membrane from the back of the ribs. The membrane is a thin layer of silver skin that can potentially make the ribs tough and chewy as well as bow during cooking. And in the case of using a dry rub, it works like a glove on the back, keeping the dry rub from getting through to the meat.
To remove the membrane, find where it meets the ribs on the back and gently work your fingers under it. Once you have it lifted from one small corner to the other, you should be able to wrap your fingers around it and tear the membrane off completely.
If you're having a hard time getting it off, you can use a sharp knife to score through the membrane on the diagonal each way. This will break it up so it become less chewy and doesn't cause shrinkage, while also allowing for this rib rub recipe to do its job.
---
Want a printable grocery list for this baby back ribs dry rub recipe? Everything is listed in standard grocery store amounts. If no size is specified, even the smallest package will provide more than enough.
Thank you so much for stopping by!
Happy Cooking! 🙂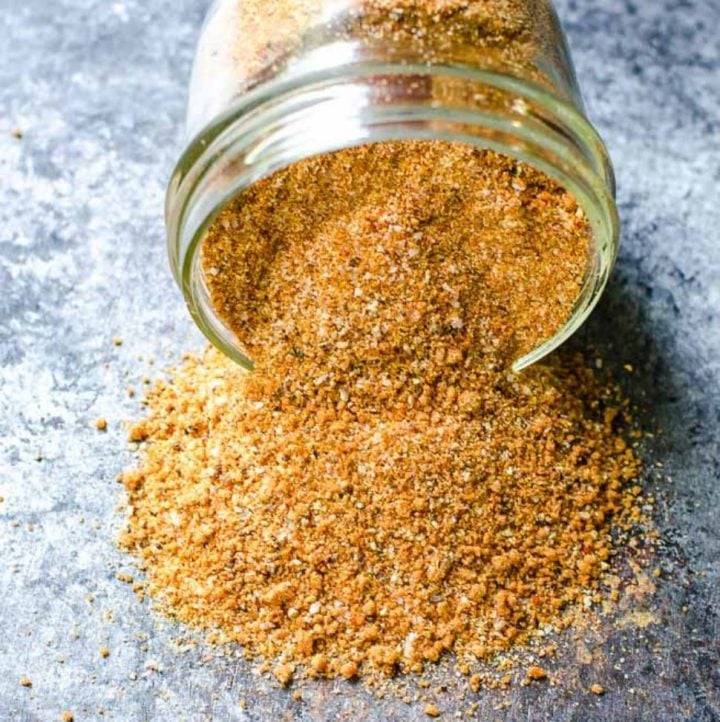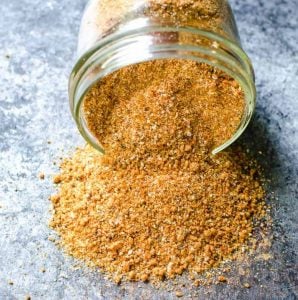 Baby Back Ribs Dry Rub
Bright and flavorful, this homemade dry rub recipe is great for smoking, grilling, or making ribs in the oven.
Pin it for later?
Ingredients
½

cup

brown sugar

¼

cup

garlic powder

¼

cup

onion powder

¼

cup

coarse salt

¼

cup

freshly ground black pepper

¼

cup

ground coriander

4

teaspoons

dry mustard

4

teaspoons

smoked paprika
Instructions
In a bowl, whisk together all of the dry rub ingredients until all of the clumps are removed.

Remove the membrane of the baby back ribs and pat it dry. Very lightly oil the rack of ribs and use ¼ - ⅓ cup of rib rub. Gently massage it in, making sure to even get the sides of the ribs. Wrap tightly with plastic wrap until air tight and refrigerate up to 12 hours.

Grill, smoke or bake according to your favorite method.
Nutrition
Serving:
1
serving
|
Calories:
159
kcal
|
Carbohydrates:
37
g
|
Protein:
2
g
|
Fat:
2
g
|
Saturated Fat:
1
g
|
Sodium:
7089
mg
|
Potassium:
228
mg
|
Fiber:
4
g
|
Sugar:
27
g
|
Vitamin A:
985
IU
|
Vitamin C:
2.6
mg
|
Calcium:
99
mg
|
Iron:
1.9
mg
Tell me how much you love this recipe
and show off how you made it!