Make the ultimate homemade frozen treat by mastering how to make a custard ice cream base.  Plus, my favorite custard ice cream recipe, and a recovery hack for if you curdle your base!
Note:  This post has been updated with new content for your enjoyment on June 28, 2018!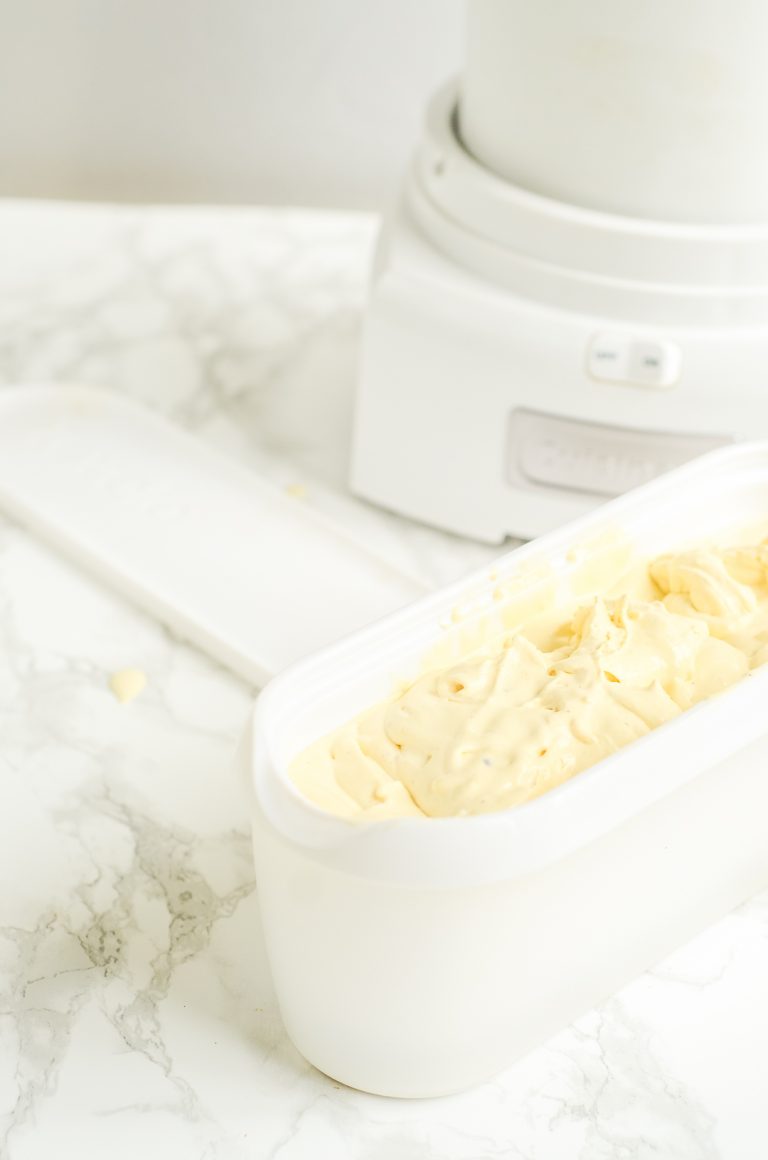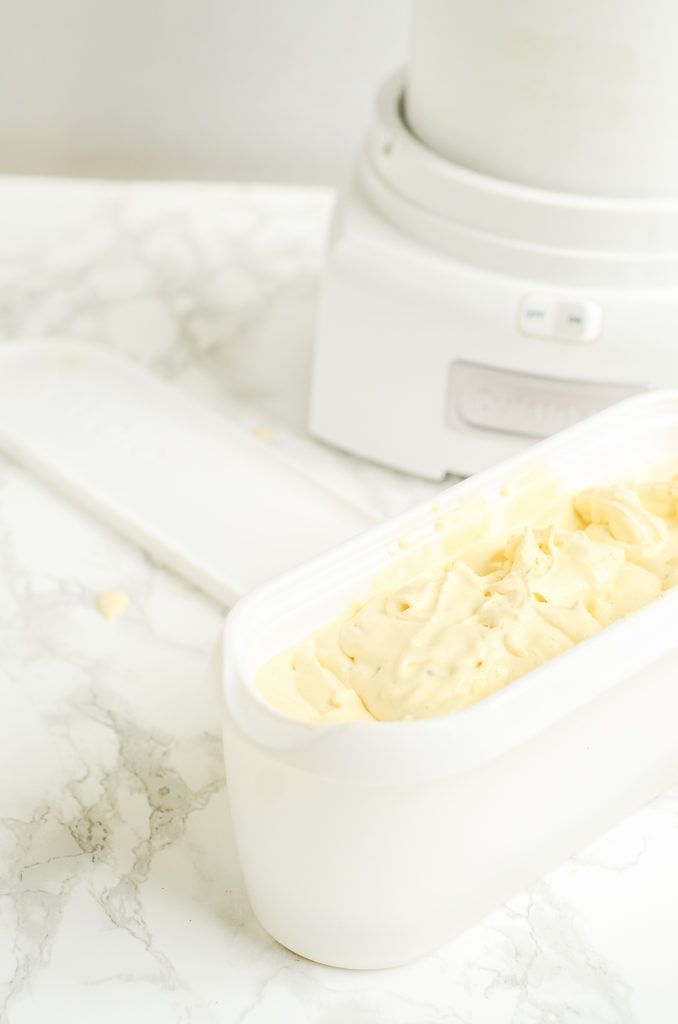 Let's be honest from the beginning: making custard ice cream is a bit time consuming.  The results, however, are proof of the work put into it. You get a creamy, dreamy, luxuriously smooth ice cream that begs to be eaten.  It calls to you in your dreams, whisks you away to pleasant places during the day, and more than anything, tempts you to make poor choices about portion sizes…
Why Use A Custard Ice Cream Base?
Custard ice creams give you that classic texture reminiscent of old fashioned ice cream; super smooth, thick, and decadent.  Whether you're making something fancy, or a classic vanilla ice cream recipe, a custard base will give you the best result! Not to mention, custard ice creams don't get freezer burnt as easily because the water particles are fewer and smaller and the eggs work as an emulsifier to contain the water.
But if you're wondering if a custard base is worth your time, the answer really comes down to preference.  Many custardless ice creams out there are fantastic. In fact, I did a guest post for Cook.Craft.Love last year on a Strawberry-Lavender Ice Cream (it also comes with a fantastic story about my brief foray into kleptomania) that is extremely delicious despite not having a custard base.  
I would say that more than anything, it comes down to what kind of ice cream you're making.
Custard ice cream is ideal for when you want a super thick, rich, and indulgent ice cream.  It's better suited for the elegant or regal flavors that the custard will help bring out; like, vanilla bean, dark chocolate, dulce de leche, salted caramel, or white chocolate.  It's also nice to use a custard base when you're adding in flavors that have a high amount of water in them – like peach, mango, or lemon.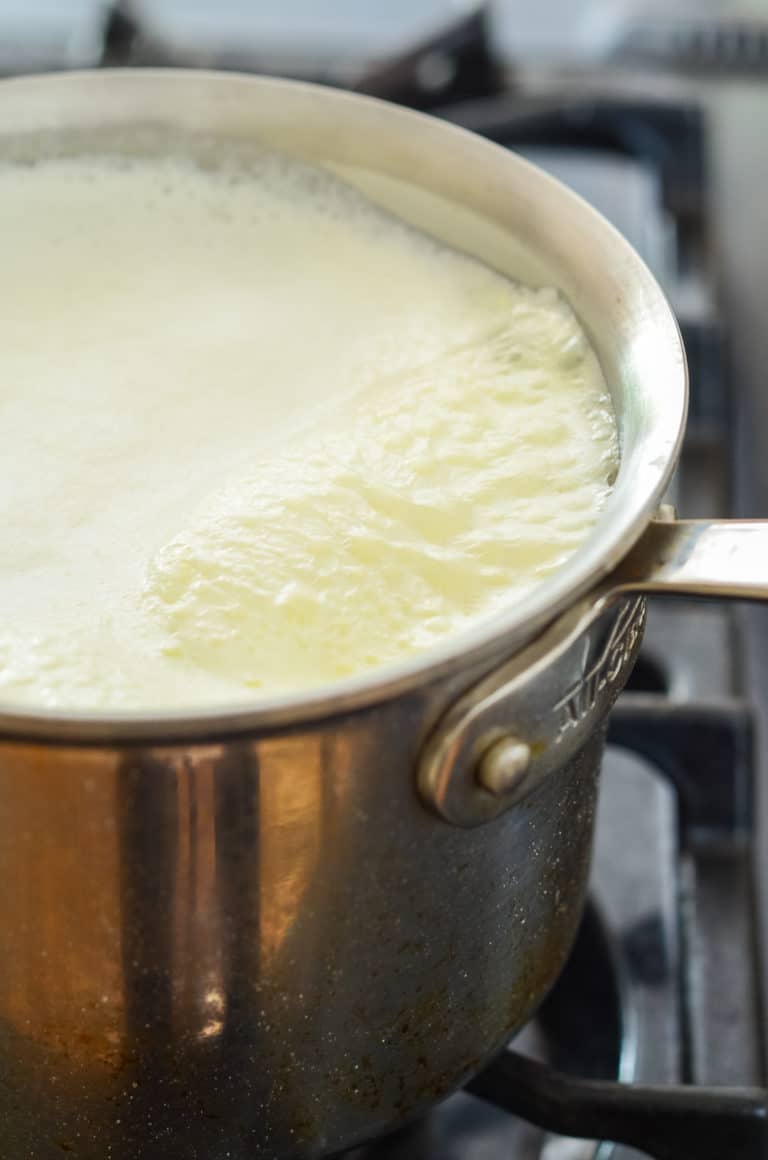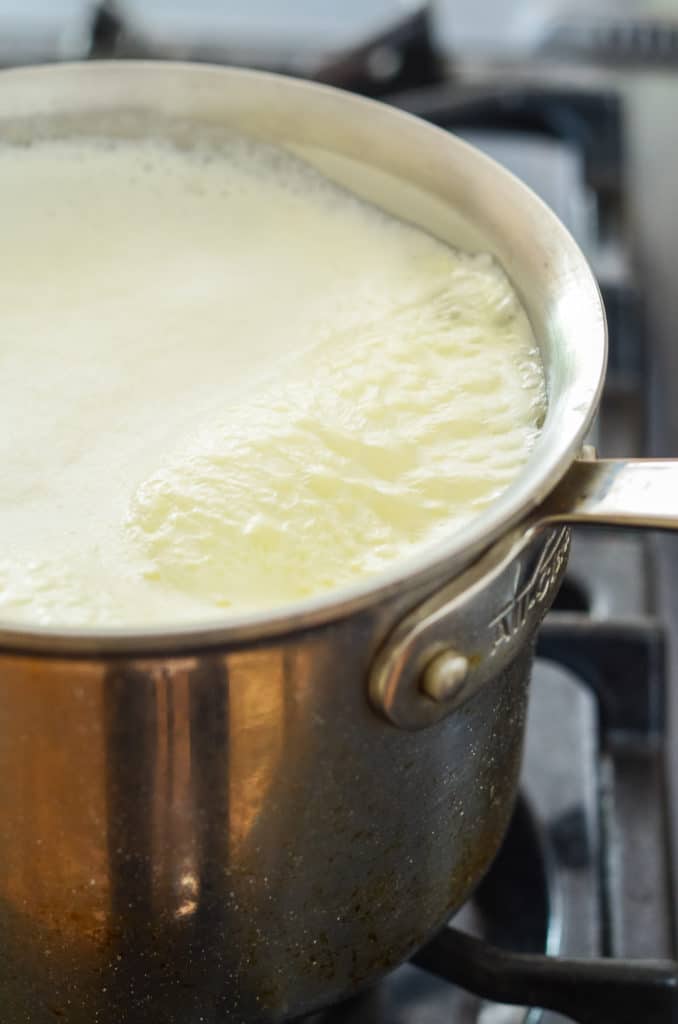 How To Recover A Curdled Custard Ice Cream
The most important thing to know for making a custard ice cream is that temperature control is key.  There is a fine line between a silky custard and scrambled eggs, so make sure you have a well-calibrated thermometer in you pot at all times.  As soon as the temperature hits 180°F, shut off the heat and move the pot away from the burner. If you let your custard base rest while it's still on the burner, the residual heat can end up taking your base over that fine line.
"What happens if I scramble the eggs in my custard base?", you may be thinking.  All hope is not lost my friend, I have a recovery hack that works excellently every single time.
---
To recover a curdled custard ice cream base: cool the custard to room temperature, place it in a blender and blend on medium-high for 15-30 seconds or until the custard base is once again smooth.
---
Blending your curdled ice cream base will help break down the egg into teeny-tiny pieces so it won't effect texture.  You may find that the flavor of your ice cream is a bit more "eggy" than if they hadn't curdled, but 9 times out of 10, no one will notice.

The Best Custard Ice Cream Recipe
This is absolutely my favorite way of making custard ice cream.  A lot of the recipes on the internet (including the one that I'm putting out later this week) allow for you to just cook the custard base right in the pot.  The problem with that is that it doesn't provide very good temperature control. Using a double boiler gives you more control since the base isn't directly touching a heat source.  It also gives you more ice cream at the end because you don't lose as much to it sticking to the pot.
If you would like to heat it up in your pot instead of the double boiler, no problem.  I do still recommend adding the chilled heavy cream at the end to stop the cooking to make sure your residual heat doesn't overcook your base.
---
Get your free printable grocery list for this Custard Ice Cream recipe HERE.
---
This grocery list has everything you'll need to make this vanilla custard ice cream base.  To make grocery shopping simple, each ingredient is listed in easy-to-find grocery store amounts.  If there is no amount specified, that means that you can buy the smallest (or largest) container available and still have plenty left over.
Practice Makes Perfect
If you would like to try some homemade ice cream recipes made with a delicious custard base, here are some I recommend:
Rainier Cherry Chocolate Chip Ice Cream (coming soon!)
Thanks so much for stopping by!
Happy Cooking! 🙂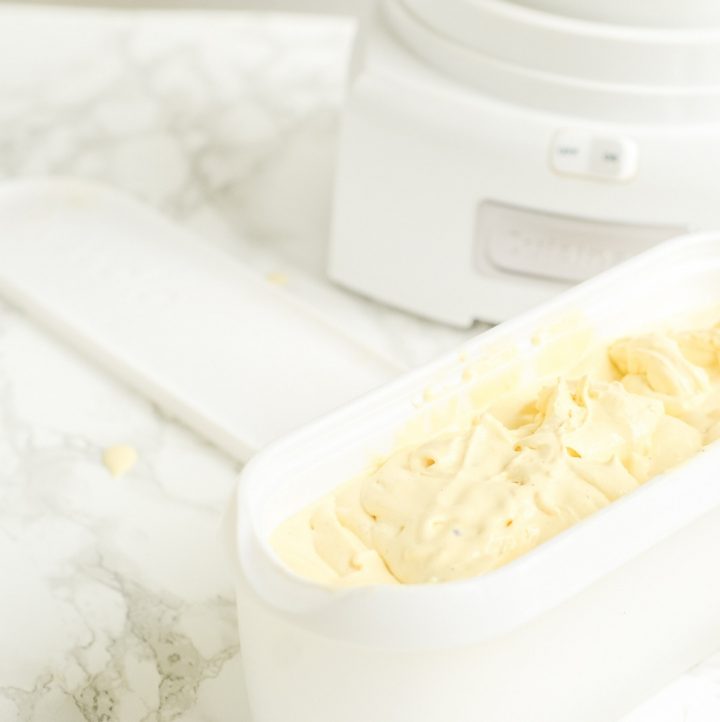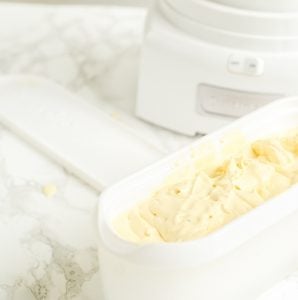 Homemade Custard Ice Cream
Get the best quality and consistency out of your homemade ice cream by using this recipe for the best custard base. This method provides better control over temperature and a rich and decadent end product!

Pin it for later?
Ingredients
6

egg yolks

3/4

cup

granulated sugar

2

cups

whole milk

1

cup

heavy cream

1/2

tsp

salt

1

tsp

pure vanilla extract or vanilla bean paste

,

(optional)
Instructions
Combine the egg yolks and sugar in a bowl. Whip the mixture until it becomes thick and the color turns a light yellow.

Scald

the milk in a pot, then gradually beat it into the egg mixture. If you add in too much too soon in will scramble your eggs. Take your time.

Stirring constantly, continue to heat over a water bath or double boiler until the mixture thickens enough to coat the back of a spoon. Remove from the heat.

Immediately stir in the cold cream to stop the cooking. Add the salt and vanilla if using.

Chill the mixture for at least 12 hours, then freeze in a ice cream maker according to the manufacturer's directions.
Notes
If you are using a container of heavy cream that has previously been opened, make sure to scald and cool it prior to use. This will help reduce the risk of food-borne illness.
Nutrition
Serving:
12
cup
|
Calories:
257
kcal
|
Carbohydrates:
23
g
|
Protein:
4
g
|
Fat:
16
g
|
Saturated Fat:
9
g
|
Cholesterol:
193
mg
|
Sodium:
334
mg
|
Potassium:
117
mg
|
Sugar:
21
g
|
Vitamin A:
730
IU
|
Vitamin C:
0.2
mg
|
Calcium:
106
mg
|
Iron:
0.4
mg
Tell me how much you love this recipe
and join fellow foodie friends @foodabovegold
Nutrition Facts
Homemade Custard Ice Cream
Amount Per Serving (12 cup)
Calories 257
Calories from Fat 144
% Daily Value*
Fat 16g25%
Cholesterol 193mg64%
Sodium 334mg15%
Potassium 117mg3%
Carbohydrates 23g8%
Protein 4g8%
Vitamin A 730IU15%
Vitamin C 0.2mg0%
Calcium 106mg11%
Iron 0.4mg2%
* Percent Daily Values are based on a 2000 calorie diet.
171