This sun dried tomato pasta salad recipe is sponsored by California Prunes. All opinions are my own, but I think you'll love this recipe as much as I do. Thank you for supporting the brands that keep Food Above Gold working.
This easy sun dried tomato pasta salad recipe has a sweet hint to it from the California Prunes. And as we all dream about the days ahead, it is the perfect side dish for a summer cookout or holiday potluck!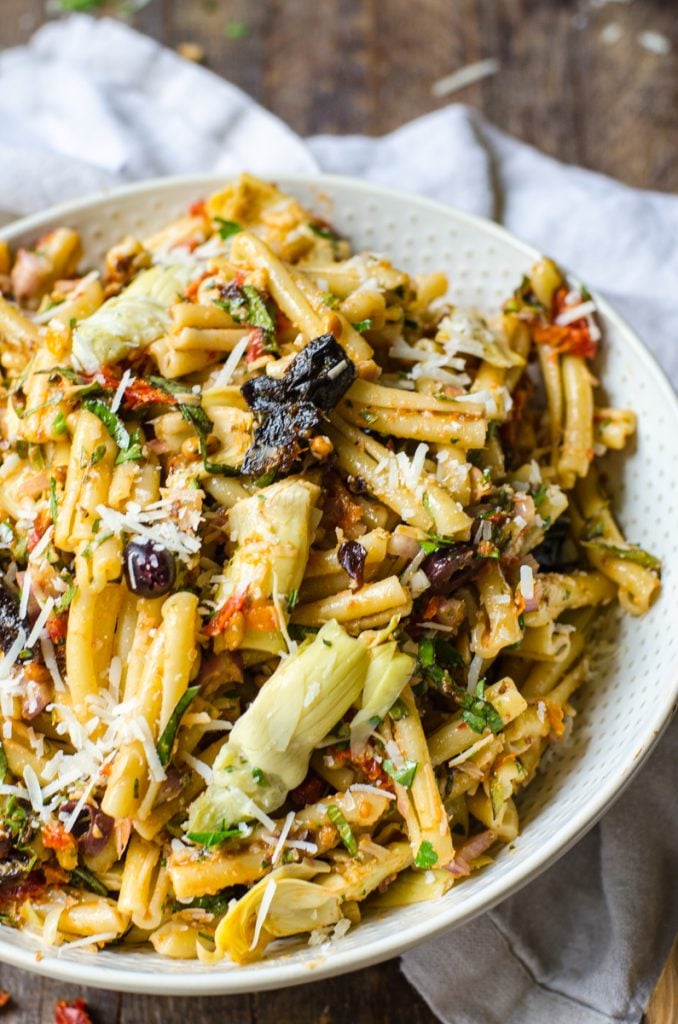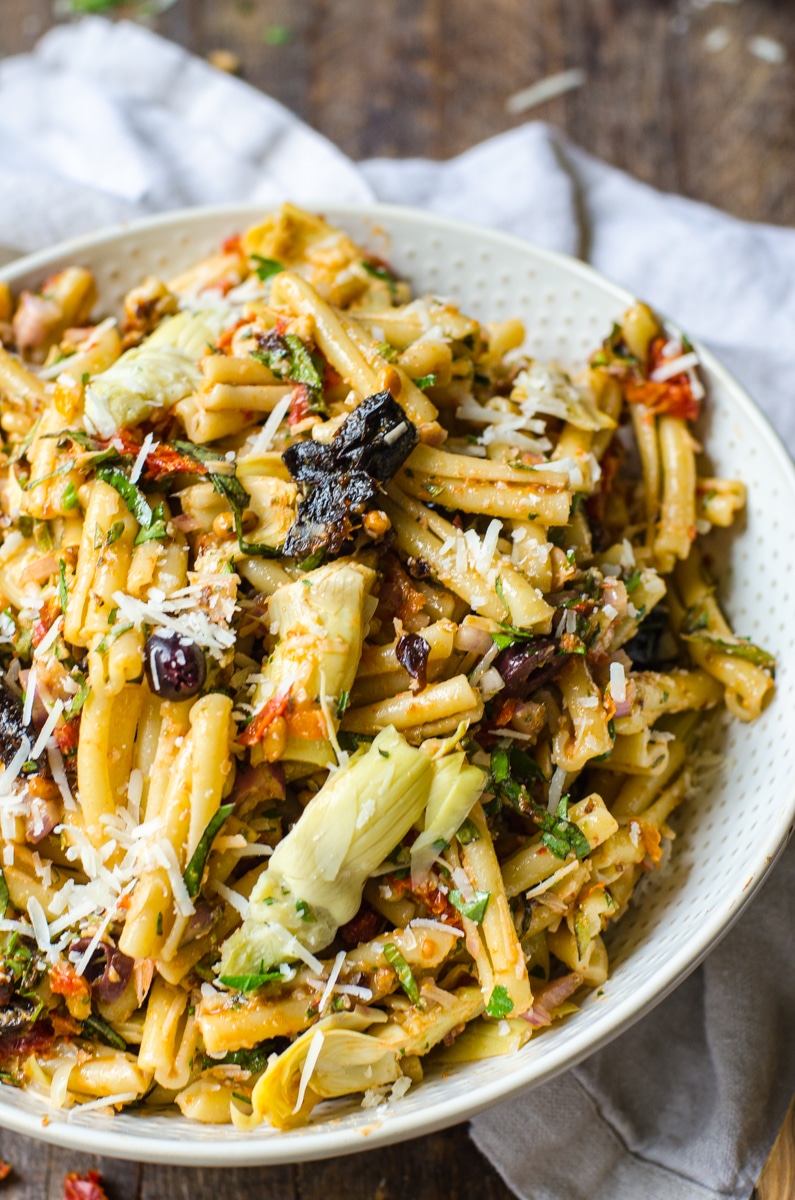 This exceptional sundried tomato pasta salad recipe is made with all the flavors in mind: sweet, salty, sour, and bitter. It is umami in a dish in a unique way. Once you've tried it with California Prunes, you'll never go back.
Why Add California Prunes?
To begin, California Prunes are an amazing low-glycemic food packed with fiber and flavor. I personally love California Prunes because the growers make sure they are as plump, large, and best tasting as possible. Plus, they don't have chemicals or additives that alter their purity.
As far as this sun dried tomato pasta salad recipe goes, the prunes bring an entirely new depth to it. This adds umami flavor to the dish in a new way. They complement every single element of the salad, from the artichoke hearts to the sun dried tomatoes. They even balance nicely with the pecorino romano cheese.
It's amazing how one unassuming ingredient can completely change a dish!
Check your packaging to make sure you are getting the California Prunes difference; they are the best prunes out there! You only need five of them a day to get a whole serving of fruit, improved gut health, and healthier bones. Plus, they support your overall immune system, which is so important, now more than ever.
Be sure to check out California Prunes online at www.CaliforniaPrunes.org and on social media @CAprunes. They're going to be your new favorite ingredient, whether whole, diced, or pureed!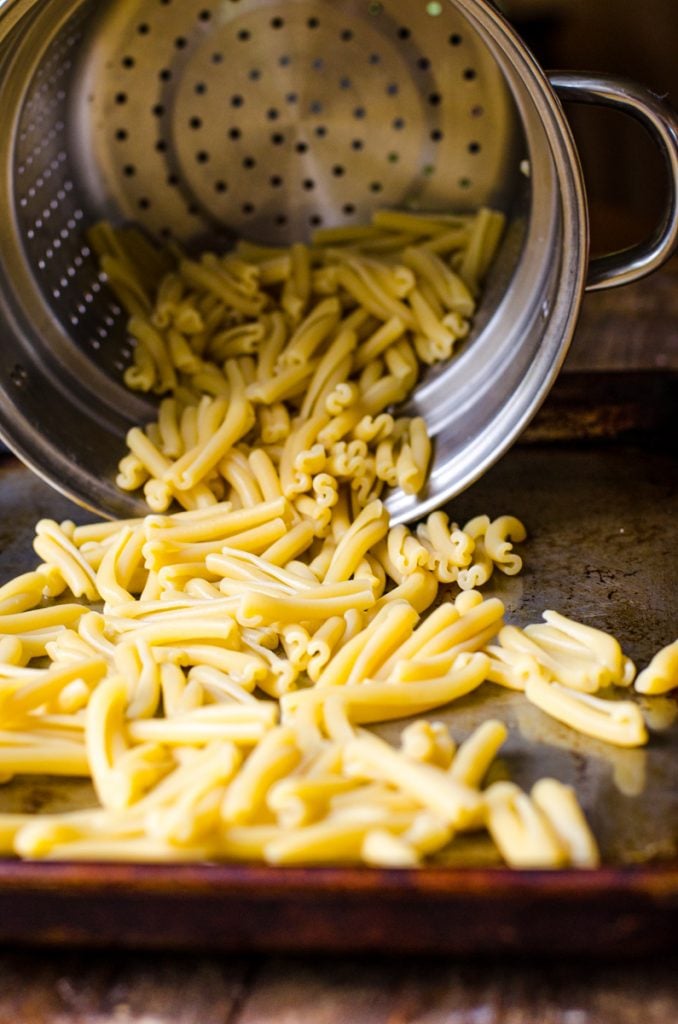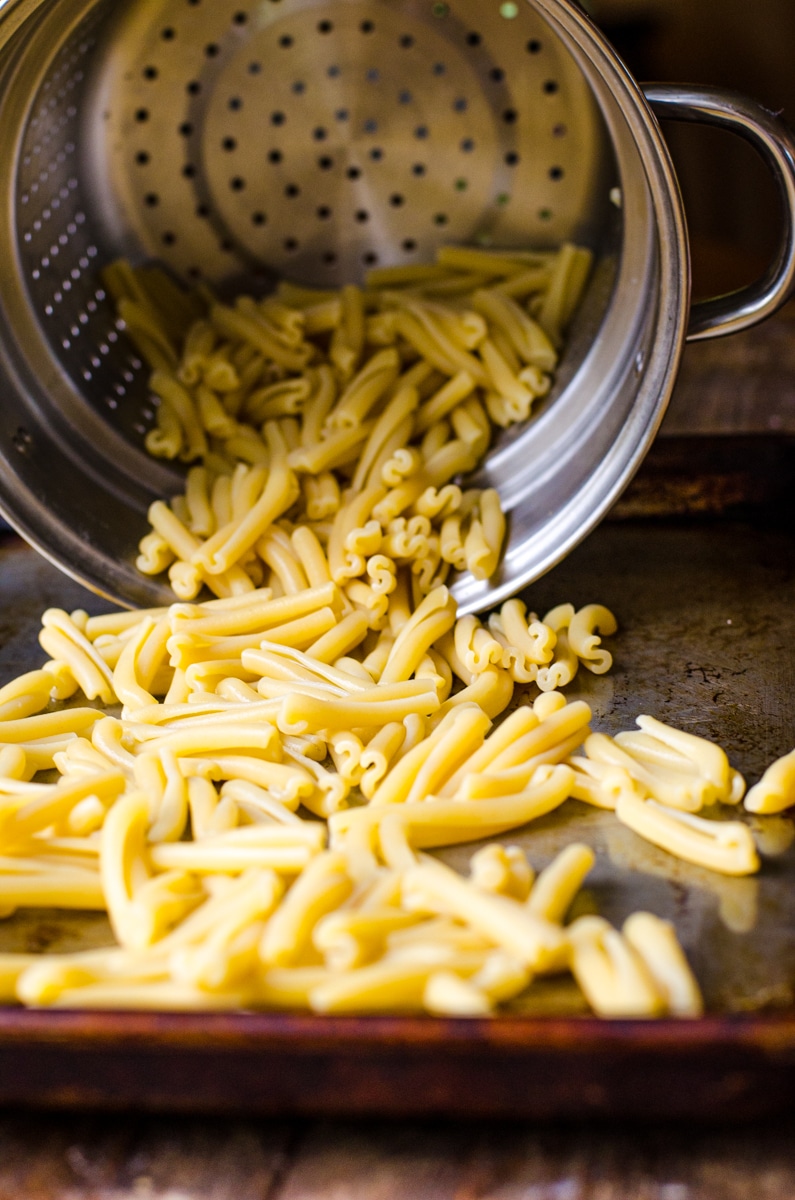 Why Does My Sun Dried Tomato Pasta Salad Dry Out?
There are two main reasons that pasta salad dries out. One is that the dressing settles into the bottom of the bowl and leaves the pasta vulnerable. The other is related to the way pasta is made.
Just like how pasta absorbs water during cooking, it also absorbs the sun dried tomato vinaigrette. This has the potential to make your noodles overcooked and soggy. It also can dry it out by absorbing the protective layer from the dressing. Once that layer is soaked into the pasta, the exposure to air can cause the noodles to dry out.
The best way to prevent pasta salad from drying out is to only add the dressing an hour before it is needed. If it sits out for prolonged periods of time, toss it every now and then.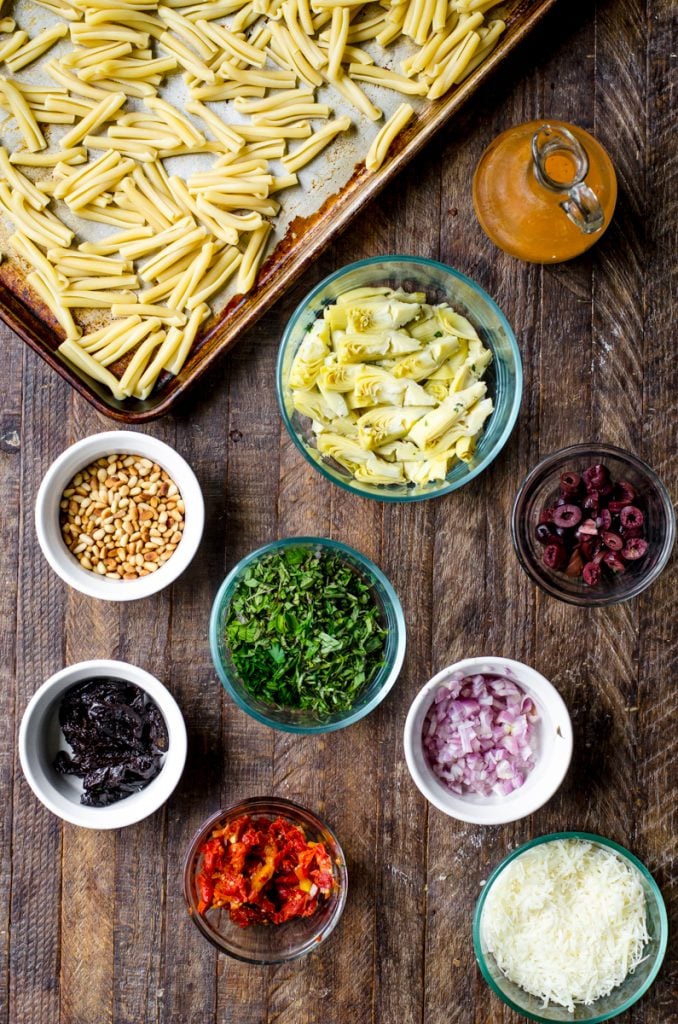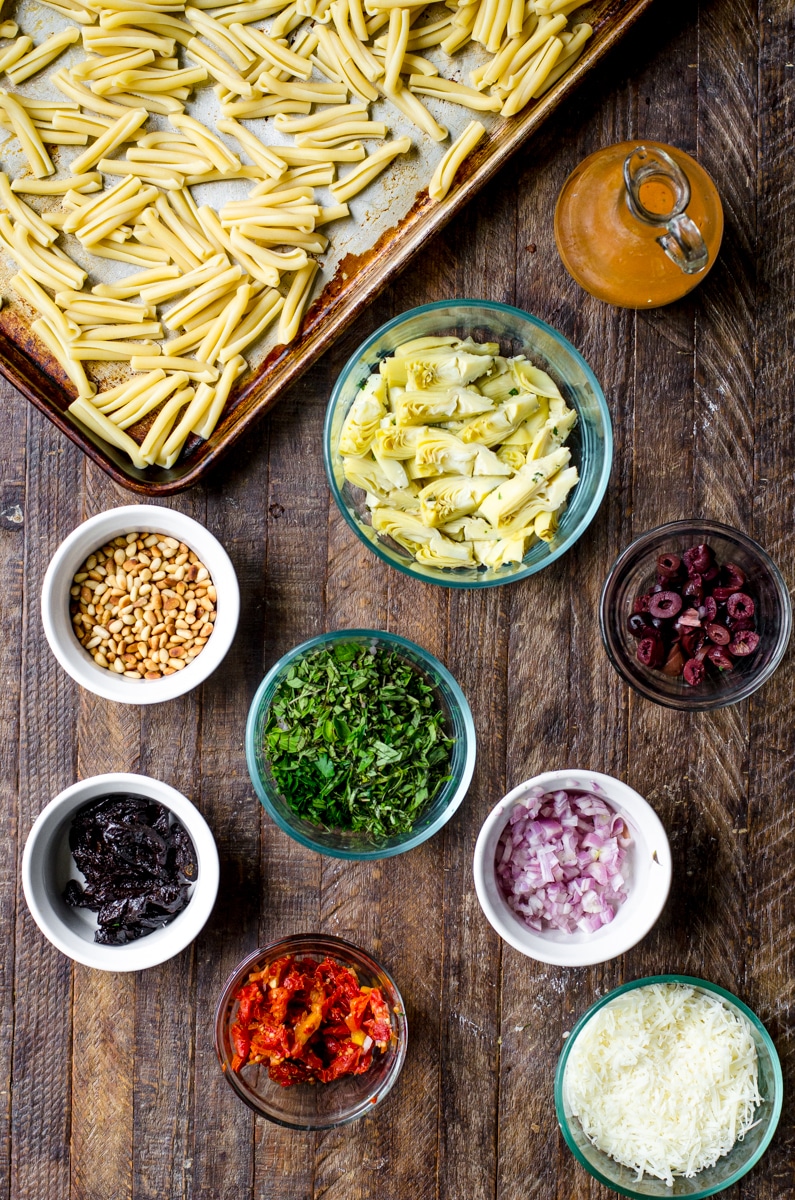 Should You Rinse the Pasta?
Whether or not to rinse your pasta for salad varies depending on who you talk to. Some people swear by rinsing, while others find it unnecessary. For this easy pasta salad recipe, I recommend a mixture of both.
Pasta has a natural layer of starch that clings to it when cooking. By rinsing it, the pasta pieces are less likely to stick to each other once cooled. Cold water also helps stop the cooking process. However, this doesn't prevent overcooking because the pasta sits on itself and continues to hold residual heat in the center.
My recommendation is to rinse and gently toss the pasta with a teaspoon of olive oil. Then, spread it in a single layer on a baking sheet to finish cooling. This keeps it from overcooking in the pot while it rests.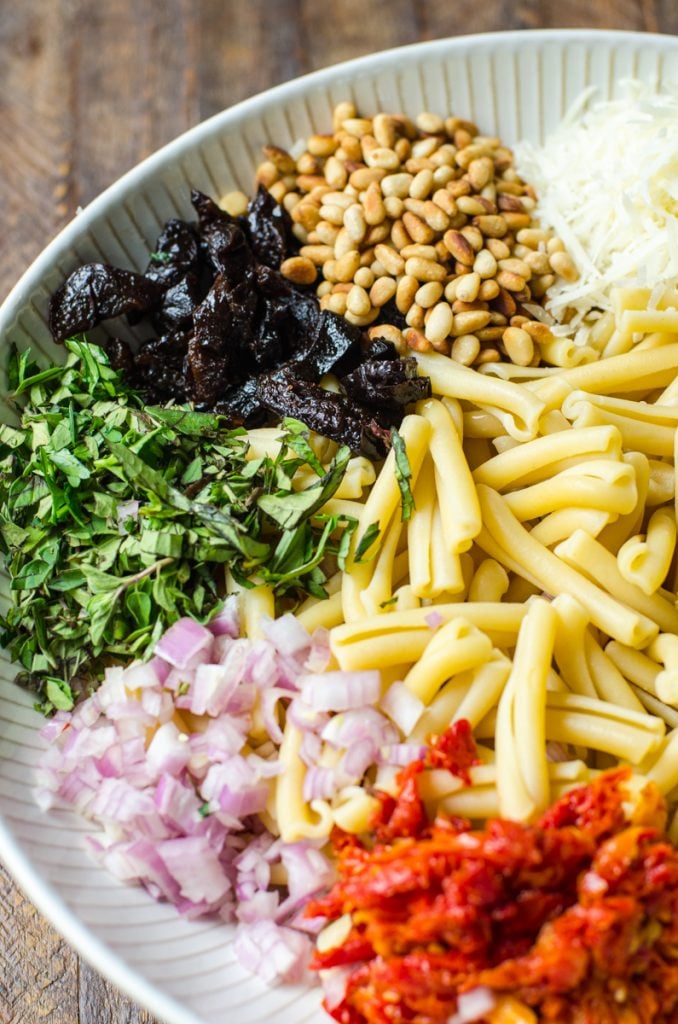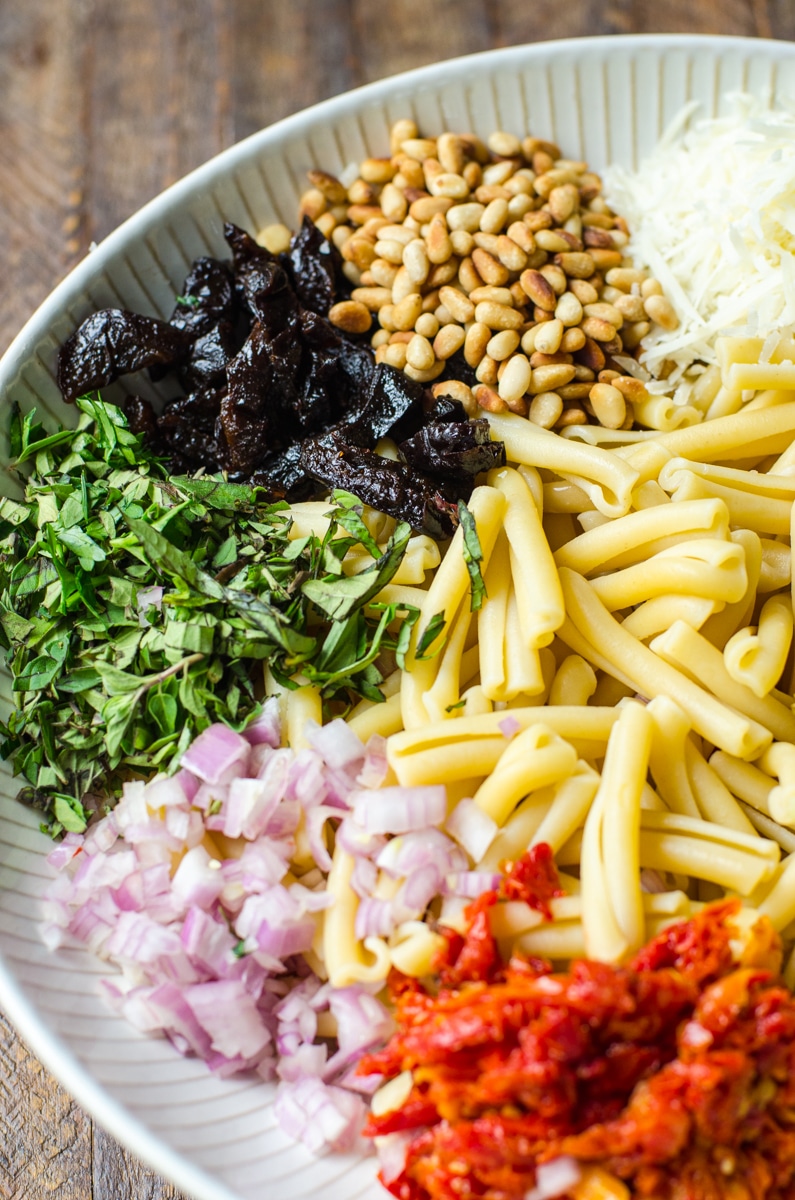 Does Sun Dried Tomato Pasta Salad Need Dressing?
Since the dressing works as a barrier to protect the pasta from drying out, it is definitely something the salad needs. However, it doesn't have to be a traditional vinaigrette (unless you want it to be).
The important thing with the dressing is to have enough oil to keep the salad moist. If you want a simple dressing of oil and red wine vinegar you can. Additionally, you could mix it up and make a more complicated dressing that is abundant with flavors.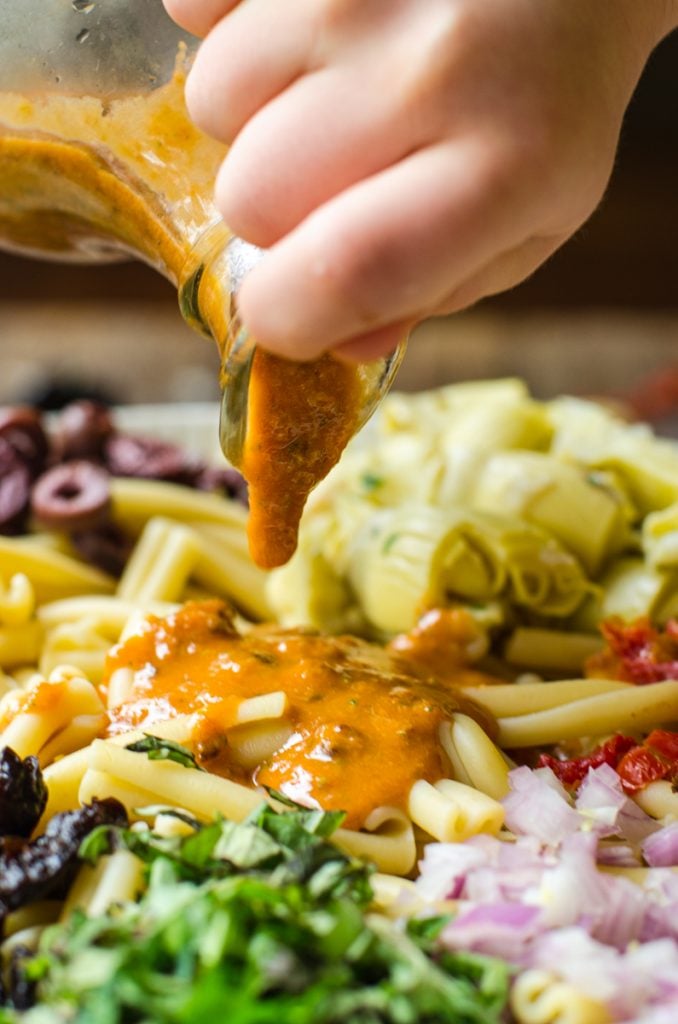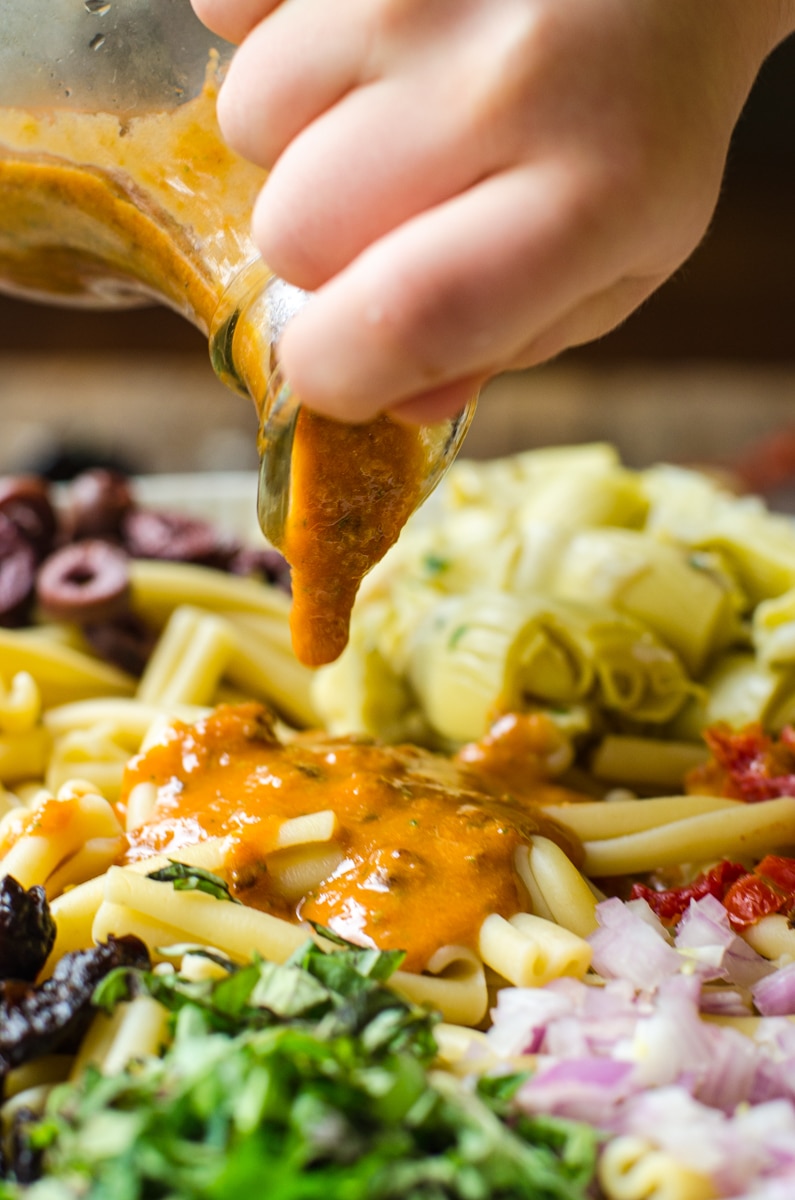 What Kind Of Sun Dried Tomatoes Should I Use?
For this recipe, either standard sun-dried tomatoes or ones packed in oil will work.
The benefit to choosing sun-dried tomatoes that are packed in oil is that you don't need to rehydrate them. The oil has done that for you while also preserving the flavor.
If you choose to rehydrate the sun-dried tomatoes at home, you can do it with some simmering water. If you want to give them a more savory flavor, you can even use vegetable stock.
If you choose the sun-dried tomatoes in oil, blot them dry with paper towels before adding to the pasta salad. This will keep the salad from getting too oily.
Professional Recipe Tips For Making This Like a Chef
Choose artichoke hearts that are canned in water if possible. These won't have any overpowering flavors from any herbs that are used during preservation. They also tend to be a little less salty.
It is so easy to make this pasta salad ahead, but it easily absorbs the vinaigrette and makes it seem "overcooked." To prevent this, refrigerate the pasta salad overnight with two tablespoons of the vinaigrette. Store the rest in a separate container. Before serving, let the salad and dressing come to room temperature and toss before eating.
California Prunes come partially rehydrated, but will also absorb just a little bit of the vinaigrette. This gives them a "meatier" flavor that blends well with the salad. Just slice them into similar sizes as the sun-dried tomatoes for the best consistency.
Toasted pine nuts have a much better flavor than raw. However, their high fat content makes them prone to burning very quickly. Toast them in a small sauté pan over low heat, keeping a constant eye on them. You want them to start to turn a light golden brown on the sides.
When it comes to cooking pasta for salad, use your favorite short noodle boiled in a large pot of salted water. I used casarecce because the curvy edges help hold the dressing and looks beautiful. Corkscrew, farfalle, gigli, or even macaroni works well also.
Cook the pasta to al dente according to the instructions on the package. If it gives you a range of cooking time go on the lower end. This gives you a moment to scramble to find your oven mitts before the pasta overcooks.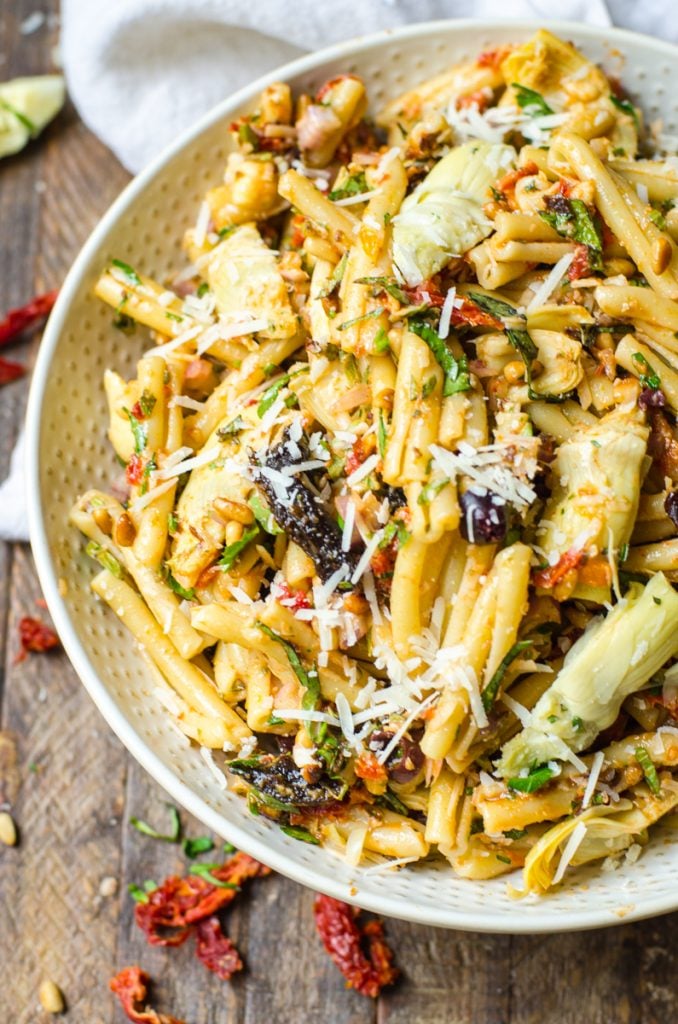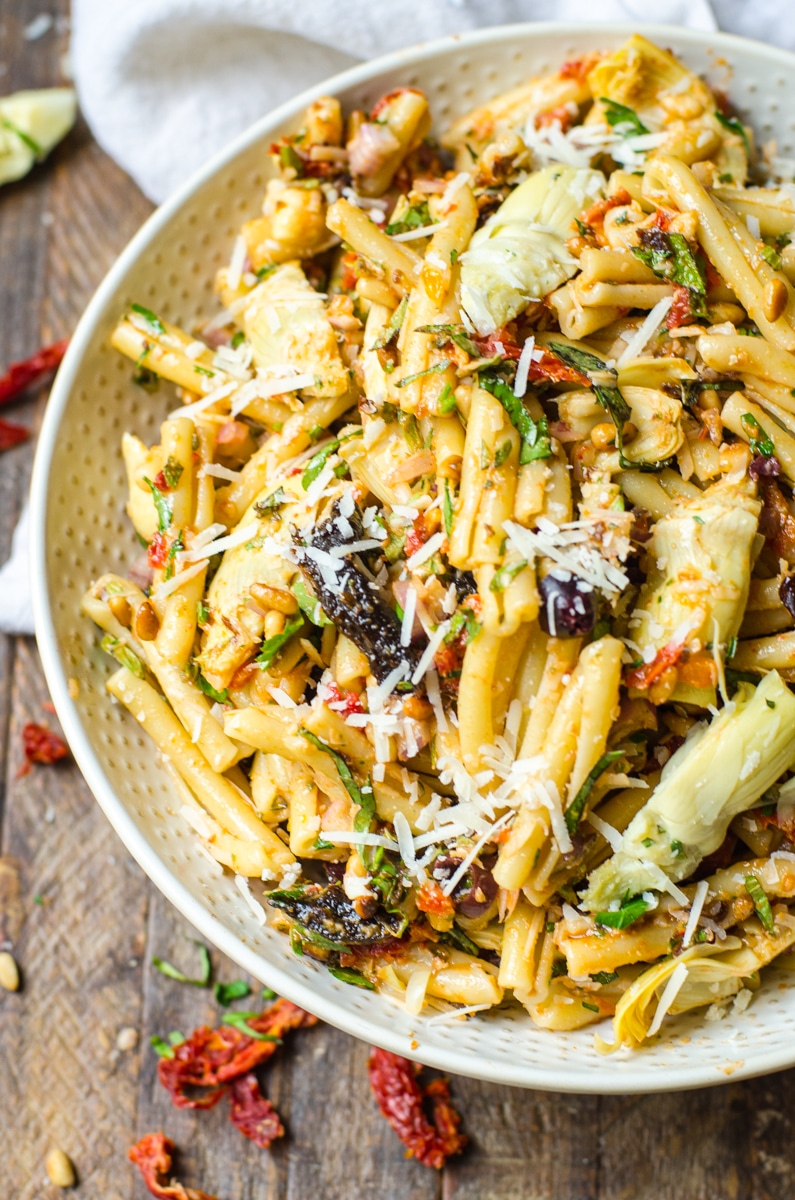 Sun Dried Tomato Pasta Salad with California Prunes
This easy pasta salad has it all. Sweetness from the sun-dried tomatoes and California Prunes. Tanginess from the fresh lemon juice and mustard. Plus saltiness from the cheese and olives.
It is the perfect side dish for a summer cookout, an Easter potluck, or even as a meal prep for dinner. If you want to cook with this fantastic fruit more, check out this stuffed pork tenderloin with California prunes.
---
Simplify grocery shopping with this printable grocery list for this sun dried tomato pasta salad recipe. Everything is listed in standard grocery store amounts. If no size is specified, even the smallest package will provide more than enough.
Happy Cooking! 🙂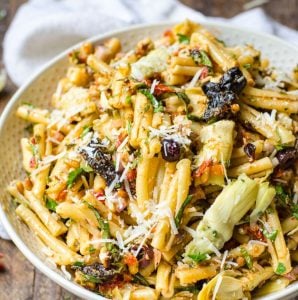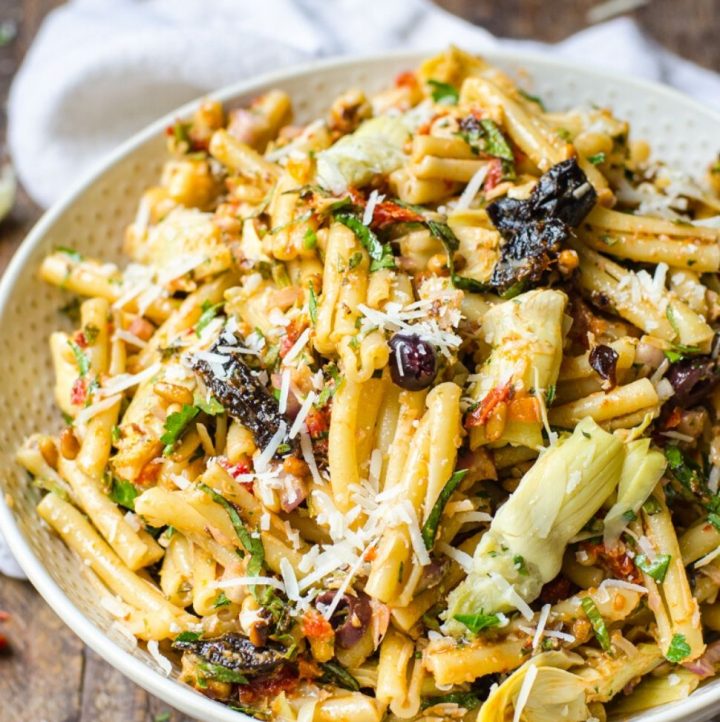 Sun-Dried Tomato Pasta Salad with California Prunes
Filled with veggies and cheese, this easy pasta salad recipe is a great side dish or cold meal!
Pin it for later?
Ingredients
Dressing
⅓

cup

sun-dried tomatoes

3-4

Tablespoons

lemon juice

2

garlic cloves

1

teaspoon

Dijon mustard

½

cup

avocado oil,

don't use olive oil; see note

1

tablespoon

chopped rosemary

Salt and pepper to taste
Pasta Salad
1

pound

short pasta

15

ounces

artichoke hearts,

canned in water, quartered

2

Tablespoons

extra virgin olive oil

2

shallots,

minced

¼

cup

sliced kalamata olives

½

cup

sun-dried tomatoes,

cut into thin strips

¼

cup

thinly sliced California Prunes,

sliced thinly

⅓

cup

toasted pine nuts

¼

teaspoon

crushed red pepper flake, optional

¼

cup

chopped parsley

⅓

cup

minced oregano leaves

¼

cup

basil leaves,

minced

2-4

ounces

shaved pecorino romano cheese,

or parmesan cheese
Instructions
If using dry sun-dried tomatoes, rehydrate in water for one hour before beginning.

In a food processor or blender, pulse together the sun-dried tomatoes, prunes, garlic, dijon mustard, and lemon juice until combined. Scrape down the sides of the container.

With the mixer running, slowly drizzle in the olive oil in a steady stream. Pulse in the rosemary, season with salt and pepper and set aside.

Cook the pasta to al dente in a large pot of salted water. (According to the package's instructions.) Drain and rinse, toss lightly with olive oil and spread out out on a baking sheet to cool

In a dry pan over medium low heat, toast the pine nuts until lightly golden brown. If using the optional chile flakes, you can add them to the heat to intensify their flavor. Set aside and let cool.

Once pasta cools, combine it and the sun-dried tomato vinaigrette in a large bowl. Toss until well covered. Fold in the additional sun-dried tomatoes, prunes, shallots, olives, pine nuts and herbs. Season with salt and pepper, shave in the pecorino romano cheese, and serve.
Notes
Avoid extra virgin olive oil in the sun dried tomato dressing if possible. The heavy battering it takes during emulsification can make it bitter. It also tends to overpower the flavor of the sundried tomatoes. Reserve the olive oil as an optional drizzle on the salad itself.
Brighten up the flavor of the salad by adding one cup of quartered cherry tomatoes and/or some small pinches of fresh mozzarella
Casarecce pasta often comes in 12 ounce boxes instead of one pound. You may not need to use all of the dressing if you go with a fancy pasta like this.
Nutrition
Serving:
1
serving
|
Calories:
677
kcal
|
Carbohydrates:
80
g
|
Protein:
18
g
|
Fat:
33
g
|
Saturated Fat:
5
g
|
Cholesterol:
10
mg
|
Sodium:
520
mg
|
Potassium:
906
mg
|
Fiber:
8
g
|
Sugar:
14
g
|
Vitamin A:
621
IU
|
Vitamin C:
13
mg
|
Calcium:
192
mg
|
Iron:
4
mg
Tell me how much you love this recipe
and show off how you made it!