A savory meal that is great for both breakfast and dinner, this Salmon and Grits with Garlicky Greens & Boiled Eggs recipe is extremely versatile.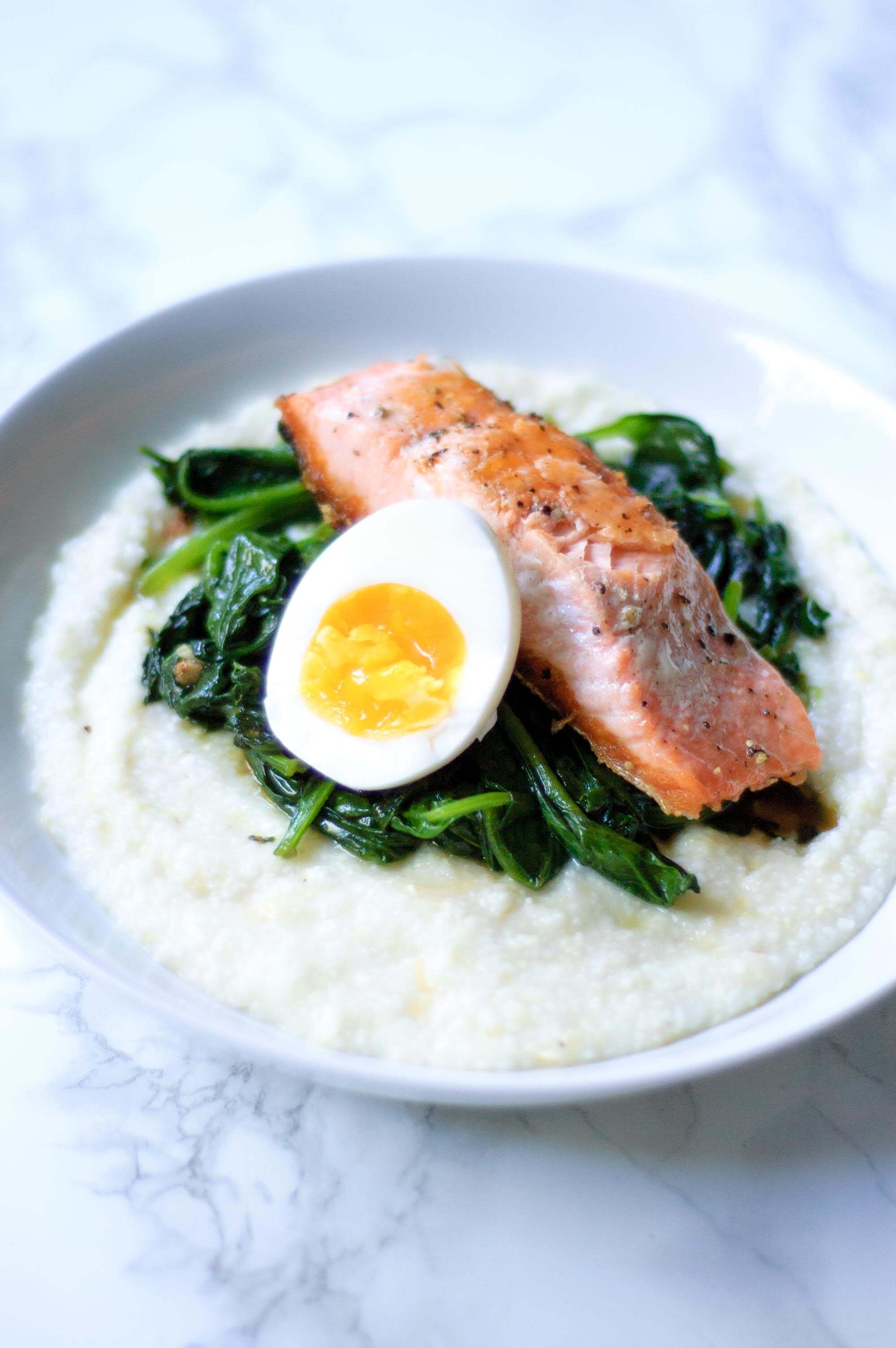 Today's Salmon and Grits with Garlicky Greens & Boiled Eggs recipe continues our month of egg focused dishes. I'm trying to do an even split of breakfast and dinner recipes for you, and this one is both! I don't know which part of this recipe I love the most. The perfectly pan-fried salmon, the delicious garlicky spinach, the boiled eggs (I did medium boil, but soft boiled eggs with this is AMAZING), or the savory grits. We recently lived in the South for about 3.5 years. It took most of those 3.5 years, but I became a fan of grits by the end. My deal with them is that they have to be thick and flavorful. The grits in the recipe are just that way - cooked in water (or vegetable stock!!) with delicious Gouda mixed in. None of that plain-jane soupy corn slop for this girl! Which part of this recipe are you most looking forward to?
Skills & Techniques
Whether you are a noob when it come to cooking, or you know the ins and outs like the way to the bathroom in the middle of the night, there is always something new to learn. Here are some topics that this Salmon and Grits recipe provides excellent practical application for! Try something new!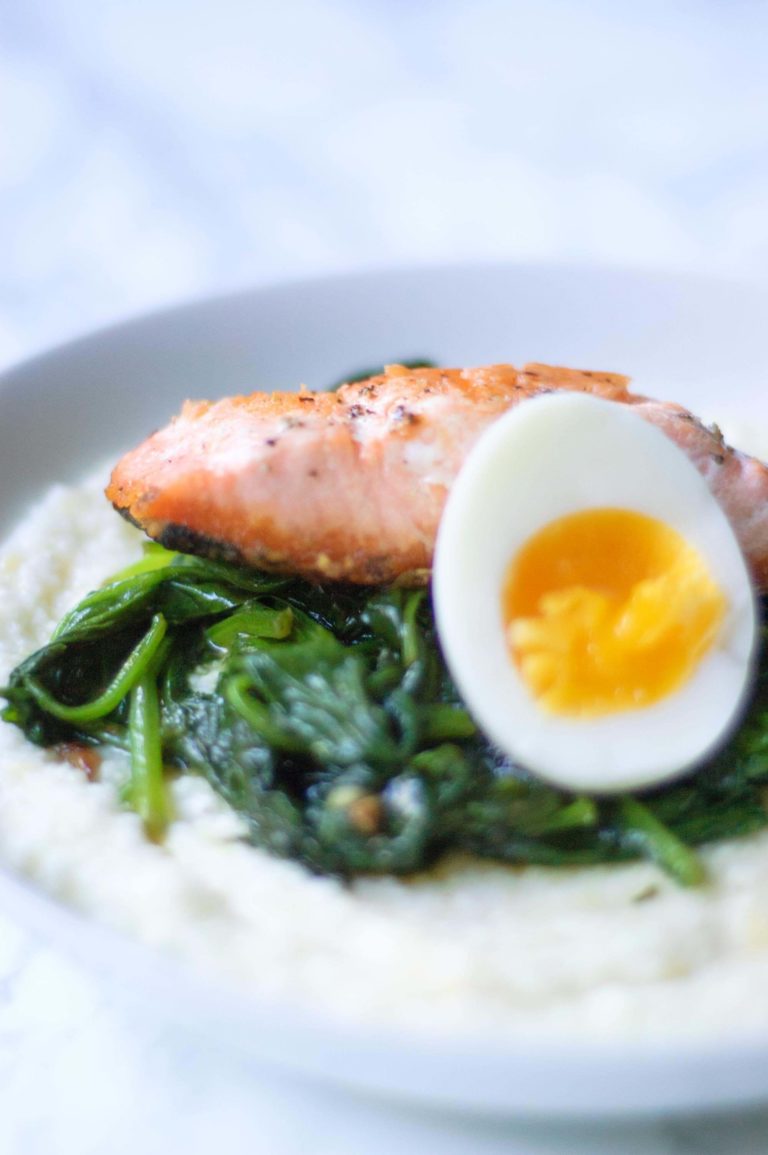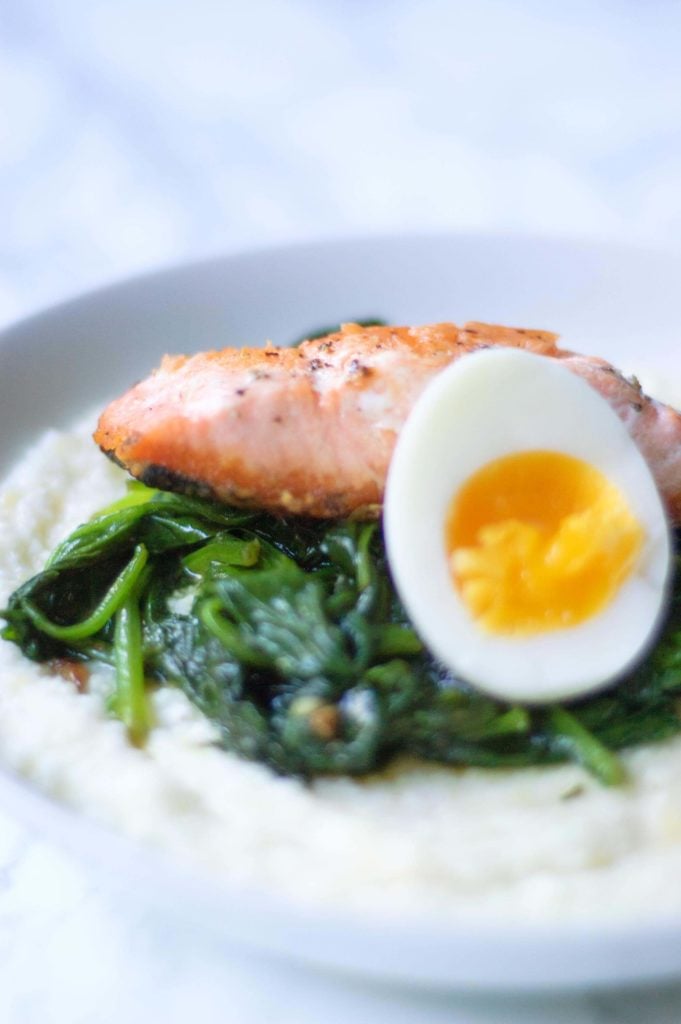 You can go one of two directions with storing your leftovers. Either you an mix everything together like a casserole and store it that way, or you can store each item individually. Personally, I mix it all together. Either way, your Salmon and Grits leftovers will keep in the fridge for about 3-5 days in an airtight container.
If you would like to reheat your leftovers, I recommend:
Preheat your oven to 350°F
Place your Salmon and Grits with Garlicky Greens and Boiled Eggs in a lightly greased oven safe dish. Stir in ¼ cup of water or vegetable stock to the mix and cover with aluminum foil or an oven safe lid.
Bake for 20-30 minutes, or until heated throughout, adding additional liquid as necessary.
Serve hot.
The biggest concern with reheating this dish is that the salmon will dry out. If you pan-fried your salmon to perfection (a nice medium) then this is both a good and bad thing. Overcooking it a bit kills of any potential bacteria that may have developed during storage, but it also means that the salmon is dry. Adding the extra liquid and using the foil will help. I also find that making sure the salmon is pushed down into the mixture helps a lot with this, too. If you just leave it on top it is certain to be dry.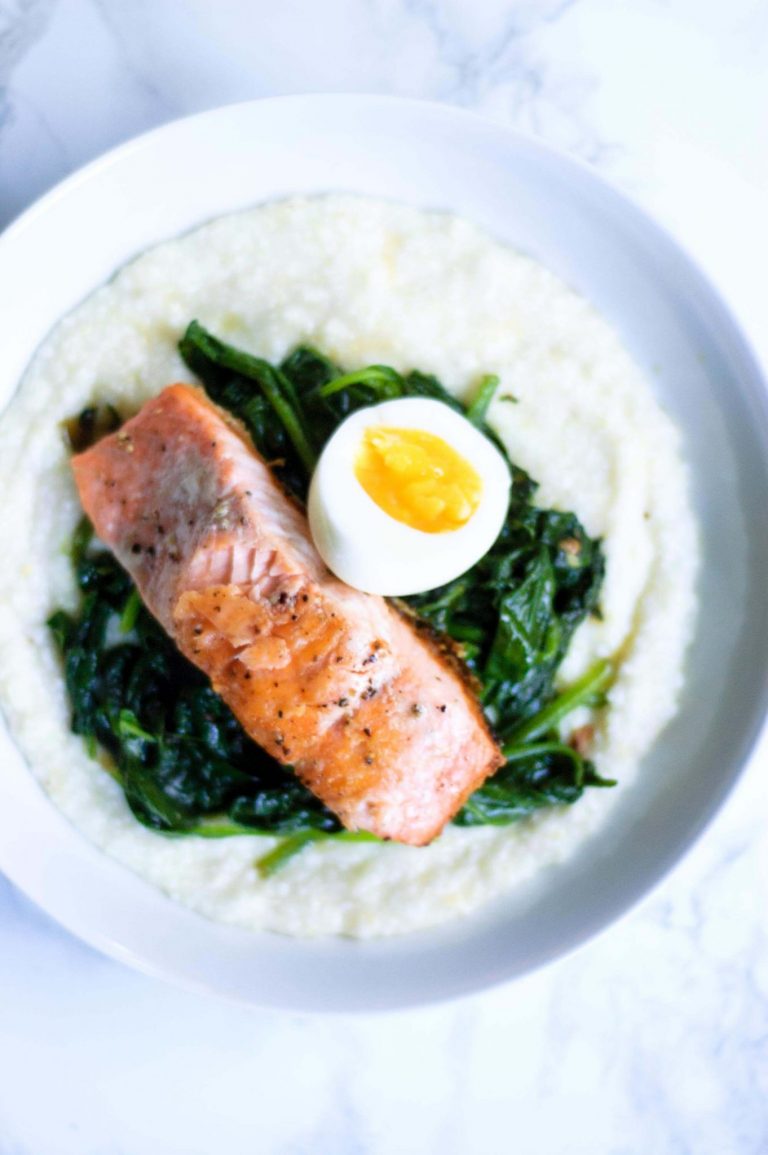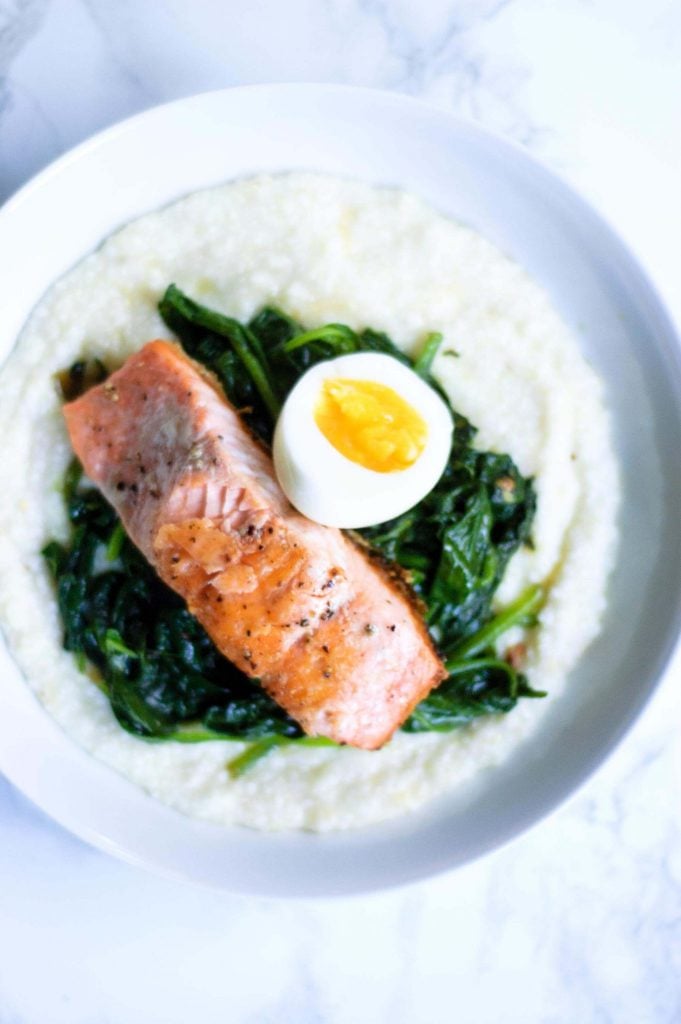 Salmon and Grits with Garlicky Greens & Boiled Eggs
I'm going to be honest with you. This is the exact opposite of a one-pot meal. In fact, I think I used 4 pots/pans to make this Salmon and Grits with Garlicky Greens & Boiled Eggs recipe. Trust me though, the deliciousness is worth the trade off of dishes. Or maybe you can strike the same deal we have in my house - if I do the cooking, you do the cleaning 😉
---
Get your free printable grocery list for this Salmon and Grits with Garlicky Greens & Boiled Eggs recipe HERE.
---
In this grocery list you'll find everything that you'll need to make this Salmon and Grits recipe listed in easy to find grocery store amounts. If no amount is listed, that means that you can buy the smallest amount available and still have plenty leftover for another day. Or you can buy the largest, your call! 🙂
Thanks so much for stopping by! I hope you enjoyed this recipe for Salmon and Grits with Garlicky Greens & Boiled Eggs!
If you would like to check out some of our other recipes featuring eggs, here are my favorites:
Sorrel & Duck-Fat Fried Purple Potato Breakfast Pizza
Happy Cooking! 🙂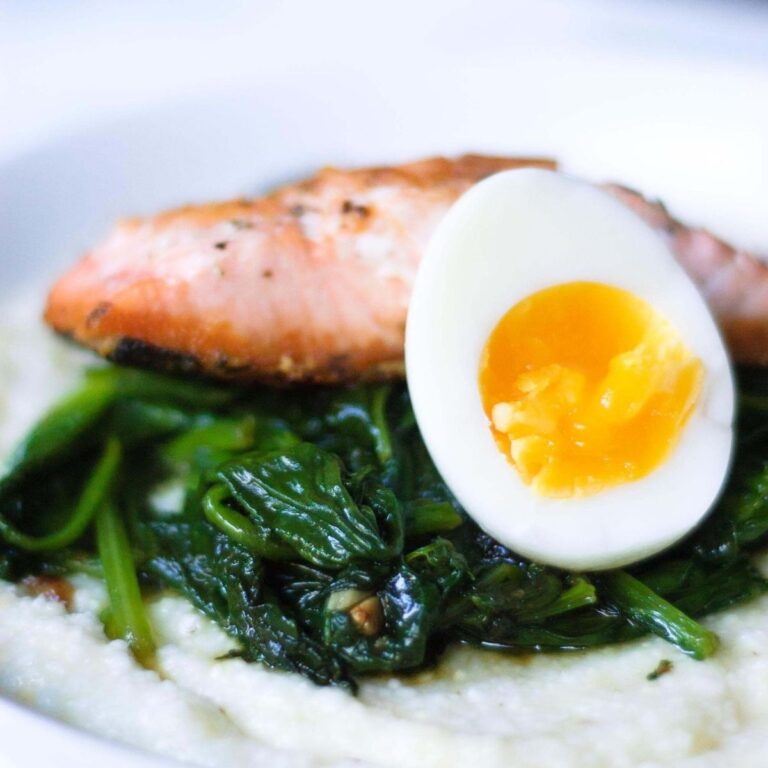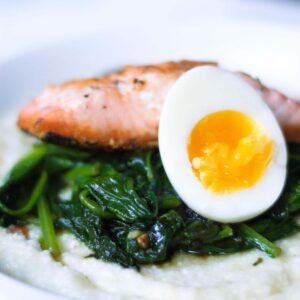 Salmon and Grits with Garlicky Greens & Boiled Eggs
Whether you eat this for breakfast or dinner, this savory recipe is a mixture of rich and enjoyable flavors and textures.
Pin it for later?
Ingredients
Pan-Fried Salmon
¼

cup

neutral cooking oil

,

, like refined avocado

4 4

oz

salmon fillet

salt and pepper

,

, to taste
Savory Gouda Grits
1

cup

coarse white cornmeal

3

cups

water or vegetable stock

1

cup

milk

3

tablespoon

butter

½

cup

shredded gouda
Garlicky Greens
2

tablespoon

garlic

,

, smashed and minced

1

lb

spinach

1

teaspoon

neutral oil
Instructions
Prep
Bring the salmon out of the fridge and let sit on a plate on the counter to come to room temperature for about

30 Minutes

. Pat them dry and salt and pepper it to taste.
Savory Gouda Grits
In a large pot, bring the vegetable stock and milk to a boil. Gradually add the cornmeal, whisking constantly, until combined.

Reduce the heat to medium-low and let cook for

25 Minutes

or until creamy - stirring every 3-4 minutes to prevent sticking and clumps.

Remove from the heat and stir in the butter until melted. Mix in the shredded gouda until melted. Salt and pepper to taste and set aside.
Pan-Fried Salmon& Garlicky Greens
In a large, easy-to-access pan, heat the pan over medium heat until the pan is red hot. Add in the oil. Once it begins to look rippled, add in the salmon fillets skin side down.

Place the seasoned salmon skin side down into the oil and let cook. Be patient and try not to move it until it is ready. Don't force it. About

5 Minutes

. Watch for the salmon to change to a lighter color about ¾ the way up.

Flip the salmon and cook the other side an additional 3 Minutes. Remove the salmon from the pan and let rest for

3 Minutes

.

While the salmon rests, drain off any excess oil from the pan and return the pan to medium heat. Sauté the garlic until browned, about

1 Minute.

Add in the spinach and cook until the spinach is wilted, but still bright green - about

5 Minutes

.
Boiled Eggs
Bring a small pot of water to a boil then reduce it to a simmer. Gently lower the eggs into the water and let the eggs simmer for

8 Minutes

for soft boiled eggs.

Remove the eggs from the simmering water and place them in a bowl. Place the bowl under running water for

1 Minute

.
Assemble
Pour some of the gouda grits into the bottom of a bowl and top with some garlicky green, pan-fried salmon and one of the eggs cut in half. Serve hot.
Notes
This is a tricky recipe because you are balancing cooking 3 different things at once. If you start the salmon and soft boiled eggs at the same time, about halfway through cooking the grits, it should all finish about the same time.
Nutrition
Serving:
1
serving
|
Calories:
741
kcal
|
Fat:
42
g
Tell me how much you love this recipe
and show off how you made it!
Nutrition Facts
Salmon and Grits with Garlicky Greens & Boiled Eggs
Amount Per Serving (1 serving)
Calories 741
Calories from Fat 378
% Daily Value*
Fat 42g65%
* Percent Daily Values are based on a 2000 calorie diet.