This turkey and dumplings recipe is packed with delicious aromatics and vegetables. With simple rosemary dumplings added it is a perfect way to use leftover Thanksgiving turkey.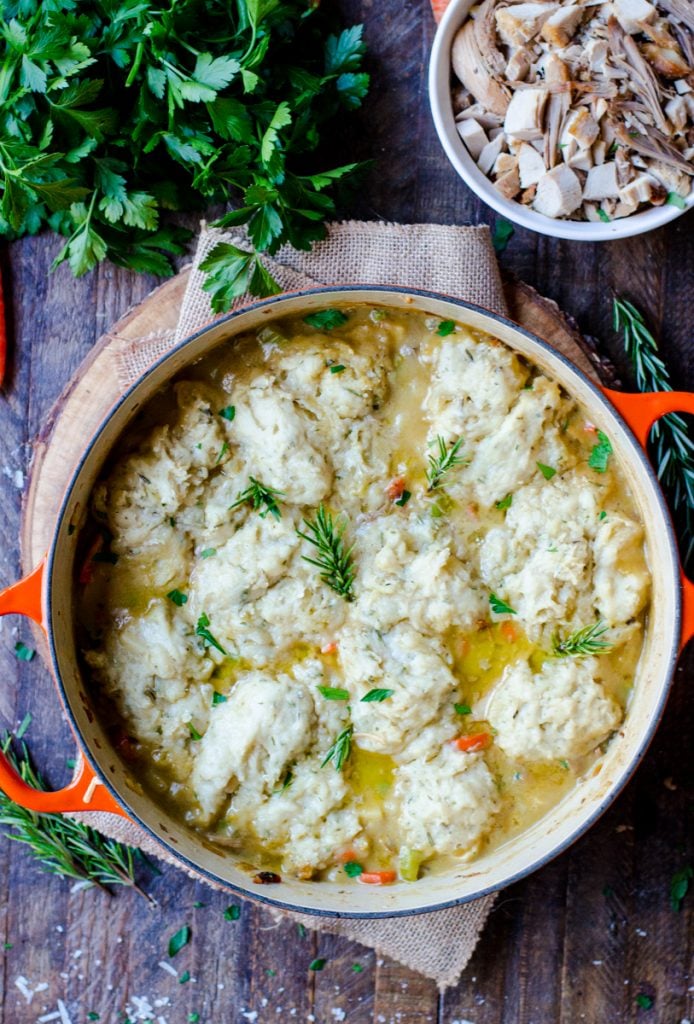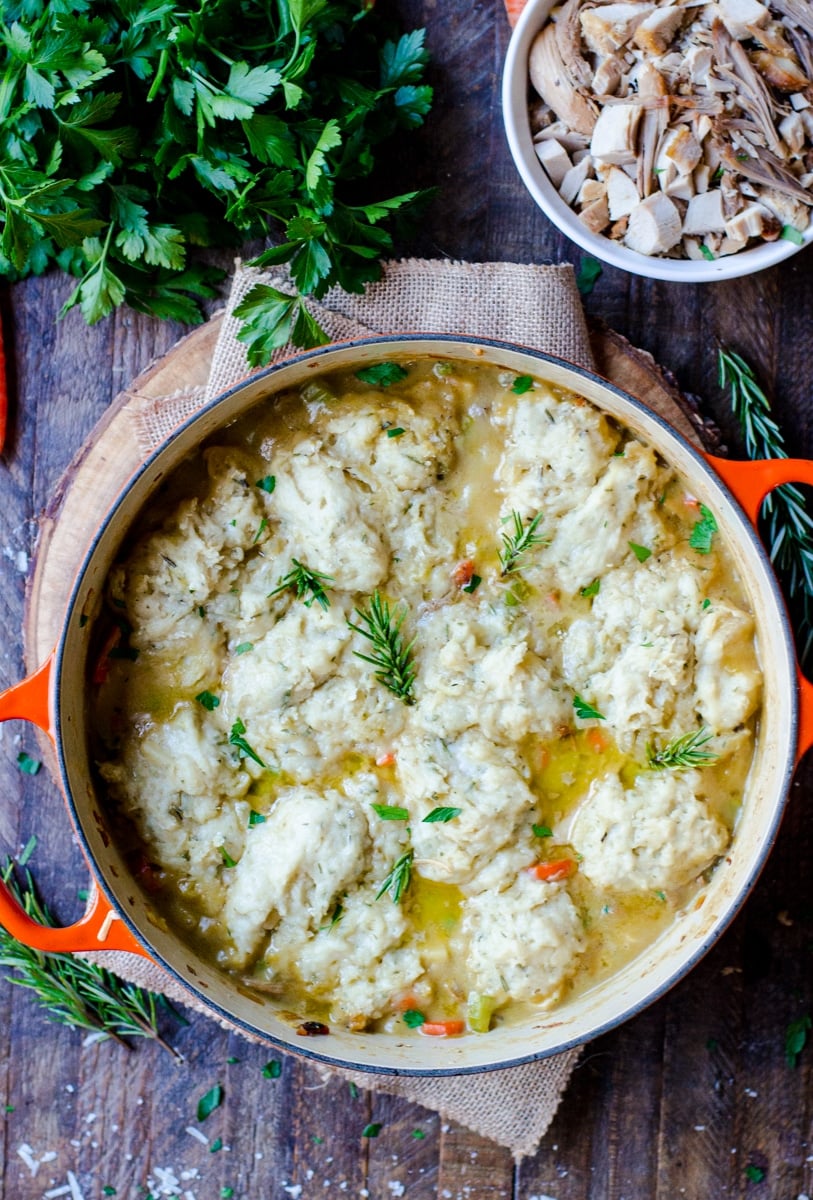 This recipe is like an upscale chicken and dumplings, which is the pinnacle of comfort food for many people. To get a stew that is perfectly thickened from the dumplings, finish it in the oven rather than boiling them on the stovetop.
How Do You Make Dumplings From Scratch?
Dumplings are pretty much drop biscuits that get simmered or boiled. Because of this, the dumplings are more about incorporating ingredients and less about method. They should always include: flour, baking powder, a fat and a liquid.
To make dumplings from scratch all you need to do is mix together the ingredients just until they are incorporated. Be careful not to over-mix them or your dumplings can get a bit chewy.
Once the dough is combined, gather a large spoonful to drop in. To keep your hands clean, use a second spoon to scrape the dough into the hot liquid. The amount you choose to use for the dumplings is completely dependent on how big you want your dumplings to be. They at least double in size when they cook, so give them some distance when adding them.
Is is also important that the pot of turkey leftovers be HOT when you drop them in. This forces the outside to cook quickly so it doesn't dissolve into the mixture.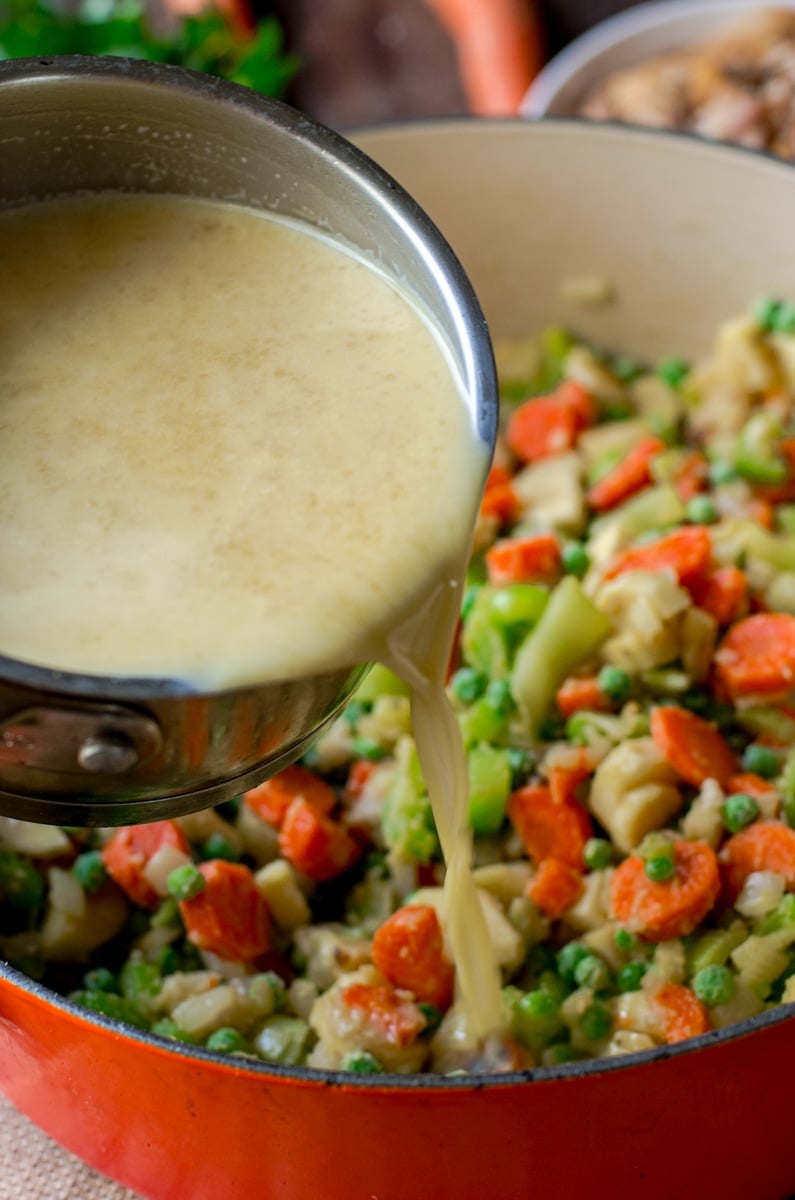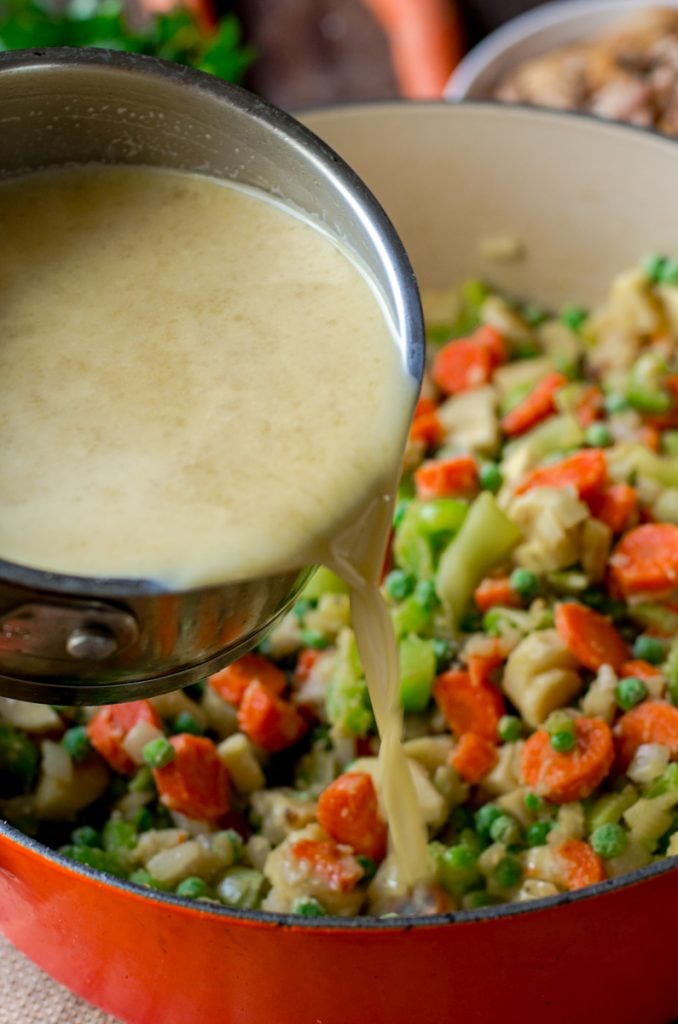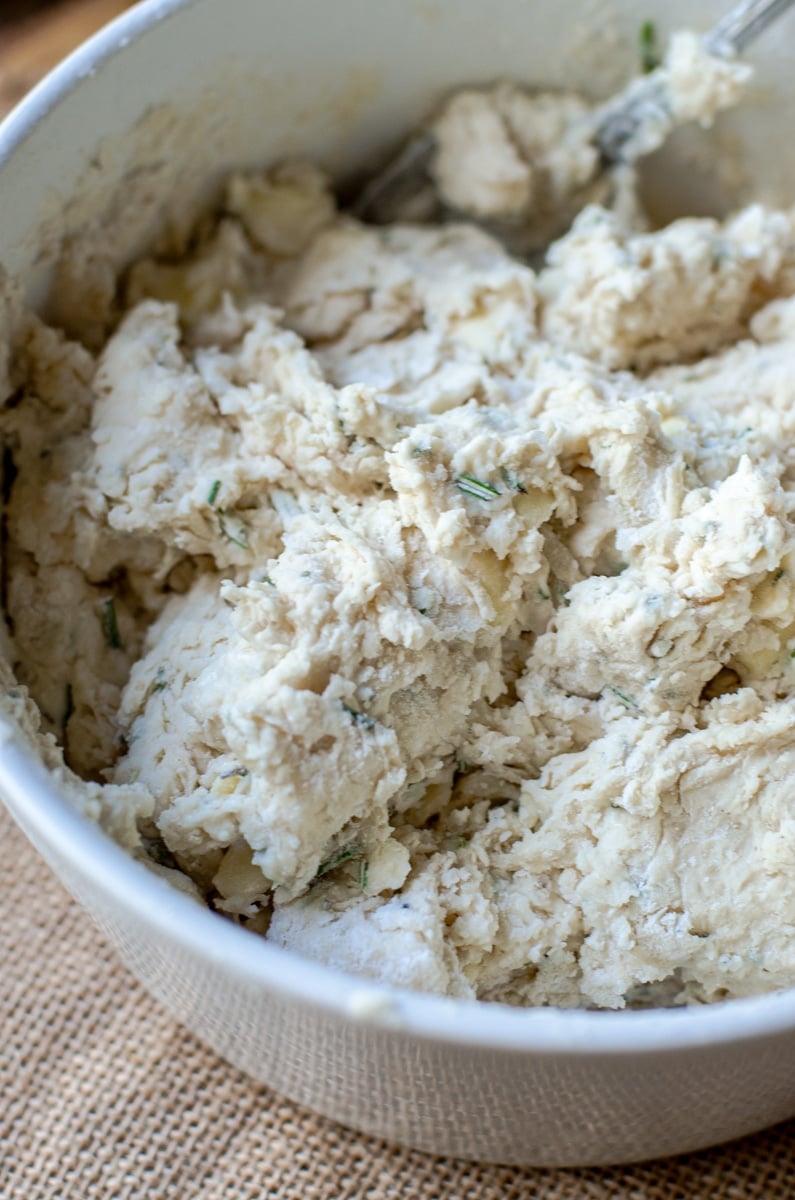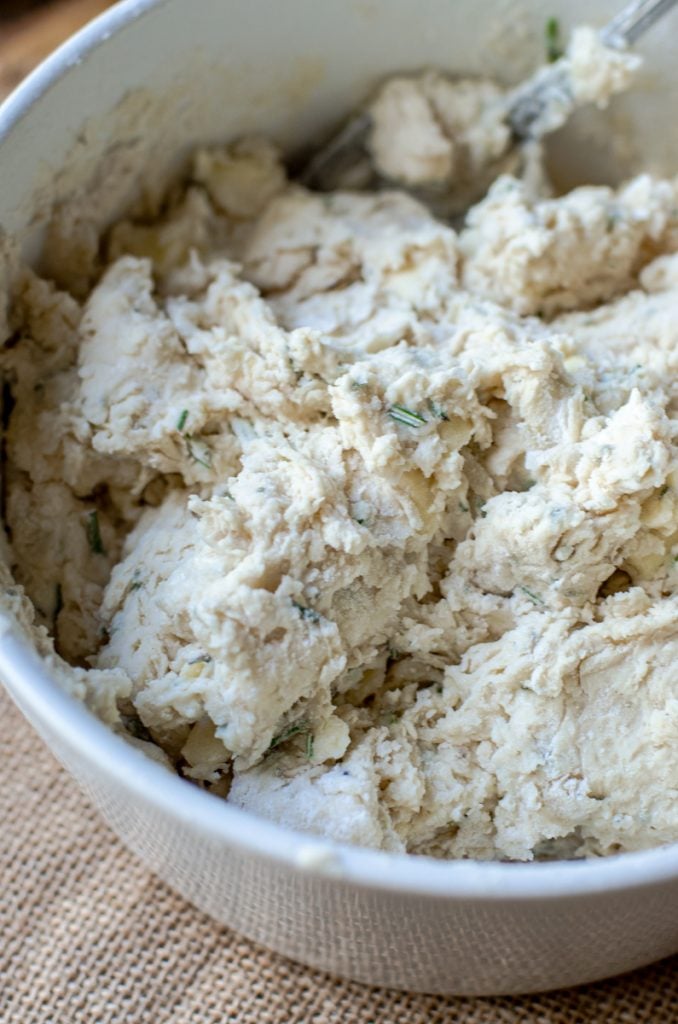 How Long Should They Boil?
Traditionally, dumplings are completely submerged into the liquid for cooking. Using this method, they only need to boil for 3-4 minutes in a large pot. This can change though depending on dumpling size and how many you cook at once.
However, this turkey and dumplings recipe calls for them to be dropped on top of boiling liquid then steamed. This gives it a rustic pot pie style topping. It also allows you to use a shallower baking dish or dutch oven. With this method, the dumplings need a little longer to cook, around 15 minutes or more.
If the dumplings begin to disintegrate or have become chewy, this is usually a sign that they are overcooked. As much as it is tempting, try not to uncover the pan and peek at them. This removes much of the necessary steam that helps them cook. Having to start back from scratch, it takes more time and usually makes them overcook.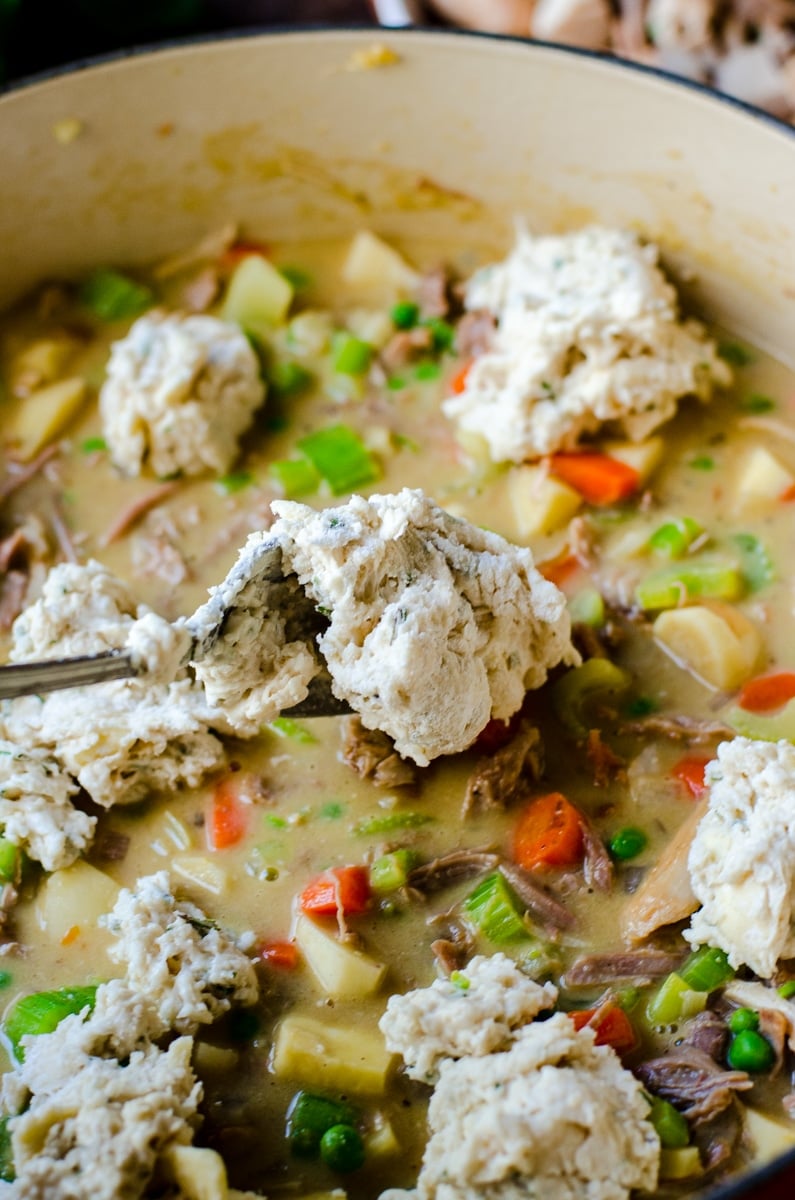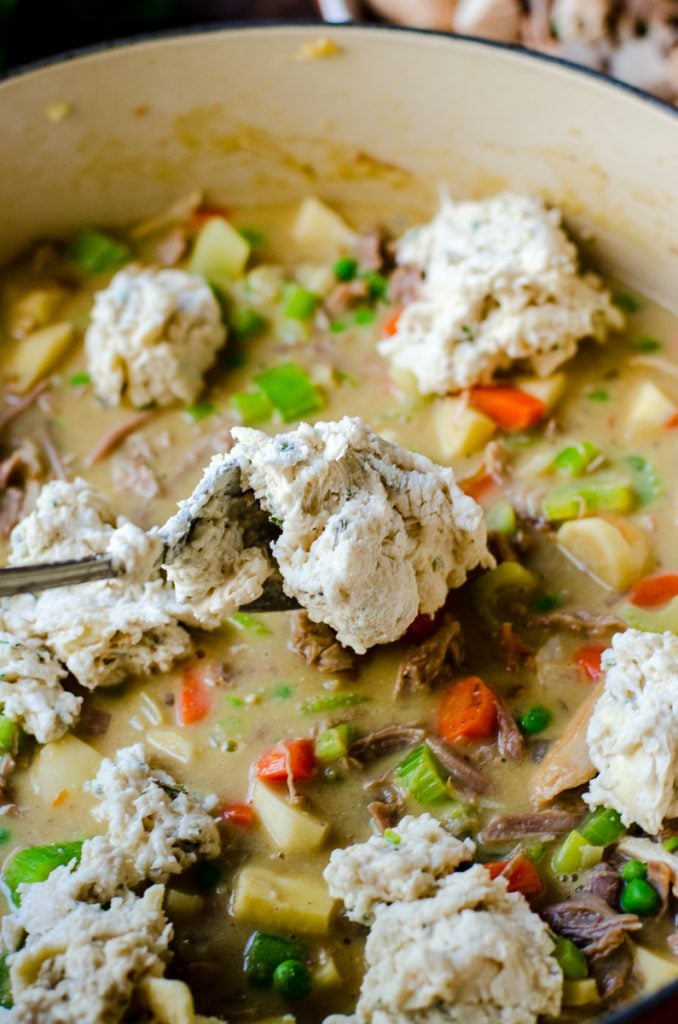 Professional Turkey and Dumpling Tips
Some people like vegetables in their turkey and dumplings. Some don't. This one is made with them because it eliminates a side dish. If you want a more traditional recipe, skip step number 2.
A really good mirepoix makes the foundation for turkey stew. To give it a sweeter and more autumnal flavor, I've also added in parsnips. Even though they look like carrots, they cook much faster. Don't add them at the same time.
Three cups of cooked turkey equals a little more than ¾ of a pound. If you are using raw or ground turkey, cook it through completely before you begin step one.
Turkey and chicken broth can be used interchangeably. If you are using leftover thanksgiving turkey, I recommend using the carcass to make turkey broth. (I love this method for making turkey broth in the slow cooker.)
Steaming, instead of boiling, makes the dumplings fluffy. Try not to push the dough into the turkey stew so help them stay that way.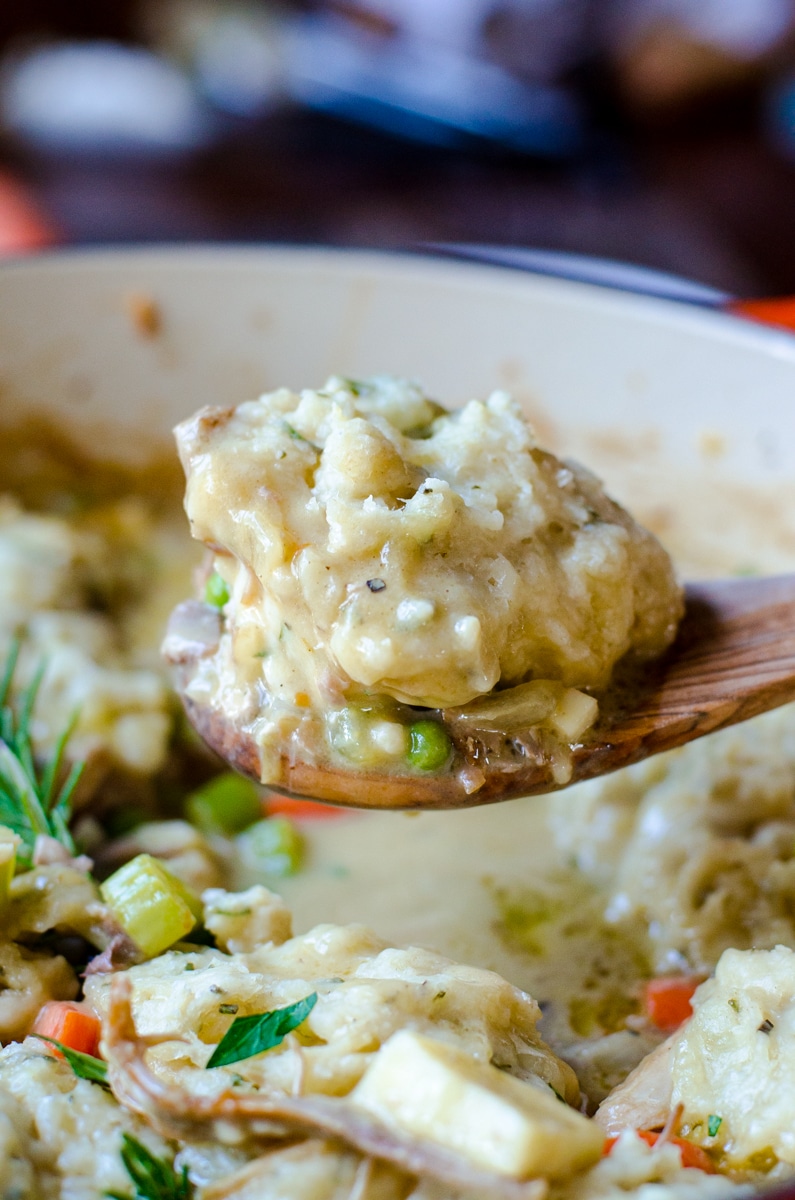 Rustic Turkey and Rosemary Dumplings Recipe
It is made "rustic" because it is cooked in the oven like a turkey and dumplings casserole. Doing it this way gives you better temperature control so the dumplings stay fluffy. It also keeps the vegetables from scorching to the bottom of the pan while the dumplings steam.
---
Simplify grocery shopping with this printable grocery list for turkey and dumplings. Everything is listed in standard grocery store amounts. If no size is specified, even the smallest package will provide more than enough.
Happy Cooking! 🙂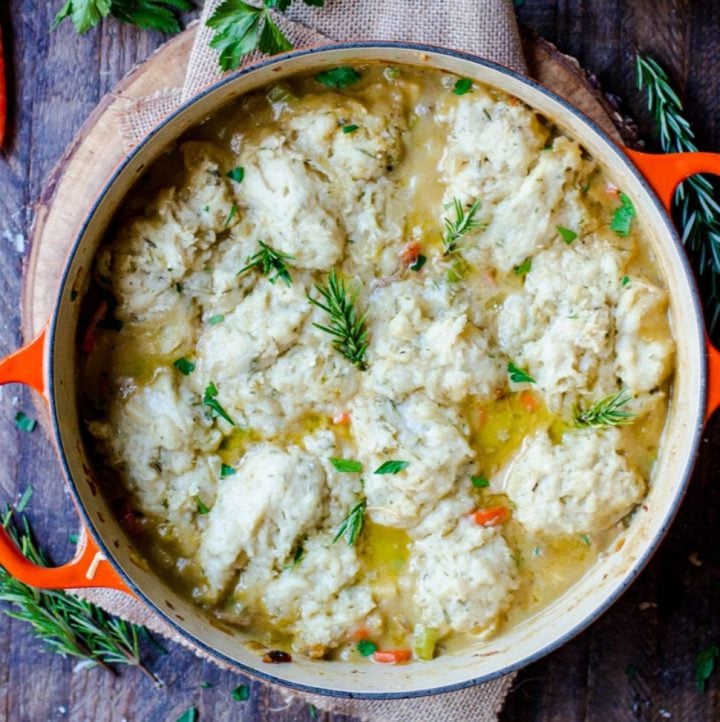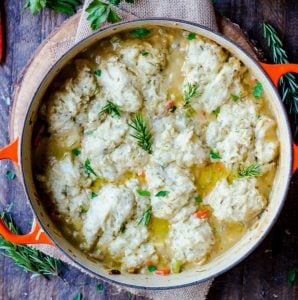 Rustic Turkey and Rosemary Dumplings
This delicious variation on a classic comfort food is the perfect way to use up leftovers from Thanksgiving.
Pin it for later?
Ingredients
3½

cups

chicken stock

½

cup

half and half

1

teaspoon

Worcestershire Sauce

8

Tablespoons

butter

,

cut in two halves

1

pound

carrots

,

peeled and diced

6

celery stalks

,

diced

1

large onion

,

diced

1

pound

parsnips

,

peeled and diced

6

garlic cloves

,

minced

½

cup

flour

1

cup

frozen peas

1

bay leaf

1

Tablespoon

thyme leaves

salt and pepper

,

to taste

3

cups

shredded turkey
Rosemary Dumplings
2 ⅓

cups

flour

½

teaspoon

baking powder

¼

teaspoon

baking soda

½

teaspoon

salt

2

Tablespoons

fresh rosemary

,

minced

1 ¼

cups

buttermilk

1

egg
Instructions
Turkey Stew
In a small pot, bring the chicken stock, Worcestershire sauce, and half and half to almost a simmer. Keep the heat low to prevent simmering.

In a large dutch oven or oven-safe pot, melt the butter over medium heat. Cook the carrots, celery, and onion until the onions become translucent. Add in the parsnips and garlic and cook until the garlic becomes fragrant.

Melt the second half of the butter and and then stir in the flour until all of the vegetables are well coated. Cook for 1-2 minutes. Slowly stir in the hot liquid from the small pot, stirring constantly until combined. Add the frozen peas, thyme, bay leaf and shredded turkey. Let simmer for 20 minutes.
Rosemary Dumplings
Preheat the oven to 400°F

In a medium bowl, whisk together the flour, baking powder, baking soda, rosemary, and salt. In a measuring cup, whisk together the egg and buttermilk.

Make a well in the center of the flour mixture and pour the liquid into the center. Use a fork to mix together the ingredients, being careful to move it as little as possible so it doesn't over-mix and become tough.

Remove the turkey stew from the heat and use a spoon to drop the rosemary dumpling dough onto the top. Cover with a lid and bake in the preheated oven for 20 minutes, or until the dumplings are cooked through.

Remove from the oven and allow to rest for 10 minutes for ultimate thickening.
Notes
Make sure to use a dutch oven or pot that is safe to go into the oven.  Not all pots are designed to go up to 400°, so double check if you aren't sure.
Remember that cooking times will vary depending on how shallow your dutch oven or pot is.
Because the dumplings are cooked on top of the simmering liquid instead of in it, they won't "float" when they are done.  
Nutrition
Serving:
1
serving
|
Calories:
404
kcal
|
Carbohydrates:
49
g
|
Protein:
19
g
|
Fat:
14
g
|
Saturated Fat:
8
g
|
Cholesterol:
79
mg
|
Sodium:
499
mg
|
Potassium:
753
mg
|
Fiber:
6
g
|
Sugar:
9
g
|
Vitamin A:
8250
IU
|
Vitamin C:
20
mg
|
Calcium:
127
mg
|
Iron:
3
mg
Tell me how much you love this recipe
and show off how you made it!