Mastering how to make white rice is easier than you think! With this simple secret, you'll get perfectly cooked rice (without a rice cooker) every time! No measuring required!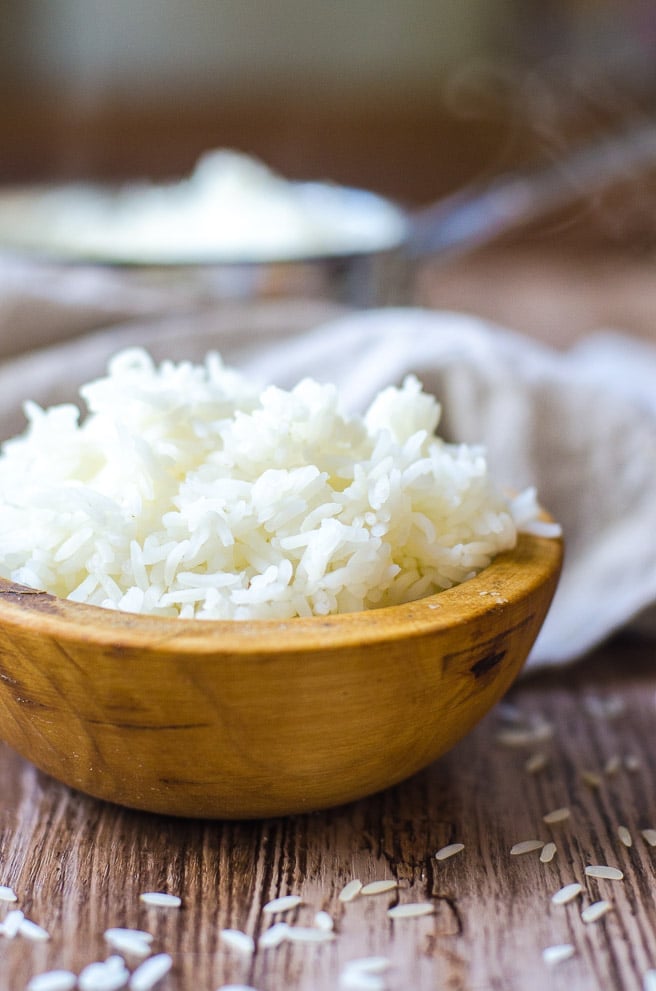 Whether you are cooking a long grain or short grain white rice, you don't have to follow a specific ratio to get a perfect pot of rice every time. Use this chef's hack to make cooked white rice that is tender but not mushy.
Do I Have To Rinse My Rice?
Modern farming and packaging have reduced the amount of stones and pebbles that end up in our grains, but that doesn't mean they don't exist. Rinsing your rice in a fine mesh strainer prior to cooking gives you an opportunity to search for those items as the water runs through it. Beyond that, rinsing is completely up to you.
The primary reason for rinsing rice is to remove some of the excess starch. However, this doesn't actually achieve very much. It can be helpful if you are adding the rice into something that you don't want the starch to thicken, like a soup. But as a basic side dish, the starch helps give it that slightly sticky texture.
What Is The Ratio Of Water To Rice
Most of the time, with any white rice the ratio is twice as much water as rice (Example: 2 cups water to 1 cup rice. However, with this method, you don't need to know. All you need to know is that you're using a white rice. This includes:
Long or short grain white rice

Jasmine rice

White Basmati rice
Instead of measuring out based on a ratio, this chef's hack uses a measurement tool already on hand.
Literally.
It uses your hand. Well, your finger.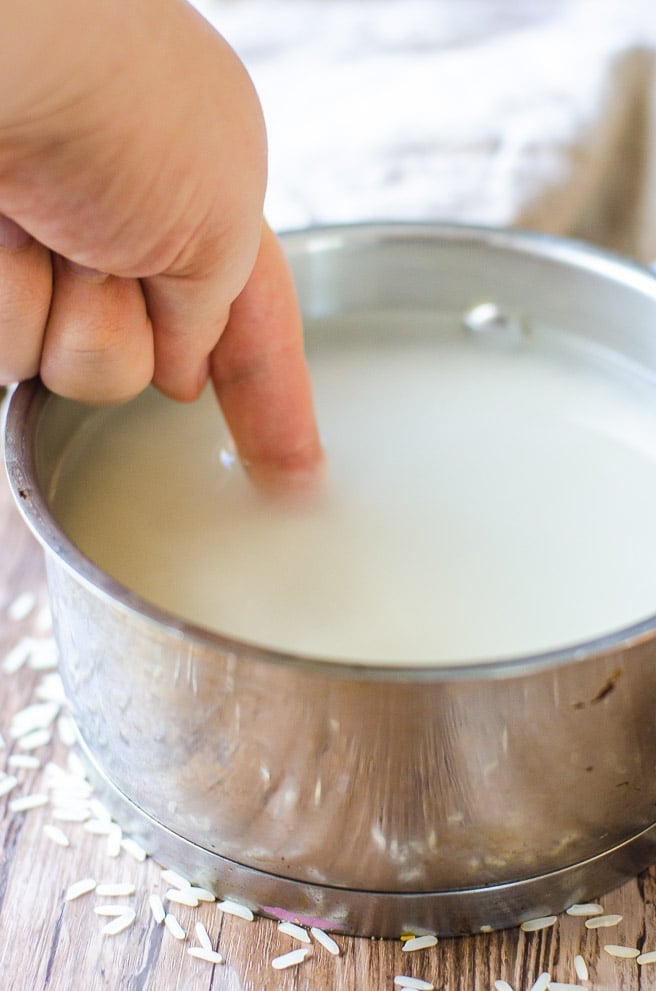 Ways To Use White Rice
Now that you know how to cook white rice perfectly every time, you'll find it is even more of a pantry staple than before. In just 15 minutes you have a simple side dish that can be easily served alongside any entree.
If you're not sure how you want to use your rice, here are some recipes that either use, or pair well with it.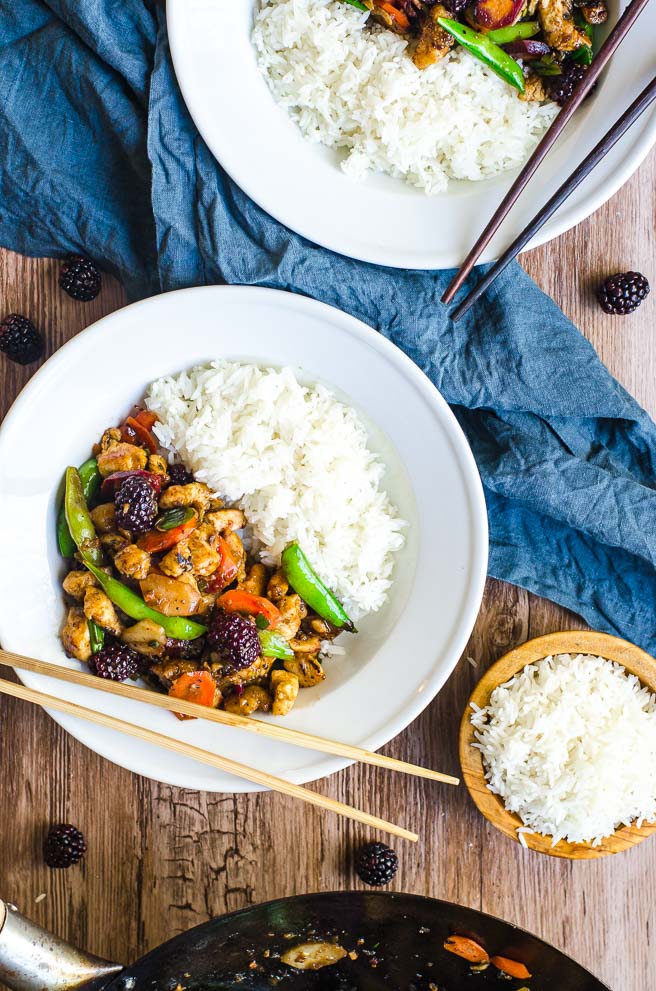 Chef's Hack For How To Make White Rice Without Measuring
Are you ready for the easiest cooking hack of your life? Here we go.
Instead of measuring the amount of liquid to your rice, or boiling anything, all you need is your finger. But before you start.
The important thing is that your pot is at least 1 quart large for every cup of rice you plan to cook. So for two cups of rice, you need a two quart pot. If you are making 6 cups, you need a 6 quart pot. This ensures that you don't run out of room for your rice to expand and gets enough water into the pot for this hack to work.
As you read the instructions the pictures below will begin to make more sense.
Happy Cooking! 🙂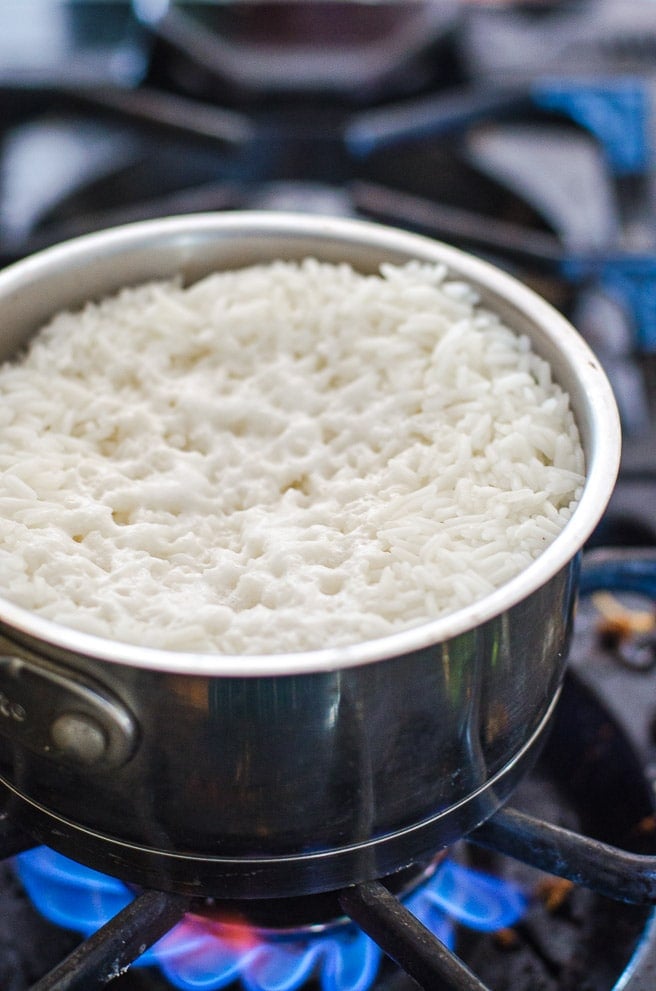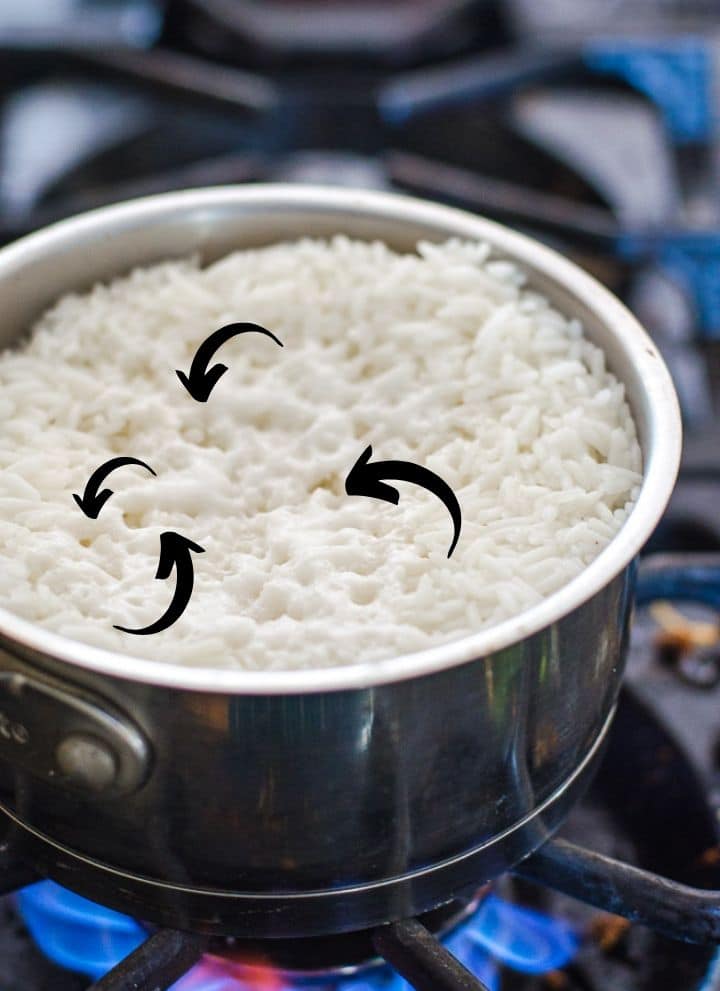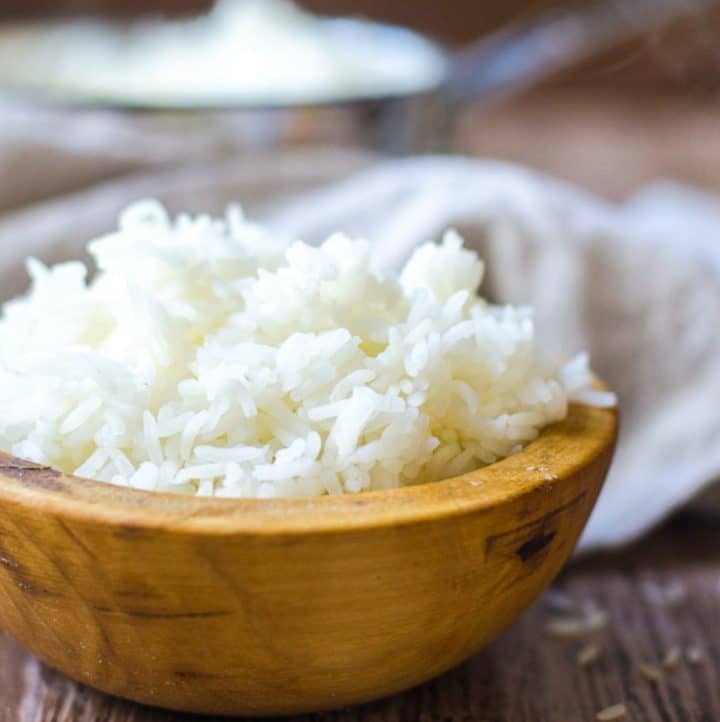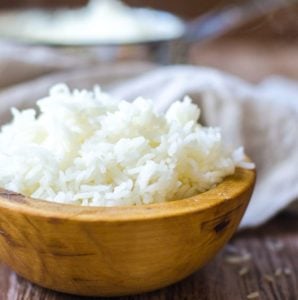 Perfect White Rice Without Measuring
Never get overcooked white rice again with this easy hack that requires no measuring!
Pin it for later?
Ingredients
1

cup

white rice

water

,

as needed

½

teaspoon

salt

1

Tablespoon

butter

,

(optional)
Instructions
Pour the rice into the bottom of the pot and add enough cold water so that it is covered by a depth of one knuckle.  About one inch. Add salt and optional butter.

Put the pot over medium low heat and bring to a boil. Reduce to a simmer and allow to cook for about 15 - 18 minutes. You'll know you're done when holes appears between the grains of rice, but water is not bubbling in them.

Turn off the heat, cover with a tight fitting lid and allow to steam for 5 minutes. Remove the lid, fluff with a fork, add any additional seasoning and serve.
Nutrition
Serving:
1
serving
|
Calories:
129
kcal
|
Carbohydrates:
25
g
|
Protein:
2
g
|
Fat:
2
g
|
Saturated Fat:
1
g
|
Cholesterol:
5
mg
|
Sodium:
212
mg
|
Potassium:
35
mg
|
Fiber:
1
g
|
Sugar:
1
g
|
Vitamin A:
60
IU
|
Calcium:
9
mg
|
Iron:
0.3
mg
Tell me how much you love this recipe
and show off how you made it!