Even if you aren't a blue cheese lover, these blue cheese mashed potatoes are delicious. With mild cheesy flavor that isn't overpowering, they are creamy dreamy comfort food.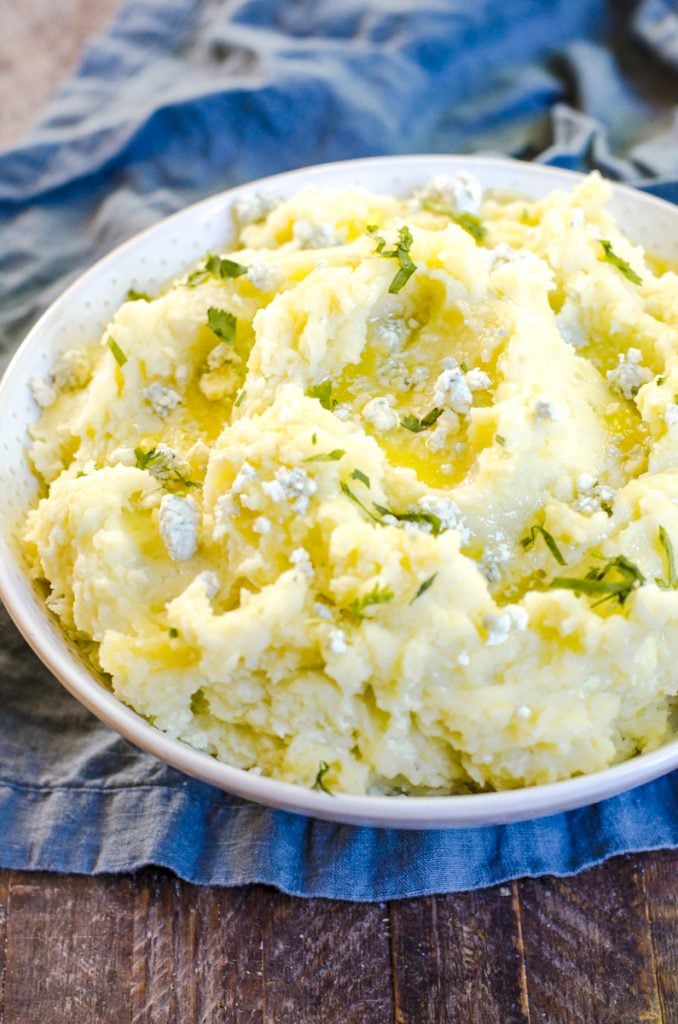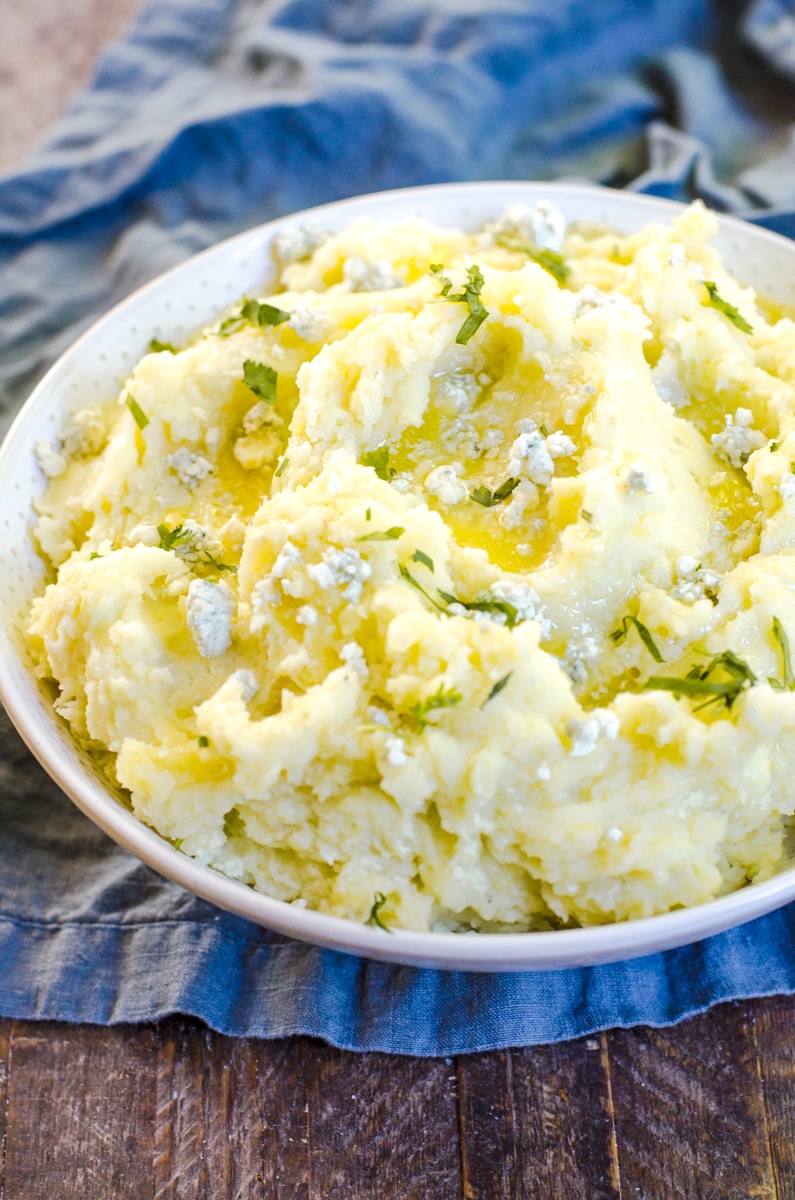 I love this blue cheese mashed potato recipes because it hits all the marks for my cravings, but is subtle enough even a blue cheese newbie enjoys them. In fact, I can reliably expect my children to eat them with almost any meal.
The mashed potatoes start tasting like plain ones at first and finish with a minor blue cheese aftertaste. They are seriously the best way to introduce someone to blue cheese.
Which Potato Is Best for Mash
The best potatoes for making these blue cheese mashed potatoes are a starchy variety like Yukon gold or russet potatoes. This is because the flesh has a high moisture and starch ratio, which makes them great for boiling. Yukon golds give you a buttery, creamy consistency.
To prepare them, peel them and cut into 1-inch pieces. It is okay for the pieces to be large, you just don't want to leave the potatoes whole. I usually cut mine into sixths depending on how large the potato is.
Making sure they they are uniform in size is extremely important because they all finish cooking at the same time. This means that they all mash equally and give you a smooth texture. If some are more cooked than others, you get a chunkier more rustic texture.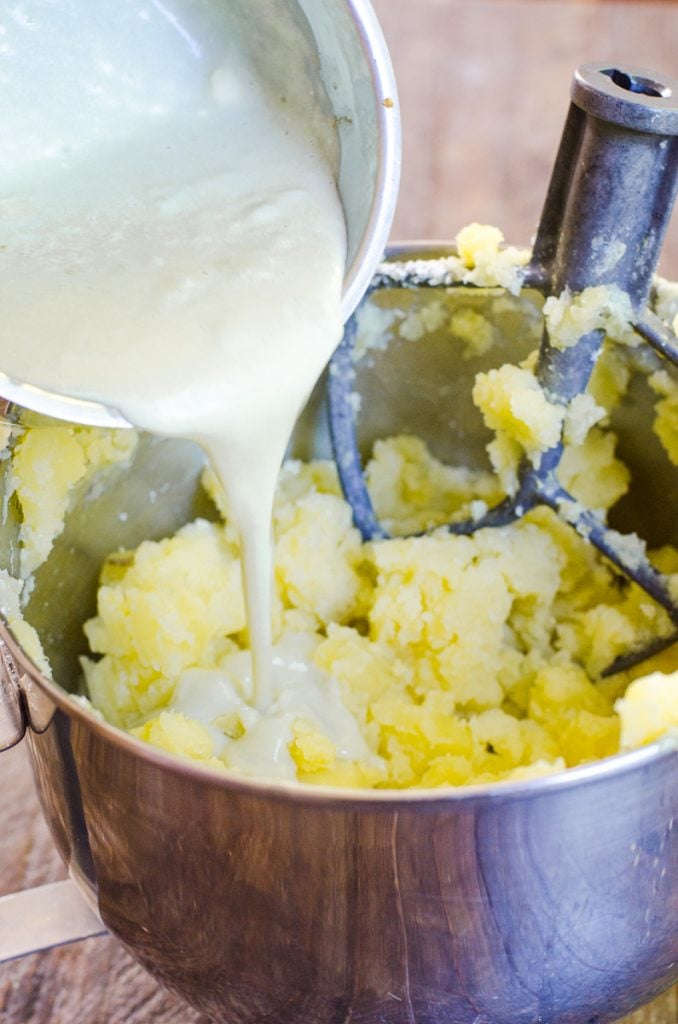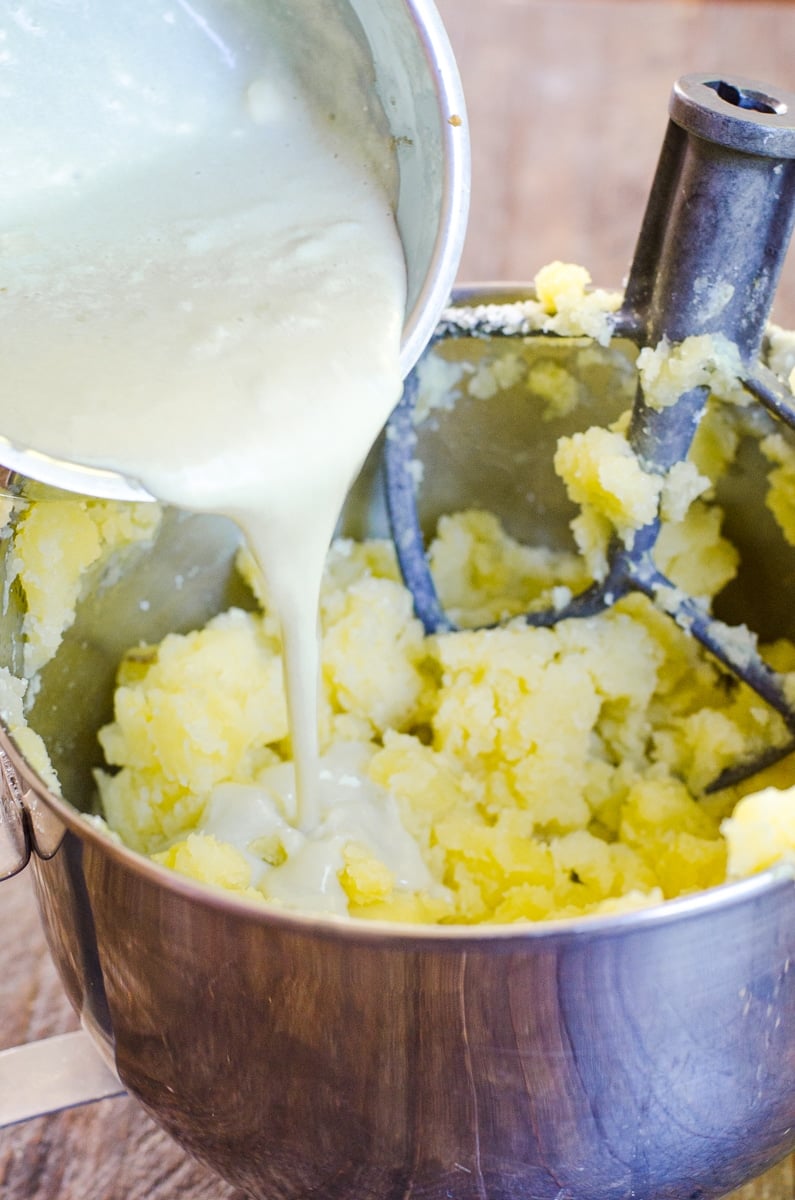 The Best Way To Cook Potatoes
After peeling, place the potatoes in a large pot and cover with cold water. There should be enough water to cover it by an inch.
Bring it to a boil over high heat and cook until the potatoes are tender. About 20 minutes. At this point you should be able to skewer them easily with knife but they should not be flaking and falling apart.
Remove them from the heat and transfer them to a large bowl or the bowl of an electric mixer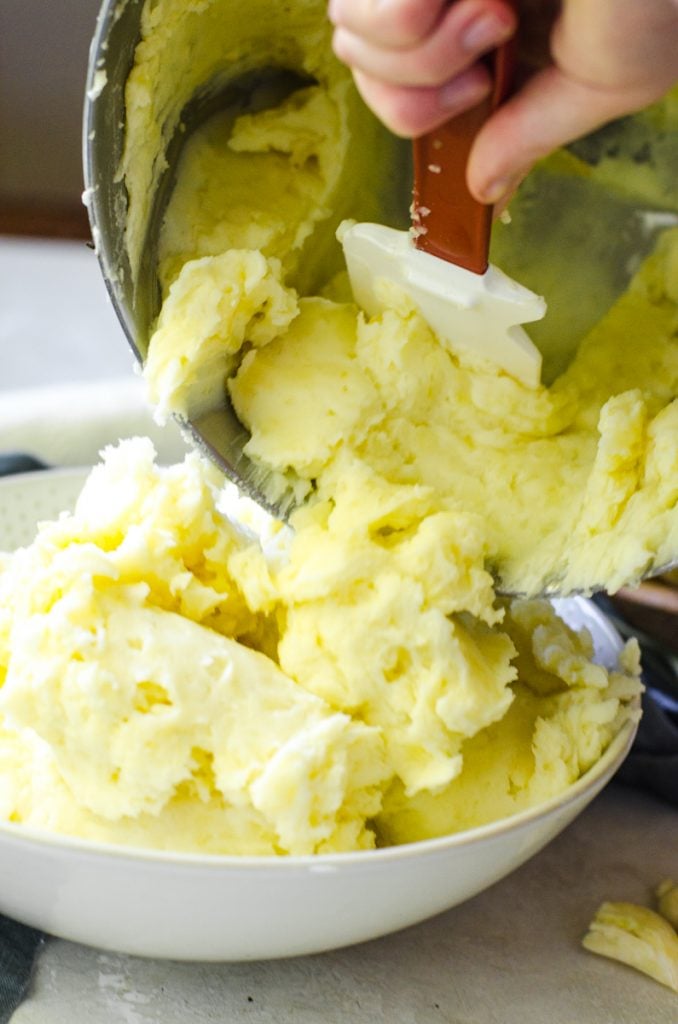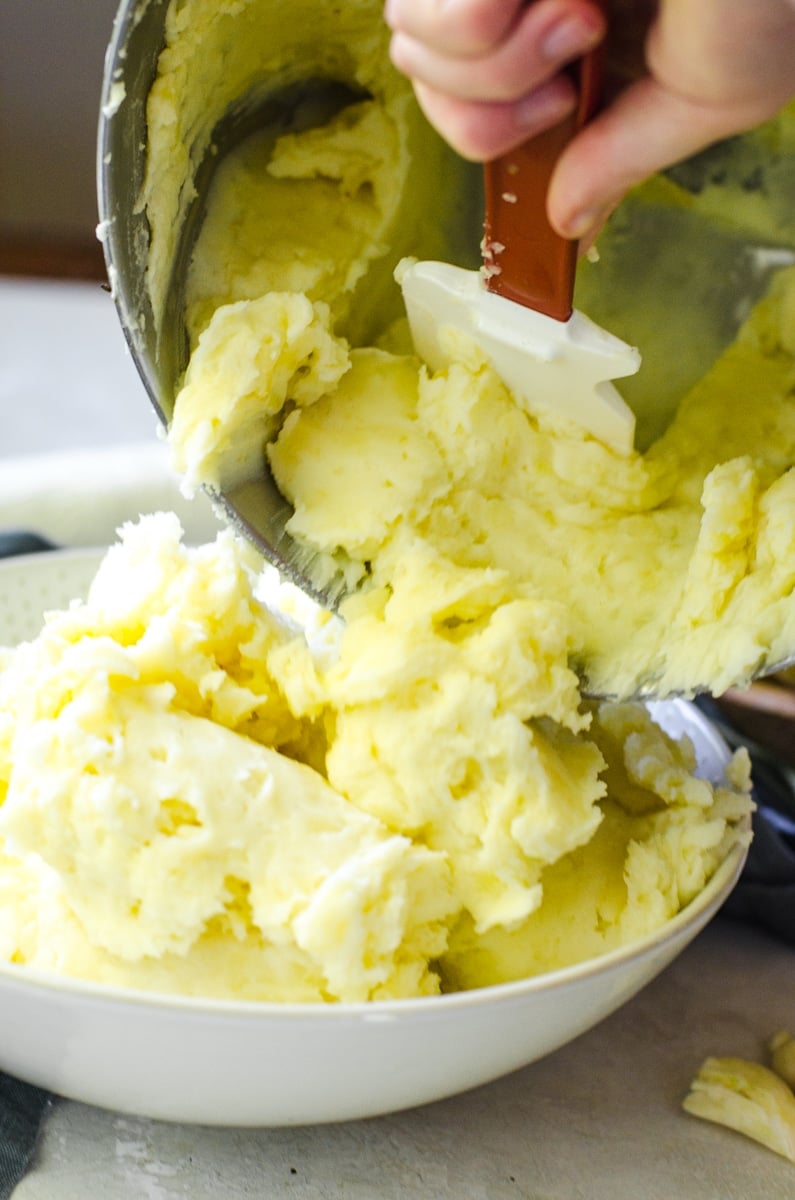 How To Add the Blue Cheese
To add the blue cheese, start by making a cream sauce. In a small saucepan over medium heat melt the butter. Add in the heavy cream and crumbled blue cheese. Heat until the blue cheese melts, stirring occasionally.
It should be hot but not boiling.
Once the potatoes are fork tender and strained, transfer them to the bowl of an electric mixture and mix on a low speed. Additionally, you can use a potato masher if that's your preference.
As the potatoes mash, slowly pour in the creamy melted blue cheese. Stir until everything is evenly distributed. Season with salt and pepper and serve.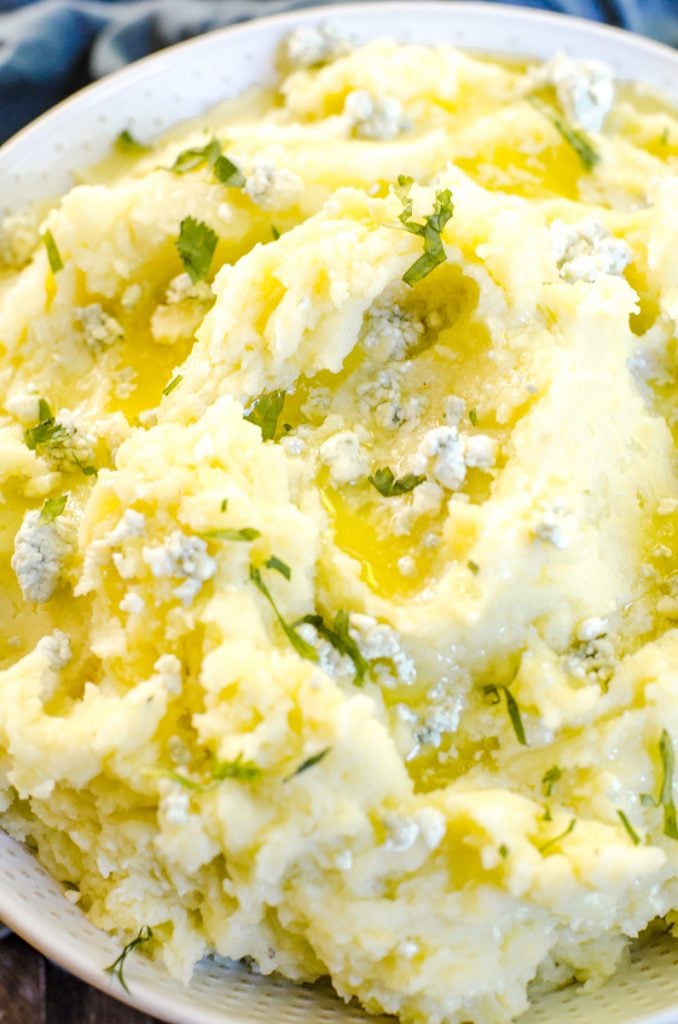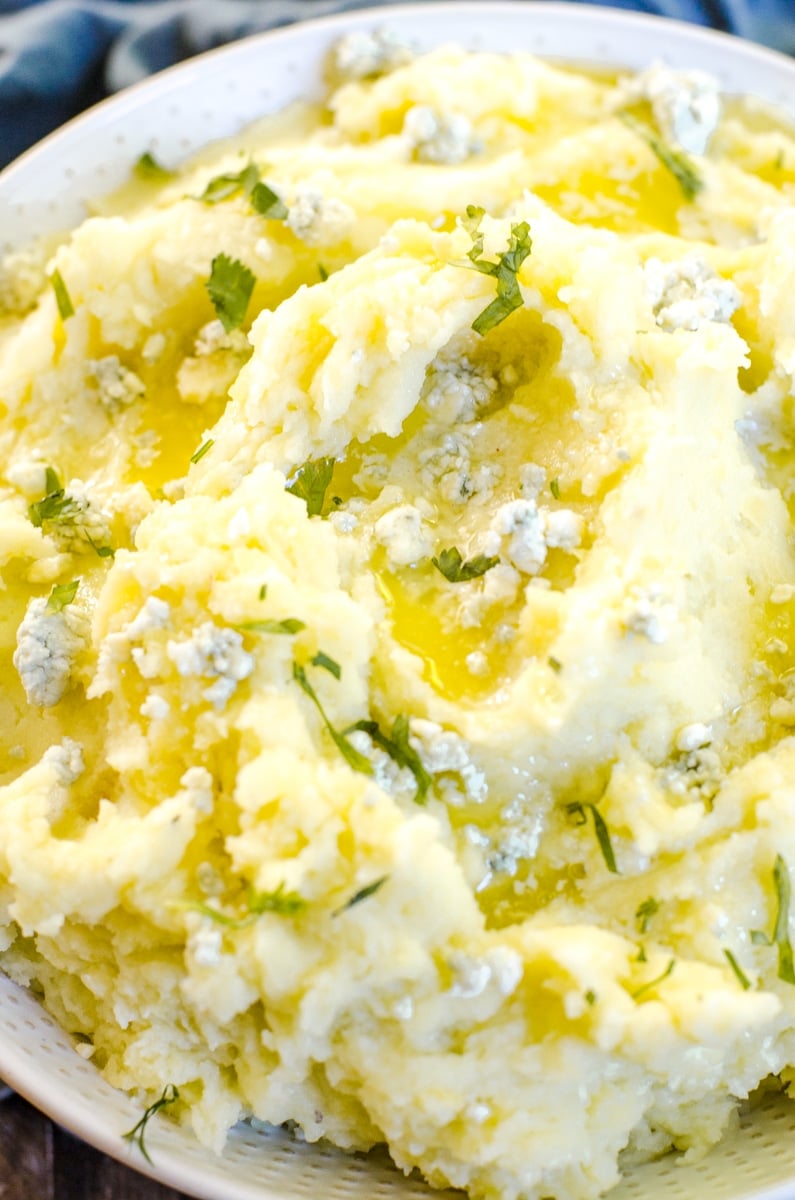 Top Chef Tips
Covering the pot with a lid may speed up cooking, but it also overcooks the potatoes. You may be able to get the tender in 15 minutes, but the texture changes completely. Leave the lid off.
The blue cheese in these mashed potatoes may not all completely melt as you heat it up. That's okay. The steam and heat from the potatoes will finish it off before serving.
For extra flavor try adding some roasted garlic to these mashed potatoes. It's a great way to boost the taste and the softness of the cloves makes it easy to mix in.
It's okay to let the potatoes release a bunch of their steam before moving them to the mixing bowl. This keeps them from being too wet and allows them to be fluffy.
Use plenty of salt and pepper. Don't be nervous. The blue cheese in these mashed potatoes only add so much. Add a pinch more than you think is right.
DON'T over mix the potatoes. Since they are made of starch, they get gummy and the texture becomes awful. Avoid a food processor and opt for a low speed mixer instead. Or go natural with a potato masher or ricer.
These blue cheese mashed potatoes also taste great with roasted garlic or added to them.
These potatoes are best served last minute. (Especially with a little extra melted butter on top.) The longer they sit, the more they dry out and become dense.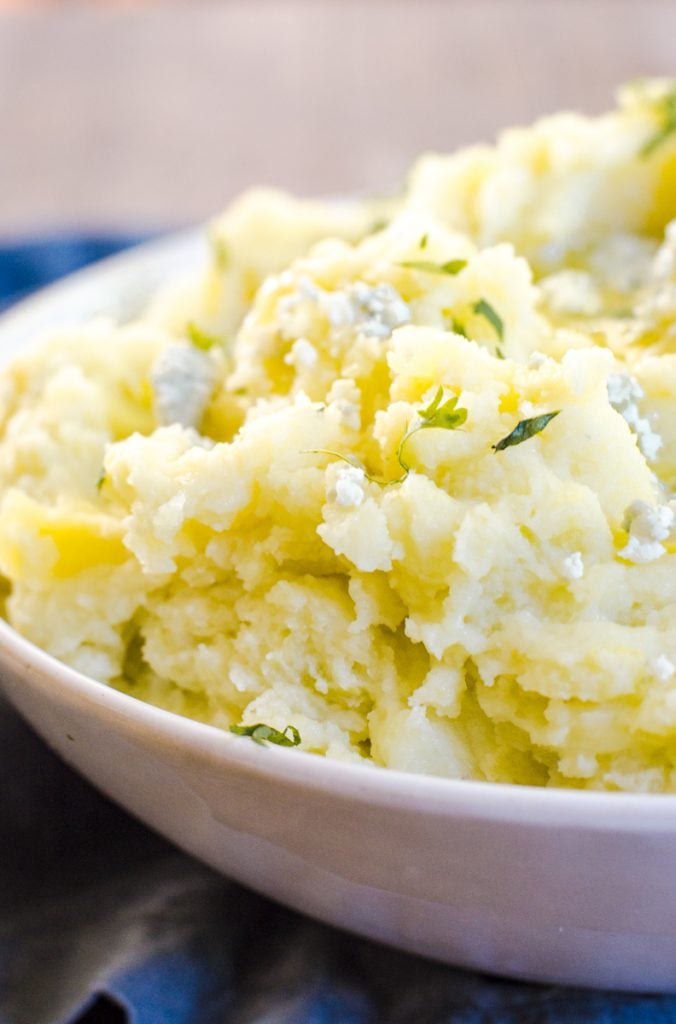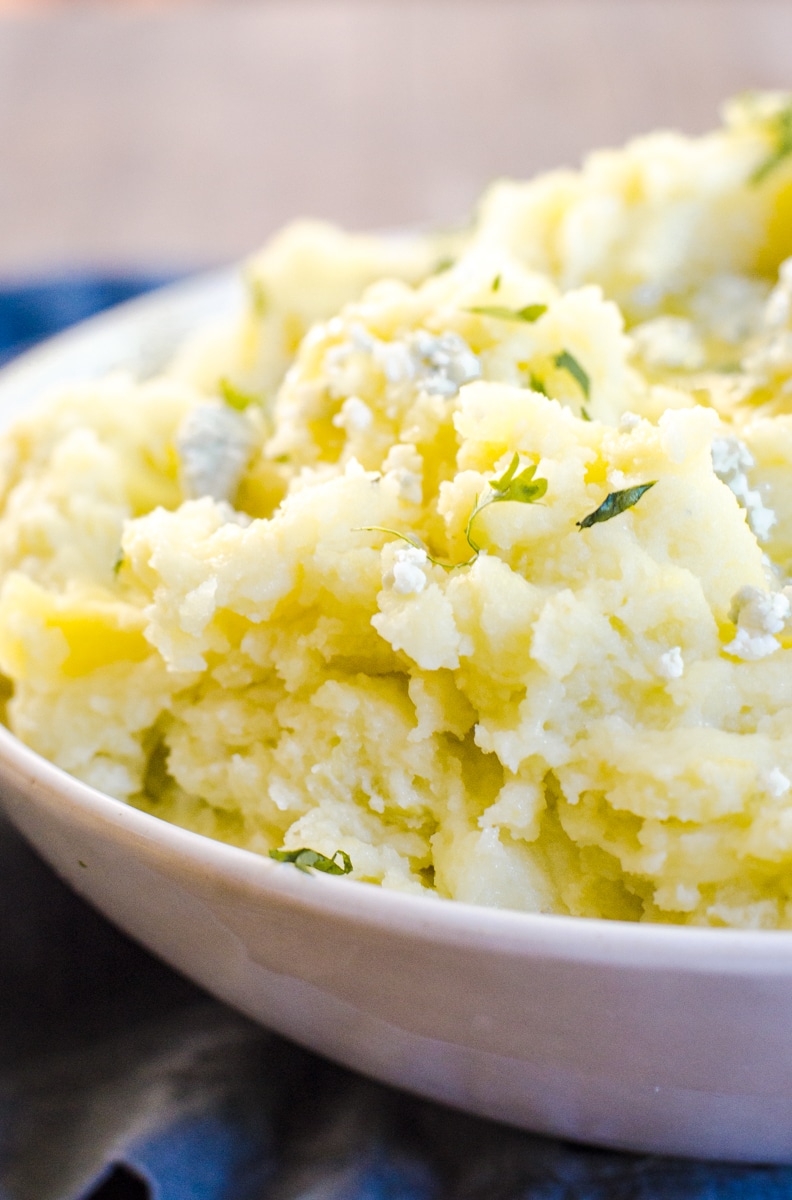 Blue Cheese Mashed Potato Recipe
This garlic mashed potatoes recipe is great because the blue cheese is not overwhelming. This makes it a great side dish for even the pickiest eater because the flavor is subtle.
Try using standard blue cheese crumbles from the grocery store, or get fancy with a buttermilk blue, or cambozola cheese.
If you want some other great potato recipes I recommend:
---
Make grocery shopping simpler with this printable grocery list for this blue cheese mashed potatoes recipe. Everything is listed in standard grocery store amounts. If no size is specified, even the smallest package provides more than enough.
Happy Cooking! 🙂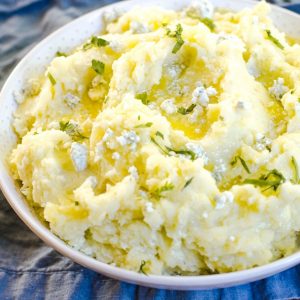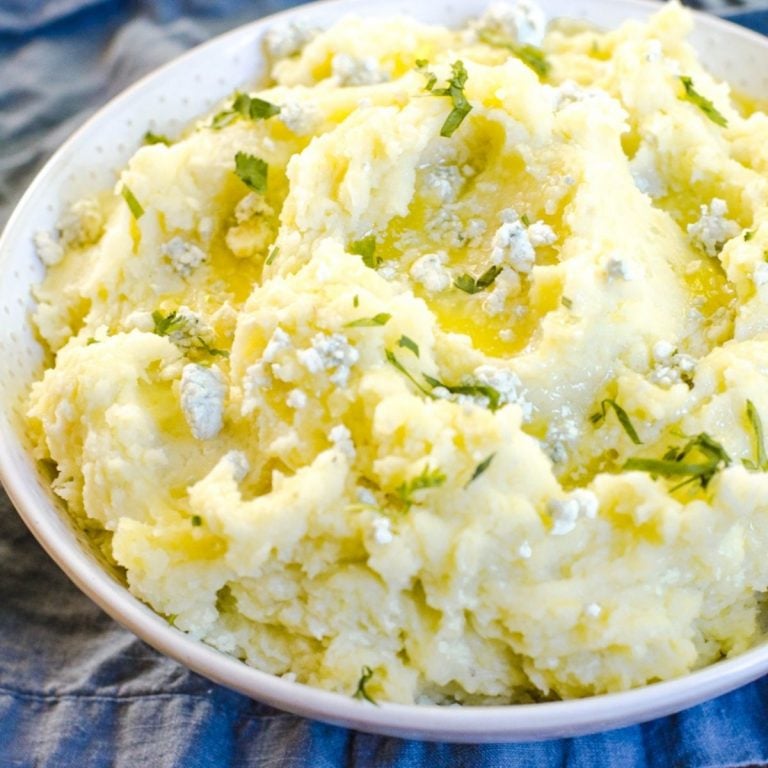 Creamy Mashed Potatoes with Blue Cheese
The subtle flavor of the blue cheese in these mashed potatoes make them unique and perfect for everyone.
Pin it for later?
Ingredients
5

pounds

yukon gold potatoes

½

cup

butter

¼

cup

heavy cream

1 ¼

cup

blue cheese

salt and pepper

,

to taste
Instructions
Peel and cut the potatoes into 1-inch pieces and place them in a large pot. Cover the potatoes with cold water and place on the stovetop over high heat. Bring to a boil and cook until the potatoes are fork tender but not yet flaking.

While the potatoes cook, melt the butter, heavy cream, and blue cheese together in a small saucepan. It doesn't need to boil, just get hot.

Strain the potatoes and transfer them to a mixing bowl. Mash them on the lowest speed of an electric mixer or by hand with a potato masher or ricer. Add in the hot blue cheese mixture and stir until combined. Season with salt and pepper and serve with extra blue cheese and melted butter on top.
Notes
These blue cheese mashed potatoes will stay fresh in the fridge for up to 4 days.
To reheat them, place the potatoes into an oven safe container.  Spread out 3-4 tablespoons of butter along the top of the potatoes, cover them with foil and bake at 350°F for 20 minutes or until heated through.  Remember, the deeper your pan, the longer it takes to reheat.
Nutrition
Serving:
1
serving
|
Calories:
420
kcal
|
Carbohydrates:
50
g
|
Protein:
11
g
|
Fat:
21
g
|
Saturated Fat:
13
g
|
Cholesterol:
57
mg
|
Sodium:
415
mg
|
Potassium:
1253
mg
|
Fiber:
6
g
|
Sugar:
2
g
|
Vitamin A:
625
IU
|
Vitamin C:
56
mg
|
Calcium:
154
mg
|
Iron:
2
mg
Tell me how much you love this recipe
and show off how you made it!