This simple garlic parmesan orzo side dish recipe is quick and easy. The white wine makes it elegant and fancy without extra work!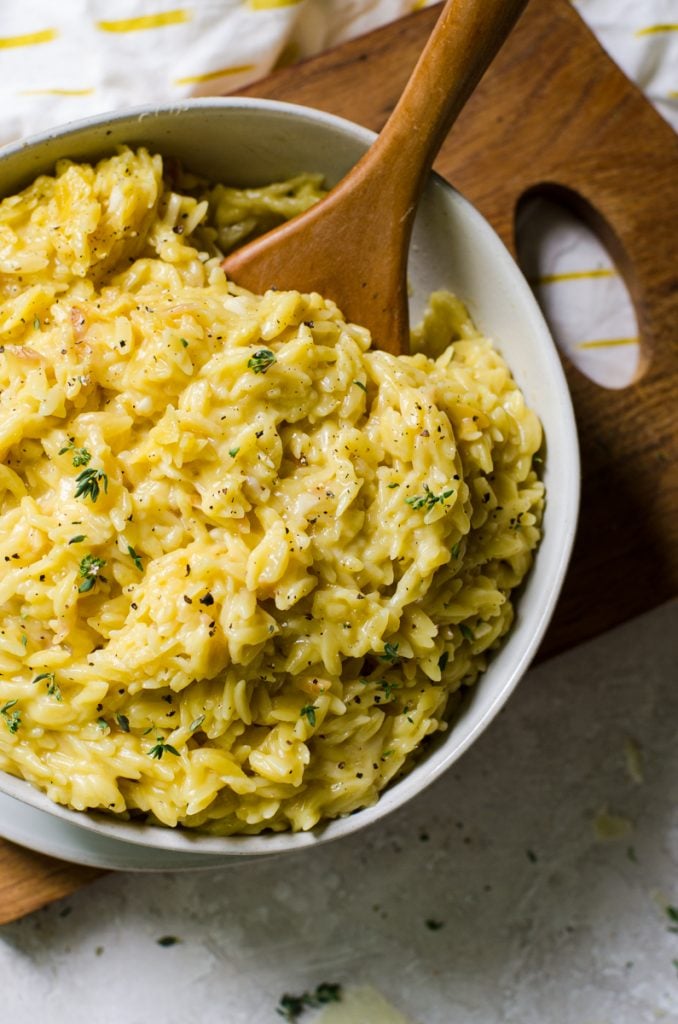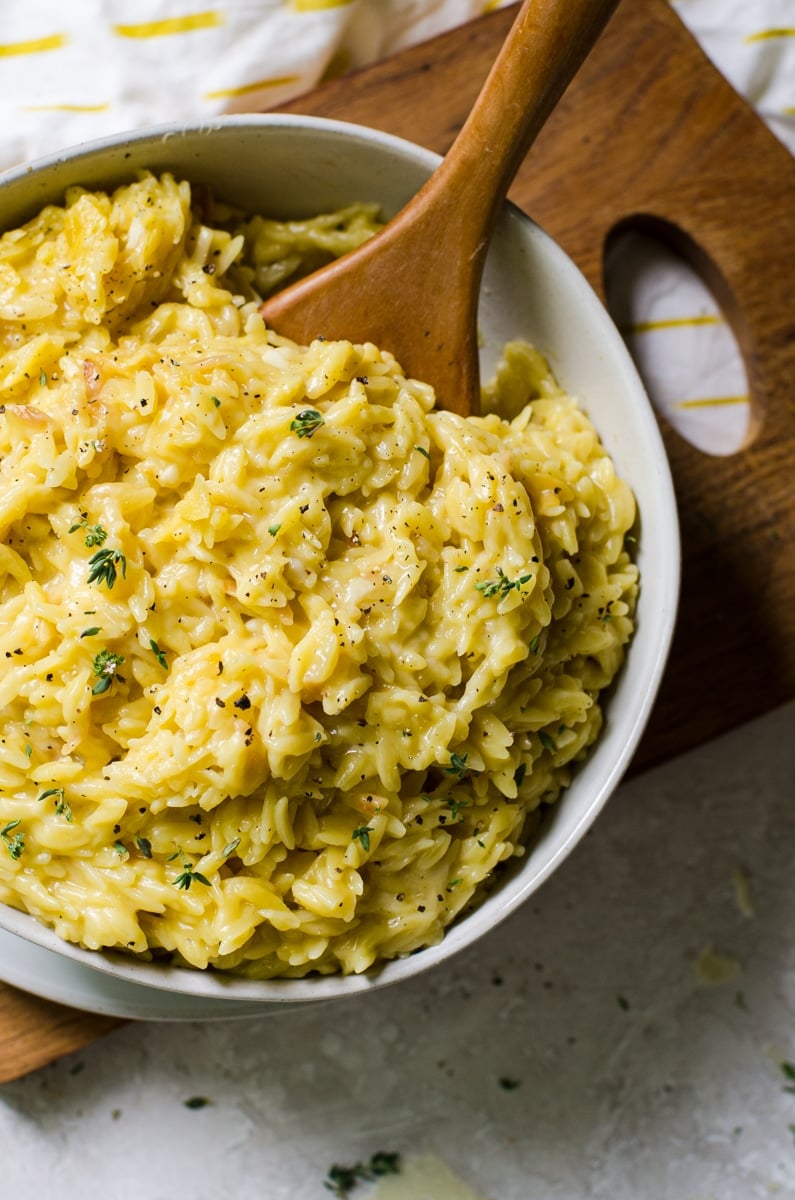 What Is Orzo?
Orzo looks like rice, but is actually a small cut pasta. It cooks very quickly and is often used for pasta salad or soups.
As an easy side dish, orzo is a premium option because it is easily cooked in the liquid that becomes its sauce, similar to risotto. In fact, there is a name for orzo cooked like this, which is "orzotto".
Because of the starch creating the thick sauce for the parmesan orzo, this dish is similar to a gourmet mac and cheese.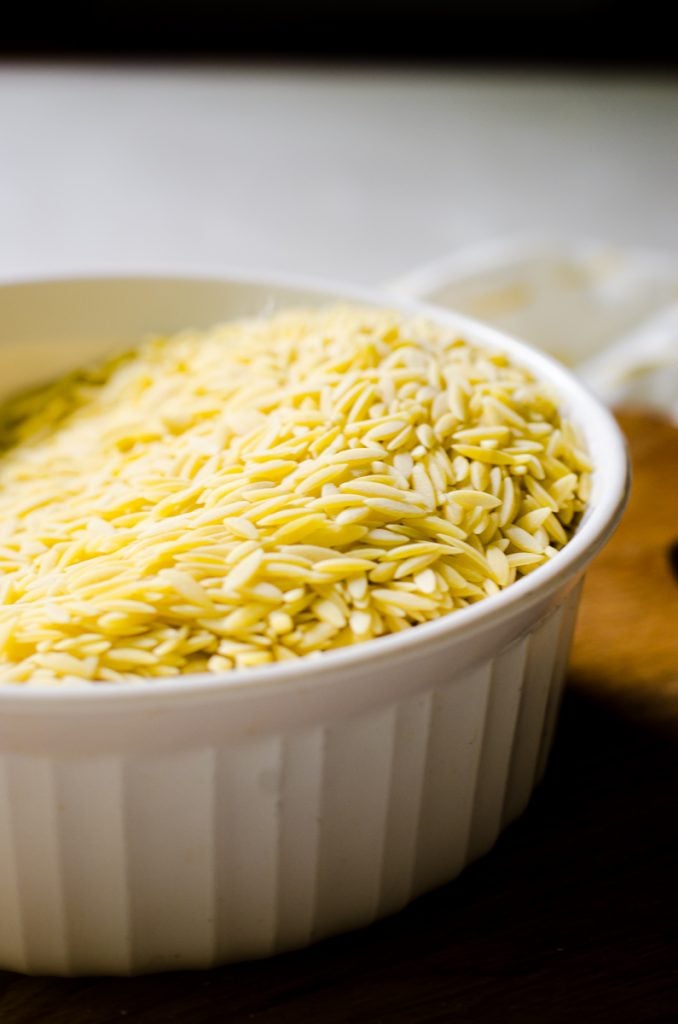 How To Cook It In One Pan
Unlike most recipes that want you to cook the orzo according to the package, this recipe lets you do it all in one pot. No more boiling and cooking the pasta, then making it fancy.
To make this easy parmesan orzo, start by sautéing the garlic in some butter. Add the orzo and cook until the butter coats the pasta. All the pieces should be a bit shiny and almost translucent. This toasts the orzo pasta and gives it a nuttier flavor.
Next, deglaze the pan with the white wine and pour in the chicken broth. Bring it to a boil, then reduce the heat to a simmer. Cook for about 15 minutes or until the pasta absorbs most of the liquid. The orzo pasta should be al dente.
Finally, stir in the freshly grated or shaved parmesan cheese. Season it with salt and pepper, and add a splash of the optional cream.
Personally, I think that this parmesan orzo doesn't need cream because it creates its own creamy texture.
Top Chef Tips
You'll want to stir this more often than you do rice. It's easy to forget that its a pasta, but if you don't stir it, it congeals and burns to the bottom of the pan.
If some of the orzo sticks to the bottom and you're nervous it is burning, don't work too hard to pull it up. Let the layer of toasted pasta serve as the buffer between it and the heat. Only scrape on top of the burnt stuff like it is the bottom of the pan.
You can substitute olive oil for the butter if you want. It doesn't taste as good with the white wi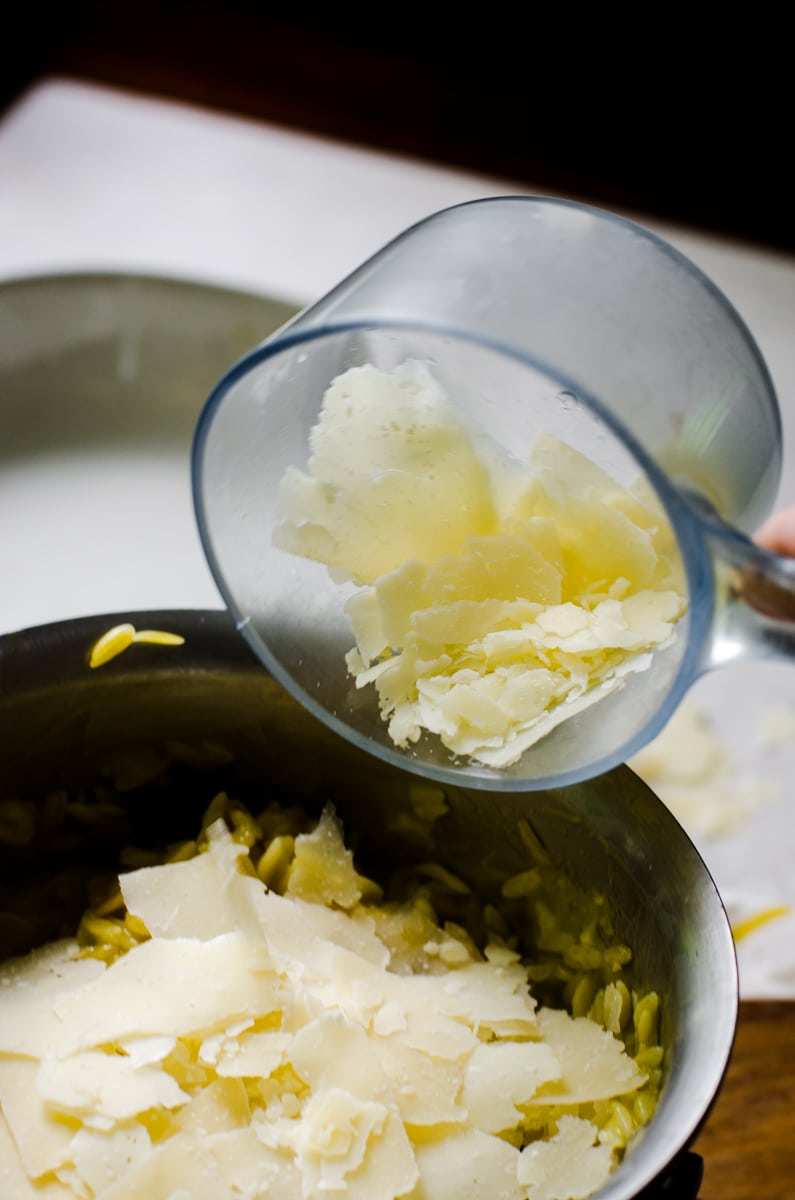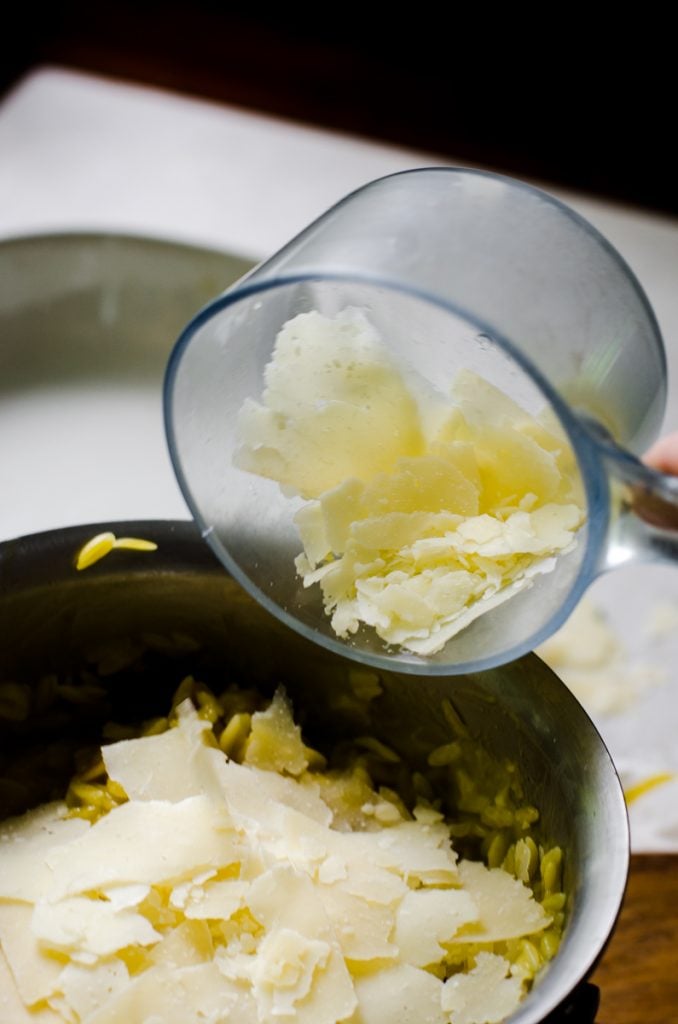 How To Make This A Meal
If you want to turn this simple dish into a full meal, add in some cooked chicken and roughly chopped spinach.
These quick additions are great because they don't require extra ingredients added to the sauce.
Just make sure that the chicken has enough time to get fully reheated. If you add it to the parmesan orzo too early it will drink up the chicken stock the pasta needs to cook. Add it only as long as it needs to get hot.
As for the spinach, roughly chop it first to make it match the size of the pasta. Remember that it shrinks by half when cooked.
In the final minutes of cooking the parmesan orzo, add the chopped spinach and stir until wilted.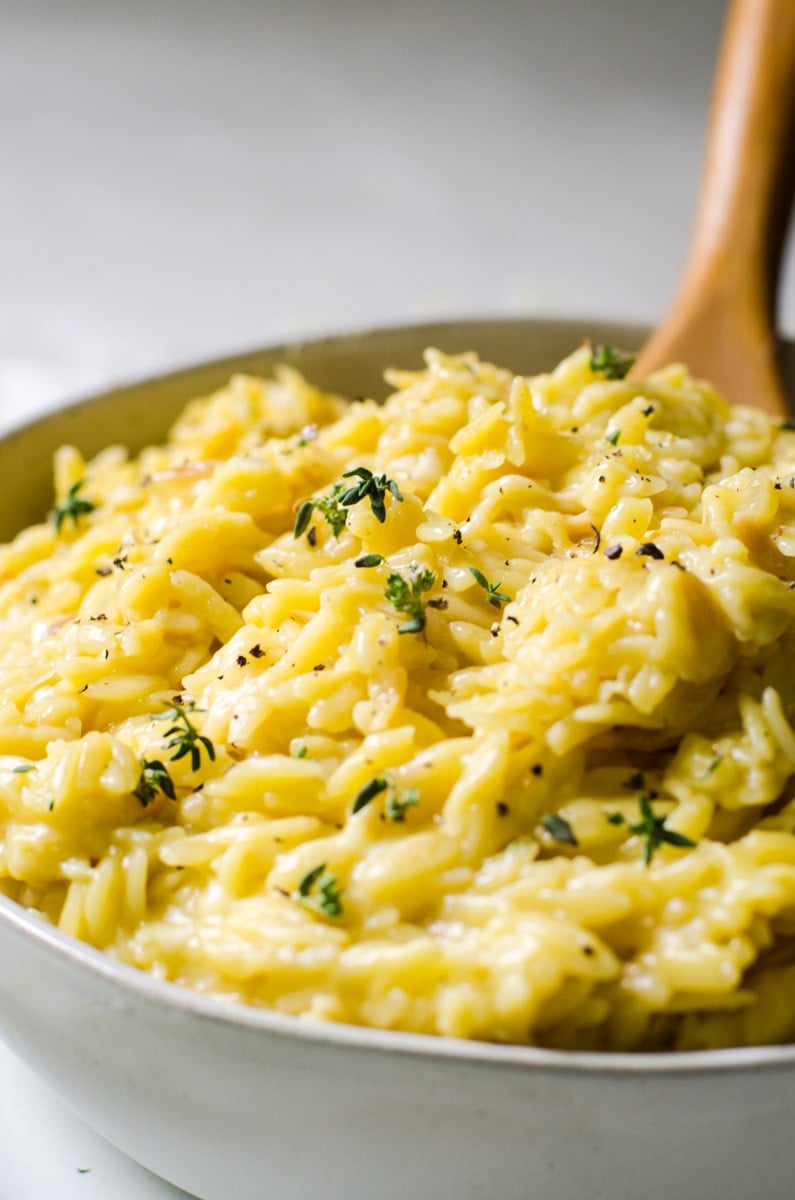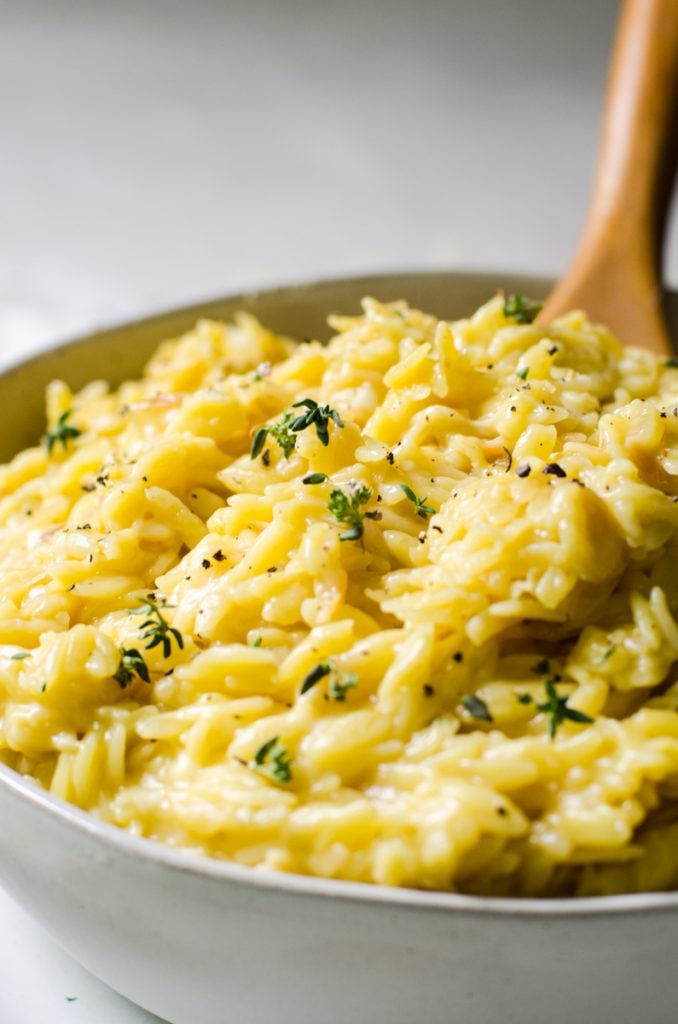 What To Serve It With
Any great vegetable or protein is perfect for this parmesan orzo. But because of the white wine, lean towards more elegant proteins with lighter flavors, rather than heavy ones.
I recommed: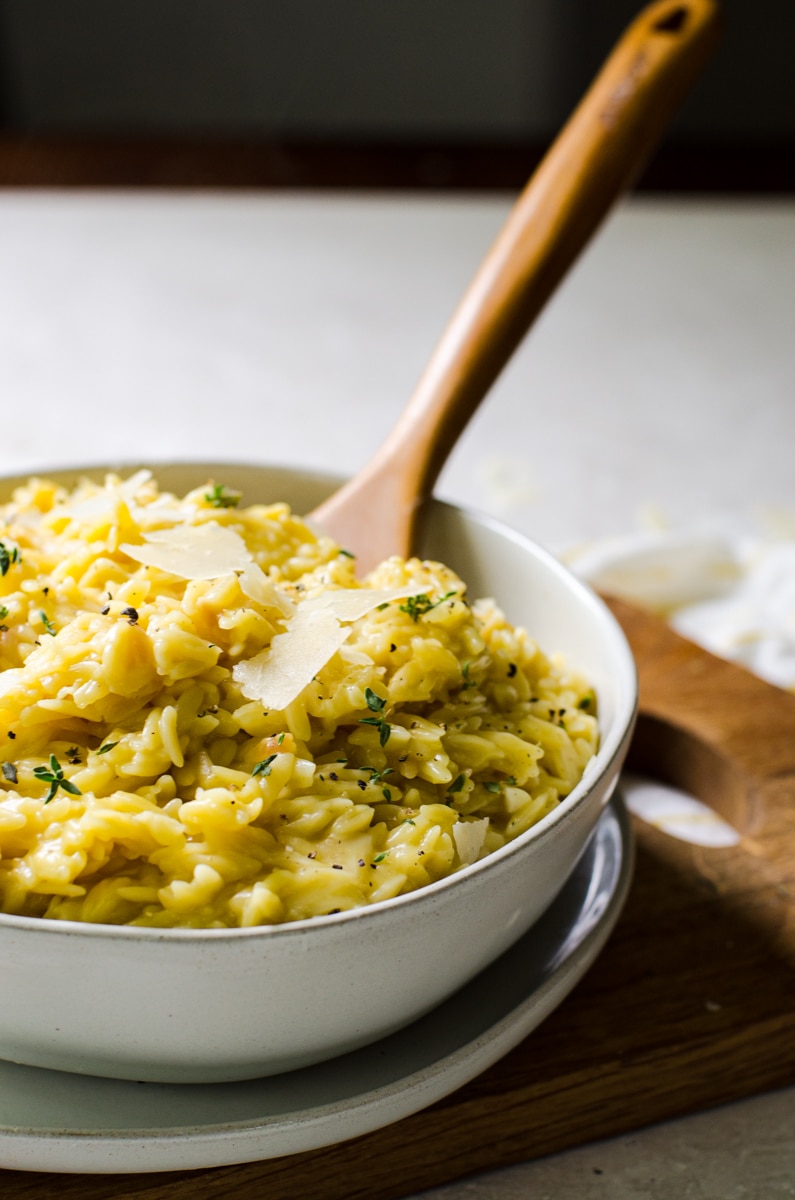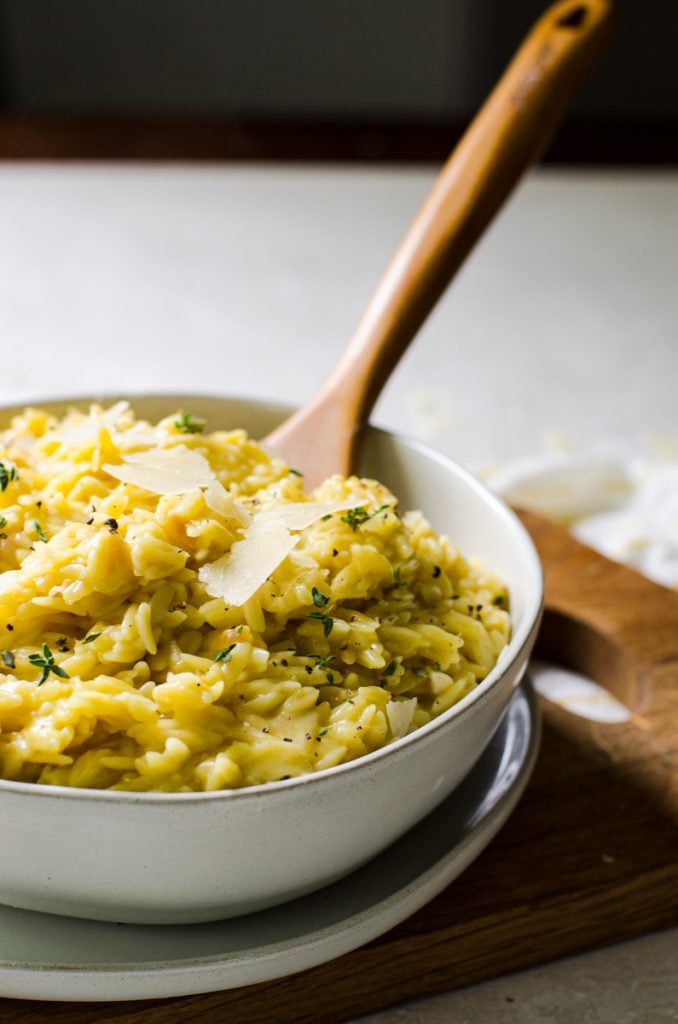 Garlic Parmesan Orzo Recipe
I recommend using parmesan cheese that you grate yourself. This is because the ones that come pre-shredded at the store have a special anti-caking ingredient added to prevent the shreds from sticking together.
Using your own shredded parmesan gives you better flavor and doesn't give a weird starchy texture and flavor to the orzo.
---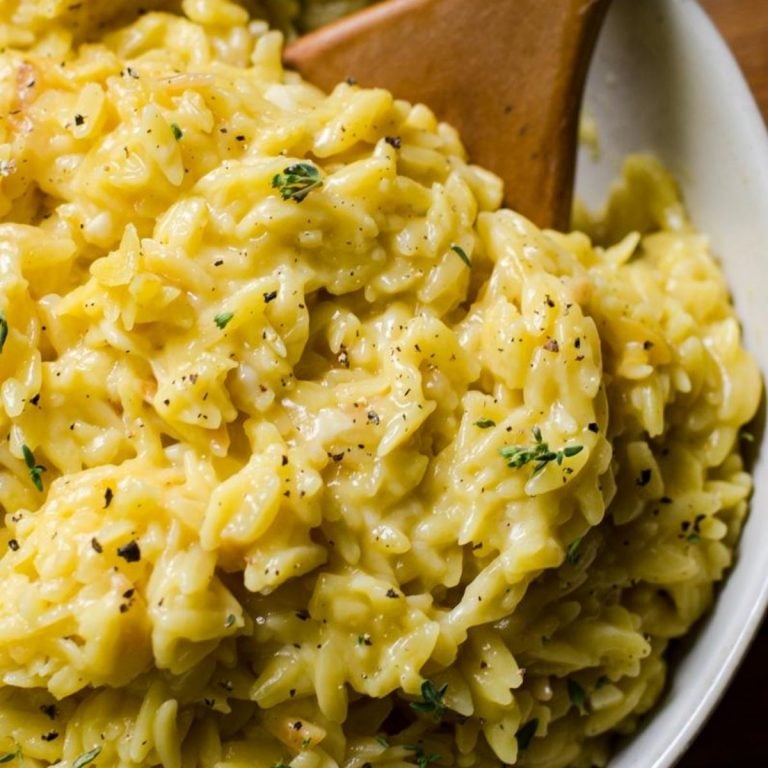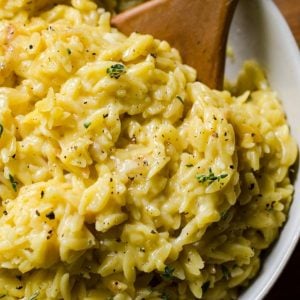 Garlic Parmesan Orzo Side Dish
This easy garlic parmesan orzo side dish is perfect for something quick to go with dinner.
Pin it for later?
Ingredients
1

Tablespoon

butter

3

garlic cloves

,

minced

1

pound

orzo pasta

¼

cup

white wine

3½

cups

chicken stock

1

cup

parmesan cheese

,

shredded, plus more for serving

dash

crushed red pepper flakes

,

(optional)
Instructions
In a small pot, melt the butter. Saute the minced garlic just until you can smell it then add in the orzo pasta. Cook it until it begins to smell toasty and looks shiny and semi-translucent.

Stir in the white wine and cook until it is almost gone. (This is called au sec.) Pour in the chicken stock and cook for about 15 minutes, stirring often. Cook until a thick sauce is made and pasta is al dente. It will absorb most of the chicken broth.

Stir in the shredded parmesan cheese until melted, season with salt and pepper and serve with optional crushed red pepper.
Nutrition
Serving:
1
serving
|
Calories:
318
kcal
|
Carbohydrates:
47
g
|
Protein:
15
g
|
Fat:
7
g
|
Saturated Fat:
3
g
|
Cholesterol:
15
mg
|
Sodium:
367
mg
|
Potassium:
258
mg
|
Fiber:
2
g
|
Sugar:
3
g
|
Vitamin A:
141
IU
|
Vitamin C:
1
mg
|
Calcium:
165
mg
|
Iron:
1
mg
Tell me how much you love this recipe
and show off how you made it!