Given an upscale twist with tangy goat cheese and bright white wine, these delightfully creamy goat cheese mashed potatoes will be the hit of dinner.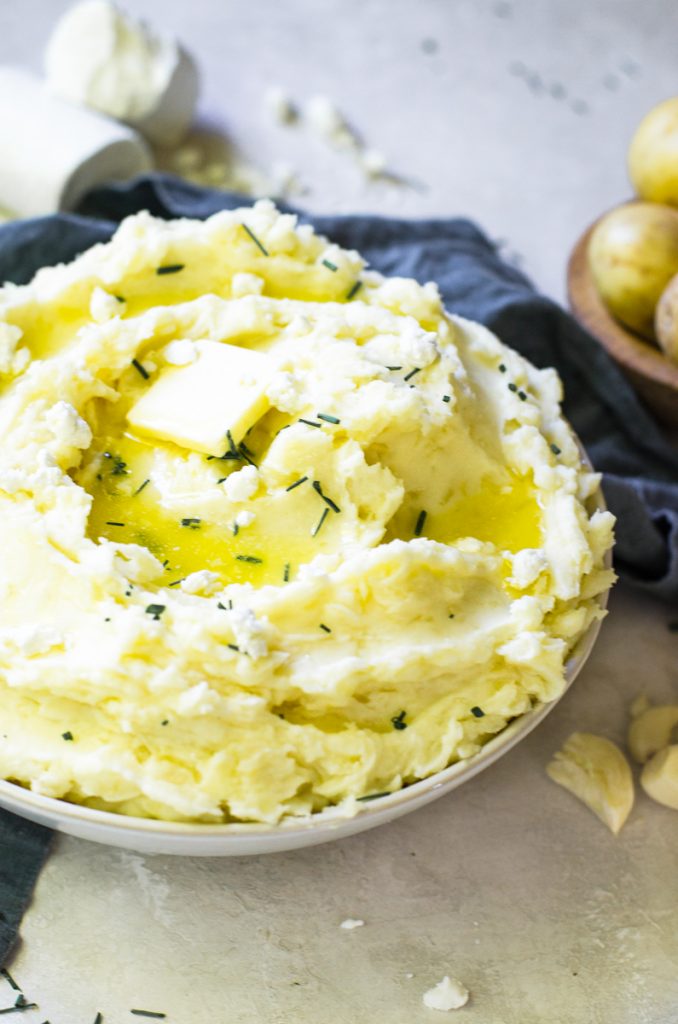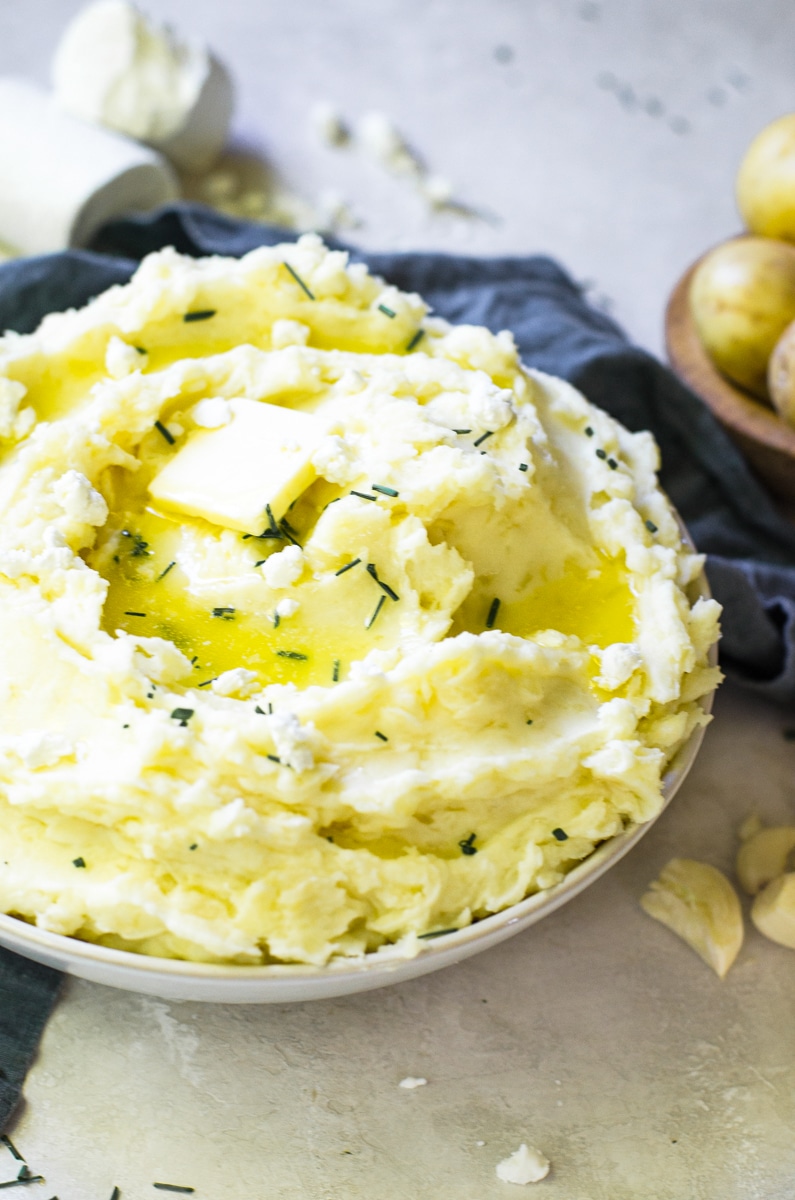 These goat cheese mashed potatoes are a comfort food dream. Made to upscale foodie perfection, they have white wine and goat cheese in them to make them divine.
Which Potatoes are Best?
The best potatoes for mashed potatoes are always starchy ones. This includes yukon golds, purple potatoes, russet potatoes, or Idaho. These potatoes absorb liquid in a way that makes them swell, get fluffly and light during cooking.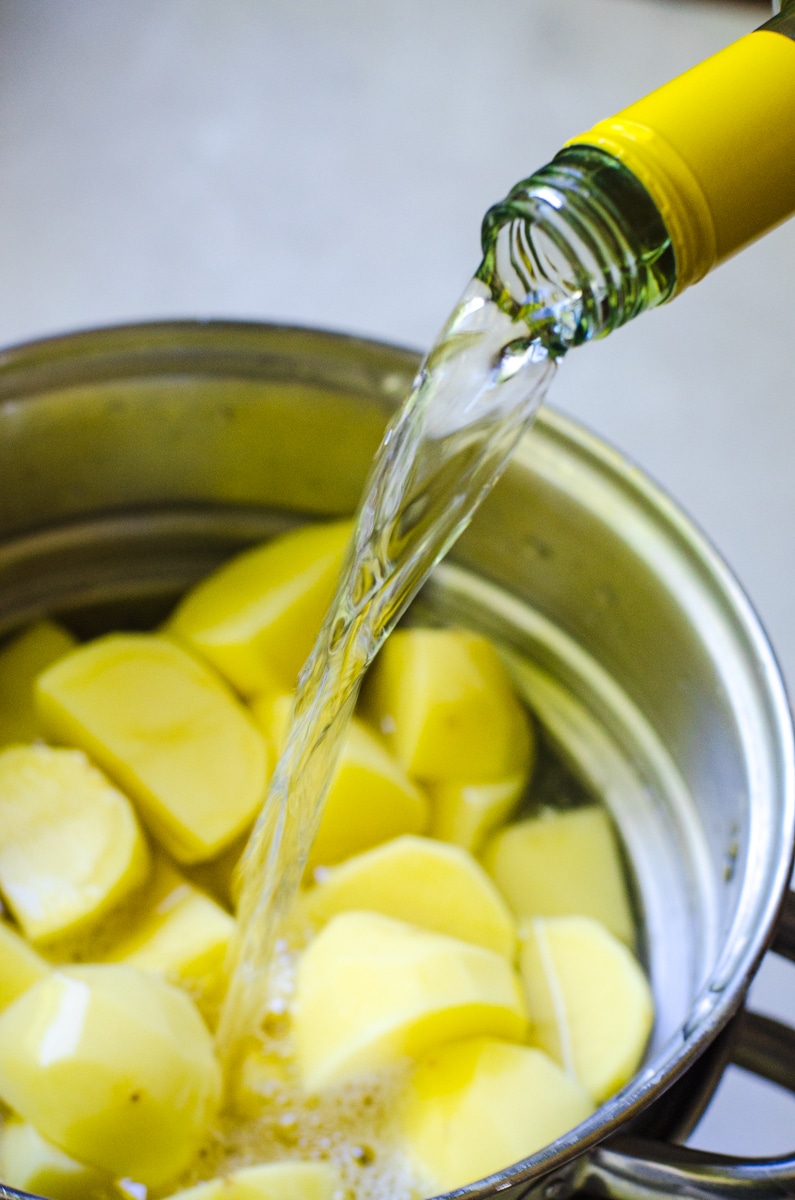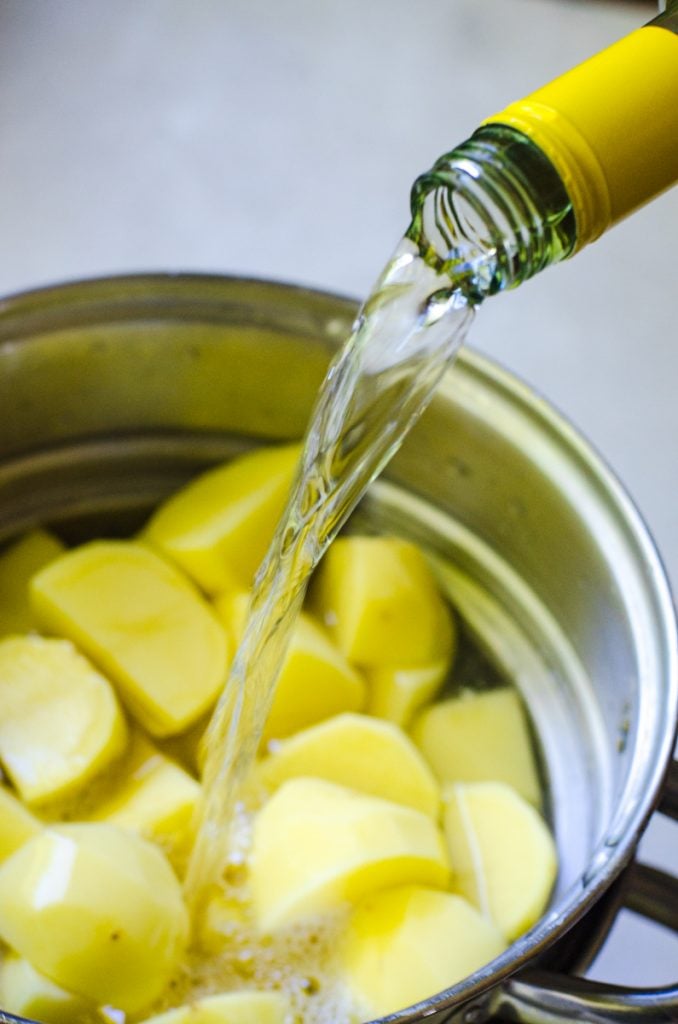 Is Milk or Cream Best?
When choosing between milk or heavy cream for these goat cheese mashed potatoes, it is important to consider what the end goal is. We're going for rich and flavorful gourmet comfort food, so shying away from fat isn't the goal.
To balance the two and prevent overwhelming the white wine, I chose half and half. But with an extra step.
Heating the half and half with the garlic cloves helps infuse the garlic flavor without having to actually put cloves in the goat cheese mashed potatoes. (This also works with roasted garlic.)
Heat the butter, half and half, and garlic cloves in a sauce pan over low heat until it just starts to simmer. Remove the garlic cloves then slowly incorporate it into the cooked potatoes during mashing. This gives you the creamiest side dish imaginable.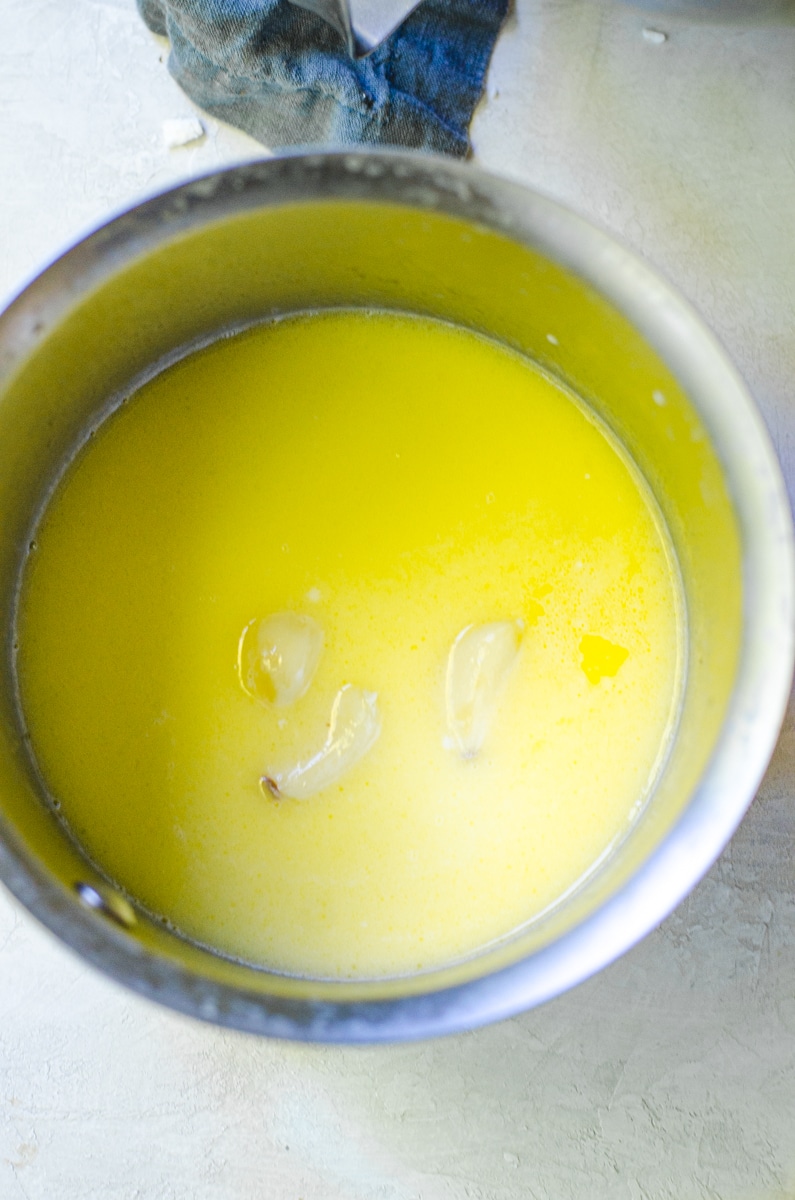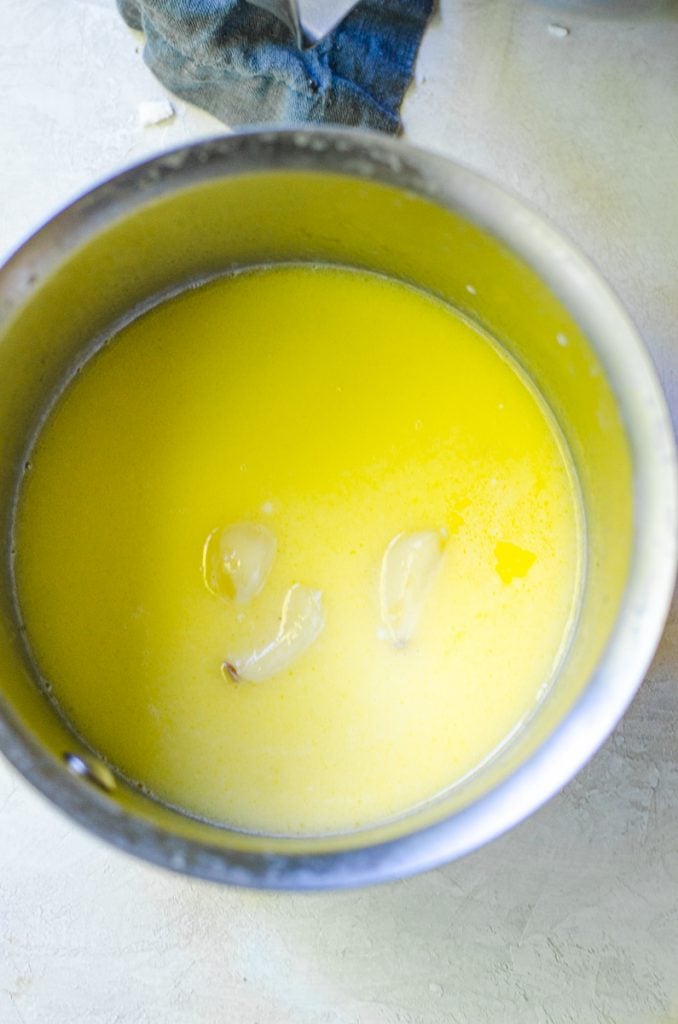 White Wine in Mashed Potatoes?
If you want a quick and easy way to make your mashed potatoes gourmet, adding a little wine is a great way. However, this isn't done how you'd expect. The white wine is part of the boiling water instead of the finished side dish.
This helps keep the flavor of the wine more mild instead of astringent and also helps it stay subtle enough to be unique. I like to use a mild white wine like pinot gris or sauvignon blanc because they don't have as crisp of flavor profiles and pair better with the goat cheese.
When adding white wine to the goat cheese mashed potatoes, you should work in a ratio of 2 cups of white wine to every 7 cups of water. Of course, you could make it stronger or more diluted if you want, but this is the ideal ratio.
For me, I was able to cover my potatoes perfectly using a whole bottle of white wine and 14 cups of water. Depending on the size of your large pot, you may need more or less.
Once your wine and potatoes are in the large pot, bring it to a boil over high heat and cook the potatoes just usual. The extra white wine is drained away with the water after cooking.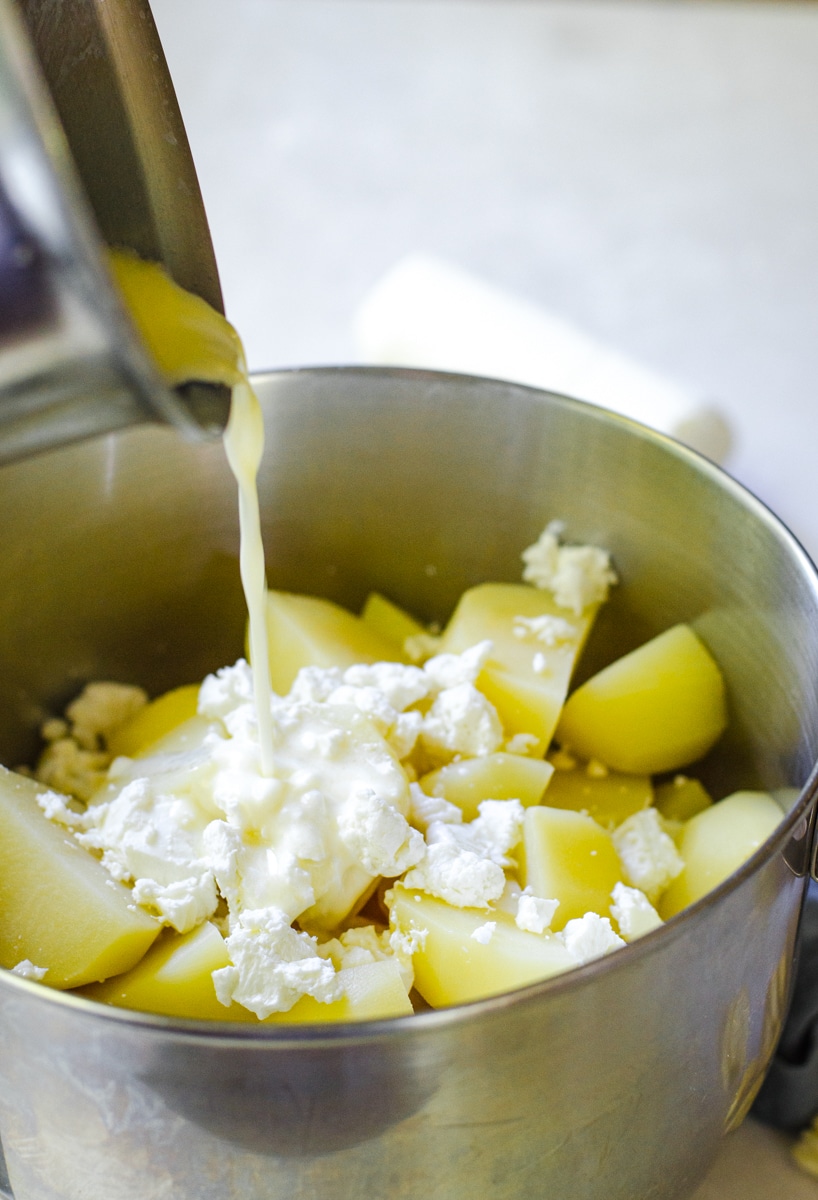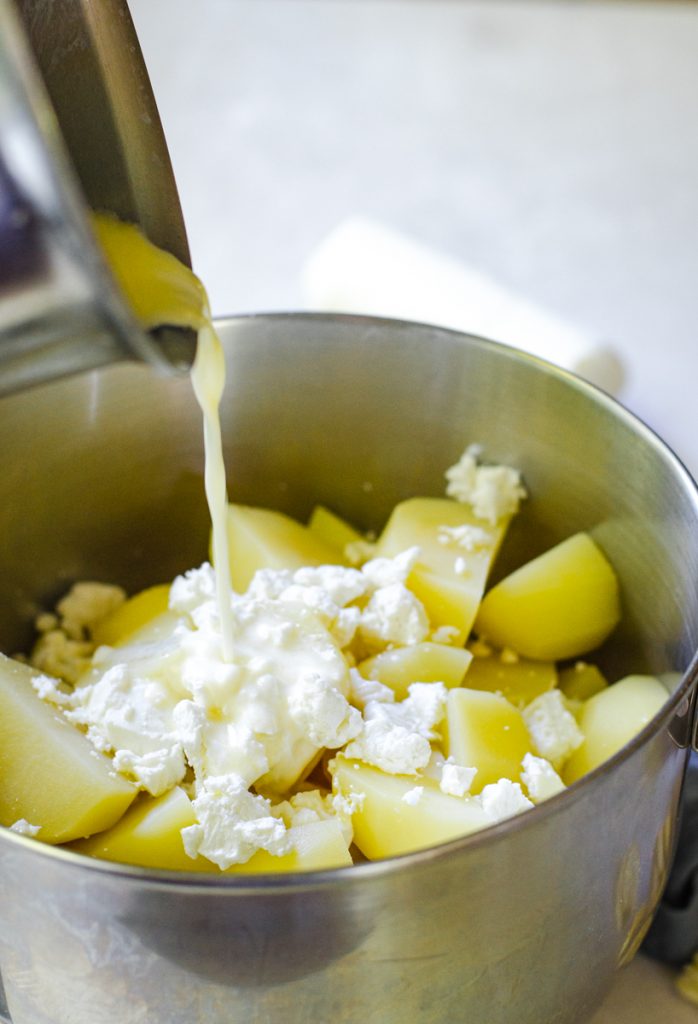 Can I Make These Ahead?
Yes, you absolutely can! They reheat extremely well, but they may not be as fluffy as if you were serving fresh.
To make these ahead, follow the recipe just as written except leave out the butter and seasoning. Once done, transfer the goat cheese mashed potatoes into an oven safe baking dish and cover with plastic wrap.
Remove the plastic wrap and cover the potatoes with aluminum foil. Then, reheat in a 350°F oven for 20-30 minutes or until heated to at least 165°F.
To help fluff the potatoes up and make them them taste fresh, hand whip in the melted butter with a fork before serving. Then season with salt and pepper. This will help incorporate back in some air as well as freshen up the flavor.
Why Are They Sticky?
If your goat cheese mashed potatoes are sticky or gluey one of three things probably happened.
First, did you choose a starchy potato instead of a waxy one? The wrong potato easily changes the texture of your potatoes.
Second, did you overcook the potatoes? The potatoes should be just past al dente for a perfect mash. This makes them pliable enough to easily use a potato masher or mixer to mash. If overcooked, the water in outweighs the starch and makes them heavy and sticky.
Lastly, did you over mix them? Just like making biscuits or pie dough, if you overwork the starch it makes it tough. You want to keep the speed of the mixer low or opt for a potato masher or food mill to prevent them from becoming sticky.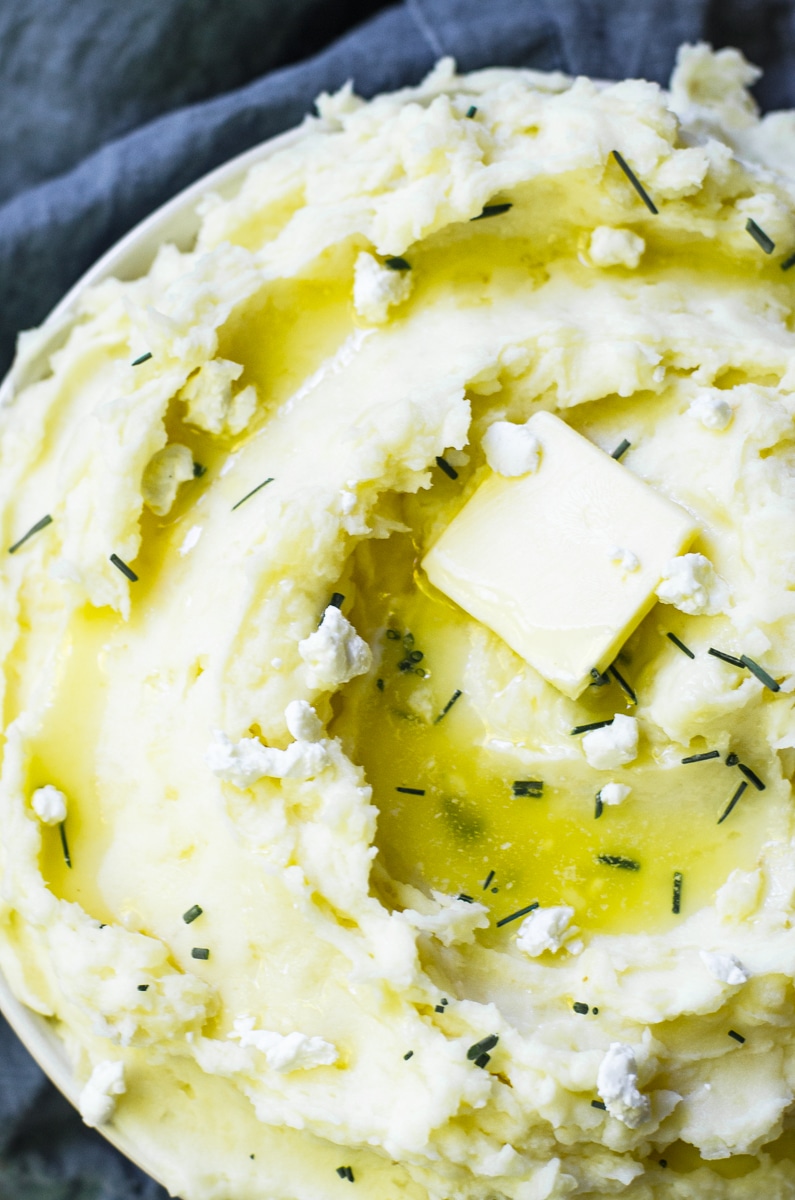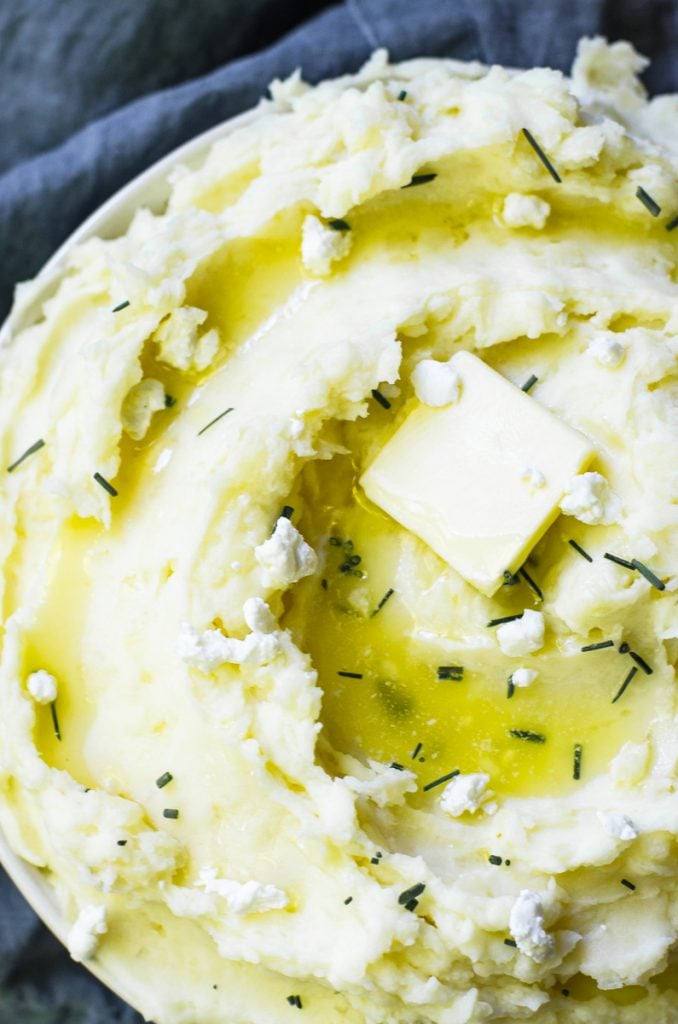 Goat Cheese Mashed Potatoes Recipe
Since I used the white wine and want it to shine, I choose simple chives to pair with this goat cheese mashed potatoes recipe. If you choose to opt for an herbed goat cheese instead of plain, it may overwhelm the white wine.
Also keep in mind that herbed goat cheese often has olive oil in it. This may alter the flavor of your mashed potatoes so opt for one that doesn't if you can.
For more great side dish recipes, I recommend:
---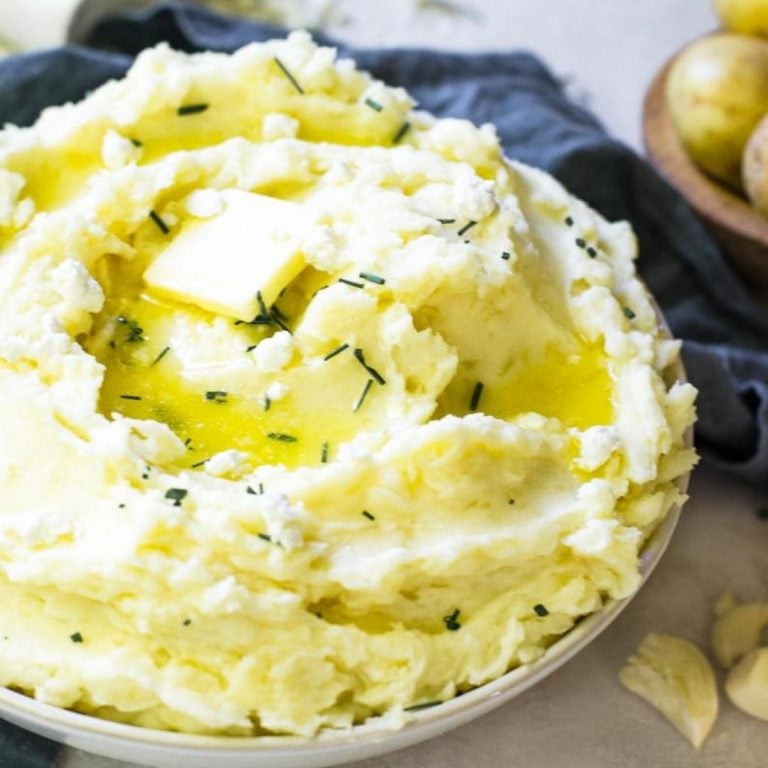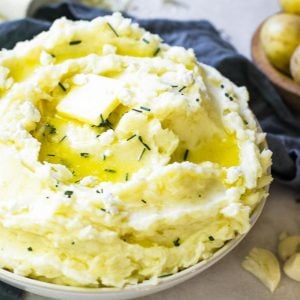 Goat Cheese Mashed Potatoes
These gourmet mashed potatoes are just a little tangy and the ultimate gourmet comfort food.
Pin it for later?
Ingredients
5

pounds

yukon gold potatoes

1

bottle

white wine

14

cups

water

8

ounces

chevre goat cheese

½

cup

half and half

3

garlic cloves

4

Tablespoons

butter

¼

cup

sour cream

chives
Instructions
Peel the potatoes and put them in a large pot. Cover with water and white wine and bring to a boil. Cook until the potatoes are just past al dente, about 25 minutes.

Strain the potatoes and transfer them to a large bowl. Meanwhile, heat the butter, garlic, and half and half in a small sauce pot until it is at a simmer. Remove the garlic cloves and set aside.

Use a potato masher or a mixer on low to mash the potatoes. Add in the goat cheese, sour cream and stir until just combined. Slowly drizzle in the butter mixture while whipping the potatoes with a paddle attachment or rubber spatula.

Season with salt and pepper and serve with fresh minced chives on top.
Nutrition
Serving:
1
serving
|
Calories:
260
kcal
|
Carbohydrates:
35
g
|
Protein:
8
g
|
Fat:
10
g
|
Saturated Fat:
6
g
|
Cholesterol:
25
mg
|
Sodium:
139
mg
|
Potassium:
865
mg
|
Fiber:
4
g
|
Sugar:
2
g
|
Vitamin A:
377
IU
|
Vitamin C:
37
mg
|
Calcium:
80
mg
|
Iron:
2
mg
Tell me how much you love this recipe
and show off how you made it!