This creamed asparagus recipe is perfectly cooked so that the asparagus is al dente. Tossed in a light cream sauce, this makes the easiest quick dinner side dish.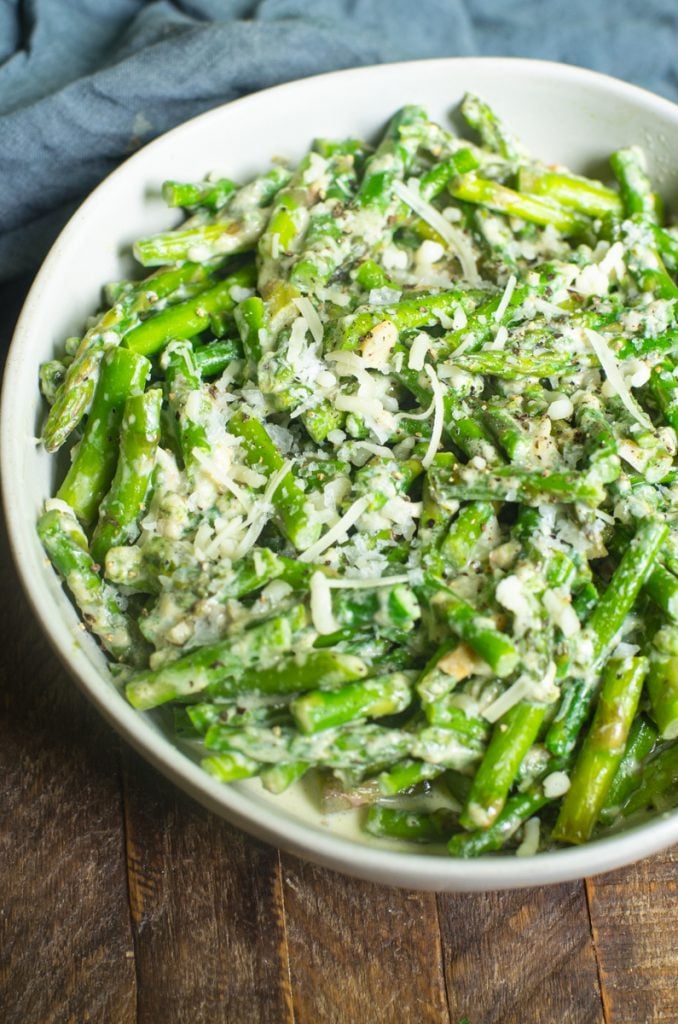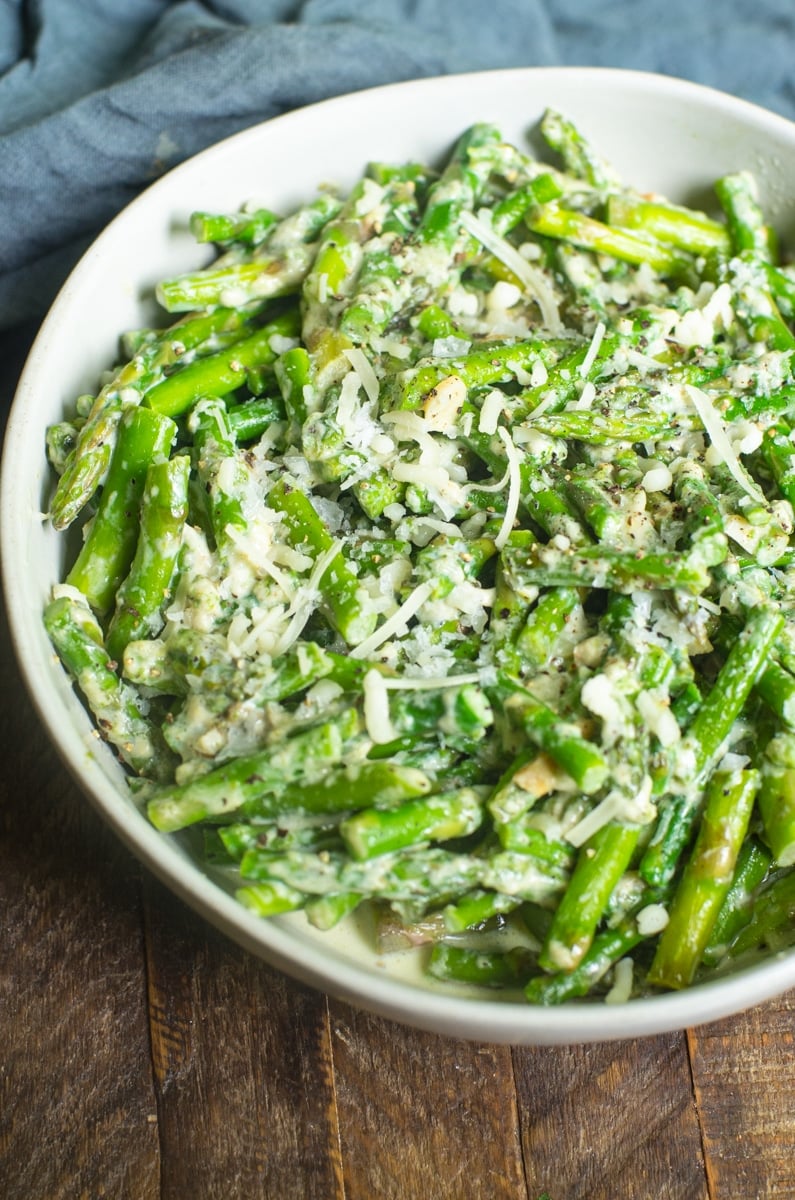 This simple side dish can be made quickly, or given a little extra time for a more traditional recipe. Enjoy it with chicken, pork, or steak for a creamy vegetable that feels elegant and gourmet.
How To Trim Asparagus
If left alone, the woody bottom part of the asparagus will make your creamed asparagus chewy and inedible.
To trim asparagus, start by lining up all the point ends on one side. Grabbing from the opposite end, bend the stalk upwards until snaps. This is the point where the asparagus becomes tender.
Use your knife to trim off the woody stalks equal to the same location as the one you snapped. You can then leave the stalks long, or trim them into 1 - 1.5" bites.
How To Sauté It
The amount it takes to sauté creamed asparagus only changes by a minute or two depending on whether you leave the stalks long or trim them into bite sized pieces.
To sauté the asparagus, start by melting butter in the bottom of a large skillet. Add in the garlic and cook until it is just starting to brown. Then add the asparagus.
Cook, stirring occasionally over medium heat until the asparagus is bright green. About four minutes depending on thickness. The thicker the asparagus, the more time it needs.
If your asparagus starts to caramelize on one side that means that your heat is too high or you're not stirring enough.
If you're not sure if the asparagus is finished, you can test it out by looking at the cut end. It should be shiny and damp all the way through the stalk. If the center still looks white and dull, then the asparagus isn't done cooking yet.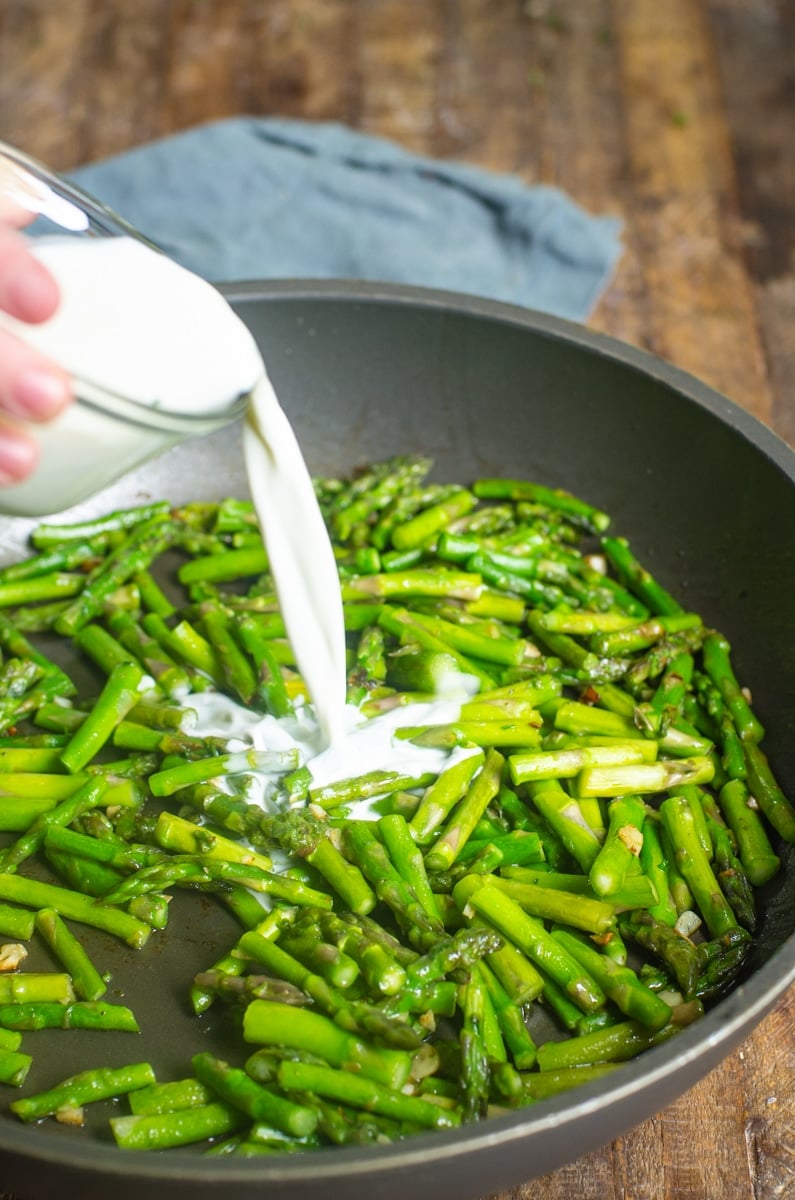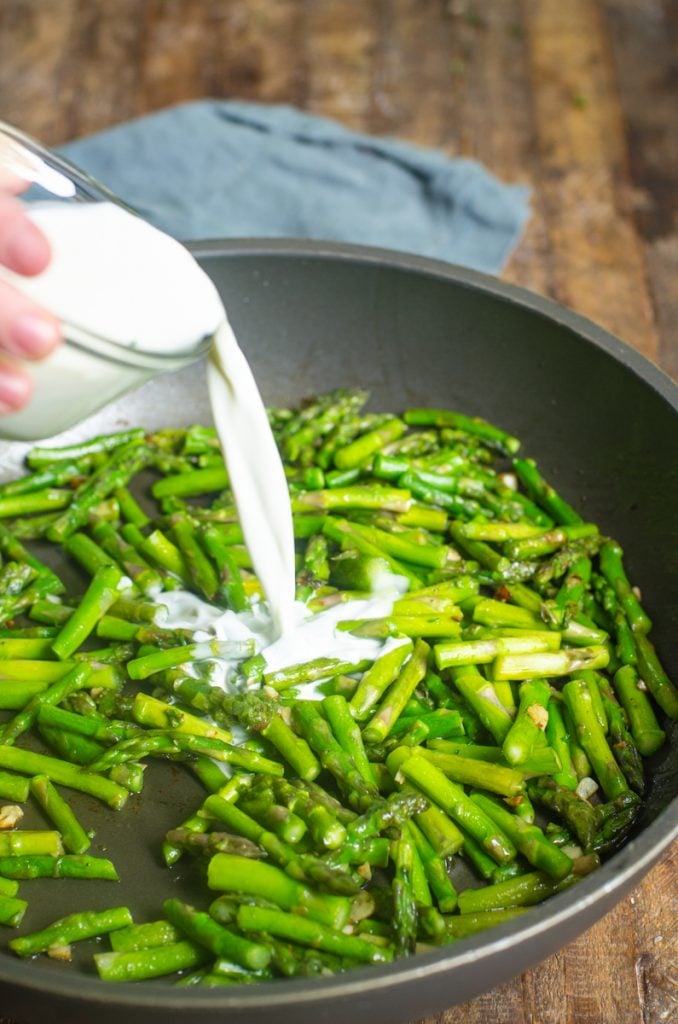 What Does Creamed Mean?
To cream a vegetable means to cook it in a cream sauce. The cream sauce is very reminiscent of a basic bechamel, except that it doesn't always use flour to thicken the sauce. It is then baked in the oven to brown the top.
In the case of this creamed asparagus recipe, I let the cheese do the thickening. This doesn't always give you the most consistent sauce, but it does save a step in making it. Especially because flour needs 30 minutes to simmer out it's flavor, so this massively cuts down time.
How To Bake It
For an authentic creamed asparagus recipe, it needs to be topped with cheese and baked in the oven.
To do this and prevent the asparagus from being overcooked, only sauté it until it is bright green. The rest of the cooking will be done in the oven.
Pour the creamy asparagus into an au gratin dish (any baking dish will work) and top it with salt and pepper along with extra shredded parmesan cheese. Bake at 350 degrees for fifteen minutes or the cheese is melted and beginning to brown.
Let the creamed asparagus sit for a few minutes before serving so the sauce has a moment to set up.
Keep in mind, this is a looser sauce that relies on the cheese for thickening, so a decent amount will be left behind in the dish when serving.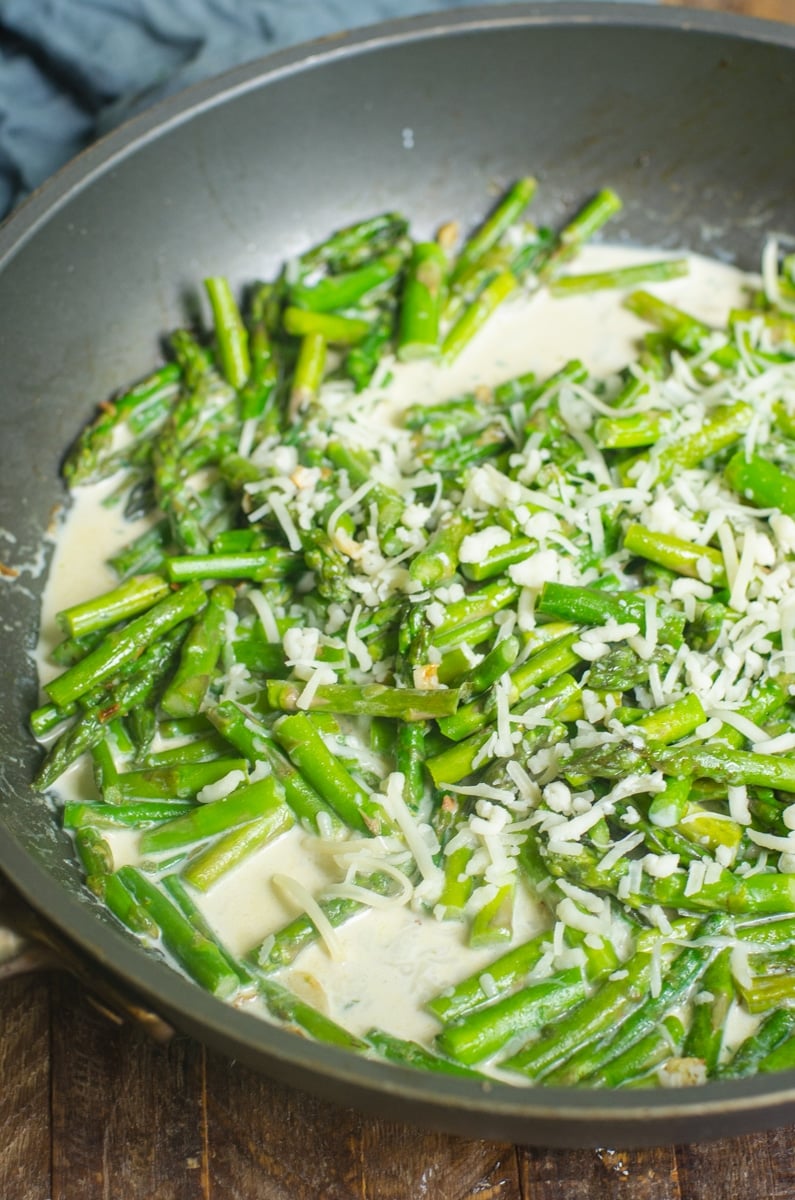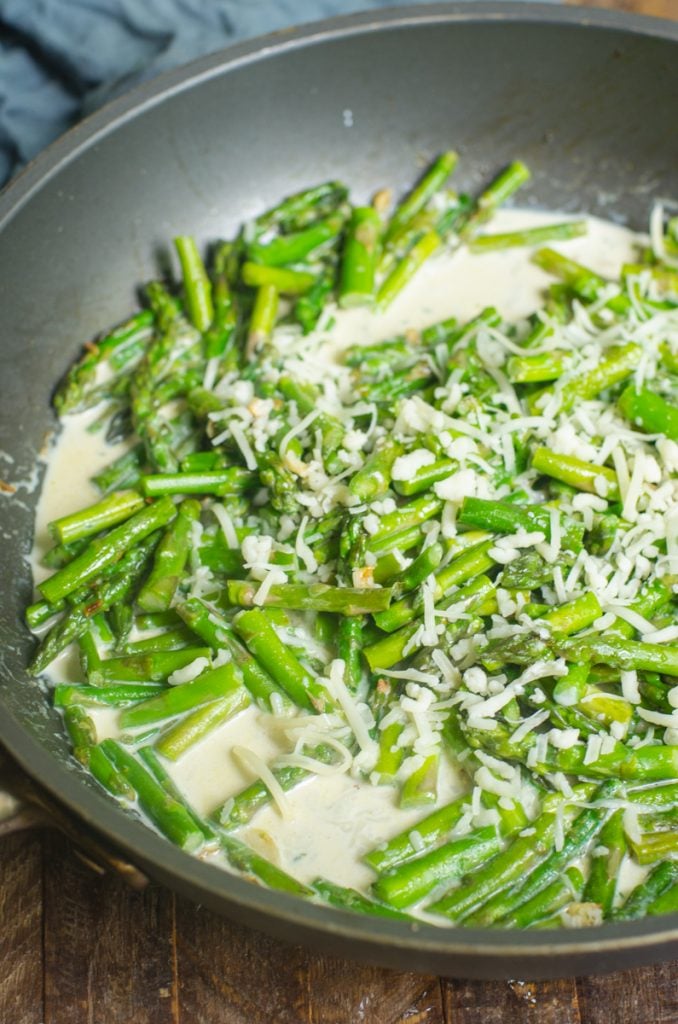 Top Recipe Tips
For a more traditional creaminess, use heavy cream. It is a bit sweeter, which is why I chose half and half. This lets the aspargus shine a bit more.
Parmesan cheese is the most traditional choice, but you can use any meltable cheese easily. Try smoked gouda, provolone, or even pepperjack for fun alternatives. (Just maybe leave out the nutmeg with those.)
For a browned top, preheat the oven to 400 degrees. Transfer the creamed asparagus into a baking dish and top with a little extra cheese. Bake until golden, about 10 minutes.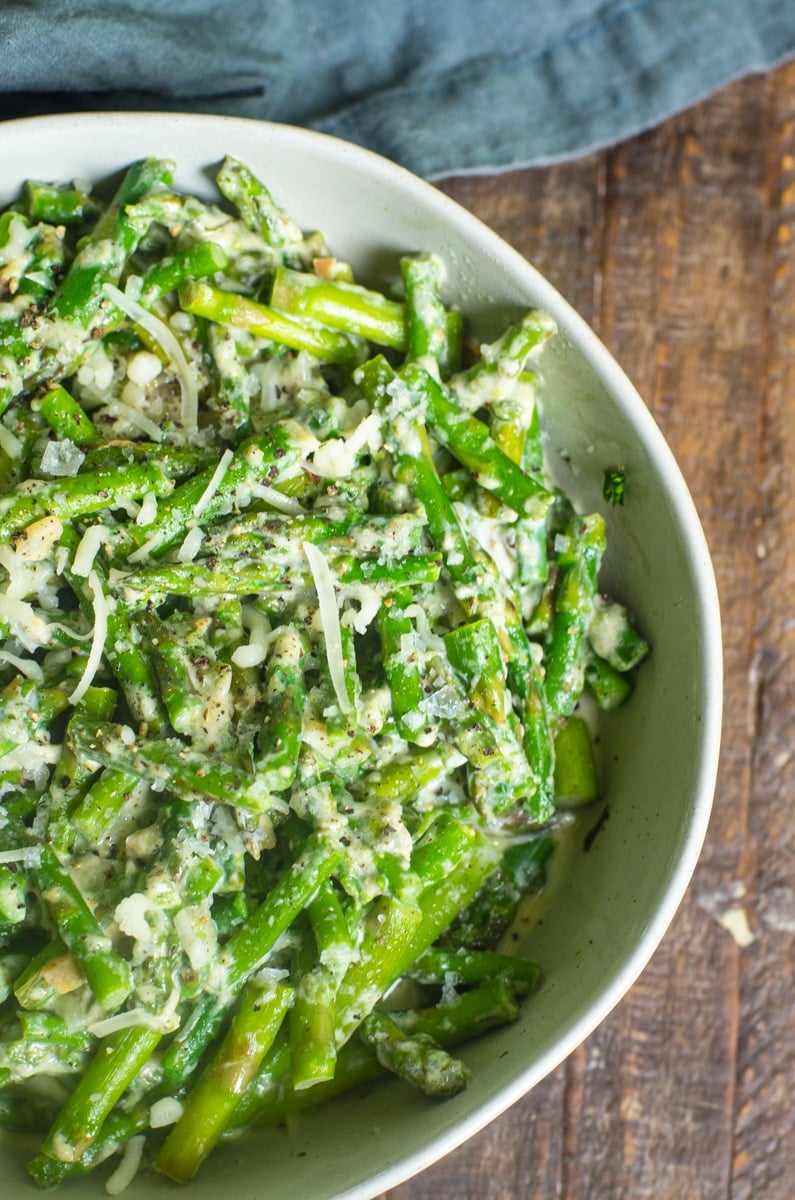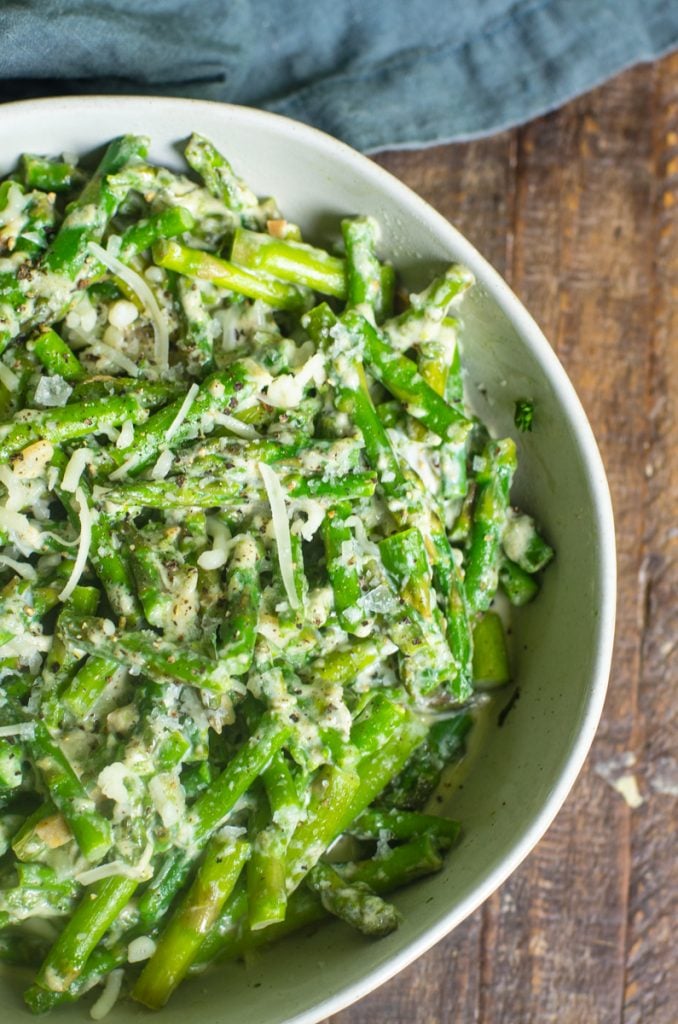 Creamed Asparagus Recipe
This simple side dish is great to throw together when you need something done fast. It only takes about 10 minutes to make and the sauce makes it a huge hit with the family.
I recommend using two pounds of asparagus for this recipe because if you are buying asparagus out of season, you are likely to lose half of the weight. By using two pounds, you end up with roughly one pound of cooked creamed asparagus.
Want some more vegetable side dish ideas? I recommend:
---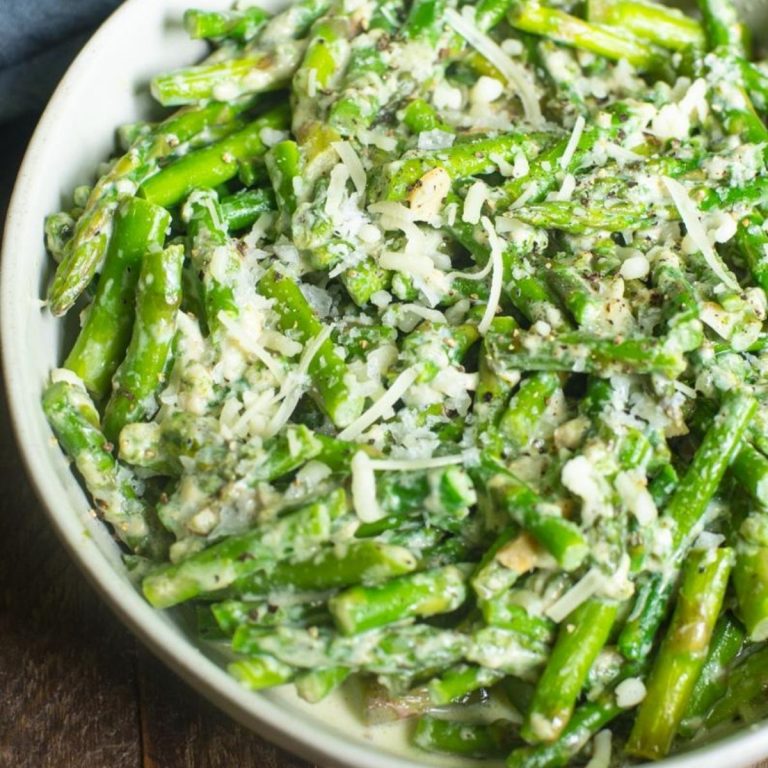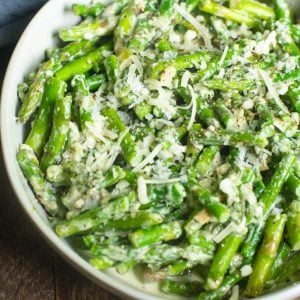 Creamy Asparagus
The delicious creamy sauce on this asparagus makes a luxurious side dish that is quick and easy.
Pin it for later?
Ingredients
2

pounds

asparagus

,

trimmed

1

Tablespoon

butter

3

garlic cloves

,

minced

½

cup

half and half

¼

cup

parmesan cheese

,

plus extra for on top

1

pinch of nutmeg

salt and pepper

,

to taste
Instructions
In a sauté pan over medium heat, melt the butter. Add in the garlic and cook until it is just starting to brown.

Add the cut asparagus and cook until bright green and al dente tender. Pour in the half and half and bring to a simmer. Stir in the cheese and nutmeg and season with salt and pepper. and

Transfer to an au gratin or baking dish and sprinkle with extra parmesan. Bake for 15 minutes or until the cheese is melted and lightly browned. Let rest for 5 minutes for the sauce to thicken before serving.
Notes
You don't have to bake this.  It is completely optional.  If you want to serve it as a creamy side dish make sure the asparagus is cooked as much as you like before adding the half and half.
Nutrition
Serving:
1
serving
|
Calories:
140
kcal
|
Carbohydrates:
11
g
|
Protein:
8
g
|
Fat:
8
g
|
Saturated Fat:
5
g
|
Cholesterol:
23
mg
|
Sodium:
143
mg
|
Potassium:
506
mg
|
Fiber:
5
g
|
Sugar:
5
g
|
Vitamin A:
1958
IU
|
Vitamin C:
14
mg
|
Calcium:
164
mg
|
Iron:
5
mg
Tell me how much you love this recipe
and show off how you made it!