Try this recipe for a deliciously rich and flavorful brown stock and get these 8 tips for how to make brown stock and t. You'll never want store-bought again!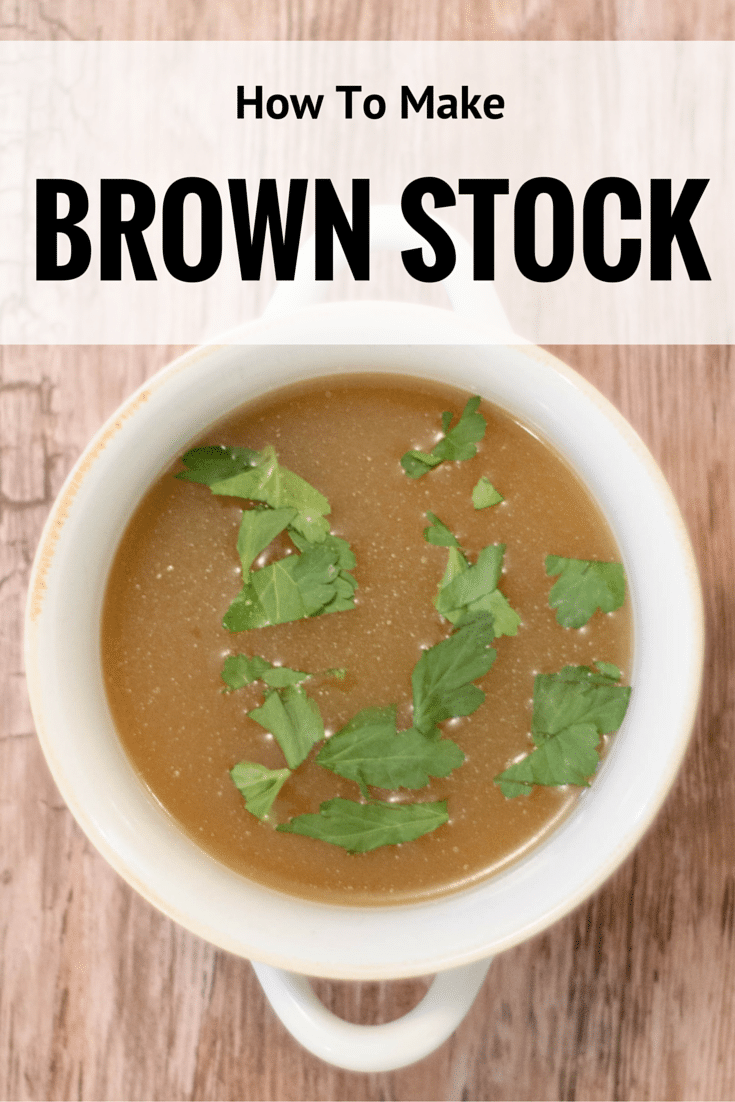 You guys, we have made it SO FAR already this week. We've covered some serious ground. I hope you're ready because there is much more coming at you - and today we're focusing on how to make brown stock. Don't worry though, this is probably the shortest one of them :).
What Is Brown Stock?
Brown stock is the most common variety of stock, and (in my opinion), the easiest to make. It is made by simmering caramelized bones, vegetables, and aromatics for long periods of time until the liquid begins to thicken and coagulate creating a slightly gelatinous, but flavorful, fluid.
Roasting Bones & Vegetables
We covered how to roast bones last month specifically for today, so if you've already read it, you are ahead of the game. Regardless, I'm going to give you a quick explanation.
You remember when we talked about how white stocks don't want to have any caramelization? The opposite is true for when you make brown stock; caramelizing gives it a richer, deeper, and more complex flavor. This is done by roasting the bones and/or vegetables.
---
Using the bones of a whole turkey (for example) that has been roasted to eat will give you a different flavor than roasting the bones by themselves because the meat of the turkey hides the bones, preventing them from getting a deep caramelization. For stronger, more delicious flavor, roast the bones again before making your stock.
---
Depending on how large of a roasting pan you are using, you can also roast your mirepoix at the same time as your bones. The trick to this though is that you need to make sure that your mirepoix is cut large enough (and uniformly) to support being roasted, and that you need to have enough room for everything to lay flat in a single layer. When I make brown stock in large batches, I find that my extra large roasting pan is spacious enough to fit it all.
If you're not able to fit it all in one pan, that is absolutely okay because you can roast the mirepoix while the bones and water come up to a simmer. Easy peasy.
Acid & Gelatin
You'll notice in the recipe that there are two different sources of acid - both tomato-based. The acid is there to help dissolve the connective tissue in the bones, which will end up giving you a thick, jello-like stock. While that texture may look unappealing, it is extremely desirable because it has concentrated flavor. Also, it's only gelatinous like that when it is cold. Once heated, you'll find that it thins out a bit, but if it's not enough for you, you can always dilute it with water.
This recipe gives you the option of brushing the roasted bones with tomato paste. Some people prefer it because it lends a nuttier, stronger flavor to the stock because it's been roasted - but I would like to point out that just like with tomato sauce, be careful because tomatoes can burn very quickly. Brown stock does have tomatoes in it already, so this step is completely up to you. If you've never tried it this way, give it a shot one day, you may find you prefer the final flavor when you make brown stock this way.
Tips For An Excellent Brown Stock
Bones. Just like with a white stock, ideally the bones should be cut to about 2-4 inches in size. If you don't have a meat saw at home (who really does?) then ask your butcher, they are usually more than willing to help - even if the bones are already packaged and in the meat section, just ask. They'll cut it and repackage it for you.
Moisture. Moisture inhibits browning, so unlike a white stock, you don't want to rinse or blanch your bones.
Oil. This one is totally optional, an some people prefer it to lightly oil their bones before roasting them. Fats accelerate and support caramelization, so it will speed up the process and/or give you darker bones. For instructions on how to roast bones go here.
Single Layer. Overcrowding is your enemy. That may mean you need to work in batches, but make sure that you don't overlap your bones or your mirepoix to ensure the best caramelization possible.
---
TIP: To keep your sachet from getting lost in the mix, leave an extra long tail that you can tie to the handle of your stock pot. This allows for easy removal.
---
Oven to Cooktop. Just like with making gravy, roasting your bones in a roasting pan that can go straight from the oven to the cooktop will make your stock better because you can deglaze any stuck-on bits. These morsels of flavorful goodness should then go into the stock as a tasty bonus.
Cold Water. Just like with white stock, using cold water to start your stock allows for the impurities to release and rise to the top as scum - skim as needed to remove the scum.
Fat Cap. About 12-24 hours after you make brown and has completely finished and cooled, a layer of gelatinous, crunchy white stuff may appear on the top of the stock. This is leftover fat. It is much easier to remove it once it has hardened like this, than trying to skim it off after straining. If it is substantial in size, and not just flecks, you can run a knife around the outside edge to loosen it, then gently tip it enough to remove it with a utensil. If it is just flecks, you can easily skim it out, or (depending on how thick your stock it) run it through a sieve again to catch the hardened fat.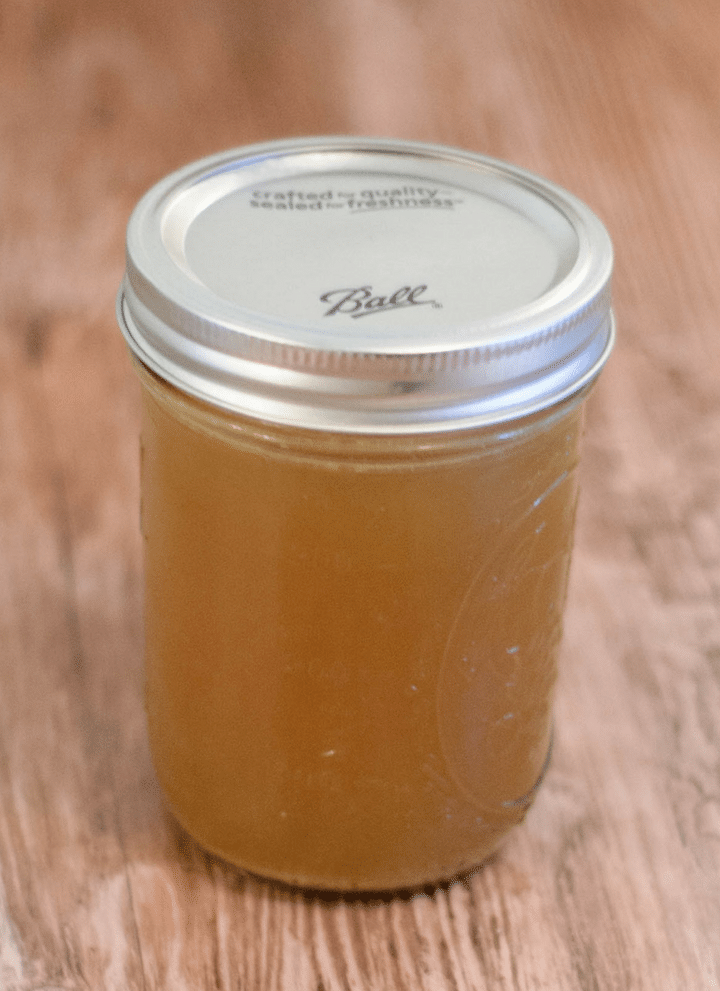 How To Make Stock : The Series
If you just happened upon this article on how to make brown stock from a friend, or pinterest, or some other way, this is part 4 in a 5-part series on how to make stock. We're covering everything from the foundations of the stock, stock vs. broth, to how to improve your stock. Regardless of whether you are new to making stock, or an old hat at it, there is probably something new to learn, so go check them out and make your stock making experience even better!
How To Make Brown Stock
Are you ready to achieve a new level of epic #KitchenConfidence? Let's go make brown stock! (pssst...the grocery list is printable!)
---
Get your free printable grocery list for this Brown Stock recipe HERE.
---
If you've never used one of our grocery lists before, it lists all of the items in easy-to-find grocery store amounts to help making grocery shopping as simple as possible. If no amounts are listed, that means you can use the smallest (or largest) package you want and still have some leftover.
Happy cooking!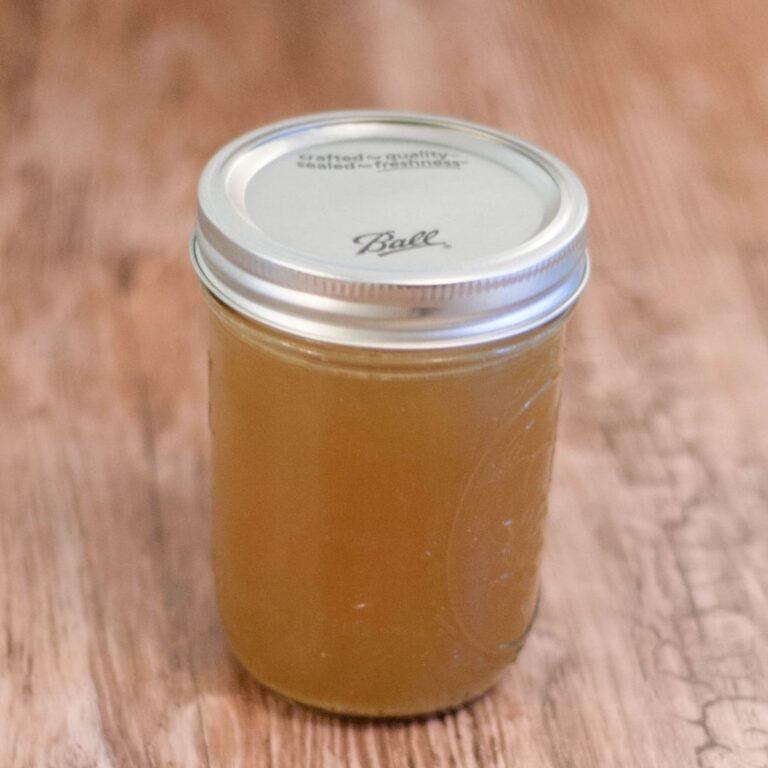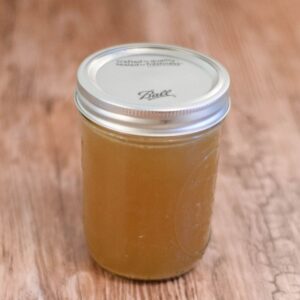 How To Make Brown Stock
Brown stock is one of the most utilized ingredients in soups and sauces. Learn how to make it at home so you always have rich and flavorful homemade stock on hand!
Pin it for later?
Ingredients
Stock
3

lbs

bones

,

, cut into 2-4 inch pieces

oil of choice to help with browning

,

(optional)

2

tablespoon

tomato paste

,

(optional)

3

quarts

cold water

,

+ extra for deglazing
Mirepoix
4

oz

onion

,

(about 1 cup), chopped

2

oz

carrots

,

(about ¼ cup), chopped

2

oz

celery

,

(about ¼ cup), chopped
Other Ingredients
4

oz

tomatoes

,

(about one cup), chopped
Sachet
½

bay leaf

¼

teaspoon

thyme

¼

teaspoon

whole black peppercorns

2-3

parsley stems

½

whole clove
Instructions
Roast Bones
Preheat oven to 425°F. If using the oil to help with browning, lightly coat the bones.

Lay the cut bones in a single layer in a roasting pan and roast in the oven for

30 Minutes

, or until well browned Optional: Remove them from the oven and lightly brush them with the tomato paste. Return to the oven and roast for an additional

10 Minutes

.
Stock
Drain any fat from the roasting pan and set aside. Remove the bones from the pan and place them in the stock pot. Cover with the cold water and bring to a simmer.

Transfer the roasting rack to the cooktop and deglaze the roasting pan. Add the results to your stock.

Toss your chopped mirepoix in the reserved fat and place on the roasting rack in the preheated oven. Roast for

25 Minutes

or until the mirepoix is well browned. Cooking times will vary based on the size you cut your mirepoix and how uniformly they are chopped.

Add the browned mirepoix, tomatoes, and sachet to the stock pot and and simmer for 3Hours to 4 Hours. Skim the surface as needed. If your bones become exposed, add a little extra water as needed and turn down the heat slightly.
Strain
Strain the stock through a sieve lined with cheesecloth and cool in a food-safe way, such as a cold-water bath.
Notes
You can substitute tomato purée for the chopped tomatoes.
Nutrition
Serving:
1
serving
|
Calories:
10
kcal
Tell me how much you love this recipe
and show off how you made it!