These delicious purple mashed potatoes are actually creamy! Loaded with plenty of flavor, these beautiful showstoppers dare your new favorite side dish.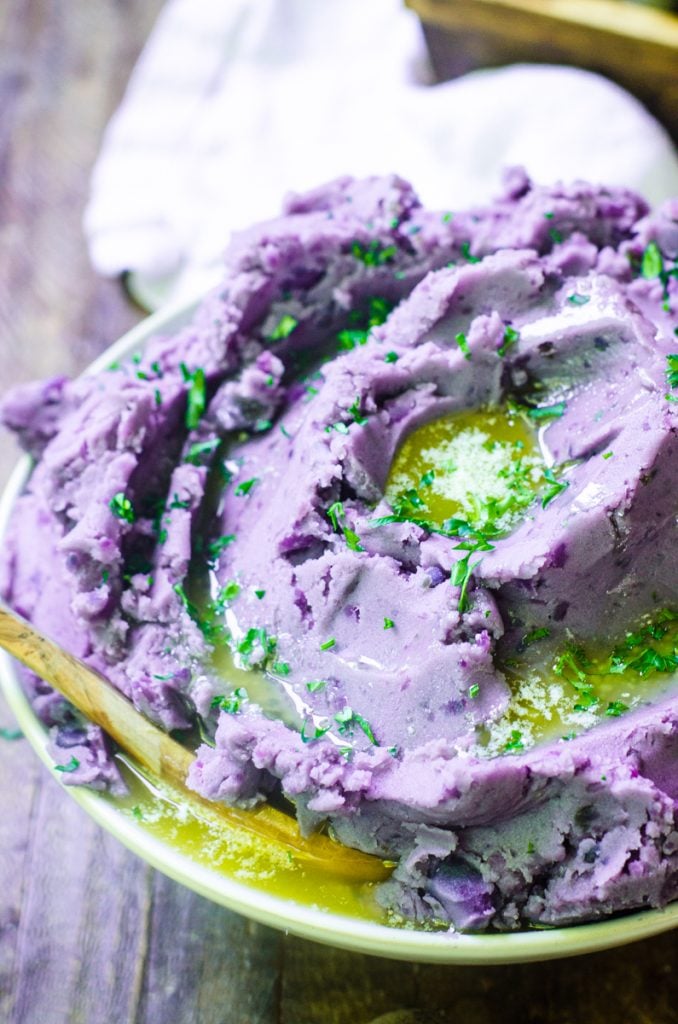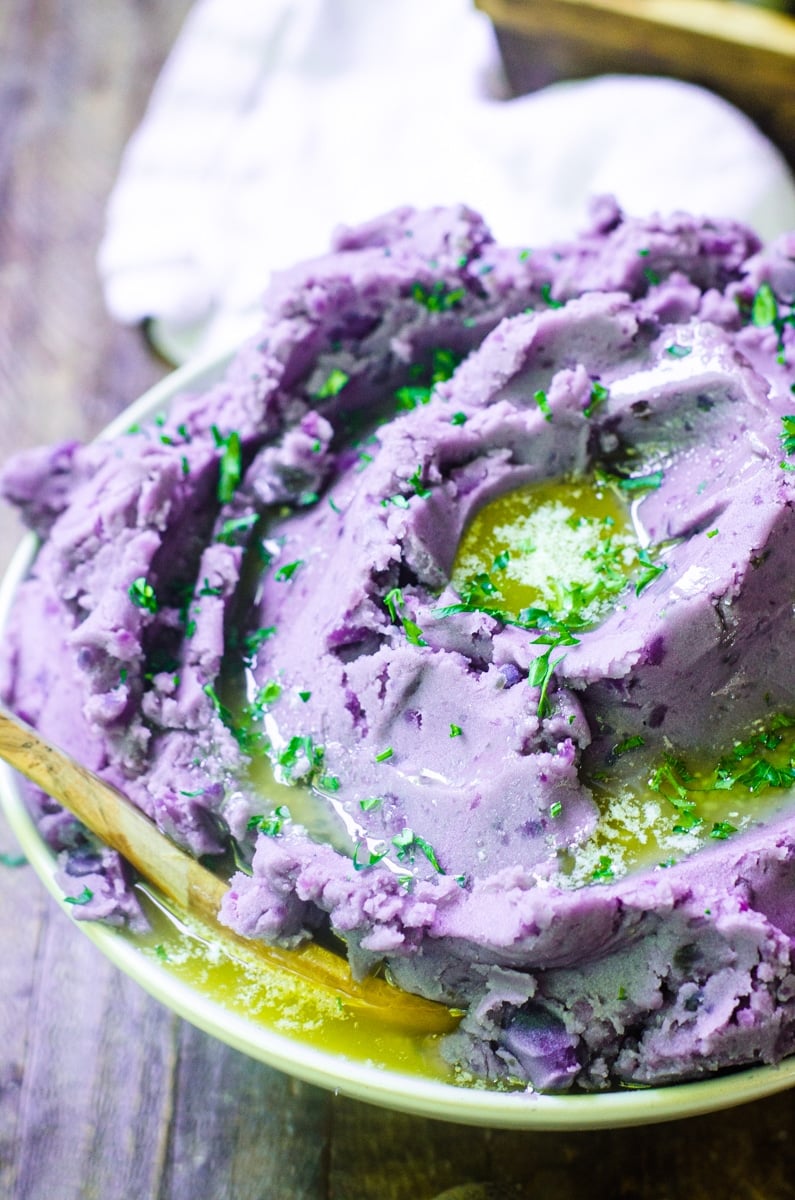 What are Purple Potatoes?
Purple potatoes are an heirloom variety of potato that has a dark purplish skin and vibrant purple flesh. They are not genetically modified to get their color, they are completely natural.
Purple potatoes taste just like red potatoes, and also have an edible skin. When cooked correctly, they maintain their shape really well, which makes them great for roasting or using in potato salad.
Purple potatoes are usually available year round and can now be found in many grocery stores. They tend to be on a smaller side, not often too much larger than an oblong golf ball.
The most common varieties are purple peruvian, purple viking, and purple majesty potatoes. However, these aren't the same as purple sweet potatoes. Double check your label to ensure you are getting the correct kind for these mashed purple potatoes.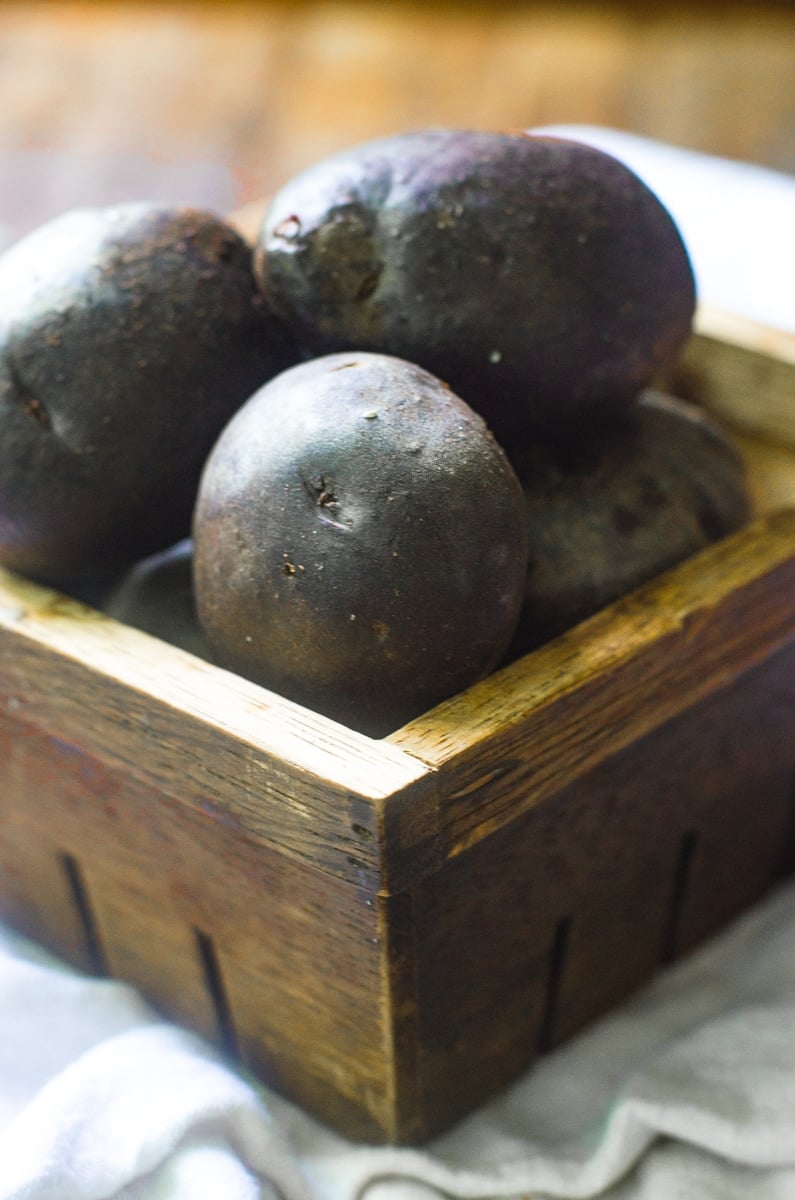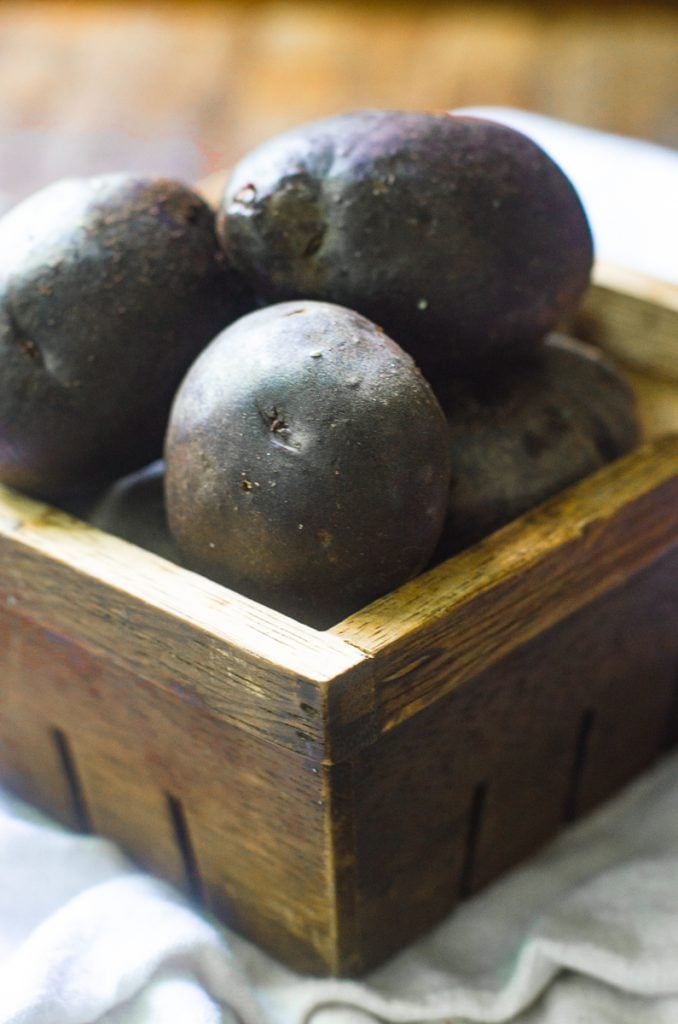 Why Are They Purple?
Purple potatoes get their color from anthocyanin, which is a pigment chemical. This same chemical also makes purple potatoes higher in potassium and serves as an antioxidant.
Interestingly, the anthocyanin makes these potatoes have four times more antioxidants than russet potatoes. This makes them great for managing blood pressure among other nutritional benefits.
The vibrance of the color can vary just like with any food. If yours is more white than purple, that may mean that they were picked before they were ready. Although that won't be noticeable until you peel or cut them.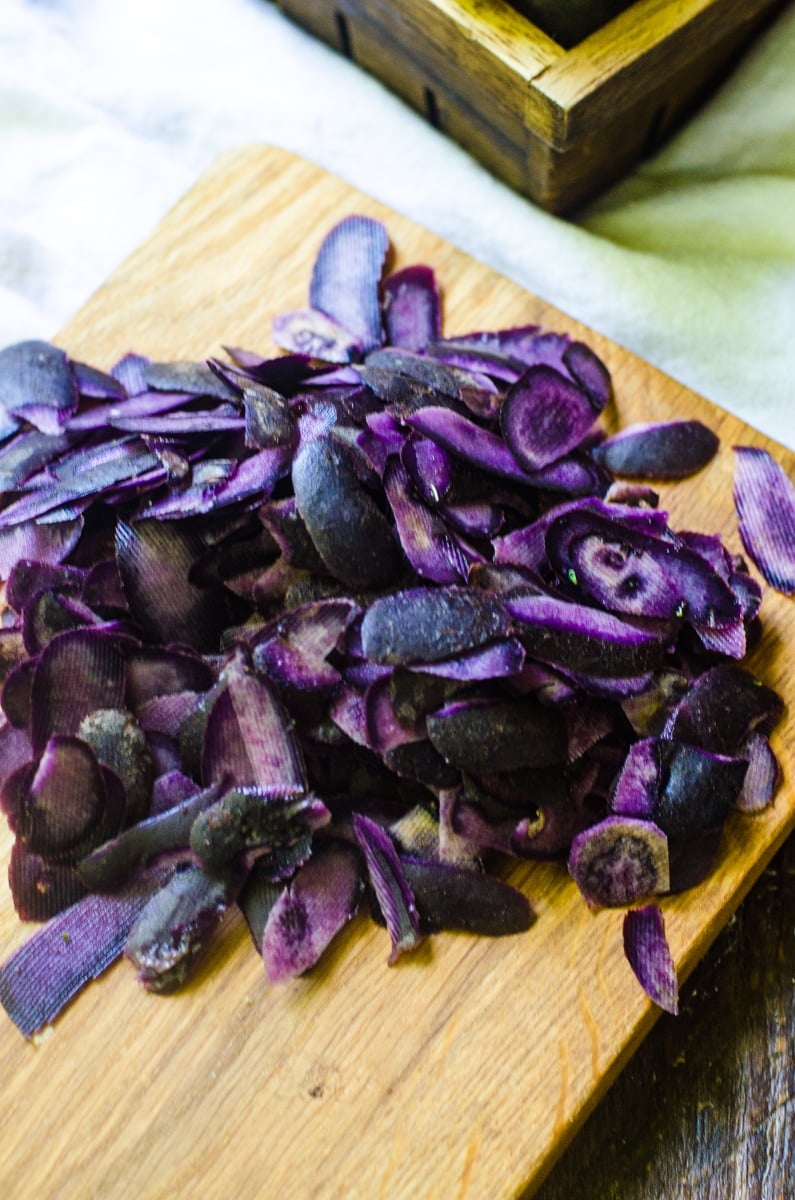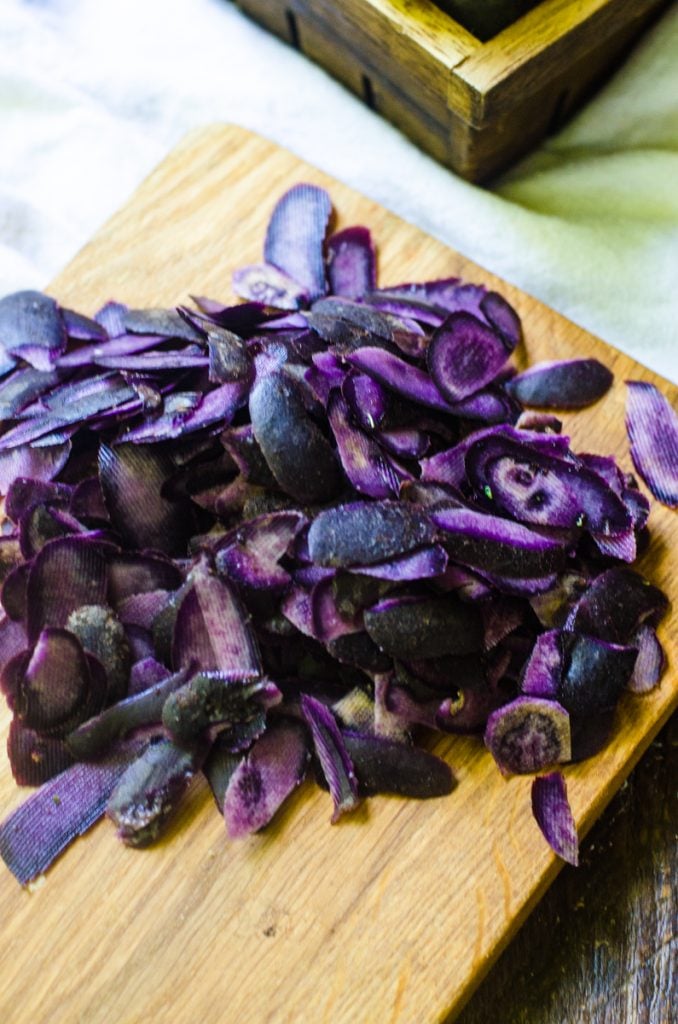 How To Cook Them
Similar to red potatoes, purple potatoes are waxy so they don't always give the desired consistency of mashed potatoes. They are low in starch, moisture, and sugar so they can be flaky and dry.
There are a few ways to combat that. One is to make sure to add plenty of added liquid and fat. The other is to boil them correctly.
To cook mashed purple potatoes correctly start with the potatoes in a large pot of cold water. Bring it to a boil and allow it to cook the potatoes until al dente; about 15 minutes.
Check the potatoes frequently with a knife so they don't overcook. They knife should be easily inserted and removed when they are done.
Once you cook the potatoes, immediately strain them from the hot water and transfer to a large bowl to mash. If you choose to use a mixer, keep it on the lowest speed possible.
Since the potatoes are already waxy, over mixing them on a high speed amplifies the waxy texture and makes them gummy.
Once mashed, stir in the warmed butter and half and half.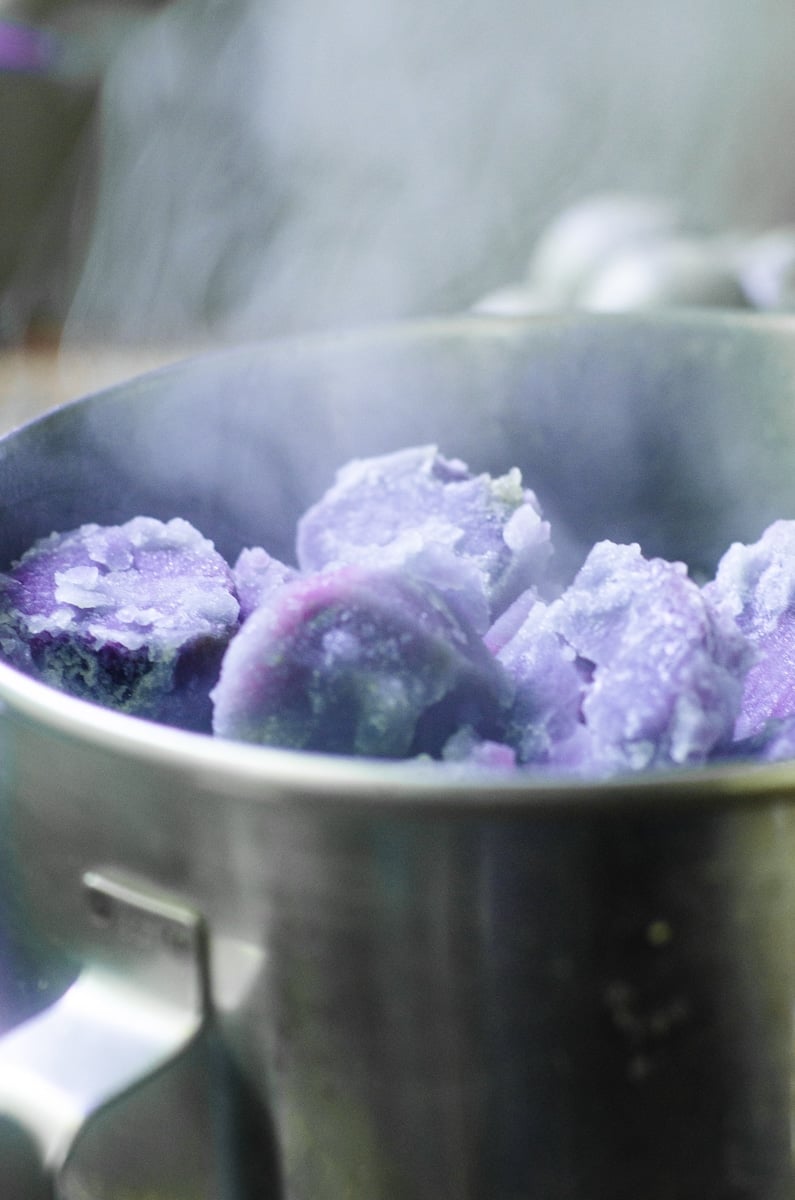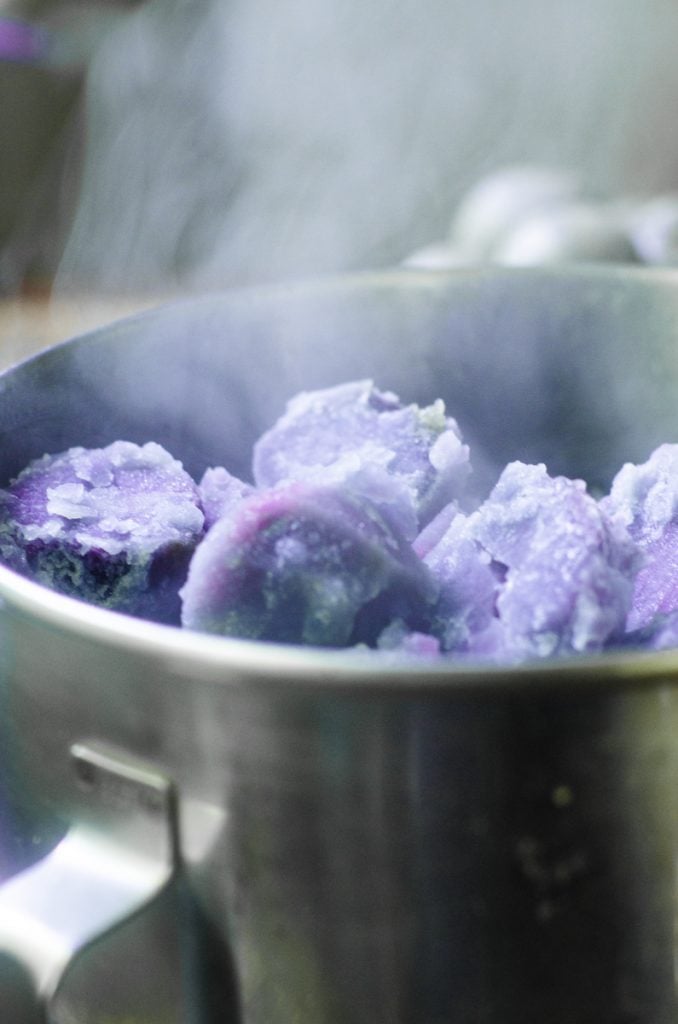 Top Recipe Tips
If the cooked potatoes are flaking on the sides they are overcooked and losing moisture.
You can cook these purple mashed potatoes with their skins on if you prefer. They have additional fiber and antioxidents in them.
Heat the garlic cloves in the butter and half and half to make get the flavor without putting them directly into the purple mashed potatoes. Don't forget to strain the cloves out.
You can swap the butter for olive oil if you prefer, but the flavor is a lot more prominent. You may not want to use as much as butter.
Season the cold water heavily with the salt. This helps imbue the flavor into the potato and can be fine tuned with the salt and pepper at the end.
If you want these purple mashed potatoes to have roasted garlic, use one clove to each pound of potatoes.
Sour cream is another great fat to use and can be used in place of the half and half. Just be prepared for a slightly tangy flavor.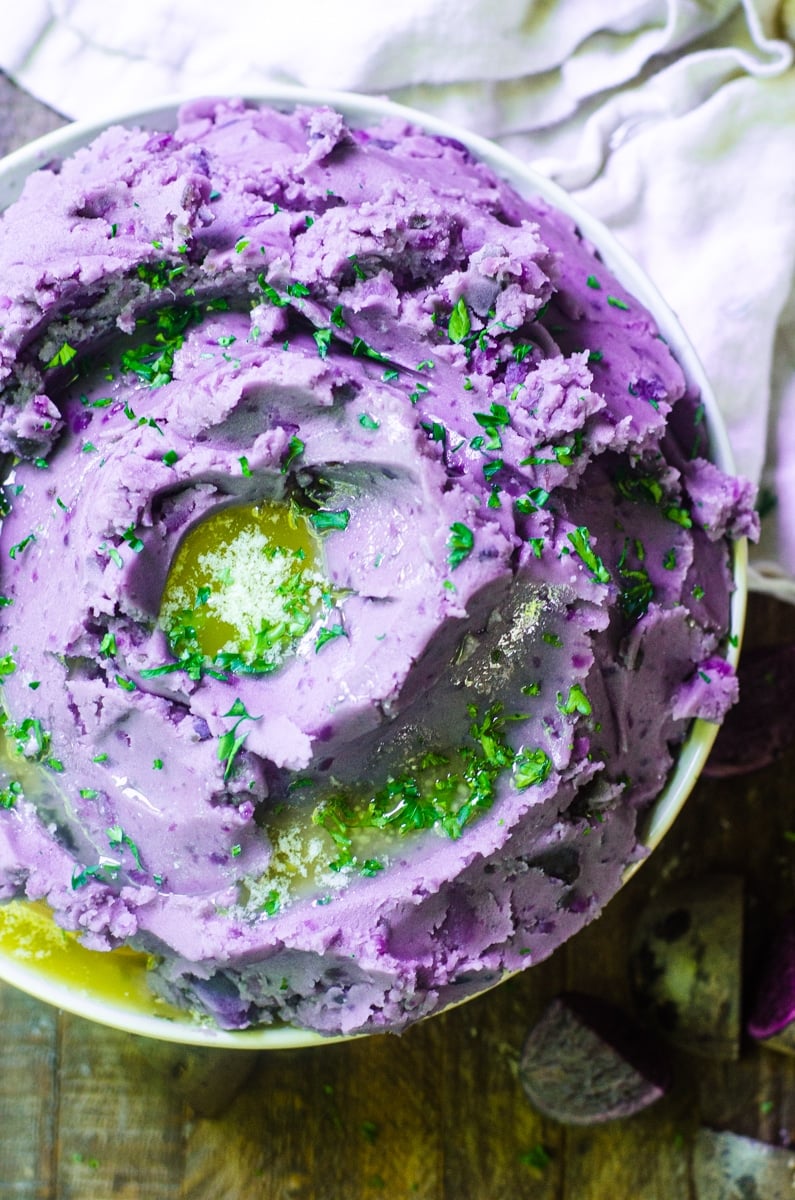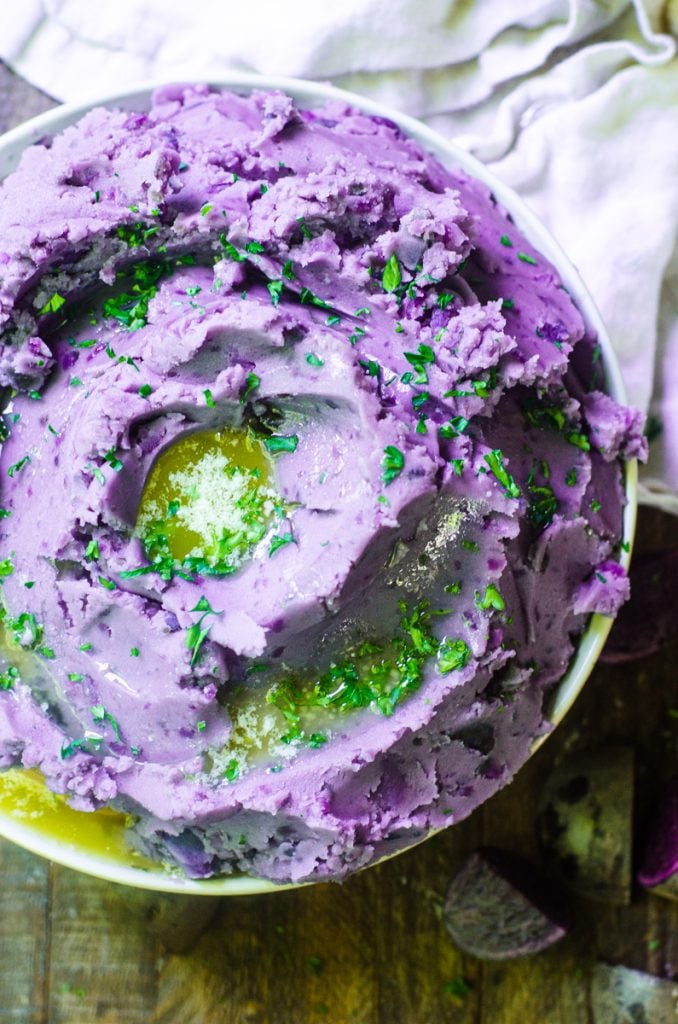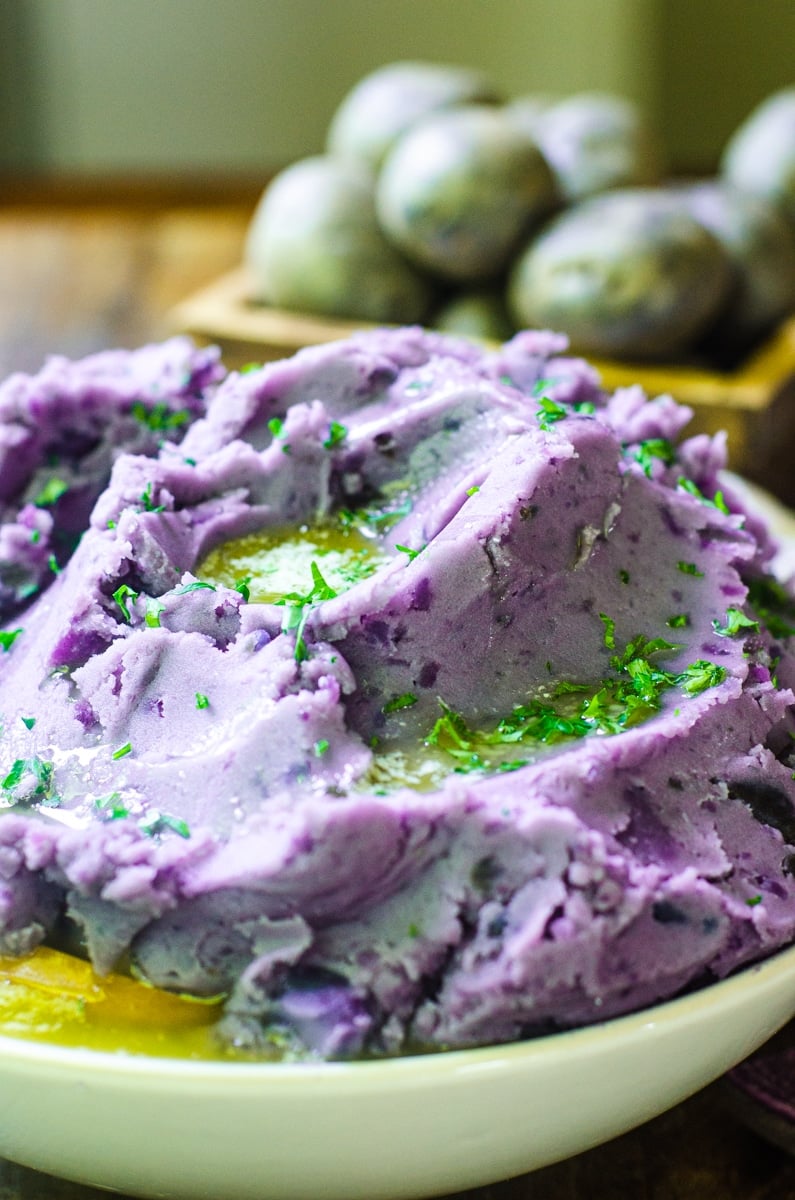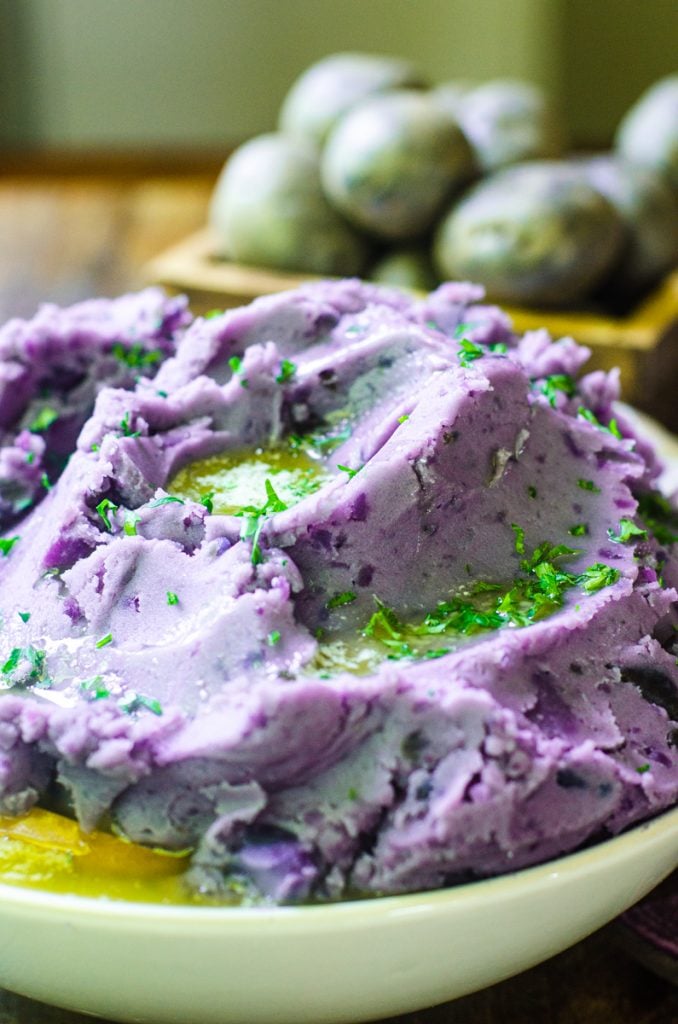 Purple Mashed Potatoes Recipe
Because purple mashed potatoes dry out over time, I recommend serving them with extra melted butter on top. This will help trap in the moisture below it, as well as provide extra fat when you go back for seconds.
---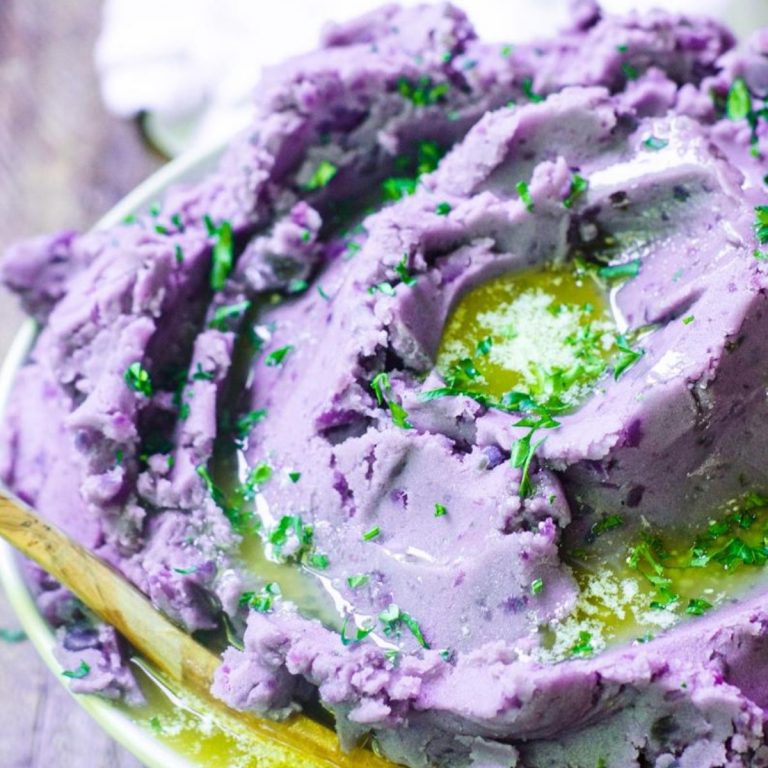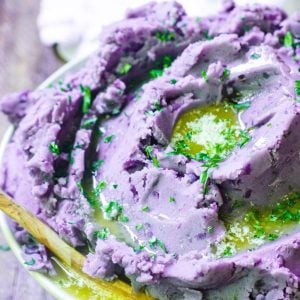 Mashed Purple Potatoes
These colorful and creamy purple mashed potatoes have a hint of garlic and loaded with butter and cream!
Pin it for later?
Ingredients
5

pounds

purple potatoes

½

cup

butter

,

plus extra for garnish

¾

cup

half and half

5

garlic cloves

salt and pepper

,

to taste
Instructions
Bring a large pot of heavily salted water to a boil. Add the peeled and cut purple potatoes and cover with a lid. Let boil for 15 minutes.

In a separate pot over low heat, melt the butter with the half and half and garlic cloves. Don't let it boil.

Strain the potatoes and transfer to a bowl. Use a mixer on low speed or a potato masher to mash the potatoes. Remove the garlic from the melted butter and slowly stir the mixture into the potatoes. Season with salt and pepper and top with extra melted butter.
Notes
The waxier purple potatoes need more liquid to stay moist.  You may still need extra half and half.
Nutrition
Serving:
1
serving
|
Calories:
352
kcal
|
Carbohydrates:
51
g
|
Protein:
7
g
|
Fat:
14
g
|
Saturated Fat:
9
g
|
Cholesterol:
39
mg
|
Sodium:
128
mg
|
Potassium:
1231
mg
|
Fiber:
6
g
|
Sugar:
2
g
|
Vitamin A:
435
IU
|
Vitamin C:
57
mg
|
Calcium:
65
mg
|
Iron:
2
mg
Tell me how much you love this recipe
and show off how you made it!