Let your slow cooker do the work while you're sleeping, and make a delicious overnight turkey stock. It's an easy and delicious alternative to chicken broth!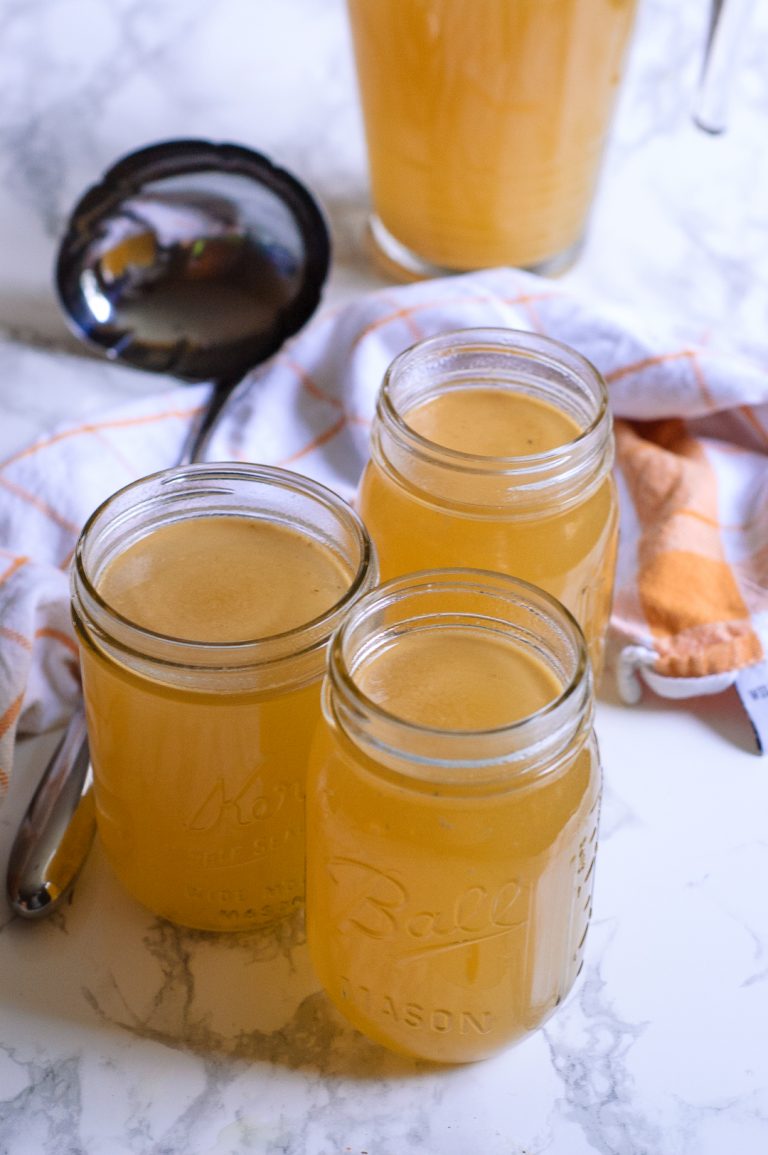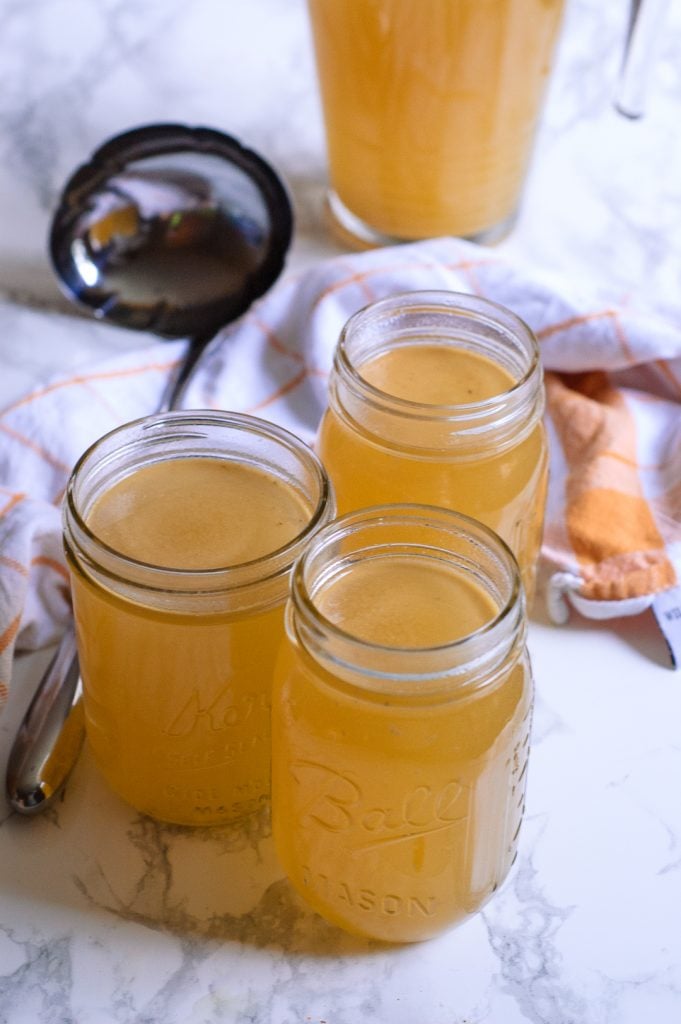 Turkey stock is traditionally made by simmering turkey parts and aromatics for many hours in a stock pot. After cooking a big Thanksgiving feast however, the last thing I want to do is watch a pot boil.
Letting this simple slow cooker turkey broth recipe do the work for you will revolutionize your cleanup routine. Then, once the beautiful golden turkey broth is done, use it in almost anything that calls for chicken broth.
Tips For Making Homemade Turkey Broth in the Crock Pot
Your Crockpot or slow cooker does most of the work, but to extract every ounce of flavor from your turkey broth here are some techniques I recommend brushing up on.
How to Roast Bones.

Even though your turkey was already roasted, the bones themselves haven't been. They need exposure to get the best flavor possible for your turkey broth.

How to Make Stock Part 1.

This is the beginning of a 5-part series on how to make homemade stock. Throughout the series, you'll learn everything you need to know about how to get the best color, texture, and flavor from your stock.

What is Mirepoix?

Mirepoix is the vegetable foundation for making a good stock. Understanding it and it's ratios will help develop the best flavor for your slow cooker turkey broth.
Can I Freeze Turkey Stock? How Do I Store It?
Once strained and cooled, this turkey stock will keep in the refrigerator for five to seven days, and frozen turkey stock will stay good for up to three months. If you are freezing the turkey broth, let it cool completely then divvy it into quart sized bags and freeze them flat so they take up less room in your freezer.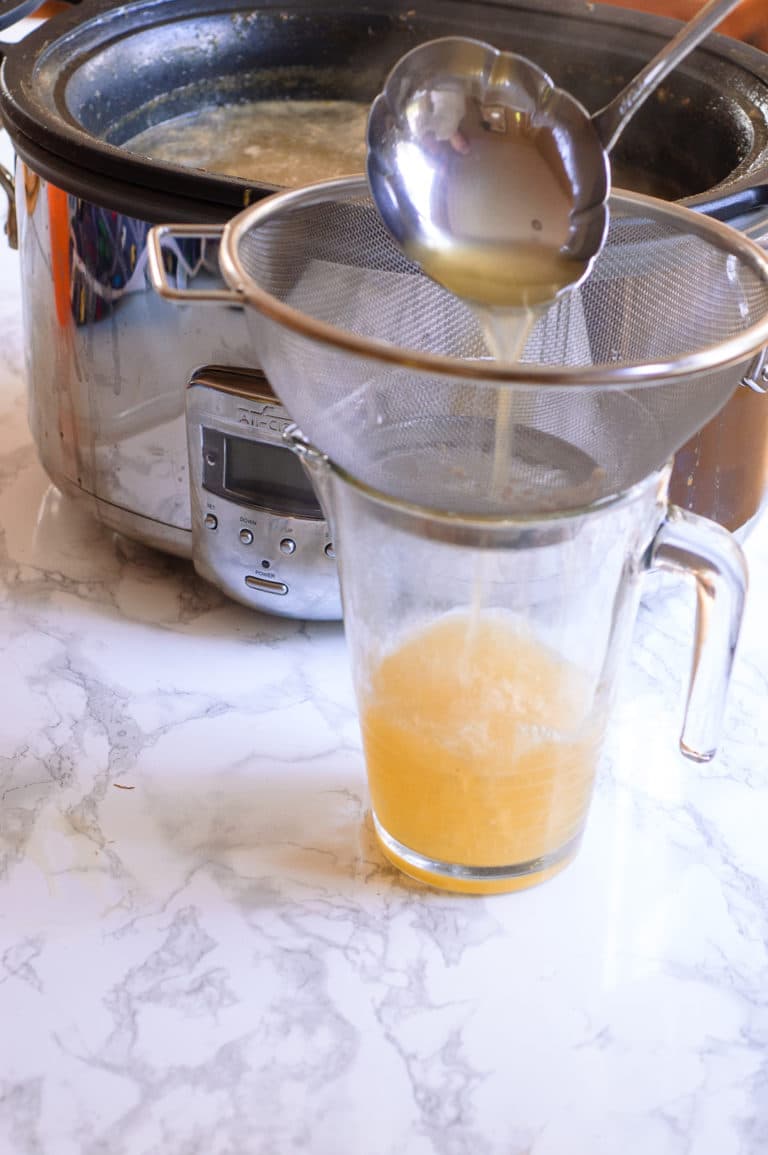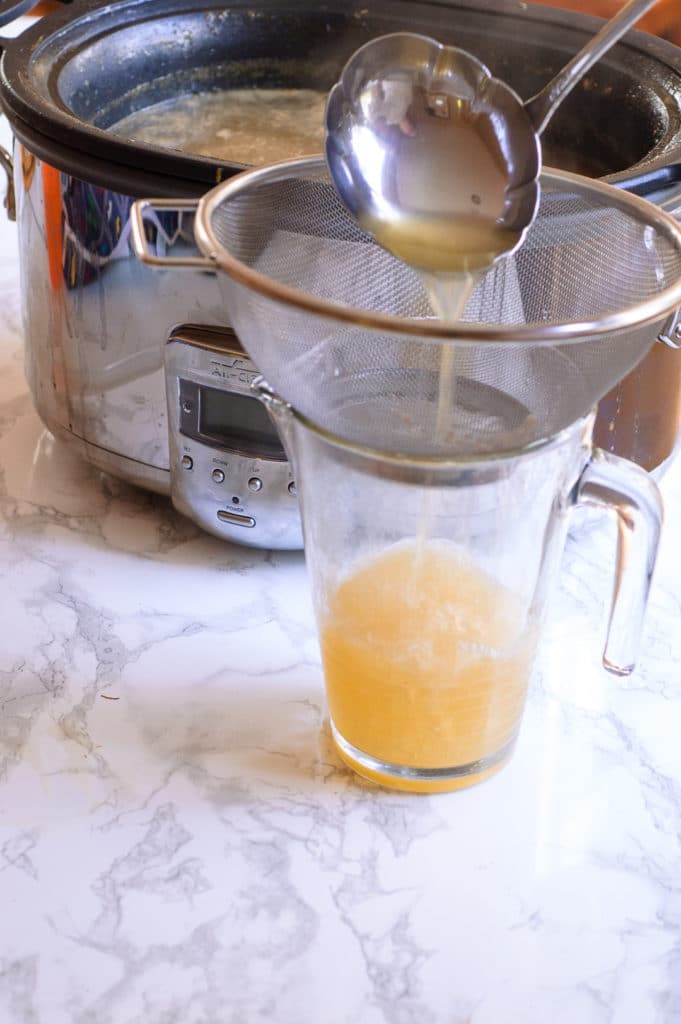 Ways To Use Turkey Broth
Turkey stock is infinitely useful. You can use it interchangeably with chicken broth, drink it like a bone broth recipe, or make a stock based sauce. You could even reduce the turkey broth down and use it like a demi-glace for even more flavor impact
Most commonly, people use their homemade turkey broth with the last of their Thanksgiving leftovers to make turkey soup. Some of my favorite ways to use turkey broth are: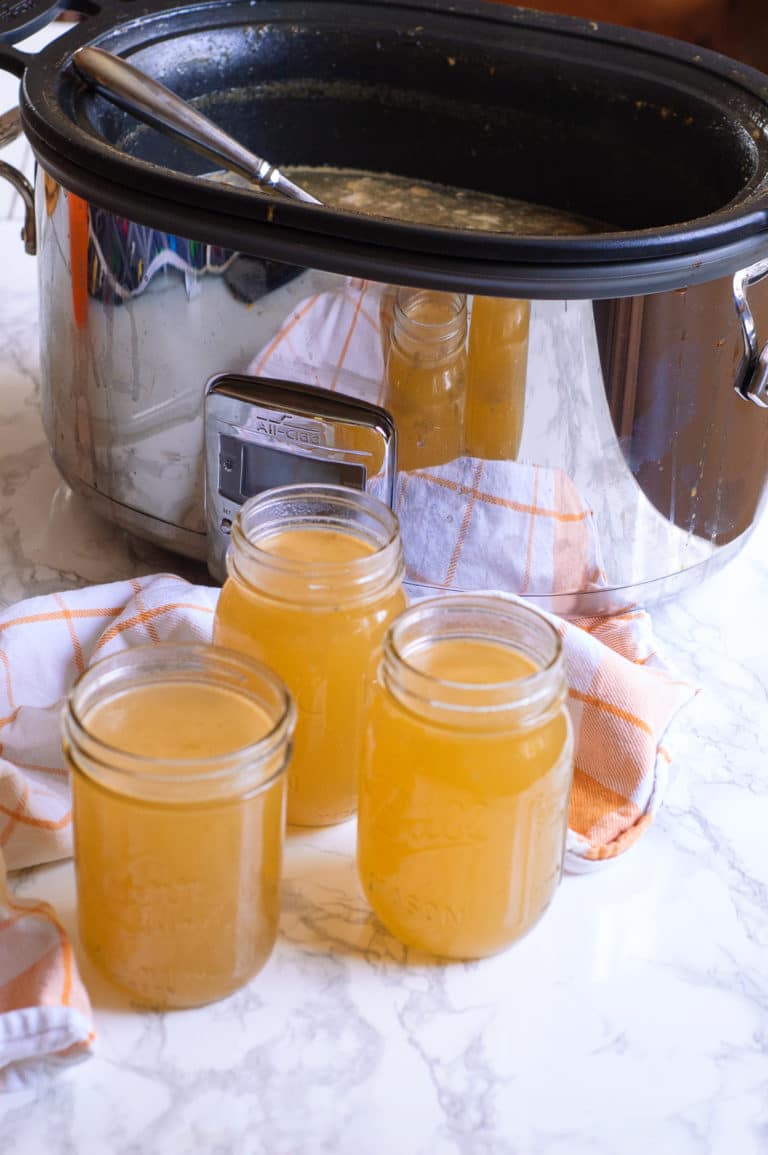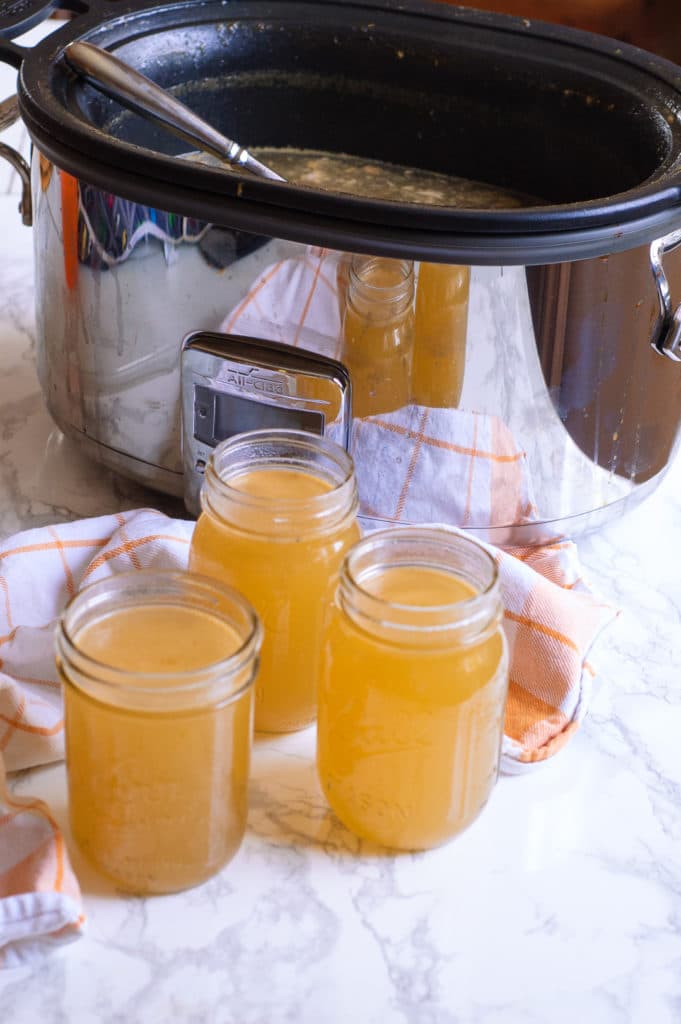 Homemade Turkey Stock Recipe
If you didn't use the turkey necks for making gravy, this is a great way to utilize them. Just drop them in the slow cooker with the other turkey parts; this also works for the turkey wings (skin and all) which are rarely eaten. If your turkey carcass doesn't fit you slow cooker, you can use a knife (or muscles) to break it into smaller pieces
Once you read the recipe you may think "This isn't really done overnight! I have to add stuff the next morning." This is just a recommendation.
The longer the vegetables and aromatics simmer, the more bitter the turkey broth becomes. By adding them in the morning, you reduce the likelihood of them overpowering your turkey stock. If you would like to make the entire recipe overnight, add everything during the first step and let it simmer while you sleep!
---
Happy Cooking! 🙂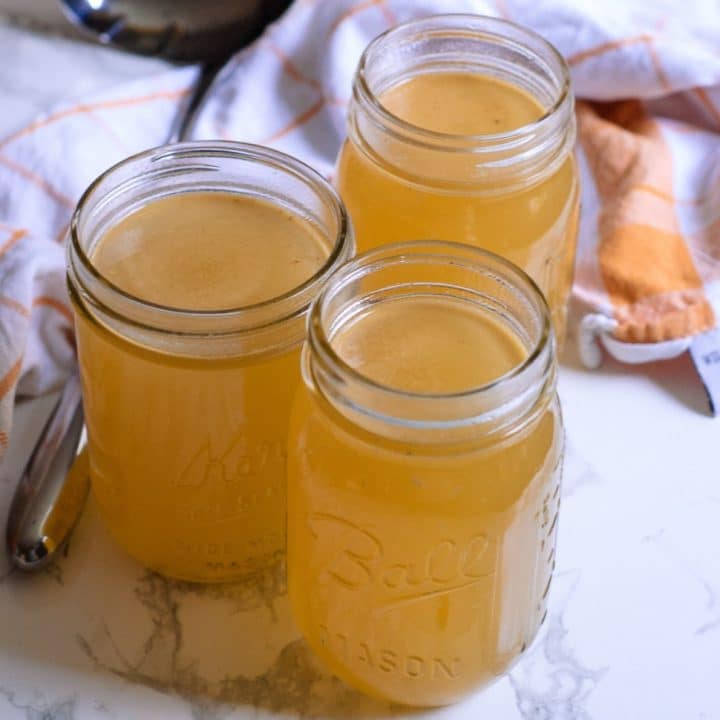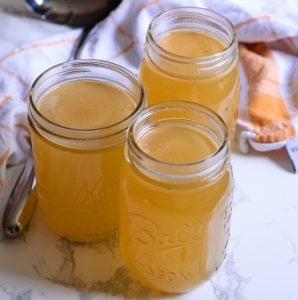 Overnight Slow Cooker Turkey Stock
This overnight slow cooker turkey broth is a very hands-off way to get a delicious turkey broth from your Thanksgiving leftovers!
Pin it for later?
Ingredients
1

turkey carcass

6

carrots

6

celery stalks

2

large onions

,

peeled and halved

1

head of garlic

,

peeled

assorted fresh herbs

2

bay leaves

1

tbsp

whole peppercorns
Instructions
Turkey Stock
Place the turkey carcass into a large slow cooker, fill the slow cooker with enough cold water to cover the bones (or until full) and select high for the heat. Set it to run for at least 8 Hours or overnight.  
Add Aromatics
The next morning add the onion, carrot, celery, garlic, fresh herbs, peppercorns and bay leaves. Reduce the heat to low and simmer for an additional 4 Hours.

Turn off the slow cooker and strain the stock through a fine meshed sieve, discarding the solids and browned bits. For better clarity, line the sieve with cheesecloth first.

Let the turkey stock cool slightly, then skim the fat from the surface.  Refrigerate in an airtight container or freeze.
Notes
For better flavor, roast the bones after you've carved and serve the turkey.  This will help give your turkey stock a deeper flavor. For more information about roasting bones, go
here
.
For more space to fit your aromatics or get a better yield from your turkey stock, break down the turkey carcass before placing them in the slow cooker.  This will make the bones takes up less space, as well as make it easier to fit the lid.
Nutrition
Serving:
1
quart
|
Calories:
77
kcal
|
Carbohydrates:
18
g
|
Protein:
2
g
|
Fat:
1
g
|
Saturated Fat:
1
g
|
Sodium:
114
mg
|
Potassium:
562
mg
|
Fiber:
5
g
|
Sugar:
8
g
|
Vitamin A:
15570
IU
|
Vitamin C:
11.6
mg
|
Calcium:
78
mg
|
Iron:
0.8
mg
Tell me how much you love this recipe
and show off how you made it!