Delight your palate with this creamy One Pan Chicken Orzo with Wild Mushrooms. It's simple to put together and made of mostly shelf stable ingredients for a quick and easy meal with little planning!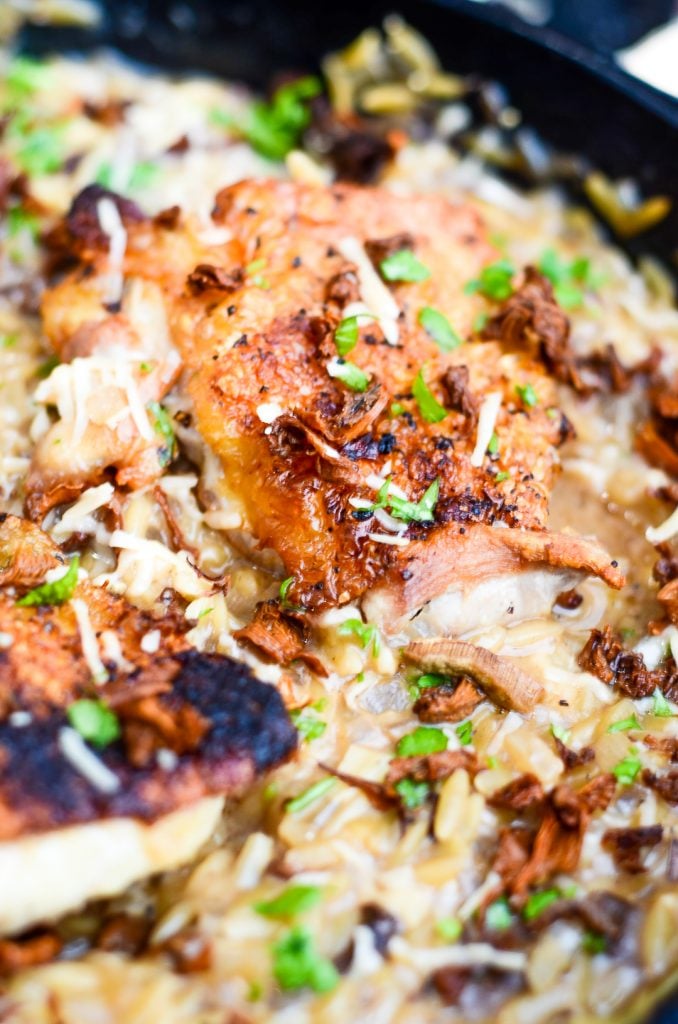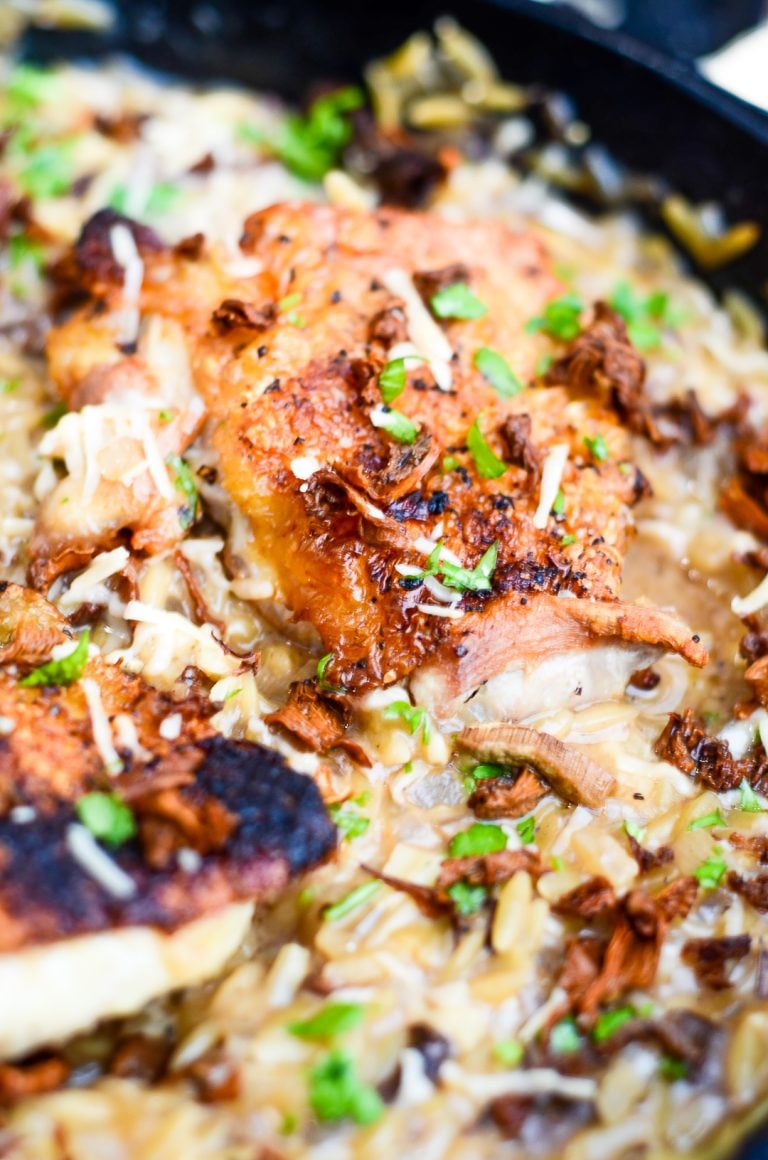 One pan recipes are the best. They make for quick and easy weeknight meals and have minimal cleanup. Who doesn't love that? This one pan chicken recipe takes easy weeknight meals up a notch by adding weekend flavor. It tastes like you spent a lot more time on it than you did. Plus, it has predominantly shelf stable ingredients, like: chicken broth, dried mushrooms, orzo pasta, and wine. All you need are some fresh chicken thighs (or substitute chicken breasts) and cheese and you're ready to go!
What Is Orzo Pasta? Can I Use Orzo Like Rice?
The big confusion with orzo is that it is sold alongside cereal grains and rice at the store. However, orzo is made from flour and is technically a pasta. I totally understand the confusion though. It is a rice like pasta, so why not use it to make a pilaf or as a brown rice alternative?
---
You can't substitute orzo in place of grains like rice because the cooking methods are completely different.
---
With recipes like this, the texture comes from the starch in the orzo pasta; similar to making risotto. If you cook orzo like you cook rice, your orzo will become mushy and soggy. If you try to use rice instead of orzo, your rice will be crunchy and mostly undercooked.
It is important to treat orzo like the pasta it is.
Which Wild Mushrooms Are Best?
The ingredients list for this recipe is vague on which wild mushrooms to use because tastes and price point vary. You can purchase wild mushrooms that come already mixed, or you can measure out based on your preferences. I often find that creating my own mix is cheaper than purchasing a combo pack.
For this recipe, the best wild mushrooms are porcini, shiitake, oyster, and chanterelles. Each one has its own unique shape which can make it difficult to measure one cup. Not sure how much to buy? Aim for about one ounce of dried mushrooms altogether. This will equal roughly the one cup this one pan chicken orzo recipe calls for.
Can I Use Fresh Sauteed Mushrooms?
Yes, absolutely you can. The main reason I recommend using dried mushrooms is because they're far more affordable than fresh wild mushrooms. You don't have to use exclusively wild mushrooms to have success with this one pan chicken recipe, either. The assortment of wild mushrooms gives it a meatier, heartier, more well rounded flavor. Using milder mushrooms like buttons, portabellas, or creminis will give it a lighter flavor. Due to the higher water content of fresh mushrooms, you'll need more of them to get the same end result. Simply substitute three cups of fresh sauteed mushrooms for the one cup of dried mushrooms.
To use fresh wild mushrooms in this one pan chicken recipe, add the mushrooms with the onions. This will allow the onions and sautéed mushrooms to cook out excess liquid at the same time. It will also create a beautiful fond (the flavorful stuff that sticks to the bottom of the pan) for deglazing. Be careful not to stir the sautéed mushrooms too often or it will slow down the browning process. Adding the fresh mushrooms should add about ten extra minutes to the cooking time.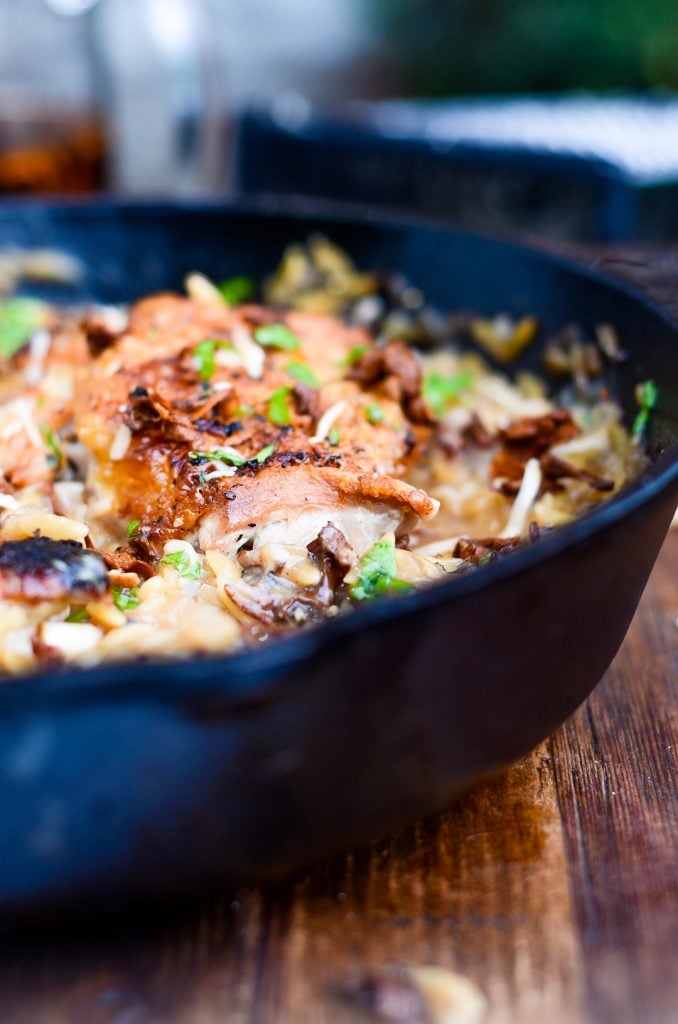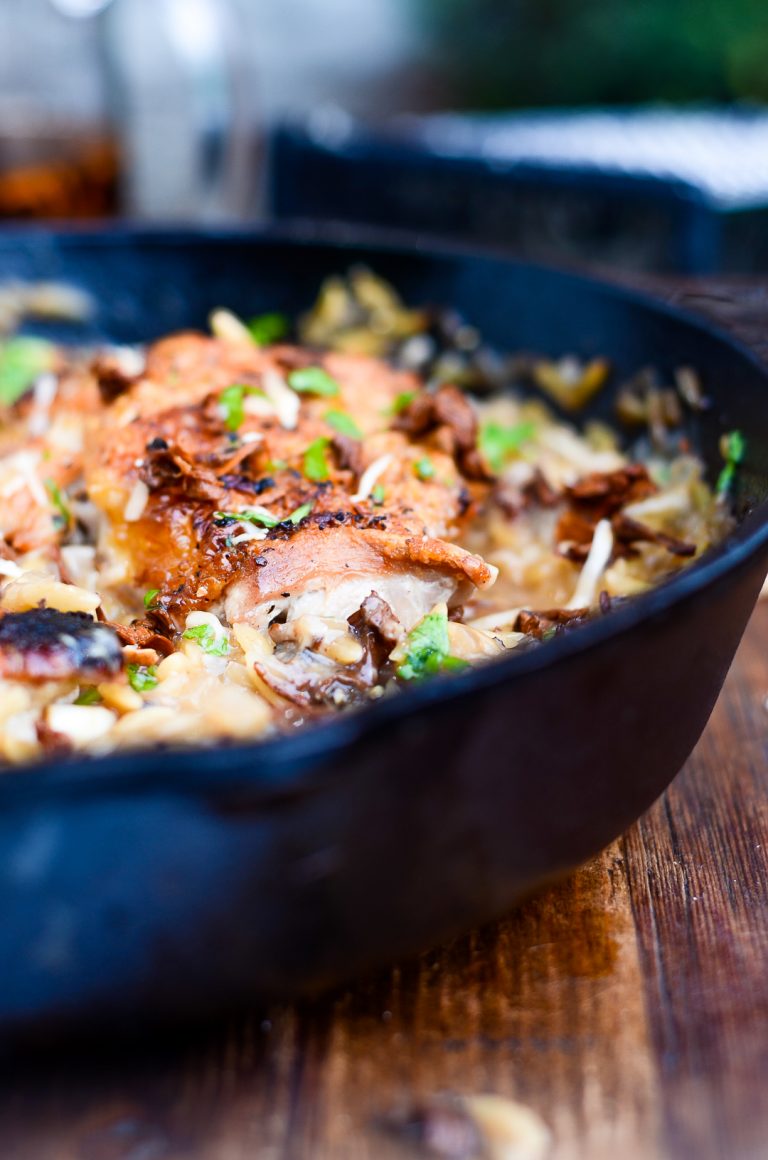 Should I Use Boneless or Bone In Chicken?
This is completely up to you. I prefer to buy bone-in chicken thighs because the bones allow for additional flavor and texture when cooking. Plus, afterwards you can save the bones to be used for making bone broth or homemade stock. (See my note in the tips section below for making stock. Go here to learn how to roast bones.) The important thing for this one pan chicken recipe is that the chicken has skin. The skin is what browns during pan frying and creates the flavor foundation for the sauce. Boneless chicken thighs (or chicken breasts, if you prefer) that still have the skin on them can be hard to find. You may need to purchase bone-in chicken and remove the bone before cooking if boneless is your preference.
The cooking time will also be longer if you choose bone-in chicken. Make sure to use a meat thermometer to confirm that the internal temperature of the chicken is at least 165°F.
Tips for Making This One Pan Chicken Orzo Recipe
There is always room for improvement with cooking; even if you're used to using the ingredients in this recipe. Check out the following posts to learn how they can help make this one pan chicken recipe even better.
How to Rehydrate Dried Mushrooms.

Often times, dried mushrooms can give you a bitter flavor when rehydrated. Find out how to avoid that bitterness as well as remove grit.

Pan-Frying 101

. Find out all the necessary tips and tricks for pan-frying success and give that chicken the ultimate crispy skin!

How To Make Homemade Chicken Broth/Stock.

Homemade chicken broth/stock has an abundance of flavor that store bought varieties often don't. This is the first post in a five part series that teaches all the basics of making your chicken broth. It's one of the easiest ways to take your elevate your cooking to a professional level.
How To Store and Reheat Leftovers of This One Pan Chicken Orzo
Using an airtight container, leftovers of this one pan chicken orzo can be stored in the refrigerator up to five days. Since the sauce isn't overly wet, the chicken thighs (or chicken breasts) can be stored in the same container. Just store it skin side up so the skin doesn't get soggy.
To reheat this one pan chicken orzo recipe, I recommend:
Preheat oven to 350°F.

Stir in just enough water, chicken broth, or cream to moisten and loosen the orzo.

Put the orzo mixture in an oven safe container with the chicken thighs on top and cover it with aluminum foil.

Bake for 20-30 minutes or until the chicken is hot throughout. Remove from the oven, garnish with fresh cheese and serve immediately.
If you want a crispier skin on your chicken, remove the foil for the last ten minutes of reheating. Alternatively, you could reheat the chicken under the broiler for about 3 minutes.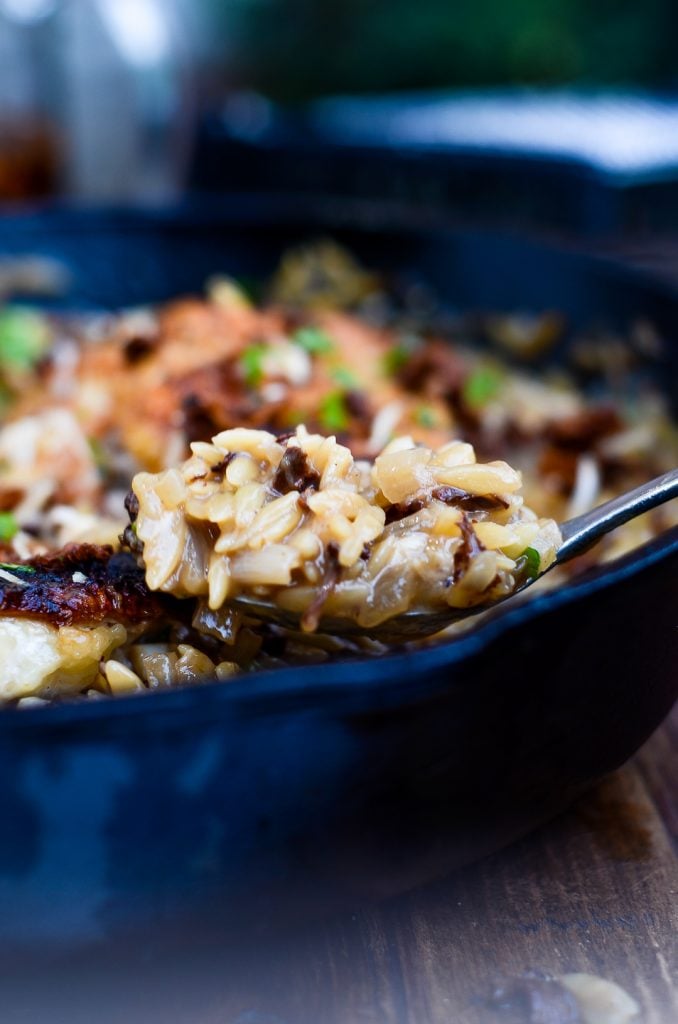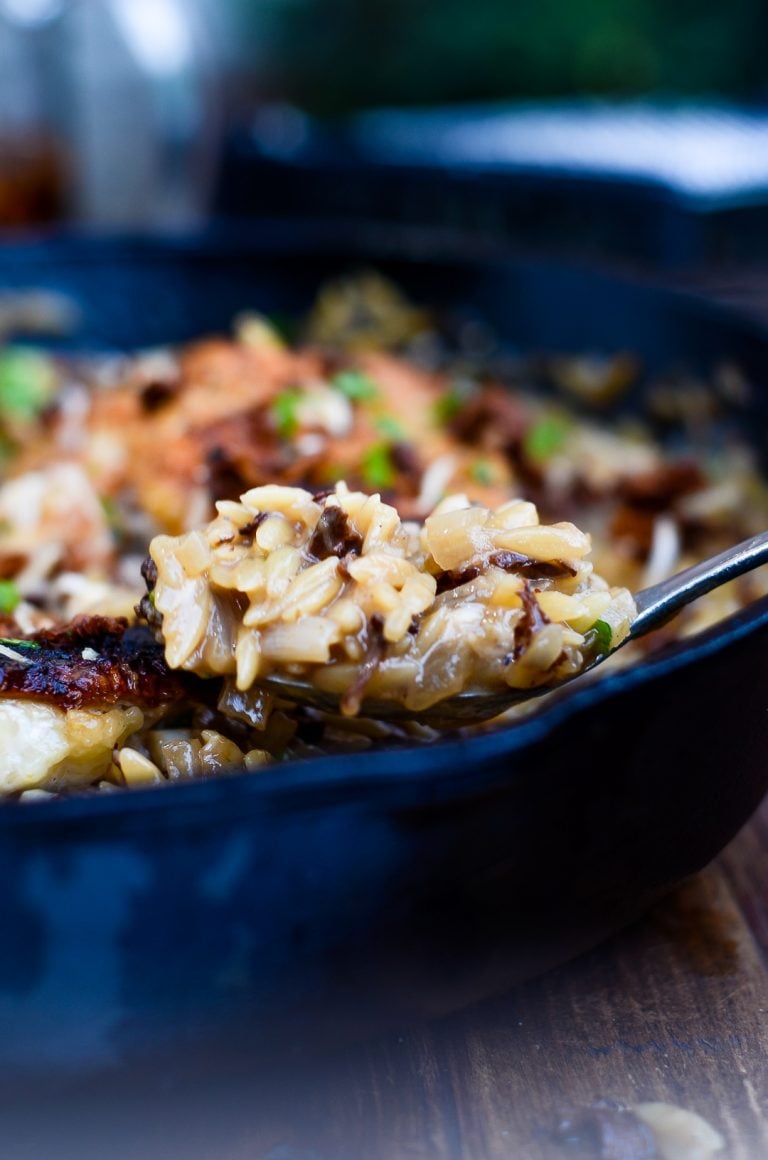 One Pan Chicken Orzo Recipe
Very little cream is actually added to this One Pan Chicken Orzo with Wild Mushrooms, despite its creamy texture. In fact, if you wanted to avoid the cream altogether, you absolutely can! The creaminess in this dish mostly derives from cooking the orzo in the pan at a low temperature. Just make sure you stir regularly to keep the orzo from sticking to the pan.
---
Want a free printable grocery list for this One Pan Chicken Orzo with Wild Mushrooms recipe? Get it HERE.
---
Use this grocery list to help simplify shopping. Everything is listed in standard grocery store amounts. If no size is specified, even the smallest package will provide more than enough.
Want some more delicious one pan recipes to try? I recommend:
Happy Cooking! 🙂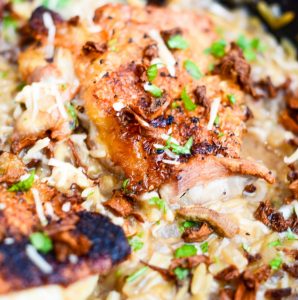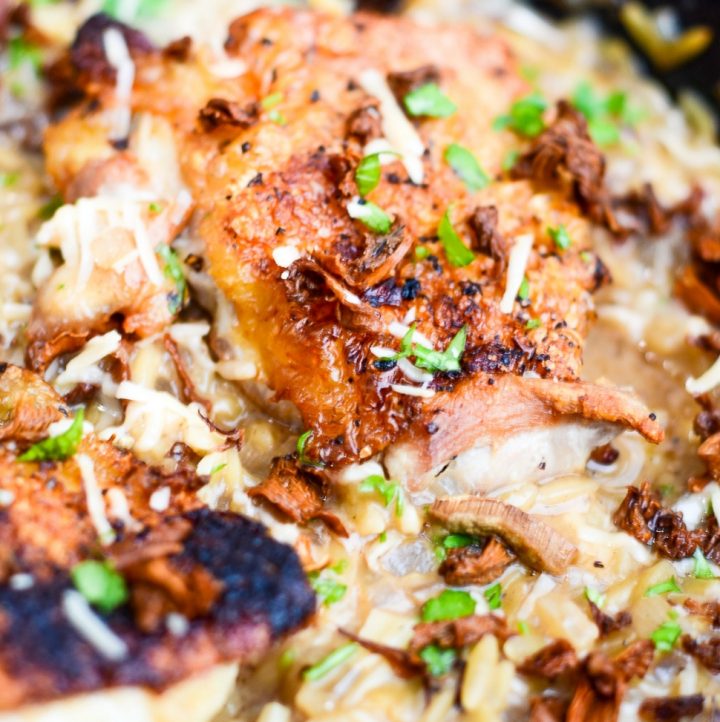 One Pan Chicken Orzo with Wild Mushrooms
This One Pan Chicken Orzo with Wild Mushrooms is done in an hour and boasts a comforting and aromatic dish that tastes fancier than it is.

Pin it for later?
Ingredients
Mushroom Broth
1

cup

assorted dried wild mushrooms

3

cups

water

,

, room temperature
Chicken
1

teaspoon

neutral cooking oil

4

skin-on chicken thighs

,

, patted dry

salt and pepper

,

, to taste
Orzo
1

medium yellow onion

,

, diced

3

cloves of garlic

,

, minced

¼

cup

white wine

⅓

cup

marsala

1.5

cups

orzo

¼

cup

cream

1

cup

gruyere cheese

,

, shredded
Instructions
Mushroom Broth (optional)
If you are working with dried mushrooms, place your mushrooms in a container and cover them with the room temperature water. Let sit for

30 minutes

.
Chicken Thighs
While the mushrooms steep, in a high sided sauté pan over medium high heat, heat the olive oil until it starts to ripple. Salt and pepper the chicken thighs and place them face down in the oil. Cook them until the skin is golden brown about

8 minutes

*. Flip and repeat on the other side, about 4 minutes or until chicken is cooked to 165°F internally. Transfer to a plate and set aside.

Orzo
Keeping the pan over medium heat, add the onion and garlic to the pan and cook for about

2 minutes

, or until the onions begin to turn translucent. Add in the dry orzo pasta and stir until most of the oil and liquid is soaked up and the orzo starts to smell toasted, about

2 minutes

.

Stir the white wine and marsala together and pour it into the pan to deglaze it. Use a utensil to scrape up any brown bits from the bottom of the pan. Add in the mushroom broth and mushrooms and bring to a boil. Reduce it to a simmer and cook the orzo pasta to an al dente, about

10 minutes

, stirring frequently This should create a thick, creamy looking liquid, but there should still be a bit of liquid left in the pan.


Turn off the heat and stir in the cream and gruyere. Season with salt and pepper and serve immediately.
Notes
*If you remove the bones before cooking your chicken thighs, cooking time will vary.  Cook the chicken thighs to 165°F internal temperature.
Nutrition
Serving:
4
servings
|
Calories:
800
kcal
|
Carbohydrates:
54
g
|
Protein:
42
g
|
Fat:
42
g
|
Saturated Fat:
16
g
|
Cholesterol:
198
mg
|
Sodium:
245
mg
|
Potassium:
645
mg
|
Fiber:
3
g
|
Sugar:
4
g
|
Vitamin A:
645
IU
|
Vitamin C:
3
mg
|
Calcium:
383
mg
|
Iron:
2
mg
Tell me how much you love this recipe
and show off how you made it!