Enjoy time with your guests on Thanksgiving and let this Overnight Slow Cooker Turkey Stock do the work for you while you're sleeping.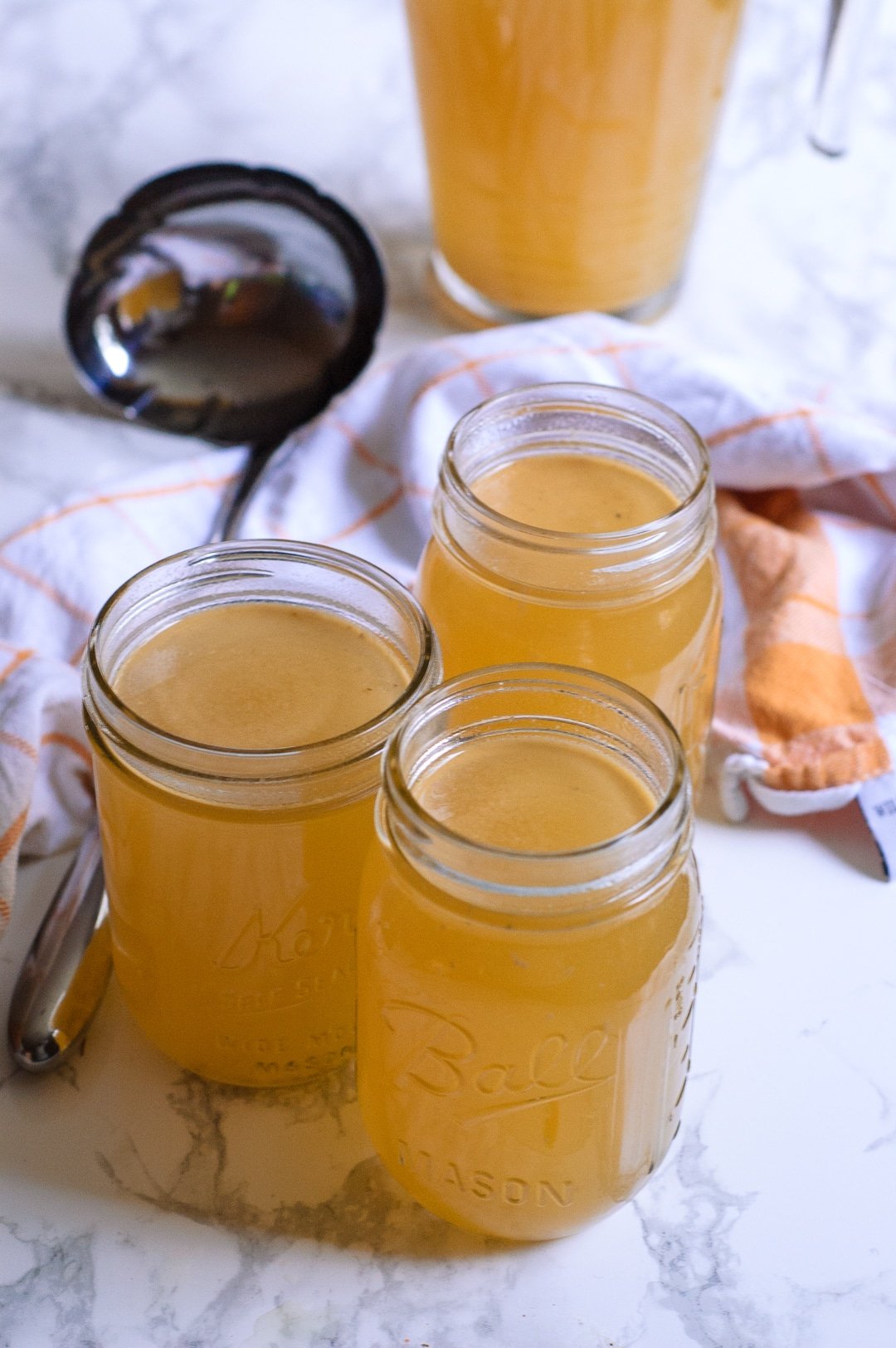 I'm so excited to introduce you to your new favorite way to make stock!  If you've read my "How To Make Stock" series, then you know the difference between stock made with scraps like carrot peels, versus a pristine stock made with only fresh, whole ingredients. Assuming that you're reading this well before you start making your Thanksgiving feast, then you can start saving your scraps now for a complete utilization stock.  If you're reading this a bit late, or you desire a perfect stock, then make sure you have a few extra ingredients for making today's stock.
Skills & Techniques
To extract every ounce of flavor from your slow cooker turkey stock, here are some skills & techniques I recommend brushing up on.
How to Roast Bones.  Even though your turkey was already roasted, the bones themselves haven't been.  They need exposure to get the best flavor possible, and this will help you get it.
How to Make Stock Part 1.  This is the beginning of a 5-part series on how to make stock.  Throughout the series, you'll learn everything you need to know about how to get the best color, texture, and flavor from your stock.
What is Mirepoix?  Mirepoix is the vegetable foundation for making a good stock.  Understand it and it's ratios will help develop the best flavor for your slow cooker turkey stock.

Leftovers?
One of the nice things about using a slow cooker to make stock is that you lose hardly any liquid. So, by the end you'll have about three-quarters of the liquid you put in at the beginning. The whole point of this slow cooker turkey stock is to use your leftovers to create something new.  The only real leftovers you need to have is the turkey carcass, especially if you just want broth.  Additional aromatics and mirepoix will really help boost the flavor if you have some on hand.
It's important to take a minute to talk about proper cooling.  This slow cooker turkey stock can become a breeding ground for food-borne illness rather quickly, so I recommend straining out the stock into mason jars or something similar that can be closed (with a little vent to let out steam) and place them in an ice water bath.  This will allow the turkey stock to come to food safe temperatures in a safe way.  Once it is cooled, store your slow cooker turkey stock in an air tight container in the fridge for 5-7 days.  Or you can freeze it for up to three months.
Overnight Slow Cooker Turkey Stock
I have a small thing I want to clarify before you start making this overnight slow cooker turkey stock.  Once you read the recipe you'll probably think "This isn't really done overnight! I have to add stuff in the morning."  This is just a recommendation.  I find that the longer the vegetables and aromatics simmer, the more bitter it makes the stock.  By adding them in in the morning, you reduce the likelihood that it will overpower your turkey flavor.  If you would like to make the entire thing overnight, add everything in in the first step and let it simmer into greatness! 🙂
---
Not making this from Thanksgiving leftovers? Get your free printable grocery list for this Overnight Slow Cooker Turkey Stock recipe HERE.
---
This grocery list has everything that you'll need to make this Overnight Slow Cooker Turkey Stock recipe.  To help making grocery shopping simple, each ingredient is listed in easy-to-find grocery store amounts.  If there is no amount specified, that means that you can buy the smallest (or largest) container available and still have plenty left over.
Thanks so much for stopping by!
Happy cooking! 🙂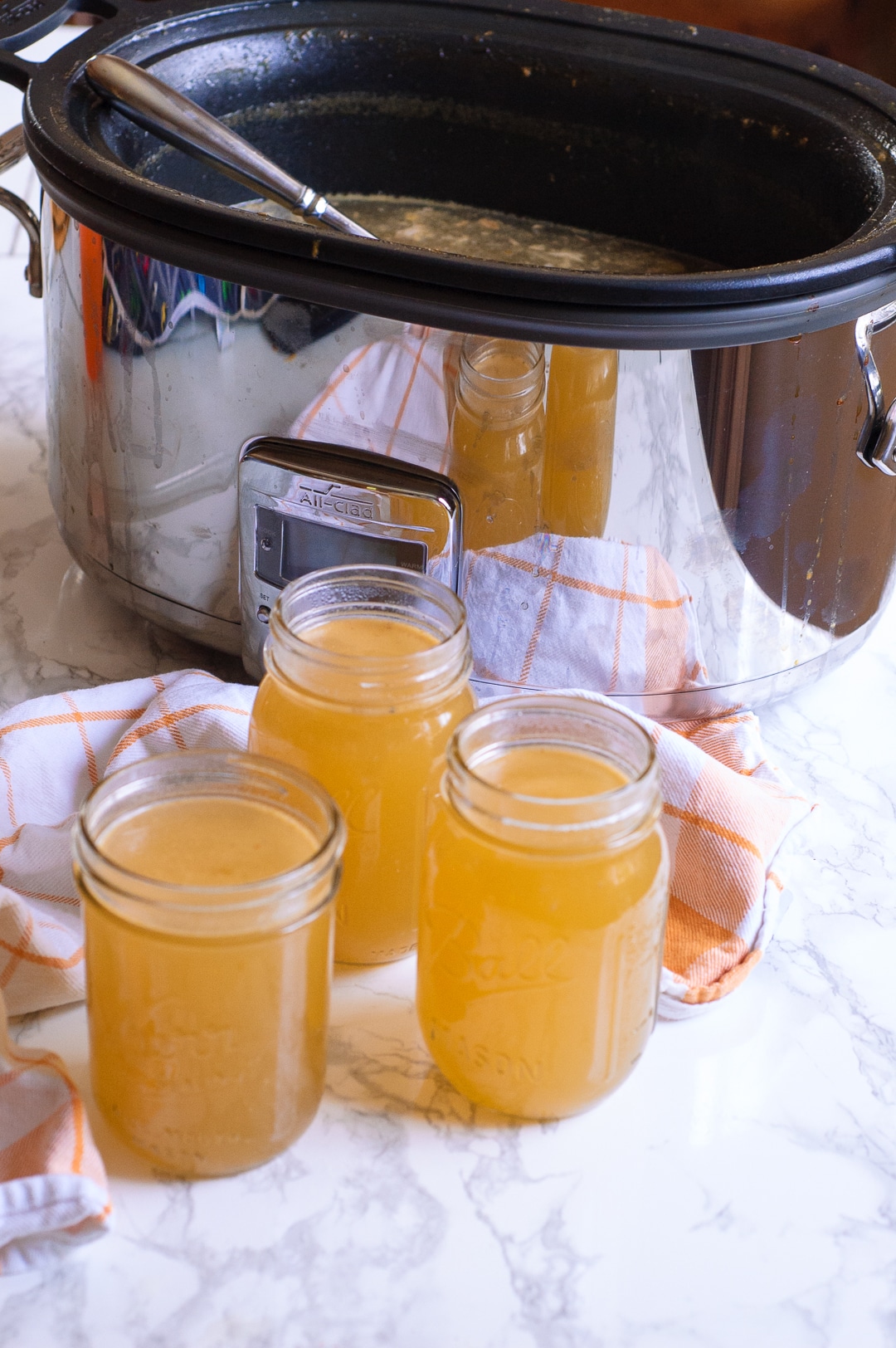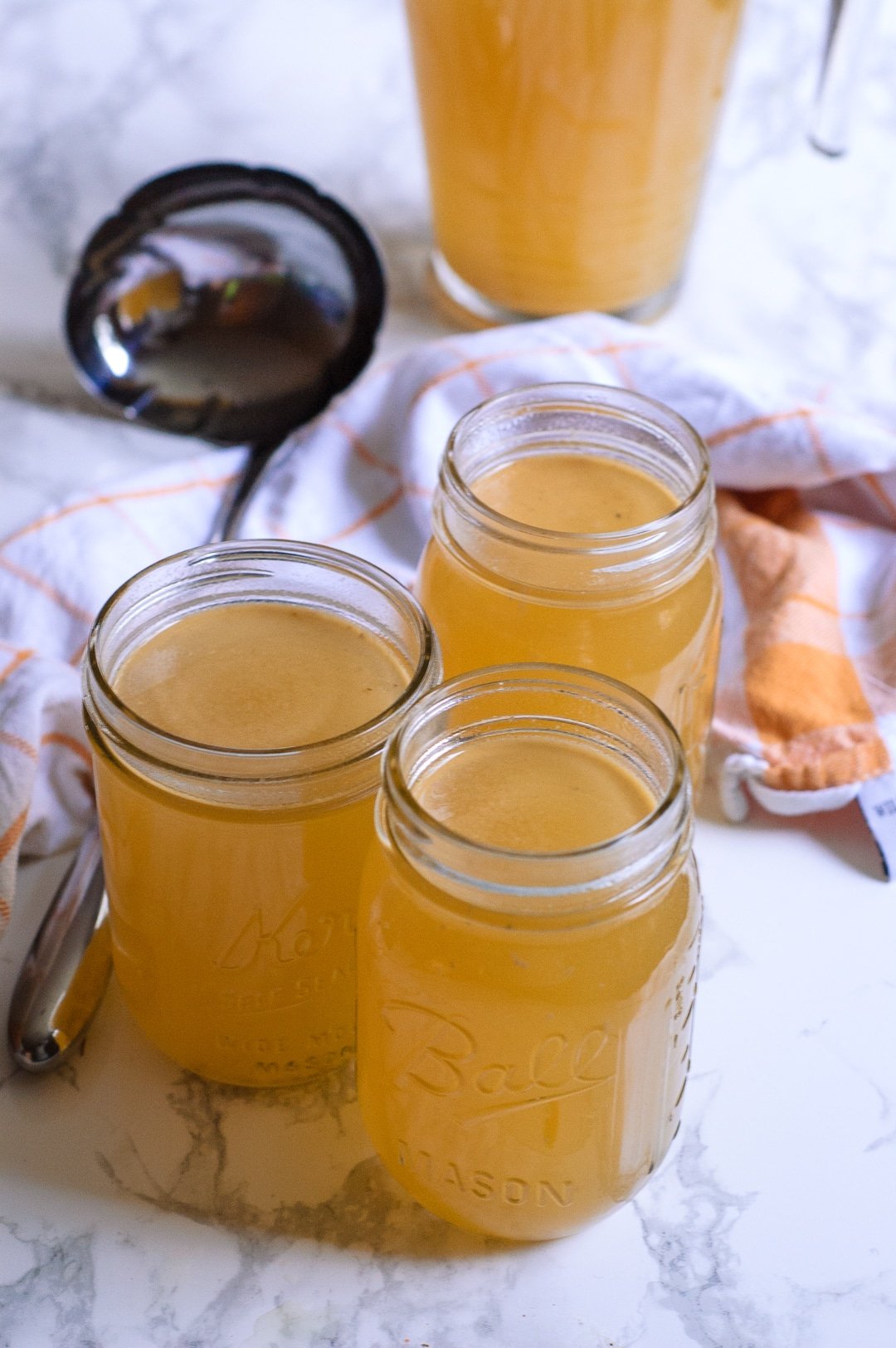 Overnight Slow Cooker Turkey Stock
This overnight slow cooker turkey stock is a very hands-off way to get a delicious stock from you Thanksgiving scraps and leftovers!
Total Time
12
hours
10
minutes
Ingredients
1

turkey carcass

6

carrots

6

celery stalks

2

large onions

, peeled and halved

1

head of garlic

assorted fresh herbs

1

bay leaf

1

tbsp

whole peppercorns
Instructions
Turkey Stock
Place the turkey carcass into a large slow cooker, fill the slow cooker with water and turn heat to high. Set it to run for at least 8 Hours or overnight.

Add Aromatics
The next morning add in the carrots, celery, onion, garlic, fresh herbs, bay leaf and whole peppercorns. Keep the heat on high for an additional 4 Hours.

Turn off the slow cooker and strain the turkey stock through a sieve. For better clarity, line the sieve with cheesecloth first. Store in an airtight container.
Recipe Notes
For better flavor, roast the bones after you've carved and serve the turkey.  This will help give you a deeper flavor.  For more information about roasting bones, go here.
If you would like to make everything overnight, you can add the aromatics in at the beginning.  I find that this makes a slightly more bitter stock, so if you have the extra 4 hours to spare, I recommend doing it the next day.