Use your Thanksgiving leftovers completely and let this Overnight Slow Cooker Turkey Stock do the work while you're sleeping.  Use it to make soup or a delicious alternative to chicken broth!
Note: This post was updated on October 16, 2018 with new content for your enjoyment.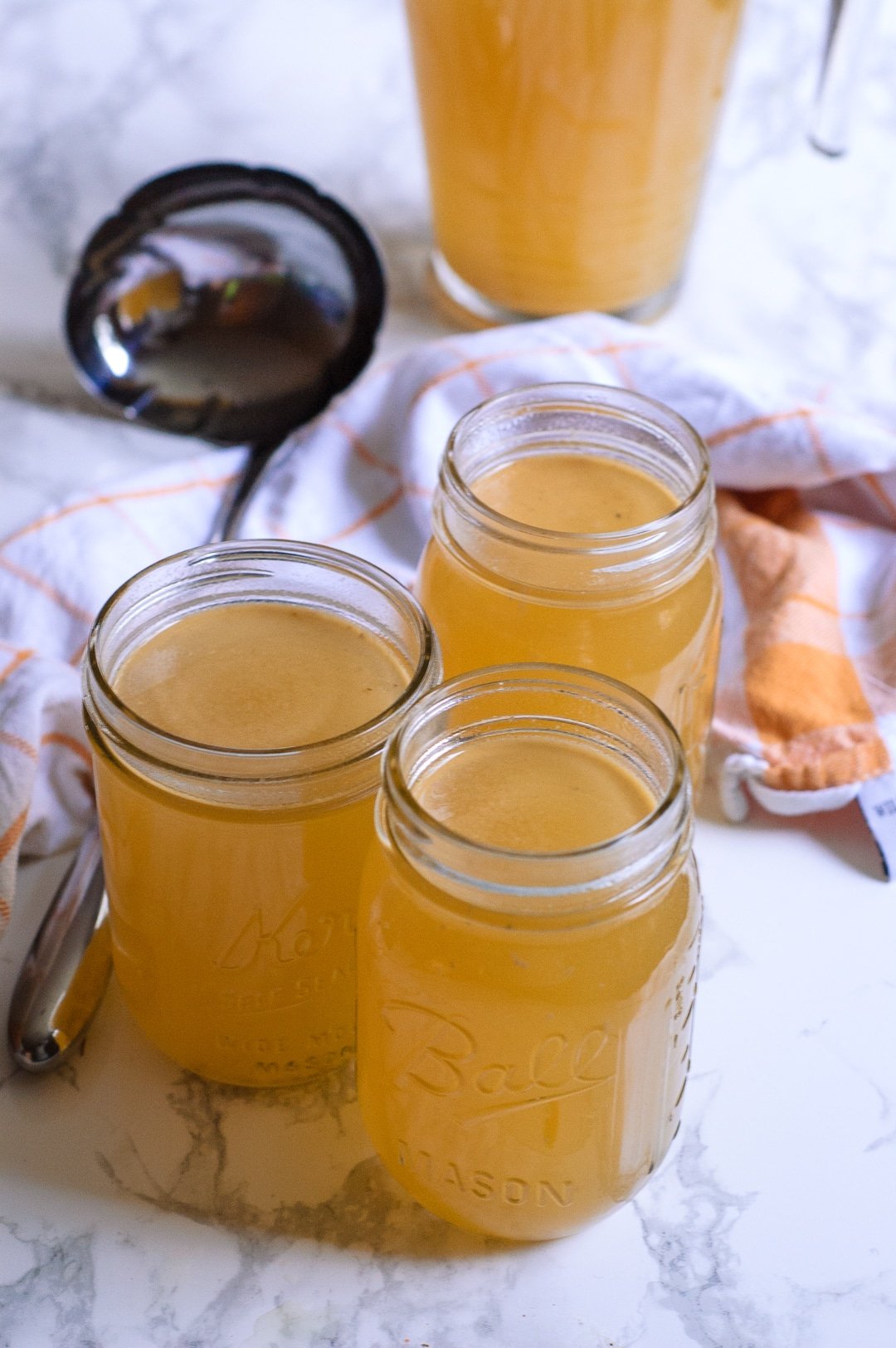 Homemade turkey stock is like pure gold, and it's surprisingly simple to make.  If you have a seemingly endless amount of Thanksgiving leftovers to contend with, this homemade stock is one of the best ways to help use them up.  With only a few steps, you turn a turkey carcass into a delightful broth or stock that you can use in almost anything that calls for chicken broth.  
Tips For Making Homemade Turkey Stock in the Crock Pot
Your Crockpot or slow cooker does most of the work, but to extract every ounce of flavor from your overnight turkey stock here are some skills & techniques I recommend brushing up on.
How to Roast Bones.

 Even though your turkey was already roasted, the bones themselves haven't been.  They need exposure to get the best flavor possible for your turkey stock.

How to Make Stock Part 1.

 This is the beginning of a 5-part series on how to make homemade stock.  Throughout the series, you'll learn everything you need to know about how to get the best color, texture, and flavor from your stock.  If you're wondering things like

"Why does turkey stock gel?"

or "

Why is my turkey broth cloudy?

"  This series will answer it!

What is Mirepoix?

 Mirepoix is the vegetable foundation for making a good stock.  Understanding it and it's ratios will help develop the best flavor for your slow cooker turkey stock.

Can I Freeze Turkey Stock?  How Do I Store It?
It's important to take a minute to talk about proper cooling as this slow cooker turkey stock can become a breeding ground for food-borne illness rather quickly.  Strain the stock through a fine meshed sieve directly into a heat safe container to cool. Place them immediately into an ice bath which will allow the turkey broth to cool in a safe way.  
Once strained and cooled, this turkey stock will keep in the refrigerator for five to seven days, and frozen turkey stock will stay good for up to three months.  If you are freezing turkey stock, let it cool completely then divvy it into quart sized bags and freeze them flat so they take up less room in your freezer.
Ways To Use Turkey Stock
Turkey stock is infinitely useful.  You can use it interchangeably with chicken broth, drink it like a bone broth recipe, or turn it into any stock based sauce.  You could even boil the turkey broth down and use it like a demi-glace to help improve flavor or deglaze your pan.  Most commonly, people use their homemade stock with the last of their Thanksgiving leftovers to make turkey soup. Some of my favorite ways to use turkey broth are:

Overnight Slow Cooker Turkey Stock
Once you read the recipe you may think "This isn't really done overnight! I have to add stuff the next morning."  This is just a recommendation.  The longer the vegetables and aromatics simmer, the more bitter the turkey stock becomes.  By adding them in in the morning, you reduce the likelihood of them overpowering your turkey stock.  If you would like to make the entire recipe overnight, add everything during the first step and let it simmer into greatness!
Happy Cooking! 🙂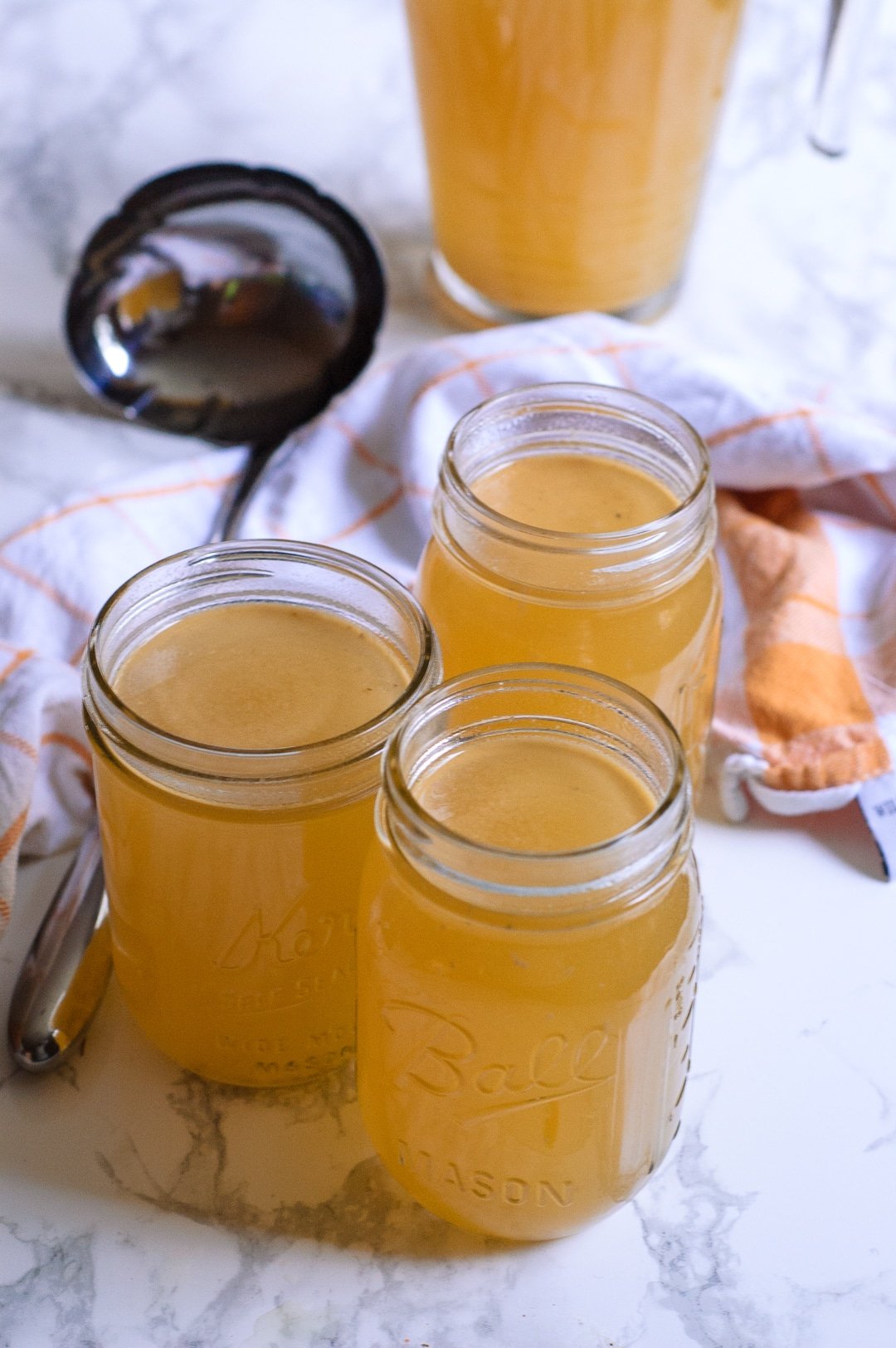 Overnight Slow Cooker Turkey Stock
This overnight slow cooker turkey stock is a very hands-off way to get a delicious turkey broth from your Thanksgiving leftovers!
Optional Extra Time For Extra Flavor:
4
hours
Pin it for later?
Ingredients
1

turkey carcass

6

carrots

6

celery stalks

2

large onions

,

peeled and halved

1

head of garlic

,

peeled

assorted fresh herbs

1

bay leaf

1

tbsp

whole peppercorns
Instructions
Turkey Stock
Place the turkey carcass into a large slow cooker, fill the slow cooker with enough cold water to cover the bones (or until full) and select high for the heat. Set it to run for at least

8 Hours

or overnight.
Add Aromatics
The next morning add the onion, carrot, celery, garlic, fresh herbs, bay leaf, and whole peppercorns. Reduce the heat to low and simmer for an additional 4 Hours.

Turn off the slow cooker and strain the turkey stock through a fine meshed sieve, discarding the solids. For better clarity, line the sieve with cheesecloth first. Cool in an ice bath and store in an airtight container or freeze.
Notes
For better flavor, roast the bones after you've carved and serve the turkey.  This will help give your turkey stock a deeper flavor. For more information about roasting bones, go
here
.
For more space to fit your aromatics or get a better yield from your turkey stock, break down the turkey carcass before placing them in the slow cooker.  This will make the bones takes up less space, as well as make it easier to fit the lid.
Nutrition
Serving:
1
cup
|
Calories:
25
kcal
|
Carbohydrates:
5
g
|
Sodium:
37
mg
|
Potassium:
187
mg
|
Fiber:
1
g
|
Sugar:
2
g
|
Vitamin A:
103.8
%
|
Vitamin C:
4.7
%
|
Calcium:
2.6
%
|
Iron:
1.4
%
Tell me how much you love this recipe
and join fellow foodie friends @foodabovegold
Nutrition Facts
Overnight Slow Cooker Turkey Stock
Amount Per Serving (1 cup)
Calories 25
% Daily Value*
Sodium 37mg 2%
Potassium 187mg 5%
Total Carbohydrates 5g 2%
* Percent Daily Values are based on a 2000 calorie diet.
2