This black bean soup is comfort food in a bowl. Made with an entire pound of bacon, this scrumptious soup can be served with toppings or plain.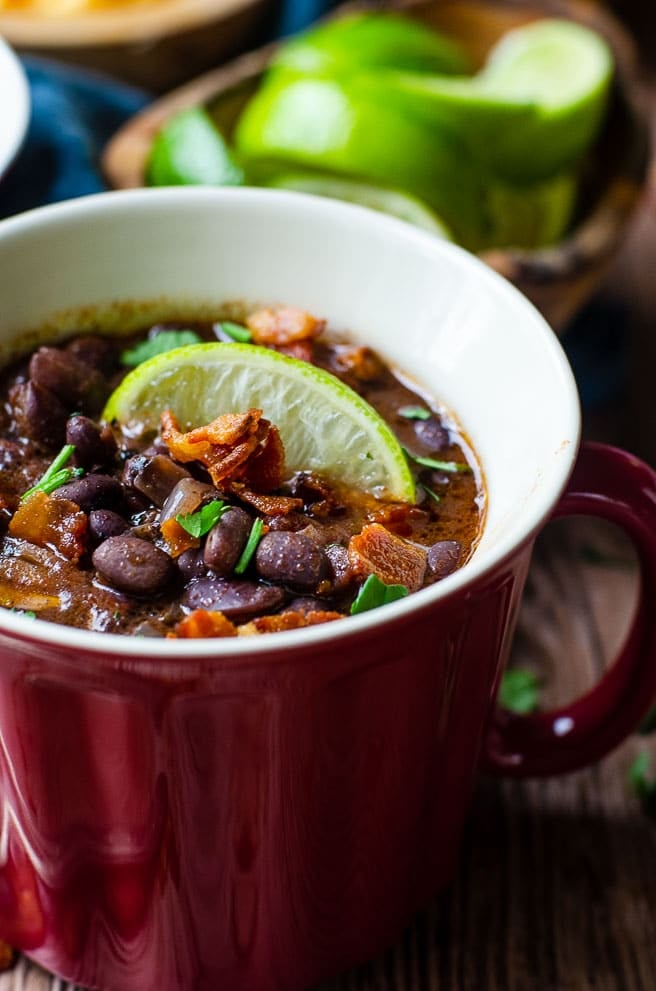 I know what you're thinking. Does this black bean soup really need an entire pound of bacon in it? The answer is yes. A thousand times, yes. Never in your life have have you had a black bean soup with this much bacony flavor. It is so luscious and dreamy that the stuff you get out of a can will never compare to this black bean soup recipe.
This soup is the epitome of comfort food. I mean, how can you go wrong with bacon, right? And since it isn't heavily spiced, but rather focuses on the bacon, it is great in any season.
Can I Used Canned Beans For Black Bean Soup?
A fifteen ounce can of black beans has slightly less than two cups of cooked beans. The one pound bag of dry beans that this black bean soup recipe calls for yields about seven cups. If you want to replace the dry black beans with canned, you'll need four cans to make the recipe work. Plus, with canned beans this black bean soup takes about an hour less to make.
Be careful with your salt amounts though. Canned beans have salt added to them, so you want need to add as much at the end.
Can Black Bean Soup Be Frozen?
Yes! This black bean soup freezes extremely well, and can stay frozen up to six months. Just don't be turned off by the congealed bacon fat. Since it isn't strained out, the fat will create a thick coating around the black bean soup. This also means that whatever container you are using will need to be thoroughly scrubbed after using the soup.
If you're freezing this soup in a Ziploc bag, I recommend filling it then laying it flat. Spread the cooled black bean soup out so that the entire bag is filled. Remove any air and freeze flat like this. It will make it easier to fit in your freezer.
How To Make Black Bean Soup From Scratch
This black bean soup recipe is super simple. The important thing to focus on is to soak your beans overnight. It used to be said that soaking the dry beans would eliminate flatulence. However, there has been a lot of research done recently on whether or not it actually matters. Regardless of the reason, soaking them overnight DRASTICALLY cuts down on your cooking time. By around two to three hours. Additionally, soaking the beans helps strain out excess starch, impurities, and saves you money on chicken stock.
For some other tips on how to make black bean soup from scratch, check out these helpful cooking techniques.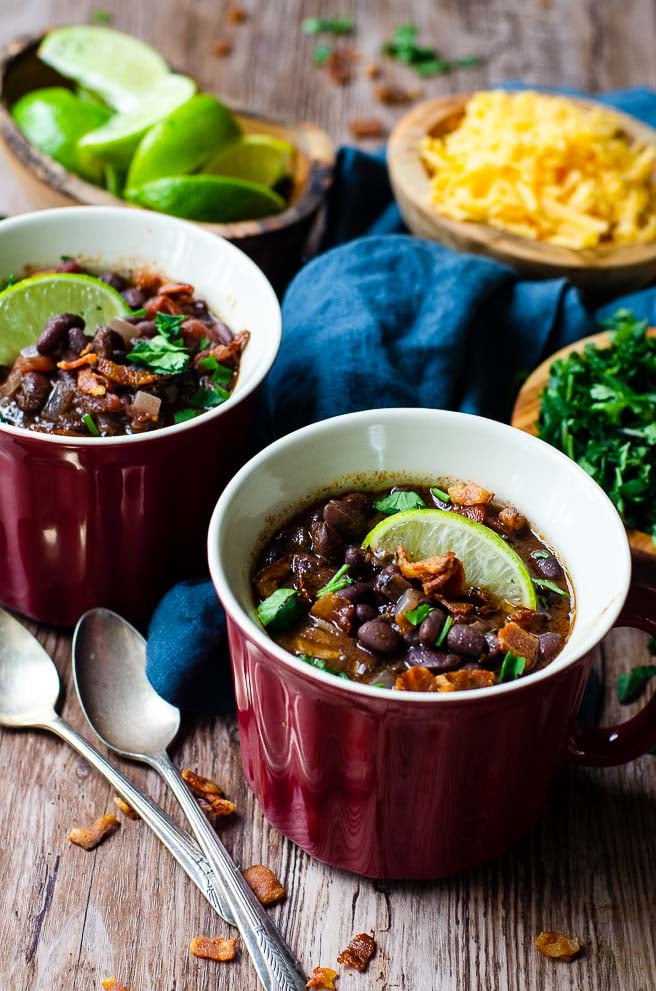 What To Serve With Black Bean Soup
For most people, the natural inclination is to gravitate towards mexican food style toppings because of the cumin and chili powder in it. However, they are very faint to let the bacon flavor shine through. If you want to go with some traditional toppings, I recommend:
cilantro,

a dollop of sour cream (or greek yogurt),

salsa or hot sauce

diced avocados.
You don't have to limit yourselves to these traditional toppings, though. You can also serve this soup with fresh tomatoes, rice, or corn. Personally, my favorite is a garlicky cheese quesadilla. I use it like naan and scoop up the black bean soup with them!
How To Make This Black Bean Soup Spicy
Currently, this black bean soup recipe is very mild. Mostly because spicy peppers would overpower the bacon. Does that mean that it can't be spicy? Absolutely not. If you would like to add a little heat to this black bean soup, simply replace the poblano with your preferred spicy pepper.
Can I Make This Black Bean Soup Creamy?
To keep the bacon from getting soggy, I recommend straining it out before cooking the rest of the soup. If you do this, you can create a smoother texture for your black bean soup by briefly using an immersion blender to partially blend the soup. If aesthetics are super important to you, you can separate half of the soup and purée it until perfectly smooth. Once you mix
Happy National Soup Swap Day!
This recipe is brought to you as part of a collaboration with other food bloggers for National Soup Swap Day. If you want to check out some of the other delicious recipes, you can check them out below. Thank you to Kate from Kate's Recipe Box for putting this together!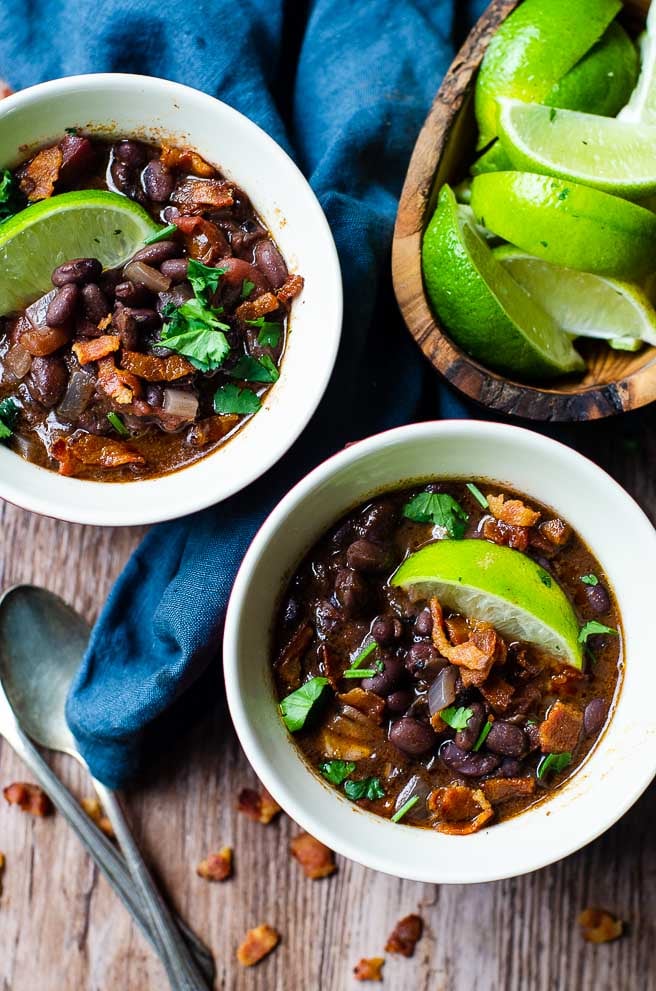 National Soup Swap Day Recipes
Black Bean Soup Recipe
If you don't often cook with dried black beans, then you may find you want to jump the gun on eating this soup. However, it is extremely important that taste test your bean to make sure they are ready to eat. If you strictly follow my recommendations for cook time, your beans may not be done. When they are finished, they should be tender but not busting out of their skins.
This soup is also wonderful for making large batches. However, make sure that you have enough space in your pot to stir easily. If you can't effortlessly stir the soup, you'll end up with sections of beans that are still al dente, while others are overcooked.
---
Want a free printable grocery list for this black bean soup recipe? Get it HERE.
---
Use this grocery list to help simplify shopping. Everything is listed in standard grocery store amounts. If no size is specified, even the smallest package will provide more than enough.
Happy Cooking!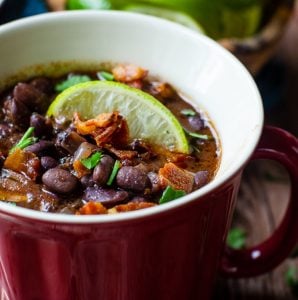 Black Bean Soup with Bacon
This comforting bowl of black bean soup is filled with a pound of bacon! Serve it with some garlicky cheese quesadillas for a delicious dinner!
Pin it for later?
Ingredients
1

pound

dry black beans

,

soaked overnight

1

pound

bacon

,

chopped

1

onion

,

chopped

6

cloves

garlic

,

minced

1

poblano

,

seeded and chopped

2

cans

diced fire roasted tomatoes

4

cups

chicken stock

,

plus more as needed

1

Tablespoon

cumin

2

teaspoons

chili powder

2

teaspoons

oregano

2

red bell peppers

,

seeded and chopped

2

limes

,

cut into wedges
Instructions
In a large bowl, soak the dried black beans overnight

In a large pot, cook the diced bacon over medium heat until the bacon is crispy. About

10 minutes

. Strain out the cooked bacon, but leave the bacon fat.

Sauté the onion, garlic, and poblano pepper until the onions begin to turn translucent. About

5 minutes

.

Stir in the fire roasted tomatoes, chicken stock and spices. Bring the soup to a boil then reduce the heat to a simmer. Cover the pot and let it simmer for

one hour

, or until the beans are tender.

Stir in the diced red bell peppers and reserved cooked bacon and cook for five more minutes. Season with salt and pepper and serve with a lime wedge.
Nutrition
Serving:
1
serving
|
Calories:
352
kcal
|
Carbohydrates:
34
g
|
Protein:
16
g
|
Fat:
16
g
|
Saturated Fat:
5
g
|
Cholesterol:
27
mg
|
Sodium:
480
mg
|
Potassium:
829
mg
|
Fiber:
7
g
|
Sugar:
5
g
|
Vitamin A:
1070
IU
|
Vitamin C:
39.1
mg
|
Calcium:
93
mg
|
Iron:
3.3
mg
Tell me how much you love this recipe
and show off how you made it!