If you are craving a savory pumpkin recipe, then this casserole is for you. Filled with pumpkin puree and tons of veggies, it is topped with parmesan chive biscuits to be like a pot pie.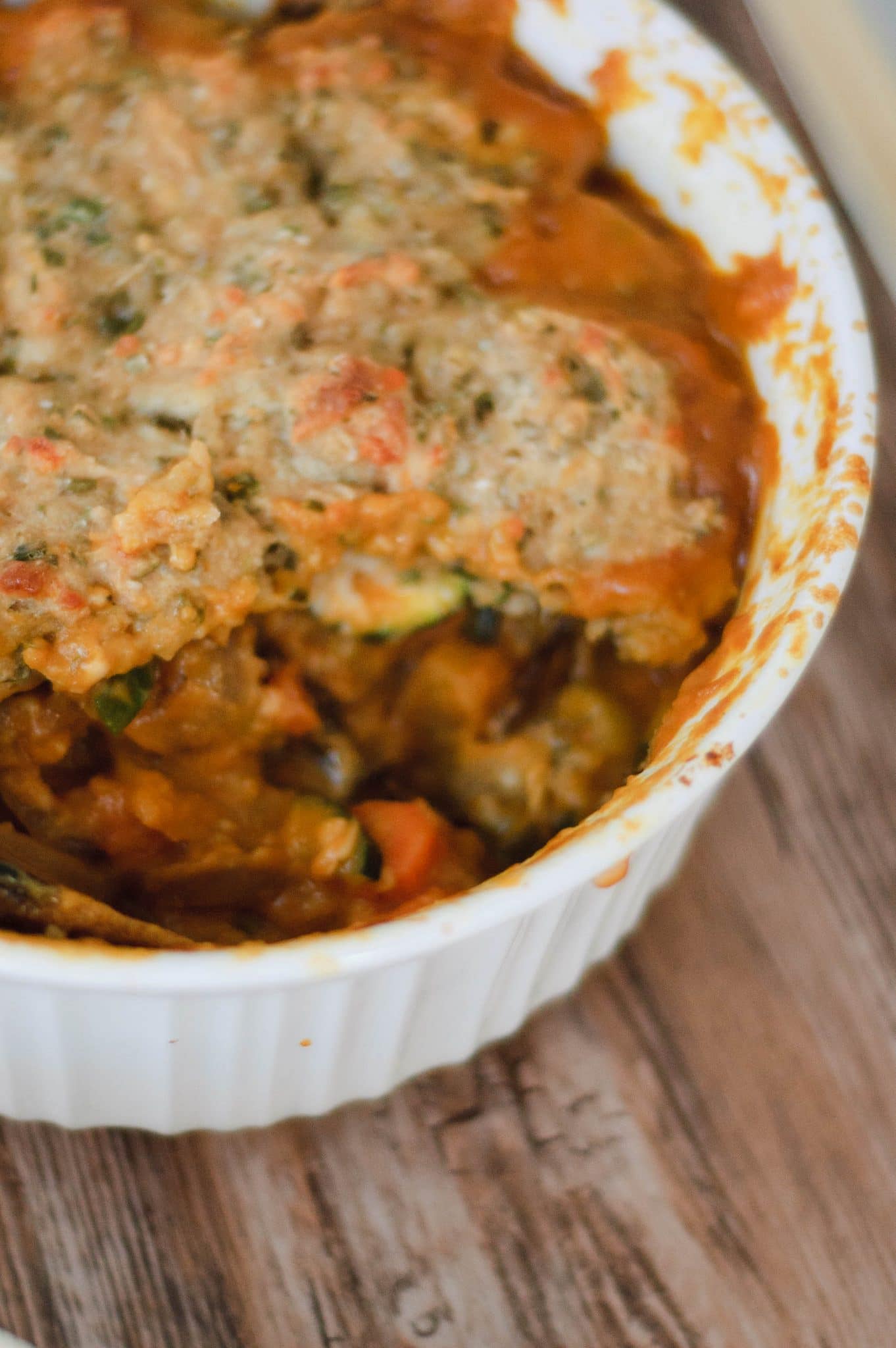 A cozy autumn vegetable cobbler is one of my favorite fall dishes. This recipe can be used as a pumpkin side dish for Thanksgiving alongside mashed potatoes and mac and cheese. Or you can serve it as as an entree savory pumpkin casserole for dinner.
I know that the actual recipe for this fall dish looks incredibly complex and difficult, but I promise you it really is not. This savory and creamy pumpkin casserole is made of a delicious vegetable mixture and topped with parmesan cheese biscuits. It is sure to become your new favorite!
What Vegetables Should I Use?
This is one of my go-to favorites because it is one of my fridge-dump recipes. Sometimes there are just those weeks where you don't end up using all the groceries you bought. Then you find them in the fridge on the tail end of spoiling and need to use them up.
I've given you an exact set of ingredients for the filling of this savory pumpkin casserole, but really all you need is about 5 cups worth of any cooked vegetables. (Remember, most vegetables change size during cooking. You want an end measurement, not a beginning.)
To mix it up, some different variations I recommend are:
butternut squash, roasted cauliflower and fresh sage biscuits
asparagus, eggplant, and bell pepper with provolone biscuits
zucchini, yellow squash, spinach, and peas with smoked gouda biscuits
tomato, corn, onion, and bell peppers with a chipotle cheddar biscuits
olive, tomato, eggplant, and roasted garlic with feta biscuits
mushroom, zucchini, bell peppers and beets with bleu cheese biscuits
How To Make the Biscuits
These are simple drop biscuits that get spooned onto the top of the savory pumpkin casserole filling. The important thing is that you don't over mix them, which makes them tough.
Start by sifting together the flour, baking powder, and salt in a large bowl. Then you want to "cut" in the butter, which means to use your fingers or fork to break cold butter into tiny pea-sized pieces.
Once this crumbly mixture is made the parmesan cheese, chives, and buttermilk get added. Gently fold the buttermilk into the dough to help prevent over mixing. Then transfer the biscuits to the baking dish top using two spoons to scrape against each other.
Once the biscuits are on top of the savory pumpkin casserole, they get baked in the oven. The steam from the casserole helps make the biscuits fluffy while they still get a beautiful brown on top.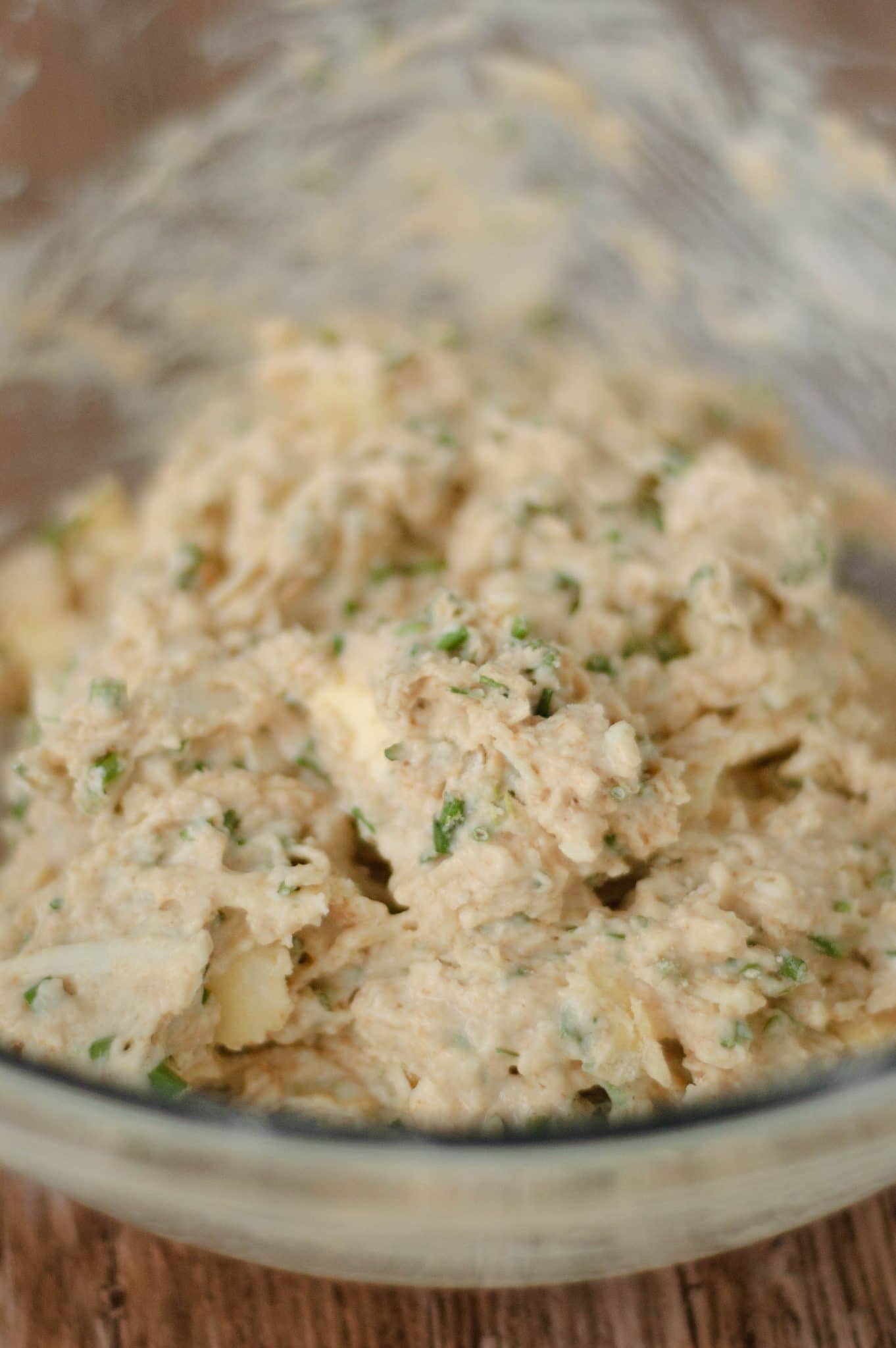 Making The Pumpkin Sauce
After the vegetables have been cooked in the olive oil and transferred to the baking dish, it is time to make the pumpkin sauce.
Do this by first deglazing the browned "fond" from the bottom of the pan. You can use stock or white wine for this. Use a wooden spatula to scrape up the browned bits so it can become part of the sauce.
Next, add it in the butter and let it brown deeply. This gives the sauce a nuttier, richer flavor. Then stir in the flour to create a roux, which helps thicken the sauce. You only need to cook the roux until it begins to smell fragrant, about 1-2 minutes.
Finally, slowly stir in the pumpkin puree, chicken stock, and parmesan cheese until hot. It should look a bit like pumpkin soup. Adding the ingredients in slowly keeps the flour in the roux from becoming chunky in the sauce.
Once done, season it with salt and pepper and pour it over the cooked veggies for the savory pumpkin casserole.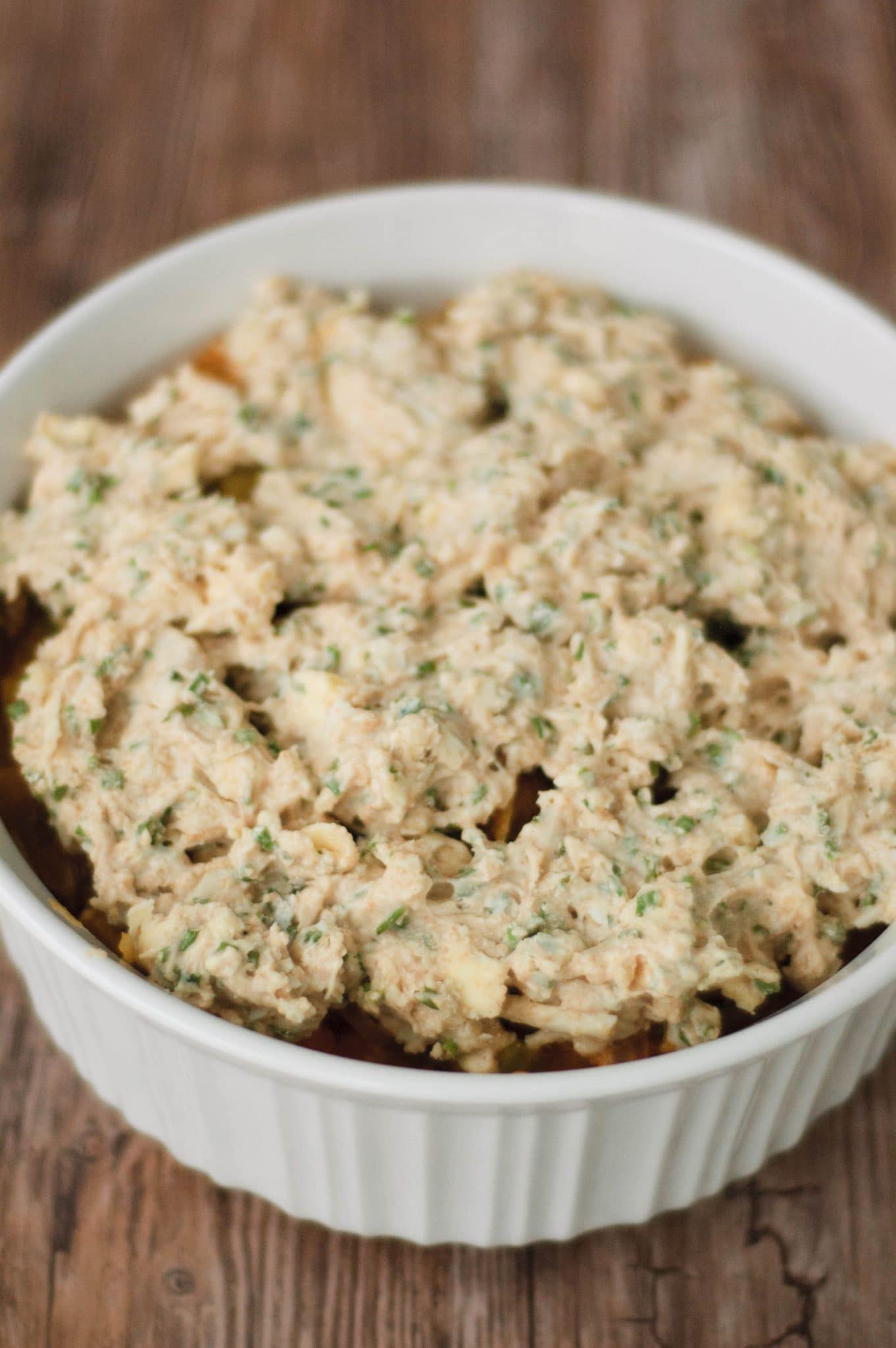 What Size Baking Dish
I used a deep 2.5 quart baking dish to make this like an autumn vegetable cobbler. However, any baking dish works. If you use a standard casserole dish that is 9x13", you'll want to double the amount of biscuit topping to make sure that everything gets covered.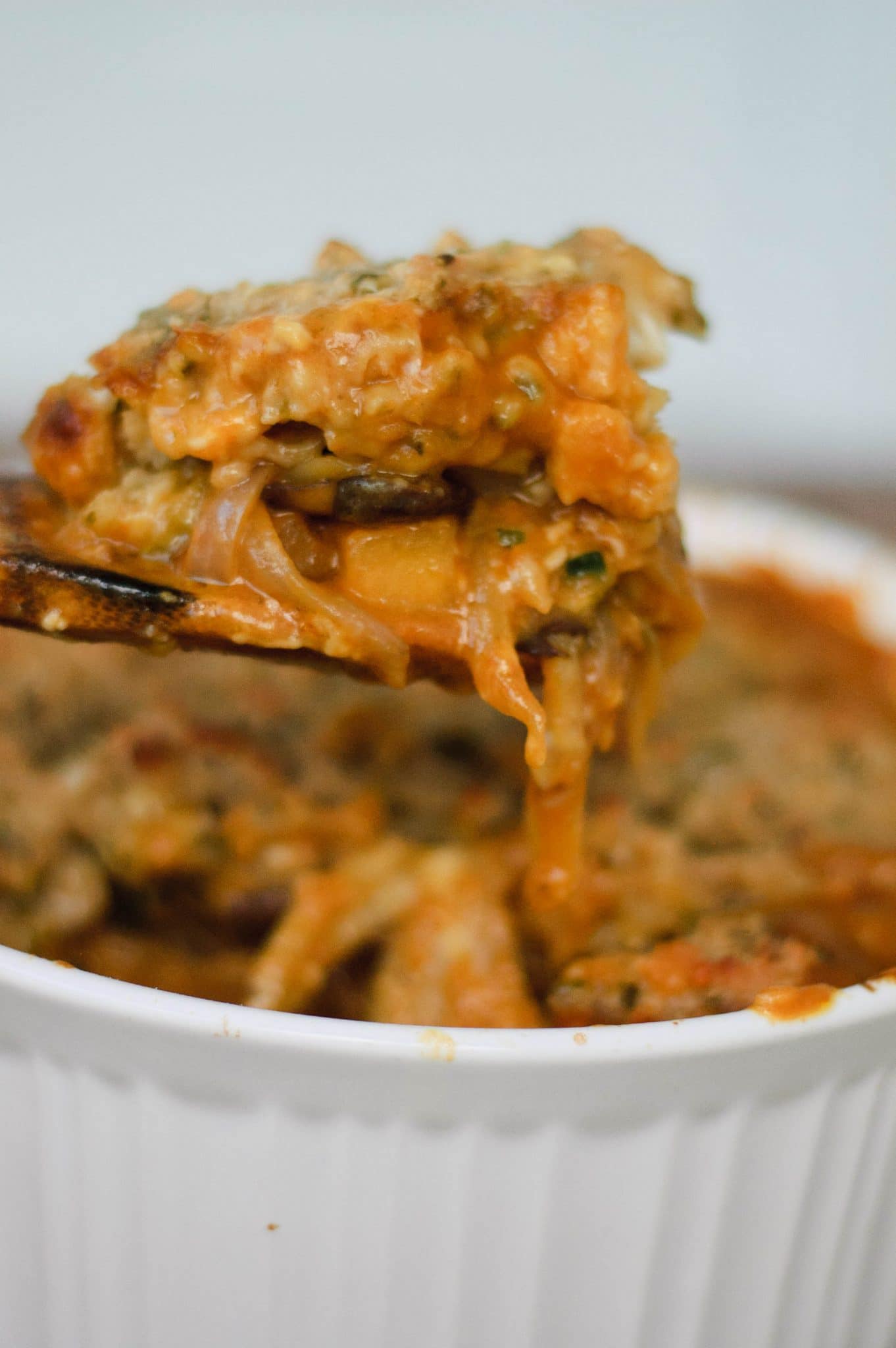 Leftovers?
This savory pumpkin casserole makes A LOT of food. Even if you're eating it as an entrée, you'll likely have extra at the end of the meal. If that happens to you, you can store it in the refrigerator in an air-tight container for 5-7 days.
Just a heads up, the longer the casserole sits the more the flavors intermingle and strengthen. If you have a sensitivity to some of the flavors (like fennel) you may want to eat it sooner than later.
If you would like to reheat this pumpkin cobbler, I recommend:
Preheat the oven to 450°F
Uncover the casserole and place it on a sheet pan.
Bake for 30 minutes, or until hot throughout (cook times will vary based on how much you have left).
Remove from the oven and serve hot.
Note: If you notice that the biscuits start to get to dark or begin to burn, you can cover them, or the entire container, with aluminum foil. Just make sure to leave a vent in the side or on top to allow steam to escape.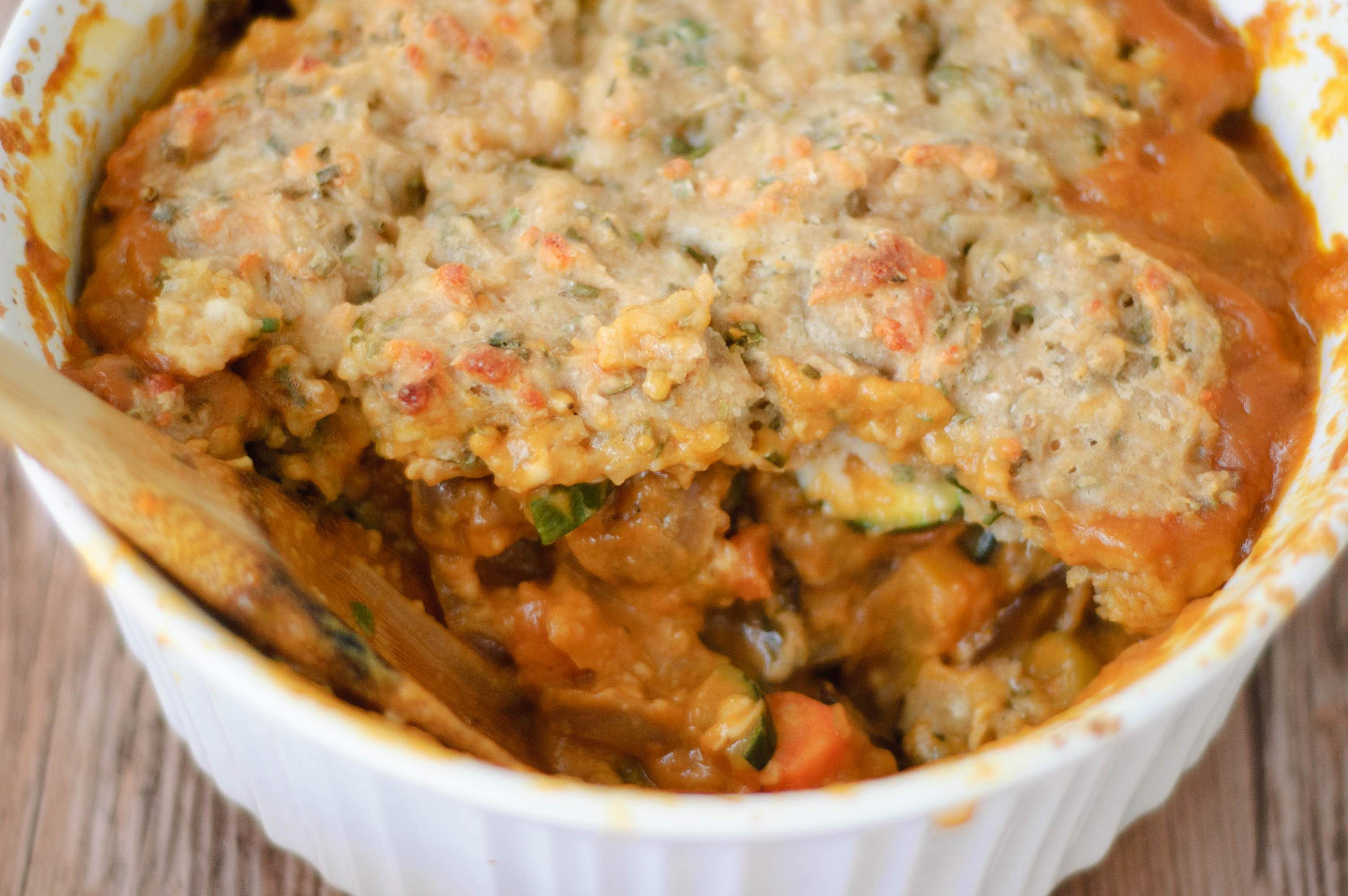 Savory Pumpkin Casserole Recipe
For today's recipe I am using homemade puréed pumpkin but you can use canned pumpkin if you prefer. You can also easily replace the purée with diced pumpkin if you would rather.
If you would like to try some other savory pumpkin dishes, I recommend:
---
Thanks so much for stopping by!
Happy Cooking! 🙂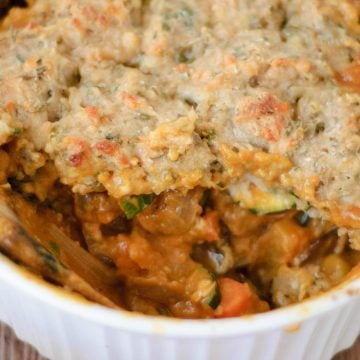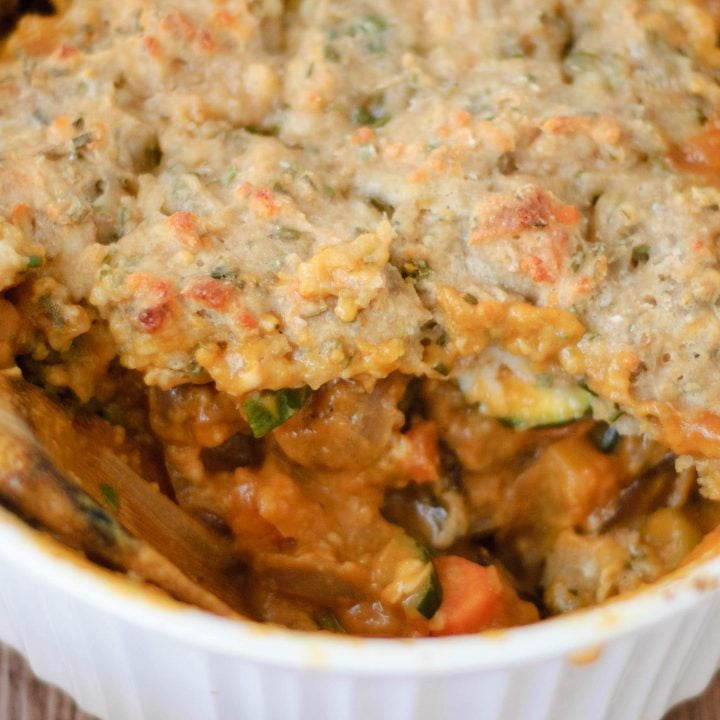 Pumpkin Cobbler With Parmesan Chive Biscuits
Try this cheese-packed deep dish pumpkin cobbler that is filled with your favorite veggies and topped with parmesan chive biscuits.
Pin it for later?
Ingredients
Biscuit Topping
1 ¼

cups

all-purpose flour

½

cup

whole wheat flour

1

Tablespoon

baking powder

½

teaspoon

salt

6

Tablespoon

unsalted butter

,

cut into small cubes

1

ounce

chives

,

minced

1

cup

parmesan cheese

,

shredded

1

cup

buttermilk
Filling
3

Tablespoons

unsalted butter

1

pint

cremini mushrooms

,

quartered

4

garlic cloves

,

minced

1

red onion

,

sliced

1

cup

carrots

,

cut into rounds

2

stalks of celery

,

diced

3

zucchini

,

diced

1

cup

fennel

,

sliced thinly

1

large turnip

,

diced
Sauce
4

tablespoon

butter

⅓

cup

flour

2

cups

pumpkin purée,

(1 can)

2 ½

cups

vegetable stock

1 ½

cups

parmesan cheese

,

shredded
Instructions
Preheat oven to 400°F

Sift together the all-purpose flour, whole wheat flour, salt, and baking powder. Cut in the butter into the flour, leaving behind pieces no larger than a pea. Add in the chives and parmesan.

Stir in the buttermilk until everything is just combined - the dough may be a little sticky. Cover and set aside.

In a heavy bottomed sauce pan, melt the 2 tablespoons of butter over medium heat. Add in mushrooms and cook until they are caramelized - about

5 Minutes

. Be careful not to stir too much or they won't caramelize. Add in garlic and cook for

1 Minute

.

Transfer mushrooms and garlic to your 2 ½ quart baking dish and set aside. Melt one more tablespoon of butter and sauté your onions until they are translucent, about

2 Minutes

.

Stirring as needed, add in carrots, celery, turnips, zucchini and fennel and cook until they have begun to caramelize, about

15 Minutes

. Transfer to baking dish.

Using the same pan over medium heat, deglaze the hot pan with ¼ cup of the vegetable stock, scraping the bottom of the pan to release the caramelized bits. Reduce until it is mostly gone.

Add in the butter and melt until it is deeply browned. Add in the flour until combined and let cook

1 Minute

.

Using a whisk, slowly mix in the remaining vegetable stock until smooth. Mix in pumpkin purée, and cook until mixture begins to thicken, about

2 Minutes

.

Add in parmesan cheese and cook

1 Minute

until melted. Mix vegetables into the sauce and toss until the vegetables are all coated. Transfer back into the baking dish.

Using a spoon, drop the parmesan chive biscuits on top of the baking dish until all of the biscuit topping is used.

Place the filled and topped baking dish on a sheet pan and place in the oven. Bake for

30 Minutes

, or until parmesan chive biscuits are cooked through and browned. Remove and let stand for

10 Minutes

before serving.
Notes
This recipe uses

a deep 2 ½ quart baking dish.  If you would like to use a 9x13" pan please double the biscuit recipe.
Nutrition
Serving:
1
g
|
Calories:
495
kcal
|
Carbohydrates:
43
g
|
Protein:
20
g
|
Fat:
29
g
|
Saturated Fat:
18
g
|
Cholesterol:
74
mg
|
Sodium:
1067
mg
|
Potassium:
1019
mg
|
Fiber:
6
g
|
Sugar:
9
g
|
Vitamin A:
13542
IU
|
Vitamin C:
25
mg
|
Calcium:
543
mg
|
Iron:
3
mg
Tell me how much you love this recipe
and show off how you made it!