Learn how to make Espagnole sauce (also known as brown sauce), one of the five French Mother Sauces. Turn it into a delightful demi-glace or use one of my three tips for making it even better!
This post was updated with new content for your enjoyment on July 23, 2018.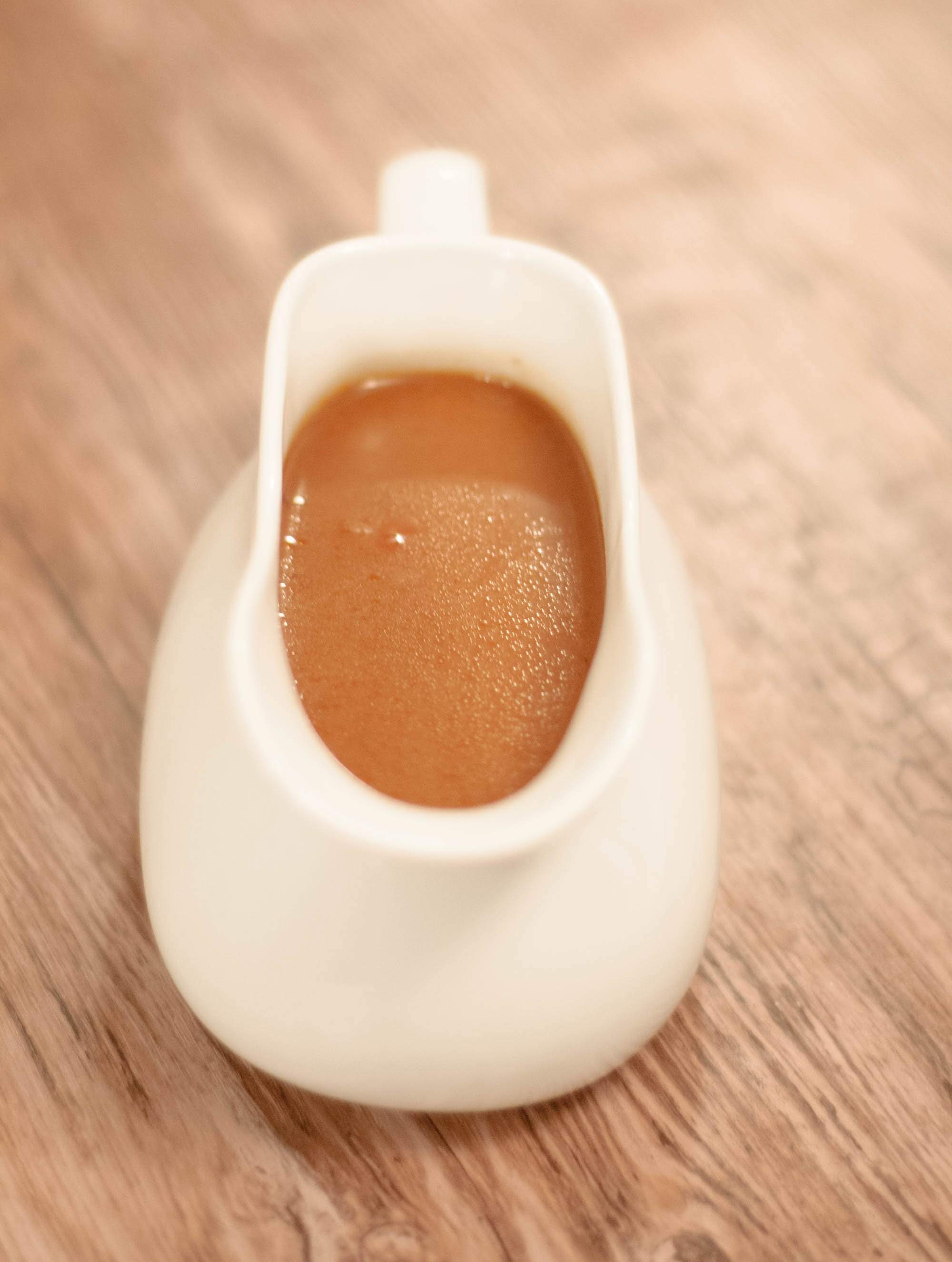 Let's continue #saucesome March and move on to the Espagnole sauce, also known as brown sauce. Last week's in-depth series on how to make stock was timed specifically for this sauce, so I'm sure that you have a fantastic brown stock in your fridge ready to go :).
What Is Espagnole Sauce?
Espagnole is one of the more complicated mother sauces, but it is also one of the more flavorful with a texture that is rich and silky. Espagnole sauce is traditionally made with veal, but can have variations made with chicken or beef stock. It is rarely served on its own, but rather as the base for many small sauces like Bordelaise, Robert, or Chasseur.
Espagnole sauce has been used for many centuries, dating back to the Renaissance, but wasn't standardized until August Escoffier declared it a mother sauce in 1902. The lore about the origin of it's name varies from the use of Spanish tomatoes, to the founding place of the sauce being Spain, to replacing beef or veal with Spanish ham. However, it is so commonly prepared worldwide that nobody can really pin down the derivation.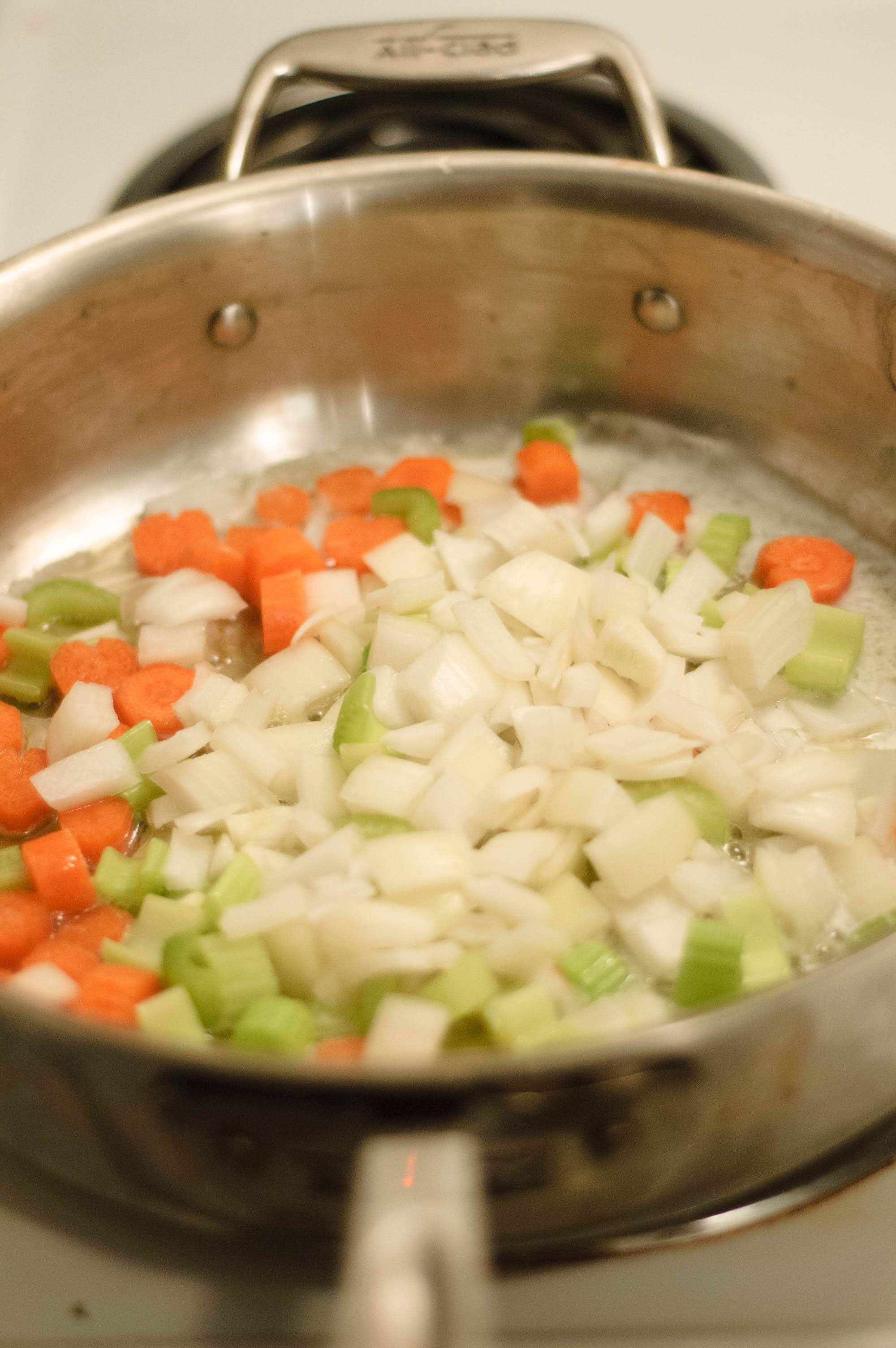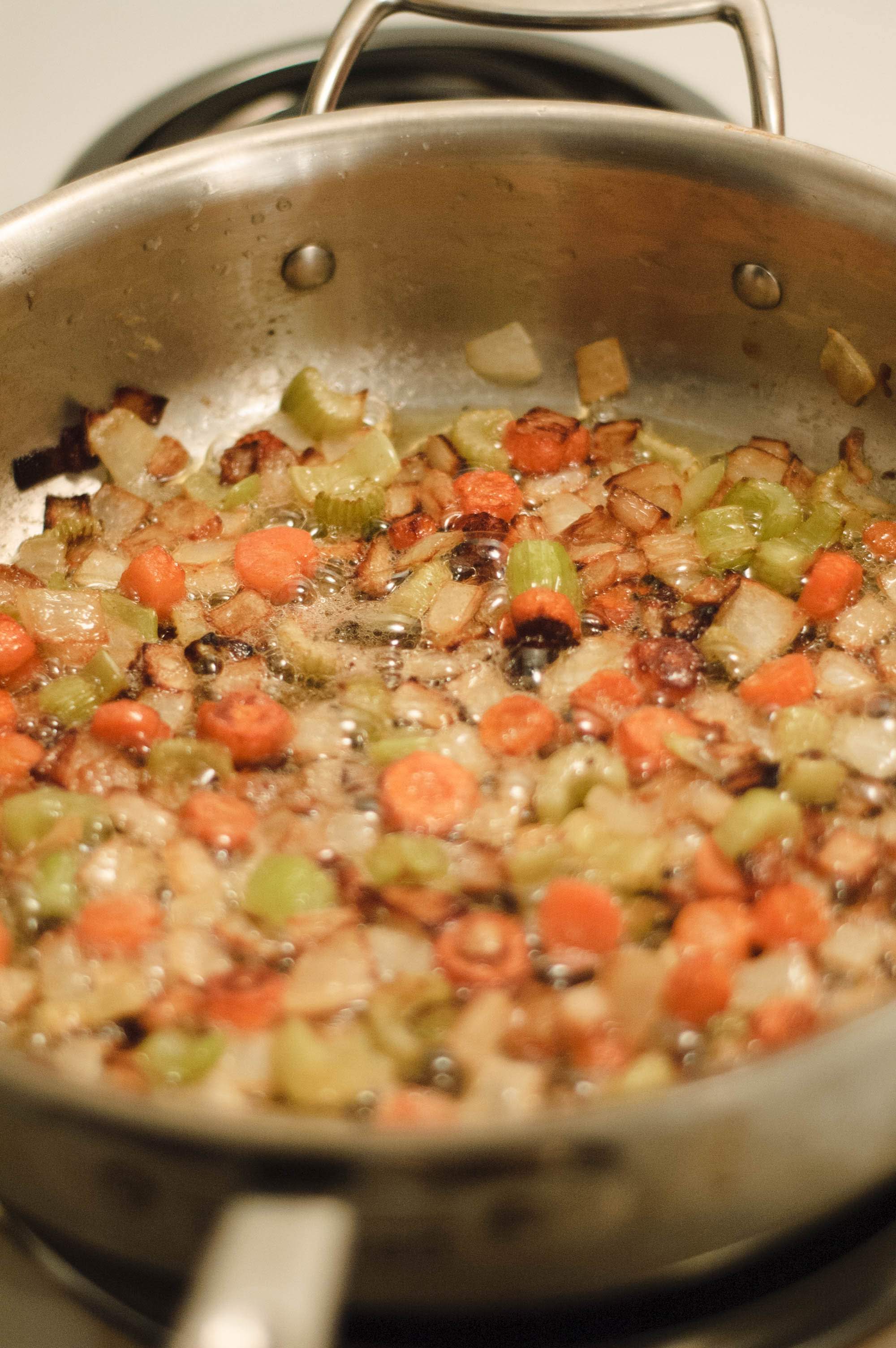 Culinary Skills & Techniques
If you really want to make this sauce perfect, here are some other culinary proficiencies to brush up on before you begin cooking.
How To Make Stock.

This one is SO SO SO important. If you want to do this sauce purely homemade make sure to read this before beginning. Then go on to read ALL 5 installments.

How To Roast Bones.

To extract the best flavor possible for your brown stock, the bones need to be roasted. Read this one for all the tips and instructions on how to roast bones perfectly.

Brown Stock.

Make your own homemade brown stock using this recipe. Again, espagnole sauce is traditionally made with veal stock, but you can use whatever type of brown stock you want.

How To Make A Roux.

For an exceptional Espagnole sauce, you need to make a brown roux. Find out how to add the flour and cook it for maximum impact on your sauce.

Homemade Demi-Glace. The most common use for Espagnole sauce is to turn it into demi-glace sauce; which is used as a way to finish other sauces to give them a flavor boost. It can keep in your fridge up to 6 months and can elevate your cooking from bland to brilliant. It is absolutely worth your time to prepare.
How To Make A Better Espagnole Sauce
Unlike the multitude I gave you with tomato sauce, this espagnole sauce only has three tips.
Skin.

One of the things you may discover when making your espagnole sauce, or afterwards when you store it, is that it may develop a skin on top of the sauce. This is from the proteins coagulating and isn't considered desirable. With a skilled hand you can quickly remove it in one swipe, but it takes time to master. If you are too cautious, the skin will break down into the sauce. Removing this skin helps your sauce's consistency so make sure to skim it as often as needed.
---
TIP: To prevent the skin from forming on top of an espagnole sauce that is being held at a temperature (or sitting on a table for service) brush the top of the sauce with melted butter.
---
Reduce.

Espagnole sauce breaks down if it is over-reduced. When it breaks down, you'll start to notice it separate, and all the fat that the roux binds into the sauce will release and make for a very greasy and ugly sauce. Only reduce it by ⅓ for best success.

Sachet.

This isn't necessarily a tip for making your sauce better, but it is one for making it easier. Instead of using cheesecloth for you sachet, you can use a tea & spice strainer (like the one in the picture). Just make sure that it isn't aluminum so it doesn't react with the acid in the tomatoes.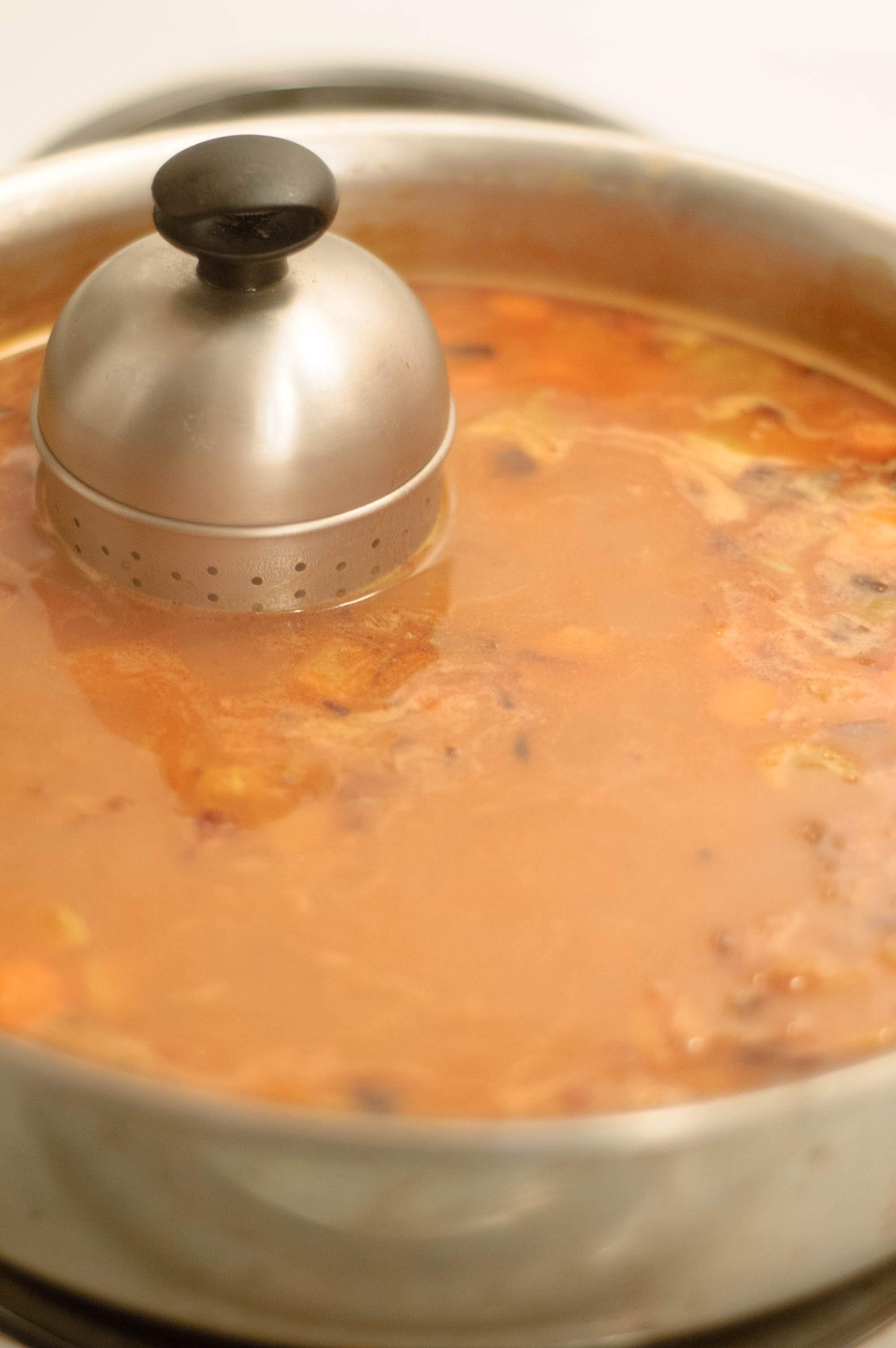 The Mother Sauce Series | #saucesome
If you've enjoyed learning about how to make espagnole sauce, make sure to check out all five parts of this #saucesome series on making French Mother sauces.
Espagnole Sauce <--- you are here 🙂
Espagnole Sauce Recipe
Veal bones can be difficult to find, and store bought veal stock even harder. If you want to create the closest at home comparison, I recommend using beef stock. Once the flavors of the tomato purée, sachet, mirepoix, and hot stock have married, the average gourmand won't know the difference.
---
Want a free printable grocery list for this Espagnole Sauce recipe? Get it
HERE
.
---
Use this grocery list to help simplify shopping. Everything is listed in standard grocery store amounts. If no size is specified, even the smallest package will provide more than enough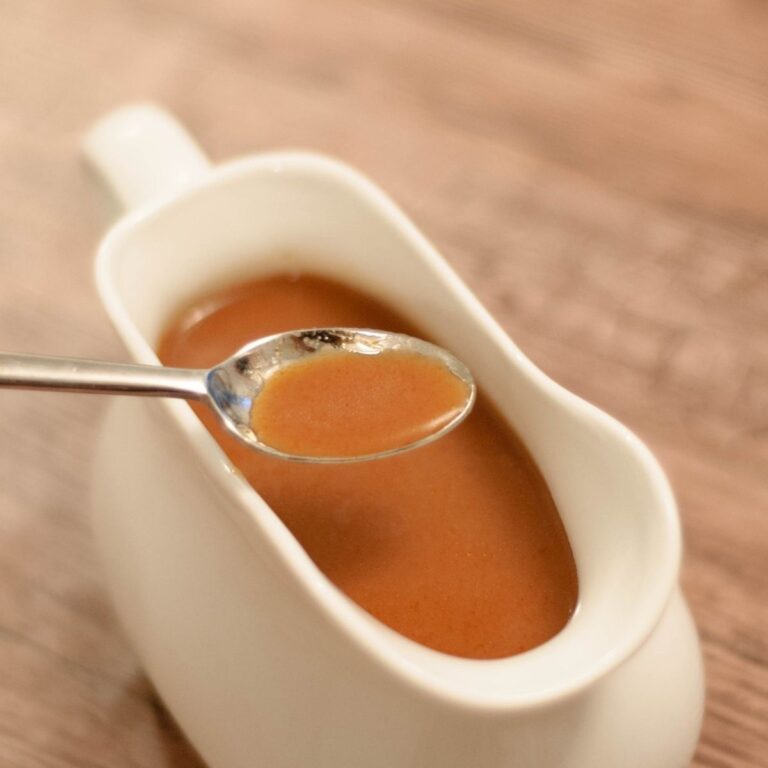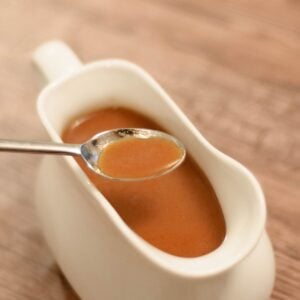 Espagnole Sauce (aka: Brown Sauce)
This rich and delicious espagnole brown sauce recipe is one of the five French Mother sauces and the base for demi-glace. While rarely served on it's own, it the base for many popular sauces such as Bordelaise, Robert, and Chasseur.

Pin it for later?
Ingredients
Sauce
2

oz

butter

,

(about 4 Tbsp)

4

oz

onions

,

, chopped (about ½ cup)

2

oz

carrots

,

, chopped (about ½ cup)

2

oz

celery

,

, chopped (about ½ cup)

2

oz

flour

,

(about ½ cup)

2

oz

tomato purée

1 ½

quarts

brown veal stock*
Sachet
½

bay leaf

¼

teaspoon

fresh thyme

2-3

parsley stems
Instructions
In a heavy bottomed sauce pan over medium heat melt the butter and sauté the mirepoix (carrots, celery, onion) until it is deeply caramelized, about

20 Minutes.

Lower the heat and add in the flour to create a roux. Cook until the roux is browned about

15 Minutes

.

Gradually stir in the tomato purée and brown stock, being careful to blend it into the flour so clumps don't form.

Raise the heat to medium and bring the sauce to a boil, about

10 Minutes

. Add in the sachet.

duce the heat to low and simmer for about

90 Minutes

, or until the sauce is reduced by ⅓ and has a syrupy consistency. Skim as needed to remove fat and skin from the top.

Strain the sauce through a sieve lined with cheesecloth. Gently press on the mirepoix to extract any additional sauce.

Store in an air-tight container in the fridge for up to 5 days or freeze for up to 3 months.
Notes
*You can make variations of this sauce with any type of brown stock; veal is just the most traditional.
Nutrition
Serving:
1
serving
|
Calories:
112
kcal
|
Carbohydrates:
10
g
|
Protein:
4
g
|
Fat:
6
g
|
Saturated Fat:
3
g
|
Cholesterol:
15
mg
|
Sodium:
415
mg
|
Potassium:
428
mg
|
Sugar:
2
g
|
Vitamin A:
1450
IU
|
Vitamin C:
2.8
mg
|
Calcium:
26
mg
|
Iron:
1
mg
Tell me how much you love this recipe
and show off how you made it!