This one pot lasagna soup is filled with fresh spring veggies and amazing flavor. Perfect for a family meal or date night, this aphrodisiac packed soup is delicious enough to have everyone wanting seconds, but sensual enough to work its alluring aphrodisiac magic in the background.
This one pot lasagna soup recipe mixes all of the quintessential spring flavors together into one comforting meal. Between the fresh pesto and the primavera veggies, you'll be glad to take a break from the traditional tomato sauce version.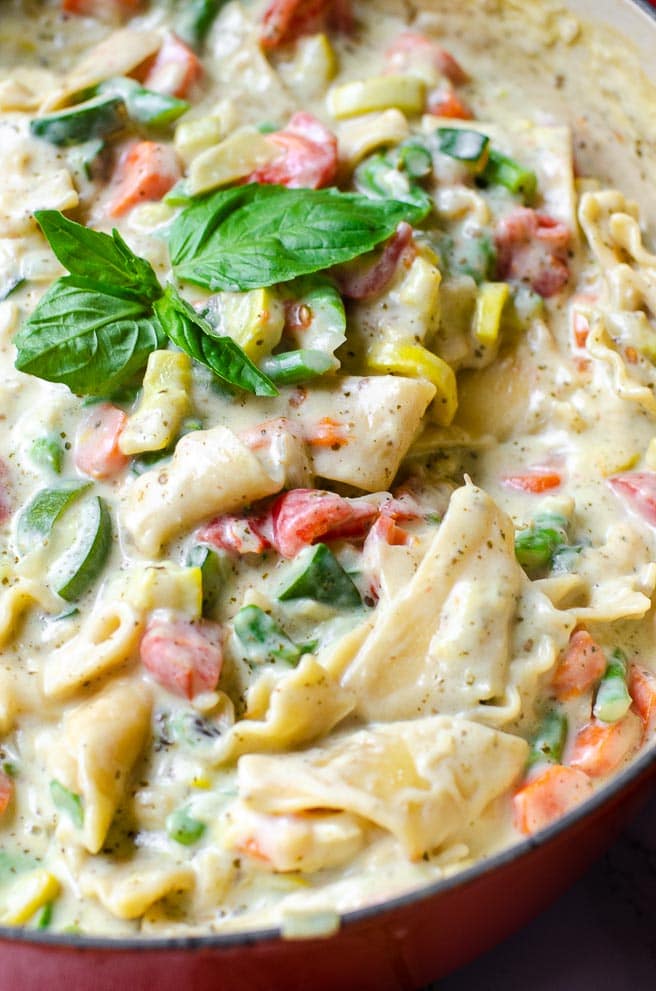 #SexyEats
The more aphrodisiacs in a meal, the better, right? Keeping with our annual tradition of #SexyEats, here are the many ways this one pot lasagna soup helps get you turned on.
Basil.

Basil is one of the strongest aromatic aphrodisiacs there is. In fact, women used to dust their breasts with dried basil in the hopes of enticing a man!

Pine nuts.

These are specifically geared towards men, as they are believed to help promote potency.

Asparagus.

Great for both men and women, asparagus is high in Vitamin E, which helps increase sex drive.
How To Make This One Pot Lasagna Soup BETTER
While this is a pretty straightforward and easy one pot lasagna soup recipe, there are always areas for improvement. To elevate this recipe, try any of these helpful posts.
How To Make Pesto.

There is nothing like real deal homemade pesto. Find out how to make it for the ultimate flavor and aphrodisiac effect.

What Are Aphrodisiacs and How Do They Work?

Learn different ways that aphrodisiacs can be used to help entice romance.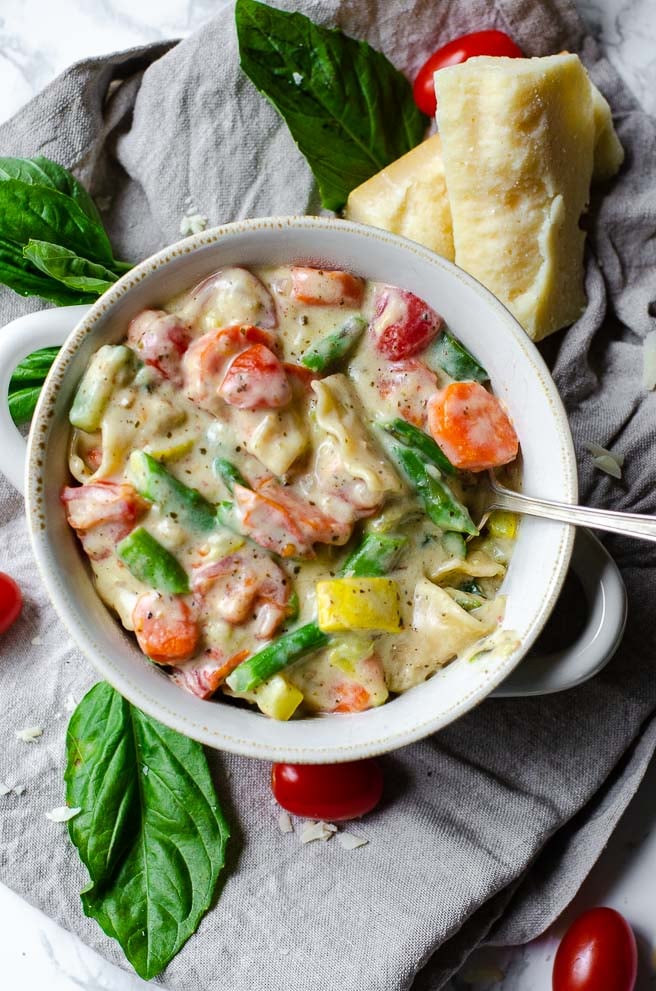 Can This One Pot Lasagna Soup Be Frozen?
Despite the fresh flavors and surprising lightness of this one pot lasagna soup recipe, it is very filling. If you have leftovers, store them in an airtight container in the refrigerator. It will stay fresh up to five days. It also freezes really well.
Reheating it however, is a different story. Similar to a béchamel sauce, the sauce may separate during refrigeration or thawing. This requires extra special attention during reheating.
To fix a "broken" creamy soup base, start by adding one cup of vegetable stock into the pot before reheating. This will give the heat something to focus on while the soup's congealed mass begins to reheat. Once the lasagna soup begins to warm, gently stir it into the heated chicken stock.
As long as you keep a close eye on it, you should be able to maintain the consistency of the soup base. Towards the end of reheating, stir in a little bit more milk and some fresh parmesan cheese. This should help bind everything back together.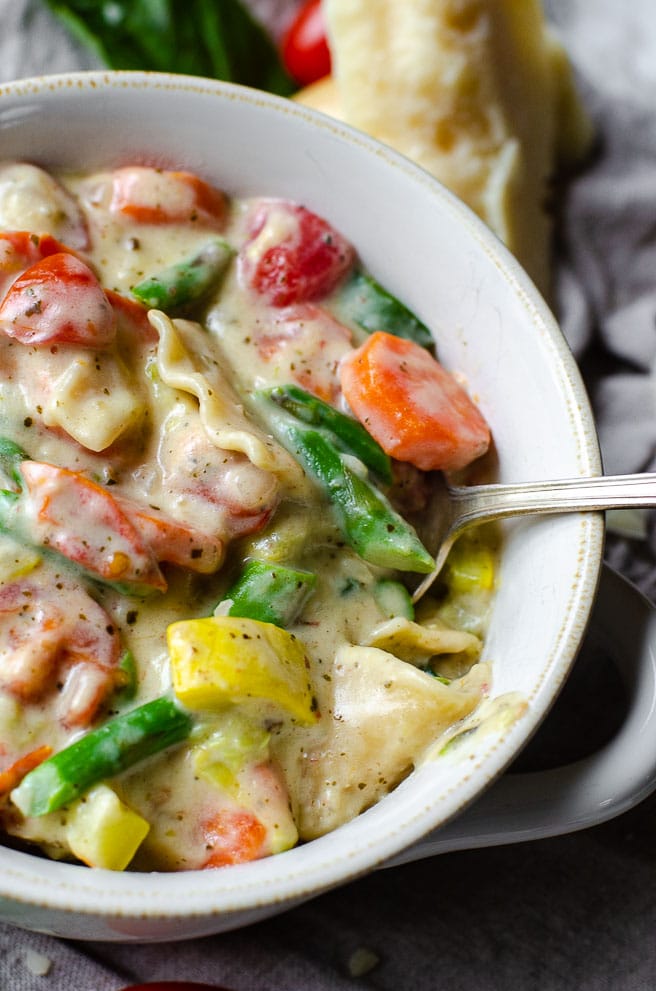 What Kind Of Lasagna Noodles To Use For This One Pot Lasagna Soup
This is important. Do not skip over this section thinking that I'm writing a brand sponsored post. I'm not. Instead, I'm talking about the type of lasagna noodles you should buy for this one pot lasagna soup recipe since there are two options at the grocery: regular lasagna noodles, and no-boil lasagna noodles.
This recipe uses the regular noodles because the starch that releases from the pasta while cooking helps to thicken the lasagna soup. Yes, there is a little bit of flour to help with that as well, but this isn't a roux-based soup. In order to keep that fresh and lightened-up texture in this soup, the noodles need to be traditional.
No-boil lasagna noodles are already partially cooked, so if you use them on accident, they will overcook while your soup base to reduces. If no-boil noodles is all you have on hand, cut the amount of vegetable stock, milk, and heavy cream in half.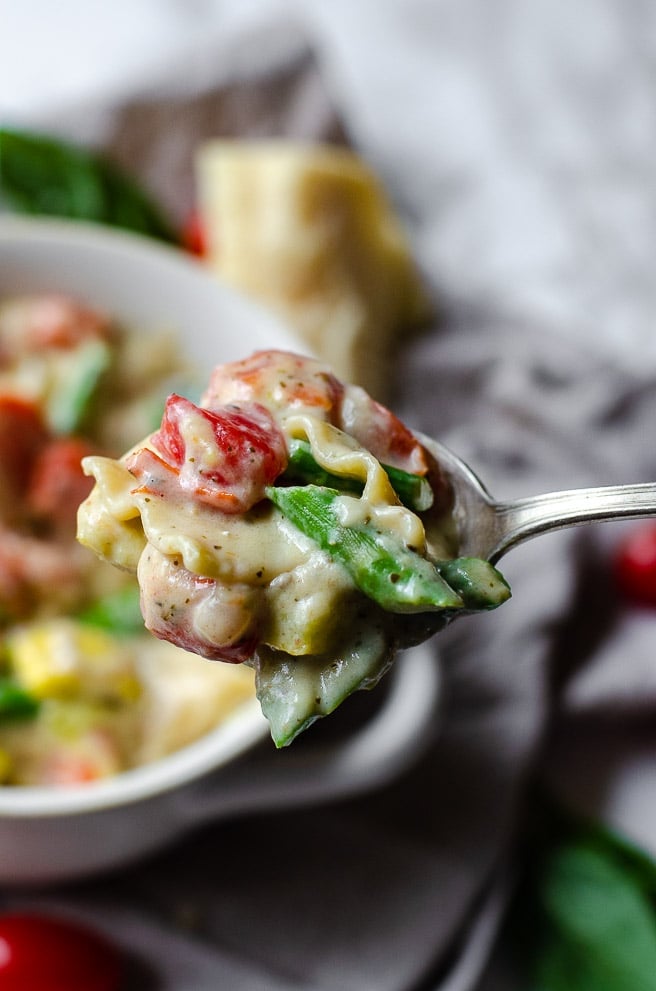 One Pot Lasagna Soup Recipe
This one pot lasagna soup recipe tastes just like lasagna. Unlike traditional lasagna soup recipes however, this one is packed with fresh veggies, like: squash, diced tomatoes, asparagus, and carrots. If you don't need the soup to be vegetarian, swap out the vegetable stock for chicken stock for a more full-bodied flavor. Heck, while you're at it, add in two to three cups of diced chicken and this soup will taste just like a white chicken lasagna!
---
Want a printable grocery list for this one pot lasagna soup recipe? Everything is listed in standard grocery store amounts. If no size is specified, even the smallest package will provide more than enough.
Thanks so much for stopping by!
If you would like to try some of our other alluring aphrodisiac recipes, here they are.
Happy Cooking! 🙂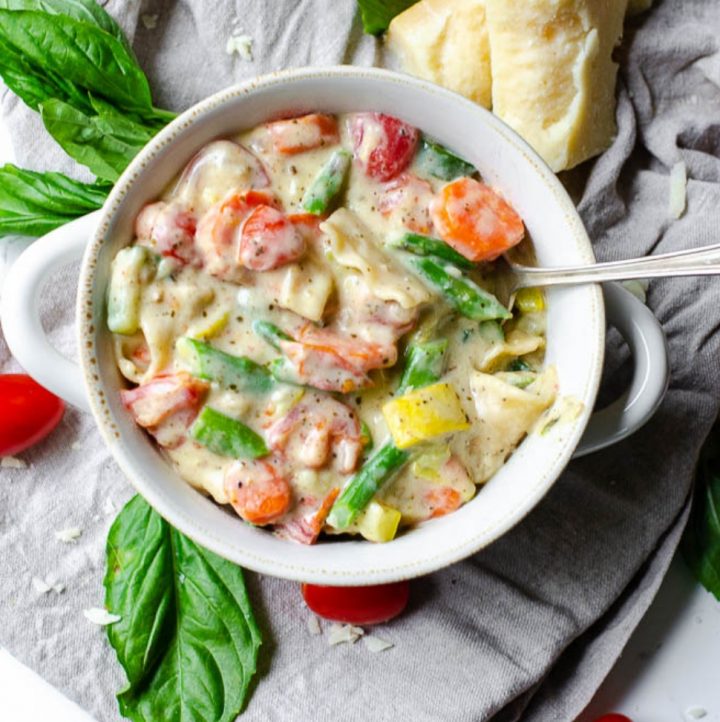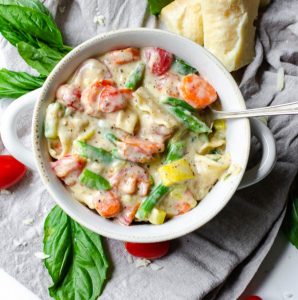 One Pot Lasagna Soup with Pesto and Primavera Veggies
This easy one pot lasagna soup tastes just like a white lasagna! Bounding with fresh flavor and a creamy soup base, this one pot soup is going to be a new favorite!
Pin it for later?
Ingredients
2

Tablespoons

olive oil

1

onion

,

diced

6

cloves of garlic

,

minced

1

pound

carrots

,

peeled and cut into rounds

¼

cup

flour

3

cups

chicken broth or stock

6

cups

milk

½

cup

heavy cream

1

pound

lasagna noodles

,

broken into 1-2 inch pieces

2

zucchini

,

quartered and chopped

2

yellow squash

,

quartered and chopped

1

pound

asparagus

,

ends trimmed and cut into 1 inch pieces

1

cup

shredded parmesan cheese

1

tub (15 ounces) ricotta cheese

1

pound

grape tomatoes

,

quartered

⅓

cup

pesto

salt and pepper

,

to taste

fresh basil

,

to taste
Instructions
In a large, heavy bottomed pot, heat the olive oil over medium heat. Add in the onions and garlic and cook until the onions are translucent. About

5 minutes

. Add in the carrots and cook until they just begin to caramelize, about another

5 minutes

.

Stir in the flour until the vegetables are evenly coated, then add in one cup of vegetable stock to deglaze the bottom of the pan. Use your utensil to scrape up any stuck-on bits (fond) from the bottom of the pan. Stir until the flour has begun to dissolve from the vegetables, then add in the rest of the vegetable stock, the milk, and heavy cream.

Bring the soup to a boil and add in the broken lasagna noodles. Reduce the heat to a simmer and add the zucchini and yellow squash. Let simmer for 25 minutes, or until the lasagna noodles are cooked to al dente.

Stir in the cut ricotta cheese, parmesan, and asaparagus and cook until the asparagus turns bright green and is tender, about

5 minutes

. Right before serving, add in the grape tomatoes and pesto until combined. Season with salt and pepper, and serve with a garnish of freshly grated parmesan and fresh basil.
Notes
While the soup is simmering, you have to keep an eye on the lasagna noodles to keep them from sticking together.  If they do, they have a tendency to cook inconsistently as well as take longer to cook.  If they do get stuck together, just use a utensil to separate them and continue cooking.
Nutrition
Serving:
1
serving
|
Calories:
679
kcal
|
Carbohydrates:
75
g
|
Protein:
30
g
|
Fat:
29
g
|
Saturated Fat:
13
g
|
Cholesterol:
73
mg
|
Sodium:
611
mg
|
Potassium:
1262
mg
|
Fiber:
6
g
|
Sugar:
20
g
|
Vitamin A:
11510
IU
|
Vitamin C:
33.7
mg
|
Calcium:
572
mg
|
Iron:
3.5
mg
Tell me how much you love this recipe
and show off how you made it!