Cooking bacon in the oven is the easiest method! With this simple chef hack, you not only get perfectly crispy bacon, but have no clean up as well!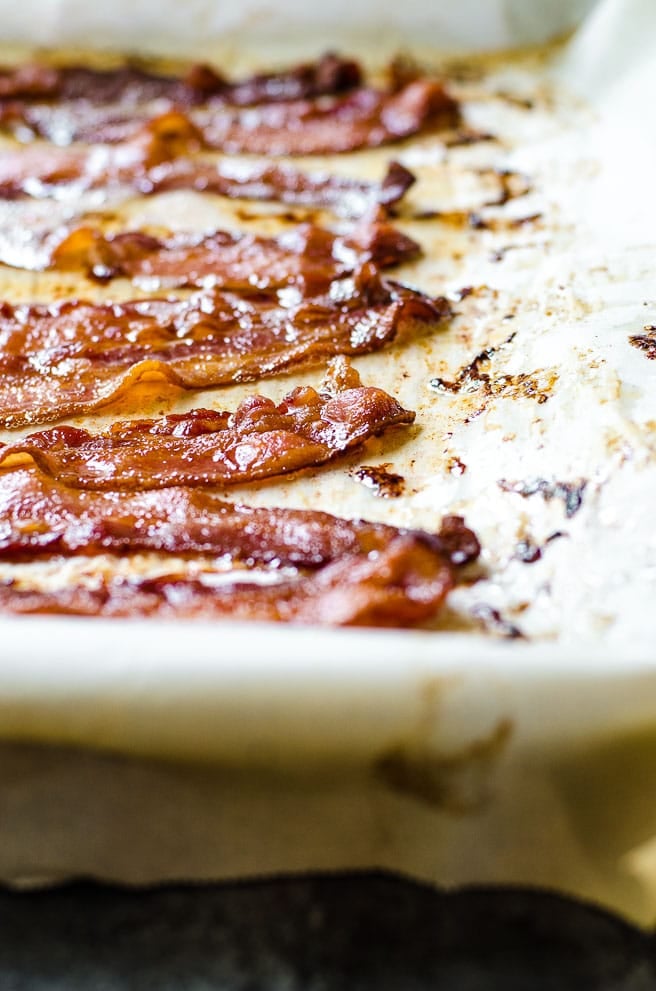 Perfectly cooked bacon is easier to make than you think. Cooking the bacon in the oven instead of on the cooktop simplifies both cooking and cleanup. This one simple kitchen tool is about to revolutionize how you make bacon from now on.

How To Cook Bacon Without Mess Or Cleanup
You may be feeling a bit skeptical about whether or not there is truly no mess. I don't blame you. Especially if you've tried some other methods for how to cook bacon in the oven. But trust me, it really does work.
By switching to the oven instead of a pan, you prevent splattering so your oven stays clean. Once the fat is cooled, you just grab the parchment paper and throw it away. It's so simple, you don't even have to wash the baking pan. (Unless you want to.)
How does this work?
If you've tried to bake bacon on aluminum foil, you know that as the fat cools it seeps through. Even with heavy duty aluminum foil. This creates a huge mess and sometimes also tears the foil as you remove it.
Parchment paper however is less porous, thicker, and nonstick. This means that it completely captures the fat on it. And since bacon fat solidifies once it is cooled, you just let it harden, then throw it away.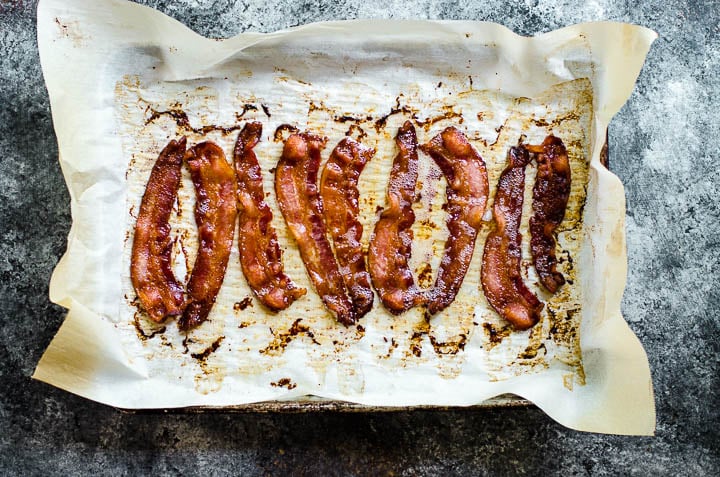 Does This Keep The Bacon From Splattering?
When making bacon on the cooktop, bacon splatters and pops because of irregularities in temperature. As the bacon cooks and shrinks to get that wavy look, the bacon rises out of the fat. This allows liquid from the bacon to drip into the hot rendered fat, which then boils, pops, and splatters.
When bacon is cooked in the oven, however, it maintains an even and consistent temperature which prevents popping and splattering. As a result, you don't get the exact same wavy look as with pan fried bacon. However, losing the look is worth it for the simplified cleanup.
You also don't lose control of how crispy your bacon is. Just like on the cooktop, the longer you cook your bacon, the crispier it becomes.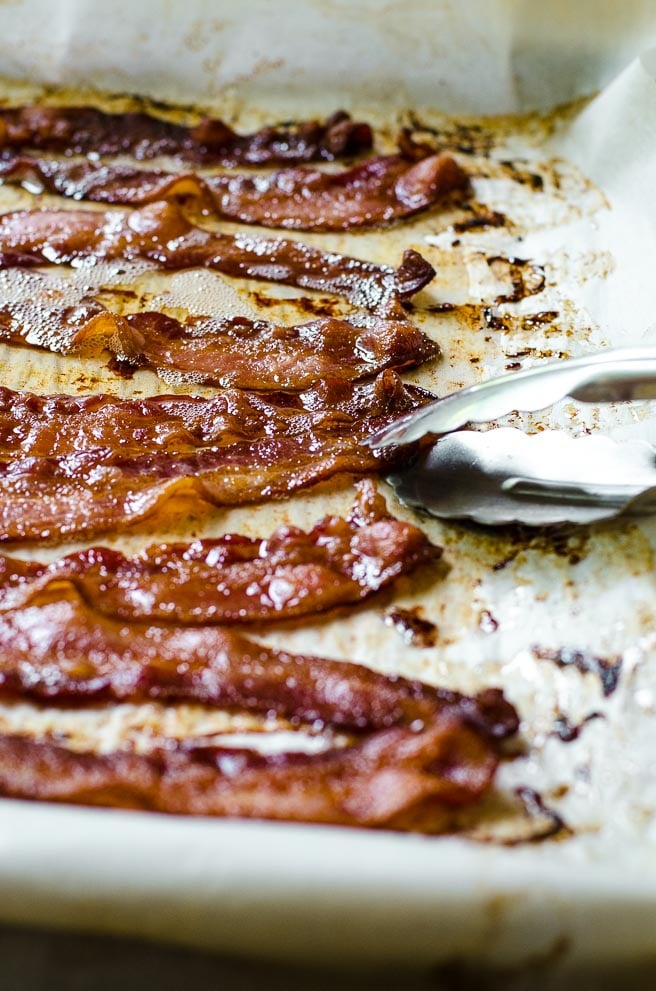 How Long Do I Cook Bacon In The Oven?
This varies depending on the thickness and how crispy you like. For this recipe, I recommend the bacon cooks between 15 minutes for standard thickness, and 20 minutes for thick cut bacon. (Maybe a little more if needed.)
This gives a crispiness level similar to what I would serve in a restaurant. As always, adjust the cooking time to your personal tastes as needed.

What About The Bacon Fat?
If you would like to reserve the bacon fat for another use, just wait for the pan to cool. About 10-15 minutes. This lowers the bacon fat to a temperature where it is still fluid but unlikely to scald you.
Bring the corners of the parchment together on both sides. This creates a safer way to transfer the bacon fat to the container. Holding the parchment paper over the container, slowly tilt it to create a pouring spout and transfer the bacon fat in.
Cover the container and refrigerate the bacon fat until ready to serve.
If you forget to save the bacon fat while it is still liquid, use a spoon to scrape it off the parchment paper. As long as it is room temperature it should be malleable enough to easily save.
If you don't care about keeping the fat, just let it cool on the parchment paper until it is hardened. Then fold up the parchment paper and dispose.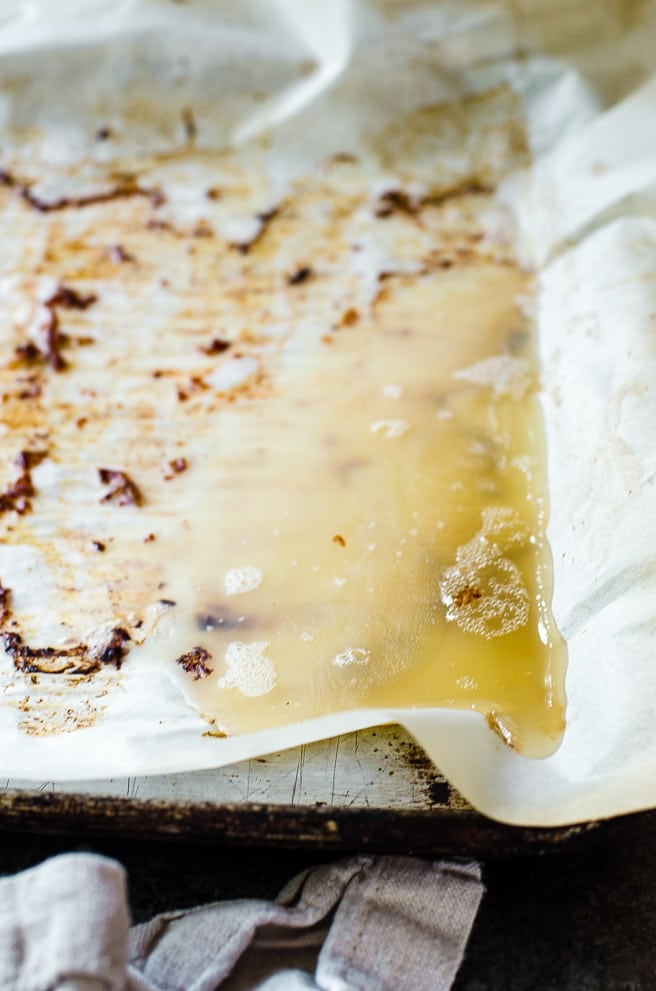 Where Do I Get Parchment Paper?
Parchment paper is available on Amazon or in most grocery stores; usually in the same aisle as plastic wrap and aluminum foil. During the holiday season, Costco sells large boxes in two packs. These are the ones I usually get and easily go through the pack in a year.
Parchment paper is useful for so much more than just cooking bacon in the oven. As a nonstick surface it helps with making cookies and cakes, and even minimizes cleanup when roasting bones for broth.
It is an extremely versatile kitchen tool to have, and one I don't recommend going without.

How To Store Cooked Bacon
Once your oven baked bacon is done, let it cool completely before storing. Keep it in an airtight container in the refrigerator for up to two weeks. Once you are ready to eat it, either heat it up in the microwave or in a pan until hot.
If you see white congealed fat on the cooled bacon, don't worry. As long as your bacon comes to at least room temperature before serving that should go away.
To freeze the bacon, lay the strips in a single layer between two sheets of parchment paper. Roll the parchment up and wrap it tightly in plastic wrap. Drop this into a sealed container and freeze for up to six months.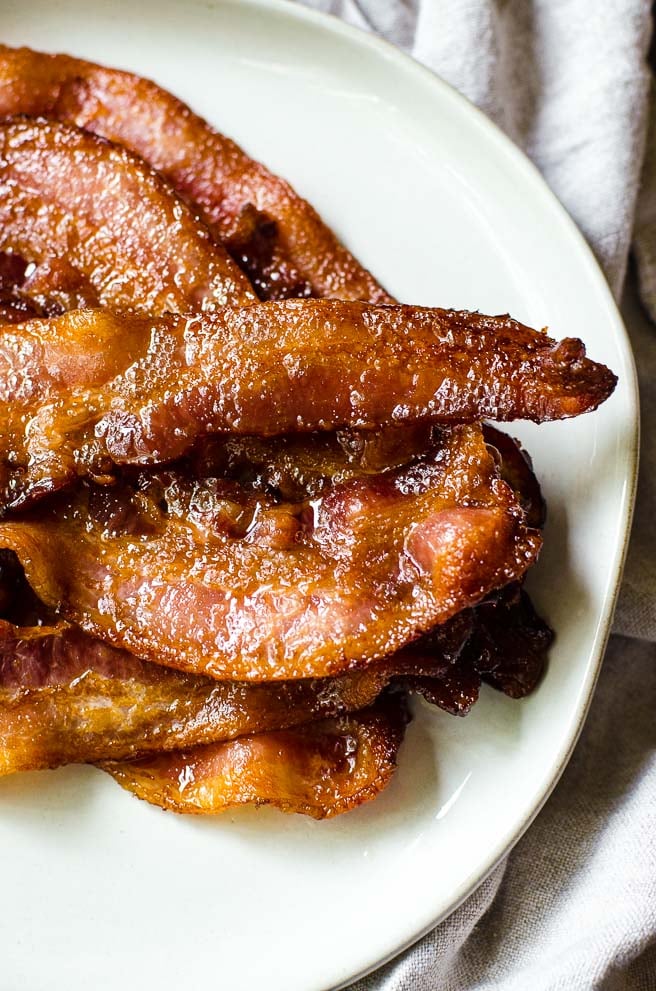 Tips For Cooking Bacon In The Oven
Baking sheets contain the fat. Also called a sheet pan or cookie sheet, choose one that has a rim. This will help create a natural container for the fat to stay in. The rims will push the parchment paper up, which helps make cleanup significantly easier.
Use a wire rack (cooling rack) for lighter bacon. Cooking bacon in the oven gives you a chewier texture. If you want the ultra crispy and almost light texture that comes from pan-fried bacon use the wire rack. By not cooking it directly in the rendered fat it gets closer to that texture.
No Flipping Needed. Since the bacon has evenly distributed heat coming at it from all sides, it doesn't need to flip. This saves you time, energy, and protects you from dropping extra liquid into the hot bacon fat, thus preventing splattering.
Baked Bacon Recipes
You can use bacon as more than just a breakfast meat. These delicious recipes are a great way to incorporate this perfectly cooked bacon.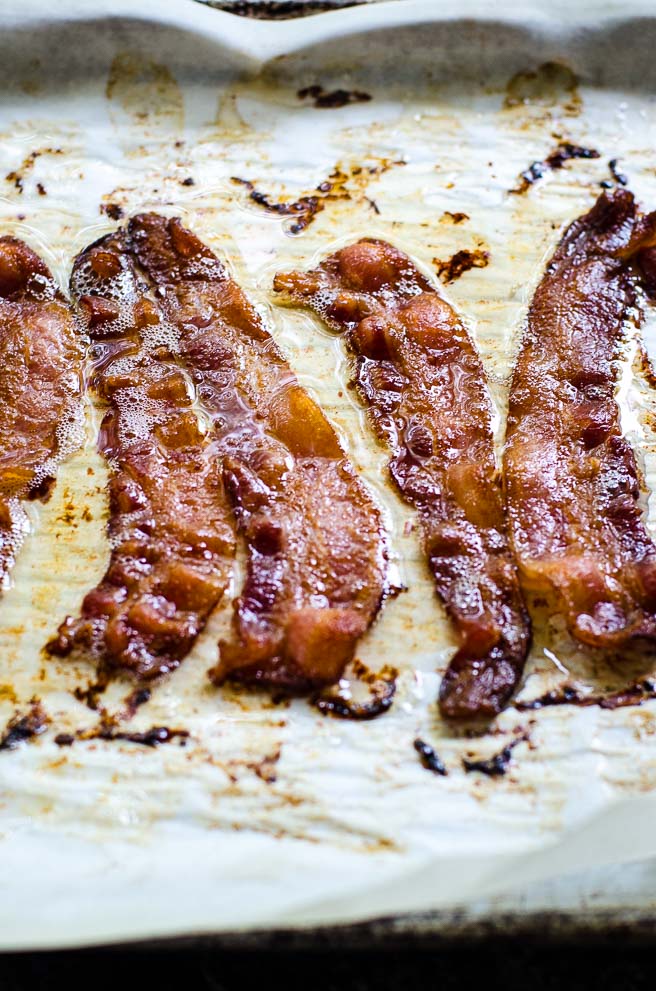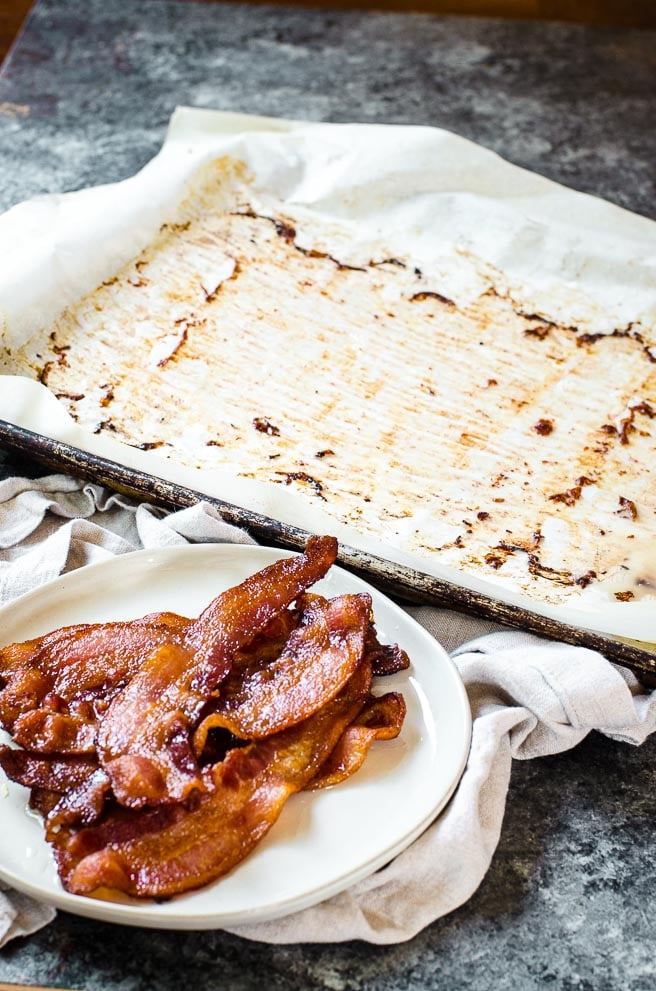 How To Make Bacon In The Oven
Choosing the right bacon isn't always easy. There are different thicknesses, cures, cuts, and smokes to pick from. This complete in-depth explanation of how to choose the right bacon will keep you from getting overwhelmed.
If you serve this bacon as a star of the meal, or on a sandwich, I highly recommend choosing thick cut. You get fewer strips of bacon per pound, but you get a better mouthful, allowing for a better taste experience.
Happy Cooking! 🙂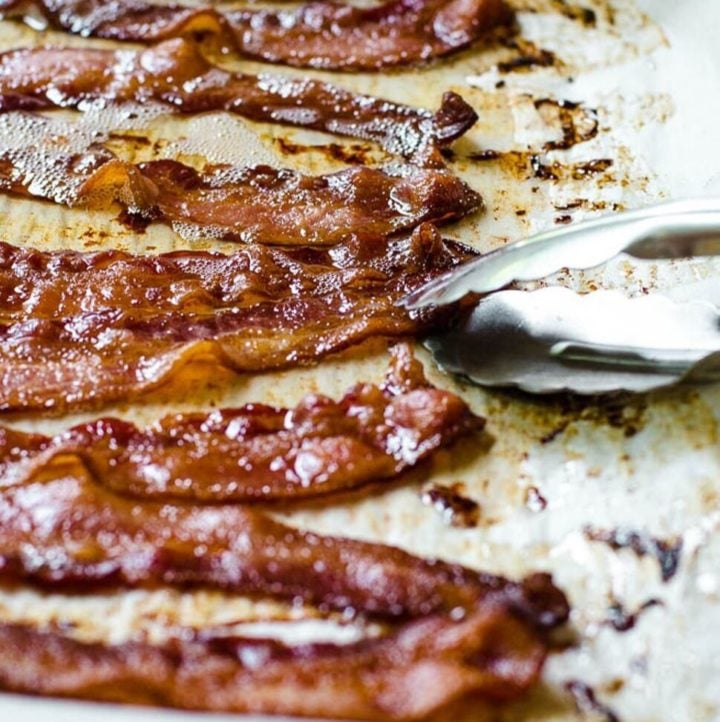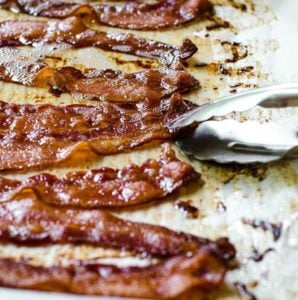 Perfectly Cooked Bacon In The Oven
Get perfectly crispy or chewy bacon in the oven. With this simple chef hack, there is no clean up or mess involved!
Pin it for later?
Instructions
Preheat the oven to 400°F and line a baking sheet with parchment paper.  

Place the bacon in a single layer on the pan and bake for 15-20 minutes.  You may need to adjust the time to get the bacon as crisp as you like.

Remove from the oven and let cool until the bacon fat is no longer foamy.  Transfer the bacon to a paper towel lined plate, blotting off excess fat. Serve.
Notes
Cooked bacon is best served fresh, but can be stored in the refrigerator for up to a week.  This works well for making the bacon ahead, but when cold any excess fat will congeal to the meat.  Let it warm up to room temperature or heat for a more appealing appearance. 
Nutrition
Serving:
1
serving
|
Calories:
236
kcal
|
Carbohydrates:
1
g
|
Protein:
7
g
|
Fat:
23
g
|
Saturated Fat:
8
g
|
Cholesterol:
37
mg
|
Sodium:
375
mg
|
Potassium:
112
mg
|
Vitamin A:
21
IU
|
Calcium:
3
mg
|
Iron:
1
mg
Tell me how much you love this recipe
and show off how you made it!