If you're not quite ready to say goodbye to summer produce but you're craving autumnal flavors then this black fig salad is for you. It's loaded with salty prosciutto and goat cheese, but balanced with sweet toasted hazelnuts and a balsamic-orange vinaigrette. It's the perfect compromise of seasons!
Note: This post was updated with new content and photographs on September 3, 2019.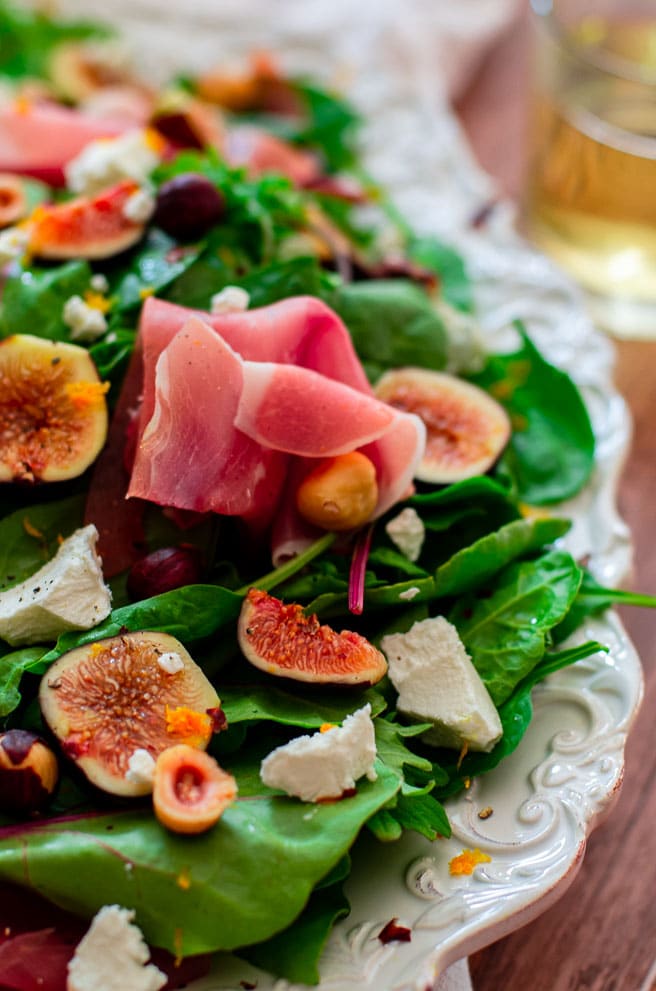 I love the time of year where you haven't yet said goodbye to summer produce, but the warmer flavors of autumn are beginning to appear. It's the best of both worlds. Enjoy this gourmet black fig salad on the patio on a warm night, or serve at party for a perfect side dish.
What Kind Of Sweet Figs For Salad?
This recipe specifically calls for black figs (also called mission figs) because the flesh has the sweetest flavor. Additionally, they are often the easiest to find in the store.
Does that mean that this salad is only good with black mission figs though? Absolutely not! If you find some green figs or purple Turkey figs, those work well with this salad as well.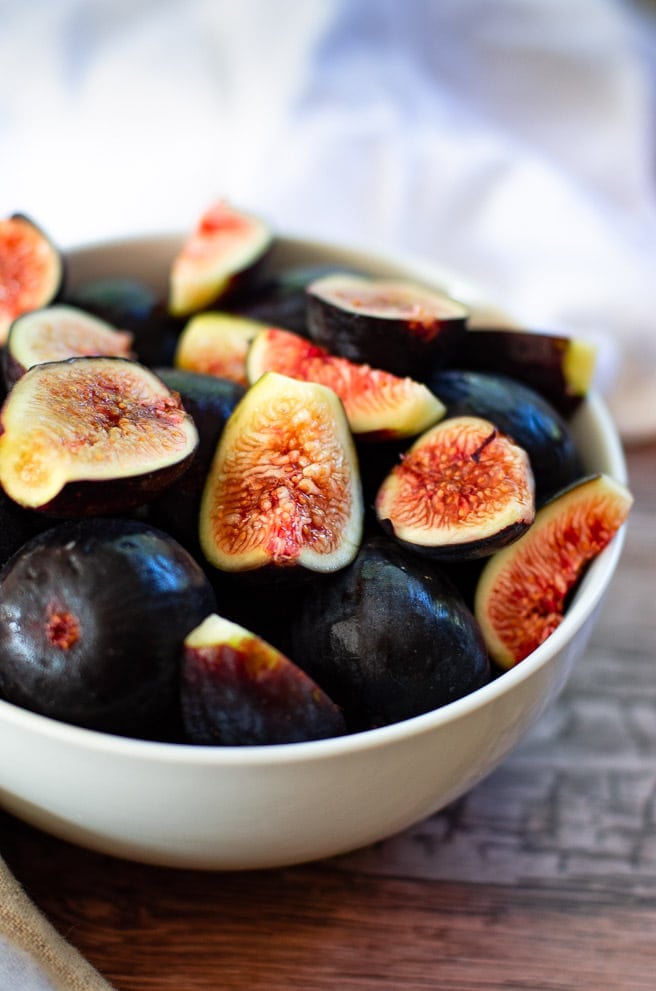 How To Prepare Fresh Figs
Black figs have a white to purple flesh that is extremely attractive in this salad. Once you cut them though, you may find that it doesn't look plump or fresh. If you give the black figs a small but firm squeeze from the outside when selecting them at the store to make sure they are ripe.
Figs begin to dry out and lose quality quickly, so make sure to use them within a day or two of purchase. The more moisture the flesh loses, the tougher the skin will seem as you try to eat them. Once you are ready to make the salad, gently rinse the fresh figs under cool running water and wipe them dry. Use a sharp knife to trim off the very tip top of the stem and then quarter or halve them for the salad.
When Are Black Figs In Season?
Black figs have two seasons. One is in the spring and is called a breba. This is when the figs grow off of the shoots of the previous year.
The main crop runs from late summer into early autumn. Figs are extremely delicate fruits, and as a result have a fine tuned temperature range they can withstand. This makes them grow well in moderate climates like the Pacific Northwest, but they don't do as well in the midwest or northeast.
Also, since they are so delicate, the figs don't always hold up well for shipping around the country. They only last for a few days after picking and they don't continue to ripen after being picked, thus shortening their lifetime.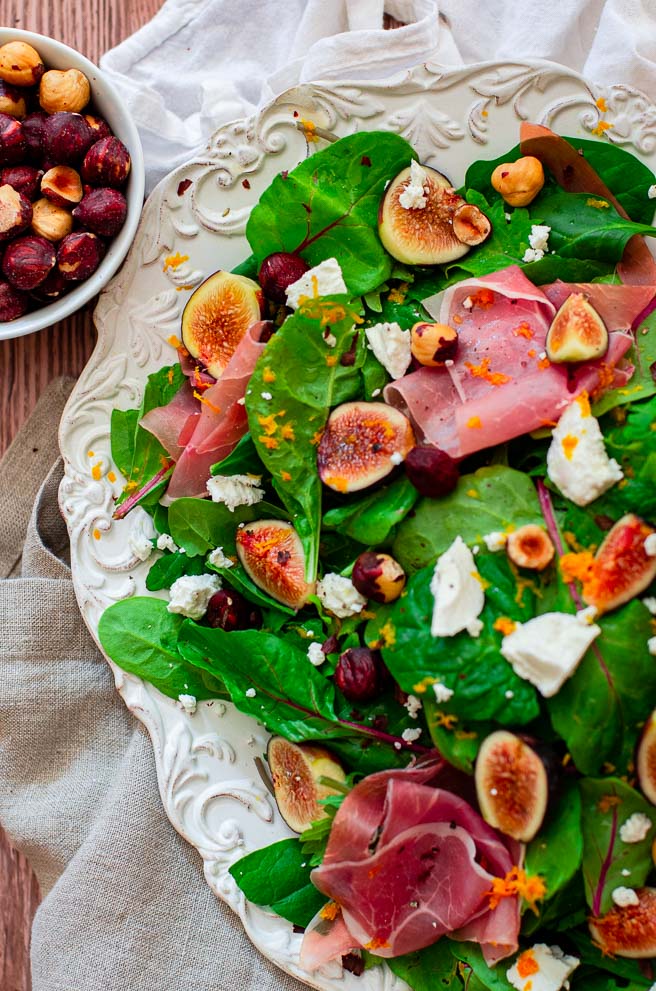 Figs as an Aphrodisiac
If you frequent my blog, you've probably seen my #SexyEats section. These are all recipes that focus on aphrodisiacs. Figs are considered to be the most sensual fruit and valued as an aphrodisiac.
Figs are associated with sexuality in most cultures. In fact, eating one, while naked, in front of a woman used to be considered one of the most erotic acts out there. (There's some marriage advice for you. Write that on the inside of the next wedding card you give out and I'm sure they'll put it to good use!)
The fruits, which resemble a woman's "lady garden", and whose seeds represent fertility, were a favorite of the Greeks who would celebrate the harvest with a rousing evening of arousal.
This recipe doesn't just stop at one single aphrodisiac, however. If you're looking for a recipe that will be incredibly impactful, this one has not only fresh figs, but arugula and hazelnuts as well.

Tips For Making A Perfect Black Fig Salad
Before you begin making this salad, I recommend reading the following articles. They focus on the different culinary skills and techniques that will elevate this recipe to restaurant quality.
Twelve Tips for a Killer Salad. These twelve tips and tricks are what chef's in restaurant kitchens use to make a perfect salad. It has everything from how to balance textures to how to properly dress a salad so the greens don't wilt. (Hint: It's not what you expect!)
How To Buy & Store Citrus. The balsamic vinaigrette has a hint a hint of orange that comes from fresh citrus. Find out how to pick the freshest and most flavorful orange for this recipe.
What To Serve With This Black Fig Salad
This black fig salad has almost everything you could want to eat already. However, it is missing standard carbohydrates. If you would like to round out your meal, I recommend pairing it with a flaky and soft artisan bread. (My apple olive oil bread would be perfect!).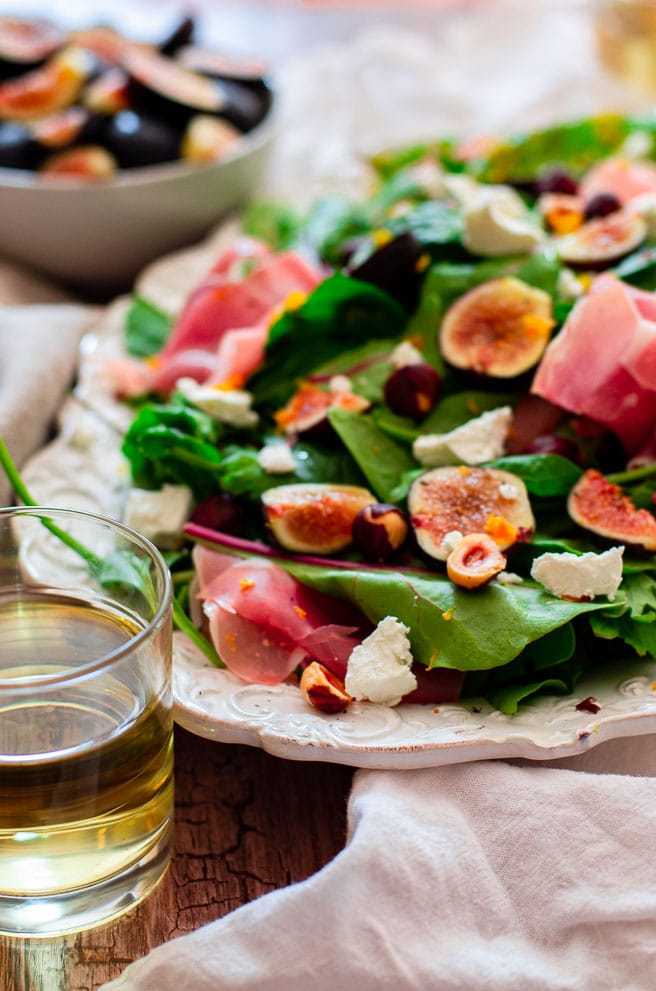 Black Fig Salad Recipe
This black fig salad feels indulgent. It has ingredients many of us don't often purchase, thus making it a treat worthy of a date night or special occasion. When you add in the brevity of fig season, it makes the salad that much more sensational.
---
Want a free printable grocery list for this black fig salad? Get it HERE. Everything is listed in standard grocery store amounts. If no size is specified, even the smallest package will provide more than enough.
Happy Cooking! 🙂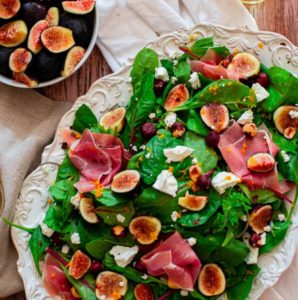 Black Fig Salad with Goat Cheese and Prosciutto
Enjoy the perfect marrying of summer and autumn with this easy gourmet black fig salad.
Pin it for later?
Ingredients
Vinaigrette
2

Tablespoons

balsamic vinegar

1

teaspoon

honey

½

teaspoon

dijon mustard

1

orange

,

zested

3-4

Tablespoons

extra virgin olive oil

salt and pepper

,

to taste
Fig Salad
5

ounces

baby arugula

1

small red onion

,

sliced thinly

4

ounces

goat cheese

,

crumbled

2

ounces

thinly sliced prosciutto

1

pound

fresh black figs

,

also called mission figs
Instructions
Preheat the oven to 400°F.  Place the hazelnuts on a small baking sheet and bake for 10-15 minutes, or until the hazelnuts are toasted.  Remove them from the oven and allow them to come to room temperature. Put them into a container that holds at least twice the volume of the hazelnuts, put a lid on it and shake vigorously to remove the husks. Separate out the hazelnuts.

In a small bowl, combine the balsamic vinegar, honey, orange zest, and dijon mustard.  Drizzling slowly in the bowl, whisk in extra virgin olive oil until combined and emulsified.  Season with salt and pepper and set aside.

Put the arugula, figs, red onion, and hazelnuts in a large bowl.  Toss it with the balsamic-orange dressing.  Garnish the fig with the prosciutto and crumbled goat cheese and serve. 
Notes
To add some extra garnish and bring out the orange flavor, you can squirt the fresh orange juice into the balsamic vinaigrette, or directly onto the salad.
Nutrition
Serving:
1
serving
|
Calories:
547
kcal
|
Carbohydrates:
37
g
|
Protein:
14
g
|
Fat:
41
g
|
Saturated Fat:
9
g
|
Cholesterol:
22
mg
|
Sodium:
219
mg
|
Potassium:
734
mg
|
Fiber:
8
g
|
Sugar:
28
g
|
Vitamin A:
1368
IU
|
Vitamin C:
29
mg
|
Calcium:
190
mg
|
Iron:
3
mg
Tell me how much you love this recipe
and show off how you made it!