Have you seen cold brew concentrates in the store and wondered what made it so special? Use this tutorial to find out how to make cold brew coffee expertly every time so you have perfect on-the-go drinks.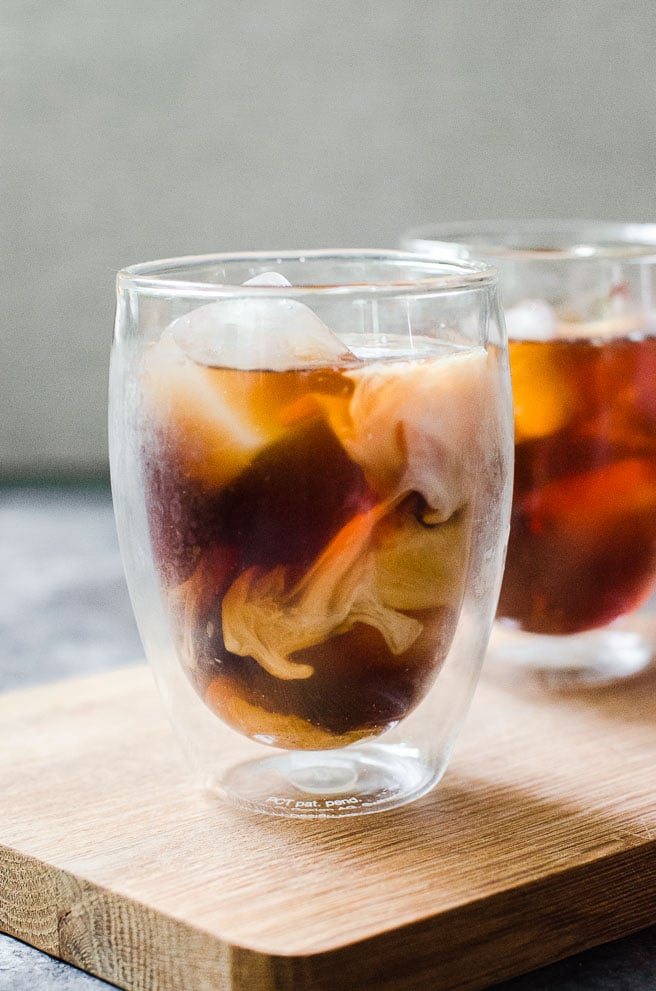 Cold brew coffee recipes are a dime a dozen. However, making high quality, barista-style cold brew coffee is a finely nuanced process. If you've tried making it at home but it turns out bitter, gritty, or a bit rancid, read on to figure out how to make cold brew coffee like a barista. Your mornings will thank you.
What Is Cold Brew Coffee?
Over the last decade or two, as Starbucks has infiltrated most towns and cities, the time and attention paid to how we make coffee has changed. For some, they are diehard french press users, while others will only make pour-over or drip coffee.
This lead to the introduction of cold brew coffee. While most coffee is made by heating the coffee grounds, cold brew coffee is made by steeping coarsely ground coffee in room temperature water for about 12 hours. This creates a coffee concentrate that can be kept cold in the refrigerator and used as needed.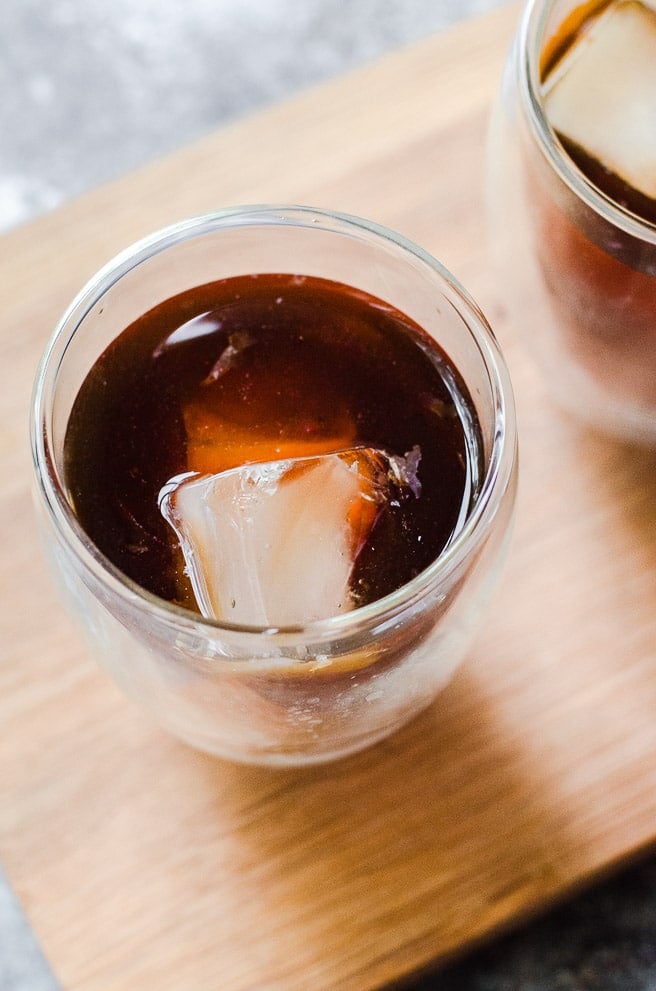 How To Dilute The Concentrate
Each person will have their own tastes about how strong they want their cold brew recipe to be; and this simply altered by adding or subtracting the amount of coffee grounds used. After the cold brew is strained it makes a concentrate that should be diluted to make your perfect cup of coffee.
For this cold brew recipe, I recommend to dilute it in a 50/50 ratio. One part coffee concentrate to one part cold water, milk, or cream.
If you plan to add ice, keep in mind that the ice will further dilute the cold brew. You can use less water if you are likely to let the ice melt quite a bit before drinking. Or you can use more water if you know you'll be drinking it quickly and the ice won't have time do much more than chill it.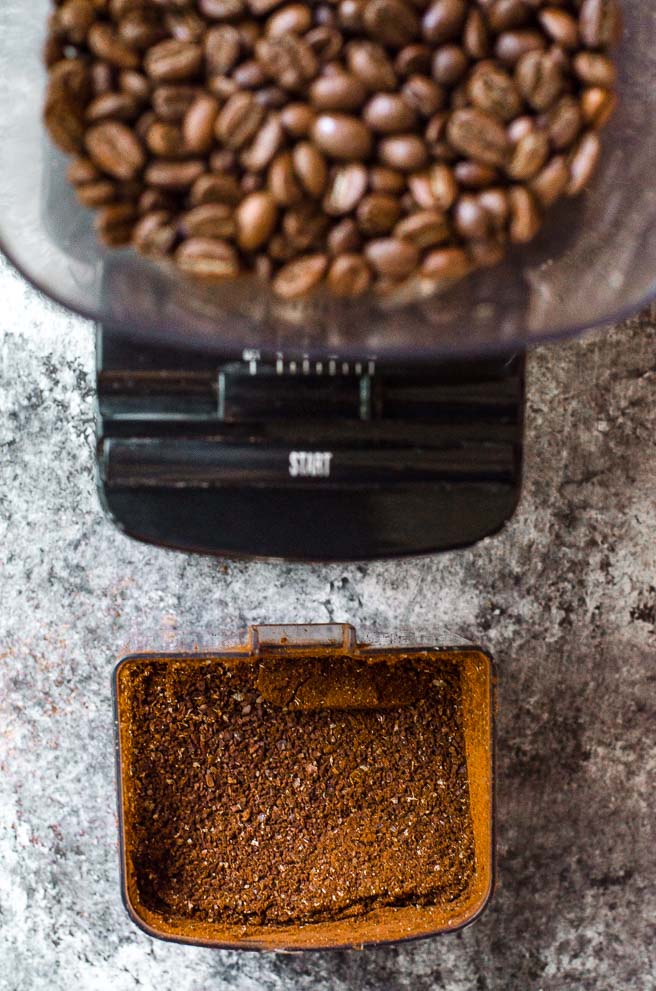 Is Cold Brew Stronger Than Drip Coffee?
There are two different ways "stronger" can be approached. One is with caffeine strength, the other is with flavor. So let's discuss both.
The main way that caffeine is extracted from the coffee bean is with heat. For example, the longer and darker the bean is roasted, the less caffeine it has because it is brought to the surface and cooked out of it.
As a result, you would think that because there is no hot water being added to cold brew that it would be stronger in caffeine than its hot coffee counterparts. In order for that to be true, there would have to be an evaporation process for the caffeine. Instead, caffeine is water soluble and dissolves into the water. So the hotter the water, the more caffeine it will extract from the bean.
This means that cold brew coffee has less caffeine than hot coffee because the beans do not get warmed up enough to release all of it. However, by using room temperature water instead of cold water, during the brewing process, you'll get more than if you just stuck the container in the refrigerator.

Does Cold Brew Have More Flavor Than Hot Coffee?
This is the second way that people define "stronger coffee". The simplest answer for whether cold brew has more flavor than hot coffee is "if you want it to." Everyone has a different palate, so what they desire in strength varies. If you want your cold brew to have a stronger flavor than hot, either use more concentrate or dilute it less.
If you want your cold brew to be more like a cup of diner Folger's, you can weaken it as much as you like. The nice thing about using cold brew coffee is that it can be easily diluted with the water that you have in your kitchen. If you were to dilute hot coffee you may not get the water hot enough, however, it is easy to get water cold enough.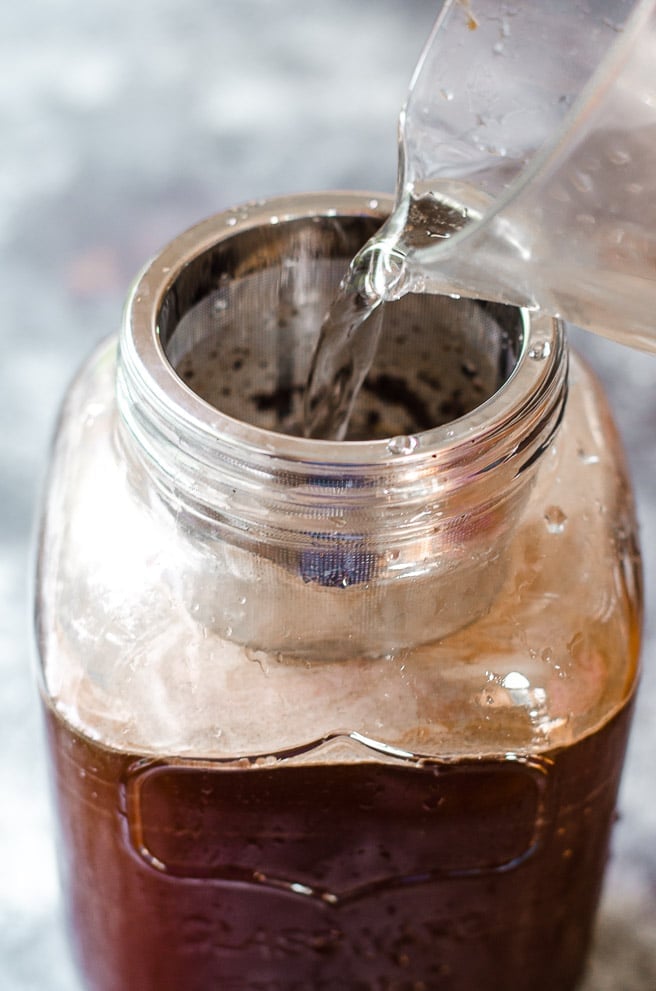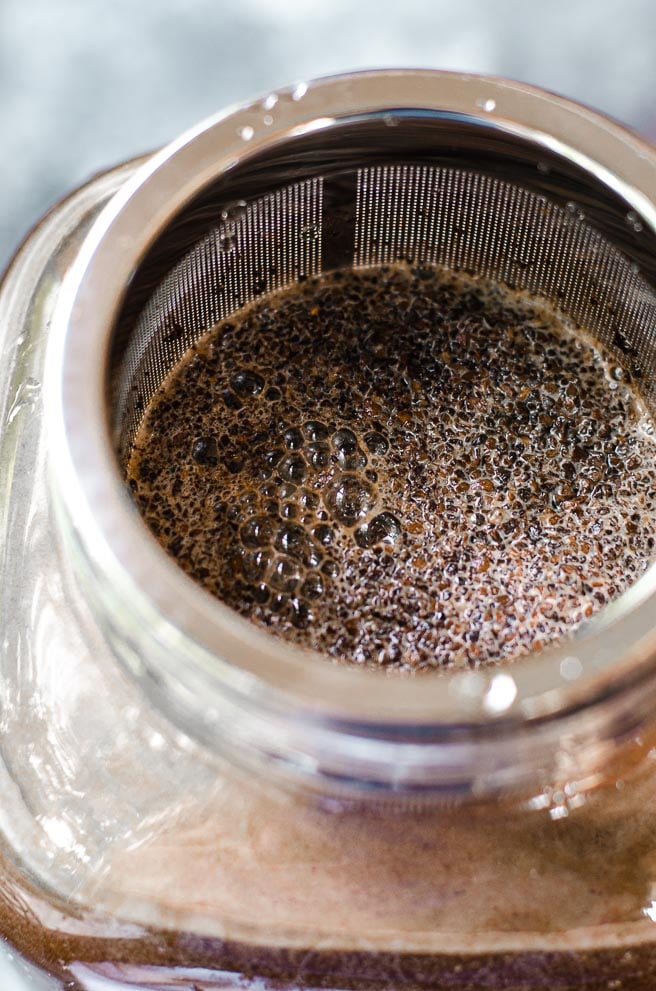 Are Cold Brew and Iced Coffee The Same?
No, cold brew and iced coffee aren't technically the same. Cold brew refers to the method that the grounds are prepared, while iced coffee references how it is served. Many establishments have started using them interchangeably, so make sure to ask how the coffee is prepared if you're not sure.

Can I Use Already Ground Coffee
The way the coffee beans are ground determines how bitter your cold brew becomes. If you use already ground coffee from the store, you are likely to get a cup of coffee that tastes off, or just plain bad.
Controlling how coarse the grind is at home or with a coffee grinder at the store lets you ensure that the coffee tastes smooth but flavorful. The coarse grind also means that you can more easily strain the coffee, keeping it from getting a sludge of grounds at the bottom of the container.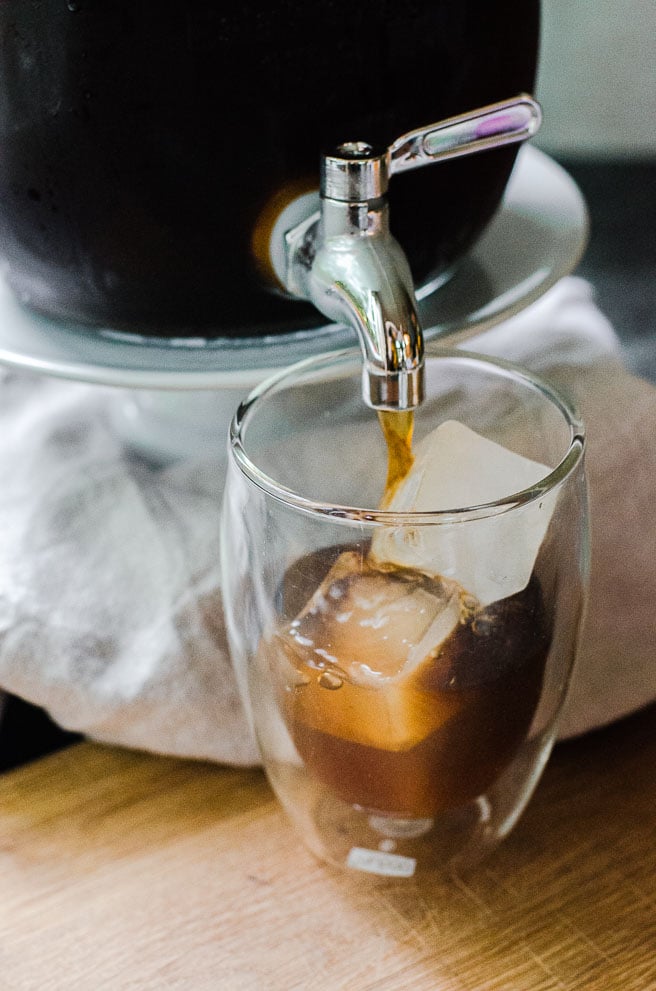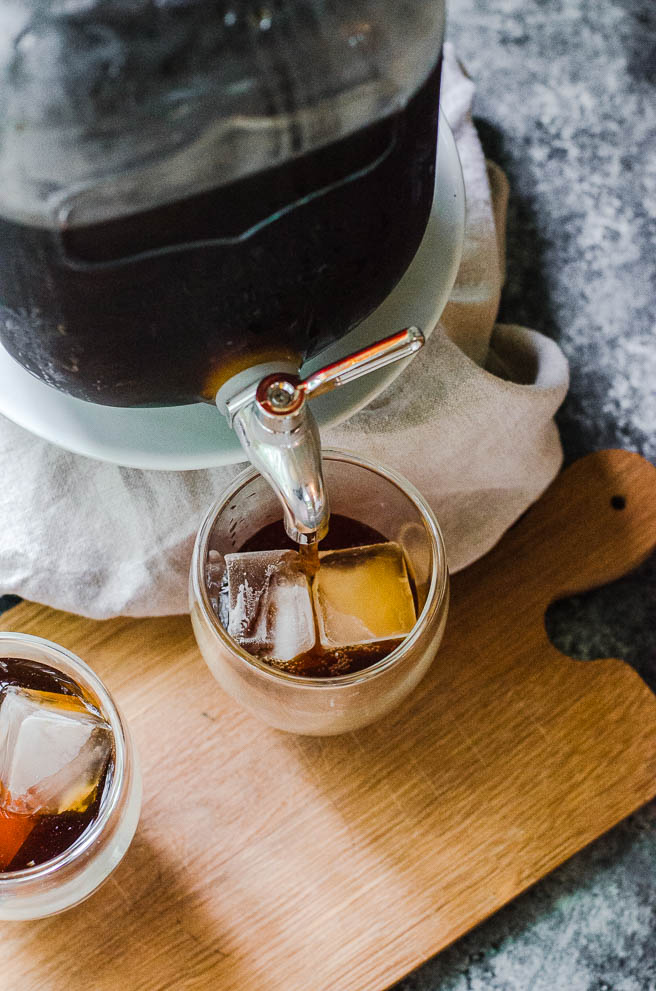 Can I Make This Recipe In A French Press?
Yes, if you want to make this cold brew recipe in a french press, just scale it down to 1-2 servings. To make it in a french press:
Pour the ground and room temperature water into the french press and place the lid on.
Let sit for 12 hours or until ready to press.
Push down the sieve to trap the grounds into the bottom of the french press.
Serve diluted over ice, or pour into a separate container and refrigerate until ready to use.
A bonus tip for making cold brew in a french press is to strain the grounds an extra time before serving. This is done by simply placing a coffee filter over your glass. Even though cold brew is made with a coarser grind of beans than hot french press, the grounds can still escape around the sides of the sieve. The filter will keep them from getting into your cup (and therefore your mouth).

Ways To Enjoy Cold Brew Coffee
Now that you have a perfect cup of cold brew, you may want to shake it up and make a flavored drink or cocktail. For that, I recommend trying: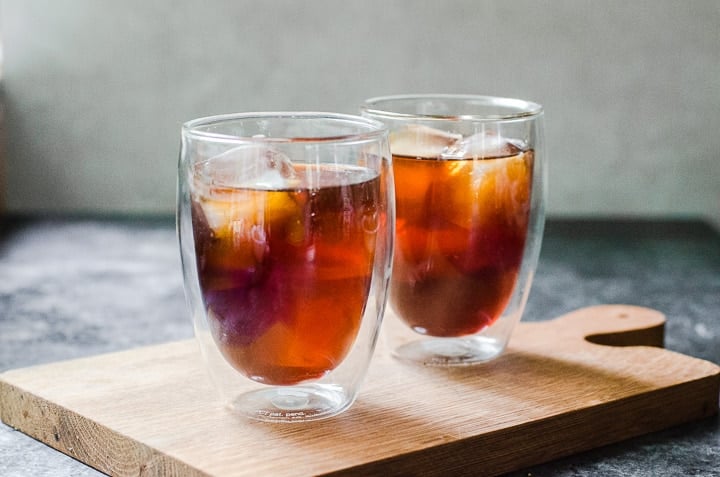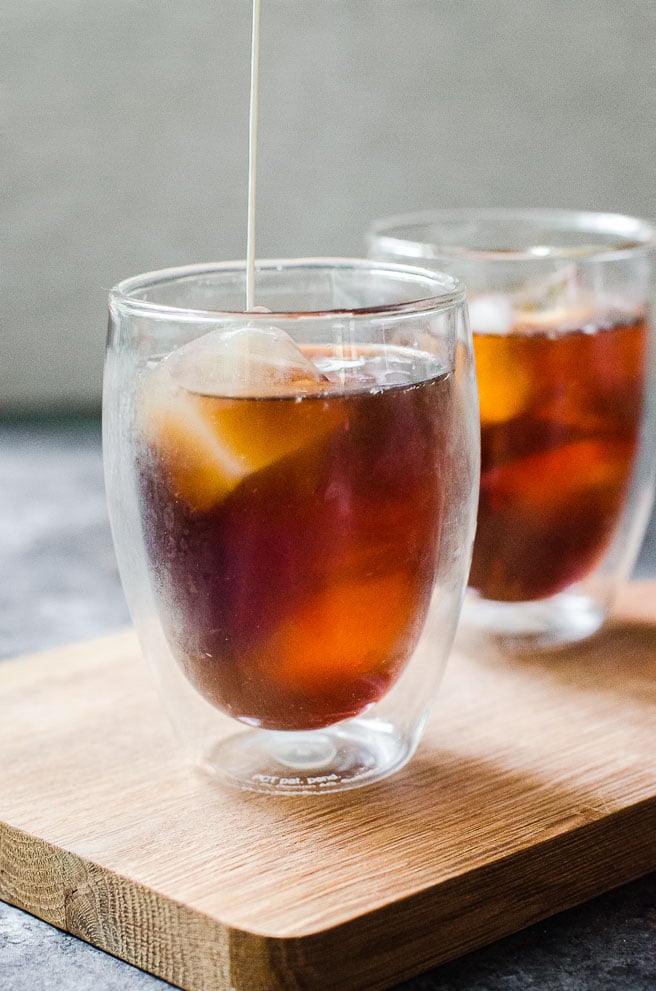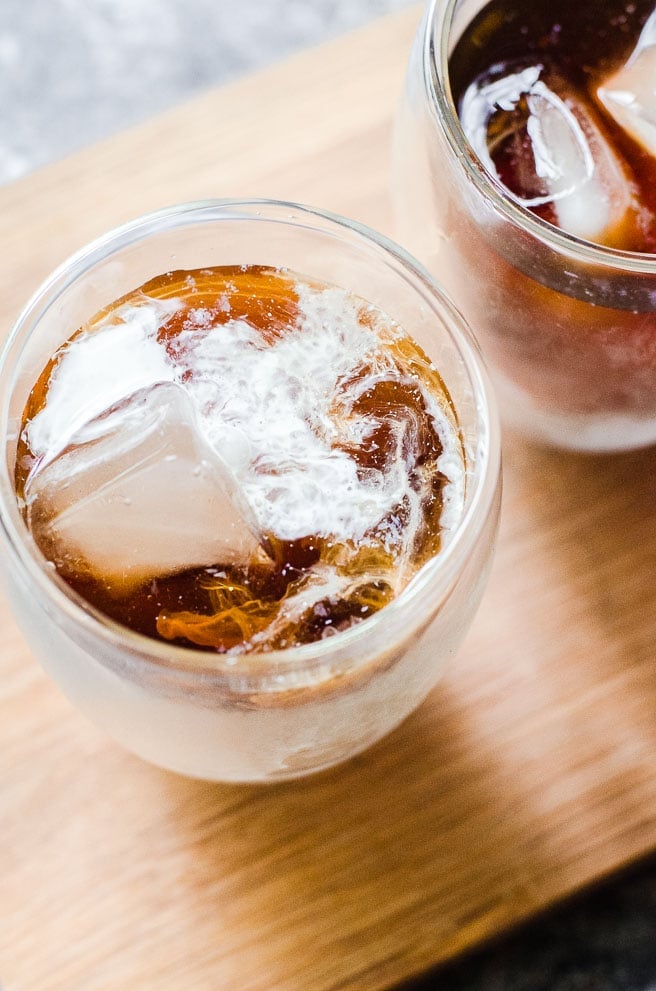 Barista Quality Cold Brew Coffee Recipe
Before you get to the recipe, I want to give you one final tip/trick from a professional kitchen. In fact, it is one that most cold brew recipes you find won't have, and that's to use salt. Just like how salt helps sweet things taste better, it also helps balance acid and bitterness. If used in the correct proportions, you won't even notice it in your cold brew, but every cup will taste better than Starbucks.
Similarly, using filtered water gives you a purer flavor. Tap water has impurities that impacts flavor, so choosing filtered water gives the coffee a cleaner and fresher taste.
---
Thanks so much for stopping by!
Happy Cooking! 🙂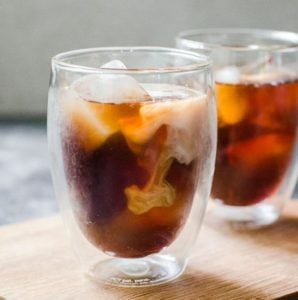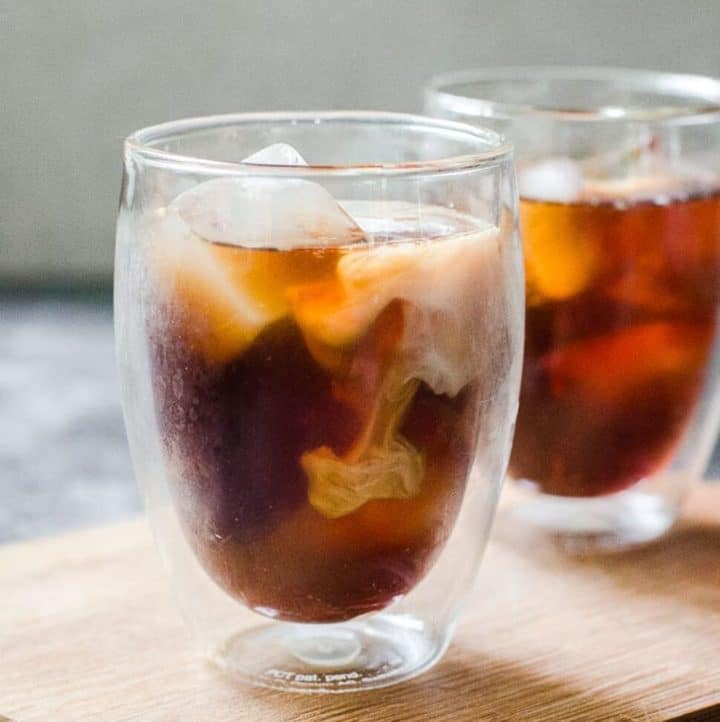 Barista Quality Cold Brew Coffee
Get flavorful and smooth cold brew coffee with this simple hands-off method.
Pin it for later?
Ingredients
1

cup

coarsely ground coffee beans

½

teaspoon

salt

4

cups

filtered water

,

room temperature

ice

,

for serving

milk or cream

,

(optional)
Instructions
Put the coarsely ground coffee beans and salt into the bottom of a large glass container and fill with room temperature filtered water.  Leave out for 12-24 hours.

Strain the coffee one cup at a time through a fine mesh sieve lined with at least two coffee filters.  Change out the coffee filters when needed.  

Refrigerate for 12-24 hours, dilute with equal parts water, cream, or milk and serve over ice.
Notes
This cold brew coffee concentrate will stay good for up to two weeks in your refrigerator. 
The filtered water helps maintain the purity of flavor for the cold brew.  Tap water sometimes interacts with the grounds and impacts how it tastes.   Learn more here.
Nutrition
Serving:
1
serving
|
Calories:
1
kcal
|
Sodium:
303
mg
|
Calcium:
7
mg
Tell me how much you love this recipe
and show off how you made it!