Shortbread cookies are a quintessential holiday season treat. This easy shortbread cookie recipe is great for a cookie exchange or an evening indulgence. Make sure to make a double batch, though. They're that good!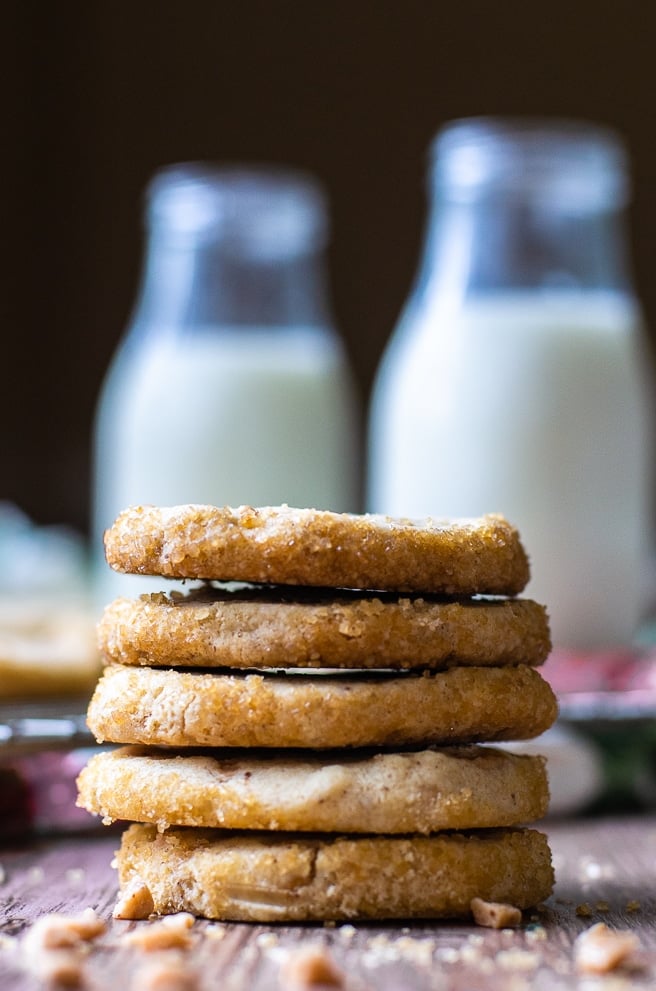 Shortbread cookies are a delectably crunchy and buttery cookie that is often associated with Christmastime. These lightly golden cookies practically melt in your mouth and are hard to put down.
Do I Have to Make the Brown Butter for This Shortbread Cookie Recipe?
The short answer is no. If you just want basic shortbread cookies with toffee, then follow the recipe using two sticks of butter. However, if you are willing to take the time to make the brown butter, it is absolutely worth the time. The brown butter adds a slight nuttiness to the cookies that perfectly complements the toffee. And since the brown butter has had most of its water content removed, it makes these shortbread cookies exceptionally velvety. (I like to pretend they're a biscotti alternative and have them with coffee. Breakfast cookie, right?)
Tips for Making Perfect Shortbread Cookies
There is no real mastery of skills needed for this shortbread cookie recipe. However, any of these articles below will help you become the best baker you can be. In turn, it will help your shortbread cookies turn out that much more amazing.
How To Brown Butter. Since this is an essential part of this recipe, I recommend reading this. It explains everything about how to separate the dairy to how dark it should be.
Creaming Method. This is the baking method used for this shortbread cookie recipe. It goes into detail about the order you add your ingredients and why this is important for success.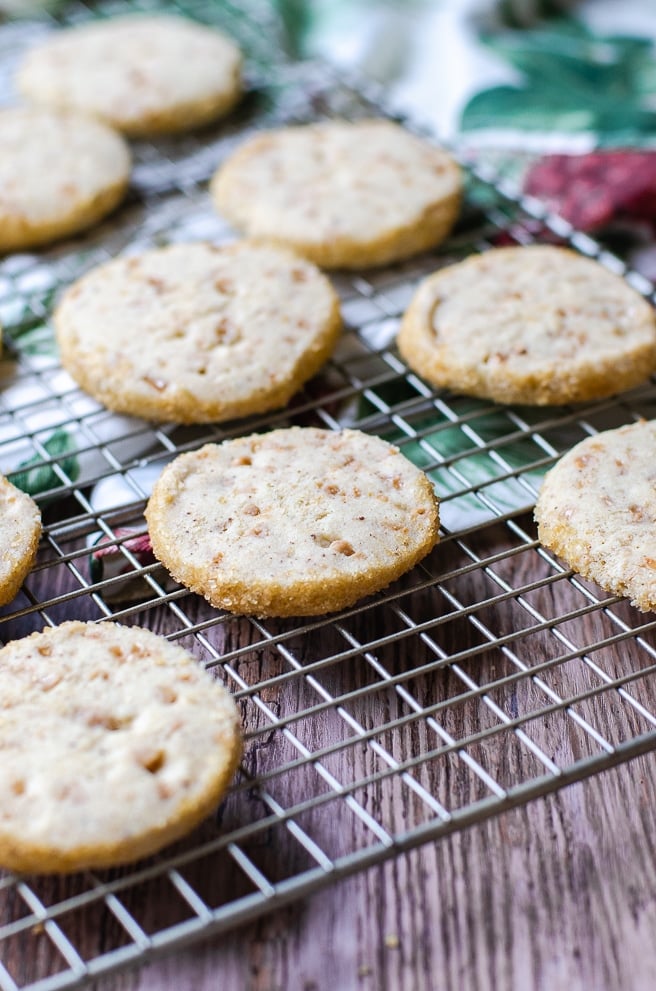 How To Store Shortbread Cookies
Shortbread cookie dough is incredibly easy to store. In fact, it will stay fresh in the refrigerator or on the counter for three to five days. Just make sure it is tightly sealed so it doesn't dry out. Also, if you love these as much as I think you will, the recipe doubles easily. If you want to freeze some for another time, they will stay good for up to a month.
Since you will most likely shape the dough before freezing, I recommend wrapping the dough in parchment paper before the plastic wrap. The parchment paper won't stick to the dough, so it releases easier when you're ready to cut them.
Once your cookies are made, they will stay good in an airtight container for up to two weeks at room temperature. Since most of the water evaporates when you make the brown butter, the cookies are unlikely to go stale.
How To Cut Shortbread Cookies
I'm going to be honest with you. Cutting shortbread cookies isn't a big deal if they're refrigerated. Frozen shortbread cookie dough is a completely different story, though. Many recipes are designed for the frozen dough to be put right into the oven. However, they tend to crumble in the center when you slice them. Even if you've give the dough time to thaw. Nobody wants that. If you are freezing the cookies, my recommendation is to cut them after chilling, but before freezing. You can layer the slices between small sheets of parchment paper before storing them. This will make them more like "break and bake" cookies. It will also let you determine how many you would like to bake at a time.
Side note: If you make your cookies round, your dough will probably flatten on one side while it chills. Don't worry though, as long as you only do the single hour of refrigeration, this is easily recoverable. After you've cut the shortbread cookies, use the heat of your hands to gently shape the cookies individually. This will also help the turbinado sugar stick better when you roll the cookies in it.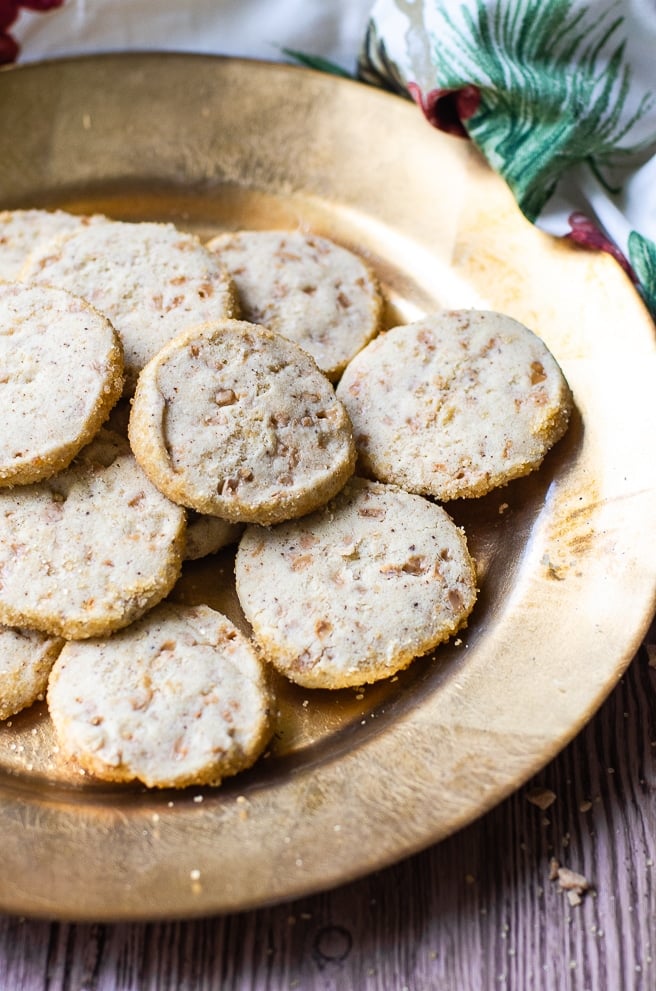 Can I Make These Shortbread Cookies Ahead?
Yes, absolutely. One of the unique features of this recipe is that the brown butter reduces the amount of water in the dough. This means that the cookies can be baked one to two weeks ahead, but not go stale before eating them. (This also makes them a perfect candidate for your next cookie exchange!).
If that makes you a bit uncomfortable, you can make the dough up to three days ahead. Keep it on the countertop or in the refrigerator until you are ready to use. The dough will harden up quite a bit in the fridge, so make sure to let it thaw a bit before using.
How To Decorate This Shortbread Cookie Recipe
The toffee bits get mixed into the cookie dough, so these shortbread cookies are already a bit fun. To take it up a notch, I recommend rolling the cookie dough in turbinado sugar before baking. (Also known as sugar in the raw.)
I did learn the hard way NOT to roll the shortbread cookies in the toffee pieces. When they are left on their own without the protection of the dough, they melt quickly. They also melt away from the cookie. This makes the toffee pieces extra crunchy, and the cookie very funny looking.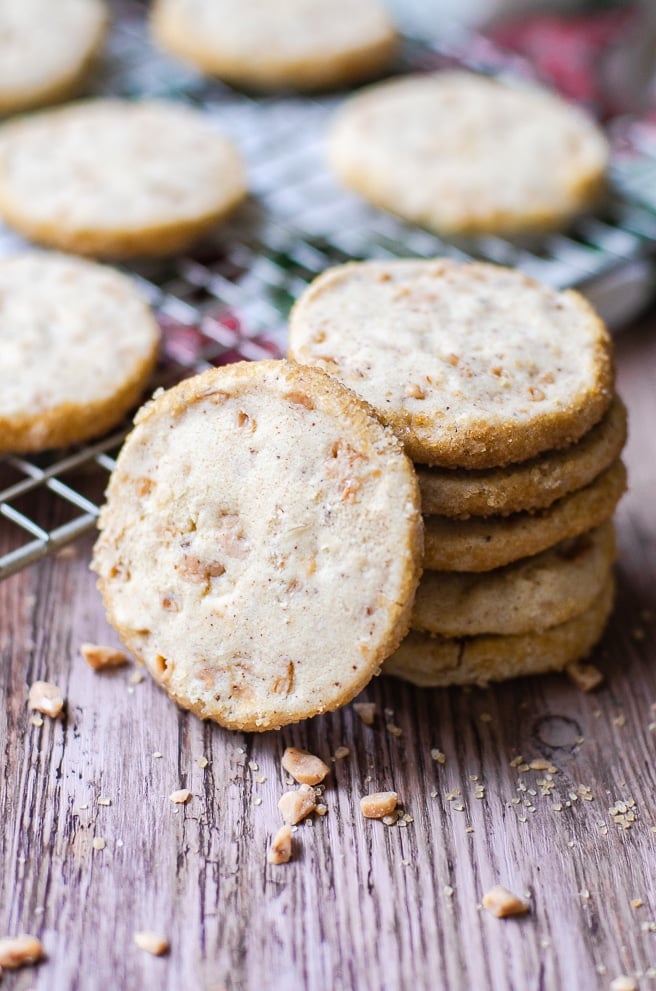 Where to Get The Toffee Pieces
One of my favorite ways to get toffee pieces for this shortbread cookie recipe is to buy real toffee. There is almost always a bunch of toffee crumbs left in the bottom of the canister. (This is my absolute favorite!) If you're feeling up for it, you can make some yourself and smash the candy into small pieces. Lastly, you can get some in the baking aisle of most grocery stores. Heath sells small bags of toffee bits and those can usually be found near the chocolate chips.
How To Make This Brown Butter Shortbread Cookie Recipe
To get a really spectacular covering of the turbinado sugar on the outside of the cookies tilt the bowl towards you. Roll the cookie through the "corner" of the bowl until fully coated. This helps get the side entirely covered with the sugar.
---
Want a free printable grocery list for this brown butter shortbread cookie recipe? Get it here.
---
Use this grocery list to help simplify shopping. Everything is listed in standard grocery store amounts. If no size is specified, even the smallest package will provide more than enough.
If you are looking for some other delectable cookie recipes, I recommend:
Chewy Hazelnut Oatmeal Cookies with Salted Caramel
Happy Cooking!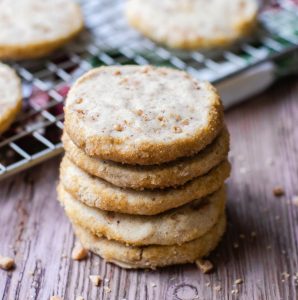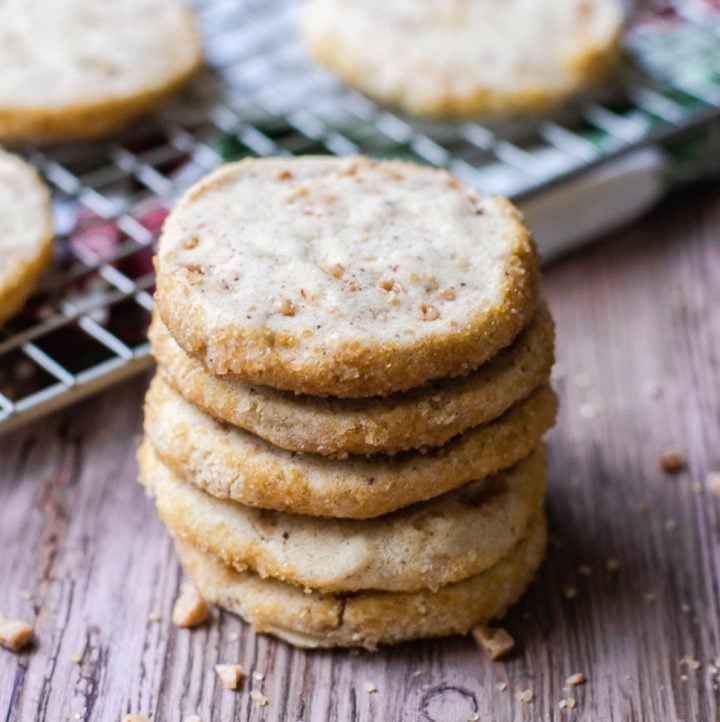 Brown Butter Shortbread Cookies with Toffee
These melt in your mouth brown butter shortbread cookies are a perfect treat with coffee or a cocktail.
Pin it for later?
Ingredients
1

cup

brown butter,

room temperature

¾

cup

powdered sugar

1

teaspoon

salt

2 ⅓

cups

all purpose flour

,

spooned and leveled

1

cup

toffee bits

½

cup

turbinado sugar
Instructions
In a food processor or bowl of an electric mixer, cream together the brown butter, powdered sugar, and salt until smooth. Slowly add in the flour until everything is combined, scraping down the sides as needed. Fold in the toffee pieces with a rubber spatula.

On a lightly floured surface, shape the dough into an 8-10 inch log. Wrap it in plastic wrap and refrigerate for

one hour

.

Place the racks in the upper and lower third of the oven. Preheat the oven to 350°F.

Slice the shortbread cookies into ¼" pieces and roll the edges in the turbinado sugar. Transfer them to two parchment paper lined baking sheets with 12-14 cookies on each pan. Bake for

16-18 minutes

, rotating the pans halfway through. Let the shortbread cookies cool for 5 minutes before transferring to a cooling rack.
Notes
The cookies will only spread
Nutrition
Serving:
1
cookies
|
Calories:
146
kcal
|
Carbohydrates:
17
g
|
Protein:
1
g
|
Fat:
7
g
|
Saturated Fat:
4
g
|
Cholesterol:
20
mg
|
Sodium:
165
mg
|
Potassium:
15
mg
|
Sugar:
8
g
|
Vitamin A:
240
IU
|
Calcium:
5
mg
|
Iron:
0.6
mg
Tell me how much you love this recipe
and show off how you made it!