This sweet and spicy wasabi burger is filled with surprising flavors that become a match made in heaven. From the teriyaki glazed bacon to the pickled ginger, this will quickly have you saying "Best burger I've had in a long time!"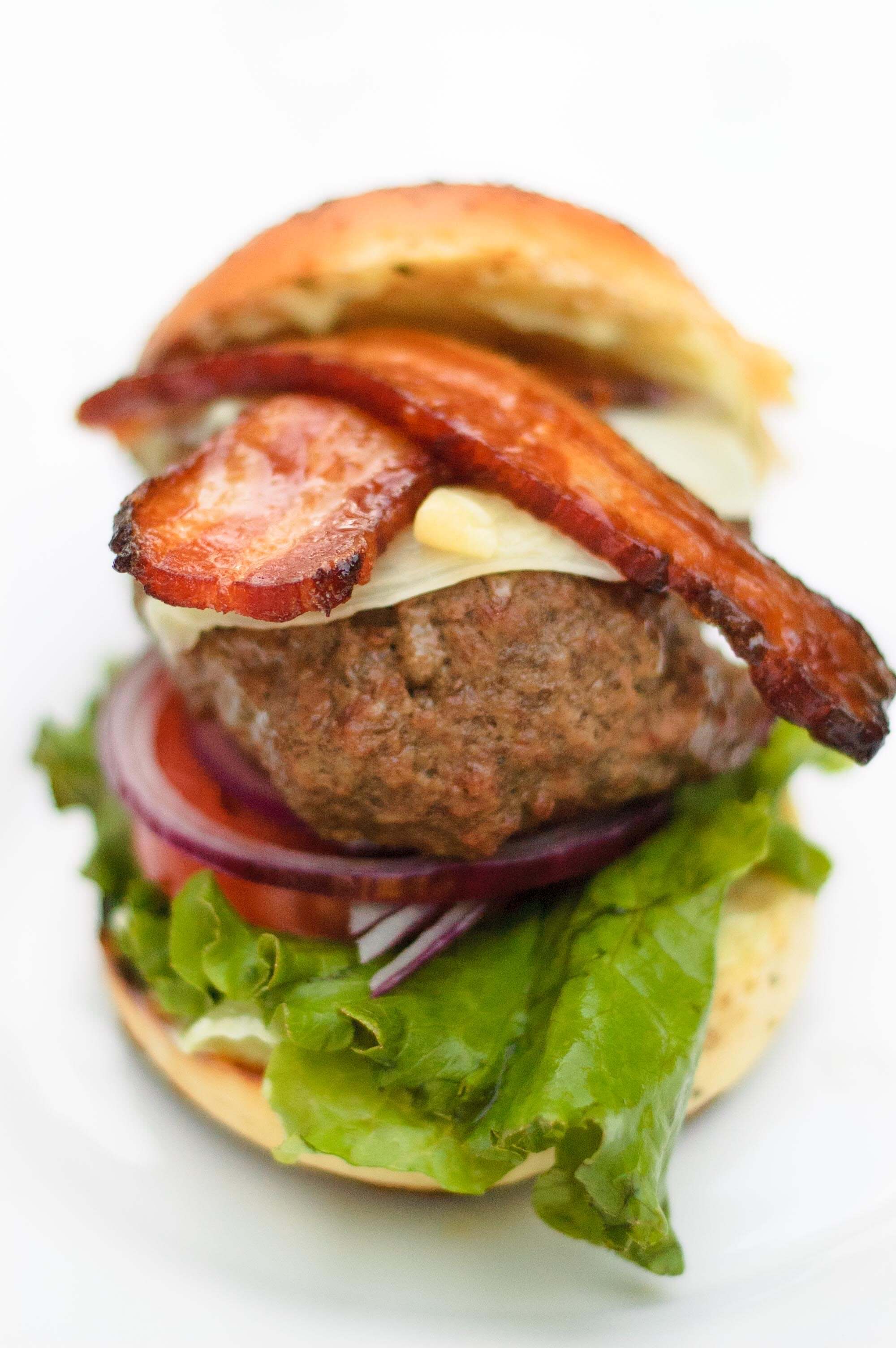 If you've been following along with my Amazing Burgers pinterest board this month, then you know that there is no shortage of mouthwatering recipes on the internet. A couple quick clicks and all the sudden you are getting an eye full of #foodporn. This recipe for a Sweet & Spicy Wasabi Burger, inspired by a local brewery (Silver City Brewing), is a nice way to break away from the standard cheeseburger (as it has no cheese) and fill your mouth with some new and exciting flavors.
Skills & Techniques
To really master this Sweet & Spicy Wasabi Burger, here are some skills & techniques I recommend reading up on. Whether you're a newbie to the topic, or as well seasoned as a 100 year old cast iron pan, there is always something new to learn!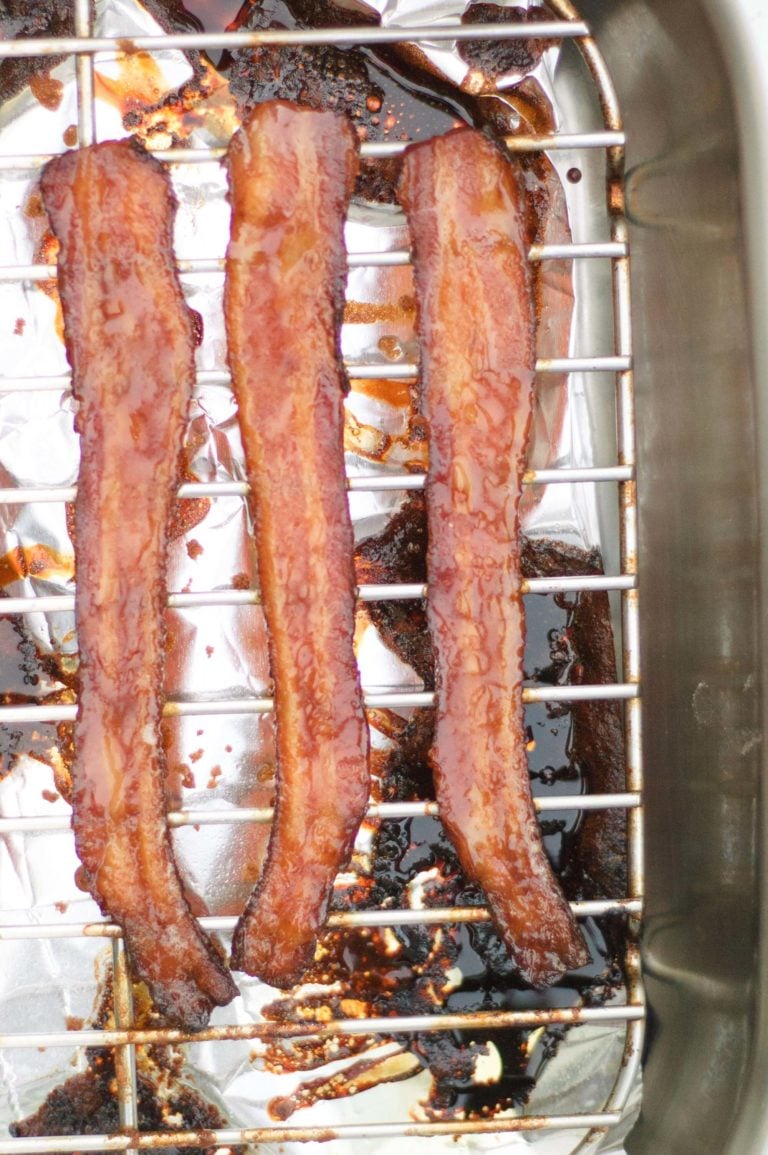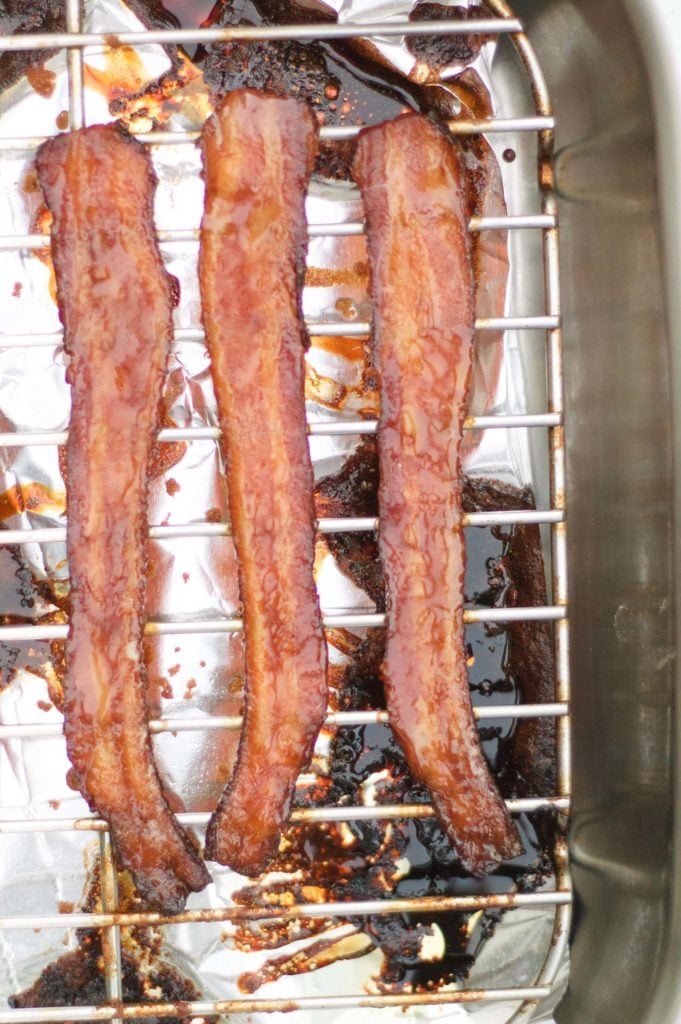 Leftovers?
If you have a Sweet & Spicy Wasabi Burger leftover, you can store them in a single layer in a shallow, airtight dish. They will stay fresh in the refrigerator like this for up to 5 days, but the longer they sit the drier they will become. Make sure to keep the patties separate from the buns and toppings for best storage results. NOTE: If you cooked your burgers to less than the 160°F internal temperature recommended by the USDA, your burgers run a risk of bacterial growth during refrigeration. If this concerns you, you can always crumble your leftovers and add turn them into tacos, lasagna, or spaghetti meat. Reheating them this way will help ensure they are completely cooked through.
If you decide to reheat your Sweet & Spicy Wasabi Burger as is, I recommend:
Place a rack in the top third of your oven and preheat your oven's broiler to high.
Put the burgers in a single layer on a baking rack inside of a sheet pan lined with aluminum foil. The foil helps with easy cleanup.
Place the burgers in the oven near the broiler and cook for 2 minutes. Remove the sheet pan, flip the burgers, return them to the oven and cook for another 2 minutes.
Remove the burgers from the broiler, place on your buns with fresh toppings and serve.
I recommend using the broiler because, like grilling, the quick cooking of the outside help keep the inside juicy. Just a warning, consuming raw or undercooked meat may have consequences. The USDA recommended internal temperature for ground beef is 160°F for killing of any potentially harmful bacteria.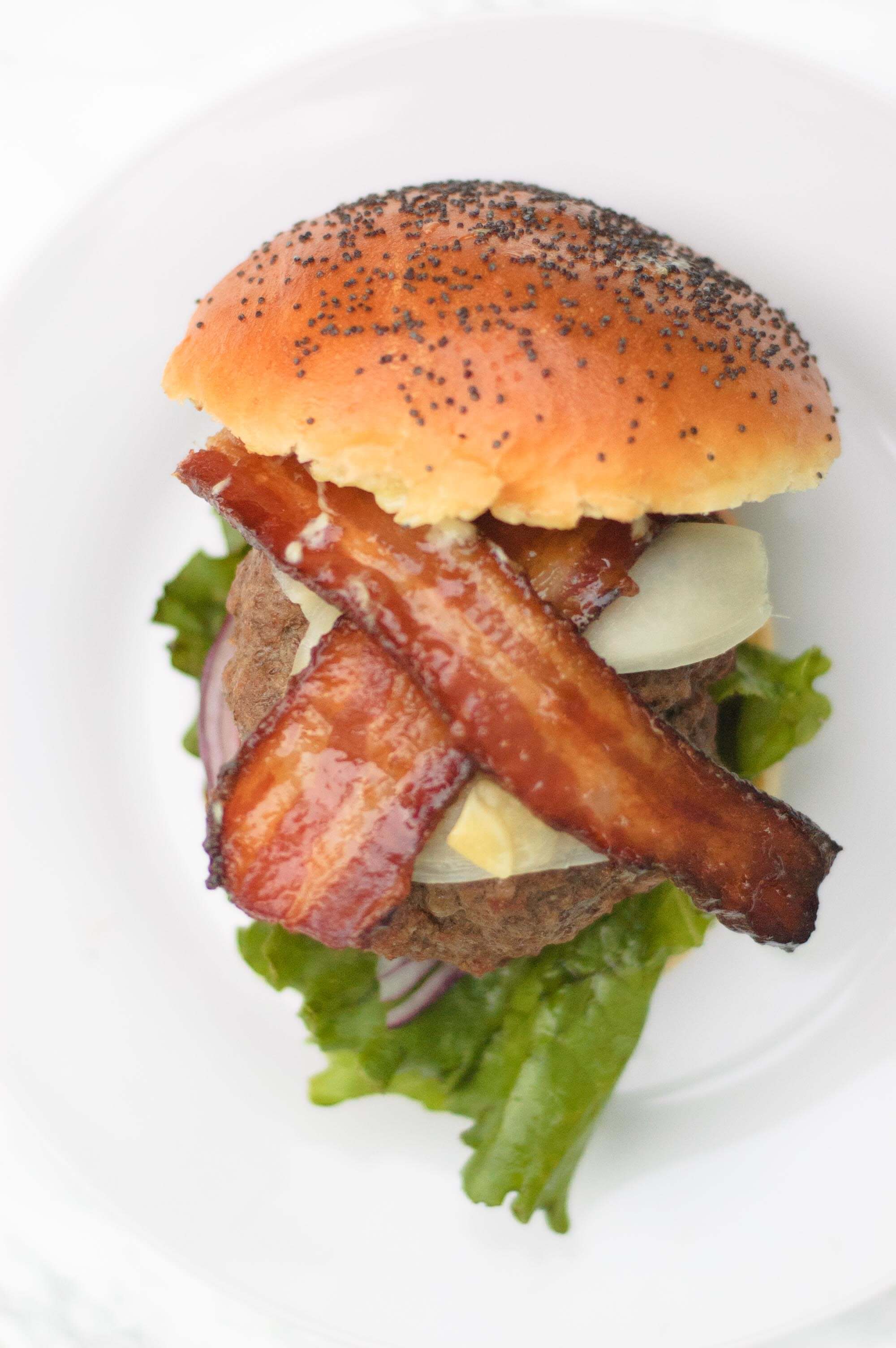 Sweet & Spicy Wasabi Burger
If you're just wading into the pool of unusual burgers, don't let the pickled ginger scare you. Even my husband, who doesn't care much for ginger, usually adds a couple extra pieces to his burger. It adds a really interesting depth of flavor that makes this Sweet & Spicy Wasabi Burger otherworldly. If you've never purchased pickled ginger before, you can usually find it near the tofu and yakisoba noodles in the refrigerated section of the "ethnic foods" aisle.
Just a forewarning, the teriyaki glazed bacon takes a little bit of time to make. It's so worth it though; it will be your new burger best friend. If you're good about your timing (mise en place) with when you preheat your grill and when you put your burgers on the grill, you can easily keep this recipe under an hour. Let the bacon cool for a few minutes before putting in on your burger, though. This gives the glaze time to crystallize and stick to your bacon. Also, the wasabi mayonnaise that I made was using my homemade mayonnaise recipe. You may find you need to add a little more wasabi to the store-bought stuff to get the same heat.
---
Get the free printable grocery list for this Sweet & Spicy Wasabi Burger recipe HERE.
---
This grocery list has everything that you'll need to make this Sweet & Spicy Wasabi Burger recipe. To help in making grocery shopping simple, each ingredient is listed in easy-to-find grocery store amounts. If there is no amount specified, that means that you can buy the smallest (or largest) container available and still have plenty left over.
Thanks so much for stopping by!
If you would like to try some of our other burger recipes, I recommend:
Happy Cooking! 🙂
P.S. If you want to get exclusive recipes like the one I developed for the poppyseed buns you see in these pictures, make sure to subscribe to our email list on the side bar! 🙂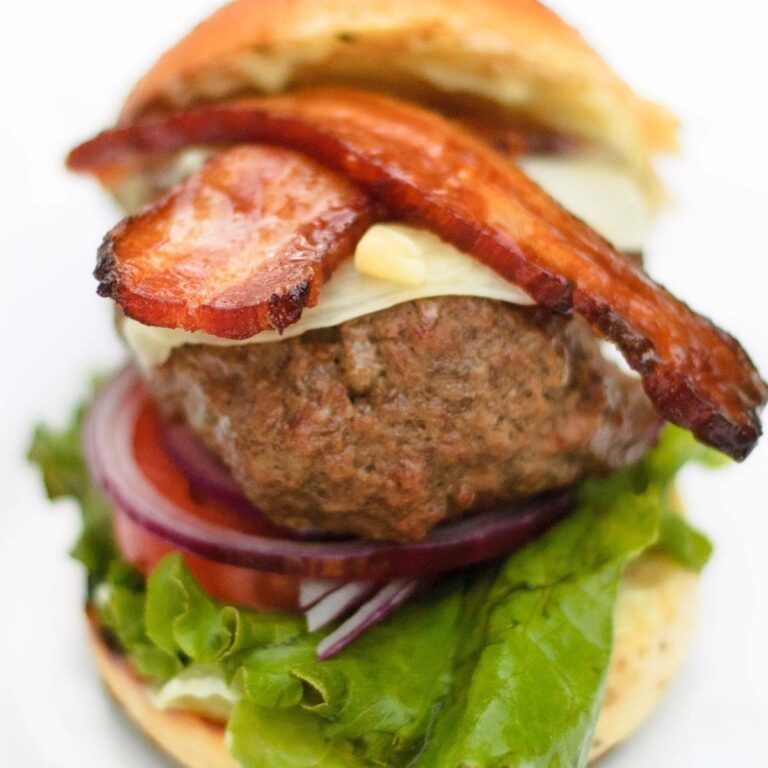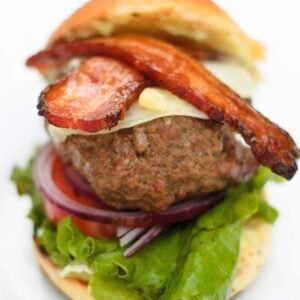 Sweet & Spicy Wasabi Burger
This wasabi burger has both sweet and spicy flavors that are drool-worthy! It will have you saying "That's the best burger I've had in a long time!"
Pin it for later?
Ingredients
Teriyaki Glazed Bacon
6

strips of thick cut bacon

¼

cup

teriyaki sauce

½

cup

dark brown sugar
Burger Patties
1

lb

80/20 ground beef

salt and pepper

,

, to taste
Toppings
3

poppy seed buns

2

cups

green leaf lettuce

2

medium tomatoes

,

, sliced

1

small red onion

,

, sliced thinly

¼

cup

sliced pickled ginger

,

(about 5-7 slices per burger)
Instructions
Preheat
Preheat the Grill, and preheat the oven to 375°F.
Teriyaki Glazed Bacon
Line a roasting pan with aluminum foil and place a roasting/baking rack inside of it. Place the teriyaki sauce in a long shallow dish, and the brown sugar (any clumps whisked out) in another.

Drown each piece of bacon in the teriyaki sauce, then transfer it to the brown sugar until the sugar thickly coats the bacon. Place it on the roasting/baking rack.

Bake for

35 Minutes

, or until the bacon reaches your desired doneness.
Burgers
Divide the ground beef into 3 equal pieces weighing rouhg ⅓lb each and shape them into patties. Generously salt and pepper them to your taste.

Grill your burgers, flipping at least once, until the burgers are to the internal temperature you would like. Remove from the heat and let cool 2 Minutes.

While the burgers cool, grill the buns until lightly charred. Slather the buns with the wasabi aioli and top the burgers with lettuce, tomato, onion, pickled ginger, and teriyaki glazed bacon. Serve hot.
Nutrition
Serving:
1
serving
|
Calories:
1302
kcal
|
Fat:
46
g
Tell me how much you love this recipe
and show off how you made it!