Years of fearful caution have made people nervous and ask, "Can pork be pink in the middle?". In this in-depth home cook's guide, get all the information you need to feel confident about cooking your pork.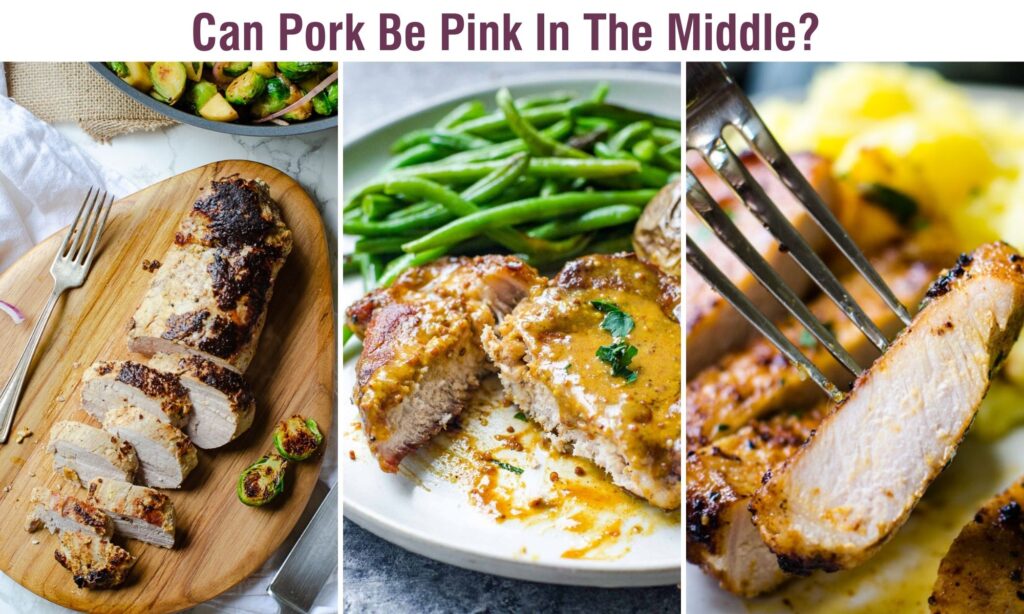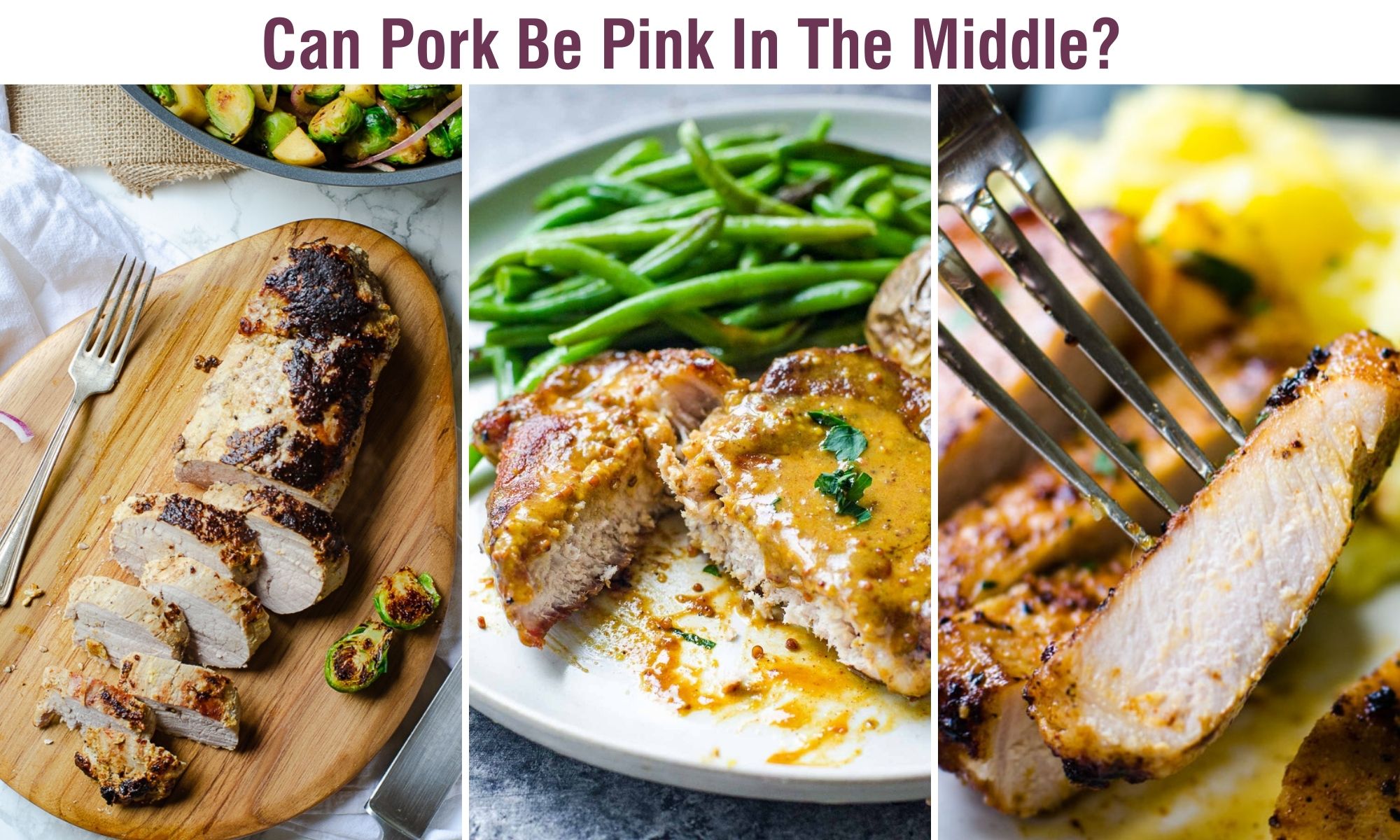 Kansas Farm Bureau and Kansas Soybeans sponsored this post. All thoughts and opinions are strictly my own.
History Of Cooking Pork (and Trichinosis)
Before 2011, the USDA recommended cooking pork to an internal temperature of 160°F. The equivalent of well-done.
This aided the advertisement of pork as the "other white meat" because we were cooking the pink out of the pork. But this also gave the consumer confidence that all bacteria were eliminated.
Why was this necessary?
Decades ago people were eating undercooked pork that was pink in the middle. This pork had trichinosis (also known as Trichinellosis) which became a concern because of large outbreaks of the parasite. In fact, between 1930-1950, there were 800 reported sicknesses, with the United States three times more affected than the rest of the world.
So how does it work?
Skip to the next section if you're sensitive to the gross stuff. It's heebie-jeebie territory:
The trichinosis larvae get into the pork because it eats contaminated meat that already contained the worms.
After a day or two, the worms mature after passing through the small intestine then mate and lay eggs. These become immature worms that move through arteries and into the muscles where they live until eaten by another animal, thus continuing the cycle.
With humans, the cycle ends there since most of us aren't cannibals. However, within a day or two of eating contaminated meat, you can get pretty severe abdominal cramps, and other symptoms such as muscle pain, weakness, and high fever can continue to show up 2-8 weeks later.
Blood tests or muscle biopsies can test for trichinosis, and safe and effective prescription drugs are available for treatment.
Sadly, our stomach acid isn't quite strong enough to kill trichinosis, but it is just strong enough to dissolve the shell of the larvae, which releases the worms. (womp womp)
How Is Trichinosis Prevented?
Since trichinosis is caused by worm larvae existing within meat-eating, and/or meat and plant-eating animals (like domestic pigs), farmers changed the diets of pigs to prevent the worms from ever coming onto the farms.
While decades ago it may have been common practice to feed the pigs "slop", or raw meat garbage, there is now so much more care that goes into the feeding of the animals.
Lance Rezac and his daughter Nicole are multigenerational pig farmers in Onaga Kansas. The pigs they raise on their farm grow up to be the pork that you are likely to buy at an average grocery store, like Safeway, Giant Eagle, or Food Lion.
Instead of feeding the pigs a diet that potentially risks trichinosis, which they haven't seen in their six generations of pig farming, they start with whole corn that they mill themselves and add soybean meal to make real digestible food for the pigs. They then add herbs, algae, and other good ingredients to promote gut health and a healthy immune system.
When I asked the Rezacs about modern pig farming and about why people still worry about whether their pork can be pink in the middle their response was,
"It [trichinosis] was a long time ago. Ground corn, soybean meal, these things we feed the pigs are safe. It's old misinformation. It was even before my time when pork wasn't safe to eat. Just check it with a meat thermometer and you're fine."
Trichinosis outbreaks in commercially farmed pigs are extremely low, with the chances being 0.0125% of getting it. In fact, between 2011-2016, sixteen cases were reported on average per year, and most of those have to do with eating wild game meats.
New USDA Guidelines For Cooking Pork
In 2011, the USDA changed its guidelines to allow for pork cuts to be cooked to an internal temperature of 145°F, with three minutes of resting time. (This does not include ground pork, which should always be cooked to well done. See below.)
The reason they changed this one is that we changed how we farm pork and it was time to reflect that. And two, because it is much easier for us, the consumers, to remember one temperature across all the non-poultry meats: beef, veal, pork, and lamb. We don't have to second guess anymore.
So now, this brings the pork to medium-rare, with a few minutes to reabsorb some of the moisture and continue cooking even after it has left the heat. (Also known as carryover cooking. See resting time below.)
Still not quite sure how to cook your pork? Foodsafety.gov provides a handy table on their website with recommended temperatures and cook times for all major pork cuts.
Why Is Resting Time Important?
After removing the pork from the heat source, it continues to cook for a brief period at that desired temperature, or even continues to rise. This resting process is called "carryover cooking" and it has two purposes.
One, during that three minutes the USDA recommends, the heat kills off any potentially harmful bacteria.
This extra time on the plate could lend the pork as much as 10 extra degrees depending on the cut, and how long it rests.
Two, and this is more from a chef's point of a view than a food safety one, during cooking the muscles in the meat seize up and become tight forcing out the juices onto the plate. As they rest, they reabsorb those juices, making your pork far more delicious and moist than it would be if it hadn't rested.
Why Doesn't This Apply To Ground Pork?
Muscle meats are less processed than ground pork. And the more processed something becomes the more likely it is to have bacteria like salmonella trapped in it.
With ground pork, all those tendrils of meat make it difficult to cook the surfaces where salmonella might hide. Whereas, muscle meats like pork chops have very clear surfaces that are easy to cook.
Additionally, the equipment needed to do the processing increases the likelihood that salmonella exists, so cooking the pink out of the ground pork is a safety measure that protects you completely.
Another way to protect yourself is to use the Clean, Separate, Cook, and Chill guidelines of using meats that may contain salmonella.
Is Pink Okay In My Pork?
In case you skipped over everything before, or you just want a short answer, yes, it is (except ground pork). Just cook the pork to a minimum internal temperature of 145°F (medium rare) and let it rest for at least three minutes before serving and you are good.
The goal is a warm pink center.
Letting pork be pink may take some years to get comfortable with, but chefs like me, farmers like the Rezacs, and the USDA all breathe some relief and agree that pink in pork is perfectly acceptable, and encouraged!
Cooking Pork Confidently
Still a little unsure you can confidently make the switch to your pork being pink? I get it. Let me help.
First, you need a really good meat thermometer.
I personally don't recommend an instant-read thermometer because it can't stay in the meat while you're cooking. This means that every time you poke a hole in your meat you let out juices that make your pork dry, but it also means that you are constantly testing your pork and you don't need that kind of stress in your life.
Instead, I recommend a probe thermometer. You can get one that has a screen that stays on the counter showing you the internal temperature or you can get one that connects via Bluetooth to your phone, like the Meater+ (affiliate link). It's the one I use for all my meat and it is amazing.
No matter which meat thermometer you choose, you need to use it correctly.
To do this, start by following the thermometer's directions for calibrating the temperature, if necessary.
Next, depending on the type of thermometer you have place it in the thickest part of the meat. Make sure it doesn't touch any bone, fat, or gristle; this can distort the reading. For probe thermometers, do this at the beginning, but for other thermometers, do this closer to the end of cooking.
Lastly, make sure to clean the thermometer with hot, soapy water (but not immersed) to remove any residue. Please store them carefully in a sheath to protect the pointed end from poking anyone when rooting around in a drawer.
Pork Recipes
Perfectly Seared Pork Chops
These pork chops are perfect seared to crispy golden brown on the outside, but still moist inside.
Make It!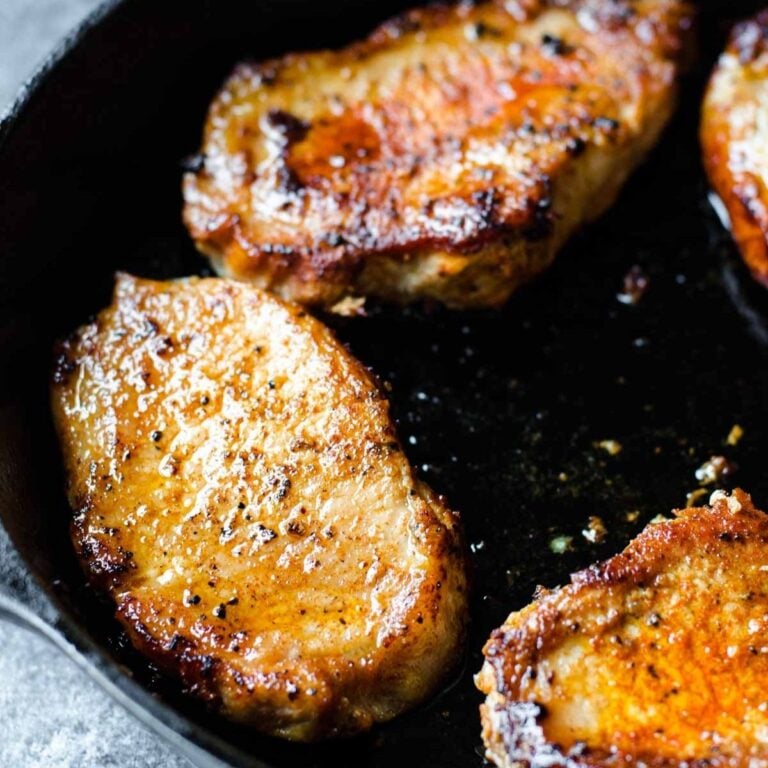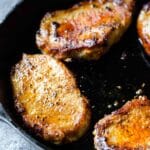 Crispy Pork Chops with Honey Mustard Sauce
Pan seared crispy pork chops become everyone's favorite dinner when served in this tangy honey mustard sauce.
Make It!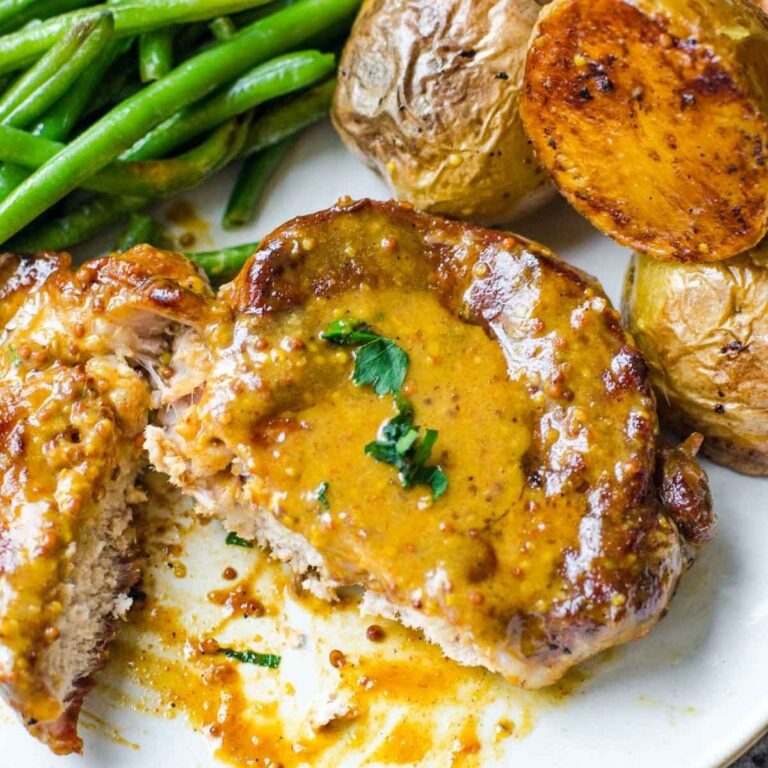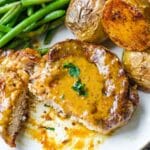 Stuffed Pork Tenderloin with California Prunes
This stuffed pork tenderloin is sweet, salty, creamy and crunchy. Filled with California prunes and finished with a white wine pan sauce, this recipe is simply delicious.
Make It!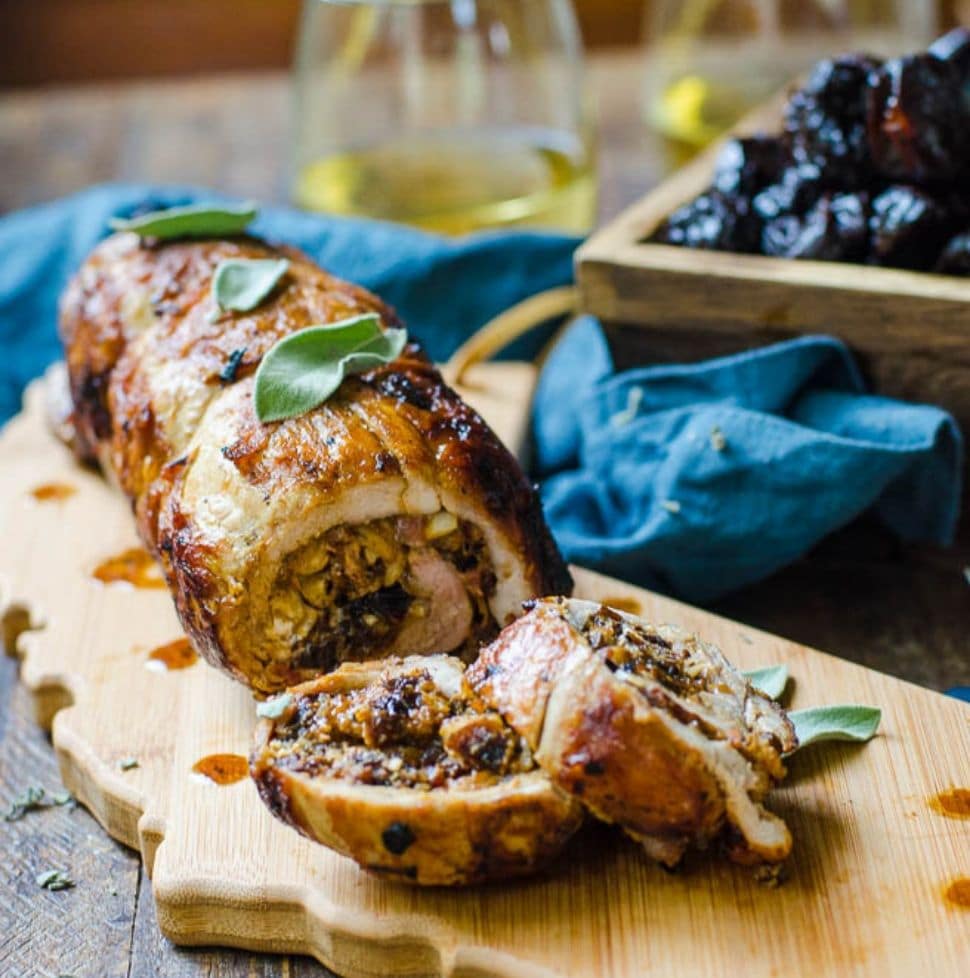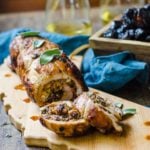 Pan Seared Pork Chops with Nectarines and Balsamic Glaze
This recipe for juicy pan seared pork chops with nectarines is like summer in your mouth. These light and fresh ingredients make for a perfect meal!
Make It!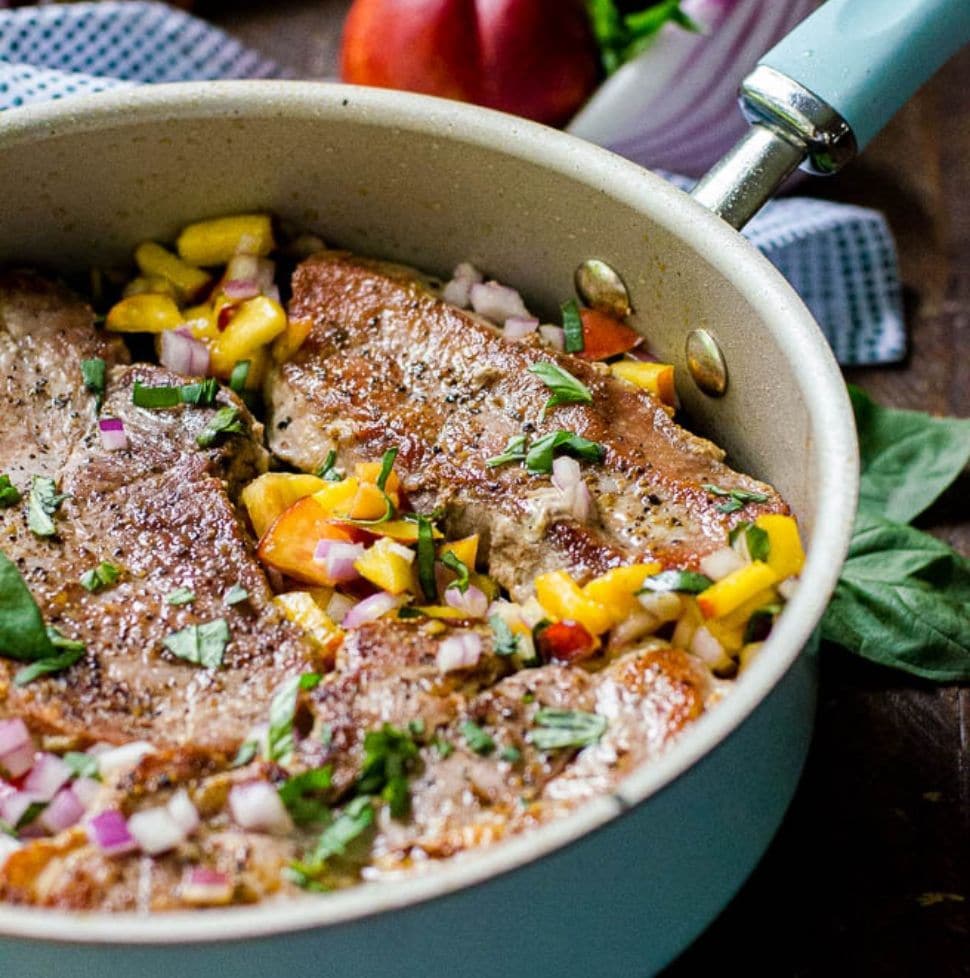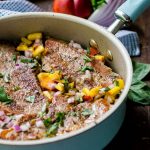 Mustard Rubbed Pork Loin with Apples & Brussels Sprouts
This Mustard Rubbed Pork Loin with Apples & Brussels Sprouts is a delicious dish that has minimal cleanup. Make everything in under one hour and enjoy all the best flavors of autumn.
Make It!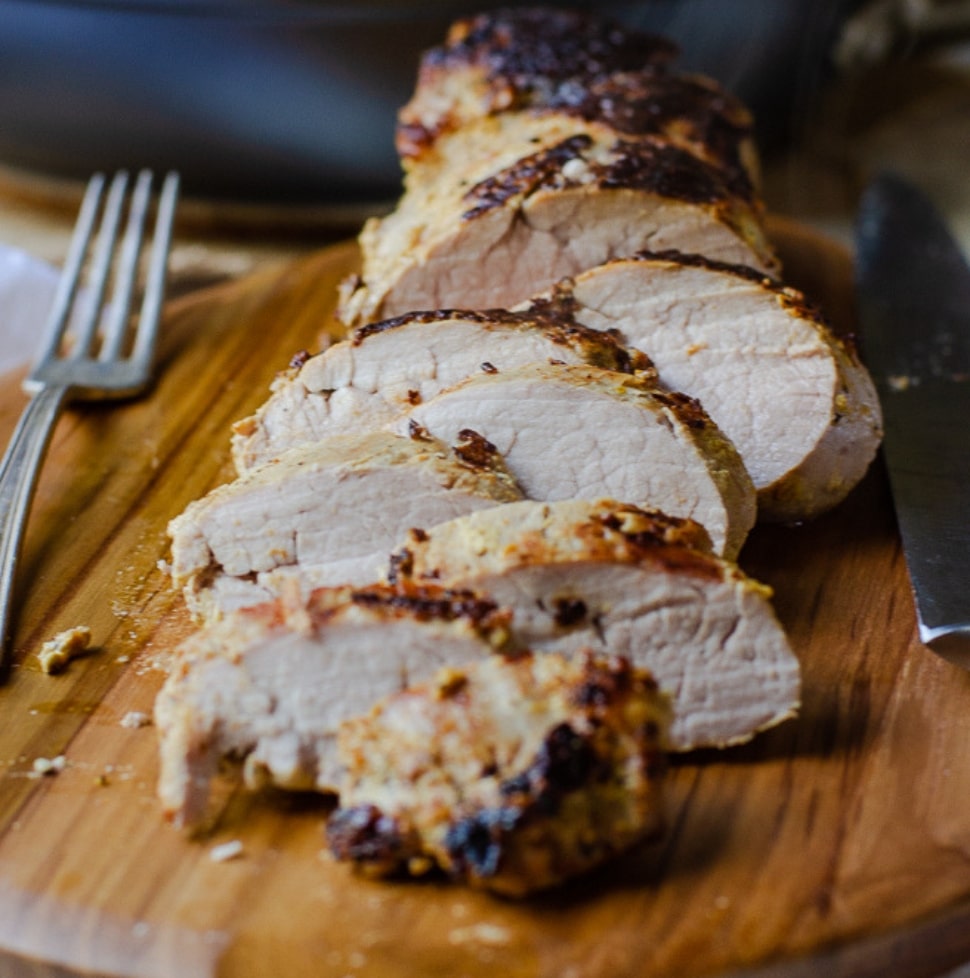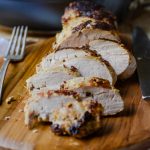 Pork Chop Marinade of Many Mustards
Whether you are making grilled pork chops, or have some loin chops to bake in the oven, this marinade is quick way to add flavor.

Make It!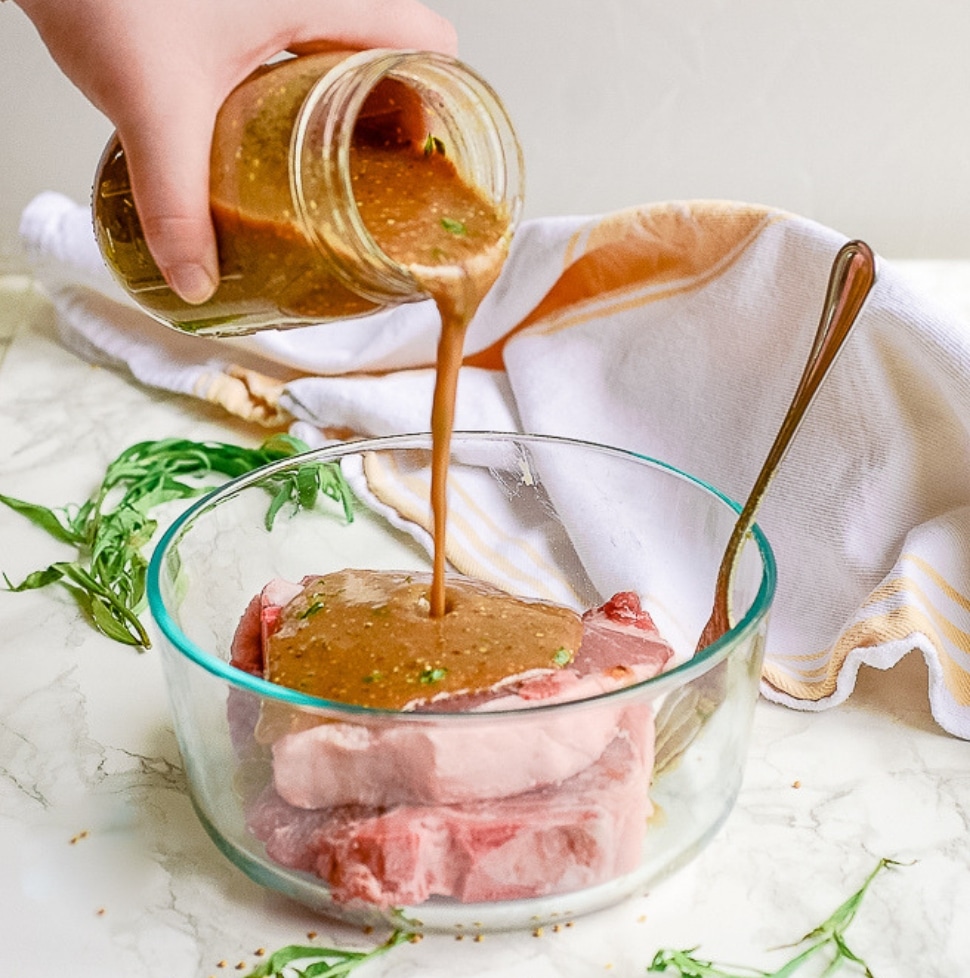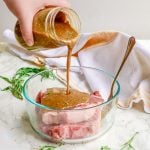 How To Cook Amazing Ribs In The Oven
Once you've made ribs in the oven, you'll be making them all the time! They're so easy to make, fall off the bone tender, and great to make for a party or a crowd.
Make It!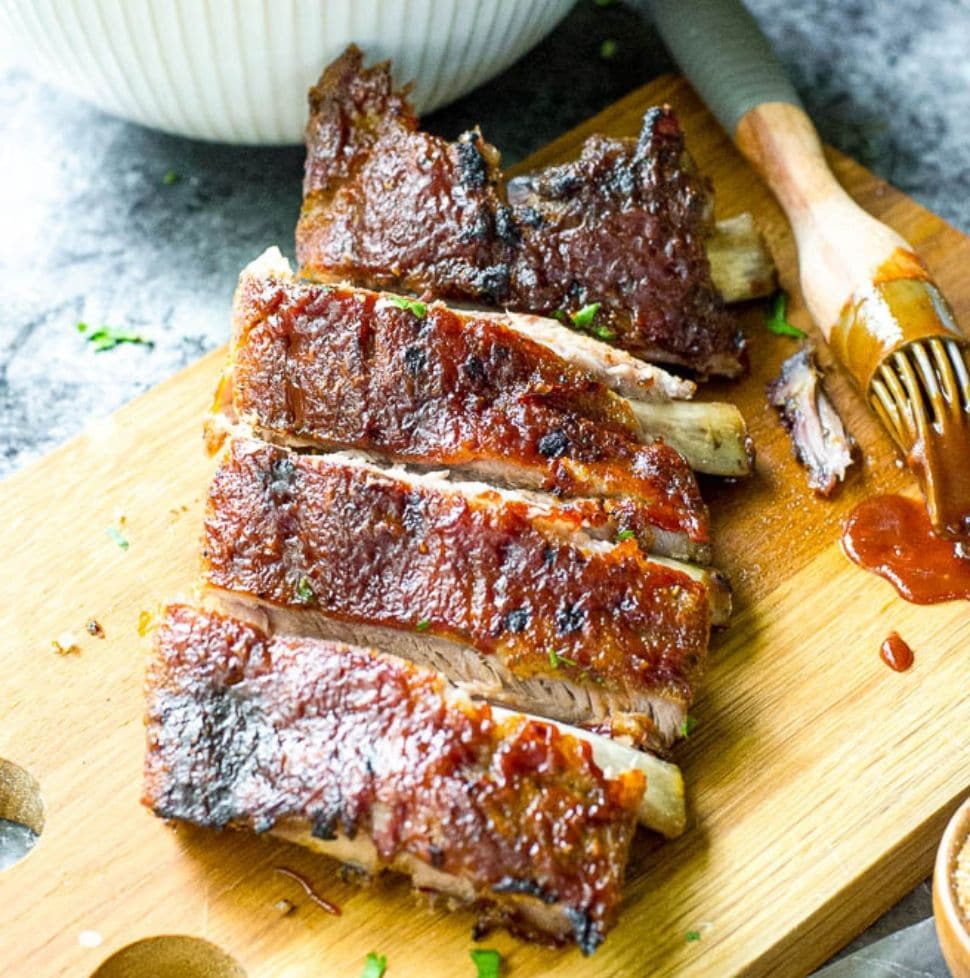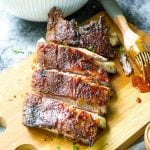 Other Pork Tips