Do you know all 8 classifications of fresh herbs, or the 3 different ways to store them? Find out now, take a fun quiz, and get 4 tips for buying the best fresh herbs, too!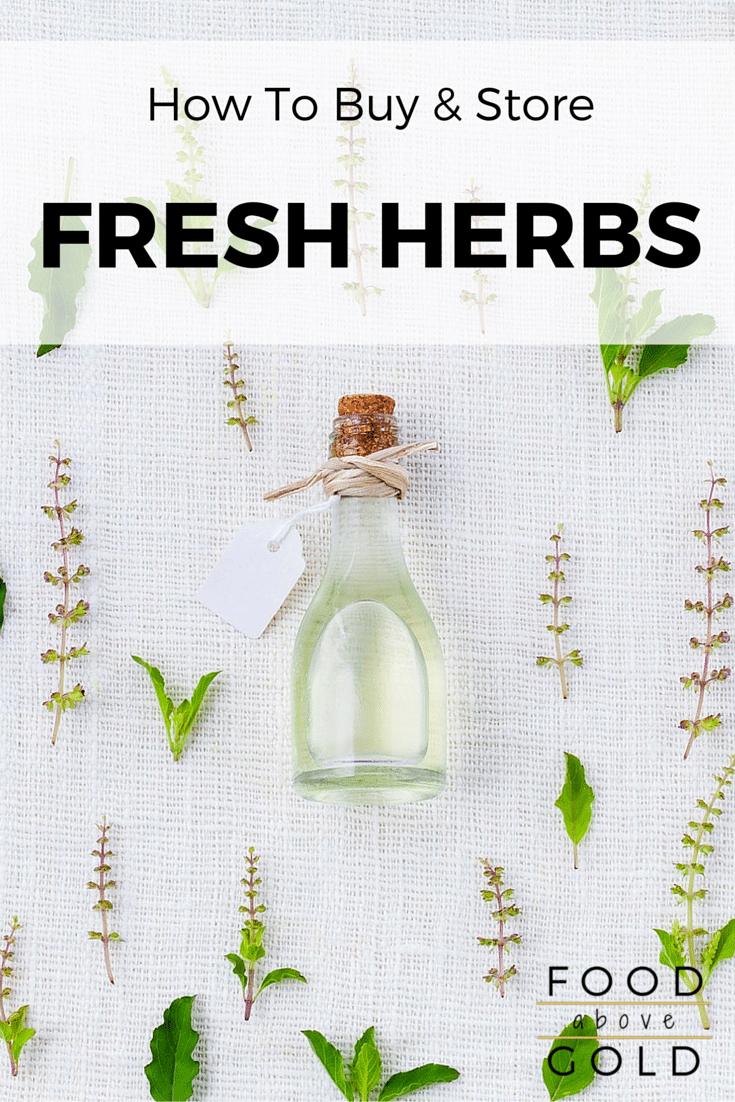 When we lived in Pittsburgh, we were in a top floor apartment of a building that was over 100 years old. I cook with fresh herbs all the time, but being apartment dwellers, I couldn't exactly grow a garden. I attempted a hanging box off of our deck, but it didn't get enough sun. Then I tried a box on the roof (totally against our lease – I was feeling rebellious), but it got too much sun. I finally gave up and got an AeroGarden hydroponics system that sat on top of my fridge. While it was pretty idiot-proof, I often forgot about giving it the special food packets and killed those, too. At this point in life, I think it's safe to say I don't have the best green thumb, but I can buy fresh herbs at the market like it's my job!
When Are Herbs In Season?
Ideally, the best time of year to get herbs is in the spring-fall time frame, roughly late April to late October (between frosts for those of you who garden). Buying them during peak season usually means you get a bit of a price break, but for most grocery stores you can find the most popular ones sold in bunches or packages in the refrigerated produce section year-round.
---
TIP: If you're converting herbs in a recipe, use 3 time more fresh herbs than the amount of dried herbs.
---
Classifications of Herbs
Similar to how there are many classifications of spices, there are 8 different classifications of herbs. They are:
Fresh & Mild : This kind of herb is great for garnishing because it lends a lot of color but doesn't have a flavor that is overpowering.
Sweet : These herbs include many flowers, like marigold and lavender, but also includes one of the most well-known herbs, basil.
Citrus or Tart : This group has undertones that make you pucker just a little bit.
Licorice or Anish : Think fennel, dill, or tarragon.
Minty : The title probably speaks for itself.
Oniony : These are herbs with a bit of a bite to them, like chives or garlic.
Bitter or Astringent : These are ones that you wouldn't often enjoy on their own unless someone was making you eat them.
Pungent and Spicy : This group has the most of any of them and includes favorites like oregano, cilantro, and horseradish.
How To Buy Herbs
There are certain benefits that come with buying pre-packaged herbs, like the fact that they haven't been handled by lots of people, or that they come with a convenient storage container. The same goes with buying herbs by the bunch; they are usually cheaper and great for when you need a larger volume. Whether you're buying packaged herbs or herbs by the bunch you want to make sure to look for:
Aromatic : Smell your herbs (pop open the container if you're getting prepackaged) to make sure that the herbs smell fresh and strong. If they smell musty or weak, they're probably getting old.
Mold : As with any perishable item, keep an eye out for mold. It usually shows up at white and web-like and can hide between the leaves of your herbs. Popping the container open and inspecting your herbs guarantees you are getting what you pay for.
Visual : Look to see that the color is shiny, bright, and appealing. The leaves should have uniform color throughout, not be turning yellow or black in spots.
Feel : The leaves of your herbs shouldn't be waxy or filmy. Make sure they are smooth and free of residue.
Prepackaged herbs usually come in 4 different weight options, ¼ ounce, ½ ounce, 1 ounce, and 2 ounce packages. Each store varies with what they offer, and these packages of herbs can range from $2 – $12.
---
TIP: ¼ ounce of fresh herbs usually equals about 2 Tablespoons minced.
---
You may have noticed in my recipes that I provide a printable grocery list, but I rarely mention which weight to purchase when buying herbs. That's because I assume the smallest packaging possible and go with that – so ¼ ounce. It's not often you need more than 2 Tablespoons of fresh herbs, and that measurement is assumed that you are working with only the leaves and discarding the stems, which isn't always necessary with tender herbs. If ever there is a need for more than that, I specify the larger container.
How To Store Your Herbs
Just like how there are classifications of herbs for defining their flavor profiles, there are 3 types of classifications for buying and storing herbs: tender, hardy, or room temperature. If you're not sure which type of herb you're buying, a safe assumption is that your herbs will last about 5 days if they are stored how you purchased them. For example, if you buy dill in a 1-ounce package from the refrigerated section of the grocery, it will last in that same container in your fridge for up to 5 days.
No matter which classification your herbs fall into, before you begin I recommend that you give them a gentle washing. Whether you do that with a salad spinner or a vinegar bath, just get off all of the debris and heavy water that the farm or grocery store may have left on them. Gently pat them dry with a paper towel once they're done being washed and always make sure to remove any herbs that you notice beginning to go bad.
How To Store Tender Herbs
Tender herbs are herbs with tender stems (think parsley, cilantro, dill, etc…) and they are best stored refrigerated with the stems in water. There is some debate as to how much air exposure they should have, so you can store them with a lid or plastic bag around the top if you want, but it isn't necessary if you'll be using your herbs in just a few days.
---
TIP: Just like how you cut off the bottom of the stem of flowers when you bring them home, cut off the ends of your tender herb stems as well.
---
How To Store Hardy Herbs
Hardy herbs are herbs with sturdy, woody stems (think rosemary, lavender, and sometimes thyme) are best stored in the refrigerator with room to breathe. Place each sprig on a barely damp paper towel in an single layer about an inch apart from each other. Carefully roll the herbs up in the paper towel like you're making cinnamon rolls and place them in an airtight container. Stored like this, these herbs will last much longer than if they were left in their packaging where they are overcrowded and prone to molding.
How To Store Room Temperature Herbs
The most common room temperature is basil, and most likely you won't come across others unless you play a lot with edible flowers, but room temperature herbs stored with an amalgam of the two previous methods. Remove them from their packaging, snip off the bottom of the stems, and place them in a jar or vase with a little water. Make sure to spread them out so they have some room to breathe and they aren't overcrowded.
Practice Makes Perfect
If you want to try some fun recipes that incorporate fresh herbs, here are some I recommend:
Sorrel & Duck-Fat Fried Purple Potato Breakfast Pizza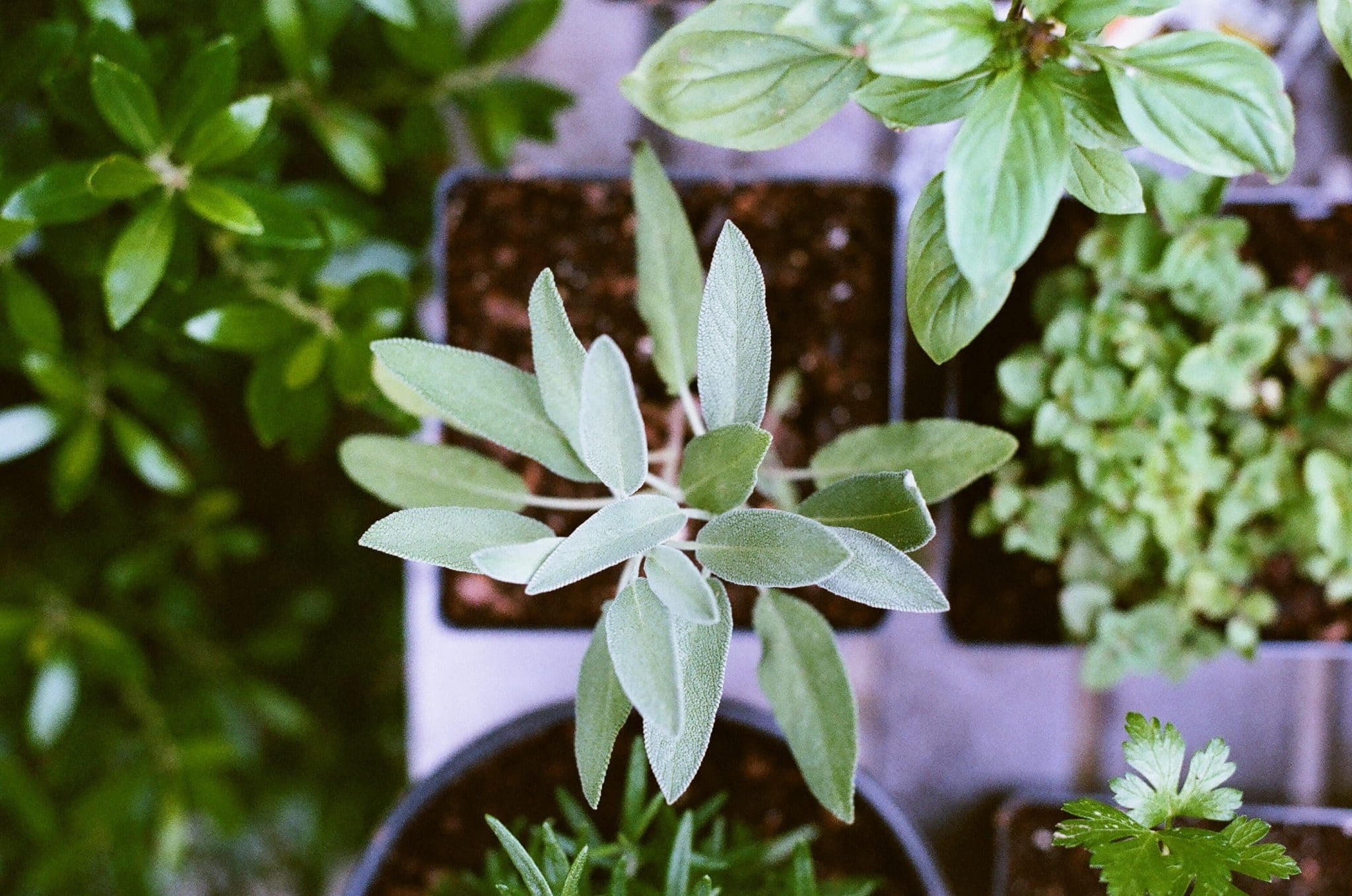 Thank you so much for stopping by, I hope that this article on how to buy & store fresh herbs has been super helpful for you.
Do you have any favorite tips for keeping your herbs fresh and happy? What is your favorite method for storing fresh herbs? Tell me about it in the comments or show me on social media – @foodabovegold. Make sure to tag it #CallMeMichelin to show it off to everyone!
Happy Cooking! 🙂