Whether you grow them or buy them at the store, keeping herbs fresh once cut can be a challenge. Use this home cook's guide on how to store fresh herbs to make sure your time, energy, and money doesn't go to waste.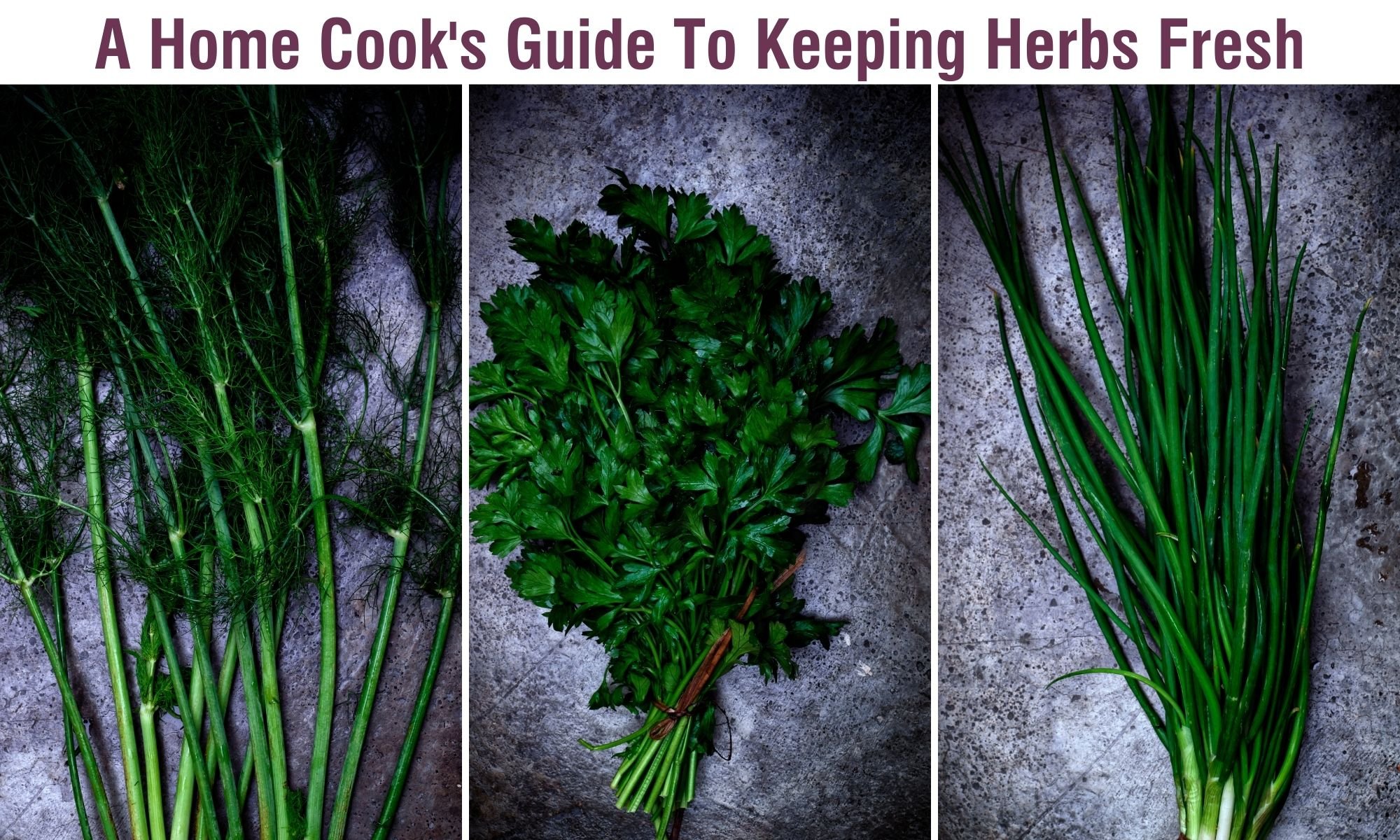 Food waste is a very real issue, and one of those items I always hear about getting thrown out or underused is fresh herbs.
Sometimes it is because the prepackaged containers sell more than the recipe calls for, sometimes it's because that bunch of parsley gets tucked into the back of the fridge and forgotten, other times it is just because keeping herbs fresh is hard. Especially if you're buying multiple varieties for a meal like Herbs de Provence chicken.
Whether you are here to battle food waste, out of curiosity, or because you have one specific herb that just keeps giving you a hard time, this guide on how to store fresh herbs should help you keep your
When Are They In Season?
Ideally, the best time of year to get fresh herbs is in the spring-fall time frame, roughly late April to late October. (Between frosts for those of you who garden.) This is when they will show up at farm stands, farmer's markets, or in CSA's.
Hardier herbs like rosemary can be harvested year-round and are great for those who want to do edible gardening. As a result, these are available easily anywhere that they grow well.
Buying herbs during peak season usually means you get a bit of a price break, but most grocery stores stock the most popular ones in bunches or packages in the refrigerated produce section year-round. (These include parsley, cilantro, rosemary, thyme, bay, basil, mint...)
Fun fact: If you're converting herbs in a recipe, use 3 times more fresh herbs than the number of dried herbs.
Types of Herbs
Similar to how there are many classifications of spices, there are 8 different classifications of herbs. They are:
Fresh & Mild. This kind of herb is great for garnishing because it lends a lot of color but doesn't have a flavor that is overpowering. (Ex: Parsley)
Sweet. These herbs leave an aromatic sweetness behind when rubbed or touched. (Ex. Basil, marigold, bay leaf, and lavender.)
Citrus or Tart. This group has undertones that make you pucker just a little bit. Often the aroma of citrus is stronger than the flavor. (Ex: sorrel, lemon verbena and sassafrass)
Licorice or Anish. This family has warm licorice flavors to it. (Ex: fennel, dill, tarragon.)
Minty. The title probably speaks for itself. (Ex: mint, catnip)
Oniony : These are herbs with a bit of a bite to them. (Ex: garlic and chives.)
Bitter or Astringent. These are ones that you wouldn't often enjoy on their own and can smell bitter. (Ex: chicory, lovage, or hyssop)
Pungent and Spicy/ This is the largest group and is ususally strongly aromatic, warm, peppery or woody. (Ex: oregano, rosemary, sage, cilantro, horseradish, wasabi.)
What To Look For At The Store
There are certain benefits that come with buying pre-packaged herbs, like the fact that they haven't been handled by lots of people. Or that they come with a convenient storage container meant for keeping herbs fresh.
The same goes with buying herbs by the bunch; they are usually cheaper and great for when you need a large volume. (Hello, pesto!)
Whether you're buying packaged herbs or herbs by the bunch before you even get home to store fresh herbs, you want to make sure to look for:
Are they aromatic? Smell your herbs to make sure that the herbs smell fresh and strong. If they smell musty or weak, they're probably getting old. (It's okay to pop open a container of prepackaged to do this. Just close it when you're done.)
Do they have mold? As with any perishable item, keep an eye out for mold. It usually shows up at white and web-like and can hide between the leaves of your herbs. Popping the container open and inspecting your herbs guarantees you are getting what you pay for.
How do they look? Make sure that the color is shiny, bright, and appealing. The leaves should have uniform color throughout, not turning yellow or black in spots. It should also have some strenght to it. The herbs should want to hold their weight and not droop too much.
How do they feel? The leaves of your herbs shouldn't be waxy or filmy. Make sure they are smooth and free of residue.
Prepackaged herbs usually come in 4 different weight options, ¼ ounce, ½ ounce, 1 ounce, and 2-ounce packages. Each store varies with what they offer, and these packages of herbs can range from $2 – $12.
Fun fact: ¼ ounce of fresh herbs usually equals about 2 Tablespoons minced.
Why To Store Some Herbs In The Refrigerator And Others Not
Just like how there are classifications of herbs for defining their flavor profiles, there are 3 types of classifications for buying and storing fresh herbs: tender, hardy, or room temperature. And each one needs to be treated differently.
Why is this?
Because "herbs" is a broad category, just like "fruit" is, and not all are herbs are created equal. In fact, herbs as a category even include fresh garlic, which you probably don't store the same way you do fresh mint, right?
So, how do you know when to store fresh herbs in the refrigerator and when to not?
That comes by learning to identify the different types of stems - tender or hardy. This determines whether or not the herbs stand upright in a container of water or get wrapped in a damp paper towel.
Beyond that, you have the room temperature herbs, which like some words in the English language, are the weird ones that you just sort of have to memorize because there isn't really any rhyme or reason that explains them.
If you're unsure of the classification, you can store fresh herbs for up to three days like how they were sold at the store.
For example, if you buy dill in a 1-ounce package from the refrigerated section of the grocery, it will last in that same container in your fridge for up to 3 days.
No matter which classification your herbs fall into, I recommend that you first wash them off to remove any debris. They're already wet from the grocery, so getting them more wet isn't going to hurt anything.
Next, gently pat them dry with a paper towel, and always make sure to remove any leaves or stems that you notice going bad.
Storing Tender Herbs
Tender herbs are herbs with tender stems and they are best stored refrigerated with the stems in water.
Tender herbs include:
Parsley (both flat and curly)
Cilantro
Dill
chervil
tarragon
hyssop
chicory
mint
There is some debate as to how much air exposure you need when you store fresh herbs. If you want them to last longer, keep a lid or plastic bag around the top, but it isn't necessary if you'll be using your herbs in just a few days.
Stored like this, these herbs should last up to 1-2 weeks.
If you want to make it even easier on yourself, try using one of these herb savers (affiliate link). It takes the guesswork out of tender herbs and even extends the shelf life a little.
Helpful Hint: Just like how you cut off the bottom of flower stems, cut off the ends of your tender herb stems as well.
Storing Hardy Herbs
Hardy herbs are herbs with sturdy, woody stems that are best stored in the refrigerator with room to breathe.
Examples of hardy herbs are:
rosemary
fennel
oregano
marjoram
thyme
za'atar
savory
sage
chives or scapes
Place each sprig on a lightly damp paper towel in a single layer about an inch apart from each other. Carefully roll them up in the paper towel like you're making cinnamon rolls and store fresh herbs in an airtight container.
Stored like this, these herbs will last much longer than if they were left in their packaging where they are overcrowded and prone to molding; about 7-10 days.
Storing Room Temperature Herbs
Room temperature herbs are extremely delicate herbs that bruise and wilt easily. Therefore, they need to be treated with the gentlest care possible and kept as close to their natural conditions as they can.
Room temperature herbs include:
To store the herbs, remove them from their packaging and snip off the bottom of the stems. Place them in a jar or vase with a little water, making sure to spread them out so they have some room to breathe and they aren't overcrowded.
You will be able to store fresh herbs like this for 2-3 days
How To Freeze Them
With any of these herbs, you can puree or chop them with a little water or olive oil and freeze them in small containers or ice cube trays. Once frozen, transfer to a labeled freezer-safe bag until you are ready to use. This is a great way to store fresh herbs for long-term use.
It is important to note however that you don't want to thaw the fresh herbs before using them. Just throw the ice cube right into what you are cooking.
Why?
Because of the textural changes in the cell walls as the result of freezing, those leaves are going to become soggy and limp as they defrost. Cooking with them hides this, but still allows for the flavor impact in your food.
You will get FAR more benefit out of cutting the herbs fresh and letting the essential oils release into the water you are freezing them in than you will by freezing the leaves whole and cutting them before serving.
Frozen herbs are great for recipes like vegetable barley soup, or pot pie filling that are herb heavy during cooking.
Taking Care of Your Herbs
After you've gone through all the trouble of keeping herbs fresh, you want to make sure to take care of them, right?
So here's something that may (or may not) blow your mind.
You are probably butchering the snot out of your fresh herbs when you are cutting them.
I'm sorry to be the one to break the news to you, but it's probably true, and there are many different things that cause it. And no amount of correctly storing fresh herbs will fix it for you.
So let's recoup your investment by altering just a few small things.
You need a really sharp knife or cutting implement. Different people have different ways to cut herbs besides a knife, like a double mezzaluna or herb scissors. It doesn't matter to me which option you choose, it just needs to be REALLY sharp. So sharp you barely hear it cut through the leaves.
The only thing that should move is the knife or cutting implement. This means get the cutting board on lockdown. There are nonslip mats you can get to under your cutting board, but a damp towel works even better in my opinion.
You want to do as little cutting as possible. Almost like the "measure twice, cut once" theory of kitchen. In order to do this, gather all of your leaves together and stack them. Moving carefully, mince your herbs in a line all one direction. Then either carefully rotate the cutting board or your herbs so that you can then do the same then the opposite direction. This way you have minced your herbs with no more than two cuts on any part of it.
Use it immediately after cutting. The longer the herbs sit with the cuts exposed to air the faster it will wilt, the flavor will diminish and the less potent the oils in it become.
Once the herbs are cut, you can store them in an airtight container in the refrigerator for up to two days. HOWEVER, they are going to get sadder and sadder with each passing moment, losing both potency and vibrancy.
Recipes For Using Up Extras
If you have an abundance of fresh herbs to use up or want to start using more fresh herbs in your cooking, I recommend checking out these recipes:
Cheddar and Herbs Buttermilk Quick Bread
The savory buttermilk quick bread recipe whips up quickly and is a wonderful complement to most meals. Serve it with soup, use it for a sandwich, or add it to a picnic.
Make It!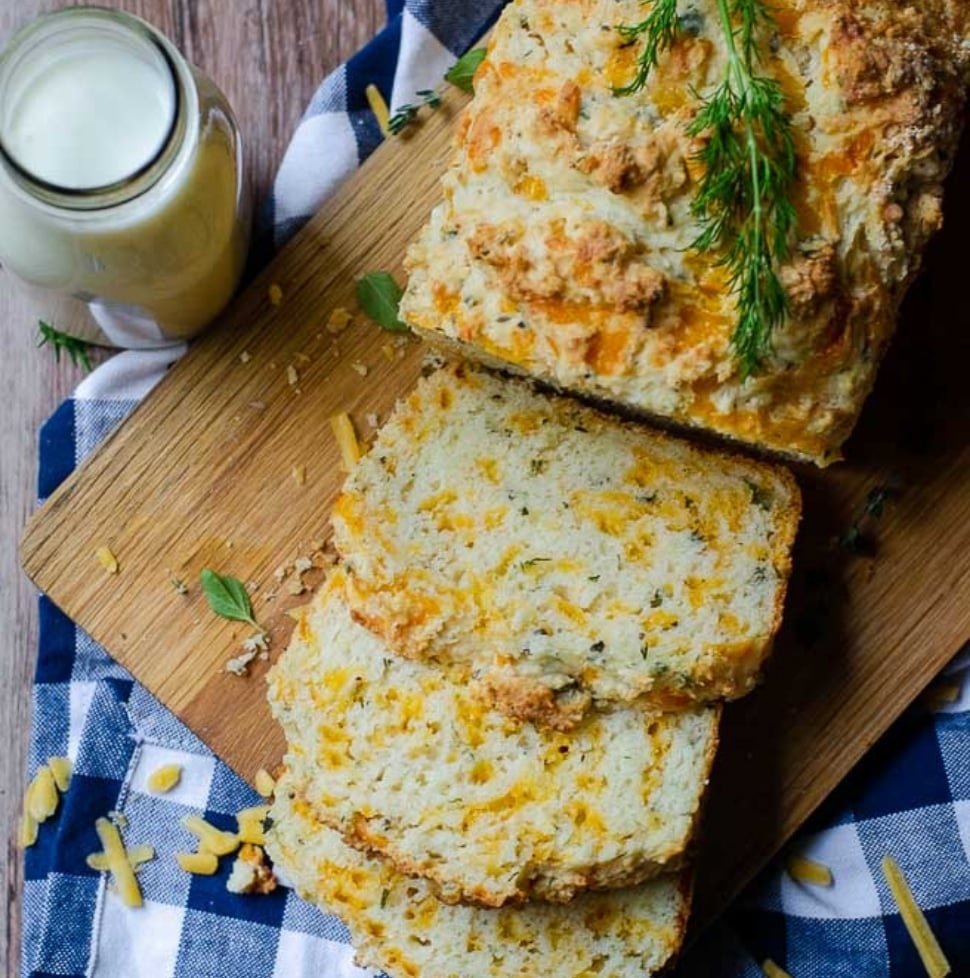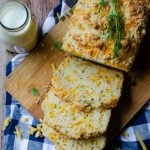 White Wine Grilled Vegetables Marinade
Give your dinner a classy flavor upgrade with this marinade made of leftover ingredients.
Make It!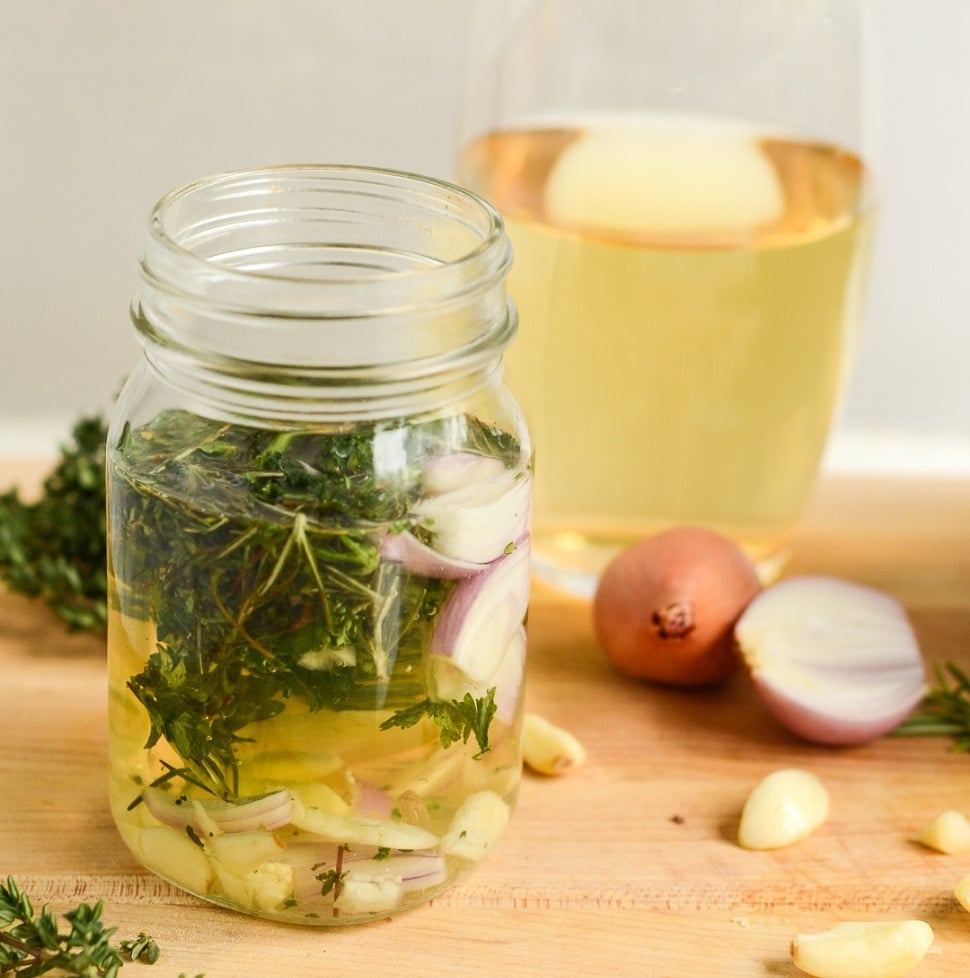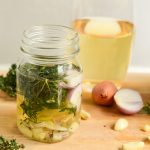 Orzo Pasta Salad with Feta and Tequila
Celebrate the best flavors of summer with this delicous pasta salad recipe. It's great for a crowd, has a simple no-mayo dressing, and is a perfect summer side dish.
Make It!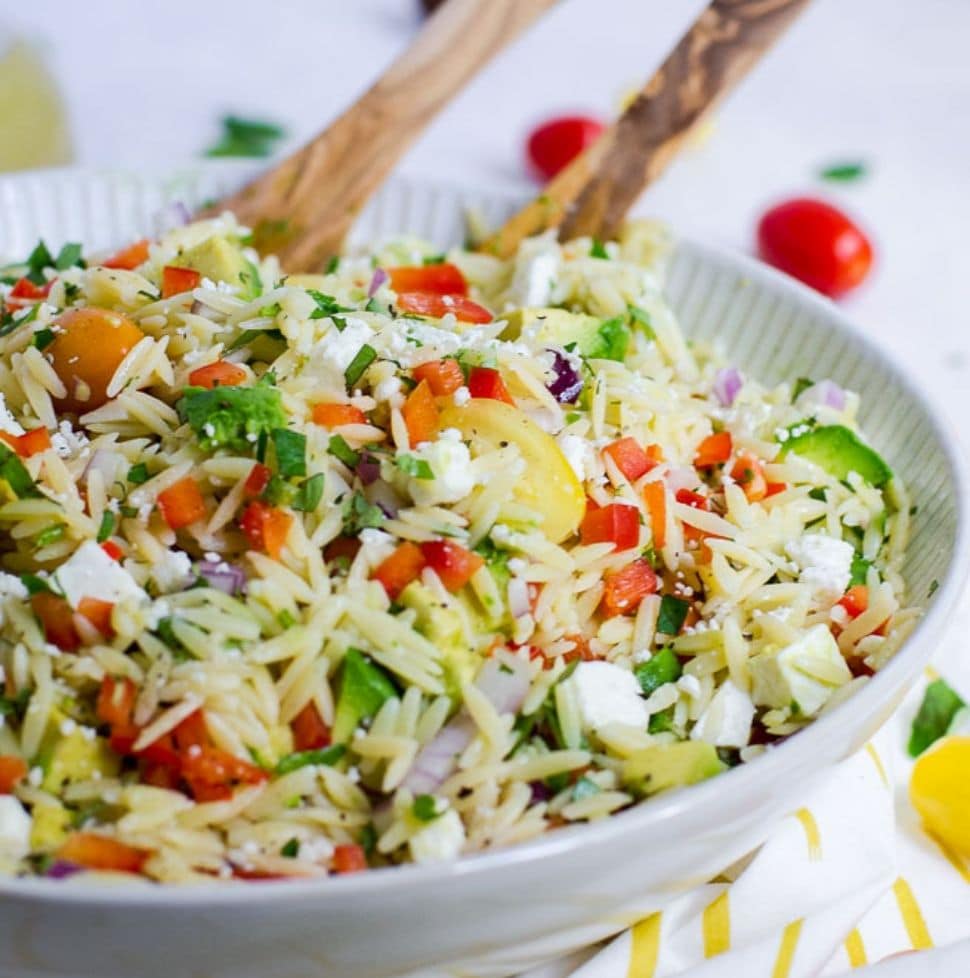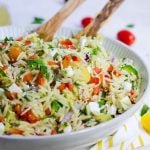 English Pea Salad with Lemon-Ricotta Dressing
This bright and fresh spring pea salad with lemon-ricotta dressing is light enough to be enjoyed on a hot day without making you feel overly full, and also tasty enough to make you want to come back for seconds!
Make It!