This stuffed pork tenderloin recipe is sponsored by California Prunes. All opinions are my own, but this recipe is delicious, and I think you'll love it as much as I do. Thank you for supporting the brands that keep Food Above Gold working.
This juicy stuffed pork tenderloin is loaded with sweet California Prunes, salty pancetta, and creamy goat cheese. Finished with a white wine pan sauce, this simple recipe is packed with flavor!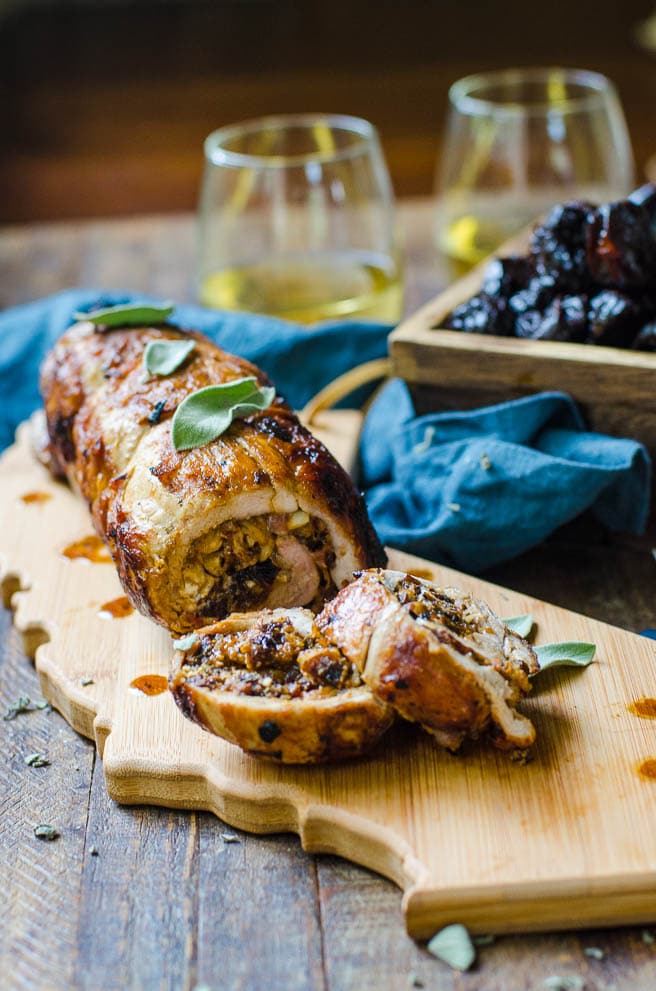 Why California Prunes?
Very few of us have enough prunes in our diet because we have this idea that they are only for babies or elderly people. If you aren't familiar with cooking with prunes, they are an extremely versatile ingredient. They pair well with both sweet and savory and bring a fantastic depth of flavor to this stuffing.

I personally love buying California Prunes because they are the largest and sweetest variety of prune. The growers carefully watch the prunes as they grow to make sure you get premium flavor and quality. Plus, they are dried without any chemicals or additives.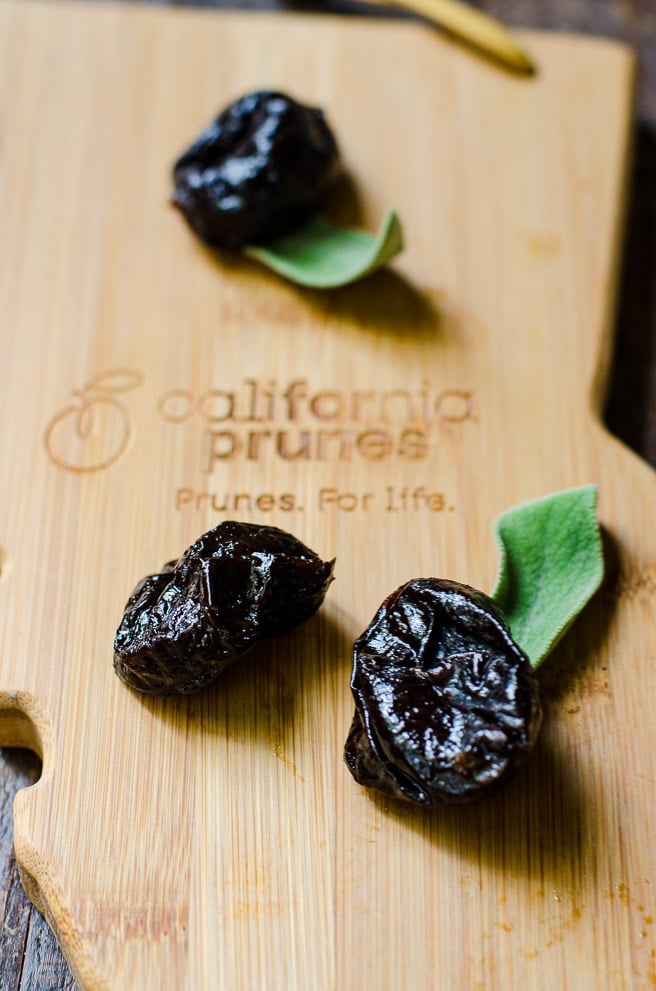 Learn more about the California Prunes difference here, and make sure to check the back of your packaging to ensure you're getting the best prunes out there! You only need five of them a day to get a whole serving of fruit, improved gut health, and healthier bones. They're going to be your new favorite ingredient, whether whole, diced, or pureed!
---
Be sure to check out California Prunes online at www.CaliforniaPrunes.org and on social media @CAprunes.

---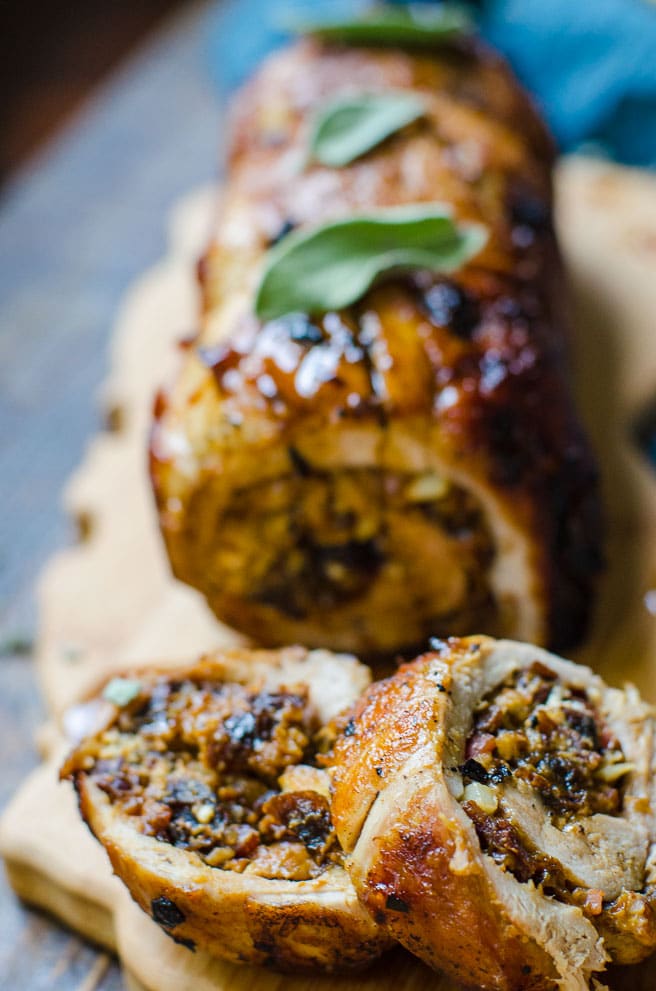 How To Trim A Pork Tenderloin
Before you begin stuffing the pork tenderloin, you need to remove the silver skin. It's the only "trimming" necessary with this specific cut of pork. Silver skin is a thin bluish-purplish layer that sits on top of the meat. It doesn't usually cover the entire tenderloin, so that makes the work of removing it quick.
To remove, simply slide a very sharp knife under one end of it. Once you've lifted enough to grab, peel the rest of the silver skin off in one smooth movement. Any stubborn little pieces you can remove with the knife.
Unlike fat, silver skin is a fibrous layer that doesn't caramelize or dissolve when cooked. This ultimately means that if left on, the silver skin will make your stuffed pork tenderloin tough and chewy.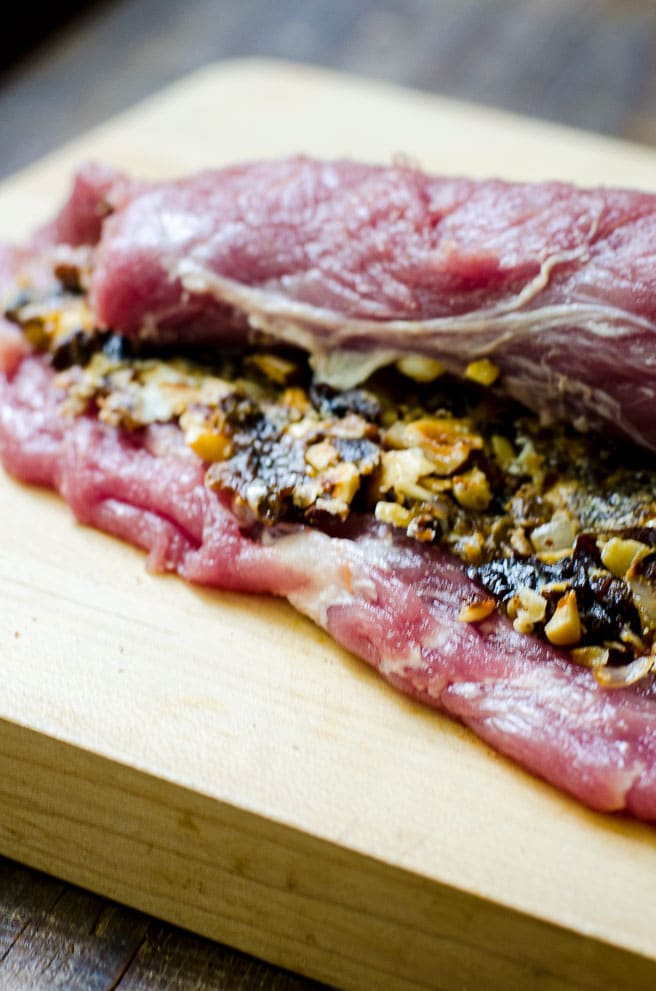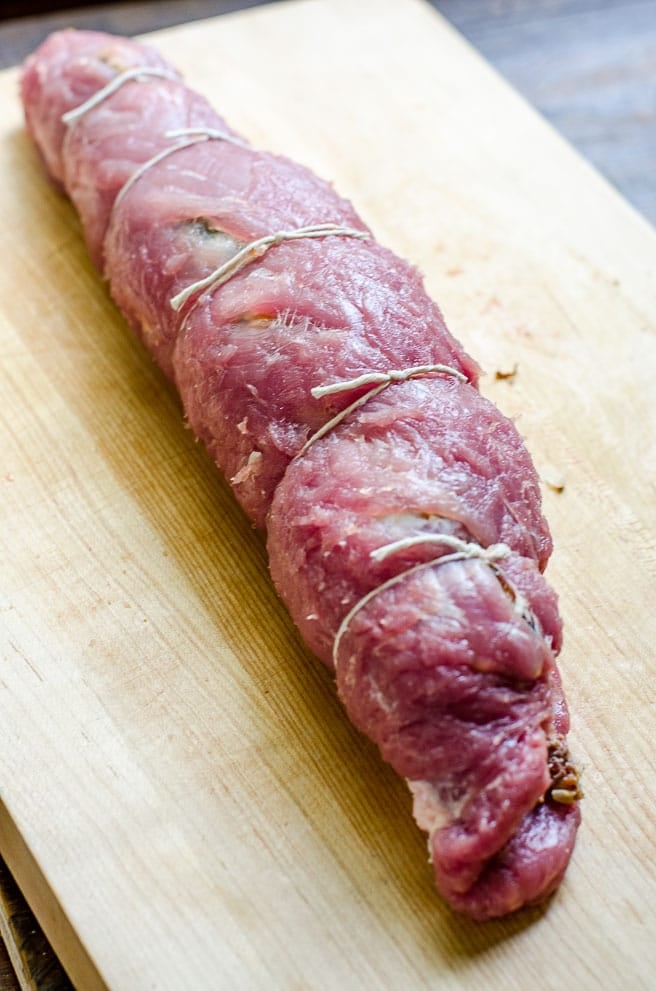 How To Butterfly A Tenderloin
In order to stuff a pork tenderloin and get it to roll, you need to butterfly it first. The term "butterfly" refers to how you cut the meat, which unfolds to create butterfly wings. (I think of it more like a book.)
Make sure to watch how far you are cutting into the pork tenderloin. If you cut too far, you'll accidentally split the pork apart, which creates holes where the filling will spill out. If you don't cut far enough, you'll get an uneven and lumpy stuffed tenderloin. Try to leave about an inch of meat that isn't cut through.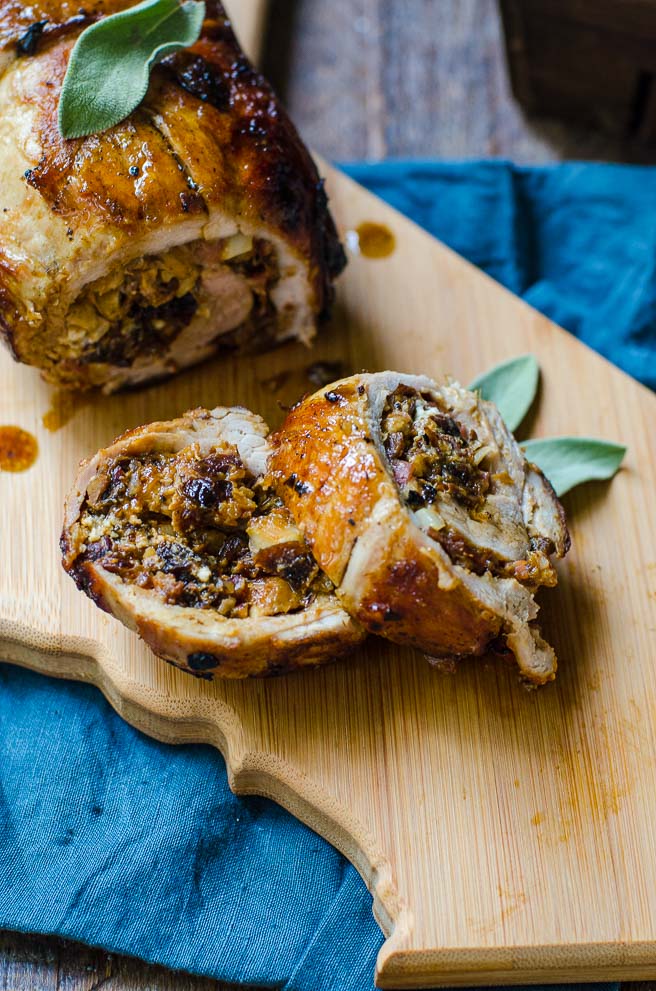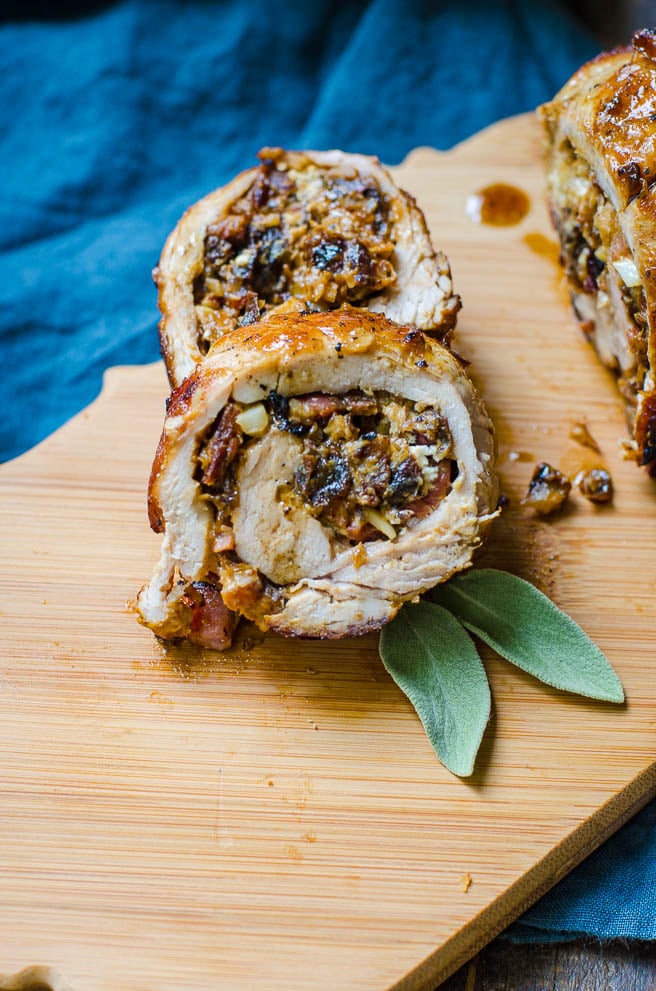 My Best Recipe Tips For Stuffed Pork Tenderloin
Use a sharp knife. I know this should go without saying, but a sharp knife will help you both with removing the silver skin as well as getting a smooth butterfly. If your knife is dull, you'll end up with shavings of the tenderloin hanging loose. These will get caught in the stuffing and potentially cause it to separate.
No kitchen twine hack. If you don't have any kitchen twine, you can use toothpicks or thin wooden skewers instead. Simply weave the toothpick through the meat, leaving it parallel to the meat. This creates a flat surface, so the toothpick doesn't interfere with the cooking.
Leave an inch on each side empty. Because we're working with a wet cheese that melts easily, you want to ensure that the area where the meat meets creates a blockade. You do this by making sure your filling doesn't go all the way to the edge of the stuffed tenderloin. This mixed with a tight roll should keep the goat cheese inside.
Use an oven safe pan. Not all pans are oven safe; especially if they are nonstick. To save yourself an extra dish of a roasting pan, make sure that your pan is safe to go up to 425°F. This way you can finish cooking the stuffed pork tenderloin in the oven.
Avoid a lumpy stuffing. To keep the prunes from causing large lumps during rolling, you need to dice them small. This also helps them absorb more of the flavor from the pancetta.
For more tips on getting a perfectly golden-brown pan fried crust, check out my six top tips here.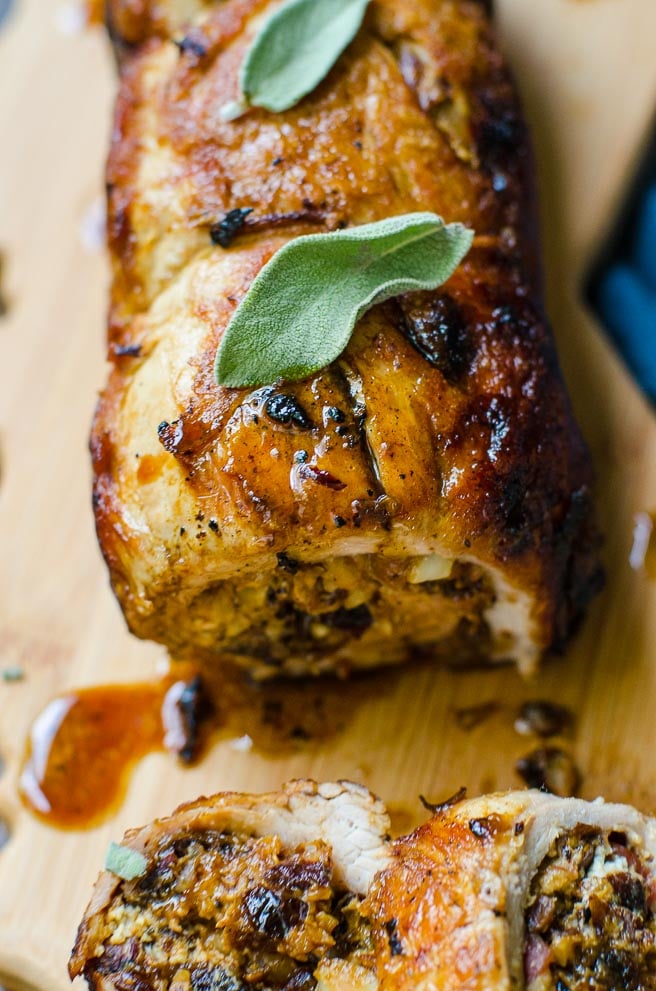 Stuffed Pork Tenderloin with California Prunes Recipe (Roulade)
In French cuisine, the method of stuffing and rolling meat is called a roulade (pronounced roo-lahde). It is then seared on the cooktop for a beautiful golden-brown crust and finished in the oven for a moist and beautiful pork tenderloin.
Judging the internal temperature of the stuffed pork tenderloin can be tricky because of the stuffing. You want to aim your thermometer at an angle through the center and into the thickest part of the roulade.
Thanks so much for stopping by!
Happy Cooking! 🙂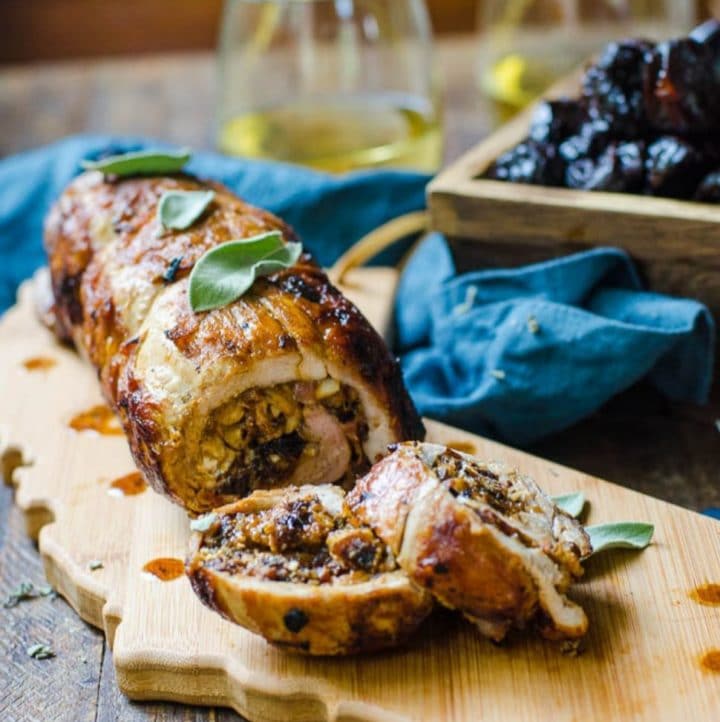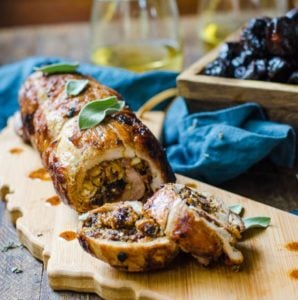 Stuffed Pork Tenderloin with California Prunes
This stuffed pork tenderloin is sweet, salty, creamy and crunchy. Filled with California prunes and finished with a white wine pan sauce, this recipe is simply delicious.
Pin it for later?
Ingredients
1

pork tenderloin

,

silver skin removed

1

cup

California Prunes,

diced small

½

cup

chopped toasted hazelnuts

2

Tablespoons

minced fresh sage

1

shallot

,

minced

4

garlic cloves

,

minced

4

ounces

pancetta

,

chopped small

6

ounces

chevre goat cheese

½

cup

white wine

cooking oil

,

as needed

salt and pepper

,

to taste
Instructions
California Prune Stuffing
In a large skillet over medium heat, cook the pancetta until crispy.  Add in the shallots, garlic, prunes and herbs and cook until the shallots are translucent.  Strain the stuffing out of the fat andIn a large skillet over medium heat, cook the pancetta until crispy. Add in the shallots, garlic, prunes and herbs and cook until the shallots are translucent. Strain the stuffing out of the fat and transfer to a small bowl and set aside. Note: Do not discard any extra pancetta fat. Leave it in the pan for later.
Stuffed Pork Tenderloin
Preheat the oven to 400°F.  Trim the silver skin off of the pork tenderloin and use a sharp knife to cut a deep slit down the length, leave about one inch intact.  Open the tenderloin like a book and place it between two large pieces of plastic wrap.  Use a meat mallet to pound the tenderloin until it is about ½ inch thick throughout.

Remove the plastic wrap and stir the goat cheese and hazelnuts into the cooled stuffing. Evenly spread it across the pork tenderloin, leaving at least ½ inch border on each side. 

Starting at the long end, tightly roll up the stuffed tenderloin.  Use kitchen twine to tie up the roulade in at least five places.  Season on all sides with salt and pepper. 

Using the same skillet as your stuffing, heat the pancetta fat until hot and add in the tenderloin face down where the area where the roulade comes together..  Sear for 2-3 minutes per side, or until the tenderloin easily releases from the bottom of the pan.  Transfer the pan to the oven and bake for

20 minutes

, or until a meat thermometer reads 145°F.  

Transfer the stuffed pork tenderloin to a cutting board.  Add the white wine into the bottom of the pan and let it simmer down.  Brush the pork with the sauce from the pan and let it rest for 5 minutes.  Slice into 6-8 pieces and serve with additional sauce if desired. 
Notes
To make this stuffed pork tenderloin recipe easier, stuff it the night before.  It will give the flavors a chance to marry and enhance each other.
As long as your thermometer reads and internal temperature of 145°F, it's okay if the pork is still a little pink in the middle.
Nutrition
Serving:
1
serving
|
Calories:
1011
kcal
|
Carbohydrates:
34
g
|
Protein:
109
g
|
Fat:
46
g
|
Saturated Fat:
16
g
|
Cholesterol:
333
mg
|
Sodium:
584
mg
|
Potassium:
2337
mg
|
Fiber:
5
g
|
Sugar:
18
g
|
Vitamin A:
779
IU
|
Vitamin C:
3
mg
|
Calcium:
150
mg
|
Iron:
7
mg
Tell me how much you love this recipe
and show off how you made it!