This pork chop marinade has a strong and bold flavor that will take your meal from flat to distinctive. Use this quick and easy marinade for grilled or baked pork chops that are surprisingly sweet.
Note: This post was updated on August 8, 2018 with new content for your enjoyment.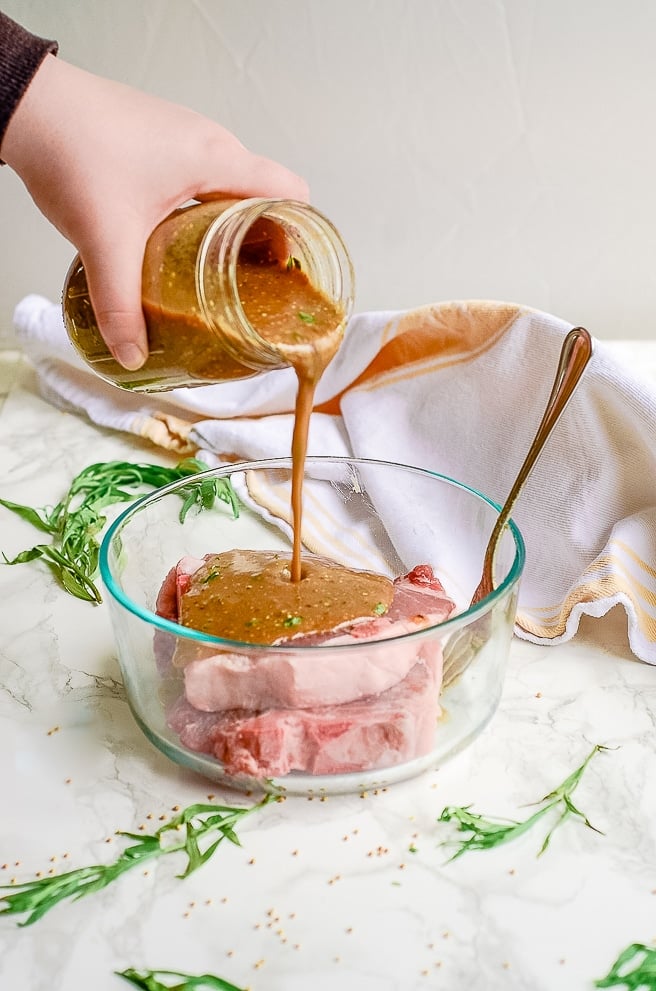 This pork chop marinade is perfect if you always seem to have a large of assortment of condiments on hand. However, don't let the ingredient list scare you off. The flavor from this marinade is well worth it! Each type of mustard has been paired with its perfect vinegar mate to make the best pork chop marinade around.
Tips For Making This Pork Chop Marinade
Want to get the most out of this pork chop marinade? These cooking tips will help you master this recipe and make the best grilled or baked pork chops out there!
How Long Is My Pork Chop Marinade Good For?
Since this pork chop marinade is made of primarily shelf-stable ingredients, the only hangup is the fresh herbs. As a result, this marinade can keep in the refrigerator completely made for about one week. If you would like to keep a larger batch of it, you can just omit the herbs. Then you can just add them in when you're ready to use the marinade.
Without the herbs, this marinade can last in the fridge up to a month! There may be some separation during storage, but a quick whisking with a fork will recombine it. If you decide to freeze this marinade, it will keep frozen for up to 6 months.
As with any marinade, please discard the unused leftovers once you are done marinating. Since it has come into contact with other foods, you don't want to risk food-borne illnesses. Stay safe.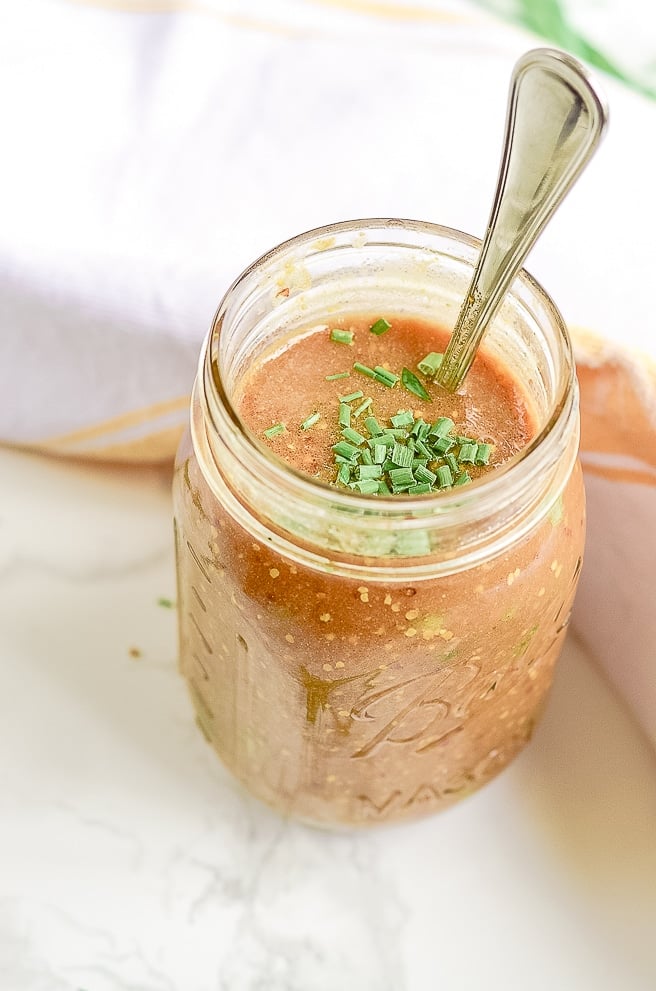 How Long To Marinate Your Pork Chops
Figuring out how long to marinate your pork chops is mostly about your goal. If you only want to add flavor, they just need a brief period of time; usually, one to two hours. If you are trying to tenderize your pork chops however, they can be marinated up to overnight.
They type of pork chops you choose can also impact how long to marinate. It doesn't really matter whether you choose bone-in or boneless chops, but the size of them does. The thicker the chops are, the more time you'll want to give them to tenderize or absorb flavor.
How To Cook With This Pork Chop Marinade
The important thing to say up front is that you shouldn't use a marinade when frying. This is a great recipe for baked pork chops, however. The vinegars add a surprisingly sweet flavor profile that makes it a crowd pleaser. Even small kids enjoy the flavor of it, which makes it a fantastic marinade for quick and easy dinners or back to school meals.
This also tends to be a fan favorite for grilling because the flame changes the flavors of the sugars in the marinade for a "manlier" flavor profile.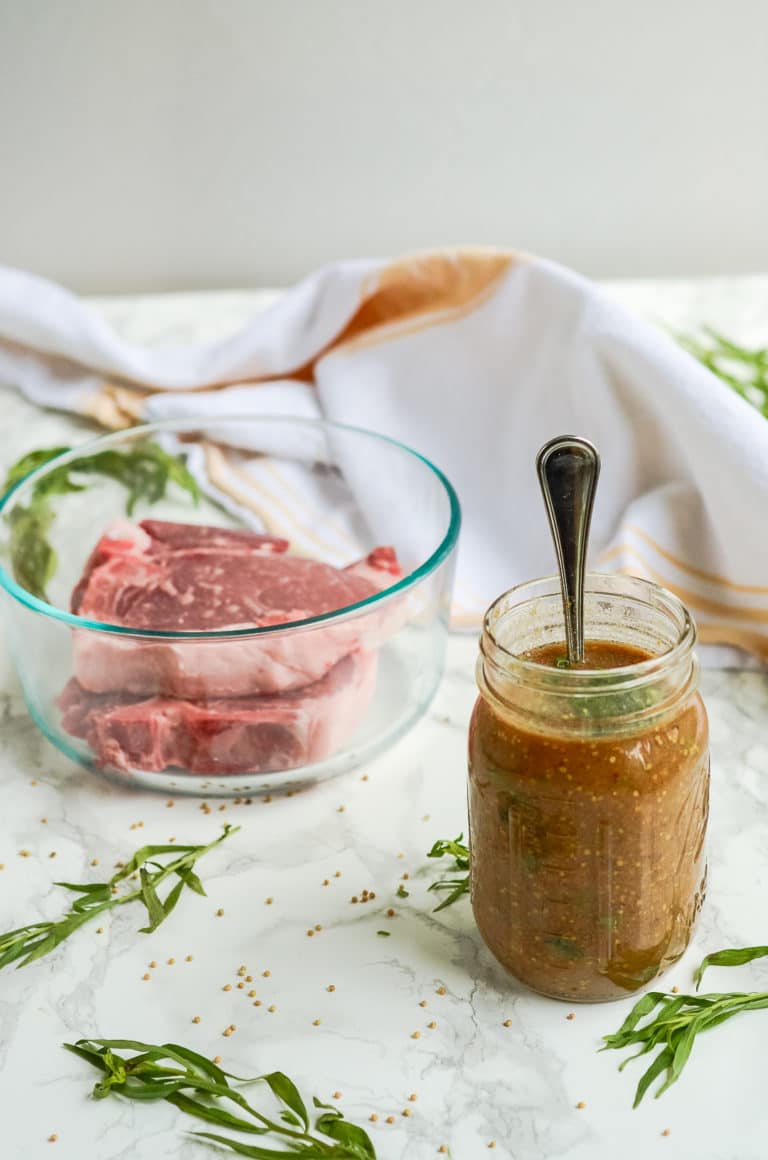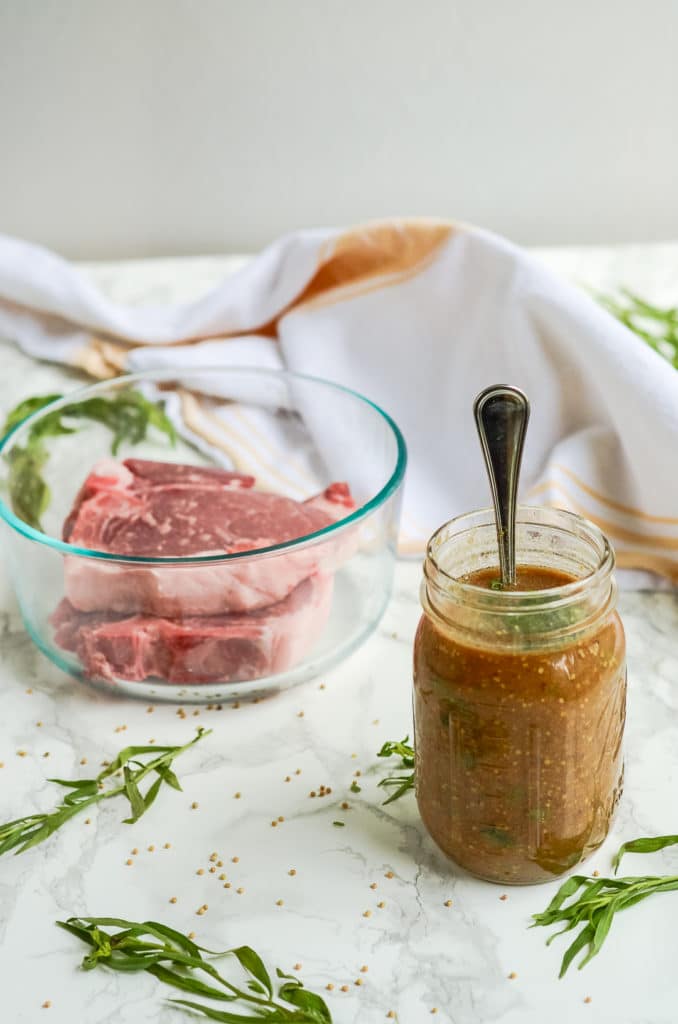 Pork Chop Marinade of Many Mustards
I'm going to let you in on a secret. This Marinade of Many Mustards doubles as a vinaigrette. If you decide to use it that way, it works especially well on bitter greens like chard, kale, or collards.
---
Want a free printable grocery list for this pork chop marinade recipe? Get it
HERE
.
---
Use this grocery list to help simplify shopping. Everything is listed in standard grocery store amounts. If no size is specified, even the smallest package will provide more than enough.
Thanks so much for stopping by!
Below you'll find other tasty recipes from our month of marinades.
Spicy Chipotle Ranch Marinade
Happy Cooking! 🙂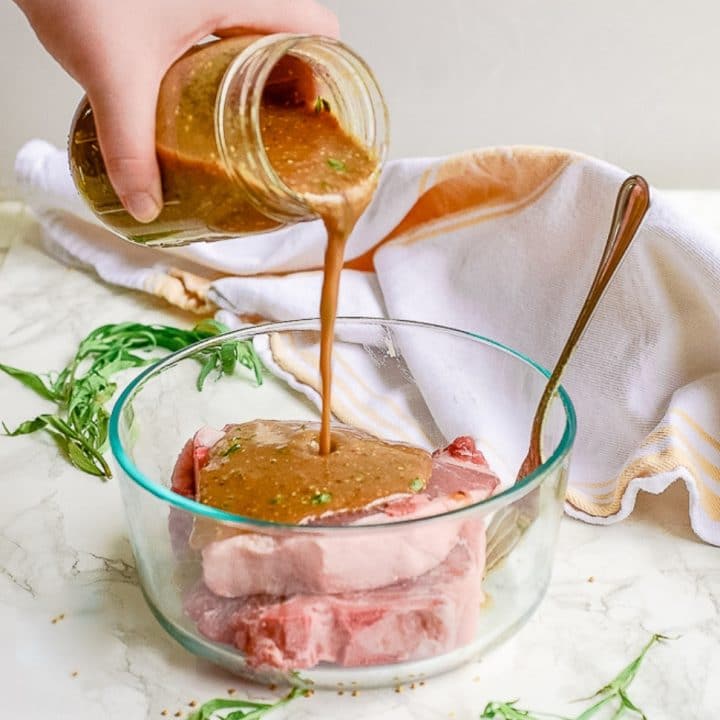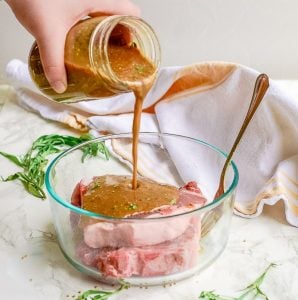 Pork Chop Marinade of Many Mustards
Whether you are making grilled pork chops, or have some loin chops to bake in the oven, this marinade is quick way to add flavor.

Pin it for later?
Ingredients
2

teaspoons

dry mustard

2

Tablespoons

Dijon Mustard

2

teaspoons

whole grain mustard

2

teaspoons

Chinese Hot Mustard

2

Tablespoons

Red Wine Vinegar

2

Tablespoons

Cider Vinegar

2

Tablespoons

Balsamic Vinegar

2

Tablespoons

Malt Vinegar

1

Tablespoons

fresh chives

,

chopped

2

Tablespoons

fresh tarragon

,

chopped

1 ¼

cup

oil of your choice

,

like olive oil or avocado oil

salt and pepper

,

to taste
Instructions
In a bowl, whisk together all of the ingredients except the oil and herbs.

Adding only 2-3 Tablespoons at a time, whisk in the oil vigorously until it is completely combined. Stir in the chives and tarragon.

In a ziplock bag or the smallest container necessary, pour the marinade over the pork chops until they are completely submerged. Marinate up to 24 hours and bake or grill until the internal temperature of your pork chops is 145°F.
Notes
Don't have hot mustard on hand? Two packets from Chinese take out will work!
Nutrition
Serving:
1
serving
|
Calories:
180
kcal
|
Carbohydrates:
1
g
|
Fat:
19
g
|
Saturated Fat:
2
g
|
Sodium:
42
mg
|
Potassium:
35
mg
|
Vitamin A:
50
IU
|
Vitamin C:
0.7
mg
|
Calcium:
13
mg
|
Iron:
0.4
mg
Tell me how much you love this recipe
and show off how you made it!