This post is sponsored by BabbleBoxx.com on behalf of Anolon. All opinions are mine alone and partnerships like this help keep the blog ad free for your enjoyment. I hope you love the product and the easy roasted pork tenderloin recipe as much as I do.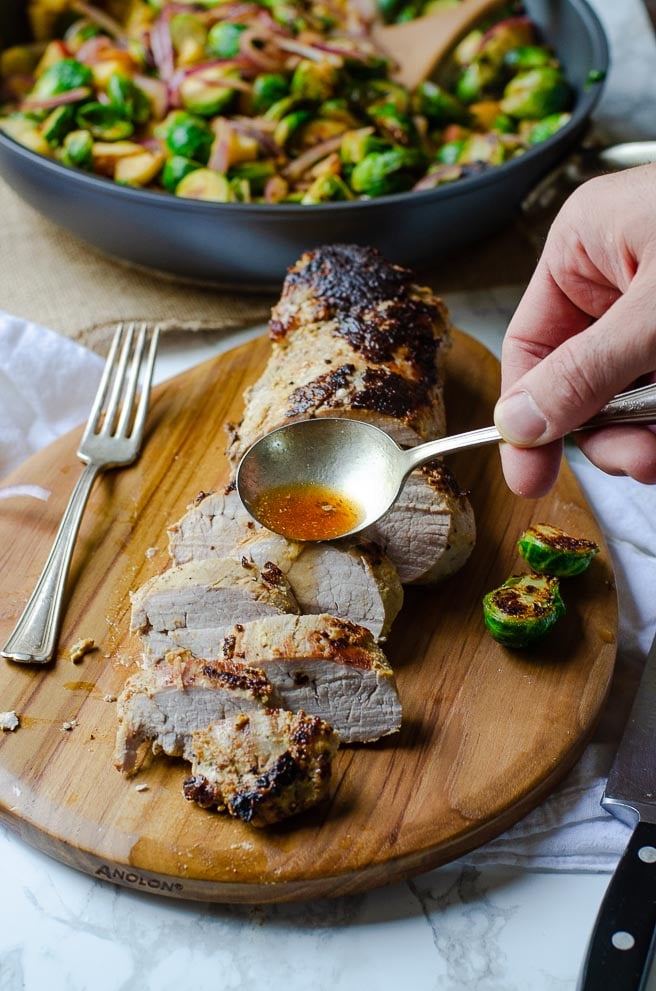 What flavors make you think of Autumn? For me it's deep, earthy flavors balanced with a slight sweetness or acid to brighten them up. That's this easy roasted pork tenderloin recipe to a T.
After being rubbed with a thick coating of dijon mustard, the pork tenderloin is roasted in the oven. While it rests, the same pan is used to cook the Brussels Sprouts and apples on the cooktop. Complemented with a light but flavorful white wine and mustard sauce, this tender and juicy roasted pork tenderloin is a dream.
Plus, did I mention this recipe is finished in one hour or less? AND the cleanup in this nonstick pan is ridiculously easy. Say hello to your new favorite quick and easy dinner!
How To Roast A Pork Tenderloin
The trickiest part of knowing how to cook pork tenderloin correctly is cooking it all the way through. If you cook the pork purely on the stovetop, the outside may be overcooked before the middle is done. If you cook it in the oven incorrectly, it comes out unattractive and dry.
Before cooking, use a sharp knife to remove any unnecessary patches of silver skin. (It's the thin, shiny, bluish stuff that looks like neither skin or fat.) Often, it is removed before packaging, but double check your pork tenderloin just in case.
Next you season it well with salt and black pepper. Since this roasted pork tenderloin gets rubbed with mustard, it's easy to forget the seasoning. I recommend rubbing it into the meat before adding the mustard. It tends to stick better that way.
Pork tenderloin is a lean cut of meat, so you need to be careful of overcooking it. Since the meat doesn't provide a lot of fat for cooking, use oil to help create a golden brown crust. You may need to add extra to the pan when you flip it. However, the nonstick coating on this skillet will help keep that to a minimum.
Aim to have the internal temperature of the roasted pork tenderloin between 140-145 degrees in the thickest part of the meat. It gets covered with foil while it rests, which will help bring it up to a safe temperature. This also keeps it tender and juicy instead of overcooked or dry.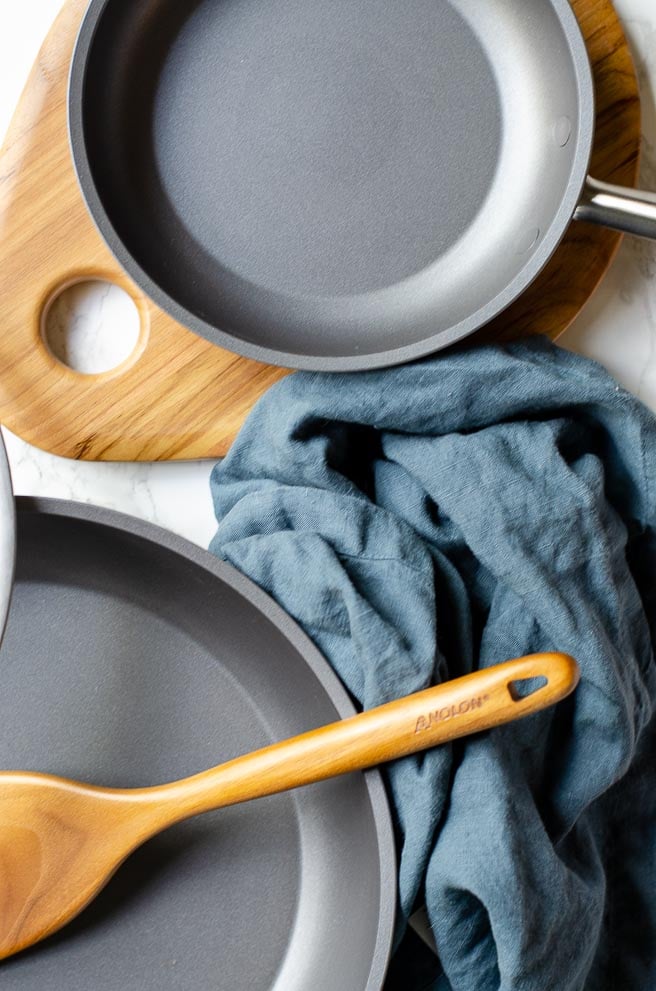 Other Skills & Techniques For The Best Roasted Pork Tenderloin
How To Pan-Fry.

This pork tenderloin recipe starts by pan-frying. Find out how to get that beautiful golden brown crust by brushing up on this cooking method.

How To Buy & Store Apples.

Make sure that your apples bring the right flavor profile to this dish by choosing ones that are ripe. Find out what to look for at the market and how to keep them fresh at home.

Homemade Chicken Stock. For the sauce, this roasted pork tenderloin recipe uses some chicken stock. If you want better control over flavor and quality, try making your own with this in-depth series.
What's the Best Pan For Making Roasted Pork Tenderloin?
I love the 12" covered deep skillet from Anolon for this roasted pork tenderloin recipe. It gives me everything I need to ensure successful cooking. Plus, it is METAL UTENSIL and DISHWASHER SAFE! It has a thick base and slim walls for quick and even cooking, and is super easy to clean with its sapphire reinforced triple layer nonstick coating. (Plus, the rivets are flat, so no more difficult scrubbing around them!)
This skillet is also oven safe and cooks on any cooktop. (Which is ideal for this roasted pork tenderloin recipe, which utilizes both.) It is made of hard-anodized aluminum and patented Precision Forge™ technology. Which is a fancy way to say it has fantastic durability and longevity.
Pretty much, it's amazing. Which is why you'll want to enter HERE before November 30th for a chance to get some for yourself. Five lucky winner will get a set, which includes:
Accolade 8" skillet

Accolade 12" covered deep skillet (This is the one I used for this recipe!)

Allure 11x17 Cookie sheet

Tear drop teak cutting board (It's the perfect size for a roasted pork tenderloin!)

Teak spoon
What Temperature Do I Roast Pork Tenderloin At?
If you want a beautiful crust, you need to roast your pork tenderloin at a high temperature. I recommend 450°F. This allows it to cook quickly and with only one flip. While it cools, you can finish your Brussels sprouts and apple mixture in the pan on the stovetop.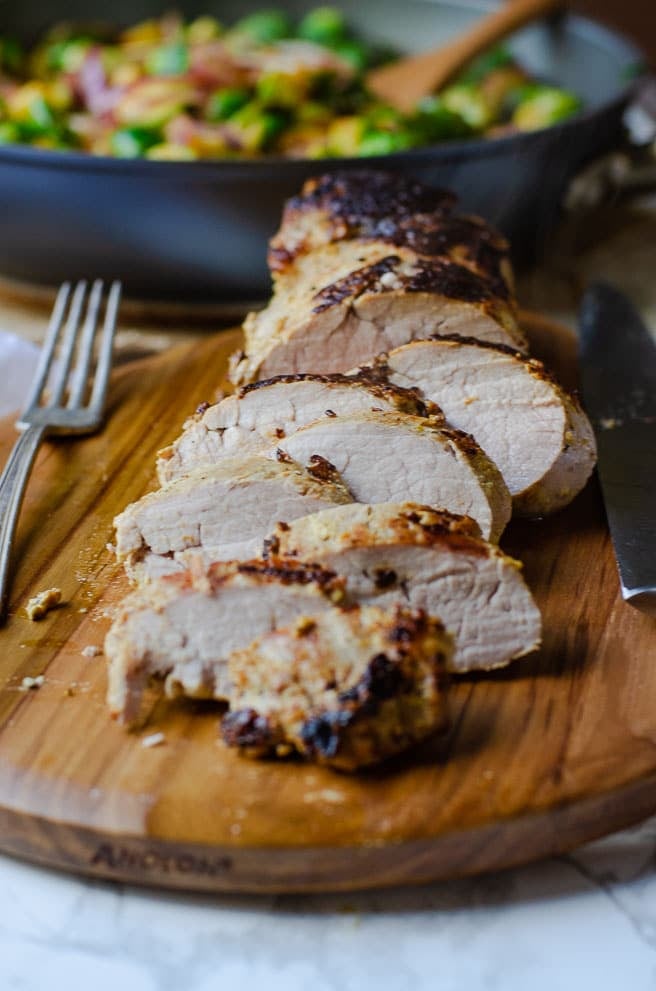 Since this roasted pork tenderloin cooks at such a high temperature, it's important that the pan is oven safe. (Like this one.) In fact, many nonstick pans aren't oven safe. Even the ones that are usually have a low temperature threshold. This deep covered skillet however, is oven safe up to 500°F. So, there's yet another reason to love it more!
Can Pork Tenderloin Be Pink In The Middle?
As long as the internal temperature is 145 degrees, yes, the roasted pork tenderloin can be pink in the middle. To test your temperature, use a well calibrated meat thermometer in the thickest part of the roasted pork tenderloin. This usually gives you a barely there light pink line. The kind that makes you wonder whether you're actually seeing pink or if it's a trick of the light. Take note though, the thickest part of the meat may not be the middle. For mine, it was about one-third in from the left. The shape of every pork tenderloin is different, so cooking times to get to a safe internal temperature may vary.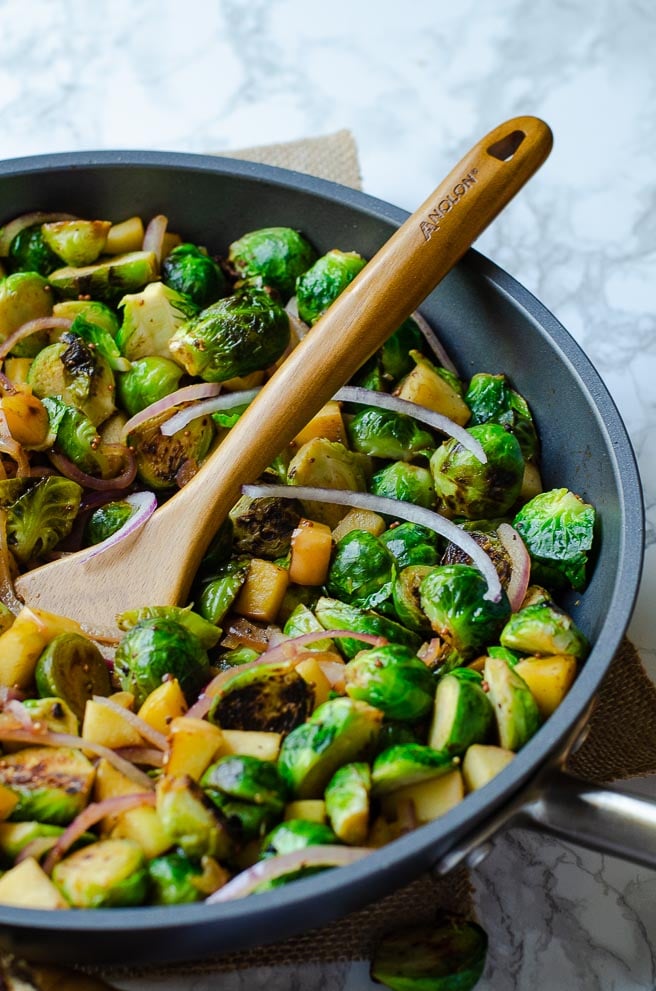 How To Reheat Roasted Pork Tenderloin Leftovers
Your roasted pork tenderloin leftovers will stay fresh in the refrigerator for up to five days. Make sure to let everything cool completely before storage to keep the Brussels sprouts from over-steaming in the container.
If you would like to reheat this meal, I recommend:
Preheat the oven to 350°F.

Place the leftovers in a shallow baking dish with foil, or back in the skillet with the lid on. Try to keep them from becoming too deep or overlapping. (Optional: add in a few extra tablespoons of chicken stock.)

Bake for 25 to 30 minutes, or until reheated throughout.

Remove from the oven and serve.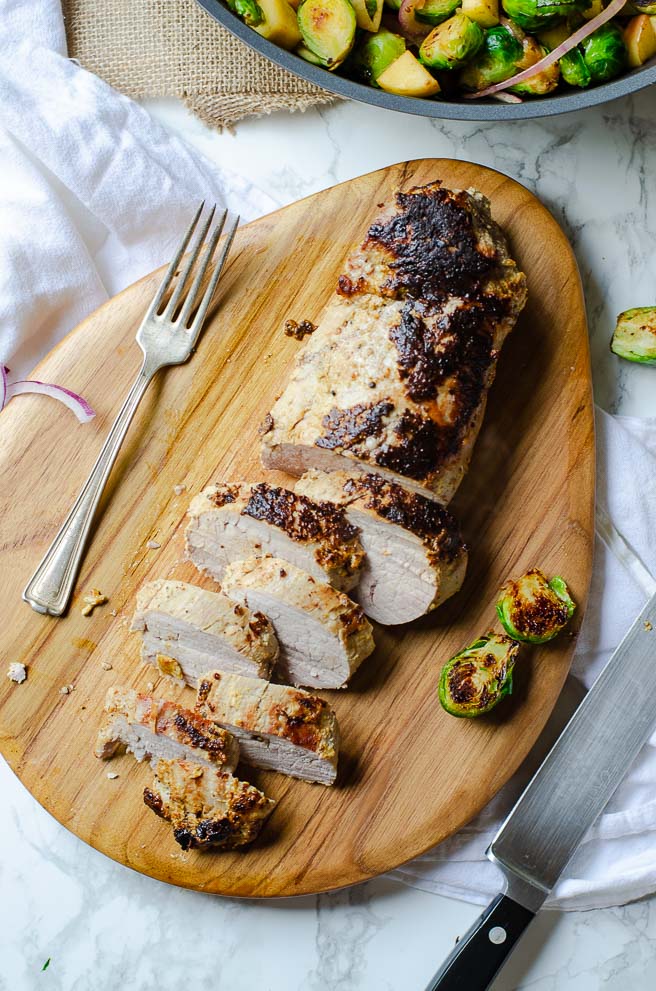 Easy Roasted Pork Tenderloin with Apples & Brussels Sprouts Recipe
Since this recipe cooks at such a high temperature, I recommend using a neutral cooking oil with a high smoke point. My favorite is refined avocado oil, but canola or vegetable will work as well. The smoke point of olive oil is only around 400°F depending on the quality. Working with a different oil will prevent scorching the oil or starting a fire.
Note: Once this pan is transferred to the stovetop, please make sure to turn the handle away from your body. This will help reduce the desire to accidentally touch the very hot handle.
---
Get your free printable grocery list for this Roasted Pork Tenderloin recipe HERE.
---
Use this grocery list to help simplify shopping. Everything is listed in standard grocery store amounts. If no size is specified, even the smallest package will provide more than enough.
Happy Cooking! 🙂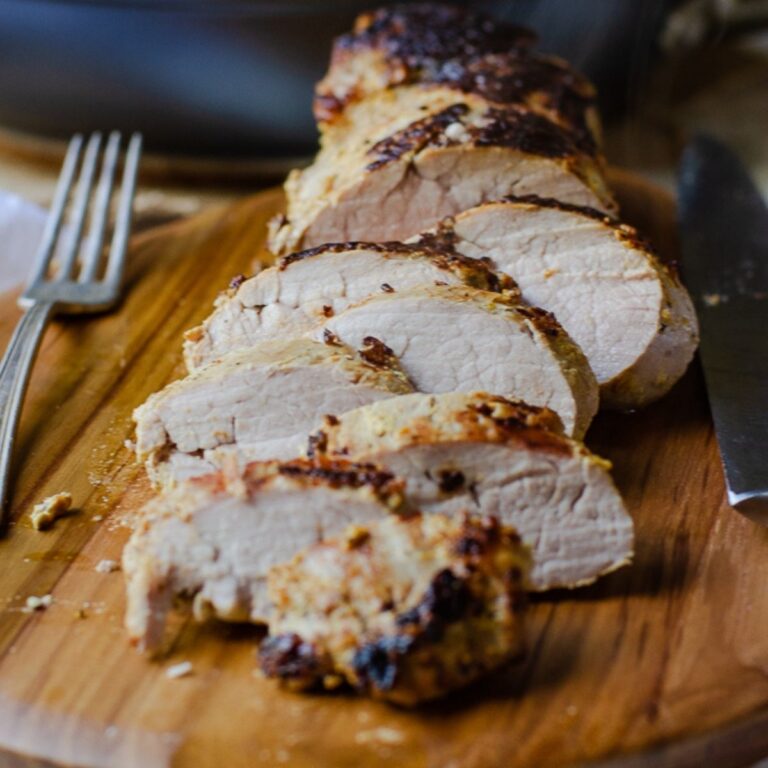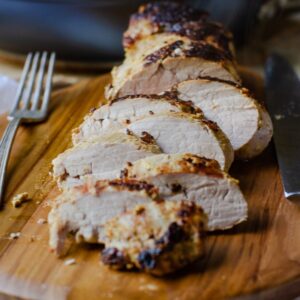 Roasted Pork Loin with Apples and Brussels Sprouts
This easy one pan dinner is full of delicious autumn flavor. The pork tenderloin is rubbed with mustard before roasting and the meal has a fragrant but light white wine mustard sauce.
Pin it for later?
Ingredients
1

pork tenderloin

,

roughly 1-1.5 pounds

salt and pepper

,

to taste

2

Tablespoons

dijon mustard

1

Tablespoon

neutral cooking oil

,

plus more as needed

2

pounds

Brussels sprouts

,

halved

2

fuji apples

,

cored and diced

1

small red onion

,

sliced

½

cup

white wine

½

cup

chicken stock

2

Tablespoons

whole grain mustard
Instructions
Place your 12" deep skillet into the oven and preheat it to 450°F. Once it is to temperature, let the pan continue to preheat for

10 minutes

.

While the pan preheats, pat dry the pork tenderloin with paper towels then rub it with salt and pepper. Pour one tablespoon of the mustard onto each side of the pork tenderloin and use the back of a spoon to spread it around until it is completely covered.

Carefully remove the skillet from the oven and add in neutral cooking oil. Swirl it around and then use tongs to carefully transfer the pork tenderloin. Return the pan to the oven and cook for

10 minutes

.

Carefully remove the pan from the oven and reduce the heat to 400°F. Flip the pork tenderloin and return the pan to the oven to cook for another

12 minutes

, or until the internal temperature reaches 140-145°F. Transfer the pork to a cutting board or plate and cover it with foil.

Move the pan to the stovetop and turn the heat to medium high. Add a teaspoon of neutral cooking oil to the pan and pour in the Brussels sprouts. Cover it with the lid and let them cook for

5 minutes

, only stirring once or twice. Add in the diced apples and sliced onions and cook for another

5 minutes

. Do not put the lid back on.

Stir together the white wine, chicken stock and whole grain mustard. Turn the heat off and pour over the vegetables and apples. Stir.

Carefully carve the roasted pork tenderloin into slices, serve with the Brussels sprouts and apples and drizzle with leftover sauce from the pan.
Notes
For an extra flavor boost, pour any juices that released onto the cutting board or plate back into the pan before serving.
If your Brussels sprouts are large, you can maintain the same cooking time by quartering them instead of halves.
Nutrition
Serving:
4
servings
|
Calories:
473
kcal
|
Carbohydrates:
37
g
|
Protein:
53
g
|
Fat:
11
g
|
Saturated Fat:
2
g
|
Cholesterol:
124
mg
|
Sodium:
326
mg
|
Potassium:
1799
mg
|
Fiber:
11
g
|
Sugar:
16
g
|
Vitamin A:
1760
IU
|
Vitamin C:
199
mg
|
Calcium:
124
mg
|
Iron:
5.6
mg
Tell me how much you love this recipe
and show off how you made it!