Learn the 6 best tips for pan-frying pork chops! Everything from how to prevent popping & splattering, to when to season, to how to keep it moist and juicy!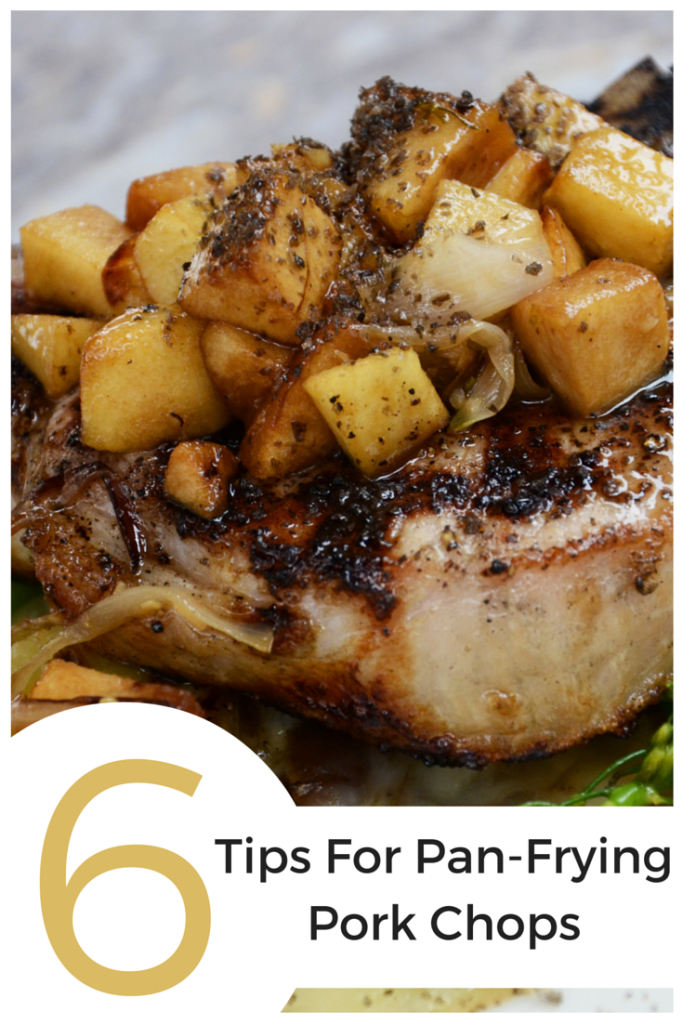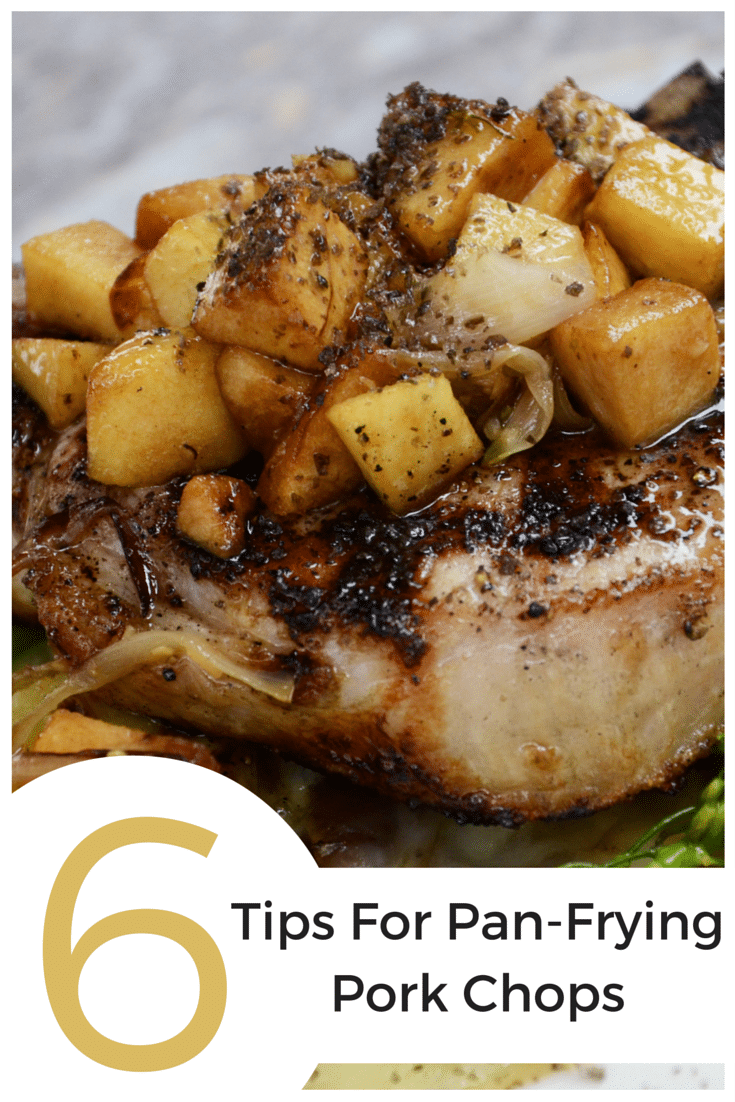 Sometimes, getting the perfect golden-brown crust on your pork chops can be tricky. Here are my top 6 tips for pan-frying pork chops so the next time you go to cook, you'll get the most beautifully crusted chops on the planet!
Six Tips for Pan-Frying Pork Chops
#1. Temperature
Bring your refrigerated pork chops to room temperature for at least 30 minutes before cooking. Not only does this help with preventing sticking if you aren't using a non-stick pan, but it also helps cut-down on the amount of fat you'll need to cook it - just make sure to blot away any excess moisture with a paper towel before cooking.If you have chosen to marinade, bring the pork chops to room temperature in the marinade, and shake off as much as possible before cooking.
#2. Season
Season your pork chops with salt & pepper before they go in the pan. The same thing goes if you are using a rub of some form. Note: There is some debate about salting before cooking, and many chefs disagree, feeling that salting beforehand dries out your meat. To strike a balance, lightly salt right before cooking, not overnight. This allows for some permeation without overdoing it.
#3. Render
Take advantage of the fat layer on the pork chop. You can use less oil (or maybe none if you're lucky), if you first turn the pork chop on its side and render the fat. This also helps crisp up the fat layer, making it more desirable to eat. Yes, this means standing over your pan holding the pork chop with your tongs for a few minutes, but a pork chop will always taste better cooked in its own fat than in a bland oil.
#4. Popping & Splattering
To prevent getting burned by the popping and splattering of the fat, make sure to always lay your pork chops into the pan going the opposite direction of you - just like you're using a peeler. This helps steer any popping and splattering oil away from your body instead of towards it.
#5. Time
If you have chosen a pan that does not have a non-stick coating to it, you may be concerned with the pork chops sticking to the pan. The tricks above will help in preventing that (especially #1), but you can also help yourself by giving your pork chops time; don't try to pry your chops off of the pan to check to see if they're ready. Once the moisture on the outer layer of the pork chops has been cooked away, the chops will naturally release from the pan. Prying them up will only cause frustration, uneven browning, and uneven cooking. Patience is your friend.
---
Pork should always be cooked to an internal temperature of 145°F in the thickest part of the meat.
---
Just like you're giving the pork time to brown on the outside, keep an eye on the temperature. The further past the ideal internal temperature of 145°F you cook it, the chewier and more leathery the chops will become. You want to enjoy them, not gnaw on them for hours, right?
#6. Rest
After they are done cooking, transfer the chops to a plate, create a tent around the plate, and let the pork rest for 5-10 minutes. Most meats seize up while cooking, so letting it rest helps it redistribute its juices. If you cut into it too quickly, the juices will run out of the pork chop instead of staying in and keeping it moist and tasty. Keep in mind, your ideal resting time will vary based on how thick your cut is - the thicker it is, the more time it will need.
Practice Makes Perfect
Want to put your new and improved pan-frying skills into action? Try one of my favorite recipes:
Thanks for stopping by!
I want to hear all about your experiences and tips for pan-frying pork chops!
Tell me in the comments below, or show me on social media! Tag it with #CallMeMichelin for everyone to see you pan-frying prowess!
Happy Cooking! 🙂