This post is sponsored by BabbleBoxx.com on behalf of Rachael Ray Create Delicious cookware. All opinions are mine alone and partnerships like this help keep the blog ad free for your enjoyment. I hope you love the product and the perfectly pan seared pork chops recipe as much as I do.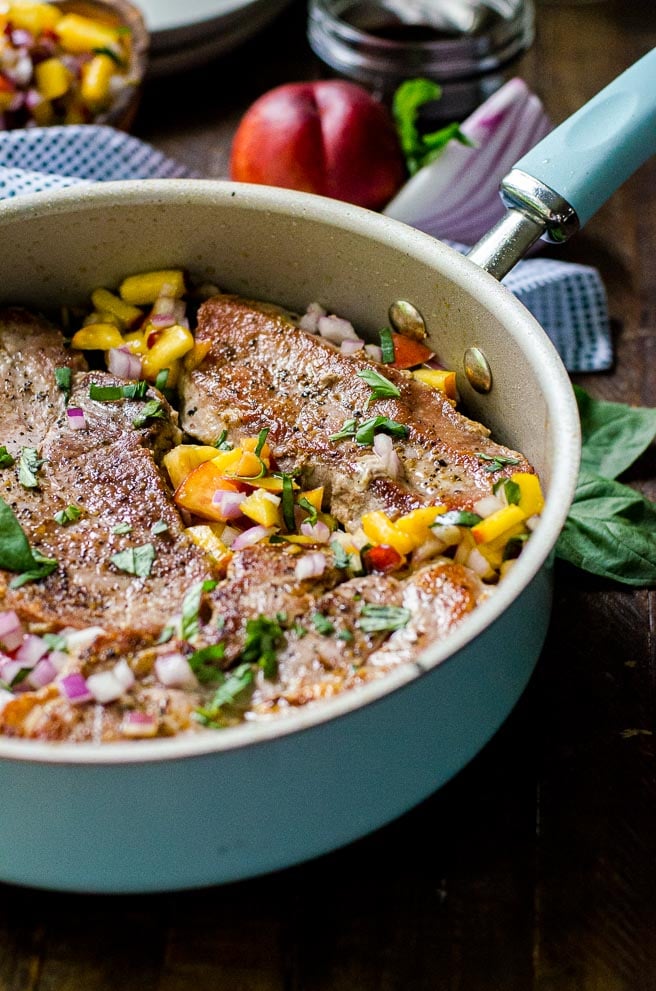 Summertime produce is a thing of glory, and these perfectly pan seared pork chops highlight the flavors of summertime divinely. Use the beautiful Rachel Ray Create Delicious cookware to take your pork chops straight from the stovetop to the table for elegant presentation. Plus, it has flared rims for easy pouring and is twice as hard as stainless steel.
How To Keep The Pork Chops From Drying Out
The main thing that makes pan seared pork chops dry out is overcooking. The FDA recommends an internal temperature of at least 145°F for pork. If you follow this recipe step by step, the pan seared pork chops should reach an internal temperature of 160°F. This is the equivalent of medium. By creating the seared crust on the outside and slowly cooking the inside, you can achieve crispy deliciousness, all while keeping the pork chops moist.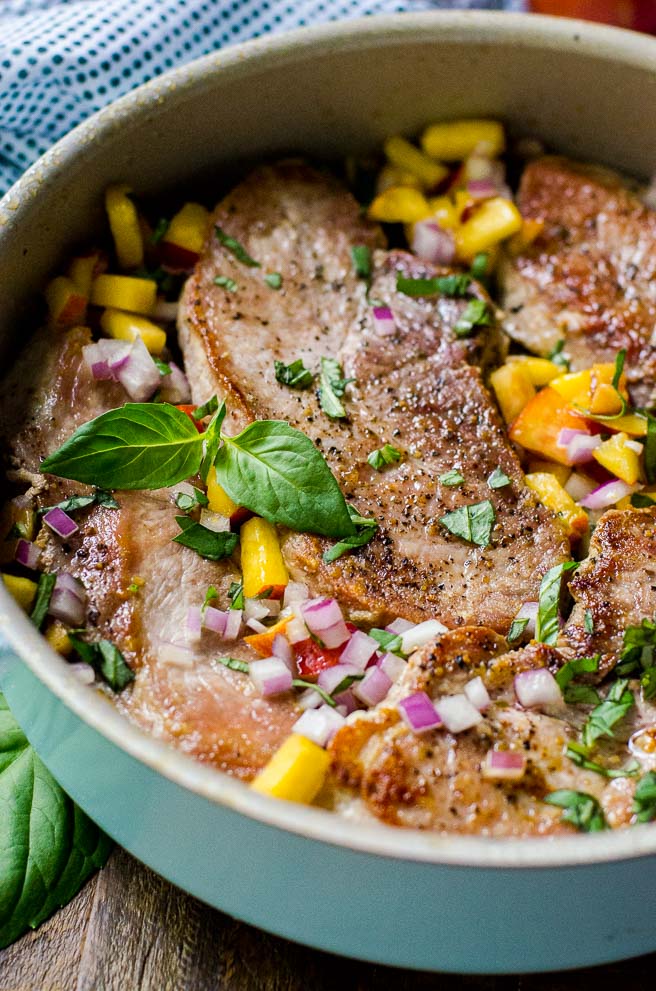 How Long To Cook The Pork Chops
If you would like your pan seared pork chops to be more well done, you can transfer them to the oven to finish. Thankfully, this cookware is oven safe up to 400°F, and is perfect for this.
To finish the pork chops in the oven, preheat it to 350°F. After following the instructions, put the pan into the oven for 7-10 minutes, or until done. Time will vary based on thickness. Remove the pan from the oven, transfer the pork chops to a plate and return the pan to the stovetop to make the sauce.
Don't forget to use an oven mitt after you return the pan to the stovetop. Even though this pan has awesome silicone handles, they still get really hot and can burn you if you absentmindedly grab the handle.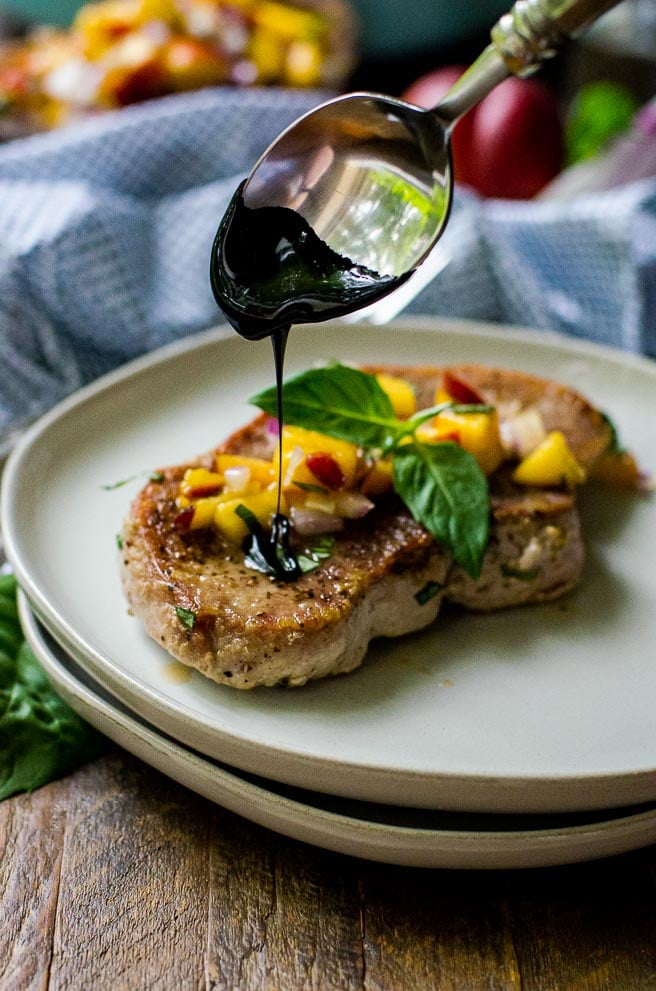 How To Make Pan Seared Pork Chops Even Better
Between the beautiful cookware and a good meat thermometer, this pan seared pork chops recipe is quite simple. Add a little punch and take this pork chops recipe to the next level with these great tips.
Keeping Basil Fresh.

Basil is a unique herb and takes special care to keep it fresh. Read this to know how to care it to bring all the possible flavor to this dish.

Homemade Balsamic Reduction.

You don't need to buy a pricey or sweetened balsamic glaze from the store. Follow these simple instructions to make your own in just a few minutes.

Six Tips For Cooking Pork Chops.

These tips cover everything from how to prevent burning yourself to how to keep the pork chops from sticking to the pan.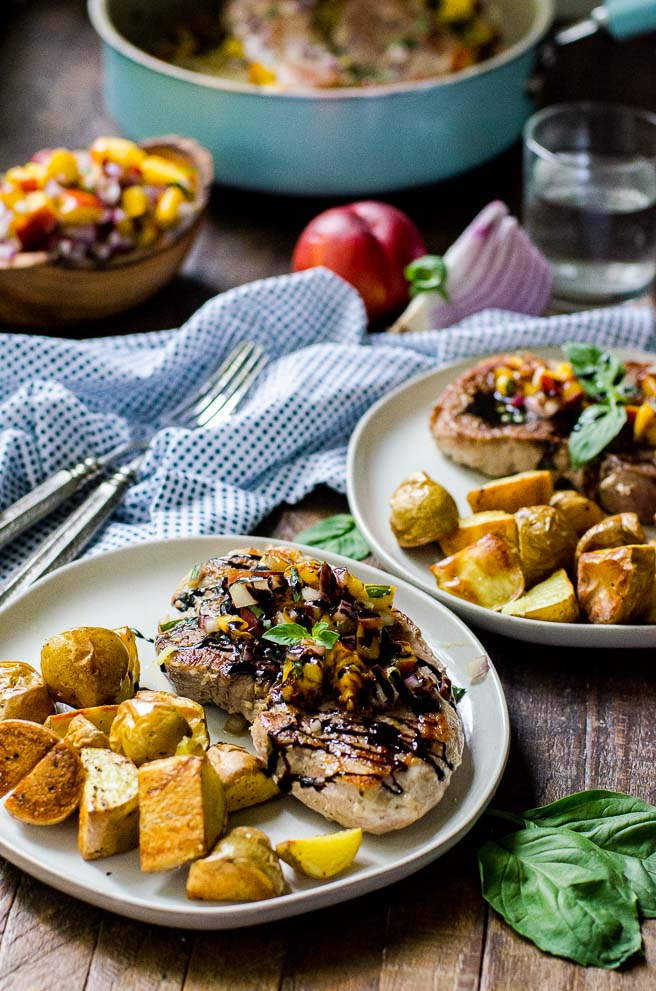 Pan Seared Pork Chops Recipe
Since the Create Delicious cookware collection is nonstick, you can use less oil during searing. And in true Rachel Ray fashion, she has a beautiful, easy to hold, EVOO bottle for adding the olive oil to the pan. Plus, her lazy tools set hooks a nonstick-safe spatula to the side of the skillet for easy access. There's even a matching bowl to scrape all of your food scraps into so you take fewer trips to the garbage.
If you want to get a set of this cookware for yourself, enter to win it below. The giveaway is open until July 4th and five lucky winners will get a set all to themselves. Or you can just pop over and buy it and all the great accessories for yourself from PotsandPans.com.
---
Happy Cooking! 🙂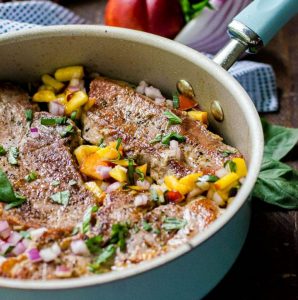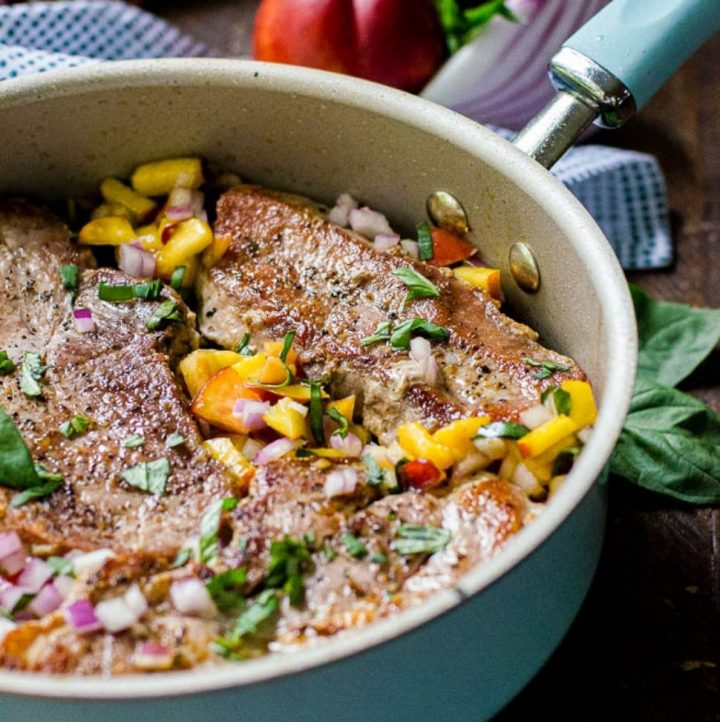 Pan Seared Pork Chops with Nectarines and Balsamic Glaze
This recipe for juicy pan seared pork chops with nectarines is like summer in your mouth. These light and fresh ingredients make for a perfect meal!
Pin it for later?
Ingredients
Pork Chops
4

boneless sirloin pork chops

salt & pepper

,

to taste

olive oil

3

garlic cloves

,

minced

¼

cup

chicken stock

2

nectarines

,

diced small

¼

small red onion

,

diced

2

Tablespoons

fresh basil

,

minced

salt & pepper

,

to taste

4

Tablespoons

balsamic glaze
Instructions
Let your pork loin chops sit at room temperature for 30 minutes prior to cooking. Blot dry with a paper towel to remove excess moisture and season with salt and pepper.

Place only enough olive oil in the bottom of the pan to thinly coat the bottom of the skillet.  

Put the skillet over medium high heat and cook the pork chops for

6 minutes

or until golden brown.  Flip and cook for

four minutes

on the other side. Once done, let the chops rest on a plate while you make the sauce.

Saute the garlic in the leftover oil until translucent. Pour in chicken stock and let it simmer until reduced by half. Use a silicone utensil to scrape up any stuck on food.

Turn off the heat, add the nectarines and red onion to the pan. Season with salt and pepper. Return the pork chops to the pan for serving and garnish with fresh basil and balsamic glaze. Serve.
Nutrition
Serving:
1
serving
|
Calories:
369
kcal
|
Carbohydrates:
16
g
|
Protein:
30
g
|
Fat:
20
g
|
Saturated Fat:
5
g
|
Cholesterol:
90
mg
|
Sodium:
87
mg
|
Potassium:
677
mg
|
Fiber:
1
g
|
Sugar:
9
g
|
Vitamin A:
290
IU
|
Vitamin C:
5
mg
|
Calcium:
18
mg
|
Iron:
0.9
mg
Tell me how much you love this recipe
and show off how you made it!