A perfect balance of sweet and savory, this pumpkin pizza recipe has the deal sealed with bacon and delicious roasted garlic and ricotta cheese sauce! It's the ultimate harvest pizza recipe!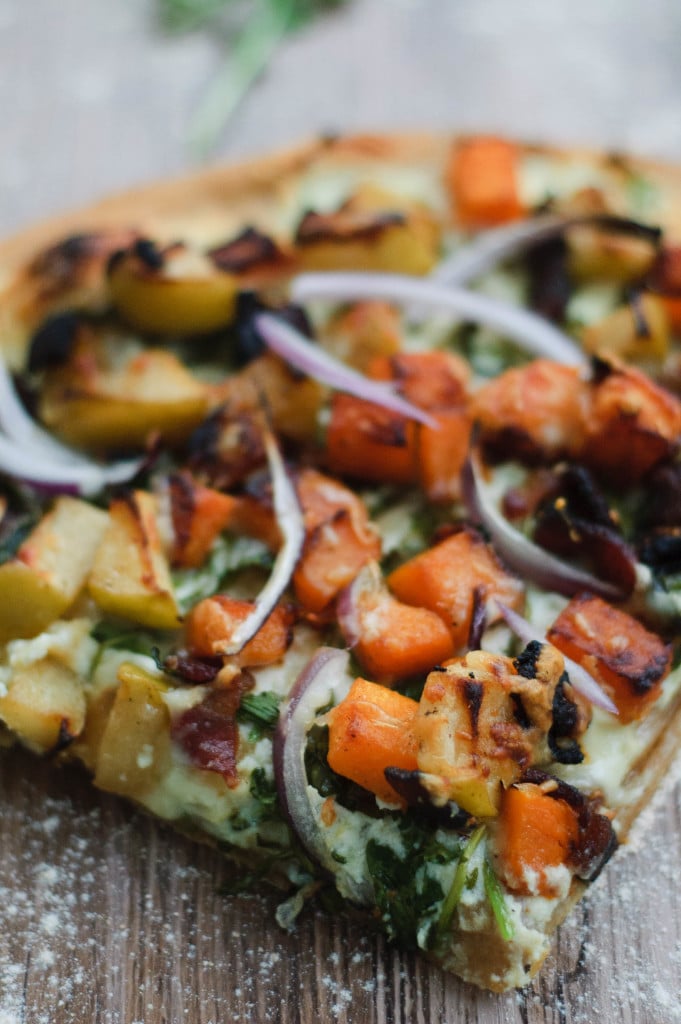 Bacon makes everything in life taste better. Am I right? In a way it's kind of like salt...only better. If you love bacon, then you're going to fall head over heels for this pumpkin pizza.
The pizza sauce is a sweet mixture of roasted garlic and ricotta! It has fresh pumpkin and green apple that is cooked in the fat rendered from the bacon. Then it is balanced with peppery arugula. Pizza night will forever be changed and store bought or restaurants will never live up to this pumpkin pizza recipe.
How To Make The Sauce
Unlike a lot of pumpkin pizzas, which rely on canned pumpkin puree for the autumnal flavor, this recipe uses a different sauce: ricotta cheese and whole roasted garlic which get muddled together.
For the best success, roast the garlic head until the cloves are soft enough to smash with the back of a spoon. If you over-roast them, they'll be too tough to crush. If you have an extra large head, you may need to add an extra 5-10 minutes
Alternatively, you could leave the garlic cloves whole and scattered on the pizza. However, you get a better distribution of flavor in the sauce.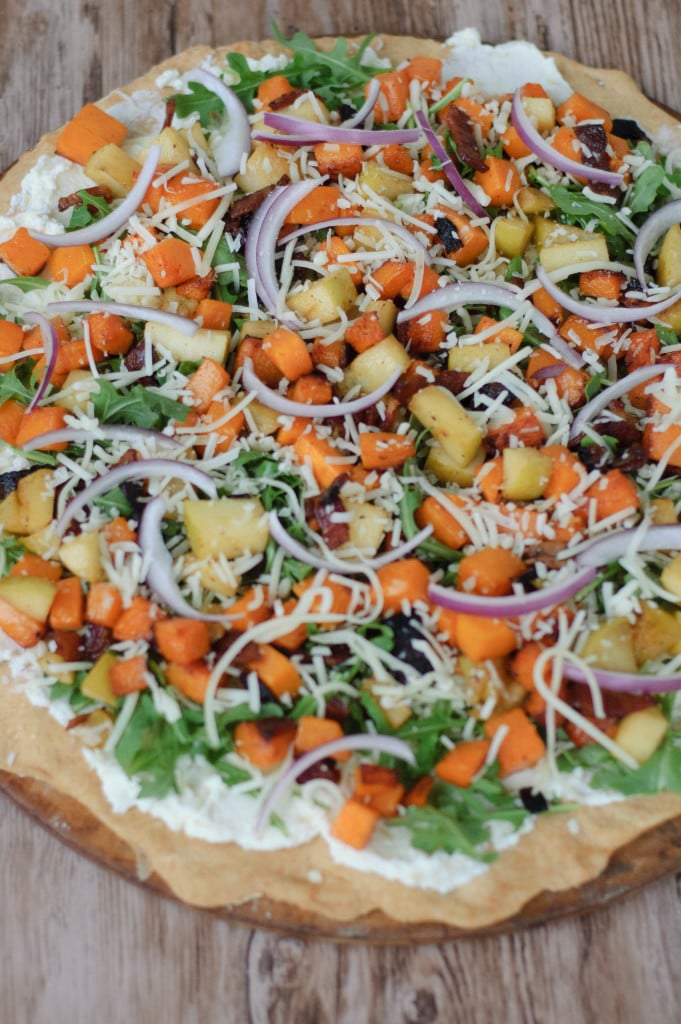 Cooking Pumpkin For Pizza
If you're worried about cooking fresh pumpkin for your harvest pizza, don't stress. It seriously is super easy.
The first thing to know is that you want to buy a sugar pumpkin. (Also known as a pie pumpkin.) These are sweeter pumpkins than the carving ones more commonly sold at stores, which tend to be watery and bland.
Once your pumpkin is peeled and the seeds removed, cut it into small diced pieces. It then gets sautéed in the rendered bacon fat to give it an al dente texture and a little extra flavor.
You know the pumpkin is done cooking when it is just starting to be easy to bite into. About 10 minutes of light cooking over medium heat.
Keep in mind that this also includes cooking the green apple at the same time, which will slow down the cooking of the pumpkin for the last five minutes. If you opt to not use the apple, the fresh pumpkin may need less time to become al dente.
Since we're precooking the pumpkin, the focus during baking will be on making sure the pizza dough is crispy and the cheese is melted.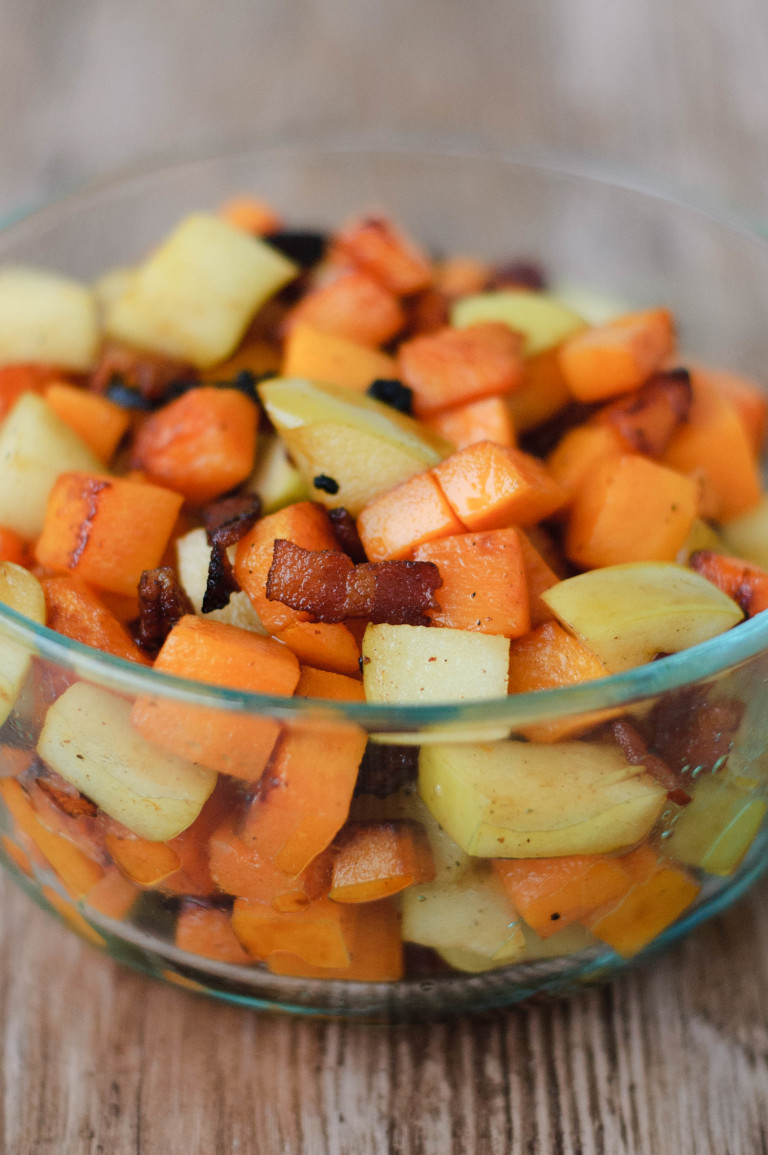 Getting a Perfect Pizza Crust
Once you make the pizza dough, rub a large bowl and the dough with one tablespoon of olive oil. Cover the bowl with a damp paper towel and let rise for at least 45 minutes, or until doubled in size.
Also, for this pumpkin pizza I recommend using a whole wheat crust. This will give the harvest pizza a richer and deeper autumnal flavor that accents the other overall profile better.
Once ready to cook, choose which of the following methods is best for you.
I personally love to use a pizza stone when making homemade pizza. It gives the crust a great texture and crisps up just right. Make sure to preheat the oven with the stone in it. Then, assemble the pizza on a floured pizza peel and transfer it onto the heated pizza stone once ready to cook.
If this isn't an option for you, you can stretch the dough out on a floured surface then transfer to sheet pan instead. If cooking directly on the baking sheet makes you nervous, you can line the pan with parchment paper before adding the pizza dough.
You can also use a pizza pan for more of a "deep dish" option, but this isn't my favorite method for this pumpkin pizza recipe. I find that the pizza is too fluffy and doughy and the flavors in the pizza dough don't balance as well with the toppings. Crispy crust is better.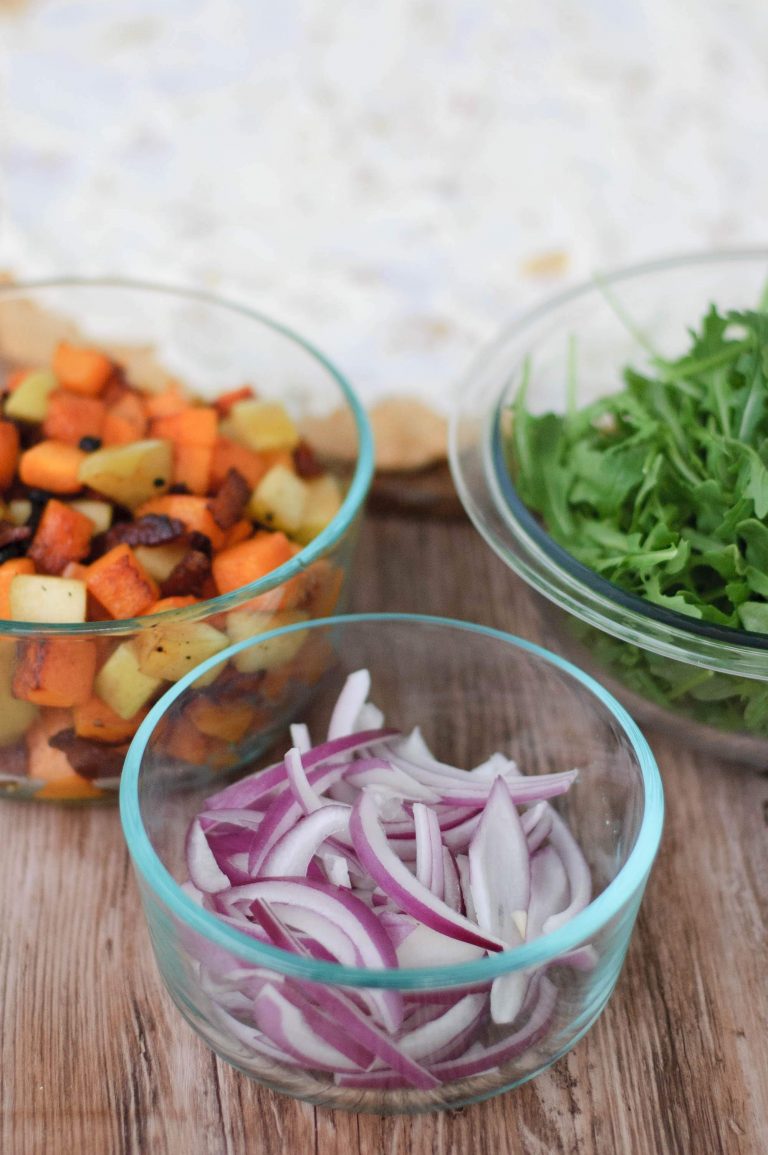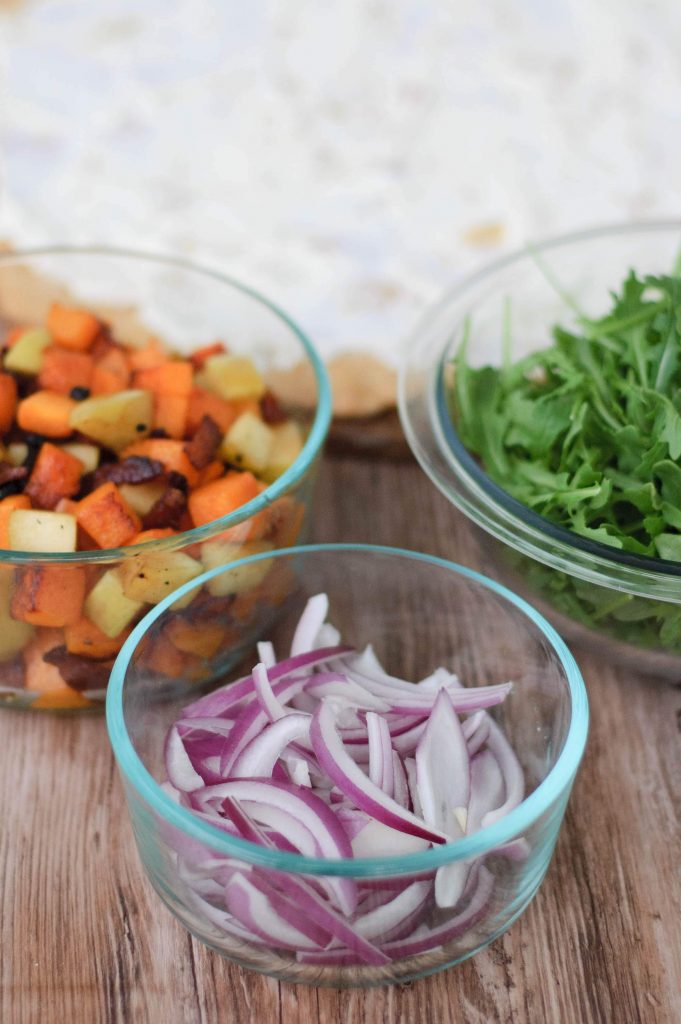 Which Toppings To Use?
I've listed my favorite toppings for harvest pizza in the recipe, which include:
Fresh pumpkin
Green apples
Red Onions
Thick Cut Bacon
Peppery Arugula
However, you can mix it up a little by replacing the raw with caramelized onions or topping the mixture with sage leaves.
I've also left the cheese option vague so you can mix it up how you like. I tend to use the four cheese blend from Trader Joes, which has fontina, mozzarella, asiago, and parmesan cheese in it. However, some aged havarti, white cheedar, or gouda cheeses would all taste great as well.
Pumpkin Pizza Recipe
It may seem like an odd thing to put on a pizza, but arugula's slightly spicy and peppery flavor adds a lot to the flavor profile. It's a very tender green and doesn't have a super high concentration of water, so it tends to get crispy and paper thin if baked for too long.
For this pizza, I recommend placing it under the bulk of the toppings before cooking. This helps it maintains its supple texture with little fear of it ruining your pizza or preventing the crust from baking because of its moisture content.
---
If you would like to try some of other savory pumpkin recipes, I recommend:
Thanks so much for stopping by!
Happy Cooking! 🙂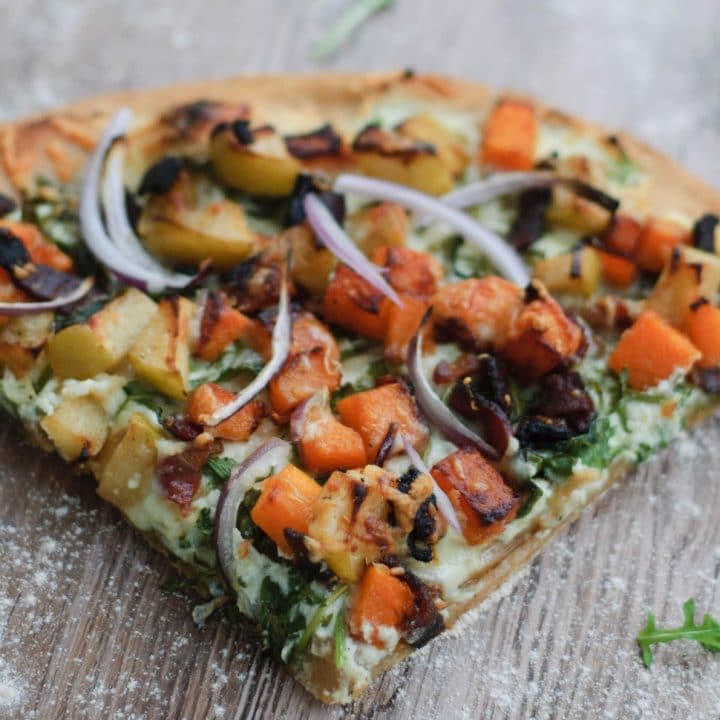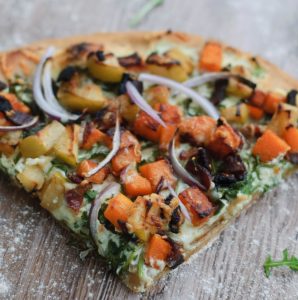 Pumpkin and Apple Pizza with Bacon
This pumpkin pizza is topped with thick bacon, roasted garlic, arugula, and red onion. Sweetened with ricotta cheese, it's a perfect autumn pizza night meal!
Pin it for later?
Ingredients
Crust
1

whole wheat pizza dough for a 12" pizza

¼

cup

cornmeal
Sauce
1

cup

whole-milk ricotta cheese

1

head of roasted garlic

¼

teaspoon

salt
Toppings
3

strips thick cut applewood smoked bacon

,

cut into pieces

½

sugar pumpkin*

,

peeled and diced

1

green apple

,

diced

4

cups

arugula

½

small red onion

,

sliced

1

cup

shredded cheese

,

(like fontina, mozzarella, asiago, or parmesan cheese)
Instructions
Preheat oven to 500°F or as high as it will go.

Stretch the dough to make a 12" pizza, place it on a pizza stone sprinkled generously with cornmeal and set aside.

Remove each of the roasted cloves of garlic from the head and use a spoon to smash them into a paste. Stir in salt and ricotta until completely combined. Spread out on pizza dough as the sauce.

In a large skillet over medium low heat, cook bacon to desired level of crispiness. Do not drain fat. 

Put arugula on top of the garlic-ricotta sauce. Carefully spread out the hot bacon, pumpkin, and green apple mixture on top of ricotta. Add the red onion and finish out by sprinkling the shredded cheese on top.

Place the pizza in the oven and bake for 17 Minutes or until the cheese is golden brown, you have lightly caramelized onions, and the crust is at your desired doneness.  Remove the pizza from the stone with a pizza peel, cut into eight slices and serve.
Notes
*Also referred to as a pumpkin pie pumpkin, or pie pumpkin.  
For extra autumnal flavor, sprinkle on 1-2 Tablespoons of minced fresh sage leaves. 
If you reserved the pumpkin seeds from your sugar pumpkin, use them to make toasted pumpkin seeds here. 
Nutrition
Serving:
1
slice
|
Calories:
314
kcal
|
Carbohydrates:
35
g
|
Protein:
13
g
|
Fat:
15
g
|
Saturated Fat:
6
g
|
Cholesterol:
36
mg
|
Sodium:
486
mg
|
Potassium:
446
mg
|
Fiber:
3
g
|
Sugar:
6
g
|
Vitamin A:
7717
IU
|
Vitamin C:
11
mg
|
Calcium:
171
mg
|
Iron:
1
mg
Tell me how much you love this recipe
and show off how you made it!