There are multiple methods for roasting garlic in the oven, whether you need an entire head or only a few cloves. Find the one that works best for you and enhance your cooking with the slightly sweet flavor of roasted garlic.
Note: This post was updated on December 3, 2018 with new photos and content for your enjoyment.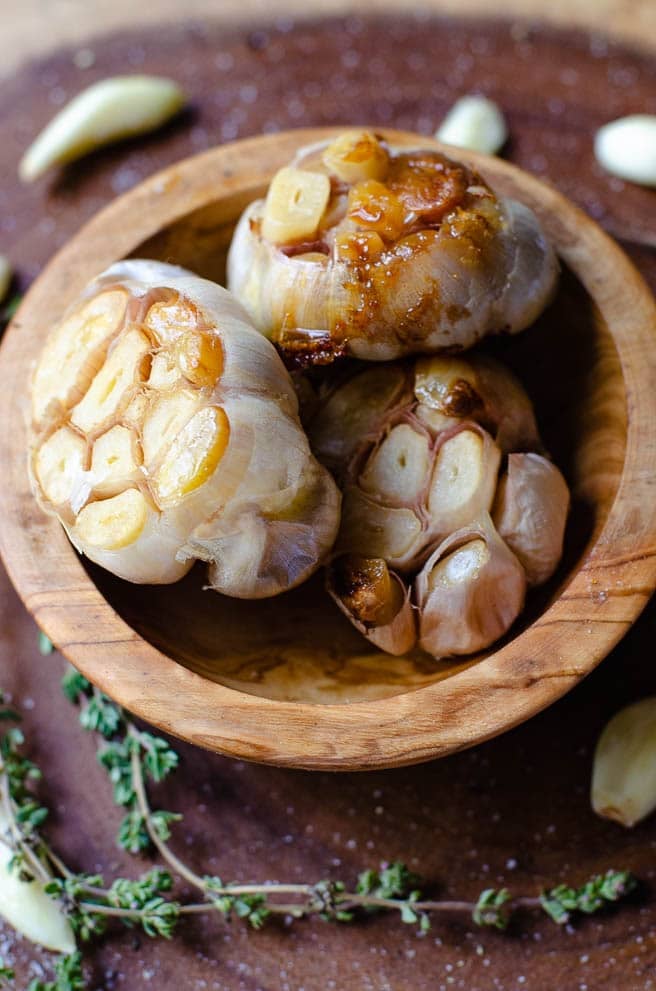 Raw garlic is pungent and sharp, while roasted garlic is slightly sweet and mild. You can smash it into a paste for pizza sauce, add it to mashed potatoes, or make roasted garlic french bread. No matter your use, it is a delicious accompaniment for many dishes.
How To Roast Garlic Without Foil
Making perfectly roasted garlic doesn't require aluminum foil. In fact, you can get the same quality of roasted garlic by using a small ramekin or baking dish. The only difference for roasting garlic without foil is that every clove needs to be peeled. Once they are peeled, you can roast them in a very short period of time. Plus, it leaves behind a delicious garlic infused oil that can be used in salad dressings or sautéing.
How to Roast Garlic Without Foil:
Preheat oven to 300°F

Peel all the skin off of the individual cloves of garlic and place them in a ramekin or small oven safe bowl. Cover them with oil.

For safety, I recommend putting the ramekin on a baking sheet. This keeps your hands further from the popping and splattering oil.

Place the ramekin in the oven and cook for 20 minutes. This should give you a basic golden brown. If you want a richer, deeper color, continue to roast the garlic. Check it every five minutes until the desired color is reached.

Carefully remove the roasted garlic from oven and let cool to room temperature.

Drain and reserve the garlic infused oil for later

.
How To Roast Individual Cloves Of Garlic
If you don't want to roast an entire head, fear not! You can absolutely roast individual cloves of garlic. You can do it by following the same method as a whole head, but it may be done sooner. Check it after 30 minutes to see if it is roasted enough for you.
---
Tip: Save time by purchasing already peeled garlic cloves from the grocery. You can get them in small individually wrapped packages (which equates to about one head per pack) or large containers.
---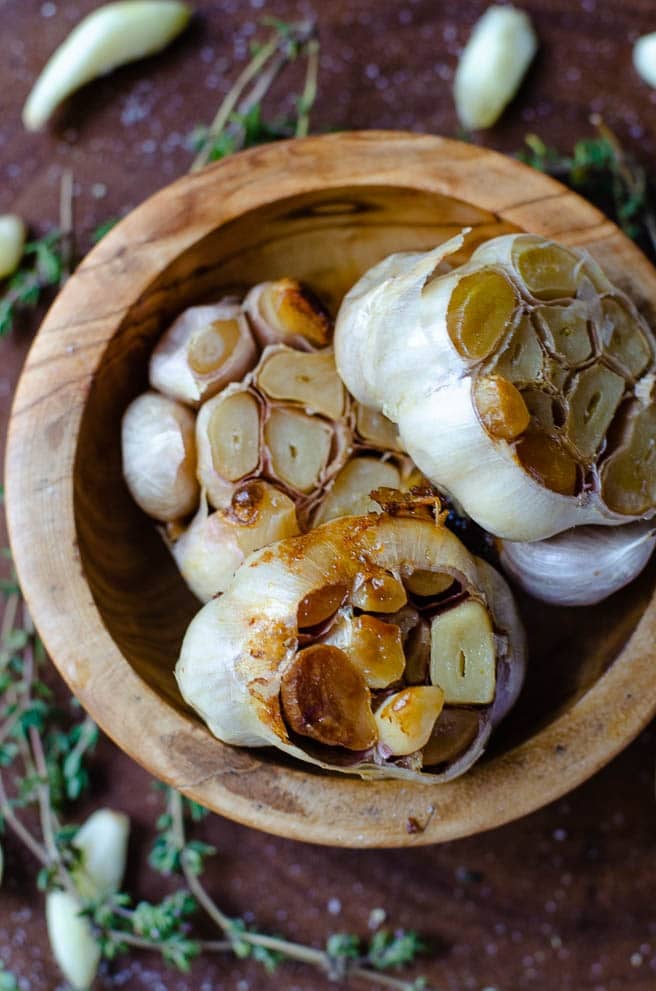 Ways to Use Roasted Garlic
Now that you have mastered the methods and basics of roasting garlic, what are you going to make with it? Here are some recipes I recommend:
How To Roast Garlic By The Head
Roasting garlic in the oven is probably the simplest and safest method. It is also the easiest method since you can walk away from it while it roasts. It produces a soft, fork-tender, and lightly browned clove that has a sweet flavor. These instructions work great regardless of if you are making one head or ten. Although, if you are making more than one head, you may need a little extra cooking time. When I'm using roasted garlic in a recipe, I try to start about 90 minutes before I need it. That allows enough time so I don't have to put everything else on hold while I wait for it to cool. Happy Cooking! 🙂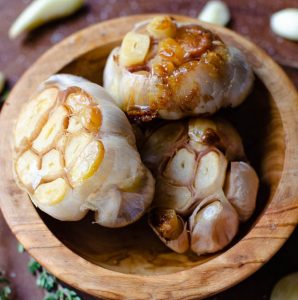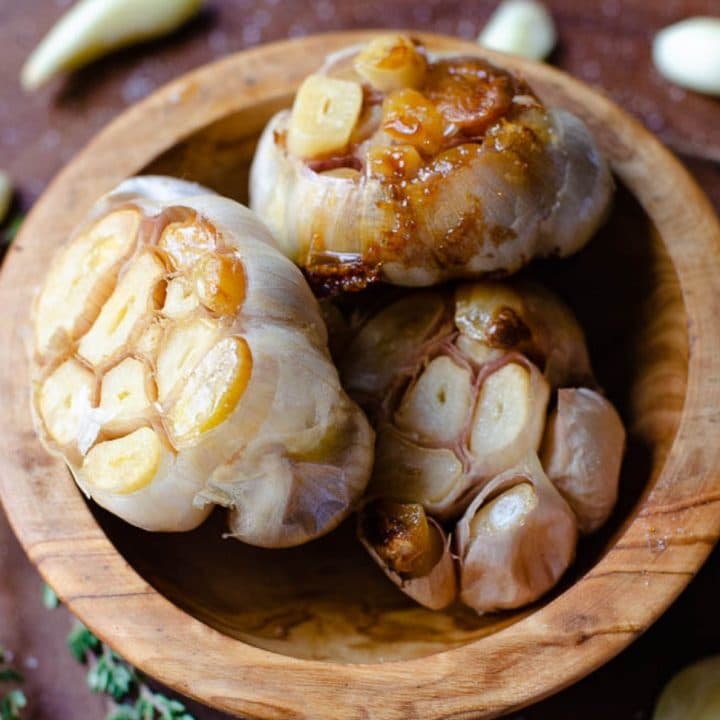 Perfectly Roasted Garlic
Roasted garlic makes a slightly sweet enhancement to any recipe. Roast an entire head perfectly using this easy method.
Pin it for later?
Ingredients
1

head of garlic

1

teaspoon

olive oil

salt and pepper

,

to taste
Instructions
Preheat the oven to 425°F

Unwrap as much of the excess flaky skin as possible and cut off the top of the garlic head. Place it on a sheet of aluminum foil that is 12-18 inches long and drizzle it with olive oil.

Bring together the two long ends of the foil and fold them. Then fold in the short sides of the foil to create a pouch. Place the pouch on a baking sheet and roast in the oven for

45 minutes

.


Once done, remove the roasted garlic from the oven, open the pouch and let it cool to the touch. When you are ready, squeeze from the bottom of the head to pop out your roasted clove and use as your recipe requires.
Notes
For a deeper, richer caramelization, continue to roast your garlic, checking it every 5 minutes until your desired color is reached.
When popping the garlic out of the head, be careful that it has cooled down enough.  Any extra olive oil will drip out of the clove, and if it is cooled enough, has the potential to burn you.
Nutrition
Serving:
1
head
|
Calories:
39
kcal
|
Fat:
4
g
|
Vitamin C:
0.9
mg
Tell me how much you love this recipe
and show off how you made it!