This easy pumpkin spice syrup is made of only a few ingredients and packs a lot of flavor. Use it to make coffee shop drinks at home.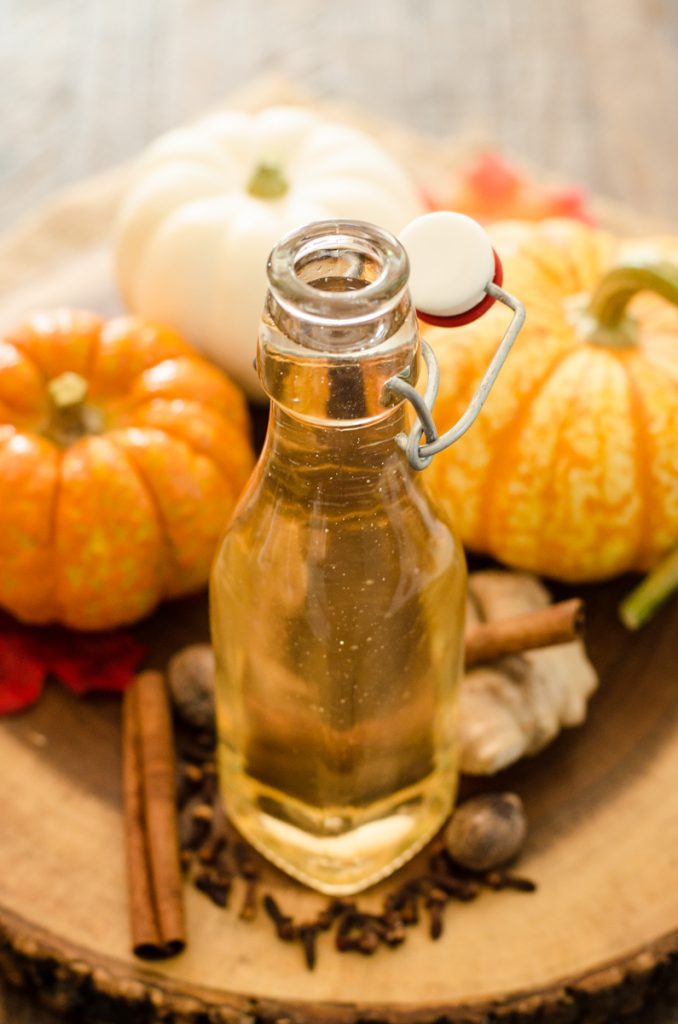 The time of year has come for pumpkin spice everything. Whether you crave pancakes and waffles, or a classic pumpkin spice latte, this pumpkin spice simple syrup is a great recipe to fit your needs.
What Kind of Spices?
This homemade pumpkin spice syrup is made of just a few spices. While you could use ground spices, I recommend whole. They have better flavor because they don't go stale as easily.
This pumpkin spice syrup uses:
fresh ginger
whole nutmeg
whole allspice
cloves
cinnamon sticks
If you don't buy whole spices often, check out the bulk section of your local grocery. This is a great way to get just what you need and nothing more.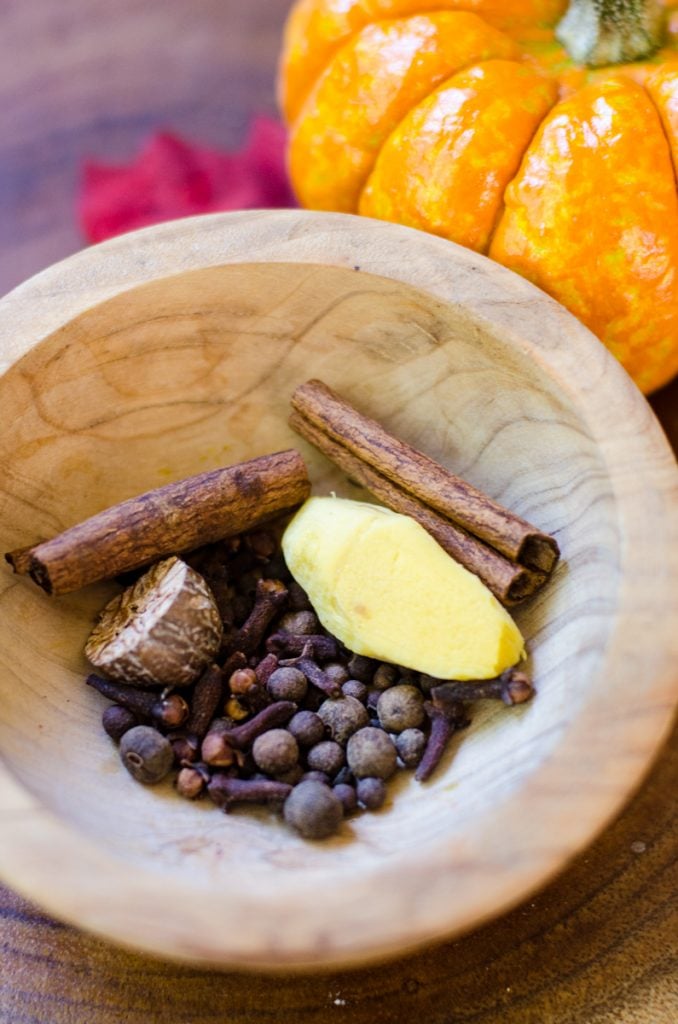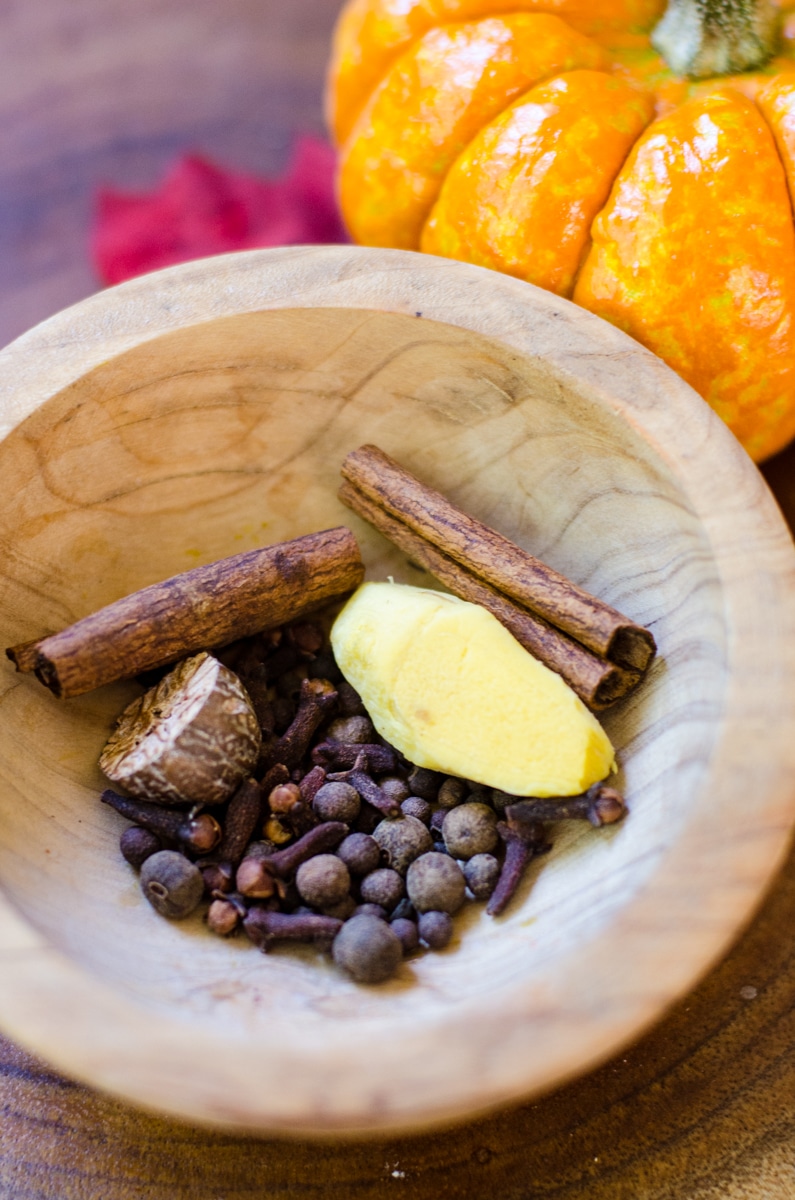 Ways to Use This Syrup
This pumpkin spice syrup is a slightly stronger version than what Starbuck's uses. So naturally, it works well for making a homemade pumpkin spice latte.
It also is delicious as a syrup to mix into coffee and tea, as well as with pancakes and waffles. Although it soaks into them quickly so you don't need much.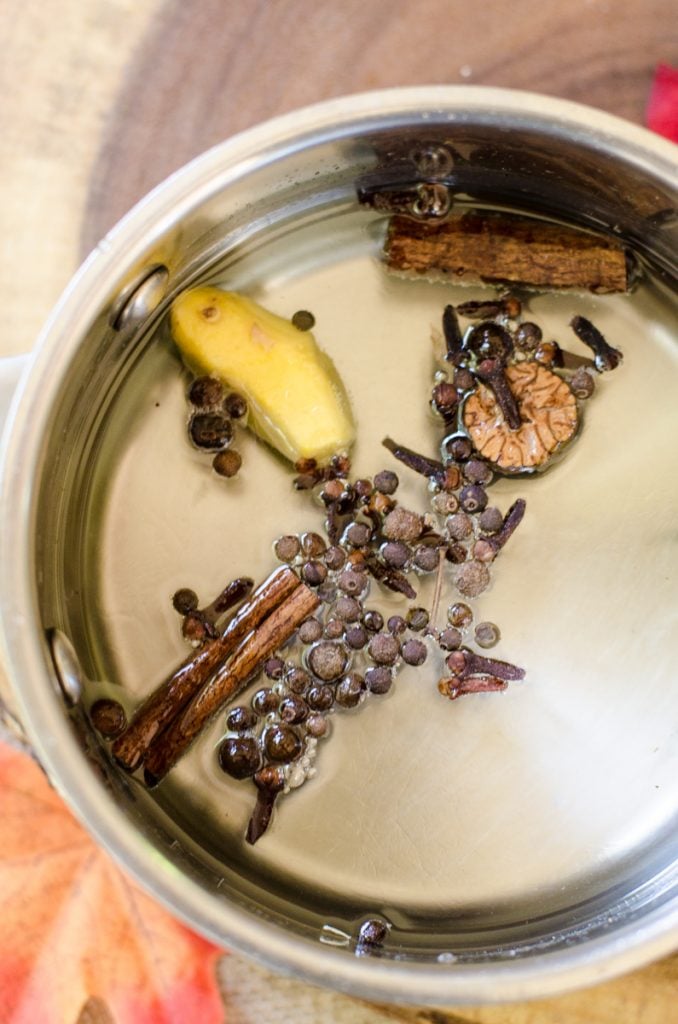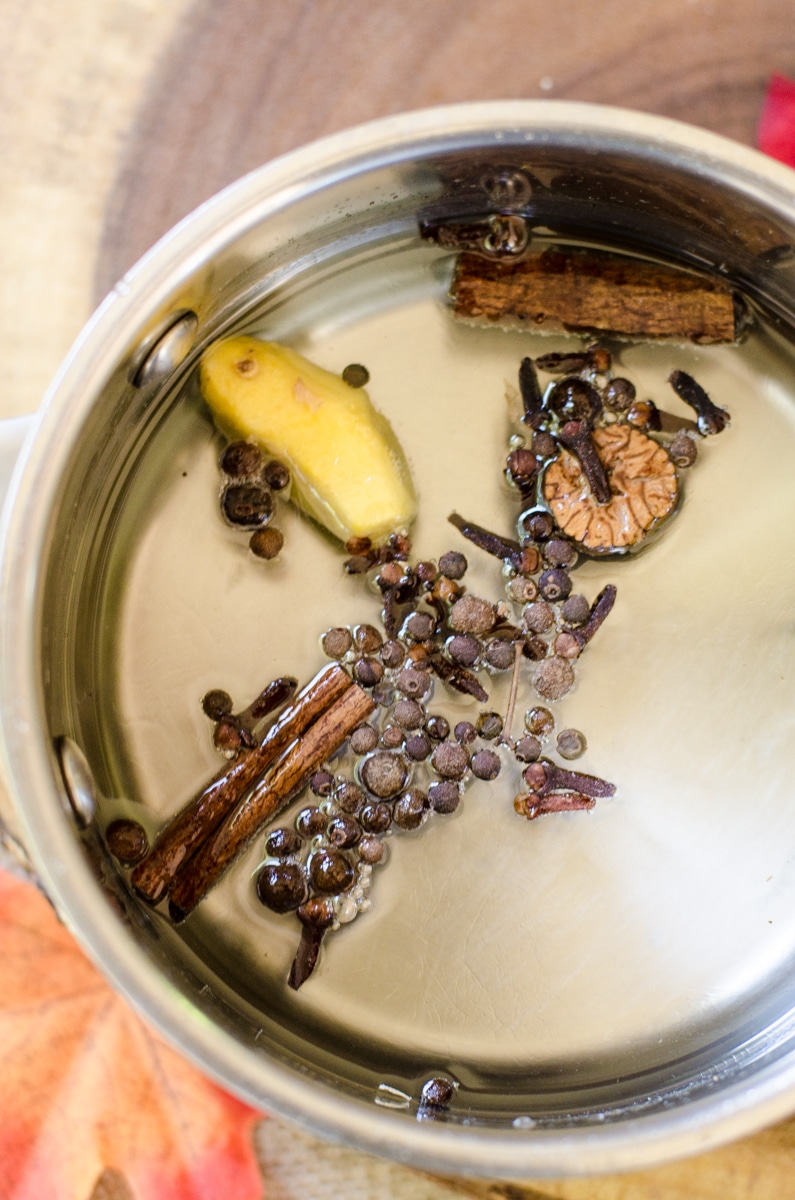 How To Make The Syrup
Start by adding the granulated sugar and water in a small saucepan. Bring it to a boil then shut off the heat and add in the spices.
Let it cool completely then strain the syrup through a fine mesh sieve. Transfer to a mason jar or other air tight container and store in the refrigerator for up to two weeks.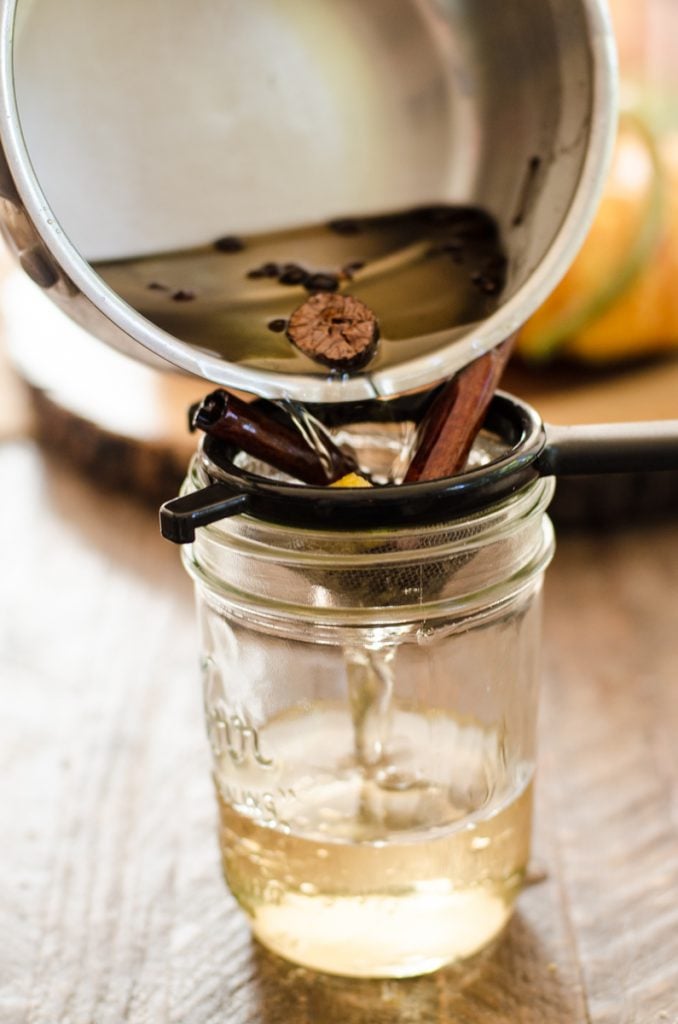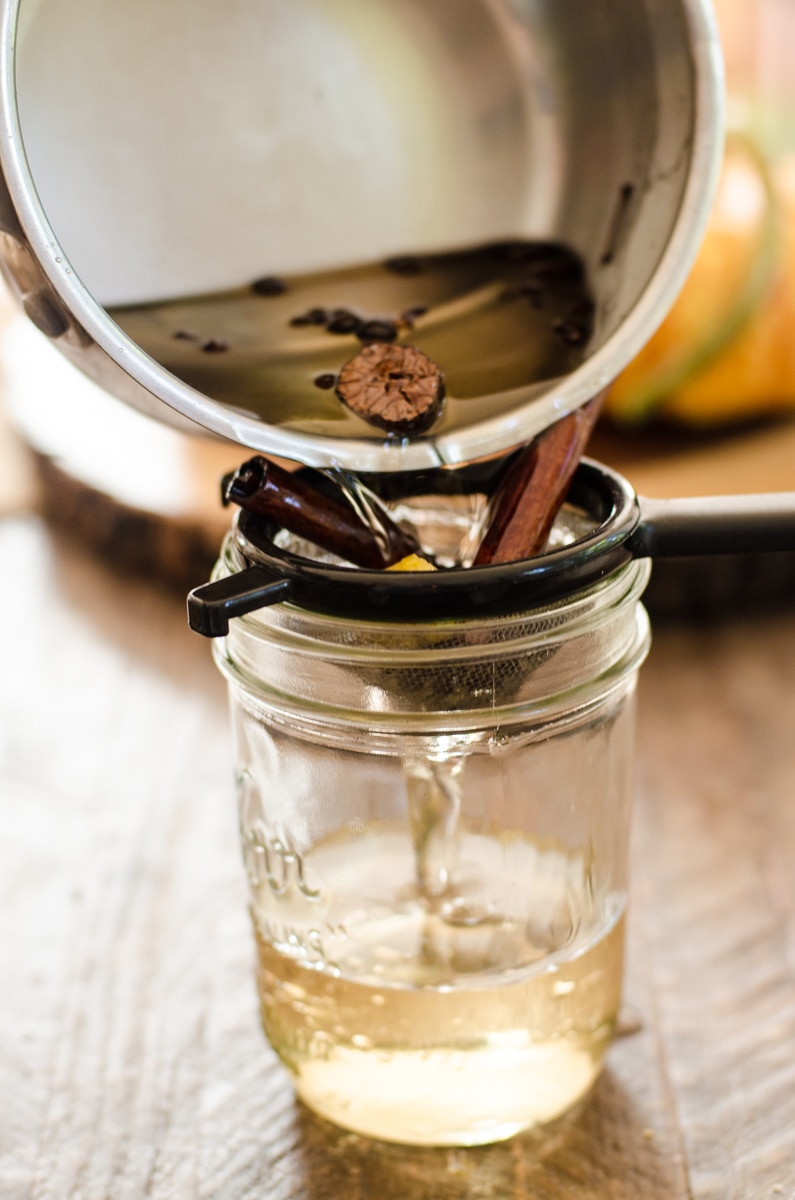 How To Use Ground Spices
To make this pumpkin spice syrup using ground spices it is important to remember that it will have flecks that remain in the syrup. This isn't a problem for texture or flavor, just appearance.
Begin by bringing sugar and water to a boil in a small to medium saucepan. Turn off the heat and stir in one tablespoon of ground pumpkin pie spice. Let it sit until completely cool.
Strain the syrup through a fine mesh strain lined with a double layer of cheesecloth or a coffee filter. This helps catch the small bits of spices so it doesn't end up in the syrup.
If you choose this method, know that the syrup is likely to be a bit darker because it is harder to completely remove all the spices than if they were whole.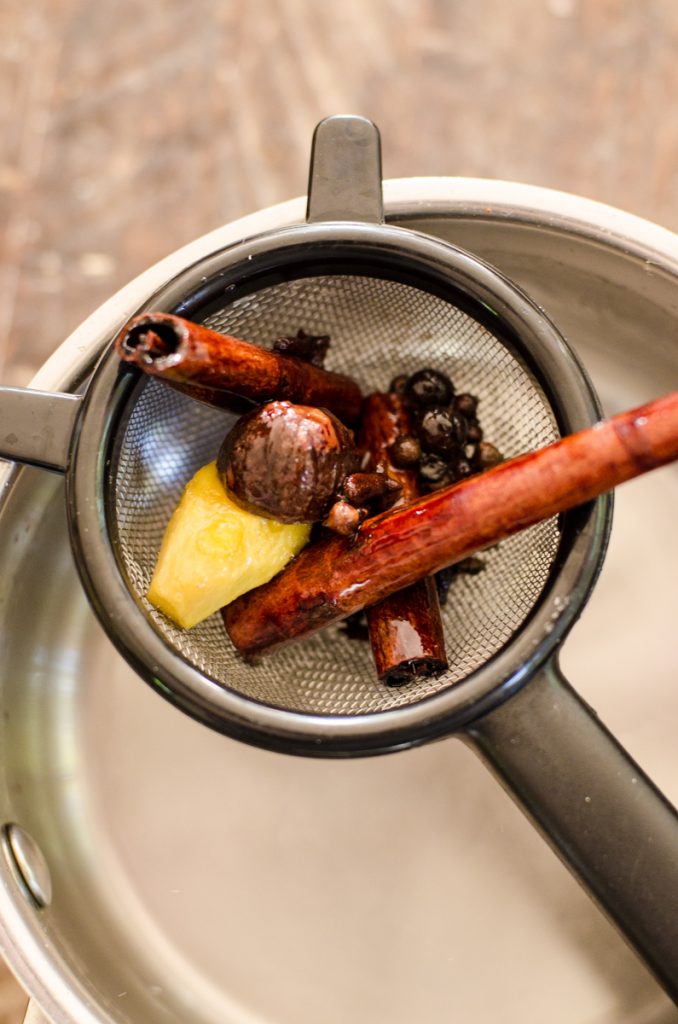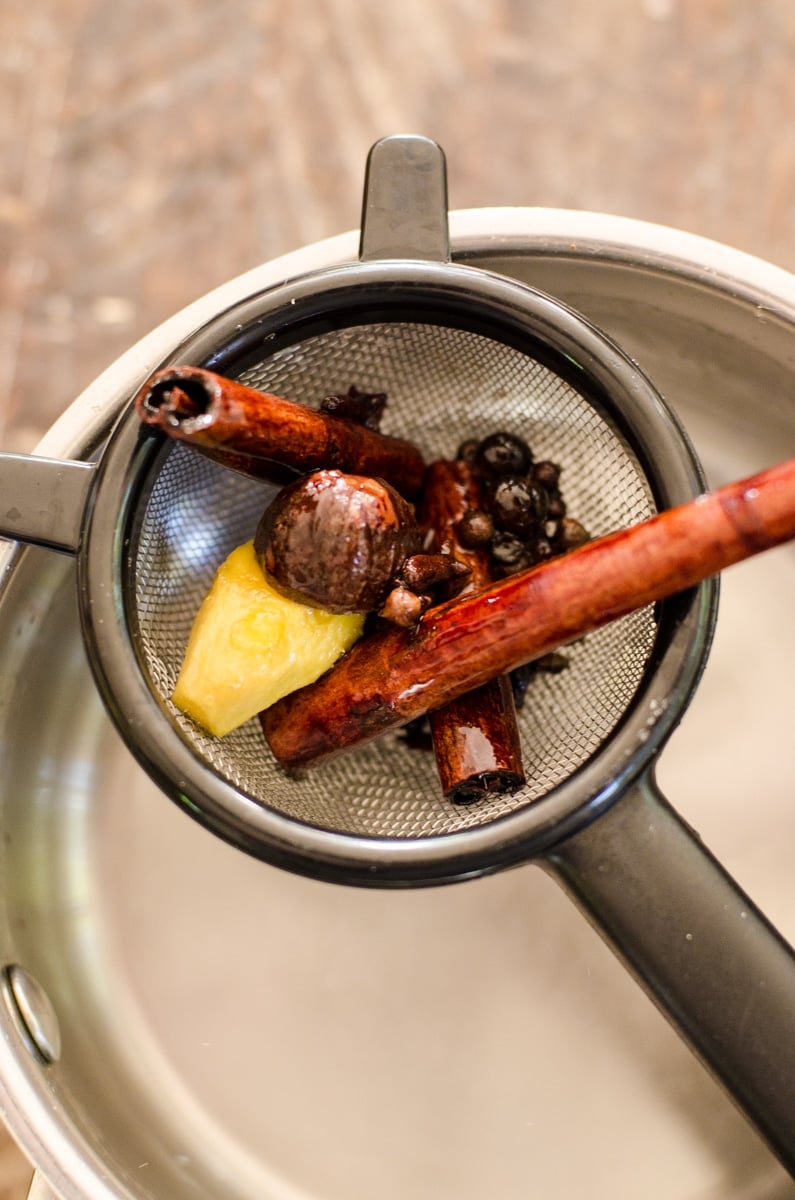 How To Make It With Pumpkin Purée
If you are looking for a Starbuck's pumpkin spice latte syrup the is a great recipe. If you are looking for one made with actual pumpkin, it is written into the recipe as optional.
There was a lot of uproar a few years ago that there was no real pumpkin in the lattes, so many syrup options came out that use pumpkin puree for the pumpkin flavor.
I should clarify that pumpkin spice comes from the spices used in pumpkin pie, not actual pumpkin. However, I'm always a fan of finding more ways to include fresh fruits and vegetables into cooking, so I'm providing this option as well.
It also is great recipe for using up a partial can of pumpkin puree. Just add it the syrup in the boiling phase so the liquid and puree mesh enough.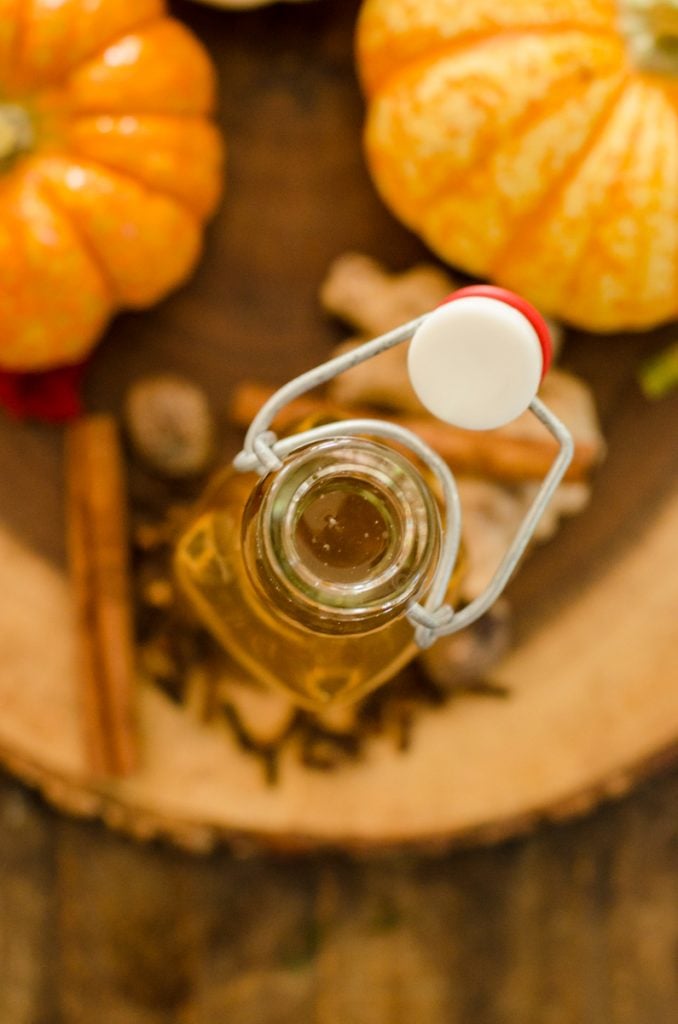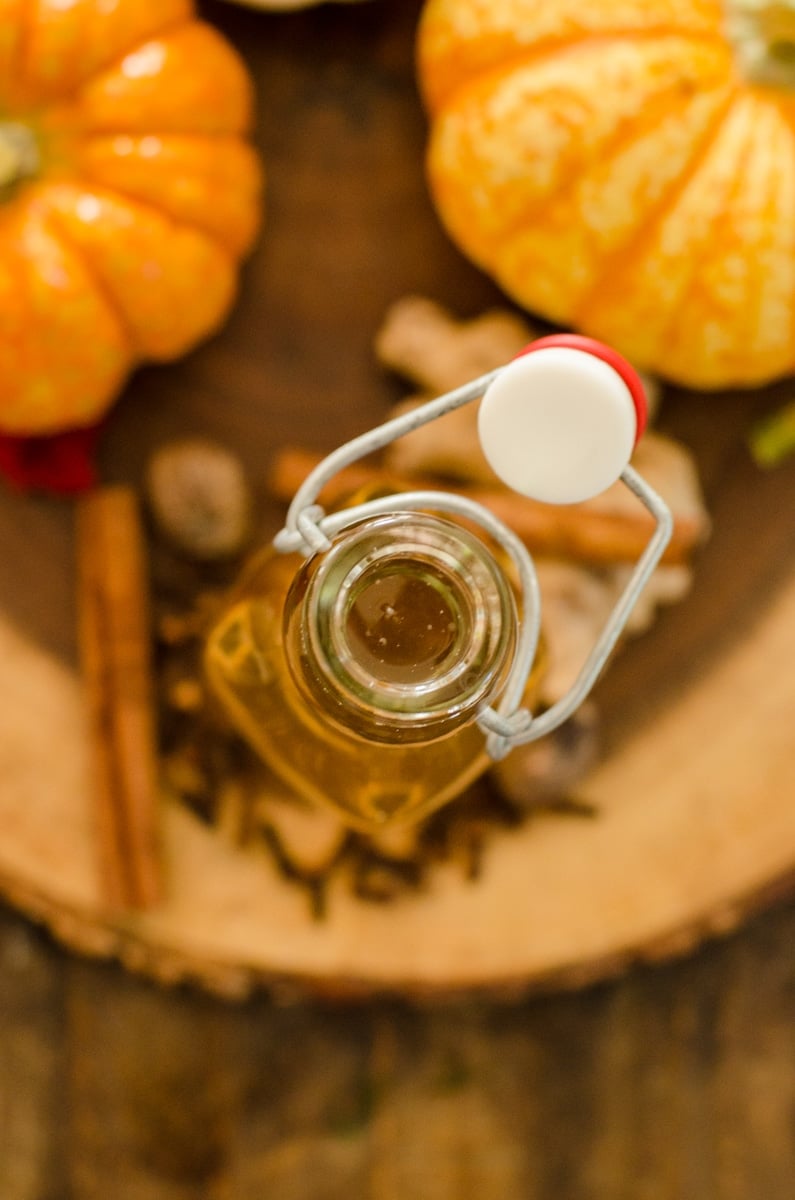 Top Recipe Tips
You can vary the flavor of the pumpkin spice syrup by using half brown sugar half granulated sugar. It does darken the syrup at bit which makes a great alternative the "caramel coloring" Torani syrup has.
If you add in the pumpkin puree the syrup will be much thicker than without. It also may require a larger jar as the bulk of it may not fit completely into a pint jar.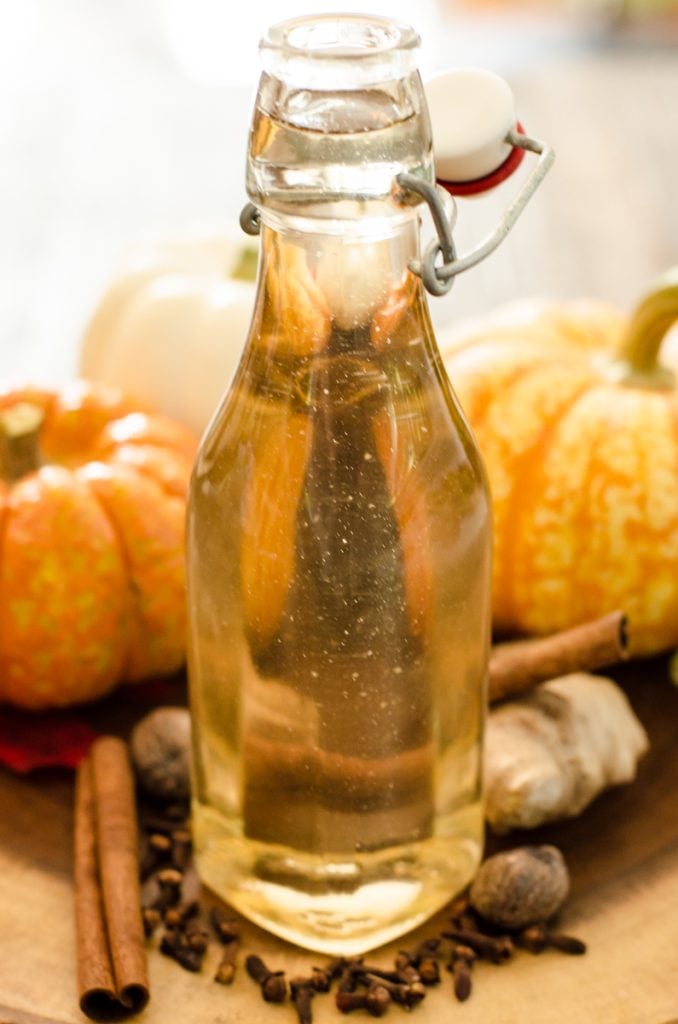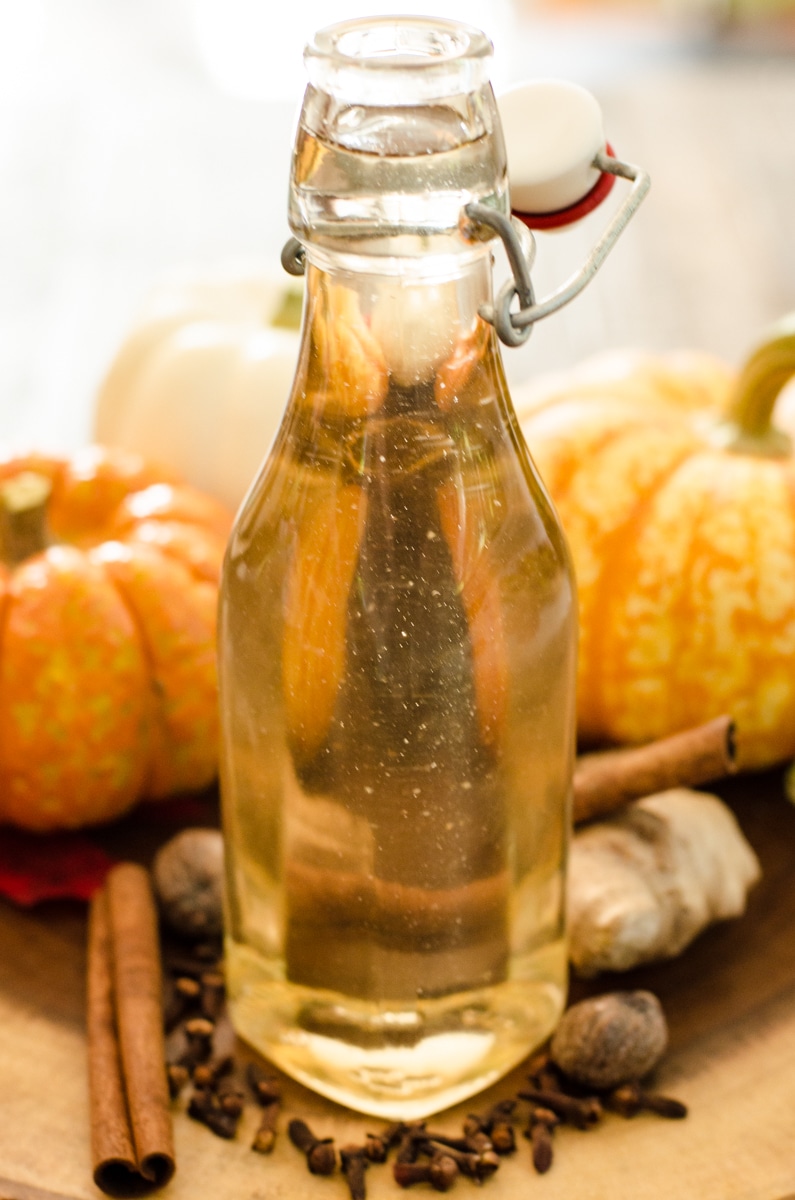 Pumpkin Pie Spice Syrup Recipe
This recipe makes a pint of pumpkin spice syrup. A grande pumpkin spice latte usually uses one ounce of syrup per drink, or two tablespoons of syrup. This means that this recipe should last you for 16 drinks.
If this is more than you need, try reducing the recipe down to ½ cup of water and ½ cup of sugar. You'll also want to reduce the spices by half as well or the flavor will be too strong.
---
Make grocery shopping simpler with this printable grocery list for pumpkin spice syrup recipe. Everything is listed in standard grocery store amounts. If no size is specified, even the smallest package provides more than enough.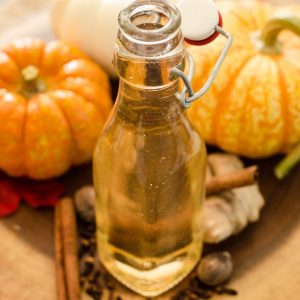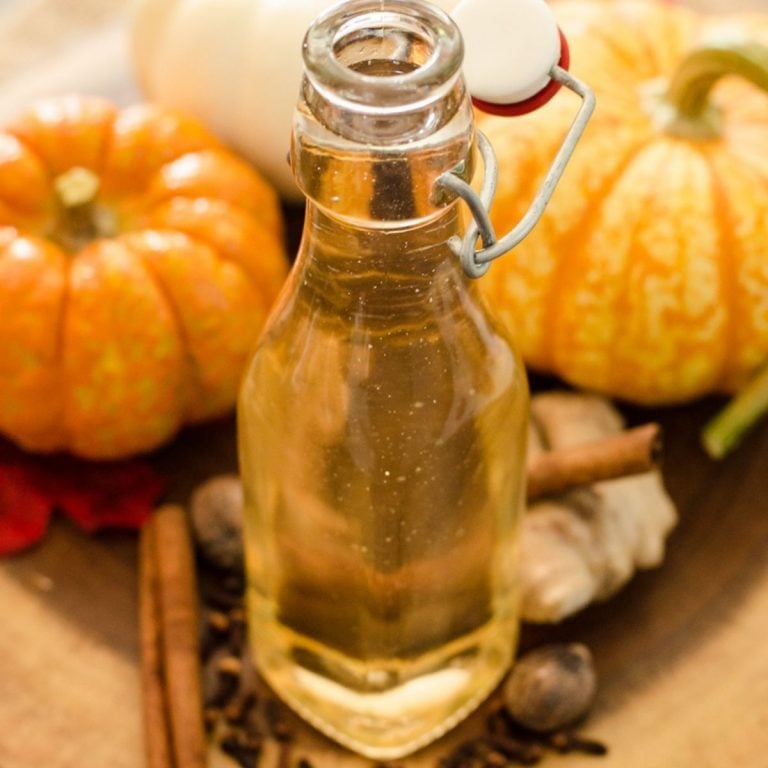 Pumpkin Pie Spice Syrup
Use this pumpkin spice syrup to make coffee, tea, or cocktail drinks through autumn and whenever the craving hits you.
Pin it for later?
Ingredients
1

cup

water

1

cup

granulated sugar*

⅓

cup

pumpkin puree,

(optional)*

2

cinnamon sticks

1

Tablespoon

cloves

½

whole nutmeg

1

teaspoon

whole allspice

1

thumb of ginger

,

peeled
Instructions
In a small saucepan, add the water, sugar and optional pumpkin puree. Bring to a boil then remove it from the heat and stir in the spices.

Let sit until completely cool, about 30 minutes. Strain through a fine mesh strainer to remove the spices then store in an air tight container in the refrigerator for up to weeks.
Notes
Use 2 Tablespoons of pumpkin spice syrup for one grande pumpkin spice latte
*Substitute half of the granulated sugar for unpacked brown sugar for a deeper, more autumnal flavor. 
**See section above about adding in the optional pumpkin puree and why you may or may not want to.
Nutrition
Serving:
1
serving
|
Calories:
53
kcal
|
Carbohydrates:
14
g
|
Protein:
1
g
|
Fat:
1
g
|
Saturated Fat:
1
g
|
Sodium:
2
mg
|
Potassium:
14
mg
|
Fiber:
1
g
|
Sugar:
13
g
|
Vitamin A:
794
IU
|
Vitamin C:
1
mg
|
Calcium:
9
mg
|
Iron:
1
mg
Tell me how much you love this recipe
and show off how you made it!