Want to cook with fresh pumpkins at home? Learn the anatomy of a pumpkin and how to buy & store pumpkins for eating and for decorating. Plus, fantastic sweet and savory pumpkin recipes you family will love!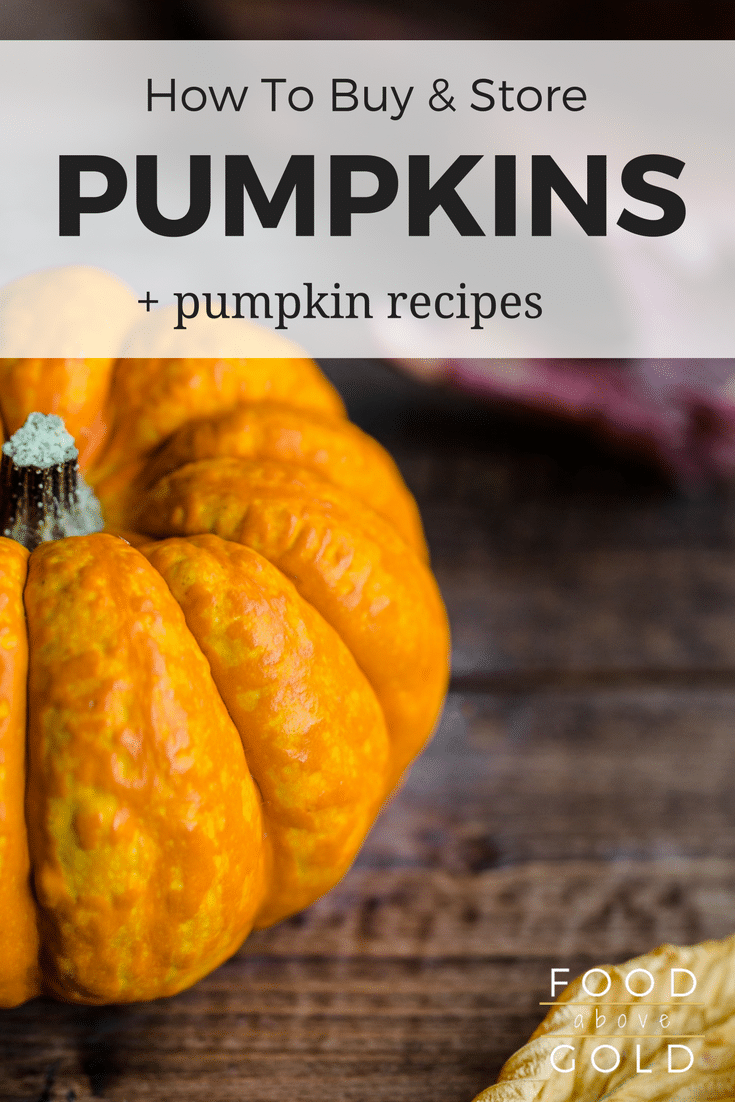 Whether you're a pumpkin newbie, or just looking for fresh inspiration and new pumpkin recipes, I've got you covered. Keep reading to learn how all about how to buy the right kind of pumpkins for cooking at home!
What Is A Pumpkin?
Pumpkins are a type of squash believed to originate in United States. Cultivated primarily for decoration, they are most widely known for pumpkin pie, a staple of Thanksgiving. They are rich in alpha and beta-carotene, which helps your body make Vitamin A. They also have lots of lutein, which helps with vision.
Pumpkins are one of the most popular crops in the United States. They also serve as popular pastime for farmers and gardeners who compete for the largest one every year. (Up to 2,000 pounds!)
When it comes to cooking pumpkin, pretty much the entire vegetable is edible. This includes seeds, flowers, and flesh. It why pumpkin makes it an excellent crop for complete utilization.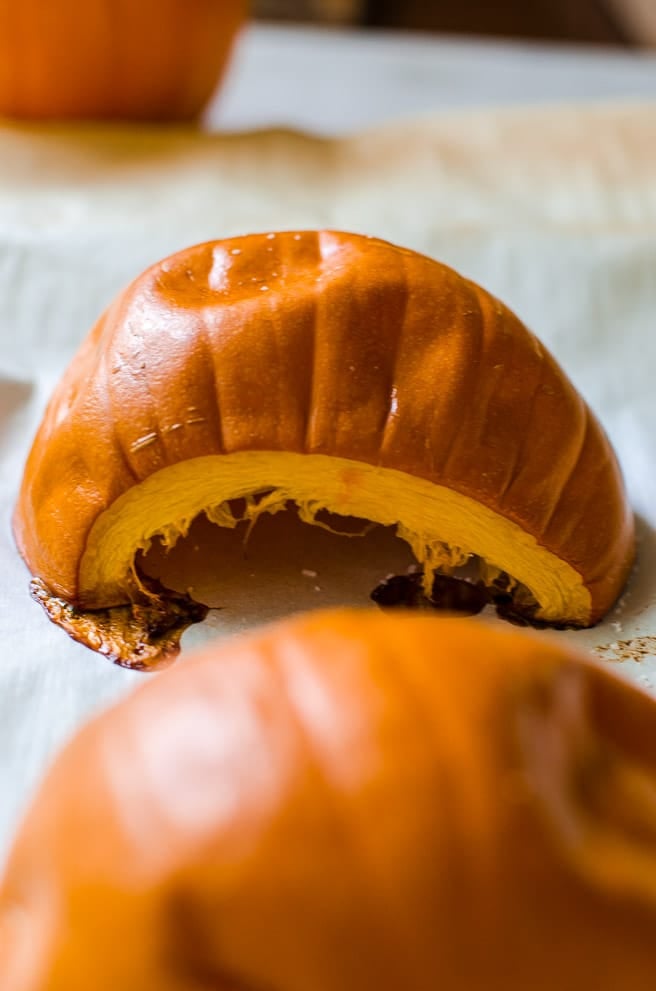 What Pumpkins are Best For Cooking?
The type of pumpkin you buy greatly depends on how you are using it. Is the pumpkin decorative, or is it for consumption?
A regular pumpkin that you set on your front stoop or carve frightful designs into it is not good for cooking. (These are also known as carving pumpkins.) They are edible and won't make you sick, but the flesh is bland and watery. This is because they are bred to be decorative, not eaten.
Instead, you want to get a sugar pumpkin. (aka: a pie pumpkin.). These are much smaller in size so the flavor is more concentrated making the sweet. They are also more tender. If a recipe call for fresh pumpkin, this is what they mean.
Interesting note: the same information holds true about pumpkin seeds. The ones from a sugar pumpkin taste better than one from a carving pumpkin.
How To Pick A Perfect Pumpkin
"How do I pick the perfect pumpkin?", you ask. Here are my tips for choosing the best pumpkin for your needs, whether decorative or for cooking with.
Firm. Find a pumpkin that isn't squishy and doesn't give when you apply a little pressure.
Skin. If it has shiny skin, that means it isn't ripe. Look for one with a matte and slightly dull appearance. If it's starting to look hazy, that means it's beginning to go bad.
Weight. You want it to feel heavy for it's size; test it against others of similar size.
Stem. Make sure part of the stem is intact. This helps prevent it from wilting from moisture loss.
Spotless. Make sure there are no brownish spots. (This doesn't include the area where it touched the ground.) There should also beno cracks.
Clean. Look for white mold or fuzz growing the stem or the blossom end of the pumpkin. Be vigilant because it can blend in or hide in texturing.
How To Keep It Fresh
Pumpkins, like most winter squash, are extremely low-maintenance. In a protected environment like your kitchen, a whole pumpkin should stay fresh up to a month. If you cut the pumpkin however, this timeline decreases quickly. (Read on for more information.)
If you leave them exposed to the elements, however, their shelf life and quality will diminish greatly. For best success keep your pumpkin away from moisture and use it within a week of purchase.
Also remember that the longer the pumpkin has been off the vine, the more moisture and flavor it will lose. While this isn't a problem if you're making a beautiful tablescape, it can drastically affect the outcome of your pumpkin recipes.
How to Store Raw Pumpkin
Even though pumpkin is technically edible raw, it doesn't taste very good. It is super crunchy, kinda dry, and likely to upset your stomach. However, that doesn't mean you can't take advantage of an awesome crop year and store raw pumpkin.
Store cut up raw cooking pumpkins in an airtight container in the refrigerator for 3-5 days.When you are ready to use them, double check that they aren't cracked or dried out to ensure the best flavor.
You can also freeze pumpkin in chunks for 3-6 months in an airtight container. Depending on what you are making you may find that storing it cooked preserves the flavor better than freezing it raw. (Like with pumpkin purée.)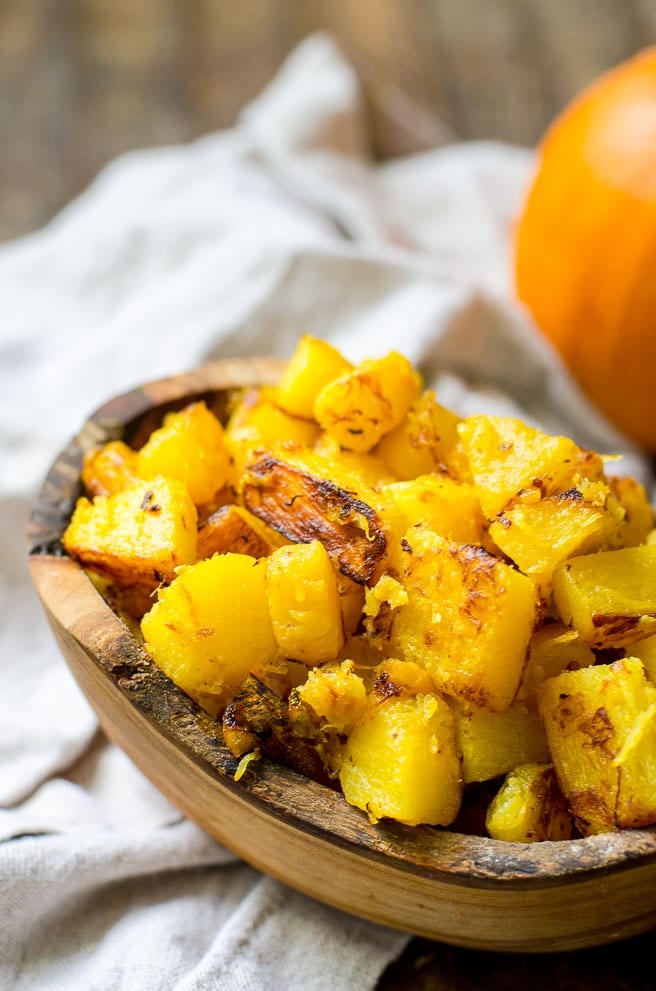 How To Store Cooked Pumpkin
Once baked, a pumpkin can be stored in an airtight container in the refrigerator for 5-7 days. Depending on how you have chosen to cook your pumpkin, reheating it may give you an overcooked texture. If you plan to reheat your pumpkin, I recommend sautéing it or turning it into purée for best results.
If you decide to freeze it, cooked pumpkin can last up to one year.
Pumpkin lets out a lot of water when it cooks, so dab it dry before freezing to prevent freezer burn. If you're storing pieces, I recommend spreading them on a sheet pan and freezing them for 4-6 hours. (Try to keep them from touching too much, if you can.) This way you don't have to battle with a solid chunk of pumpkin pieces that need broken apart. Once frozen you can transfer them to a storage container.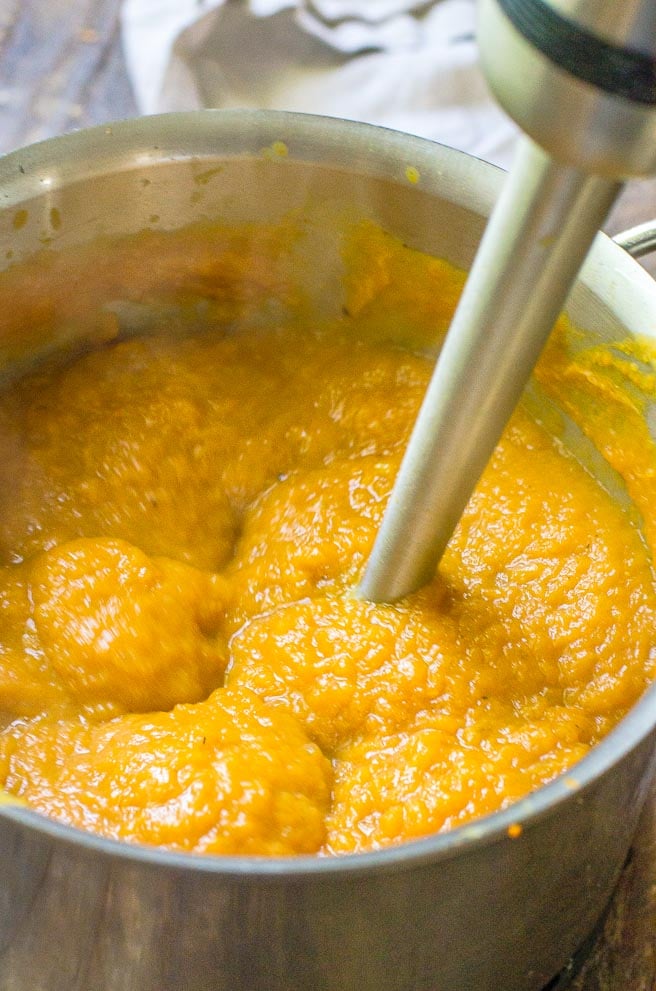 How To Store Pumpkin Puree
After you have cooked and roasted a pumpkin, run it through a fine mesh strainer or food mill, you get a lovely homemade pumpkin puree. Or maybe you just have extra pumpkin left from the can. Don't worry, it stores easily.
Homemade pumpkin puree will stay fresh for 3-5 days in the refrigerator. Store it in an airtight container with as little space as possible for best results.
To freeze purée, I recommend using a freezer bag or a container that you can to the brim. (Don't forget to leave enough space for expansion, but remove all the excess air to prevent freezer burn!) The great thing about freezer bags is that you can flatten the purée out in the bag so it takes up a minimal amount of precious freezer space.
Once frozen, pumpkin puree lasts for up to one year.
Practice Makes Perfect
Now that you've mastered buying and storing cooking pumpkins, it's time to put that knowledge to good use with recipes. I know that pumpkin bread, pancakes, and pie tend to be the most popular items, but these upscale foodie options cover both sweet and savory.
It's a great way to find a new favorite! (I personally love the pasta, tacos, and pizza.)
Happy Cooking! 🙂