This delicious pumpkin breakfast casserole is a morning dream! Made in one pan and full of protein and veggies, it is the best way to start an autumn morning!
If you're tired of fall breakfast dishes that are super sweet and loaded with condensed milk, cinnamon sugar, and pumpkin pie spice, then you found the perfect recipe. This pumpkin breakfast casserole is a magnificent escape from overnight pumpkin french toast and pumpkin puree!
How To Determine If You Have An Oven Safe Pan?
This pumpkin breakfast casserole starts on the cooktop and then finishes in the oven to get a nice browning on the cheese. In order to keep it a single pan meal, you need to have an oven safe pan. (I use this pan.)
"How do I know if I have an oven safe pan?", you ask. You can find out in one of these four ways.
Google. A simple google search could probably tell you what temperature your pans are oven safe up to. Don't trust forums, people. Make sure to get your information from a reputable source, please.
Manufacturer. If you have 5 minutes to spare, you can call the manufacturer. If you don't know the brand or quality, assume it shouldn't go in the oven.
Paperwork. If you still have the original paperwork from when you purchased your pots and pans, then it should tell you in there.
Bottom. Depending on the brand that you have, it may be stamped onto the bottom of your pan.
Just because it says oven-safe doesn't guarantee anything. Since this pumpkin breakfast casserole recipe is baked at 400°F, make sure your pan goes at least that high.
Is My Non-Stick Pan Oven Safe?
Depending on how old, or what the quality of your pan is, you may or may not get lucky with this one.
Nonstick coating has changed a lot in the last few years. In fact, a lot of people make the mistake of calling all non-stick pans "teflon" pans, and understandably so.
Up until the last 5 years or so, teflon has pretty much owned the market on non-stick coating. As a result, the name teflon often describes nonstick coating like Kleenex describes tissues.
However, because of the radical changes most pans don't have any actual teflon in them anymore. The chemical makeup is entirely different. If you purchased your pan before 2010 I recommend replacing it to ensure quality.
It is important to note that no matter the type of nonstick coating, it is not oven safe if the surface is scratched. I cannot stress this enough! It will not work with this pumpkin breakfast casserole.
Nonstick coating gets scratched with tools that are metal or abrasive. When this happens, it lifts up the layers of the coating and exposes it. This increases the risk of melting the coating in the oven because of the damage. It can also infuse the chemical compounds of the coating into your foods.
So really the question becomes is it food safe to use a scratched nonstick pan for this pumpkin breakfast casserole? That's for you to decide, but it may change how you shop for your pans in the future. (Especially if you like to get them at thrift stores or flea markets).
Top Recipe Tips
Any type of sausage will work with this pumpkin breakfast casserole, but the flavor will alter greatly. (I really like using a jalapeno chicken sausage.) I recommend keeping with a chicken sausage because it is milder in flavor and won't overpower the pumpkin.
If you can, get maple syrup sweetened sausage. It provides just the right balance of sweetness your this pumpkin breakfast casserole that sky-rockets it out of this world!
A cup of spinach weighs roughly an ounce, so an 8 ounce bag of baby spinach works for this recipe. Roughly chop it a bit to help it wilt faster and more evenly.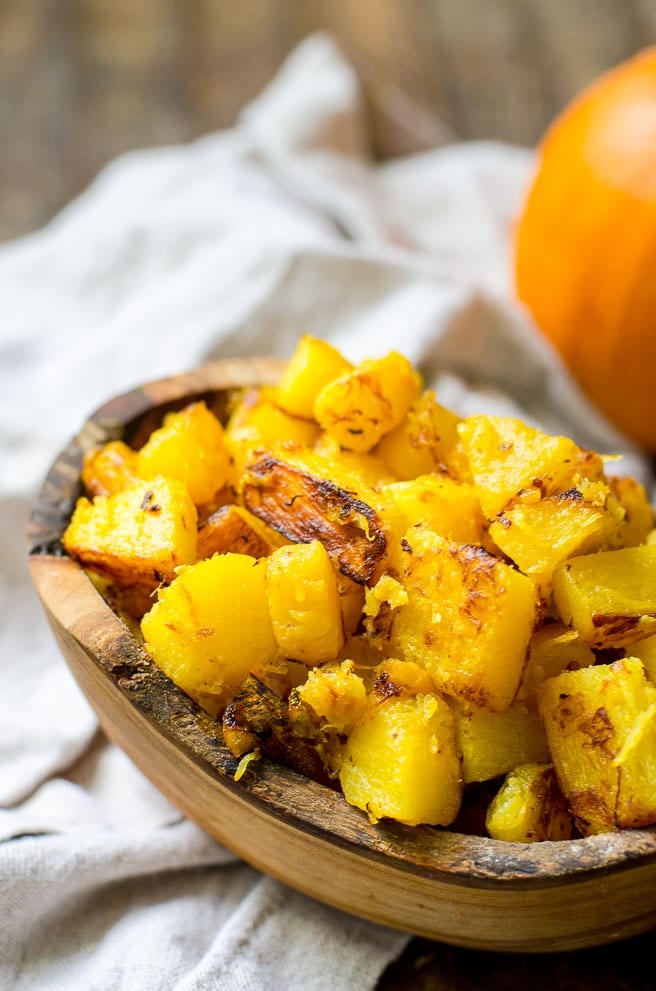 Can I Make It Ahead?
Savory recipes are a bit trickier to make ahead because the filling is usually heartier and takes longer to reheat. Don't worry though, that doesn't mean it's impossible.
For this pumpkin breakfast casserole, cook the pumpkin mixture just like the recipe says. Then let it cool completely in the pan and refrigerate overnight.
The next morning let it come to room temperature, then in a large bowl, whisk the milk and eggs. Pour them over the top and cook according to the recipe.
Can I Use A Baking Dish?
Yes you can, but keeping it in the pan you cook the pumpkin breakfast casserole in helps boost the flavor.
The brown stuff on the bottom of the pan that the sausage and vegetables leaves behind is called "fond". It is the caramelized sugars and goodies that have come from you food and helps make the dish absolutely delicious.
If you choose to use a baking dish instead. Use ¼ cup of cold water to help lift the fond from the bottom of the pan. Then use a wooden spatula to scrape it up and mix it into the pumpkin. Once done, you can transfer it to the baking dish and bake like normal.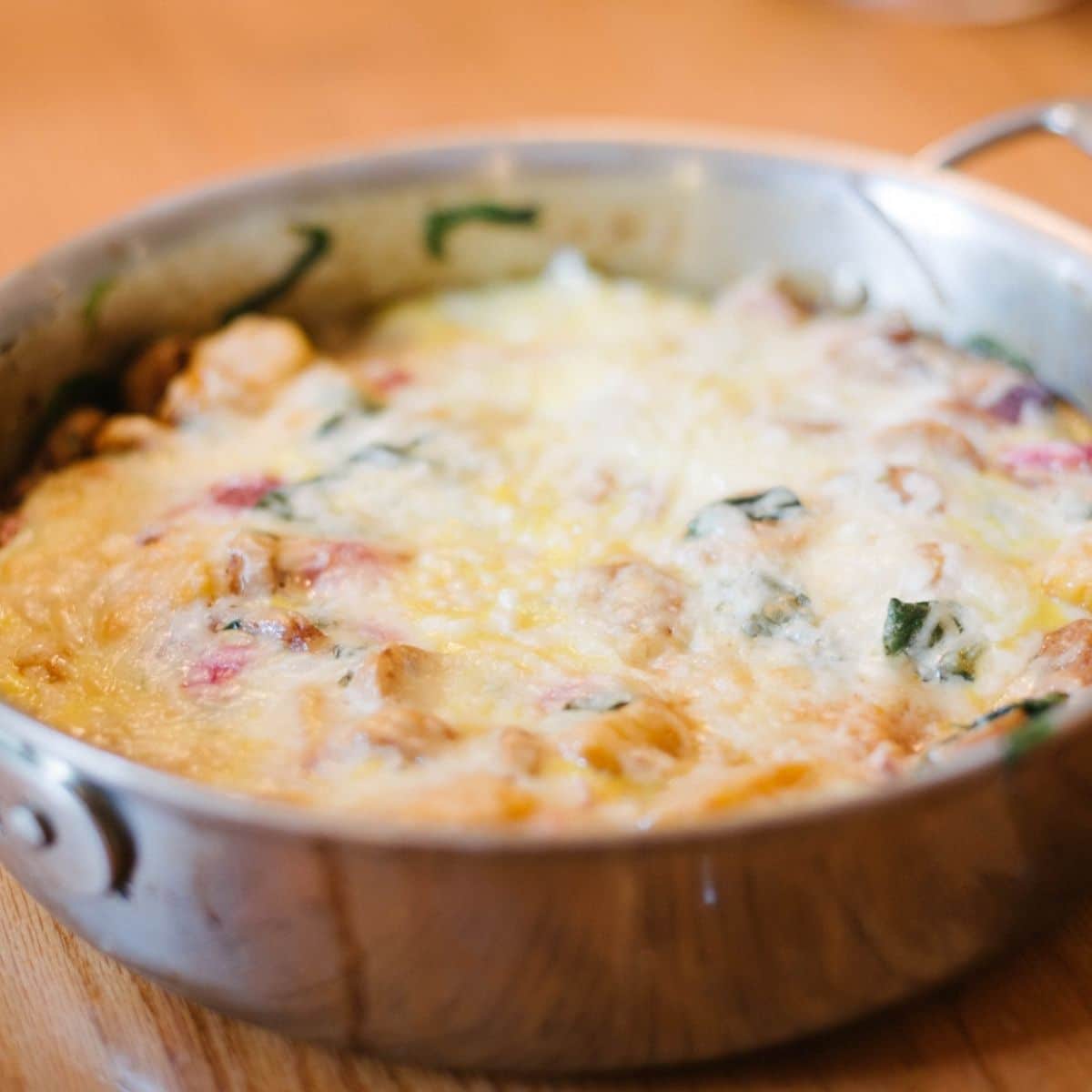 Savory Pumpkin Breakfast Casserole Recipe
This absolutely delicious pumpkin breakfast casserole is a great break from powdered sugar coated bread cubes. It is hearty, filling, and packed with all the things that help make a fall breakfast perfect!
This is a great recipe to make on Thanksgiving morning to have enough energy to get you through cooking a feast!
---
Make grocery shopping simpler with this printable grocery list for this pumpkin breakfast casserole recipe. Everything is listed in standard grocery store amounts. If no size is specified, even the smallest package will provide more than enough.
Thanks so much for stopping by!
Happy Cooking! 🙂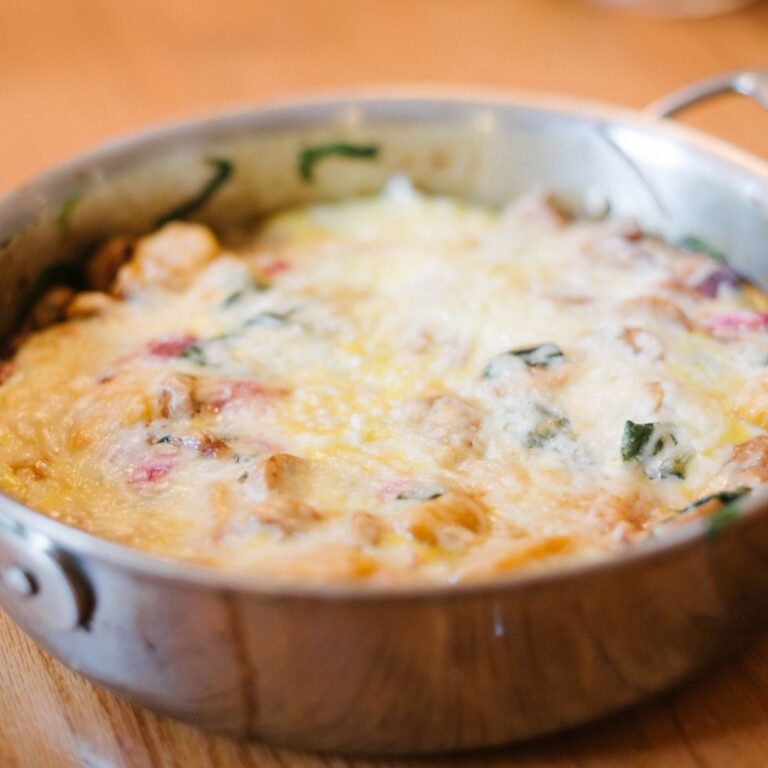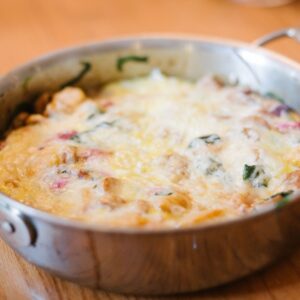 Autumn Breakfast Casserole
This one pan pumpkin breakfast casserole is a delicious way to start your morning. It is packed with sausage, and yummy autumn veggies.
Pin it for later?
Ingredients
2

Tablespoons

olive oil

1

12-oz package of chicken-apple sausage,

cut into rounds

½

cup

water or chicken stock

1

red onion,

sliced

1

lb

radishes,

sliced

½

pie pumpkin,

peeled and diced

8

cups

baby spinach,

roughly chopped

8

eggs

¼

cup

milk

1

cup

parmesan cheese,

shredded
Instructions
Preheat oven to 400°F


In a 4 quart oven-safe sauté pan over medium heat, heat the olive oil. When the oil is hot add in the chicken-apple sausage and cook for

5 Minutes

or until both sides are caramelized.

Use the water (or stock) to deglaze the pan and scrape up any caramelized bits from the bottom of the pan. Add in the diced pumpkin and cook for

5 Minutes

.

Add in radishes and red onion and cook for another

5 Minutes

. Then, working in batches if needed add in the spinach and cook until it has wilted and there is very little water left in the bottom of the pan.

In a bowl whisk the eggs and milk together and pour over the sausage and vegetables. Don't stir. Top with the parmesan cheese.

Bake for

25 Minutes

or until the cheese has browned and the eggs are set. Remove and rest for

2 Minutes

before serving.
Notes
If you stir the eggs into the casserole it can cause scorching on the bottom and the texture to change.  As hard as it is, resist the urge to stir them in!  You're not making scrambled eggs, you're making a breakfast casserole.
Nutrition
Serving:
1
slice
|
Calories:
195
kcal
|
Carbohydrates:
6
g
|
Protein:
15
g
|
Fat:
13
g
|
Saturated Fat:
4
g
|
Cholesterol:
184
mg
|
Sodium:
418
mg
|
Potassium:
455
mg
|
Fiber:
2
g
|
Sugar:
3
g
|
Vitamin A:
3166
IU
|
Vitamin C:
18
mg
|
Calcium:
231
mg
|
Iron:
2
mg
Tell me how much you love this recipe
and show off how you made it!