A perfect balance of sweet and savory, this pumpkin and apple pizza has the deal sealed with bacon and delicious roasted garlic and ricotta cheese sauce!  
Note:  This post has been updated with new content and photos for your enjoyment!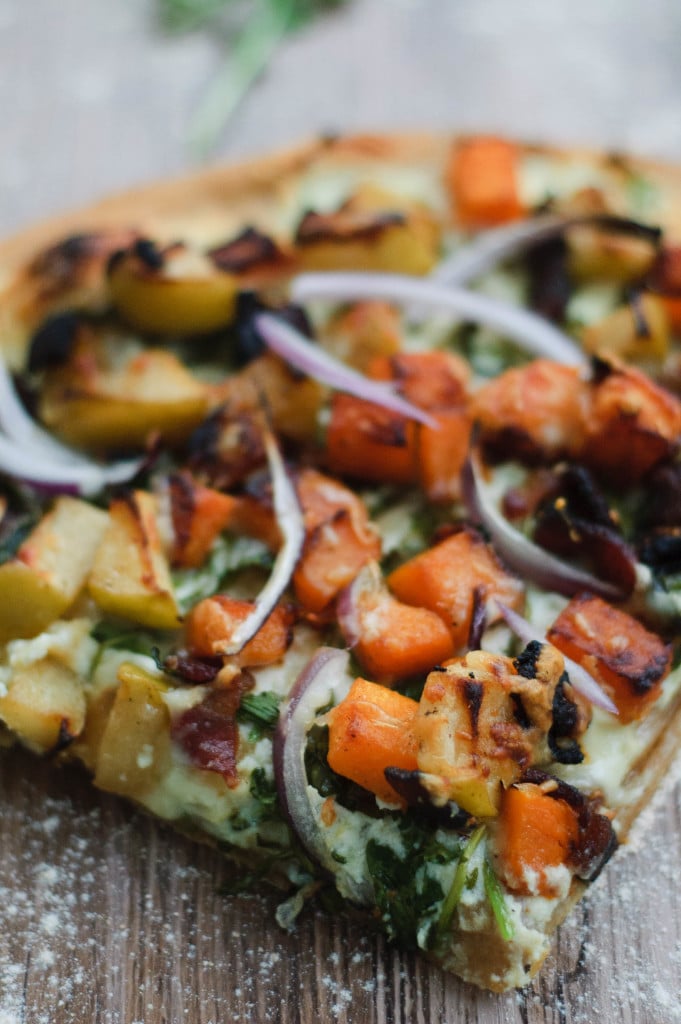 Bacon is that thing that makes everything in life taste better.  In a way it's kind of like salt – only better. If you love bacon as much as I do, then you're going to fall head over heels for this Pumpkin and Apple Pizza with Bacon.  It has pumpkin and green apple that is cooked in the fat rendered from the bacon and is balanced with peppery arugula and a sweet mixture of roasted garlic and ricotta!  Pizza night will forever be changed!
Skills & Techniques
Before you begin making this yummy Pumpkin and Apple Pizza with Bacon, brush up on your skills and techniques by reading up on:
Also, for this pumpkin pizza I recommend using my favorite recipe for pizza crust – but turn it into a whole wheat crust by replacing one cup of the flour with whole wheat flour.  This will give the pumpkin pizza a richer and deeper autumnal flavor that will accent the other flavors well.
Storage and Leftovers
Not that I think that you're going to have leftovers, but just in case, this pumpkin pizza can be stored in an air-tight container in the fridge for 3-5 days, or wrapped in aluminum foil for up to 48 hours.
If you would like to reheat this pizza, I recommend:
Preheat the oven to 400°F.
Place the pizza on a sheet pan with parchment paper, or onto a clean pizza stone.  Put in the oven and bake for 10 minutes or until pizza is heated through.
Carefully remove from the oven and serve hot.
Since it's autumn and we're transitioning into heartier, deeper flavors, I've recommended a whole wheat crust with this recipe.  Whole wheat crusts however tend to dry out and get sad when reheated.  I advise that you brush the crust with just a little bit of olive oil before reheating to help out with this issue.  🙂

Pumpkin and Apple Pizza with Bacon
It may seem like an odd thing to put on a pizza, but arugula's slightly spicy and peppery flavor can add a lot to the flavor profile.  For this pizza, I recommend placing it under most of the toppings before cooking.  Since arugula is so tender and does not have a super high concentration of water, it tends to become overly crisp and paper thin when cooked in the oven for very long.  By placing it under the other ingredients it maintains is supple texture with little fear of it ruining your pizza or preventing the crust from baking because of its moisture content.
---
Get your free printable grocery list for this Pumpkin and Apple Pizza with Bacon HERE.
---
This grocery list has everything you'll need to make this Pumpkin and Apple Pizza with Bacon recipe.  To help in making grocery shopping simple, each ingredient is listed in easy-to-find grocery store amounts.  If there is no amount specified, that means that you can buy the smallest (or largest) container available and still have plenty left over.
If you would like to try some of our other savory pumpkin recipes, I recommend:
Happy Cooking! 🙂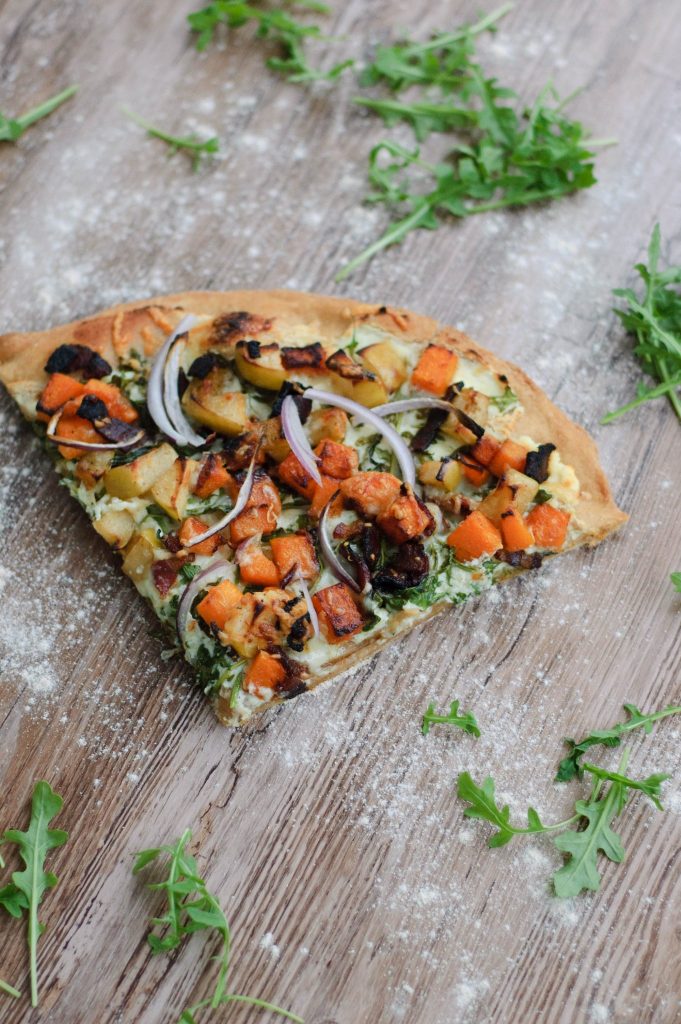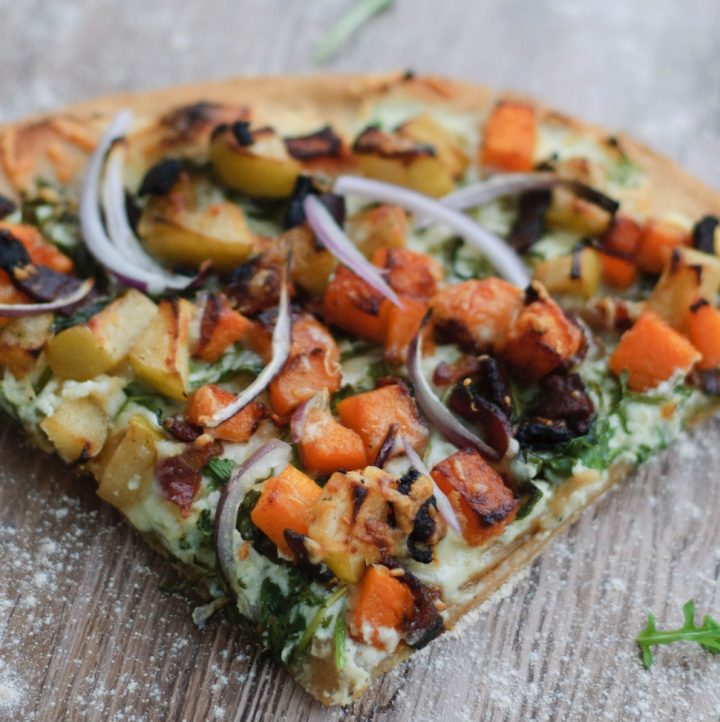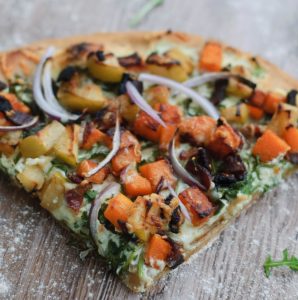 Pumpkin and Apple Pizza with Bacon
This pumpkin and apple pizza is topped with thick bacon, roasted garlic, arugula, and red onion. Sweetened with ricotta, it's a perfect pizza night meal!
Total Time:
1
hour
20
minutes
Pin it for later?
Ingredients
Sauce
1

cup

whole-milk ricotta cheese

1

head of roasted garlic

1/4

tsp

salt
Toppings
3

strips thick cut applewood smoked bacon

,

, cut into pieces

1/2

pie pumpkin

,

, peeled and diced

1

green apple

,

, diced

4

cups

arugula

1/2

small red onion

,

, sliced

1

cup

shredded cheese

,

(like parmesan, fontina, mozzarella, asiago, etc...)
Instructions
Preheat
Preheat oven to 500°F or as high as it will go.
Dough
Spread out the cornmeal on a pizza stone, then stretch the dough out to make a 12" pizza.

Remove each of the roasted cloves of garlic from the head and use a spoon to smash them into a paste.

Stir together garlic paste with salt and ricotta until completely combined. Spread out on pizza dough as the sauce.
Toppings
In a large sauté pan over medium heat, cook bacon to desired level of crispiness. Do not drain fat

Add in the pumpkin and cook for

5 Minutes

. Add in the green apple and cook for

5 Minutes

. At this point the pumpkin should be soft but still a little crunchy.

Put arugula on top of the garlic-ricotta sauce. Carefully spread out the hot bacon, pumpkin, and green apple mixture on top of ricotta.

Place the red onion on the rest of the toppings and finish out the pizza by sprinkling the one cup of shredded cheese on top.
Bake
Place the pizza in the oven and bake for

17 Minutes

or until the cheese is browned and the crust is at your desired doneness.

Remove the pizza from the oven and let cool for

2 Minutes

. Cut into 8 slices and serve.
Nutrition
Serving:
1
g
|
Calories:
283
kcal
|
Carbohydrates:
36.4
g
|
Protein:
14.8
g
|
Fat:
9.5
g
|
Saturated Fat:
5.4
g
|
Cholesterol:
28.9
mg
|
Sodium:
256.7
mg
|
Fiber:
5.7
g
|
Sugar:
5.8
g
Tell me how much you love this recipe
and join fellow foodie friends @foodabovegold
Nutrition Facts
Pumpkin and Apple Pizza with Bacon
Amount Per Serving (1 g)
Calories 283
Calories from Fat 86
% Daily Value*
Total Fat 9.5g 15%
Cholesterol 28.9mg 10%
Sodium 256.7mg 11%
Total Carbohydrates 36.4g 12%
Protein 14.8g 30%
* Percent Daily Values are based on a 2000 calorie diet.
1