Discover the kinds of citrus juicers: both manual and electric as well as tips on different ways to use them. Plus, a dirty secret about store-bought juice.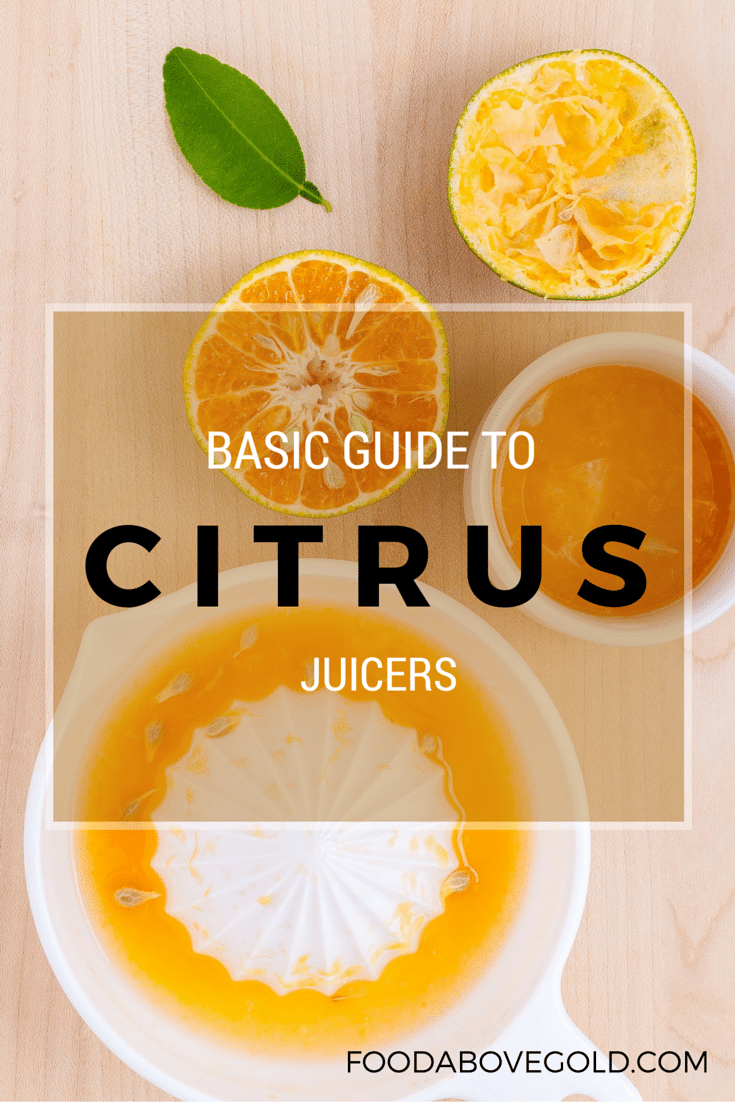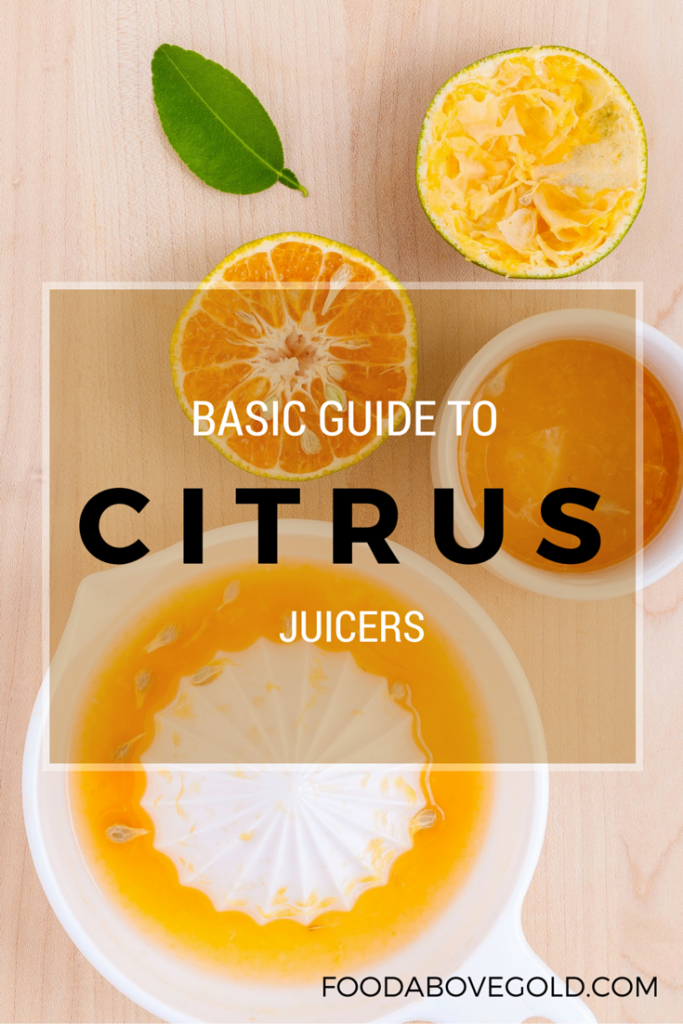 Do you love a good glass of fresh-squeezed orange juice?  Have you ever noticed that when you squeeze juice at home, it tastes completely different than the stuff you can buy in store?  There are many different tools out there to juice citrus – most of them require purchasing what Alton Brown would call a "unitasker"; a tool useful for only one thing.  While most of these tools could be very useful if you juice citrus regularly, you may find that the space they take up in your kitchen to be more valuable than the tool itself.
Last week we learned how to buy & store citrus, let's take a look at some of the different options for citrus juicers out there – both manual and electric.

Guide To Manual Citrus Juicers
Standard Citrus Juicer:
This tool may have gone out of vogue to make way for fancy electrics, but sometimes and little elbow work will do the trick admirably – and take up considerably less space in your kitchen.  This type of manual citrus juicer will often rest on top of a pitcher or cup so it can strain the seeds while draining the juice to save for later, but if  you happen to get one that doesn't (like the title image) it should have a pour spout on it to make transferring your juice simple. To Use: Place a halved piece of fruit cut side down into the juicer and twist back and forth while applying gentle pressure until all the juice has been removed.  Strain seeds if necessary.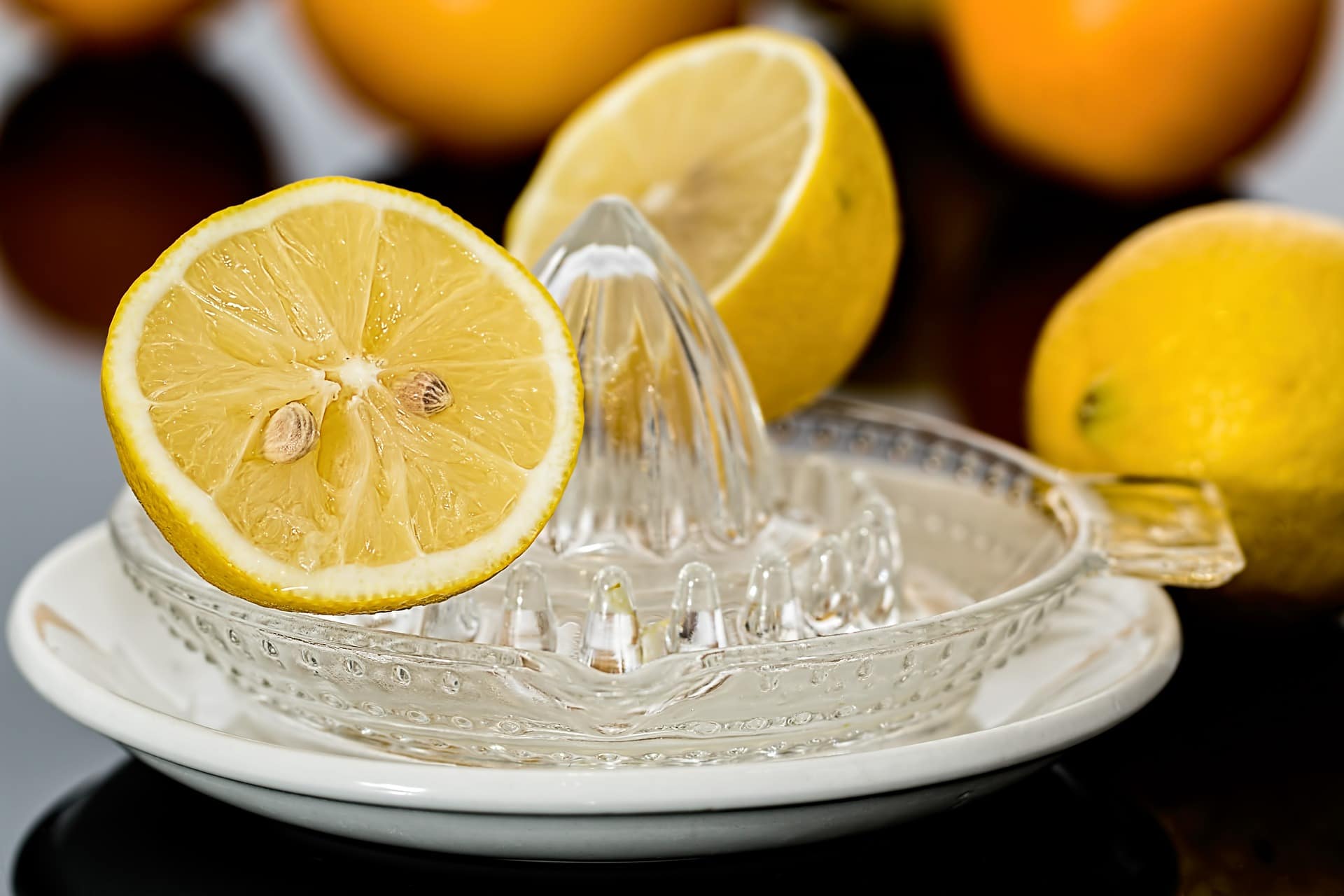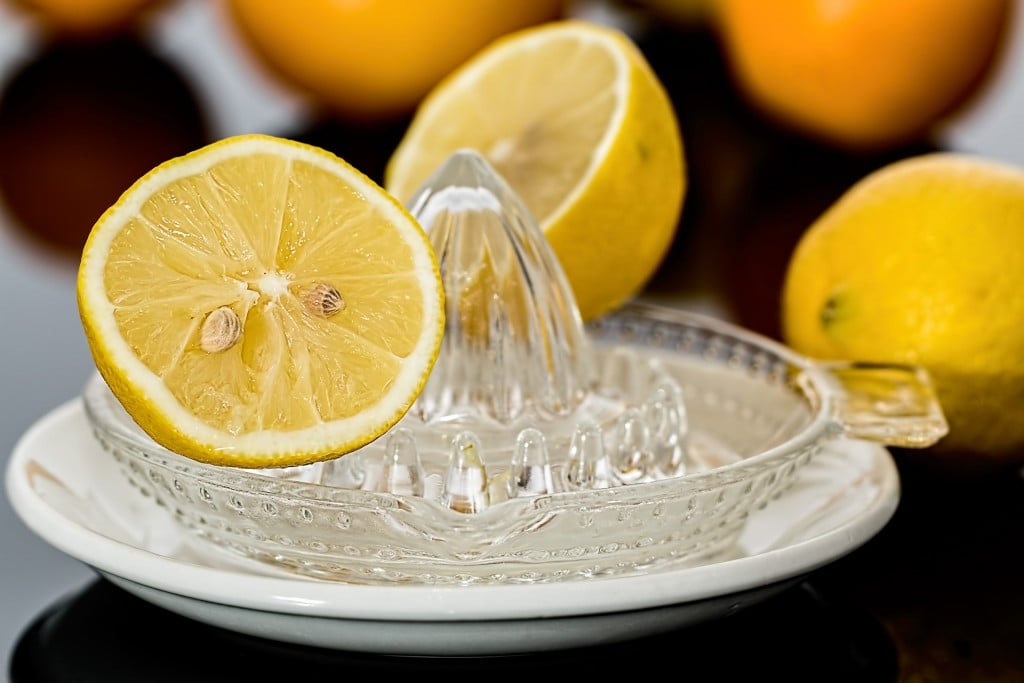 ---
Citrus Reamer:
To prevent reacting with the acid in the juice, the citrus reamer is usually made out of wood or ceramic (although there are many metal ones available).  It is slightly more space saving than the manual juicer, but make sure to have a way to catch the juice and strain the seeds before use.  To Use:  Hold a halved piece of fruit in one hand and use the other hand to insert the reamer into the cut side and twist it back and forth until all the juice has been removed.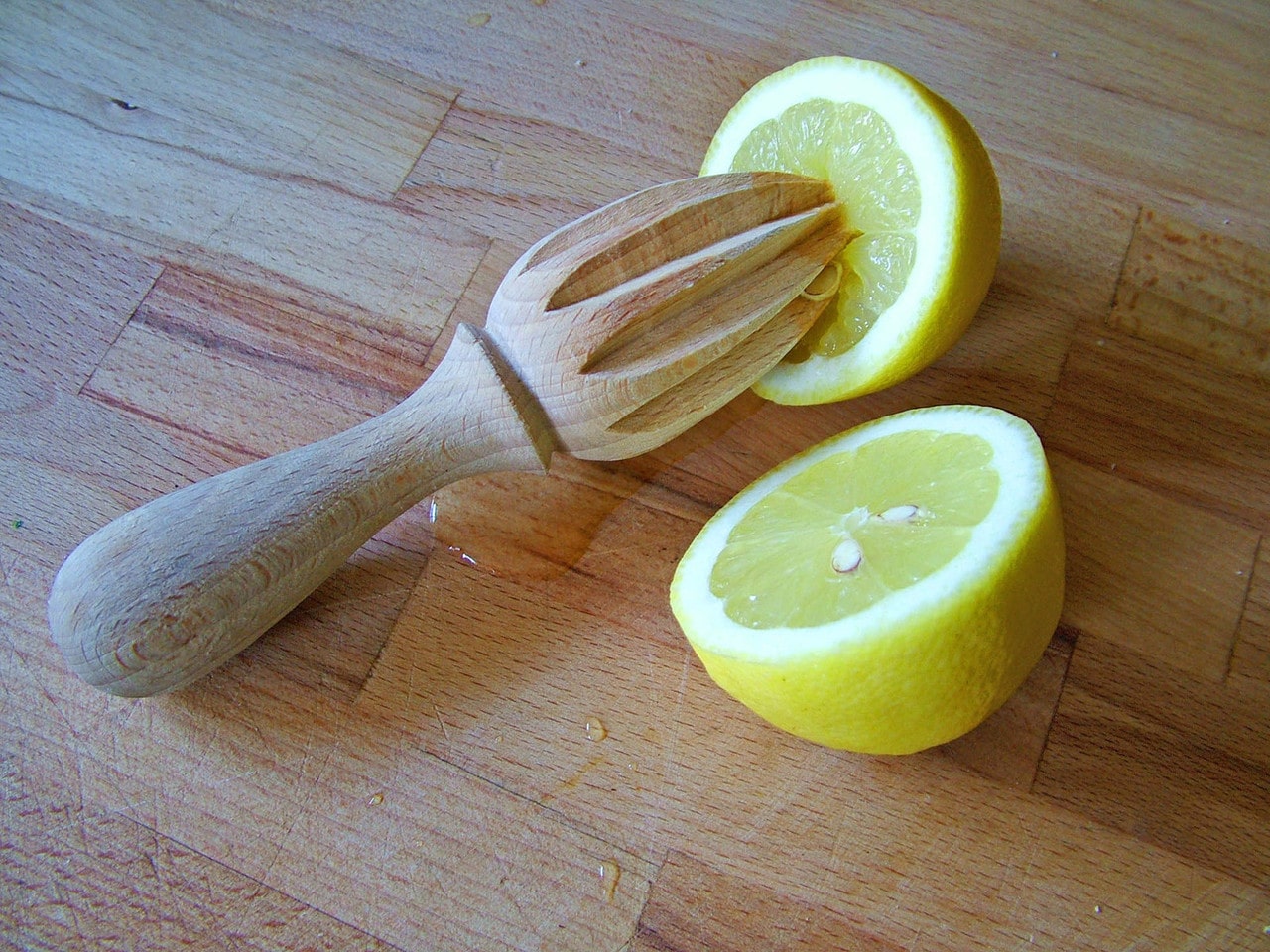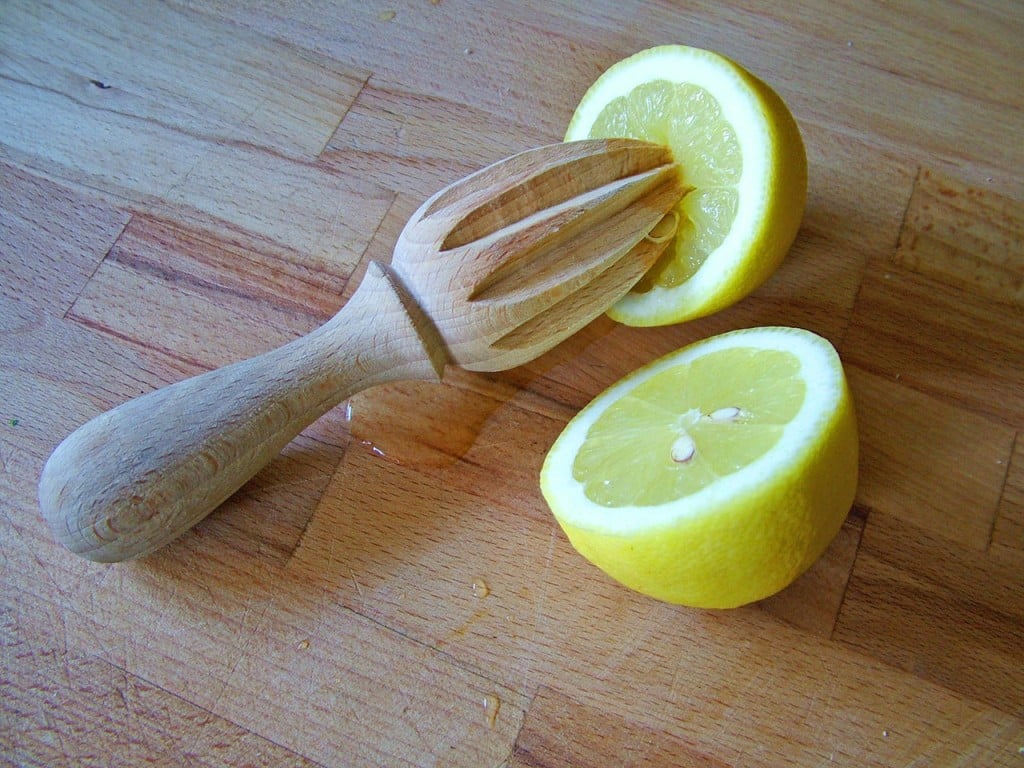 ---
Juice Press
This is my favorite of the manual citrus juicers because it strains the seeds and provides leverage for getting better juice output.  Before purchasing, make sure to consider what type of citrus you will be juicing because they do come in sizes, ranging from lime to orange.  You can also get these in giant countertop versions that are significantly more heavy duty (and expensive).  To Use:  Open the press and place a halved piece of fruit cut side down in the cavity.  Close the handle on top of the fruit while applying pressure until all the juice has been pressed out.

---
Don't want to spend money on a unitasking citrus juicer?  Juice your citrus using a pair of tongs!  Simply open the tongs horizontally and place a halved piece of citrus cut side down in between the tongs, as close to the end where the tongs meet as possible.  Squeeze the tongs to release the juice – but make sure to have a bowl (and a way to strain the seeds) under the citrus before squeezing!
---

Guide to Electric Citrus Juicers
When it comes to electric juicers – you can get one in almost any price point you have up into the multiple thousands of dollars.  Most likely you aren't going to be juicing 100+ oranges a day to need such a heavy duty product, but let's talk briefly about what to consider when purchasing electric citrus juicers.
Size.  You can get ones that are small and compact, or ones that will need to stay on your countertop.  Usually, the larger they are the more powerful the motor – which only some of the time means it's better at extracting more juice.  Don't be fooled – read reviews if you get the chance.
Pulp.  If you are someone who doesn't like pulp in their juice, look for one that has some type of built-in pulp control. They're harder to find – but they exist.
Fruit.  If you're going to be juicing larger fruits, like grapefruits or pommelos, make sure to get a citrus juicer that will accommodate the size.  Many electric citrus juicers don't do well with anything over the size of a medium to large orange.
Attachment.  If you have an electric mixer, many of the major brands sell citrus juicer attachments that can run off the mixer's power instead of purchasing an entirely new electric.
---
Be careful when using an electric citrus juicer that you don't over-ream your citrus by getting into the white pith because this can cause your juice to become bitter.
---
Practice Makes Perfect
Looking for some recipes that use citrus juice?  Here are some I recommend:
Thanks for stopping by!
What are you favorite citrus juicers?
What do you like to make with citrus juice?
Let's talk about it in the comments, or show me on social media – @foodabovegold.  Tag it with #CallMeMichelin for everyone to see how you use your citrus juicer!
Happy Cooking! 🙂