This easy skillet chicken and mushroom pie is made in one pan to make cleanup easier! Serve it for dinner as the ultimate comfort food filled with family favorites!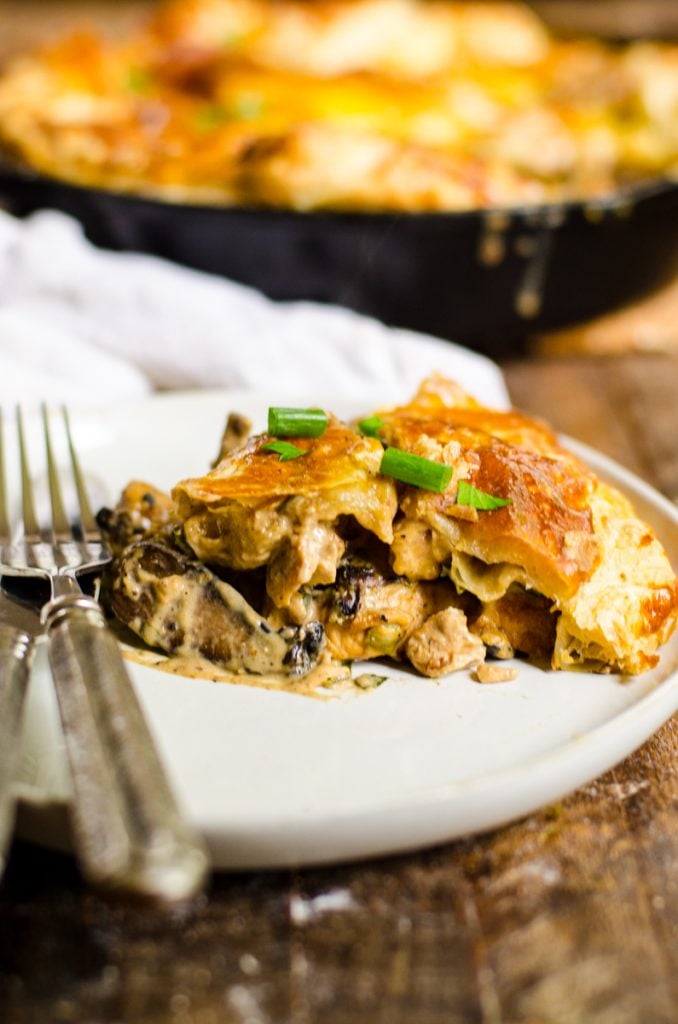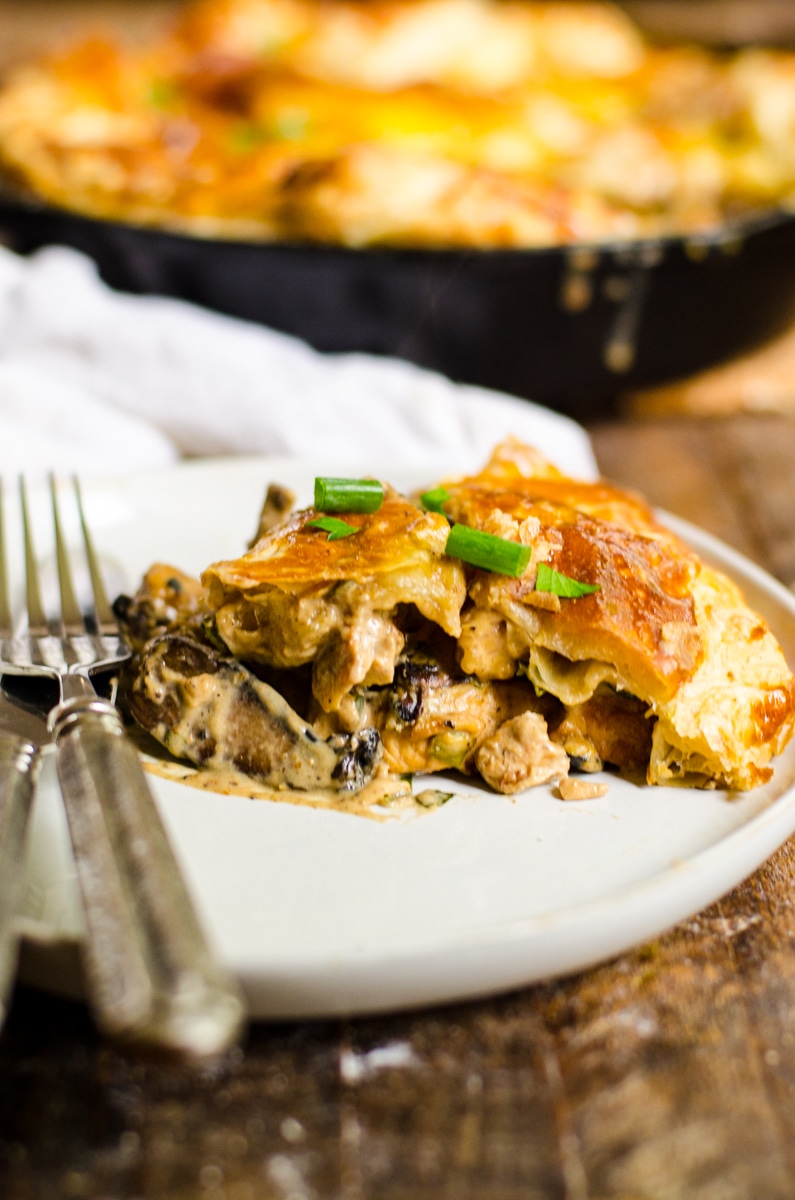 What Is Chicken and Mushroom Pie?
Chicken and mushroom pie is a British dish that is served in pubs or fish and chips restaurants. It is so popular that it is even stocked in supermarkets.
Typically it is made with a full bottom and top crust to get the appearance of a pie. Depending on the location, that crust is either made with a shortcrust like typical savory pies, or puff pastry.
For this chicken and mushroom pie recipe, skip the bottom crust to make a skillet version that is makes cleanup a breeze. It's a great way to get the same comfort food with less work.
How Is This One Pan?
Traditionally, chicken and mushroom pie recipes are made in a pot, then transferred to a baking dish. Once in the baking dish it is topped with the shortcrust and baked.
Instead, this comfort food recipe cooks everything in a cast iron skillet and puts the puff pastry right on top!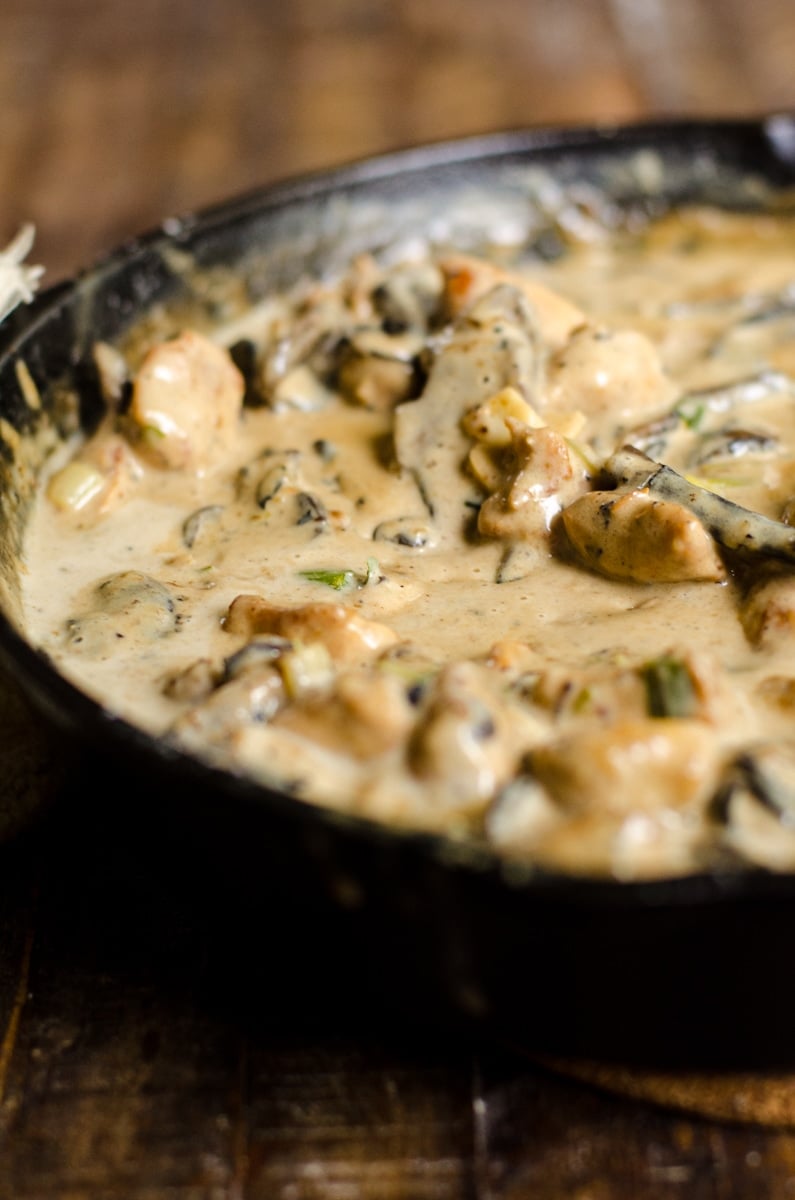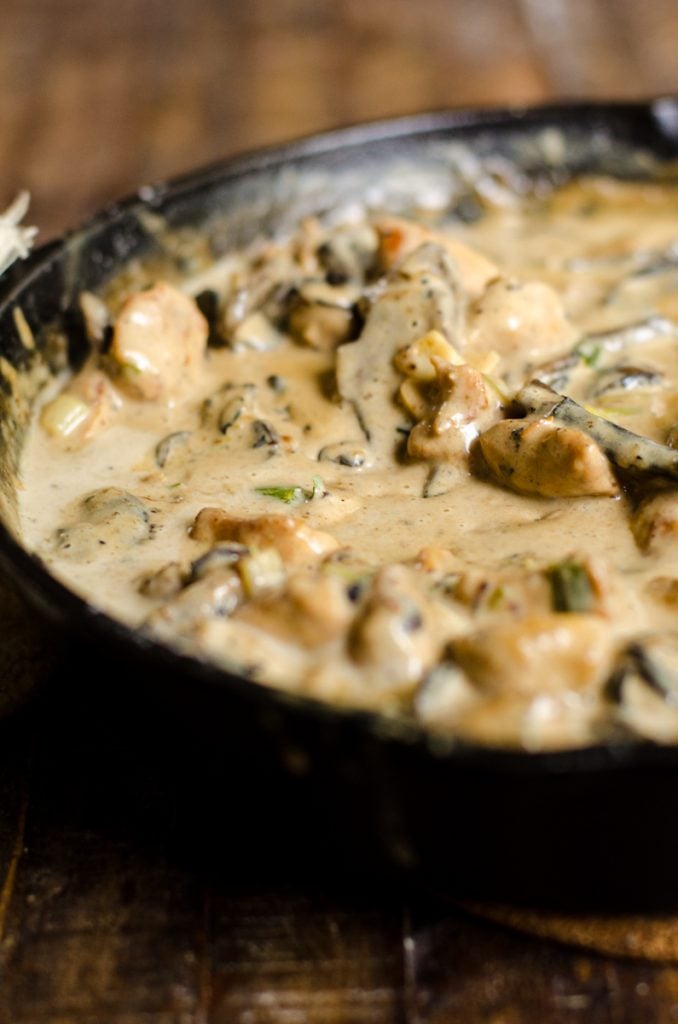 What Are Spring Onions?
Some variations of chicken and mushroom pie, like this one, use fresh spring onions. These are similar to green onions only with a larger and sweeter white bulb at the end.
You can easily substitute green onions, leeks, or just regular sweet yellow onions instead. Just don't leave out the onion completely because the sweetness helps balance out the meatiness of the rest of the ingredients.
What Kind of Bacon?
The best bacon for this chicken and mushroom pie is a thick cut pork belly bacon. Thankfully, pork belly bacon is the most commonly found in the United States.
By choosing the thick cut bacon the bacon's texture becomes more similar to the mushrooms. If you choose regular cut bacon it often disappears into the filling, leaving the bacon flavor there, but no bacon crunch.
I also recommend a hardwood smoked bacon for this recipe. That means that it was smoked in an actual smoker instead of injected with liquid smoke. This results in a better flavor in your chicken and mushroom pie, whereas the other may become overwhelming.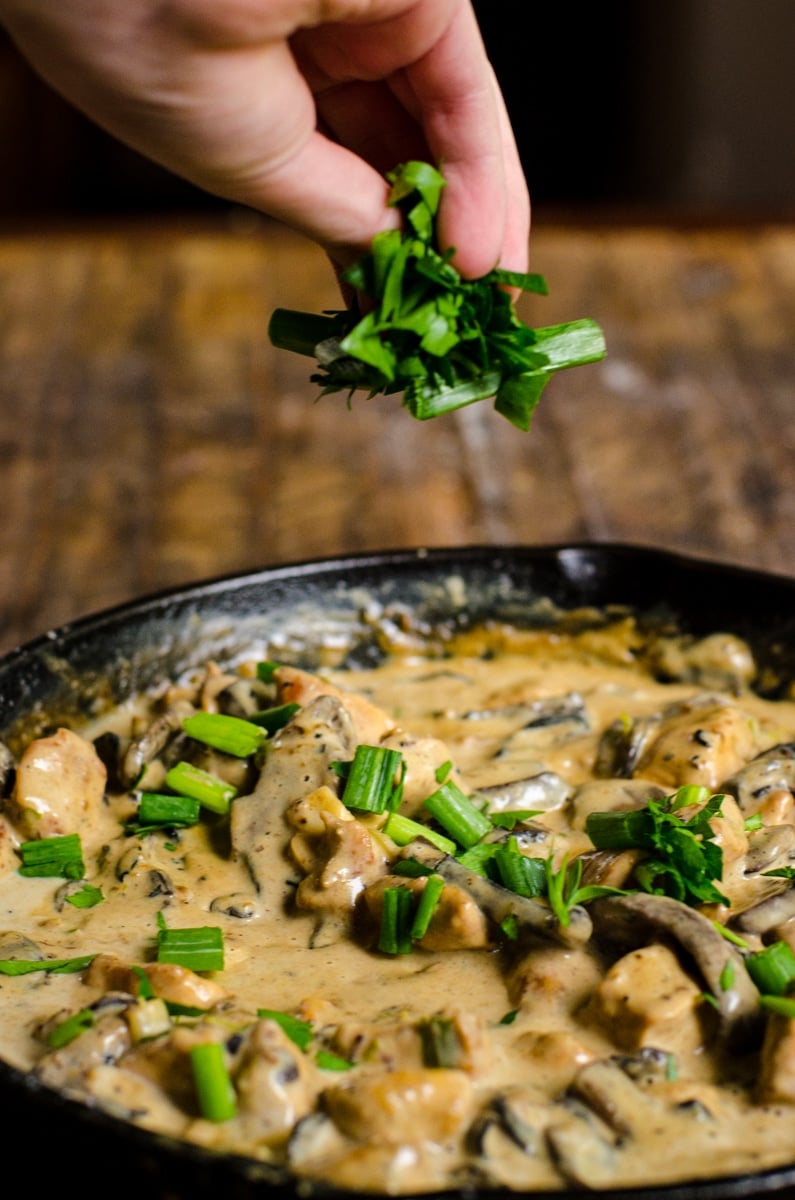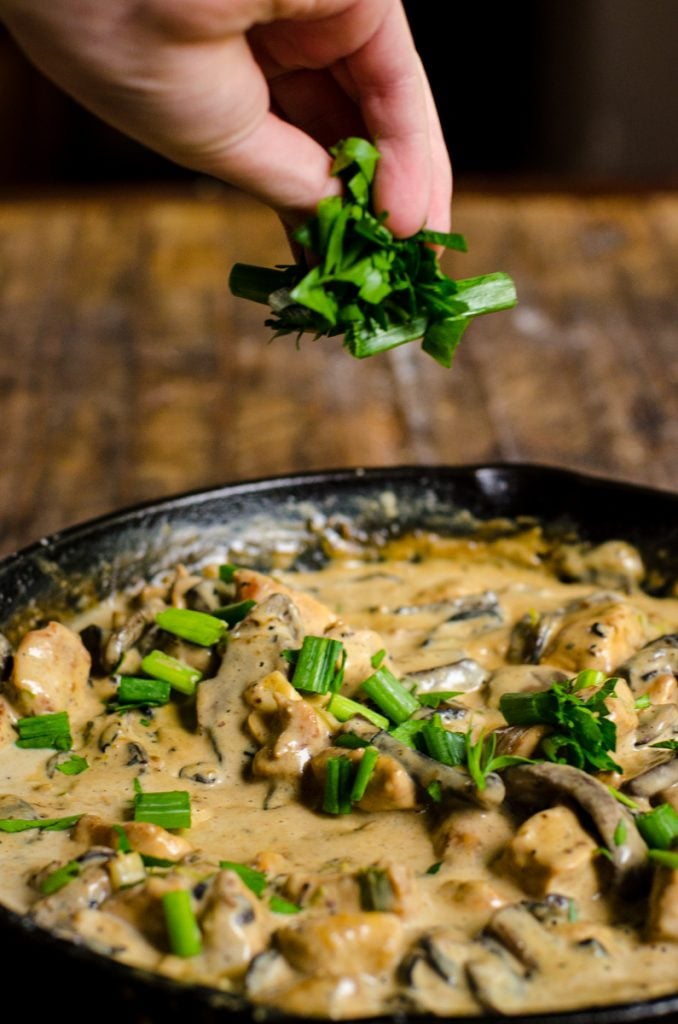 How To Make It
To make this chicken and mushroom pie filling you need to build on the flavors one by one in a 12" cast iron skillet.
Cook the bacon over medium heat and transfer them to a bowl. add the mushrooms into the bacon fat and cook until a beautiful golden brown and. Add to the bacon and set aside.
Next add the chicken breast pieces and cook until they are golden brown as well. They should darken a bit from the browned bits on the bottom o pan leftover from the mushrooms. This is good because it is helping to pick it up and make a flavorful sauce.
Next add in the onion and stir in the flour and cook for one to two minutes. Pour in the chicken stock, milk, and cream and simmer for five minutes, stirring as needed.
The chicken and mushroom pie sauce should thicken up quite a bit but not stick to the bottom of the pan. If it does, then you have the heat up too high.
How To Add The Pastry
It is absolutely okay to use frozen puff pastry dough to make this chicken and mushroom pie easier. Just thaw it on the counter while you cook. It needs 40 minutes to thaw and it only takes about 30 to cook the filling. I recommend removing it from the freezer before beginning.
If the filling takes longer, return the puff pastry to the fridge until you are ready to use it.
To add the pastry the cast iron frying pan needs removed from the heat. Let it cool for a minute or two then place the puff pastry sheet on top of the pie.
If using prepared puff pastry sheets, you'll need to use both, reserving some to make the decoration for the top.
Fold up the overhanging edges of the pastry onto the top and pinch or decorate them as you like. Then use a pastry brush to brush it with a beaten egg yolk. This helps brown the top.
Lastly, before putting the chicken and mushroom pie into the 400°F preheated oven, add any decorative puff pastry pieces to the top. (Traditionally these look like leaves.) Brush any decoration with the egg wash and use a sharp knife to cut a hole for air to escape.
Finally, bake for 15 minutes or until the top is browned. It may take up to 25 minutes to get it as dark as you like.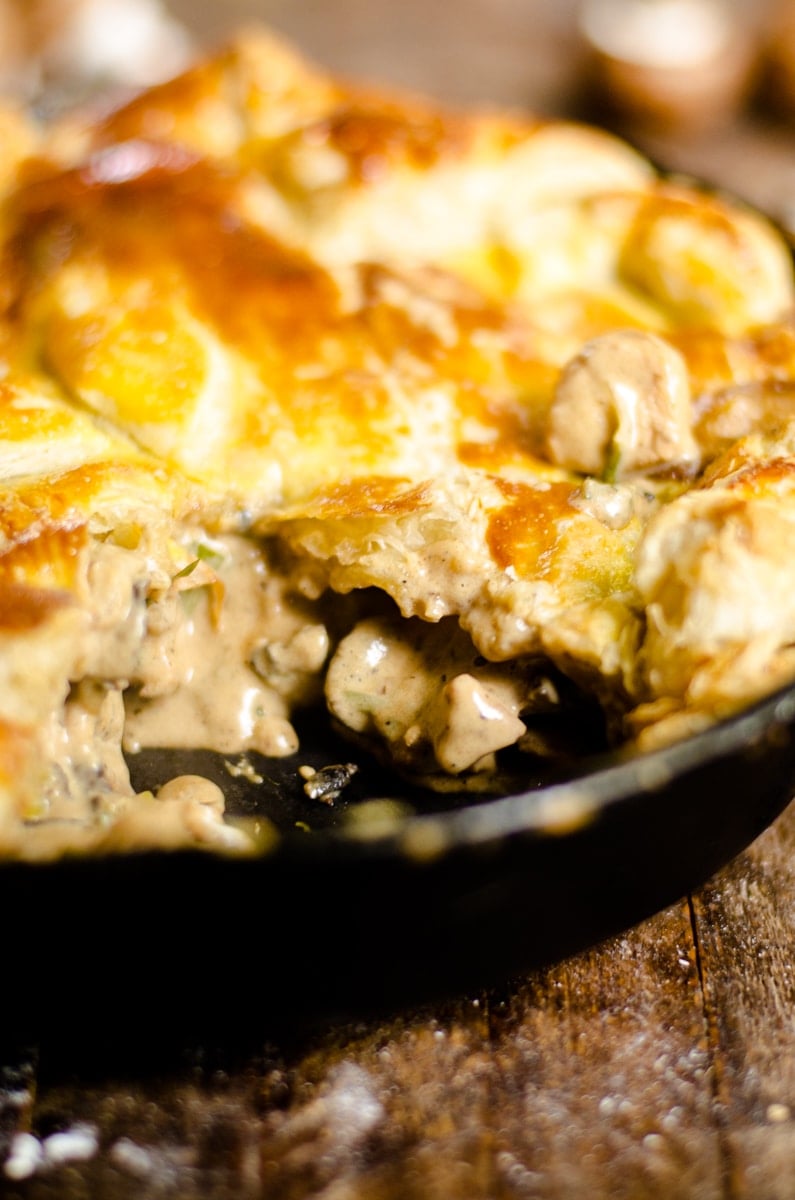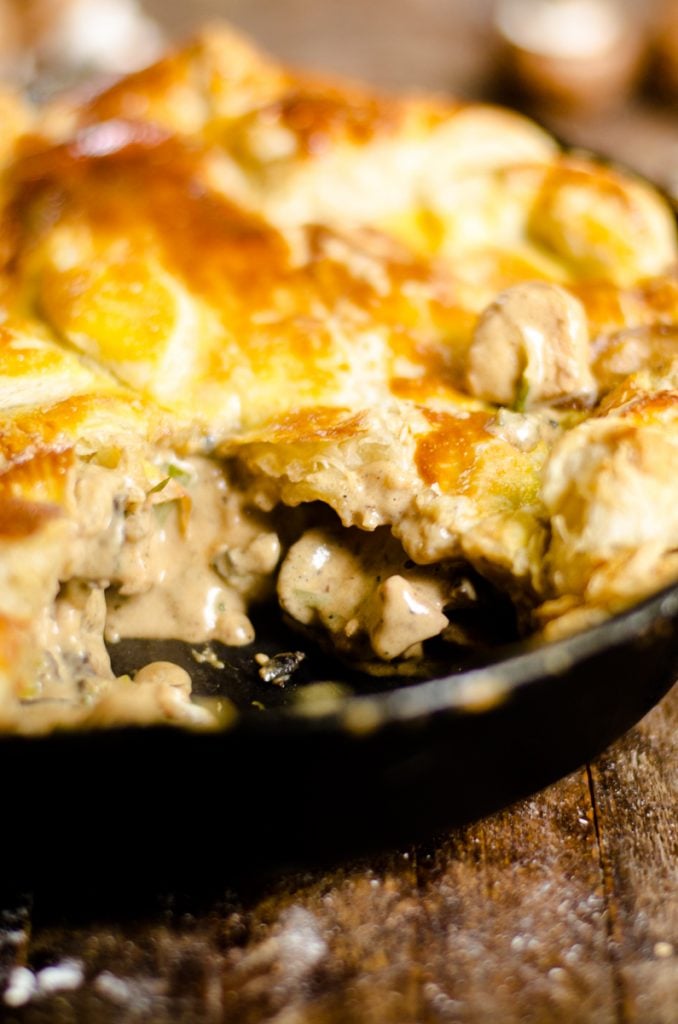 Top Recipe Tips
For an amazing earthy and meaty mushroom flavor, choose a variation of mushrooms. I used shiitake, white button, and portabello for mine. Keep in mind they shrink a lot so they end seems like a lot at the beginning.
Work somewhat quickly with the puff pastry because it warms up as you put it on top of the pie. As it heats up it from the steam it is less likely to get puffy in the oven.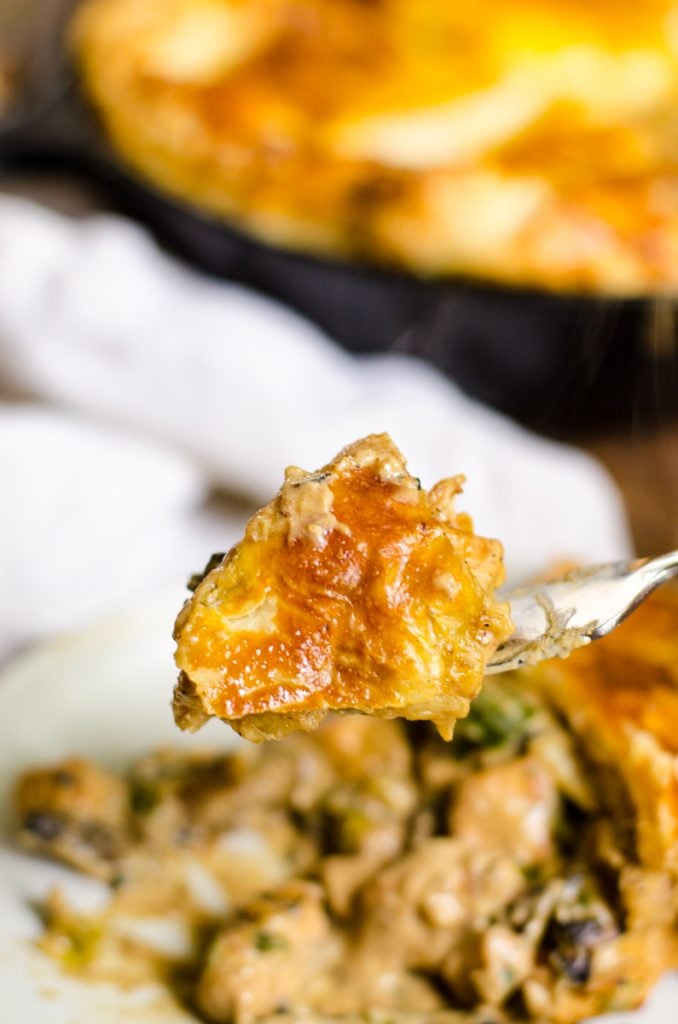 Chicken and Mushroom Pie Recipe
Traditionally, chicken and mushroom pie is a British recipe made to be rustic and rough. It isn't meant to be the prettiest and most put together meal, but rather a perfect comfort food dinner.
Don't stress out about making it look perfect.
---
Make grocery shopping simpler with a printable grocery list for this chicken and mushroom pie recipe. The list is in standard grocery store amounts. If no size is specified, even the smallest package provides more than enough.
Happy Cooking!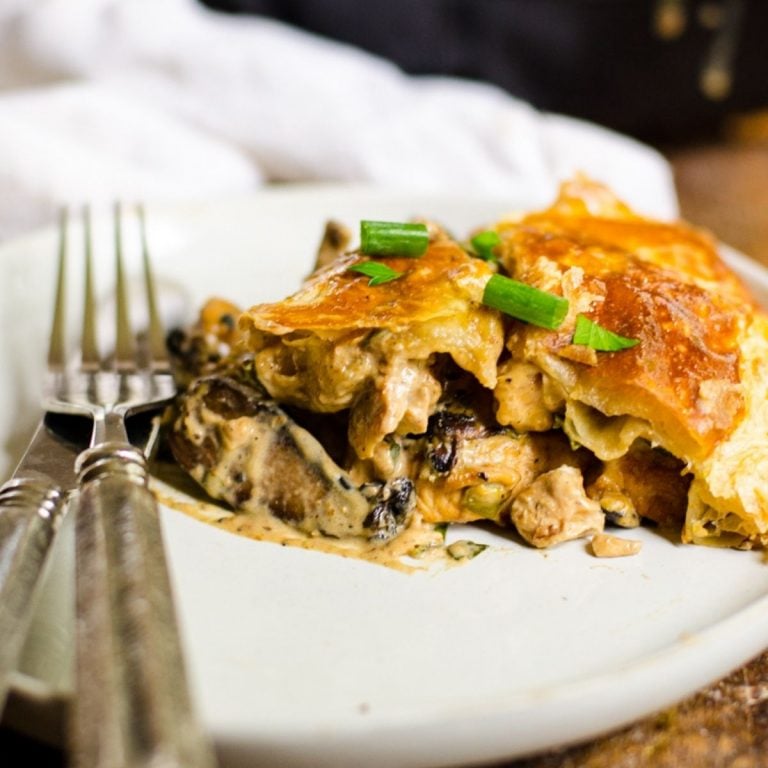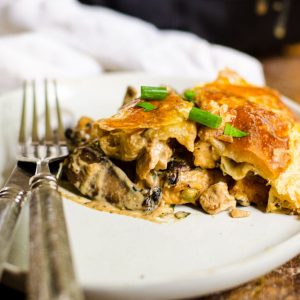 Chicken and Mushroom Pie
This comfort food is made in a single pan so clean up is easier but still has all the great flavor of the traditional
Pin it for later?
Ingredients
3

strips

thick cut bacon

2

pounds

mushrooms

,

assorted

1

pound

chicken

,

diced

2

Tablespoons

butter

¼

cup

flour

1

bunch

spring onions

,

or 1 cup of diced onions

¼

cup

fresh parsley

1

cup

whole milk

1

cup

chicken stock

2

cups

heavy cream

salt and pepper

,

to taste

1

egg yolk
Instructions
Preheat the oven to 400°F

In a 12" cast iron skillet over medium heat, cook the bacon until crispy and transfer it to a bowl. Leaving the bacon fat in the pan, cook the mushrooms until the begin to turn golden brown. Also transfer them to the bowl.

Add in the chicken pieces and cook until they are golden brown* on the outside, about 8 minutes. Add in the onions and garlic and cook for another 1-2 minutes.

Melt the butter and stir in the flour until it is completely incorporated. Let cook for 1-2 minutes then add back in the bacon and mushrooms. Stir until evenly distributed. Pour in the chicken stock, heavy cream, and milk and cook at a simmer for 5 minutes or until the sauce is thickened. Season with salt and pepper.

Remove the skillet from the heat and cover with the puff pastry. Cut a hole in the center then brush the top with a beaten egg yolk. Put into the preheated oven and bake for 15-25 minutes or until browned to your liking. Remove and let sit for 5-10 minutes before serving so the sauce sets up.
Notes
*

Some of the water from the chicken may need to cook out before they begin to brown.  This is okay and won't dry out your chicken.
Nutrition
Serving:
1
serving
|
Calories:
429
kcal
|
Carbohydrates:
11
g
|
Protein:
21
g
|
Fat:
34
g
|
Saturated Fat:
19
g
|
Cholesterol:
163
mg
|
Sodium:
267
mg
|
Potassium:
732
mg
|
Fiber:
1
g
|
Sugar:
4
g
|
Vitamin A:
1249
IU
|
Vitamin C:
6
mg
|
Calcium:
87
mg
|
Iron:
1
mg
Tell me how much you love this recipe
and show off how you made it!