This homemade herbs de Provence recipe is a blend of herbs used in French cooking. Originally from the Provence region of the south of France, you can now have it at home!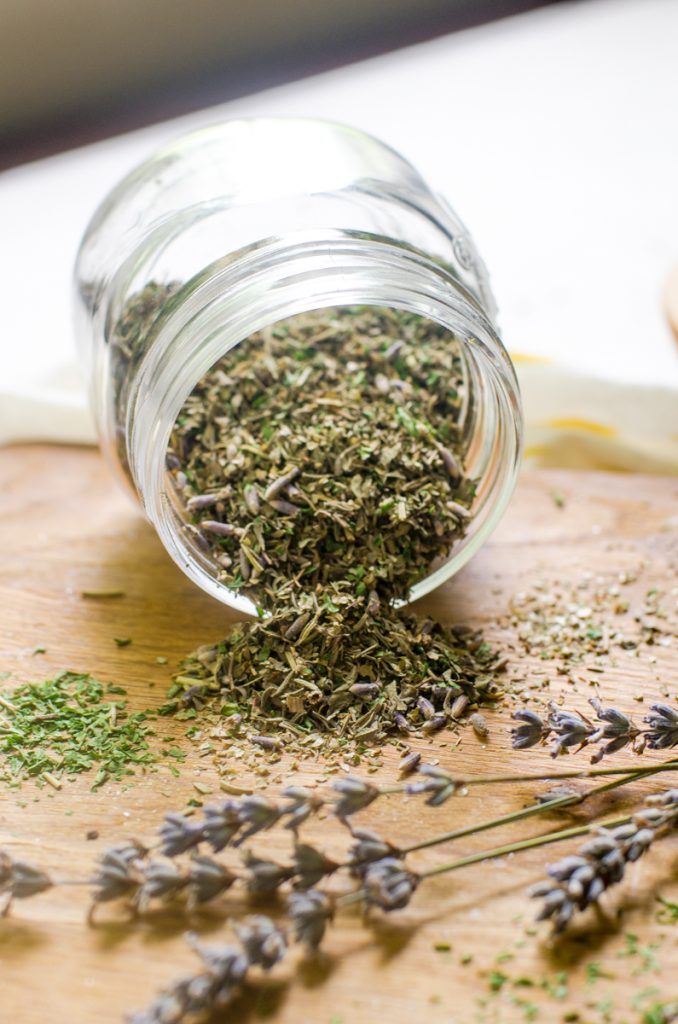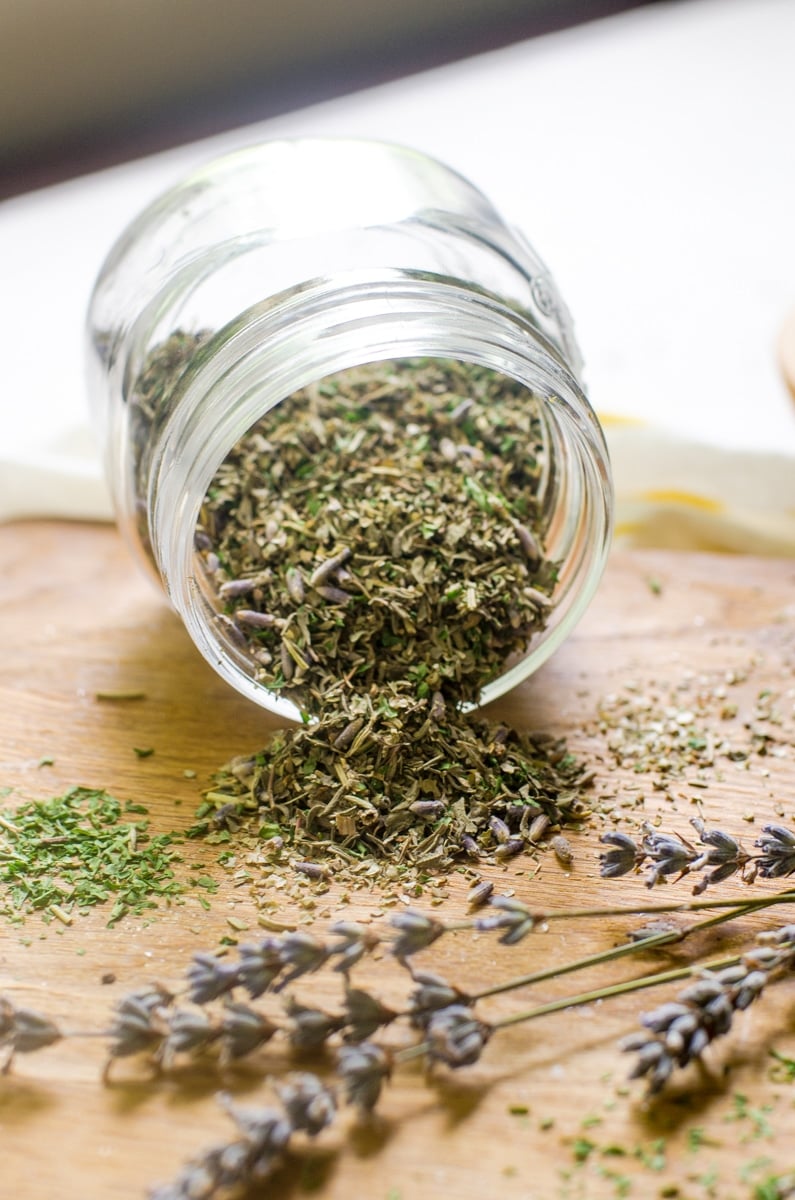 Finding a quality herbs de Provence blend at the grocery store can be difficult to find. They vary so greatly in flavor that some are wonderful while others are not.
Now, by making your own, home cooks have better control over the flavor.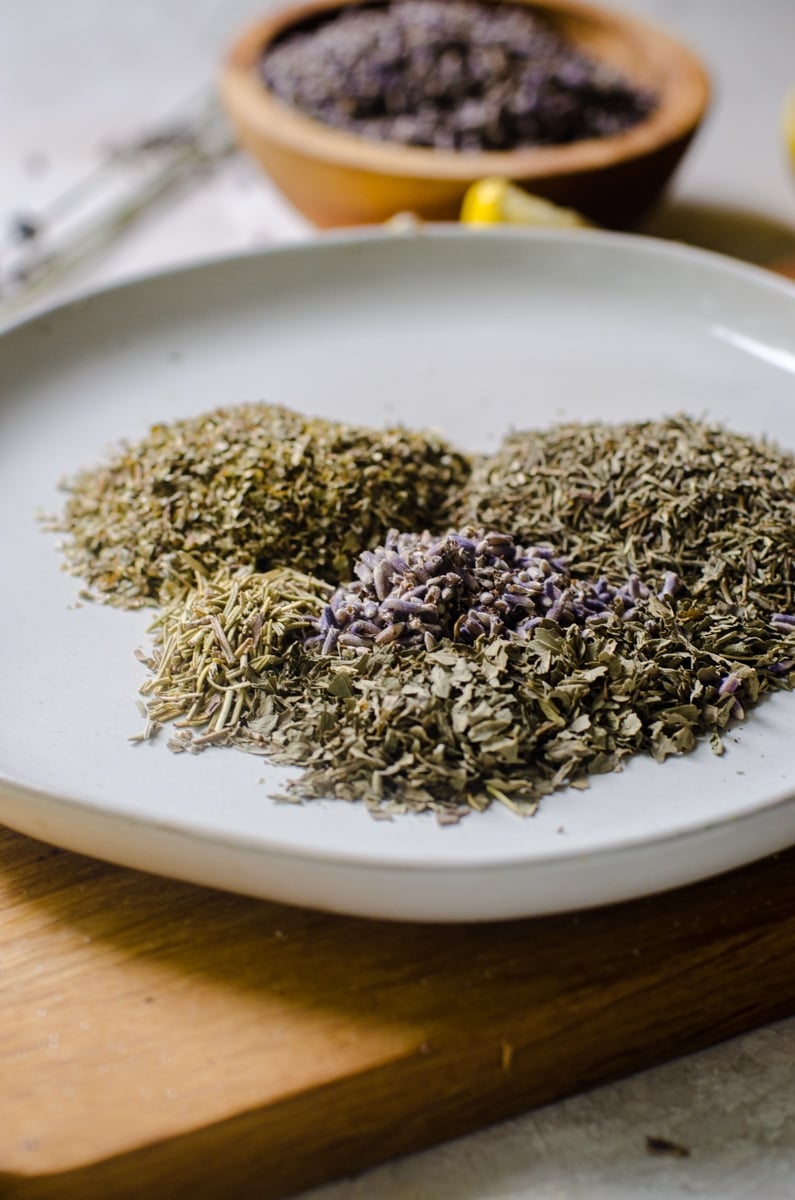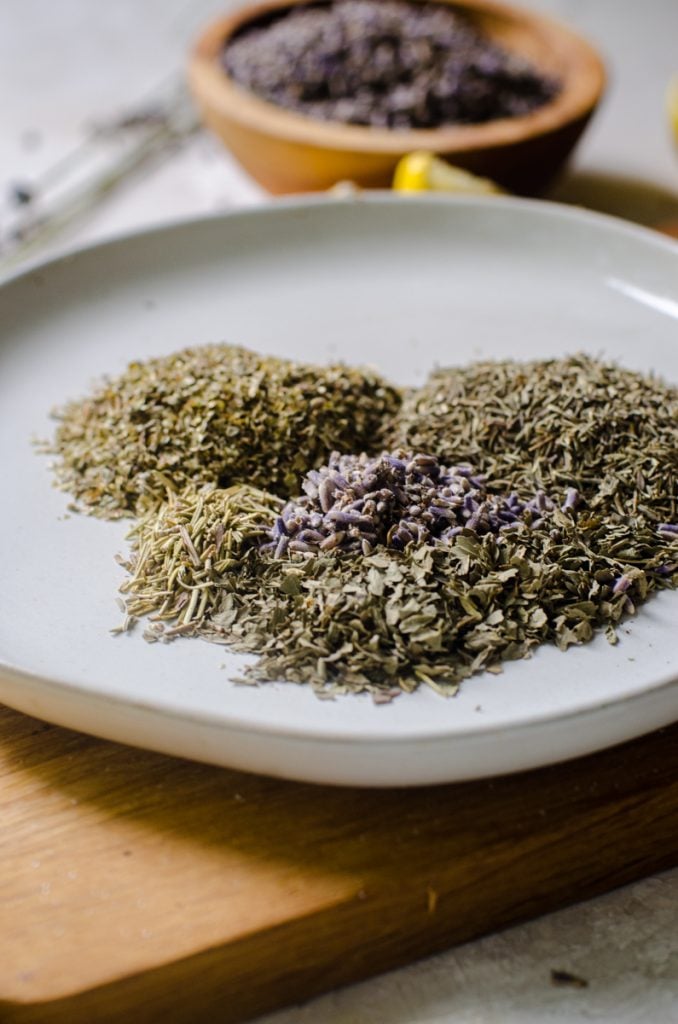 What Is Herbs de Provence Made Of?
Herbs de Provence (pronounced: herbs da pro-vaance) is made of a collection of herbs and spices from the Provence region of France. Made popular by Julia Child, this herb blend is great for putting on roasted chicken, in soup, or on roasted vegetables.
Herbs de Provence is a variable recipe that changes a lot based on family recipes. Some include tarragon and basil, while others have hyssop and bay leaves.
No matter the blend though, these five ingredients are always the foundation.
Marjoram
Thyme
Savory
Rosemary
You can pick and choose additional flavors to your liking or to replicate your favorite brand. I've listed the amounts to add of each commonly used ingredient in the notes section of the recipe.
For example, Trader Joe's Herbs de Provence blend also includes: tarragon, basil, fennel seeds, and more.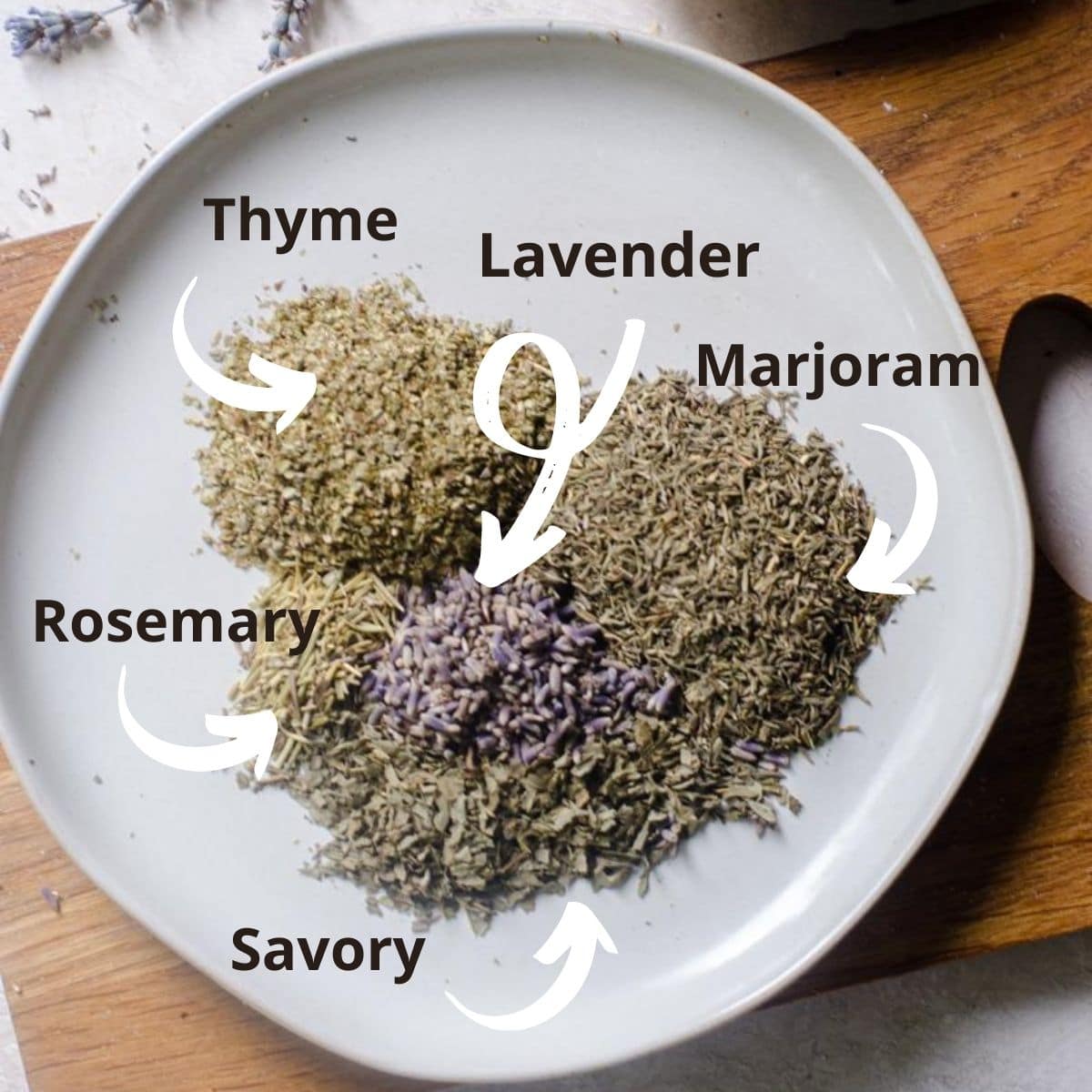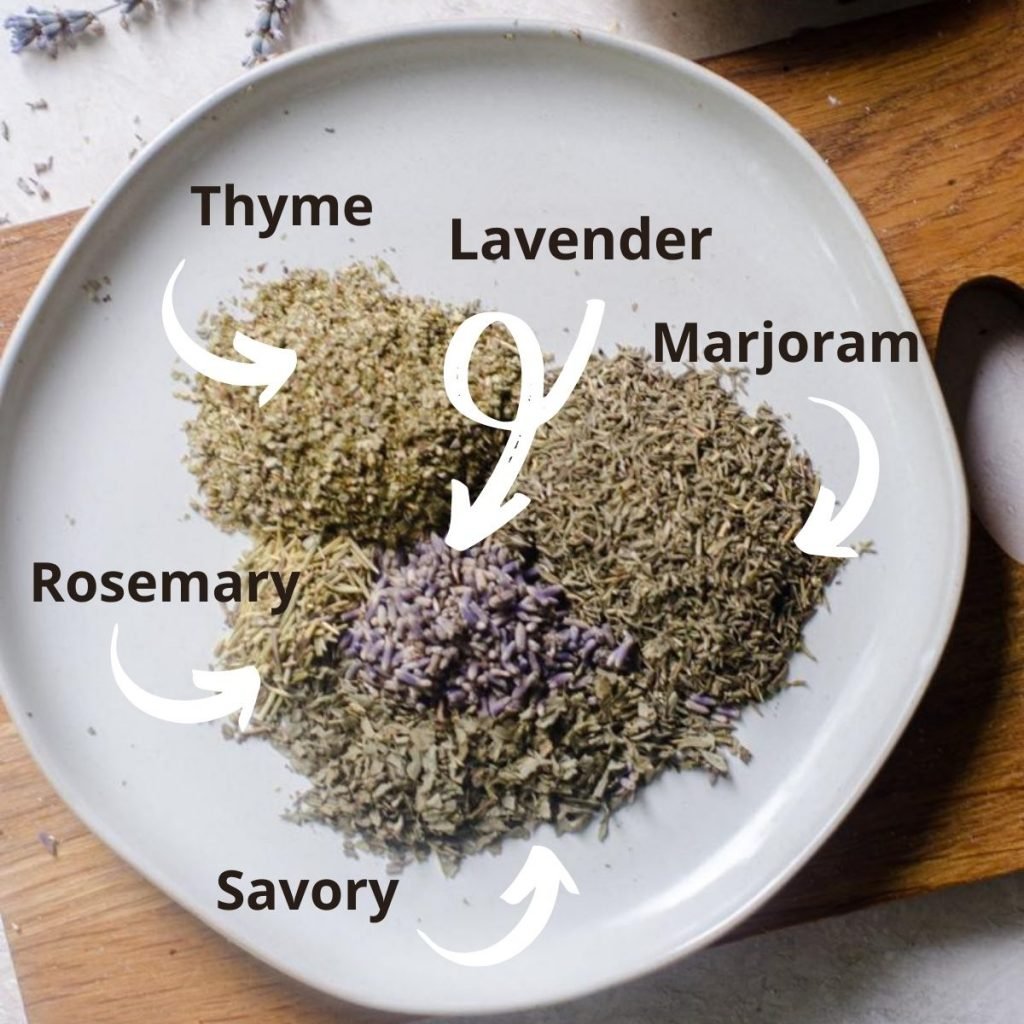 Can I Replace It With Italian Seasoning?
If you don't have the time to make this herbs de provence recipe, you can use Italian seasoning as a temporary substitute.
Italian seasoning has most of the same ingredients in it, with the exception of the lavender. So if you have some dried culinary lavender laying around, add it to the Italian seasoning to round out the flavor.
Only a teaspoon of lavender buds is needed for each Tablespoon of Italian seasoning. You don't want the lavender to overpower the Italian seasoning and render it unpalatable.
Another option for a herbs de Provence alternative is fine herbs, although it is much a much lighter version made from chervil, parsley, chives, and tarragon. Again, boost it with lavender to truly get the most from the herb blend.
Do I Crush It Before Storing?
This is where the discussion of making your own herbs de Provence recipe becomes interesting.
Traditionally, herbs de Provence gets crushed in a mortar and pestle or a spice grinder before using. So should you crush it before storing, or before using in a recipe?
In my chef's opinion, it is better to mix together the herb blend now, and crush it right before using. This saves the oils from releasing prematurely, which makes the blend taste stale in the long run.
Instead, combine the dried herbs in a small mixing bowl and stir together. Store it in a cool dark place for three to four months. Then, right before using crush it lightly to release the flavor.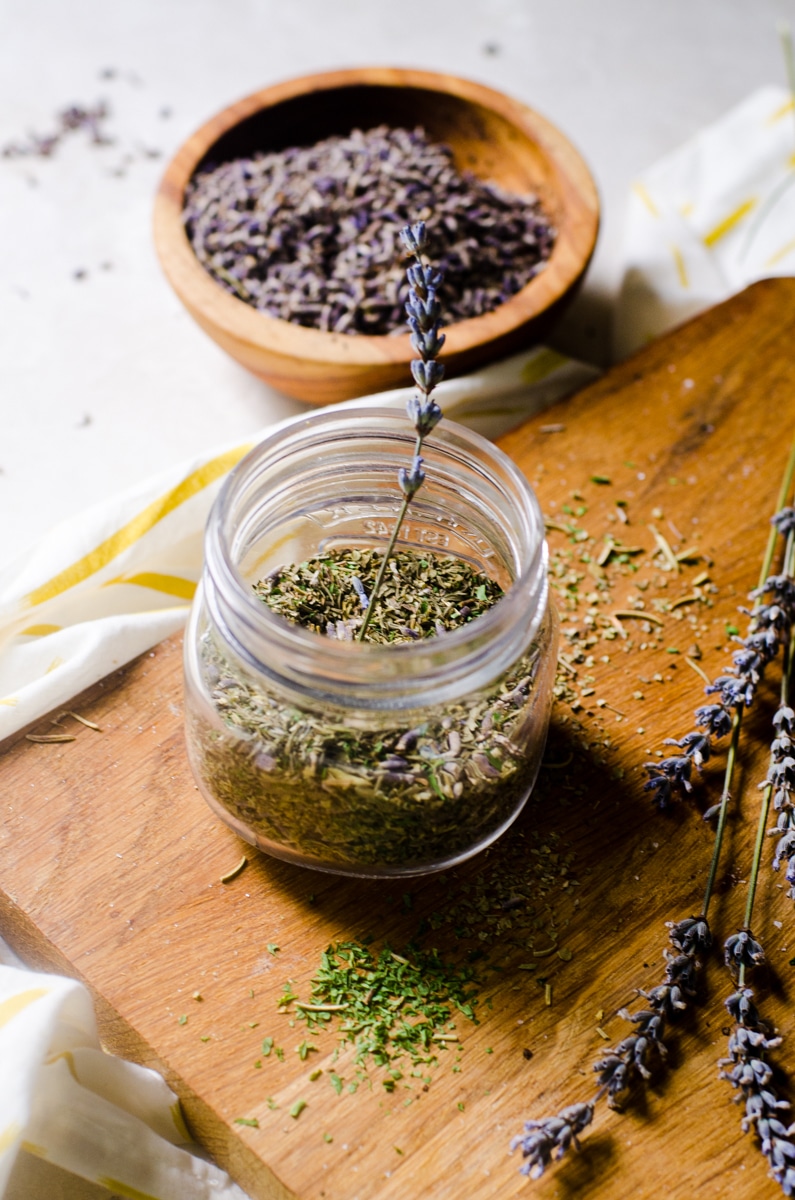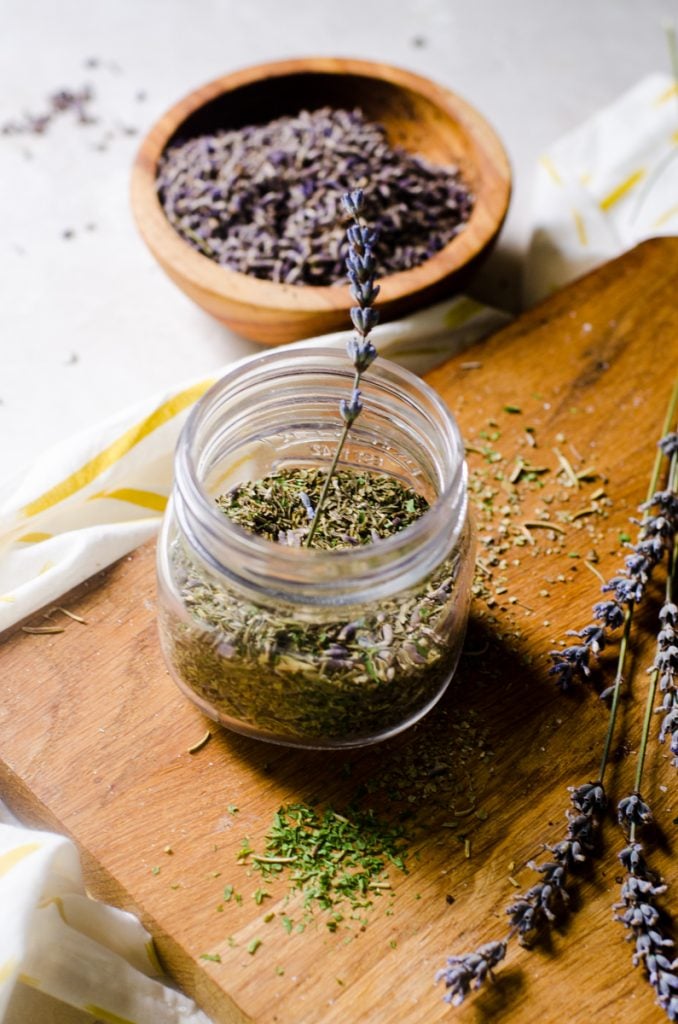 How To Cook With It
There are many ways a home cook can use herbs de Provence. Some of these include:
Seasoning meat. Rub the herb blend on the outside of chicken, pork, or even some light fish to flavor it before cooking. Try to avoid any cooking methods that use high heat you don't scorch the gentler, subtle flavors.
As an aromatic. You can use this blend almost like adding wood for smoking. Sprinkle it onto the hot coals of the grill to cook the flavor and release it into what's grilled.
In liquids, stocks and soup. This blend is a wonderful way to flavor liquids like chicken stock. You can sprinkle a a tablespoon into homemade chicken stock for an elegant flavor profile. Same with olive oil for dipping bread.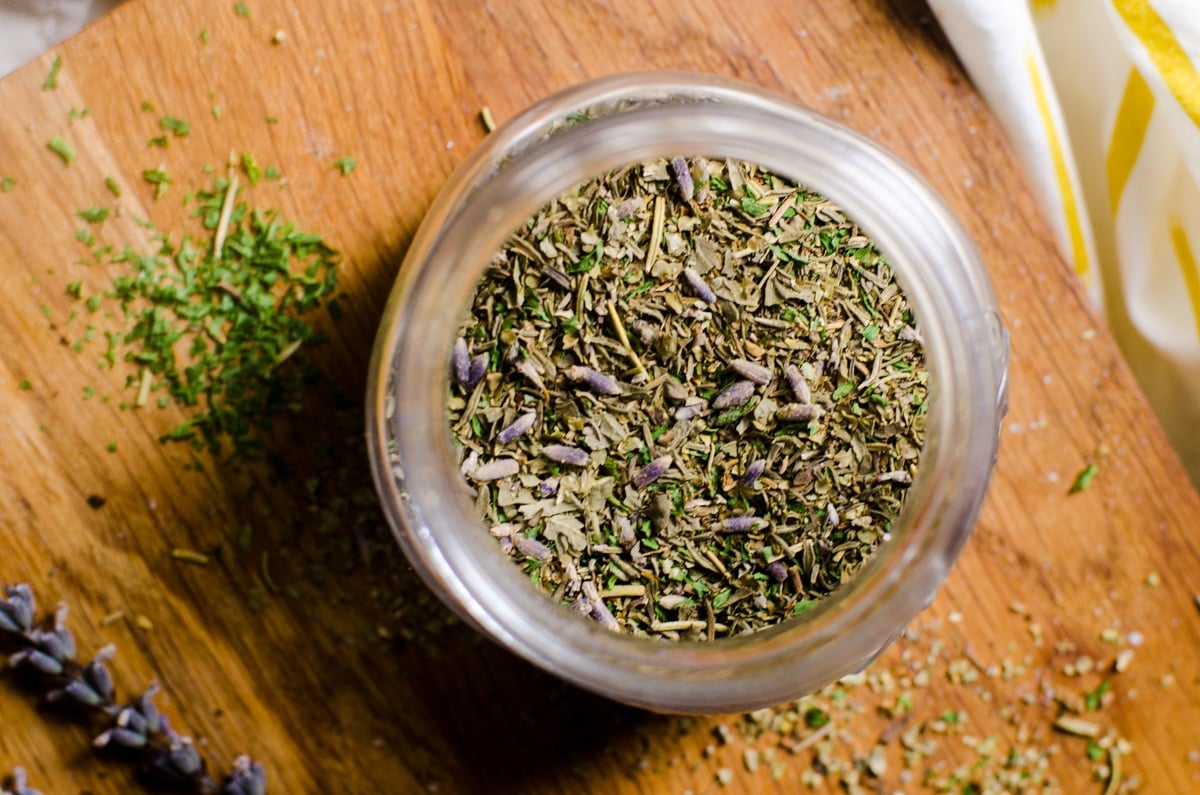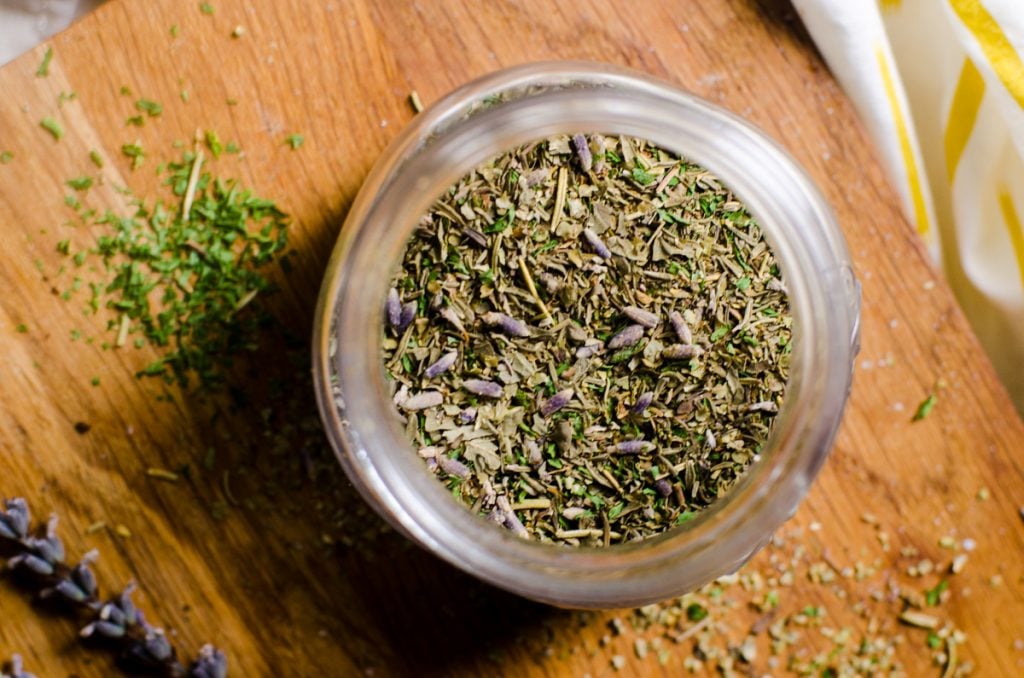 Homemade Herbs de Provence Recipe
Remember to look in the notes section of the recipe to pick and choose any additional flavors to expand your herbs de provence recipe to your choosing.
---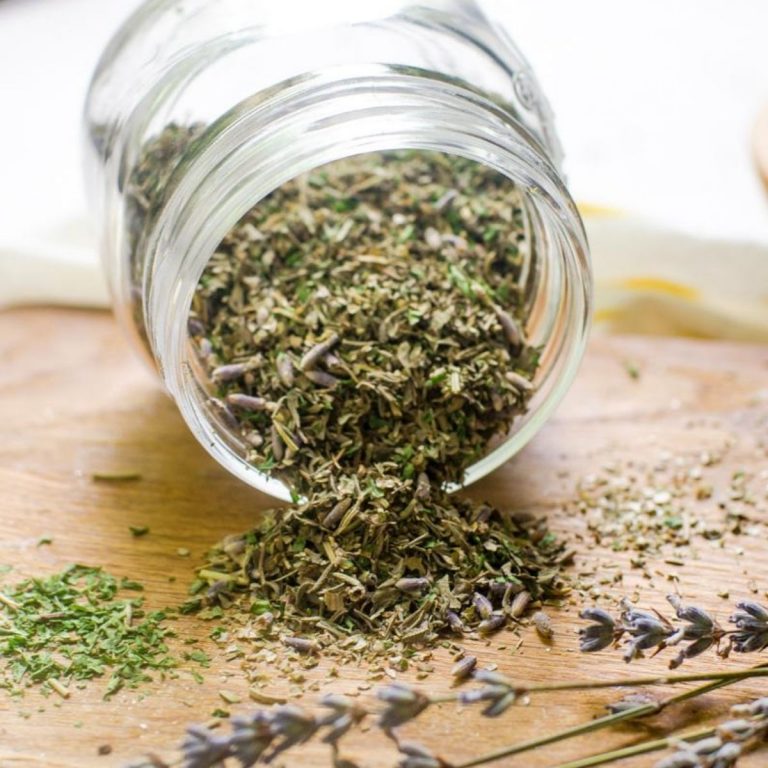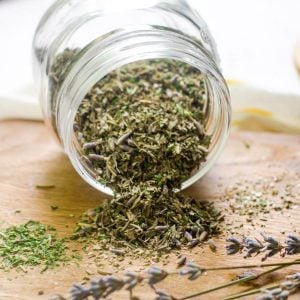 Authentic Herbs de Provence Blend
This variable blend of herbs has at its foundation these amazing summertime flavors. Mix and match to have them out of season.
Pin it for later?
Ingredients
6

Tablespoons

dried thyme

4

Tablespoons

dried marjoram

2

teaspoons

dried rosemary

2

Tablespoon

dried savory

2

teaspoons

dried lavender
Instructions
In a mortar and pestle, combine and lightly crush the ingredients. Add any additional herbs and spices from the notes for extra flavor.

Transfer to an airtight glass jar and store for up to six months in a cool dark place.
Notes
Add an additional tablespoon of bay leaves, sage, basil, parsley, or tarragon to make the flavors unique.
Add an additional teaspoon of hyssop or fennel as another option.
Nutrition
Serving:
1
serving
|
Calories:
10
kcal
|
Carbohydrates:
2
g
|
Protein:
1
g
|
Fat:
1
g
|
Saturated Fat:
1
g
|
Sodium:
2
mg
|
Potassium:
36
mg
|
Fiber:
1
g
|
Sugar:
1
g
|
Vitamin A:
176
IU
|
Vitamin C:
2
mg
|
Calcium:
72
mg
|
Iron:
4
mg
Tell me how much you love this recipe
and show off how you made it!