Lavender chicken is a beautiful and flavorful celebration of summer. Made with chicken pieces, crushed lavender, and lemon zest, it makes a sweet dinner that everyone loves.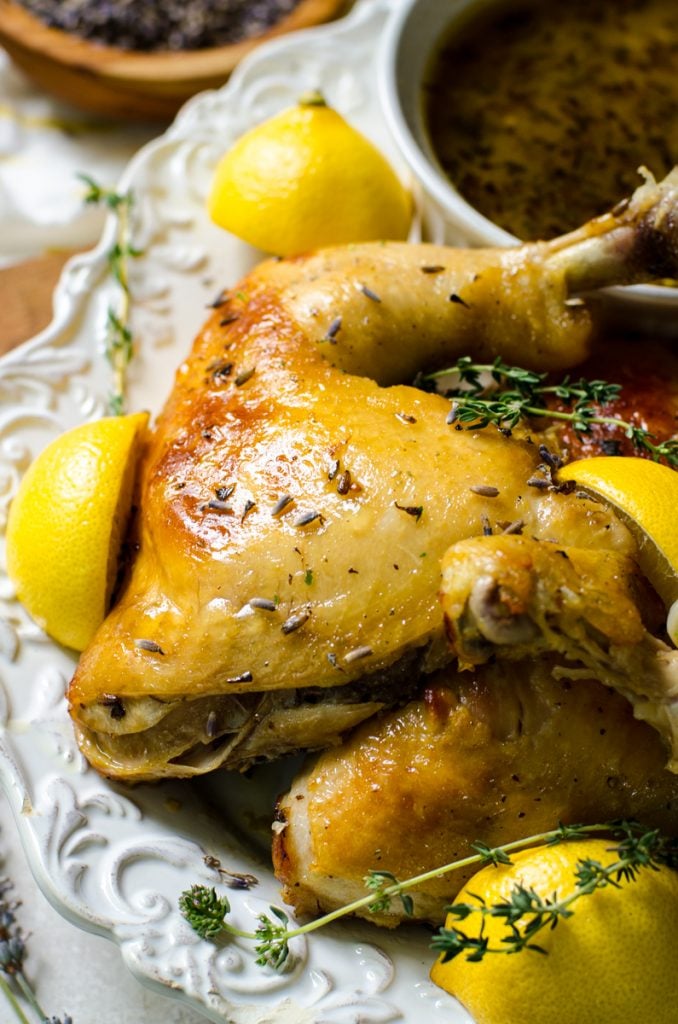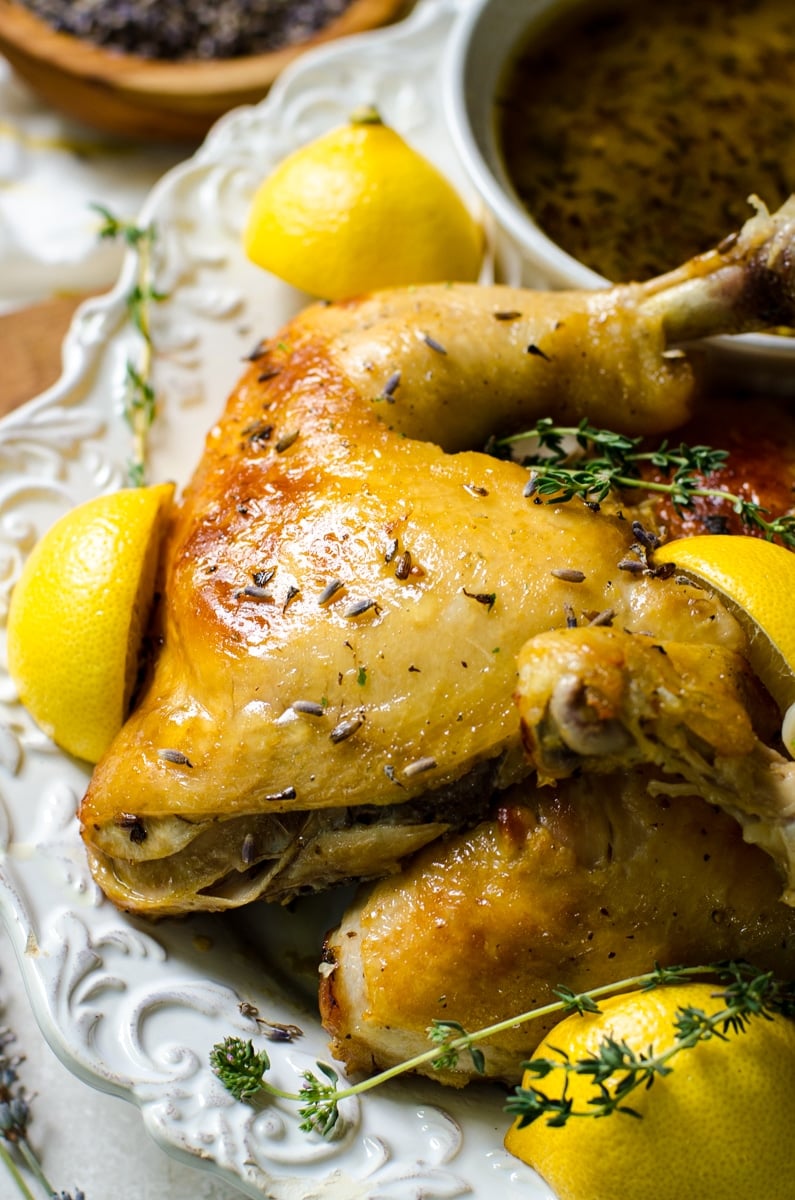 Can You Cook With Lavender?
This lavender chicken is made with culinary lavender, which is an excellent herb to cook with. However it needs some attention because it can quickly overpower the food. It has a strong aromatic and floral flavor that should be added in small amounts.
Lavender also becomes bitter if overcooked. Try to avoid putting it directly on the heat like with broiling or pan frying. It works well when baked or even grilled.
Don't get nervous by the multiple tablespoons of lavender in this marinade. Remember that it covers 8-12 pieces of chicken and only a quarter of the lavender will stay on the chicken.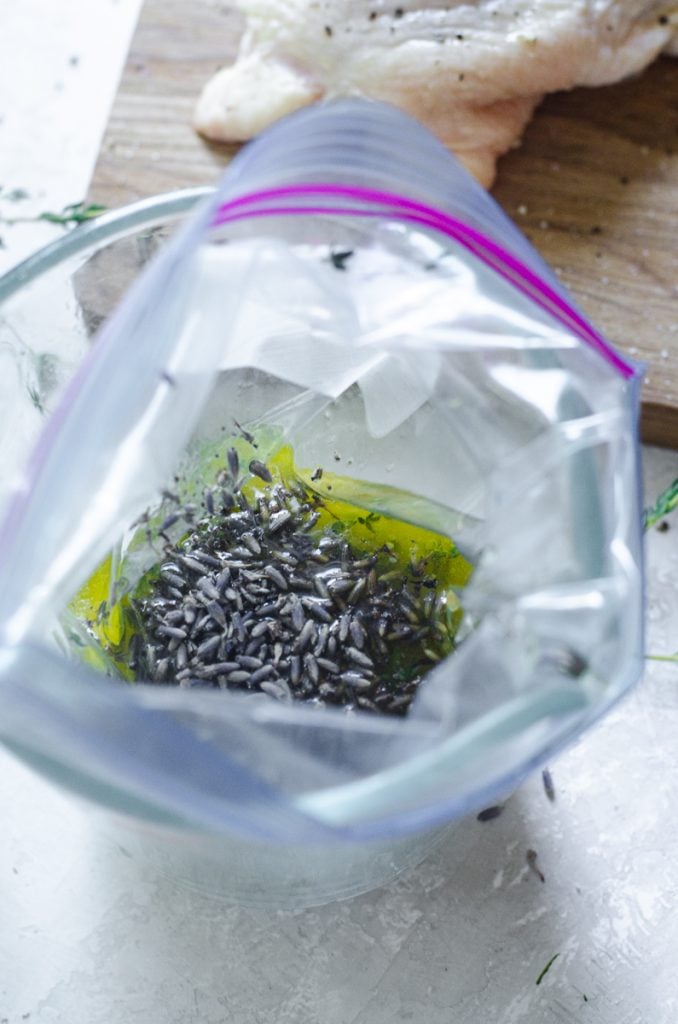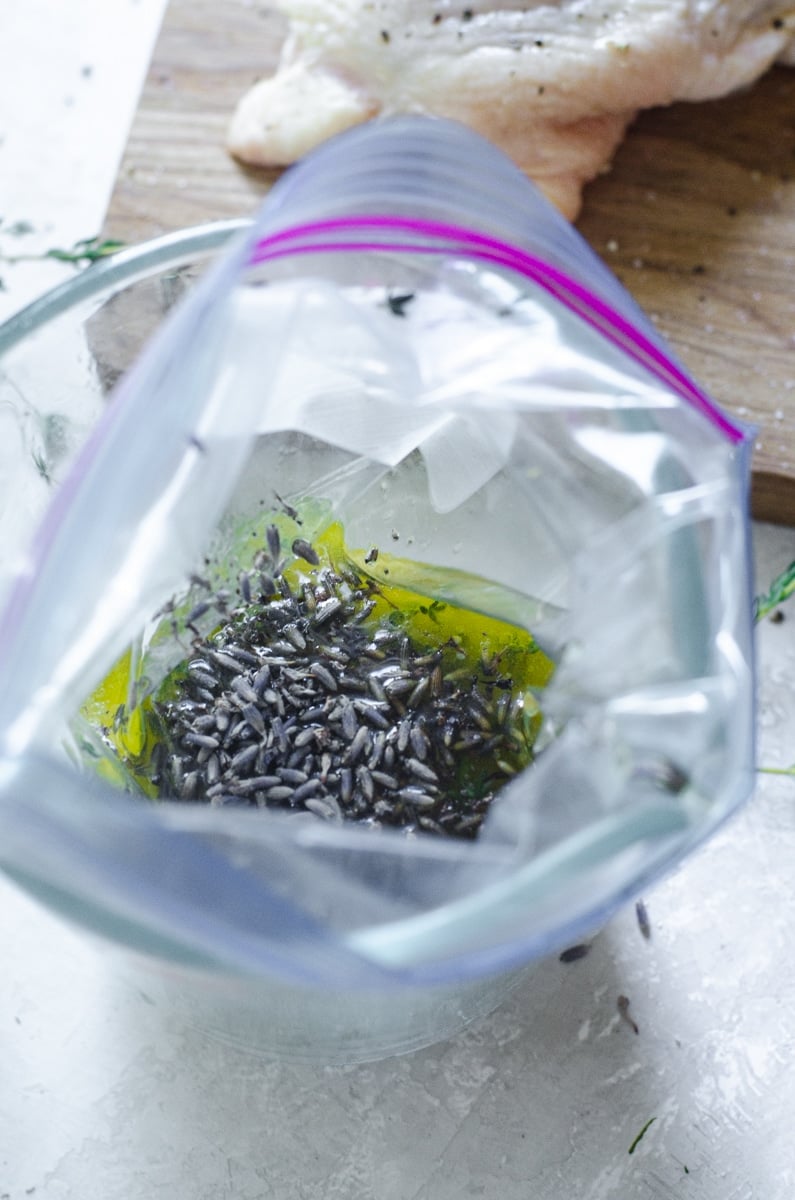 What Flavors Pair Well?
For this lavender chicken recipe, I'm pairing lemon zest, lemon juice, honey, and dijon mustard.
Each of these flavors help balance the floral notes in the lavender so they don't become overpowering. They also create a wonderful sauce of pan drippings that works as a dipping sauce for bread.
What Cut Of Chicken?
I used chicken leg quarters for this lavender chicken because the fat from the skin helps keep the chicken moist. It also protects the meat from getting potentially bitter if the lavender is overcooked.
I also like that the chicken leg quarters get a nice crispy, but sticky sweet skin. The honey in the marinade really aids in providing that flavor.
Plus, as a bonus, chicken leg quarters are one of the most affordable cuts available.
If you would want a different cut, like chicken breasts or a whole roasted chicken you can. Just remember to adjust the cooking time so that when a thermometer is inserted into the thickest part of the dark meat it reads 165°F, or 160°F for white meat.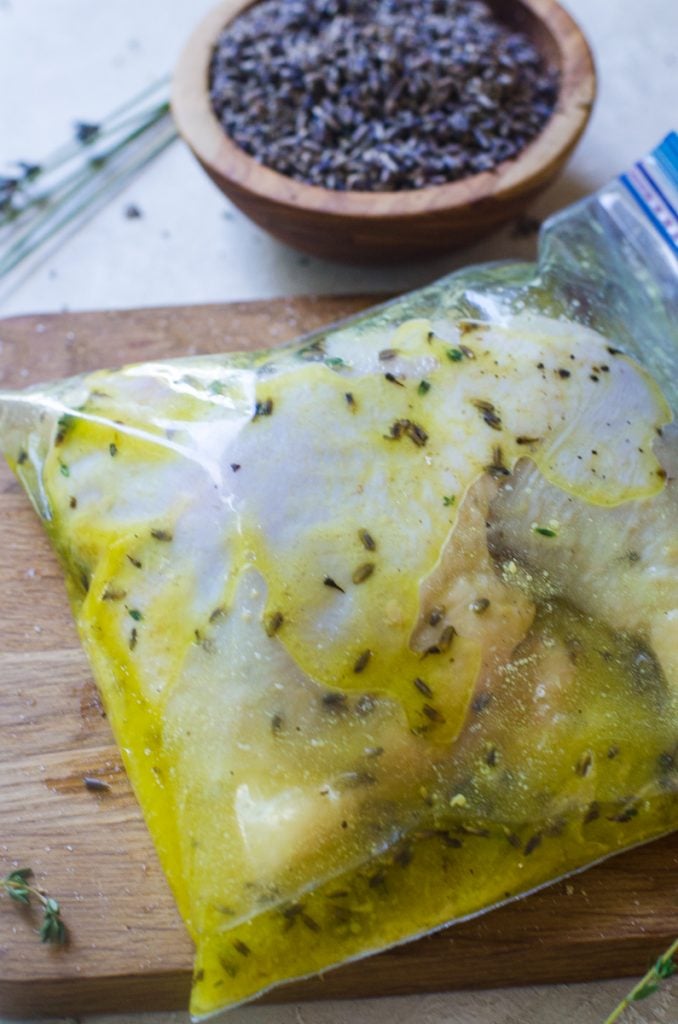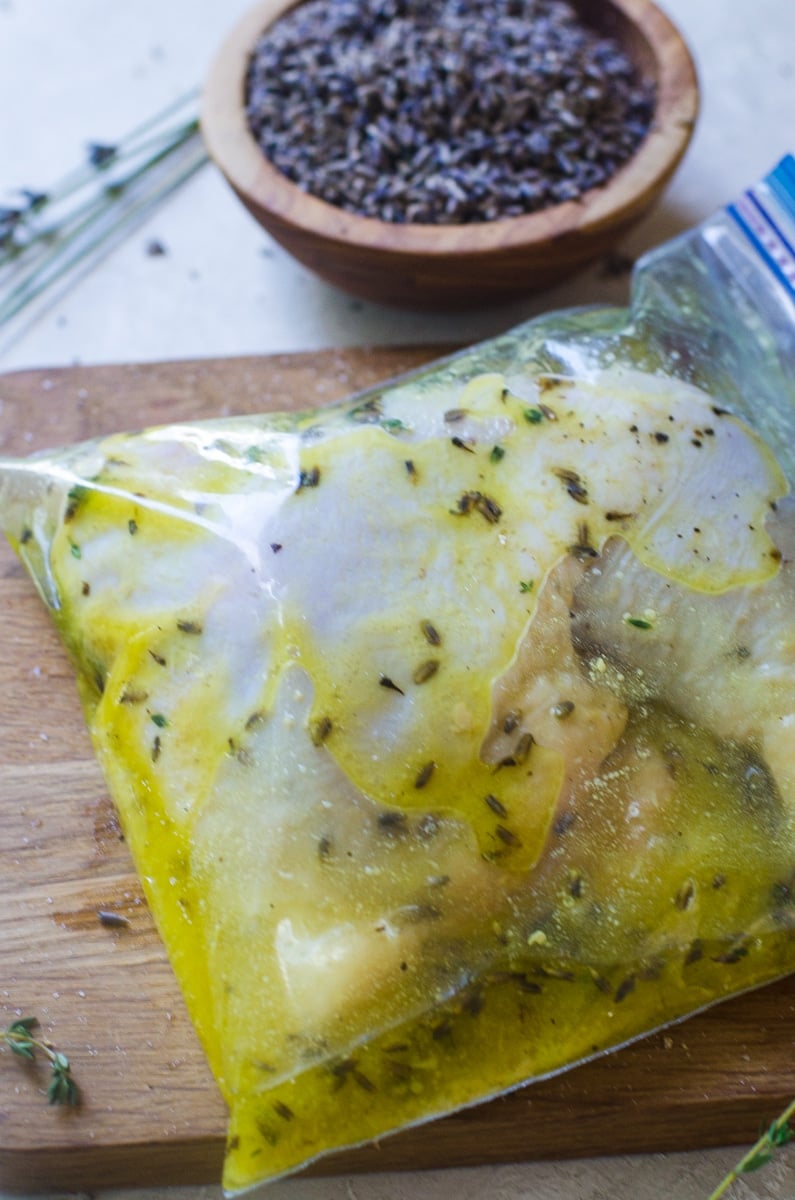 How To Seperate Leg Quarters
If you don't want to cook and serve the entire leg quarters, you can easily break it down into legs and thighs. It only takes one swift knife cut and a strategic separation of the joints to give this lavender chicken recipe more pieces.
To do this, find the area of triangular skin where the leg and thigh meet. Use a sharp knife to cut straight through the middle of the triangle and into meat.
When your knife hits bone, remove it and grab the thigh with one hand and leg with the other. Pull the two pieces away from the cut, bending a bit as you do.
You should hear a small pop as the leg and thigh joint separate. Use your knife to cut between the joint and separate the two pieces.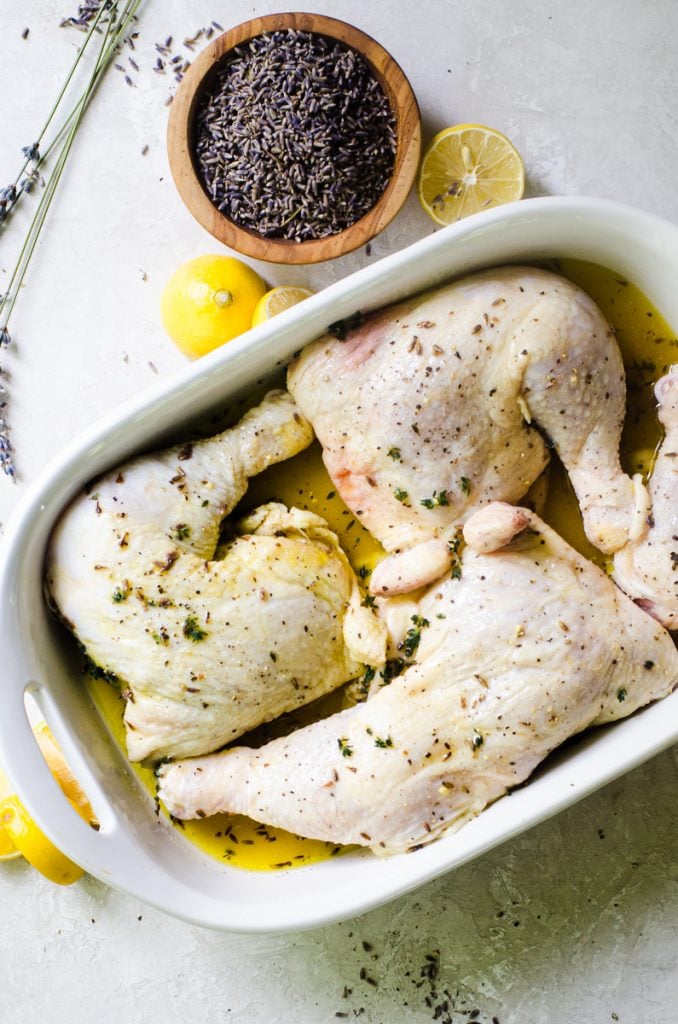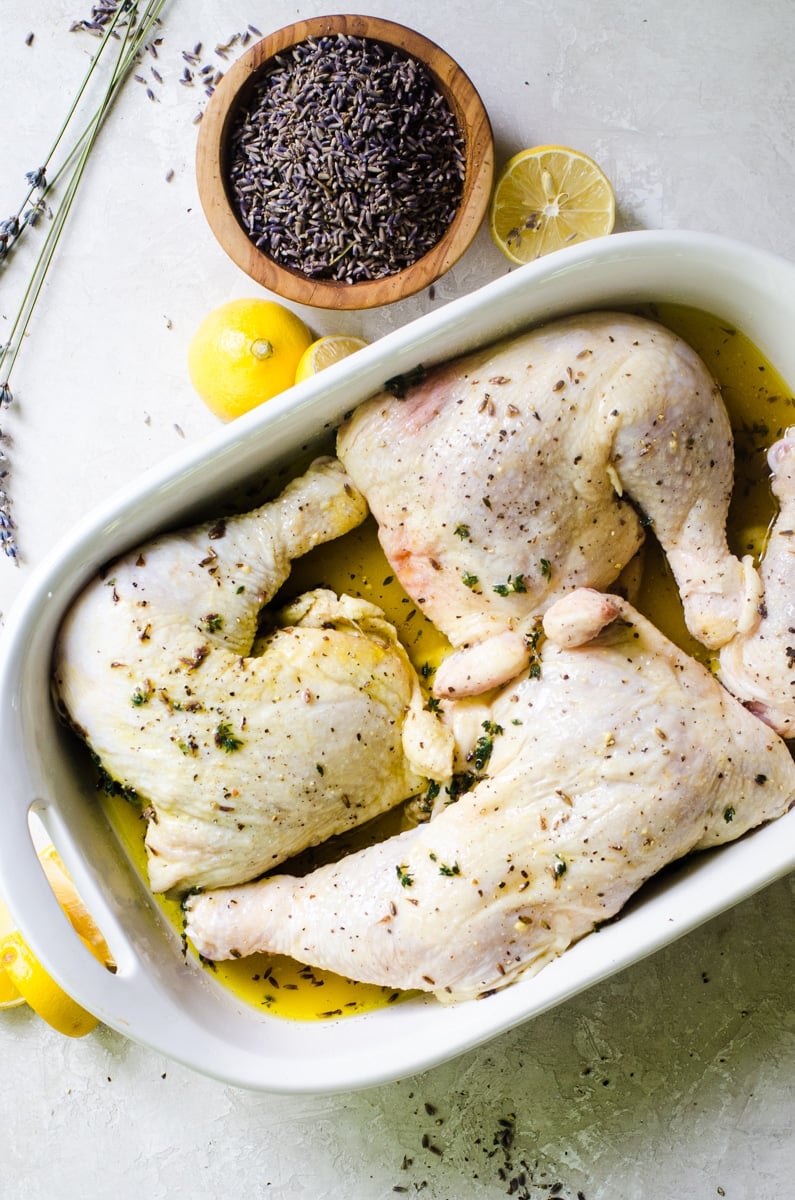 How To Prepare the Marinade
For this lavender chicken, I recommend using a mortar and pestle to lightly crush the lavender until it becomes fragrant. This releases the floral flavor and make it more potent. The fresher the lavender is, the less important it is to crush it.
If you don't have a mortar and pestle, you can put it in a Ziplock bag and use a rolling pin a few times. If you are working with fresh lavender, you can skip crushing it all together.
In a bowl or a Ziplock bag combine the olive oil, honey, lemon juice, lemon zest, lavender, and dijon mustard Completely submerge the chicken pieces and seal the container. Refrigerate for 4-8 hours.
How To Bake It
Preheat the oven to 400 degrees. Use a roasting pan or baking dish to spread out the chicken pieces. Try to avoid them touching. Season with salt and pepper.
Pour the marinade over the top and bake for 30 minutes. Remove from oven, and carefully flip the chicken. Use a spoon to baste the pan juices over the chicken pieces.
Return to the oven and let cook for another 10 minutes. Then repeat the previous step and put the chicken skin side up once more and cook until the skin is browned or until a thermometer inserted in the thickest part reads 165°F.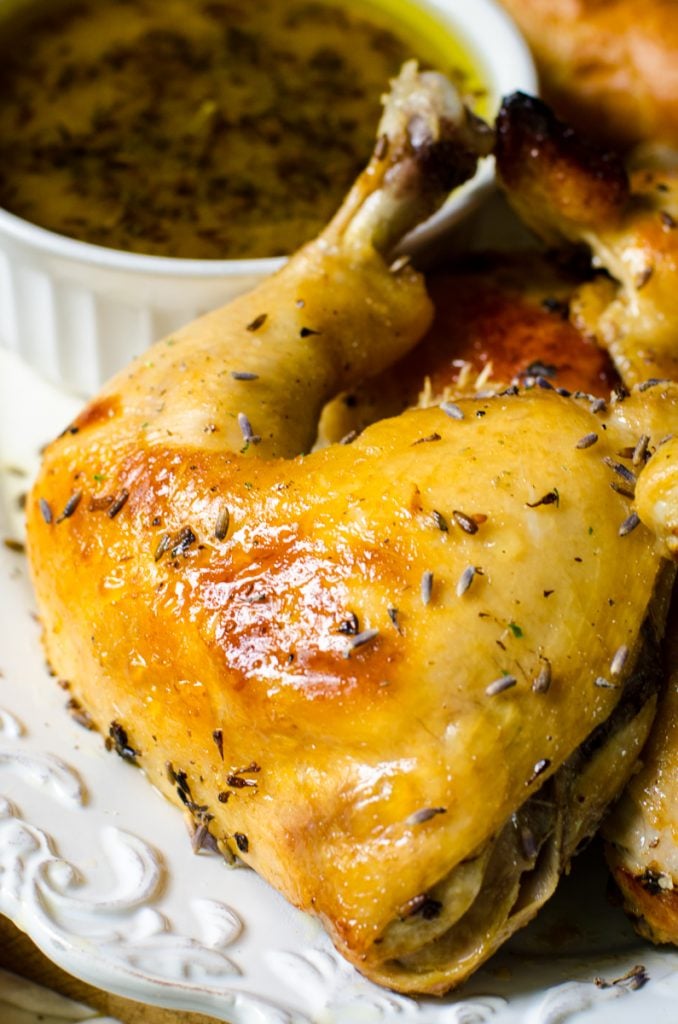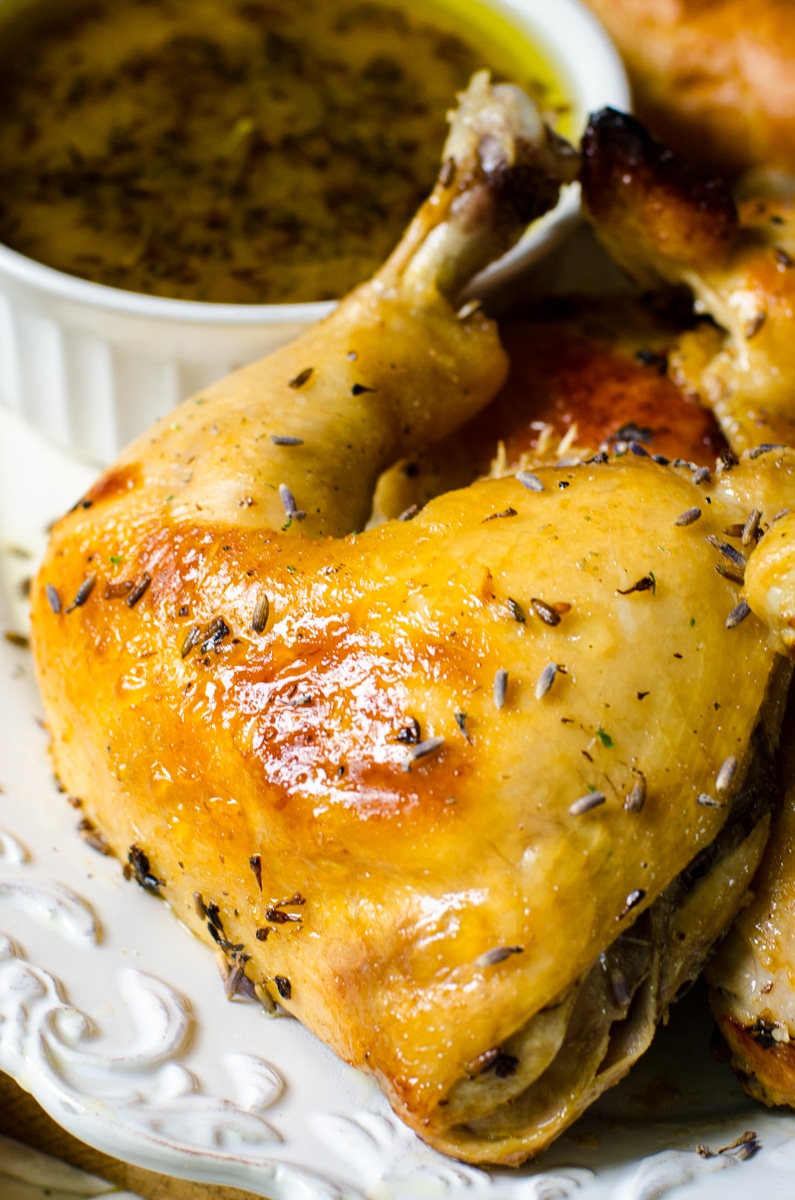 Lavender Chicken Recipe
Once removed from the oven, let it sit for 5-10 minutes to rest. Serve the chicken with a hearty loaf of french bread for dipping into the pan juices. It is a great way to enjoy the flavor fully and have a built-in side dish.
---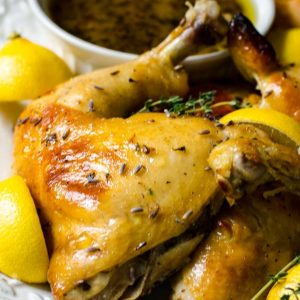 Lemon Lavender Chicken
This classic french dish is bursting with flavor and just a little sweet.
Pin it for later?
Ingredients
4

chicken leg quarters

2

Tablespoons

dried lavender

½

cup

olive oil

2

lemons

,

zested and juiced

1

Tablespoon

fresh thyme

⅓

cup

honey

2

teaspoons

dijon
Instructions
Lightly crush the lavender in a mortar and pestle or with a rolling pin. It should become fragrant. Combine it with the olive oil, lemon, thyme, honey and dijon in a ziploc bag or large container. Stir until combined then submerge the chicken pieces until fully covered. Marinate for 4-8 hours.

Preheat the oven to 400°F. Place the chicken in a single layer in a roasting dish, skin side up. Try to keep them from touching, but that may be hard. Pour the marinade over the top and roast for 30 minutes.

Remove the pan and flip the chicken. Use a spoon to baste the chicken pieces with the marinade and roast for another 10 minutes.

Flip one last time so the skin side up once again up and roast for another 5-10 minutes. Because of the honey it is at risk for browning too quickly, so keep an eye on it. Remove once cooked and the internal temperature equals 165°F.

Let rest for 5 minutes before serving and serve with a hearty bread for dipping into the leftover marinade sauce.
Notes
You can substitute ½ cup of lavender honey simple syrup in place of the honey.  This will boost the lavender flavor as well.  It's almost like using lavender honey.
Nutrition
Serving:
1
serving
|
Calories:
332
kcal
|
Carbohydrates:
15
g
|
Protein:
12
g
|
Fat:
26
g
|
Saturated Fat:
5
g
|
Cholesterol:
71
mg
|
Sodium:
71
mg
|
Potassium:
198
mg
|
Fiber:
1
g
|
Sugar:
12
g
|
Vitamin A:
109
IU
|
Vitamin C:
16
mg
|
Calcium:
25
mg
|
Iron:
1
mg
Tell me how much you love this recipe
and show off how you made it!