This almond crusted chicken recipe is sponsored by Safeway. All opinions are my own. Thank you for supporting the brands that keep Food Above Gold working.
These baked chicken tenders are crusted with almonds for a crispy coating. They make a great gluten-free alternative to chicken nuggets, while still being real food for adults.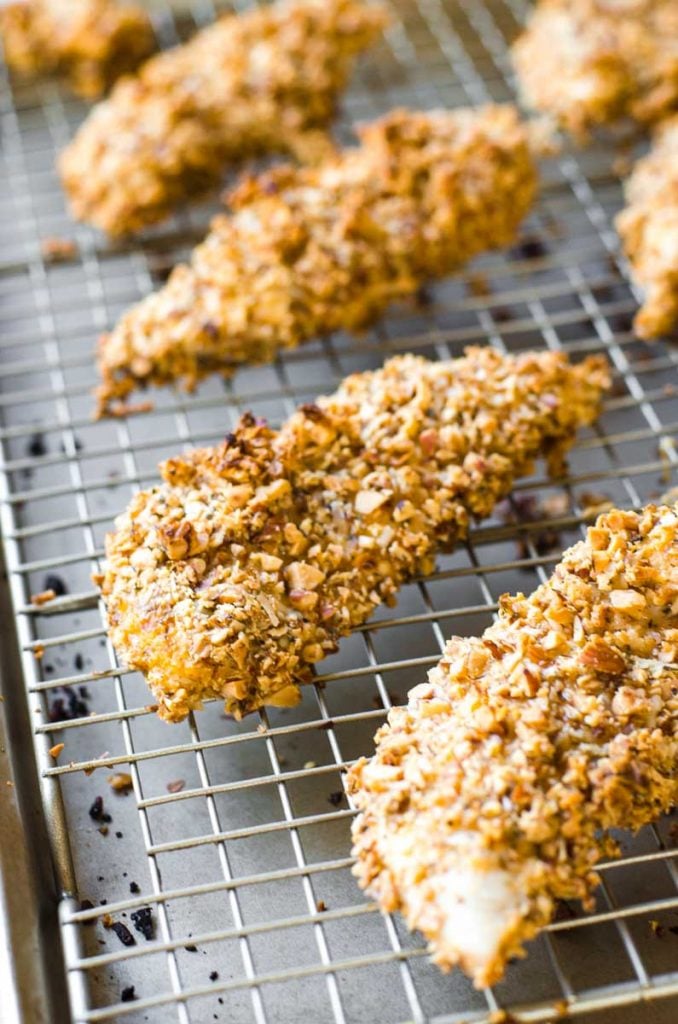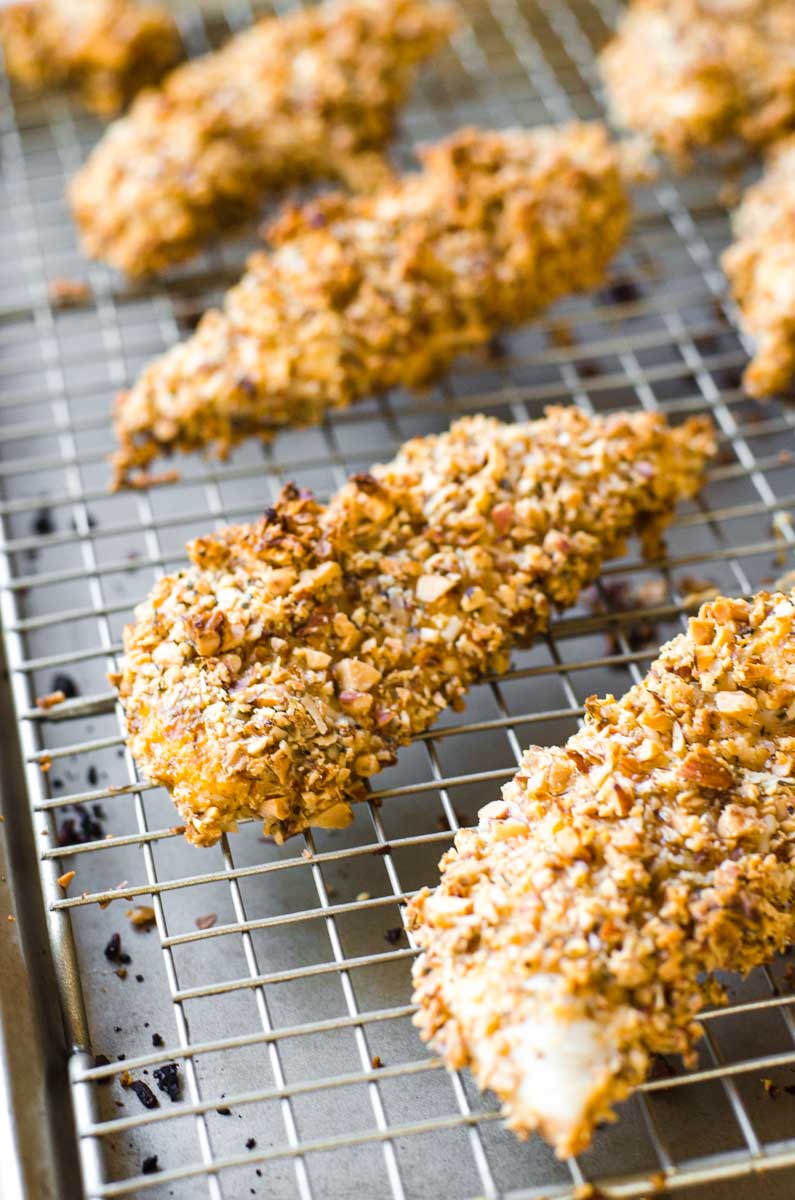 Sometimes it is nice to have real food alternatives to comfort foods like chicken nuggets. Skip all the additives and use these almond crusted chicken tenders for a great lunch that is kid-approved. (And also gluten-free!)
Is Almond Flour the Same as Almond Meal?
Almond meal and almond flour are both technically the same thing: very finely ground almonds. If you have an awesome food processor you can make your own. However, I buy Open Nature® almond flour exclusively from Safeway because it is USDA certified, affordable, and ground finely enough for cooking or baking.
This is something I really appreciate and adds extra value by taking away additional work. Plus, it's a great gluten-free alternative that is minimally processed and free from 110 common food additives.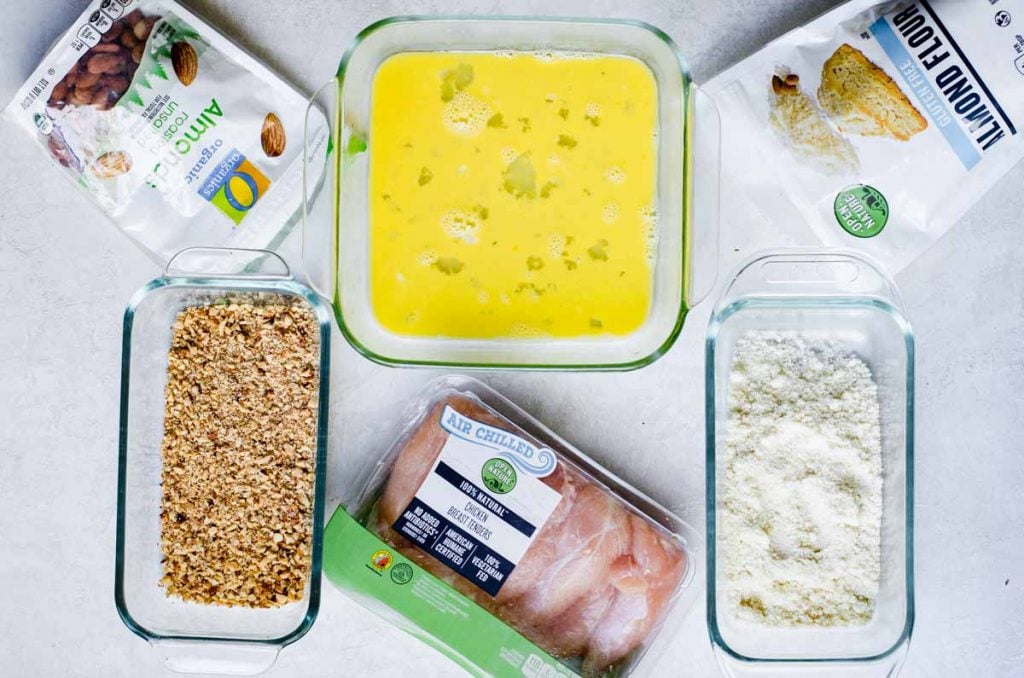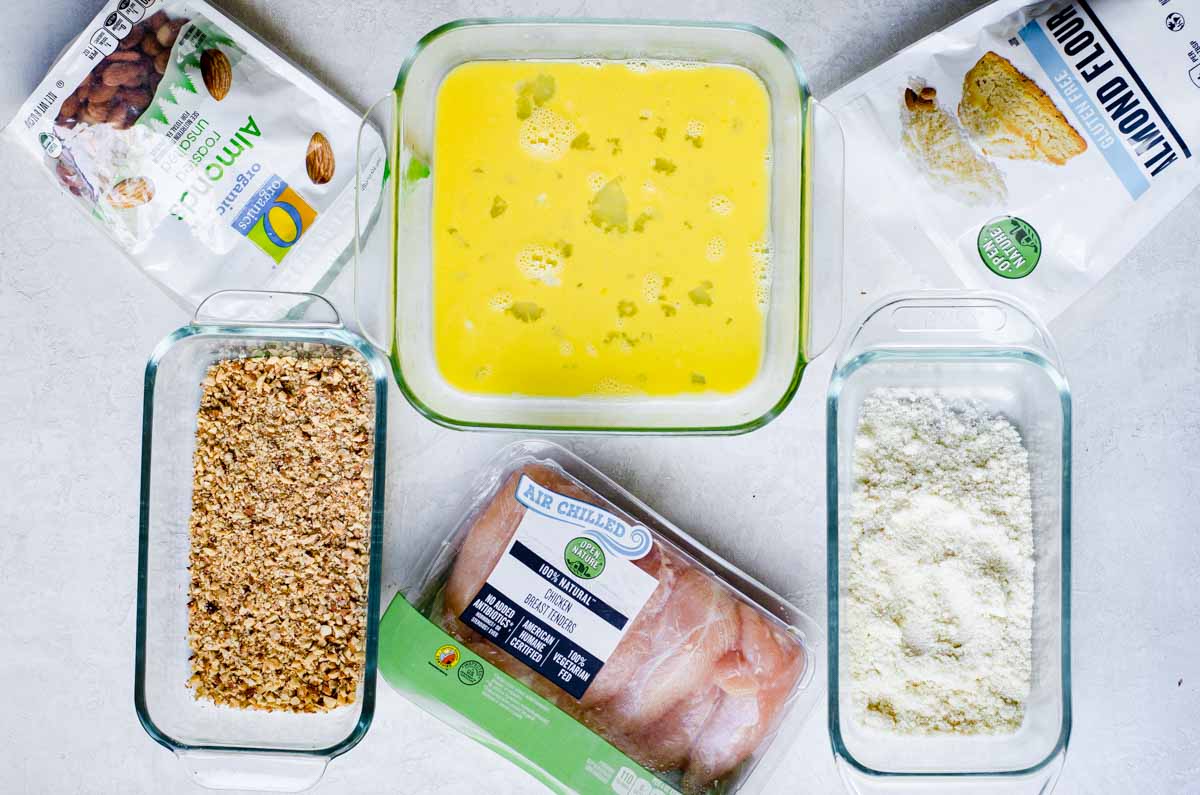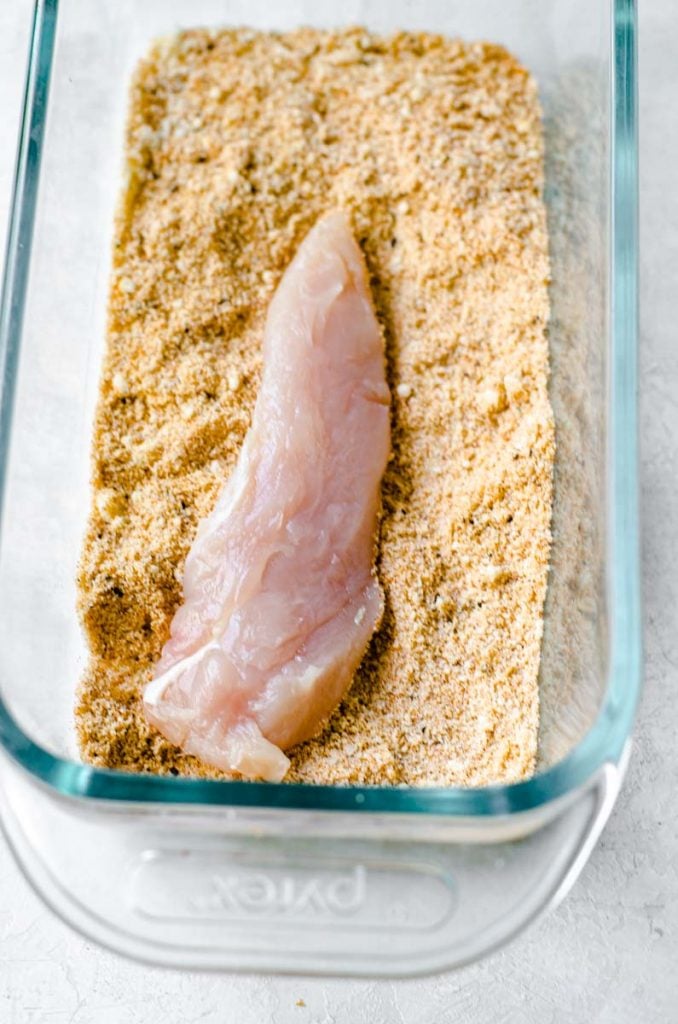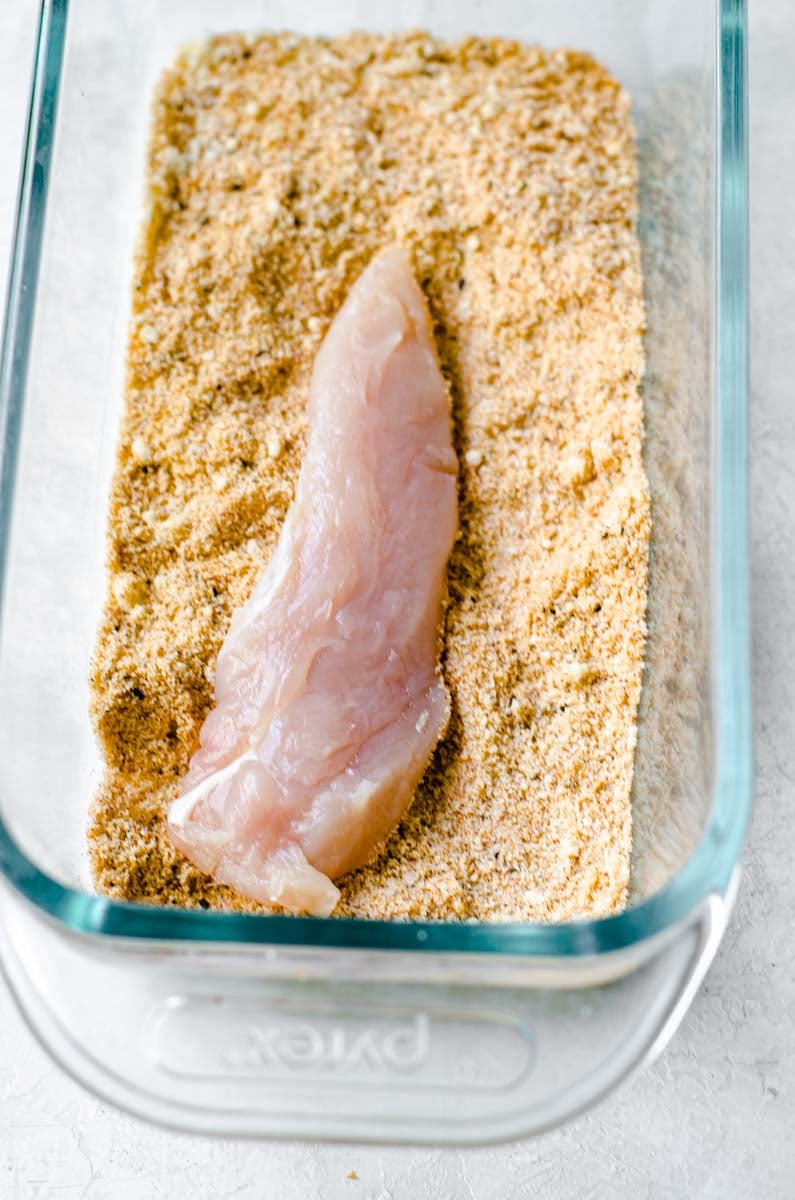 Breading Chicken Tenders
When making almond crusted chicken, you are more or less breading the chicken tenders the same way as frying. First they need to be patted dry and seasoned with salt and pepper. Then, you'll need three shallow dishes of ingredients: one each with almond flour, beaten eggs, and the chopped almond mixture.
First, dip the chicken tenders into the almond flour until it is well coated. This helps the egg wash stick to the chicken.
Afterwards, toss it quickly in the egg wash letting the excess drip off. The egg wash helps bind together the almond mixture.
Lastly, heavily coat the chicken tenders in the almond mixture. Push the tenders down into it so that every little bit gets covered.
Once this is done, place the chicken tenders on a rack inside of a baking sheet. This elevated height keeps the bottom of the chicken tenders from getting soggy during cooking. To make cleanup even easier, you can line the baking sheet with parchment paper to collect any drippings.
It is important to follow the breading procedure correctly because this keeps the chicken tenders moist. This almond crusted chicken recipe is cooked at high heat to seal in the moisture, but the breading gives extra protection.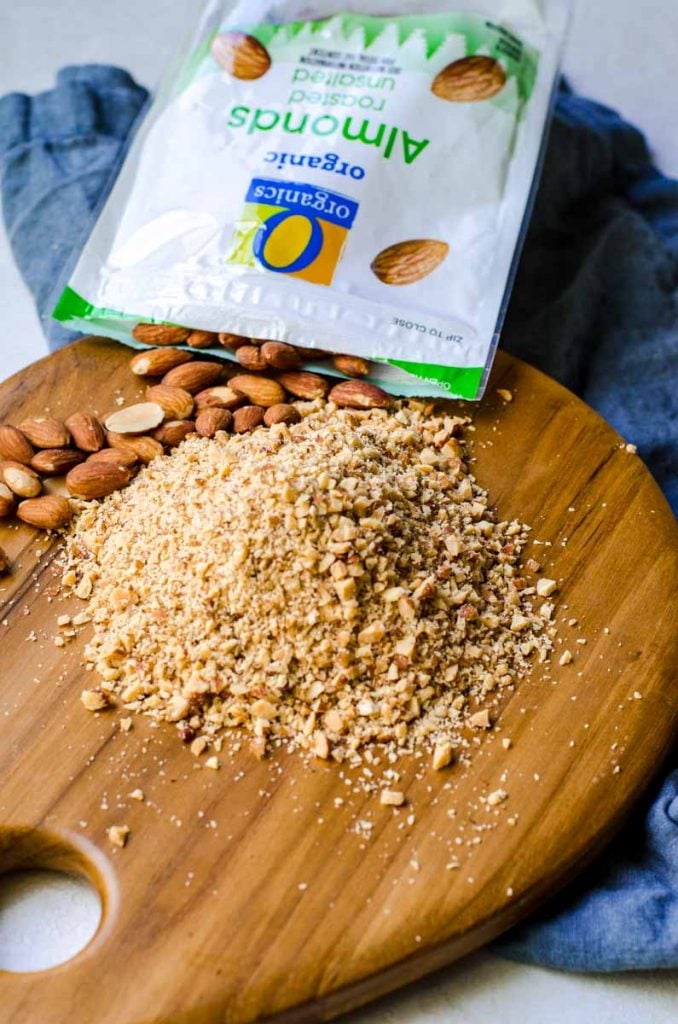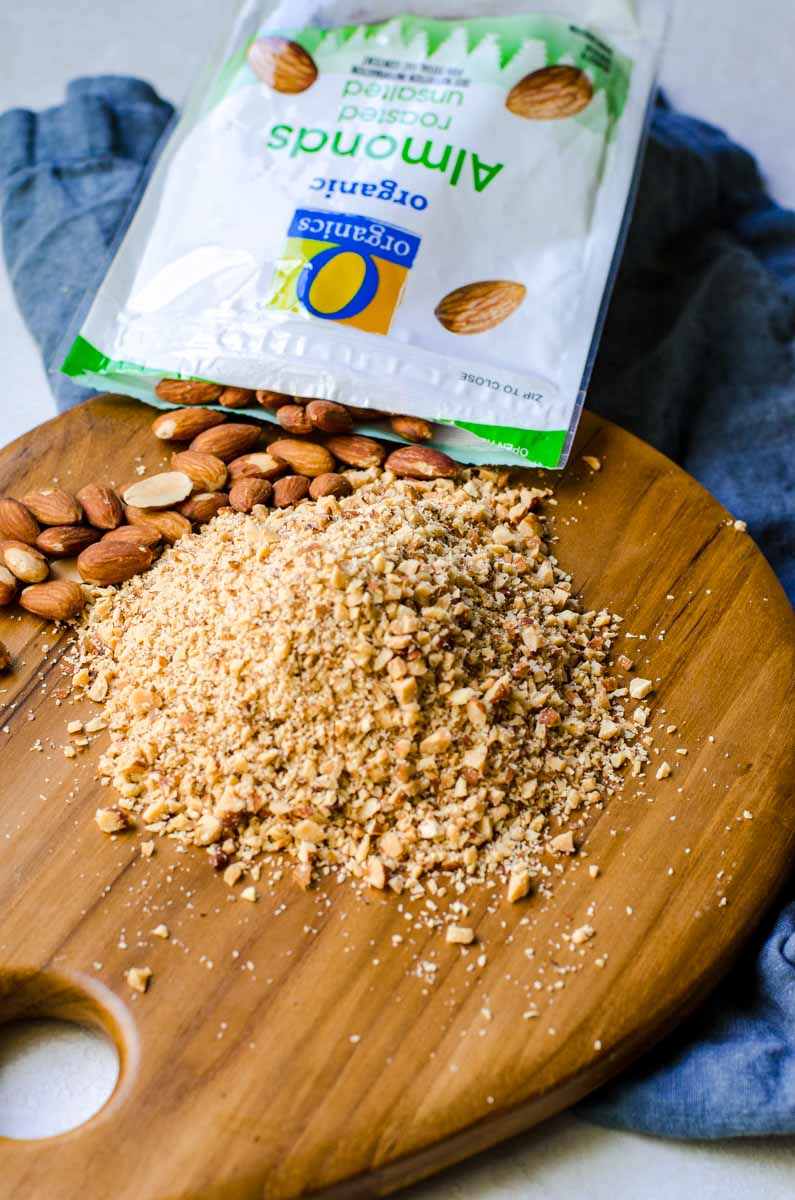 Can I Use Other Cuts Of Chicken?
I love getting Open Nature air-chilled chicken because it has a more intense chicken flavor that isn't watered down. Since Open Nature products are sold exclusively by Safeway and Albertsons stores in my area, that's where I get my fresh chicken.
You can use the same breading recipe for any cut of chicken you like. It works well for making legs, breast, tenders, or whatever you're craving. I tend to use chicken tenders because they are uniform in size. This removes the extra step of pounding the meat flat.
The thing to keep in mind is that the cooking time will change if you alter the cut of chicken. Continue to bake it according to the instructions, but use an instant read thermometer to check the internal temperature. White meat should be 160°F, or 165°F for dark meat.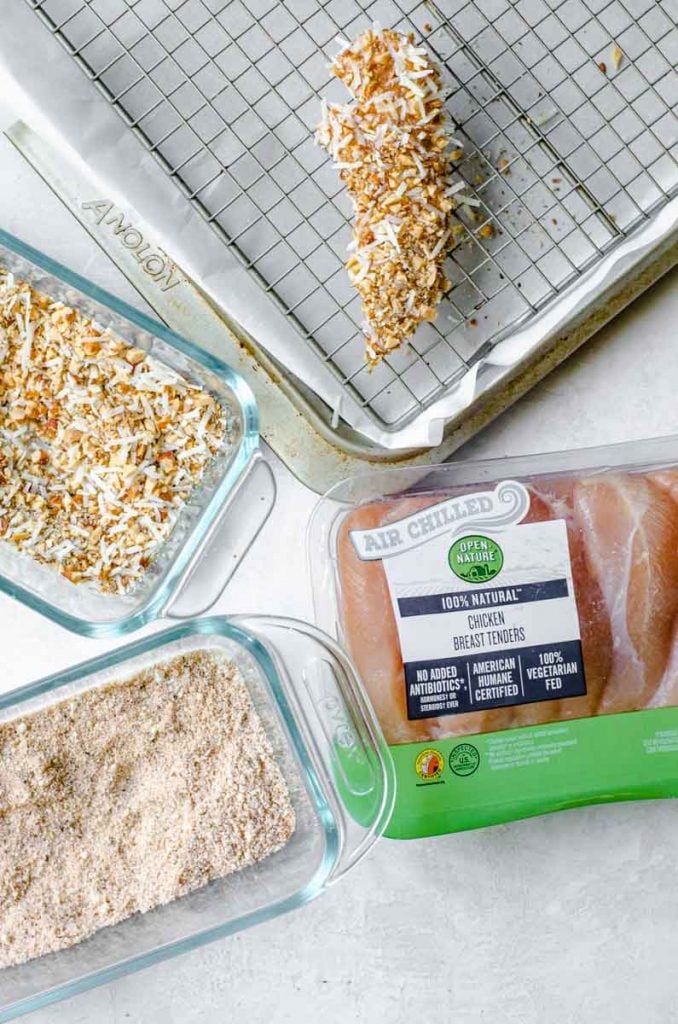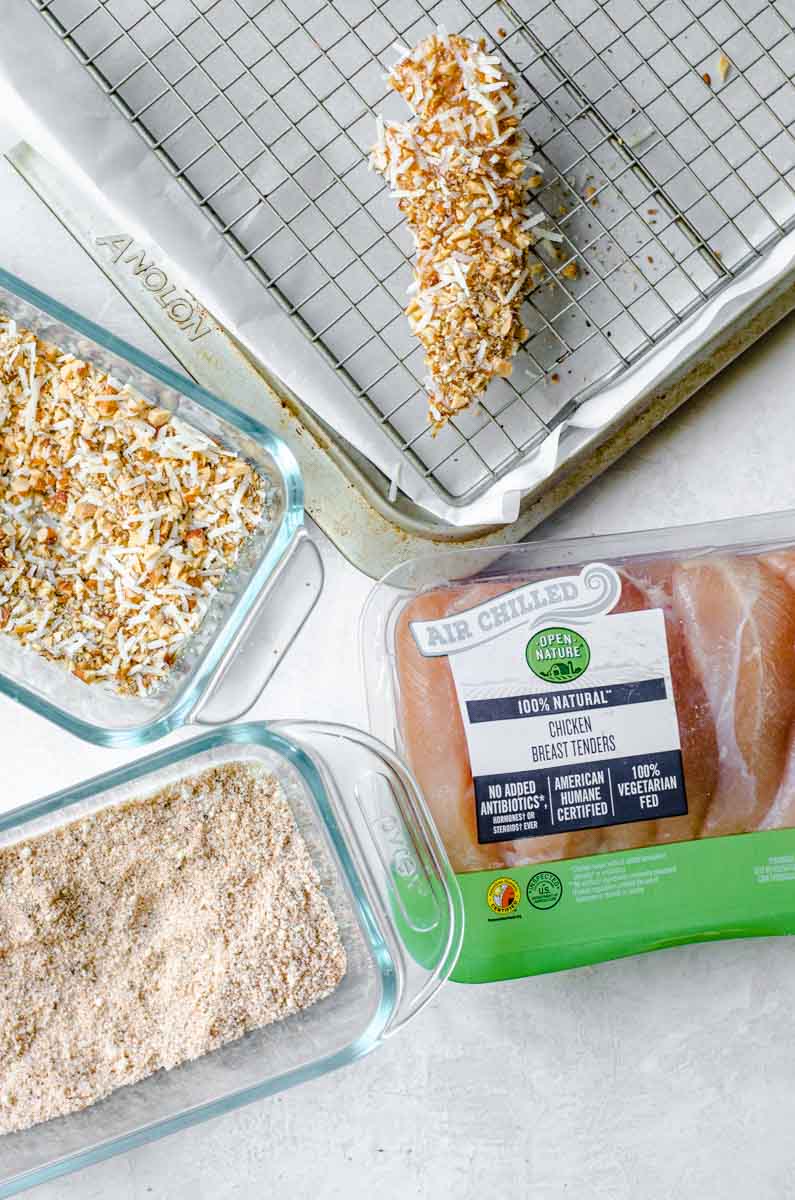 What Is The Benefit of Baking Instead of Frying?
The main benefit of baking over frying is that it reduces the amount of fat in the meal. This is great if you're focusing on healthier meals for the year. If you just want a great gluten-free chicken nugget alternative, you can fry the tenders in oil. (Avoid olive oil because it has a low smoke point.)
Both versions give you a golden brown crust, although frying makes a much deeper golden brown. Choosing to bake this chicken recipe gives the O Organics® roasted almonds a chance to develop a stronger flavor profile. Plus it keeps those healthy choices trending upward.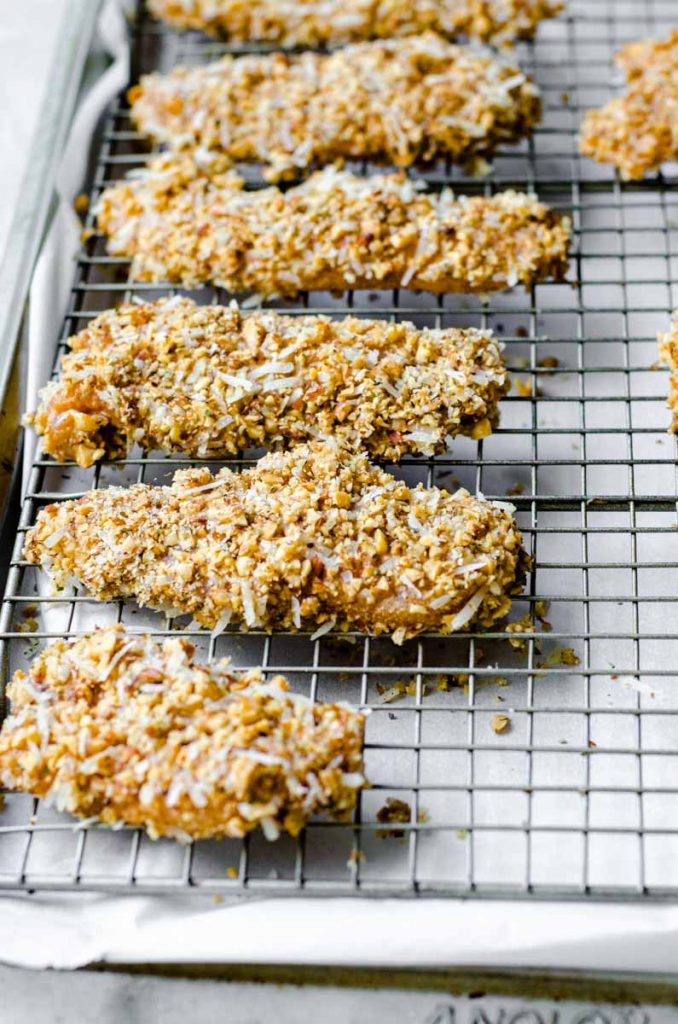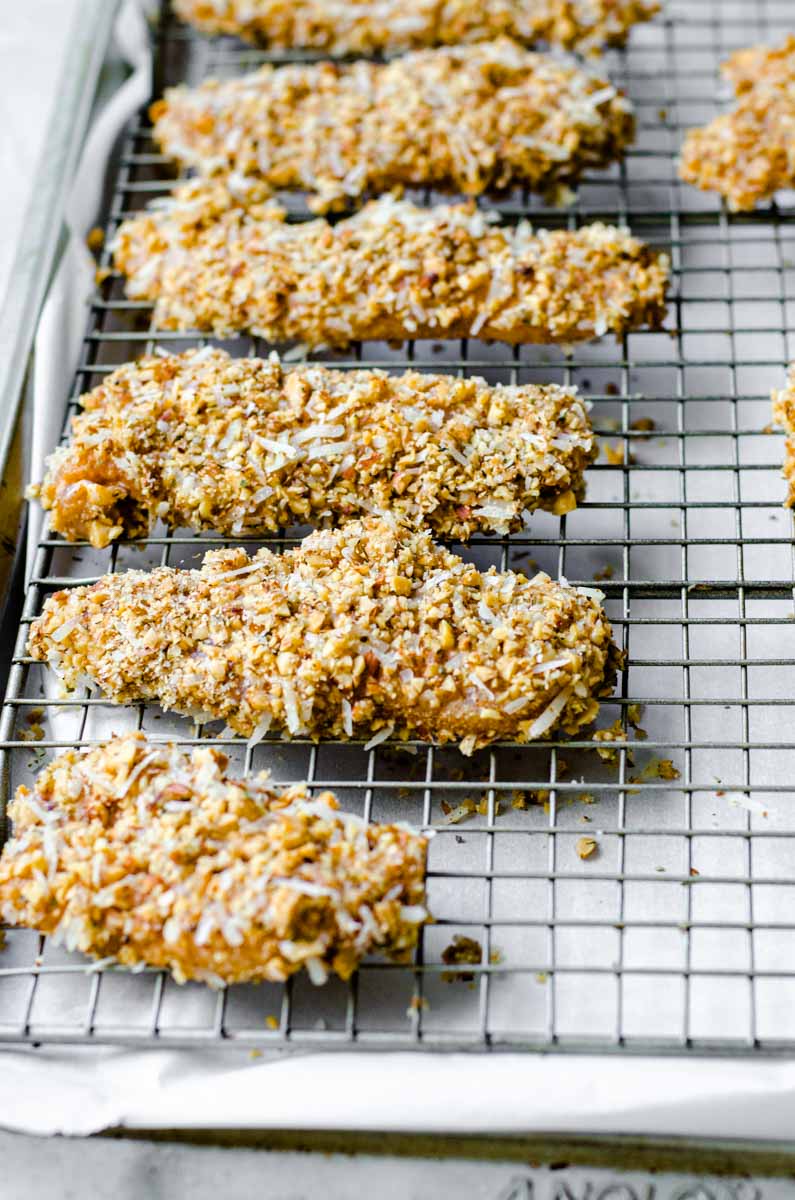 What To Eat With These Tenders
This is completely up to you based on your cravings. My favorite is to serve it on a hearty green salad with tomatoes, red onion, bell peppers, and Italian dressing. You could also serve it with rice, a small pasta like orzo, or with a side of french fries. (And your favorite vegetable.)
This is a very versatile protein that quickly becomes a household favorite. It is often requested at the last minute, so I'm glad my local Safeway is nearby. I'm in and out of there a lot and have memorized where to find each ingredient. Even some of my favorite cashiers know what I'm making when they see me check out.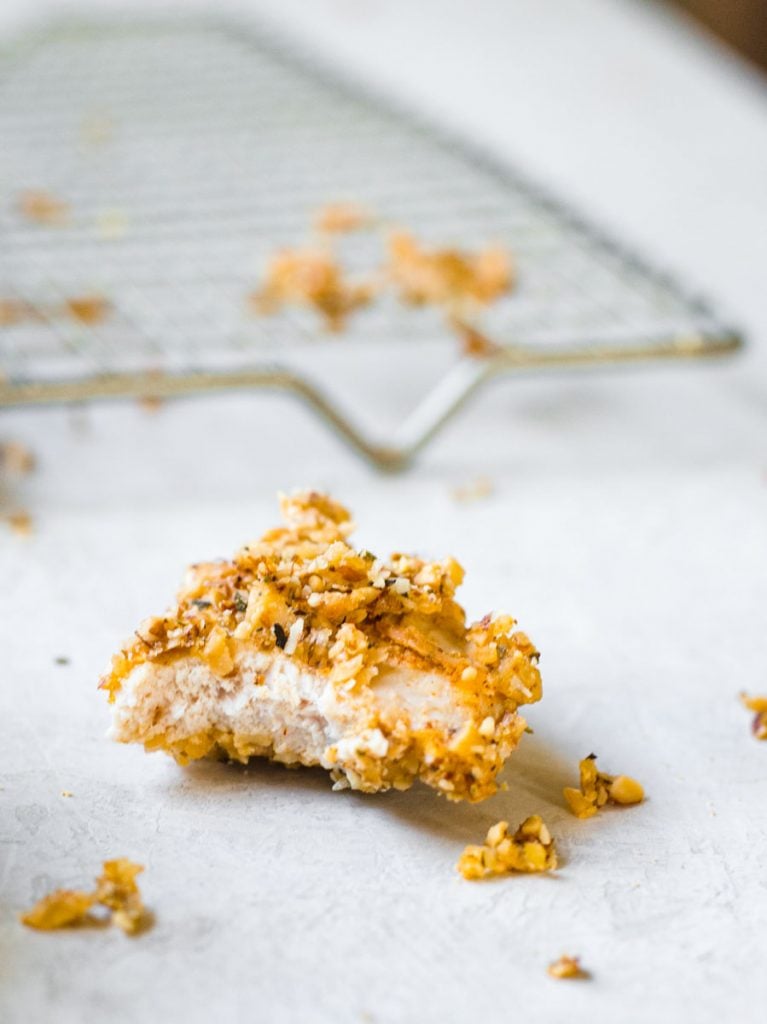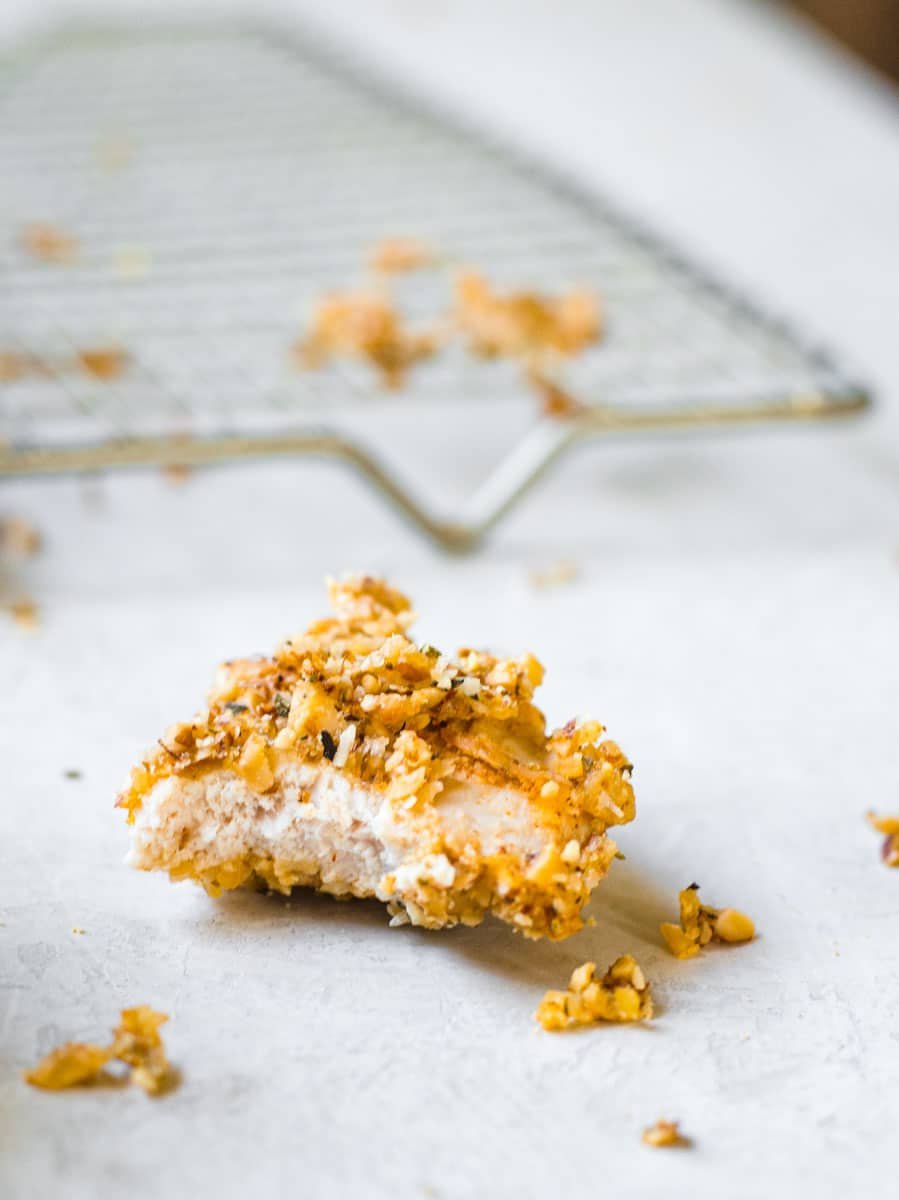 Baked Almond Crusted Chicken Tenders Recipe
When preparing the O Organics roasted almonds for the crust, you should chop them as small as you can. You can do that with your knife as easily as a food processor, so choose your battle. One takes more time, the other makes extra dishes.
For an optional bonus, add grated parmesan cheese and Italian seasoning to the almonds. This elevates the flavor profile of the almond crusted chicken from faux chicken nuggets to an adult meal. If you happen to have kids you're feeding, it's still a hit!
---
Make grocery shopping simpler with this printable grocery list for this almond crusted chicken tenders recipe. Everything is listed in standard grocery store amounts. If no size is specified, even the smallest package will provide more than enough.
Thanks so much for stopping by!
Don't forget to try the minimally processed Open Nature products and USDA certified organic O Organics products exclusively at your neighborhood Safeway stores and online. Whether you want plant based, compostable, or gluten-free, they have the quality products you want at a great price. Visit www.safeway.com/exclusivebrands to see the selections!
You can also find them exclusively at the Albertsons Companies family of stores, including ACME Markets, Jewel-Osco, Vons, Pavilions, Randalls, Tom Thumb, Shaw's, Star Market, United Supermarkets and Carrs/Safeway. Visit Safeway.com to find a store near you. Plus, they have a bunch of meal plan prep tips and recipe inspiration.
Happy Cooking! 🙂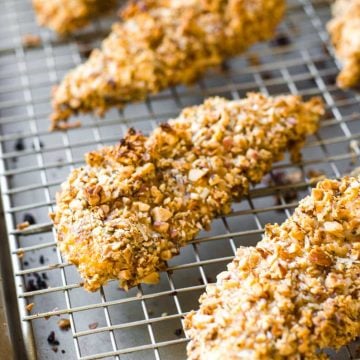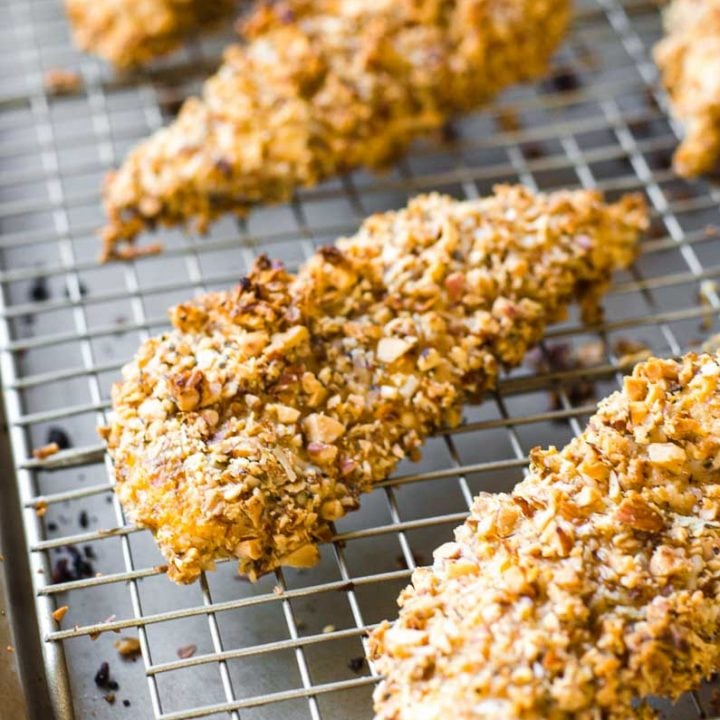 Baked Almond Crusted Chicken Tenders
Made with a gluten-free almond flour breading, these chicken tenders have a crispy coating that is flavorful and makes great grown up chicken nuggets.
Pin it for later?
Ingredients
1

pound

Open Nature Air-Chilled Chicken Tenders

½

cup

Open Nature Almond Flour

1

teaspoon

salt

1

teaspoon

smoked paprika

1

teaspoon

freshly ground pepper

2

teaspoons

Italian seasoning

,

(optional)

½

cup

parmesan cheese

,

grated finely (optional)

1

large eggs

2

Tablespoon

water or milk

1

cup

O Organics roasted almonds,

finely chopped
Instructions
Preheat the oven to 425°F.  Line a baking sheet with parchment paper and place a baking rack in it*

In a shallow dish, combine the almond flour, salt, paprika, and pepper.  Set aside

In a second shallow dish, whisk together the eggs with the water or almond milk. 

In a third bowl, combine the chopped almonds, and optional Italian seasoning and parmesan cheese. 

Pat the chicken tenders dry with a towel. Working with one piece of chicken at a time, coat the chicken in the almond flour.  Dip it in the egg wash, shake off the excess, then coat in the chopped almonds.  Transfer to the baking rack then repeat the process until all the chicken tenders are crusted.

Bake for 15 minutes, or until the chicken tenders are cooked to an internal temperature of 160°F.  
Notes
*Baking racks and cooling racks can be used interchangeably.

 

Just make sure your chicken tenders can't fall through the grates.
Grate the parmesan yourself if you can.

 

You want it to be thinly shredded, but not powdered.

 

The coating that comes on the pre-shredded cheese from the store keeps the parmesan from cooking cohesively into the crust.
I recommend two eggs because the egg whites don't always whisk apart. If you want to conserve ingredients you can use just one egg.

 

Just make sure to shake off excess to prevent eating a big clump of breaded egg.
Nutrition
Serving:
1
serving
|
Calories:
489
kcal
|
Carbohydrates:
13
g
|
Protein:
41
g
|
Fat:
32
g
|
Saturated Fat:
5
g
|
Cholesterol:
123
mg
|
Sodium:
933
mg
|
Potassium:
732
mg
|
Fiber:
7
g
|
Sugar:
2
g
|
Vitamin A:
454
IU
|
Vitamin C:
1
mg
|
Calcium:
308
mg
|
Iron:
3
mg
Tell me how much you love this recipe
and show off how you made it!