A fantastic grilled vegetables marinade recipe is great to have in your back pocket. This one is made from white wine and leftover aromatics you have lying around this quick marinade boost the flavor.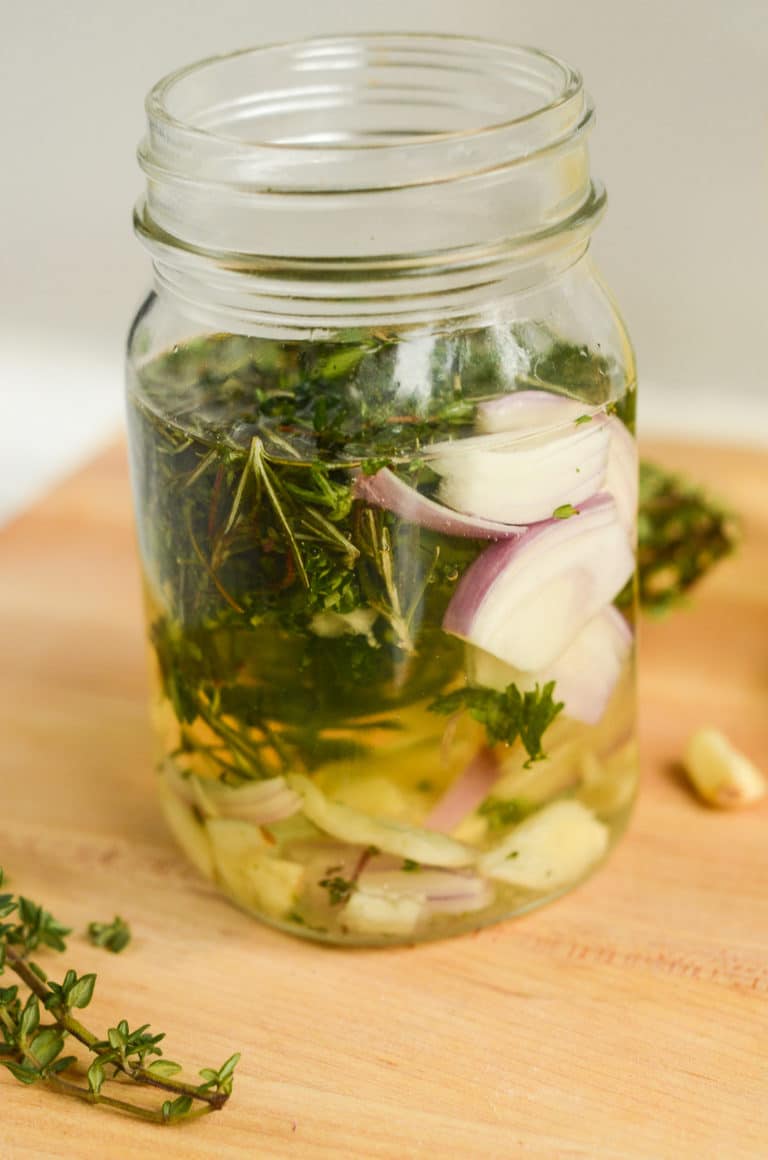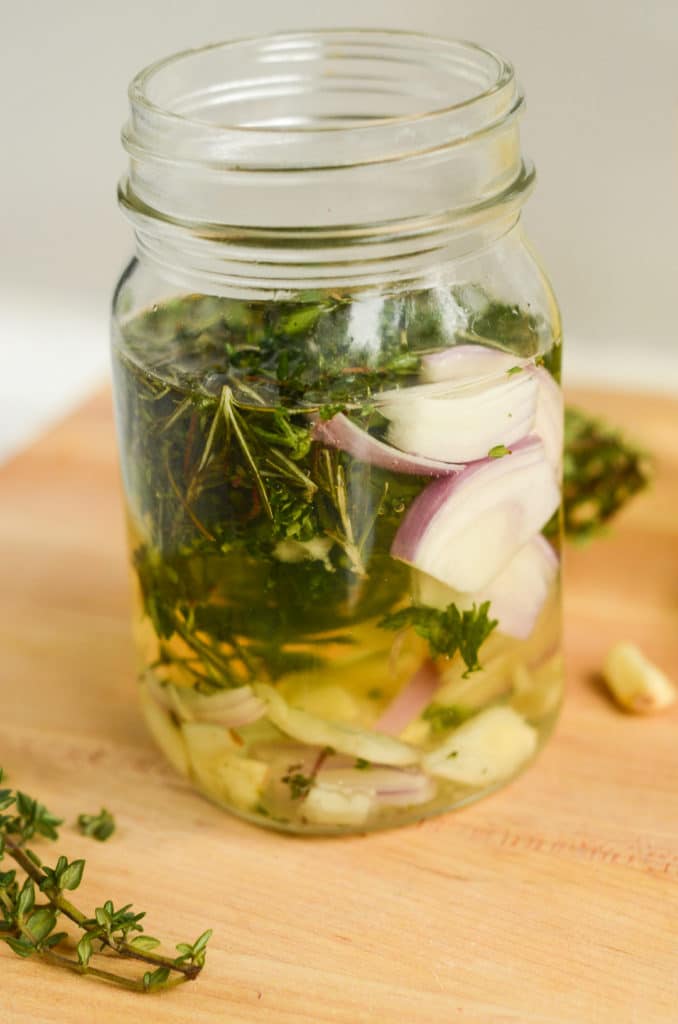 Should I Marinate Vegetables Before Grilling?
This absolutely isn't a requirement because the grill itself imparts a lot of flavor. However, marinating grilled vegetables is a great way to add extra punch.
Using a marinade also helps prevent the grilled veggies from drying out. Grilling is an extremely high heat cooking method, so it needs a lot of fat to get those beautiful grill marks. It also needs lots of moisture to ensure that the vegetables get tender before they dry out.
Do I Have To Use Fresh Herbs and Aromatics?
If you don't have access to fresh herbs, dried makes a wonderful substitution. Usually the ratio is to use one teaspoon of dried herbs for every tablespoon of fresh. For the parsley, which calls for 1/4 cup, use 4 teaspoons.
The same applies with the garlic and shallots. You can use 1/8 teaspoon of garlic powder for each clove. You can also switch out one teaspoon of onion powder for a whole shallot. (You can also trade out 1/2 of a fresh onion for the shallot.)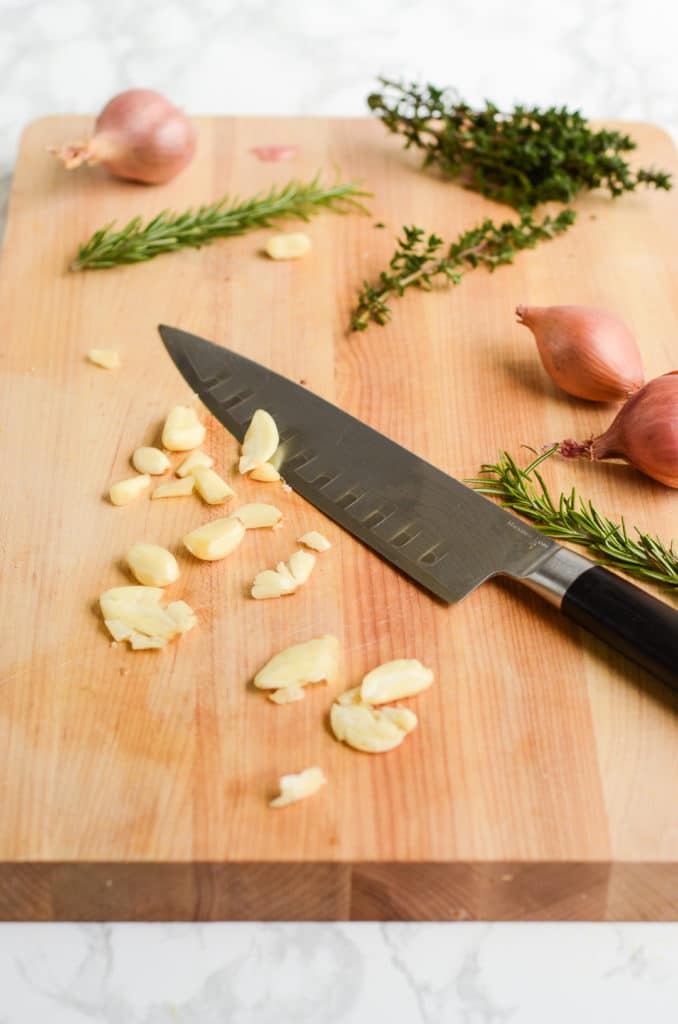 What Kind Of Grilled Vegetables Does This Marinade Go Well With?
Most vegetables pair well with the flavors in this marinade because they are classic. It especially tastes wonderful with things like asparagus, red bell peppers, zucchini, tomatoes, and red onion. These will all absorb the flavors nicely for a perfect side dish.
How To Marinate Veggies
There are two extremely important things to remember when marinating vegetables. One is that they don't need to marinate for very long, only about 30 minutes. As long as you have the correct ratio of fat and acid, it should permeate most vegetables quickly. If you let them marinate for too long, they become squishy and begin to break down.
The second is that they type of vegetable impacts how much marinade gets absorbed. For example, vegetables that already have a high water content, like zucchini, will absorb more marinade than carrots. The hardier vegetables can handle being marinated for a longer period of time, up to an hour.
The second is that the vegetables marinate better at room temperature. Putting them in the refrigerator slows down both the speed with which is absorbs the marinade and how it cooks. Once you are ready to cook, remove the vegetables from the marinade, season with salt and pepper, and put it straight on the grill (or pan).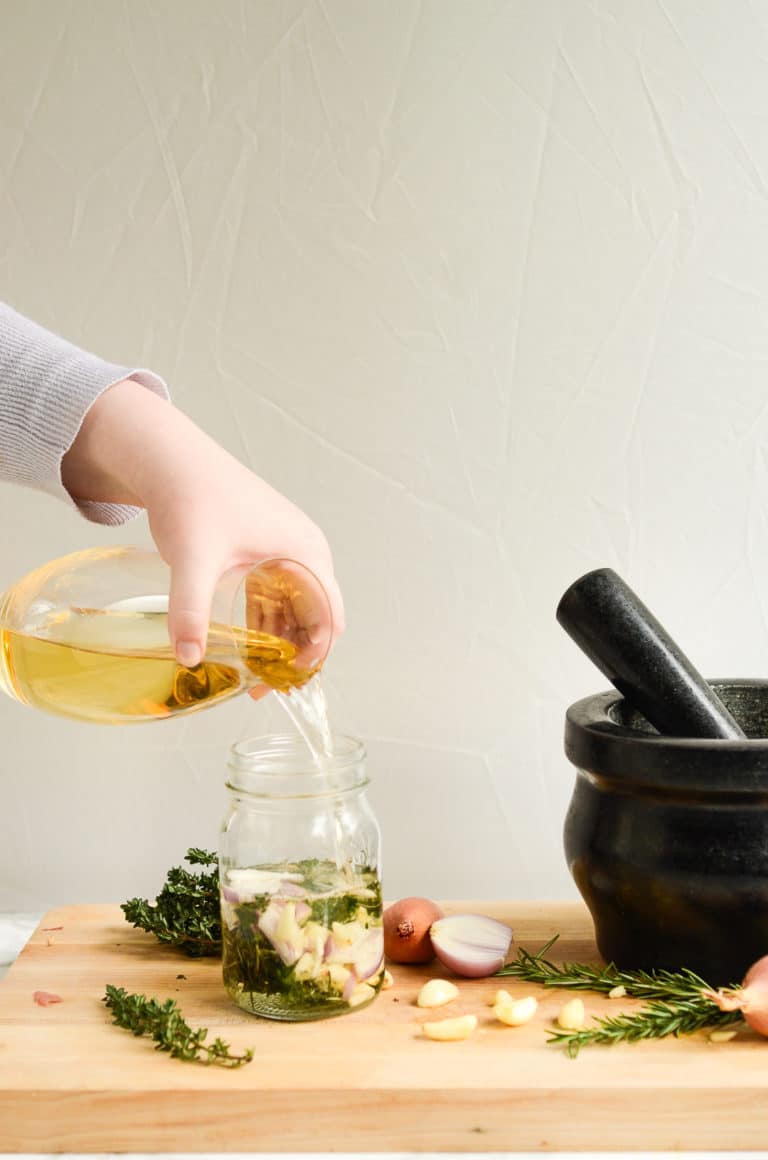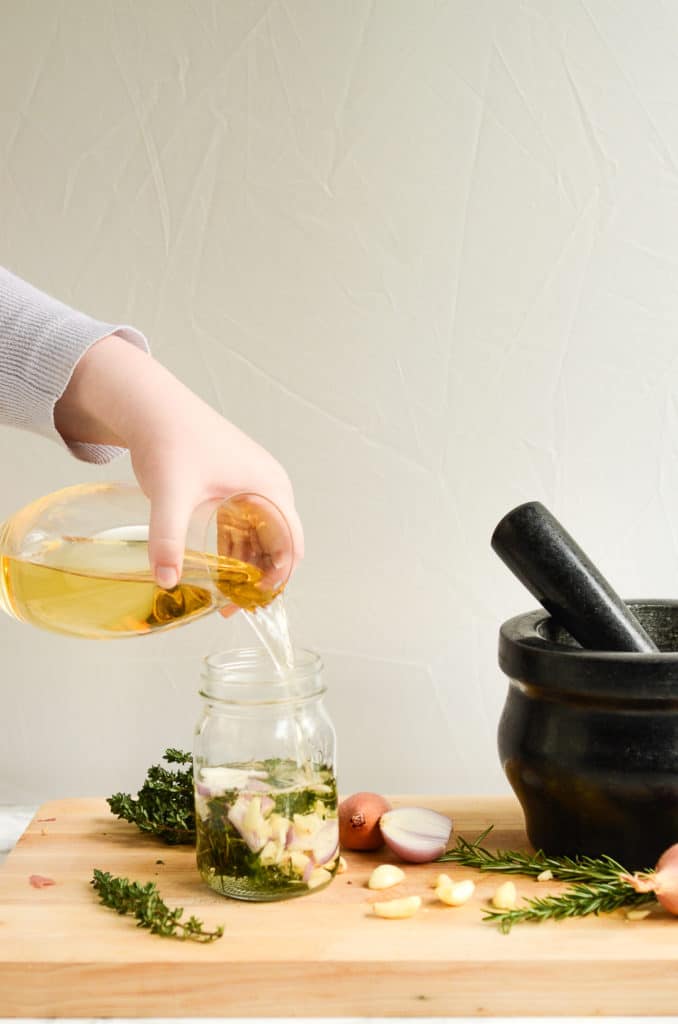 Professional Marinating Tips
If you want to marinate a meat, like chicken, along with the vegetables you easily can. However, remember to add the vegetables in the last 30 minutes of marinating. The chicken can marinate for 8-12 hours.
Since wine turns to vinegar after it is opened, I recommend using a simple boxed wine for this grilled vegetable recipe. That way you don't have to worry about having leftover wine. Unless you're planning to drink it with the meal, that is. 😉
Fresh herbs can be pricy.  Find out how to the get the freshest ones and how to keep them fresh once they're home. You can also pick them straight from a garden or planter if you have them!
Unused marinade will only keep for about three days in the refrigerator. And due to the alcohol content it doesn't freeze well. So again I repeat, go boxed wine. You won't feel as bad if you have to dispose of some.
Olive oil is my favorite fat for this marinade because it adds a perfect flavor combination. However, any oil you have around will work.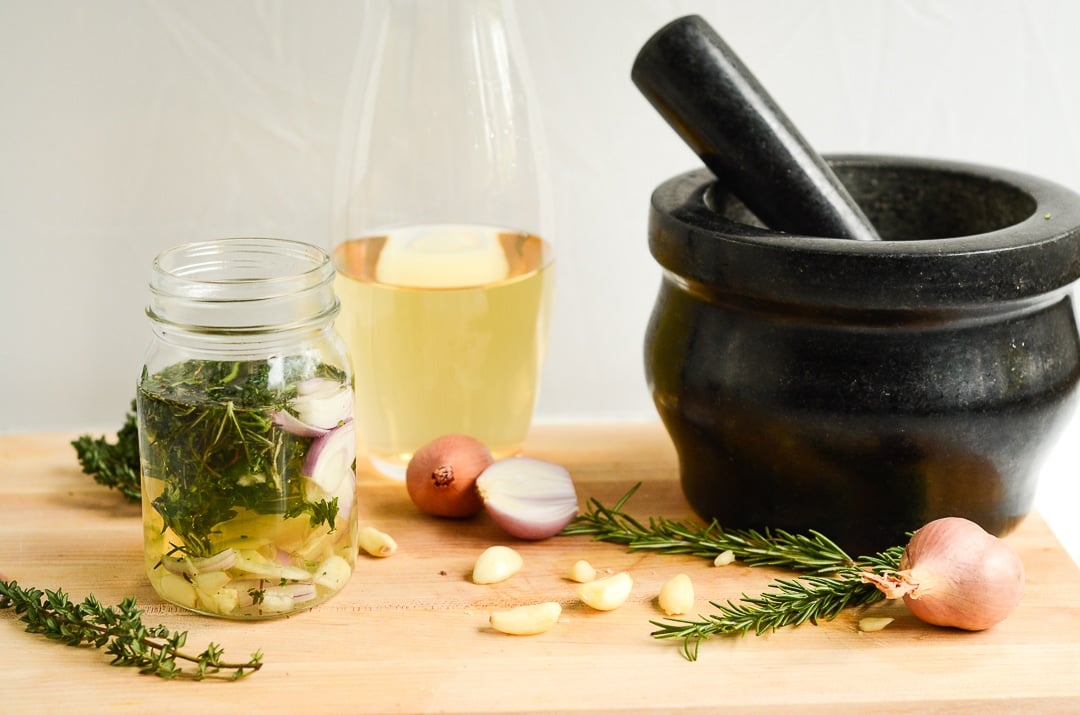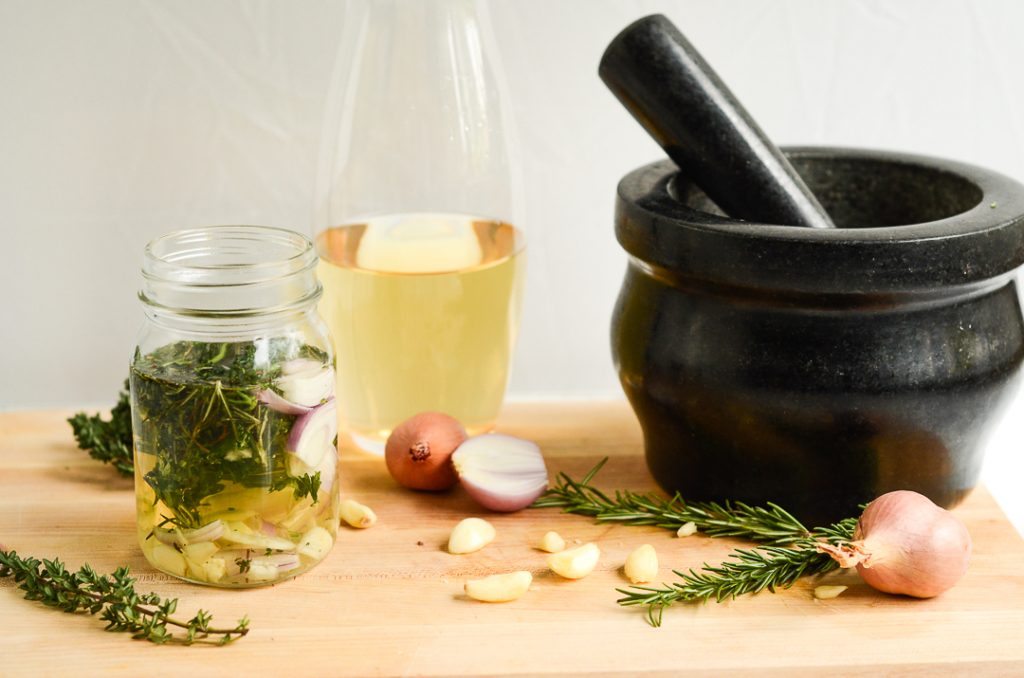 White Wine Grilled Vegetables Marinade
For the best flavor, I recommend using a mortar and pestle to lightly bruise your garlic, shallots, and herbs.  This will help release their flavor better and become more prominent in a short period of time.  If you don't have a mortar and pestle, the back of a spoon in a small bowl works well enough.
---
Simplify grocery shopping with this printable grocery list for grilled vegetables marinade.  Everything is listed in standard grocery store amounts. If no size is specified, even the smallest package will provide more than enough.

Happy Cooking! 🙂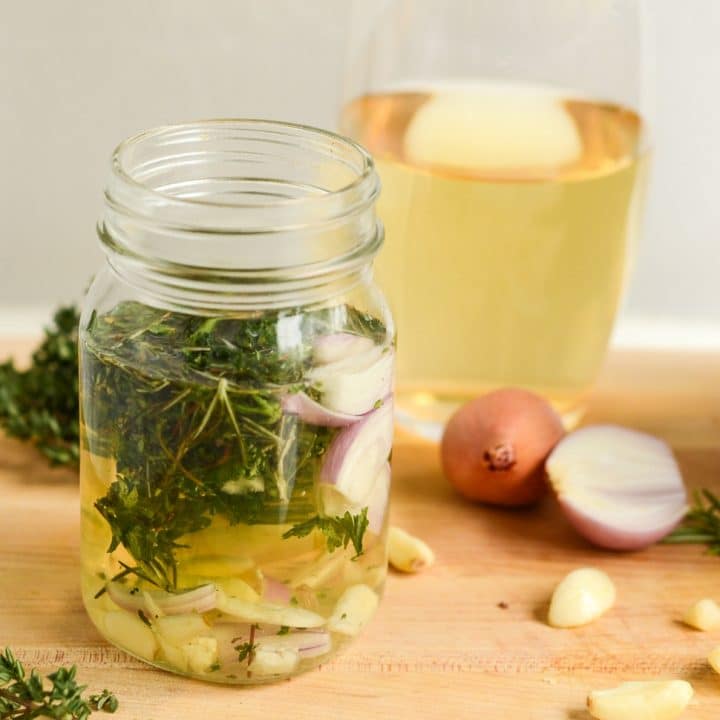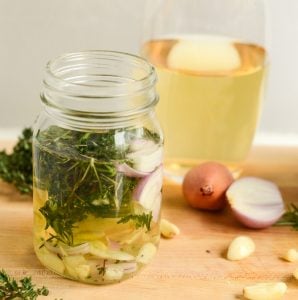 White Wine Grilled Vegetables Marinade
Give your dinner a classy flavor upgrade with this marinade made of leftover ingredients.
Pin it for later?
Print Recipe
Ingredients
6

cloves

of garlic

,

peeled

1

shallot

,

peeled and sliced

2

tbsp

fresh thyme

2

tbsp

fresh rosemary

1/4

cup

loosely packed fresh parsley

1 1/2

cups

white wine

1/2

cup

olive oil

2

pounds

favorite cut peppers, onions, squash, etc…
Instructions
Use a mortar and pestle to lightly bruise the herbs, garlic, and shallots until the mixture is slightly wet and the herbs are a little wilted. Add the mixture to the white wine, salt, and olive oil and let sit for 30 Minutes at room temperature.

Put your favorite cut vegetables into a large bowl and cover with the marinade until they are submerged. Marinate for another 30 minutes.

Remove the vegetables from the marinade, season with salt and pepper, and cook on the grill.
Notes
Don't have a shallot on hand? Use 1/4 of an onion instead.
You need roughly 1/2 cup of marinade for every pound of vegetables to grill.  This recipe makes one pint, enough for two pounds.
See the subsections above for instructions on how to use dried herbs.
Nutrition
Serving:
1
Serving
|
Calories:
46
kcal
|
Carbohydrates:
2
g
|
Protein:
1
g
|
Fat:
3
g
|
Saturated Fat:
1
g
|
Sodium:
3
mg
|
Potassium:
92
mg
|
Fiber:
1
g
|
Sugar:
1
g
|
Vitamin A:
121
IU
|
Vitamin C:
7
mg
|
Calcium:
9
mg
|
Iron:
1
mg
Tell me how much you love this recipe
and join fellow foodie friends @foodabovegold