Learn how to make pesto in the traditional rustic way, as well as the quick modern way. Find out about the different variations and get some great recipes using pesto!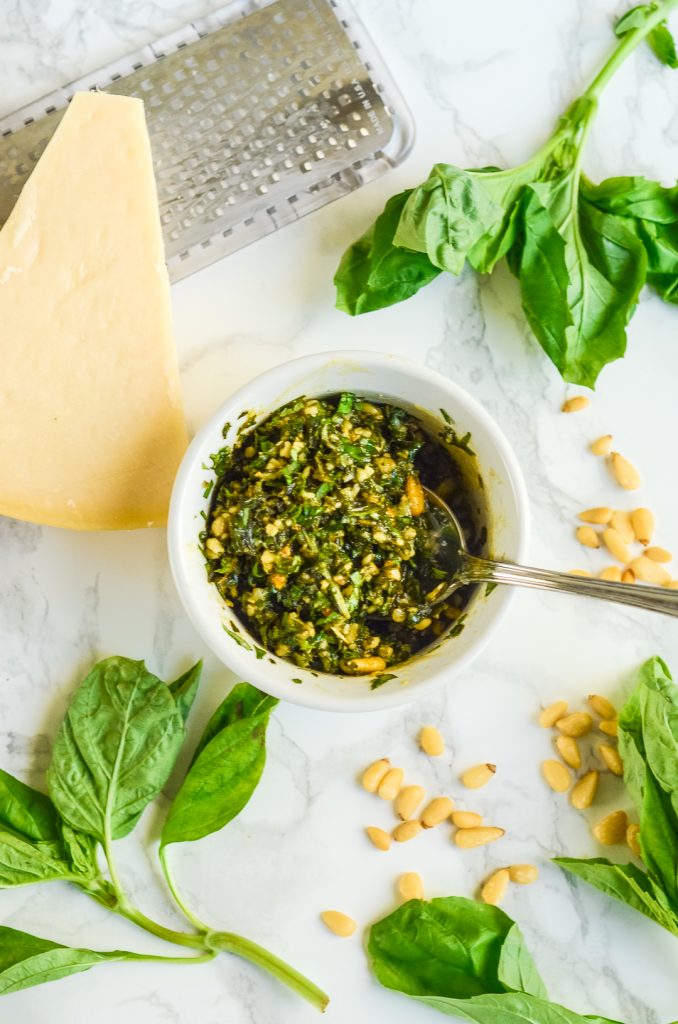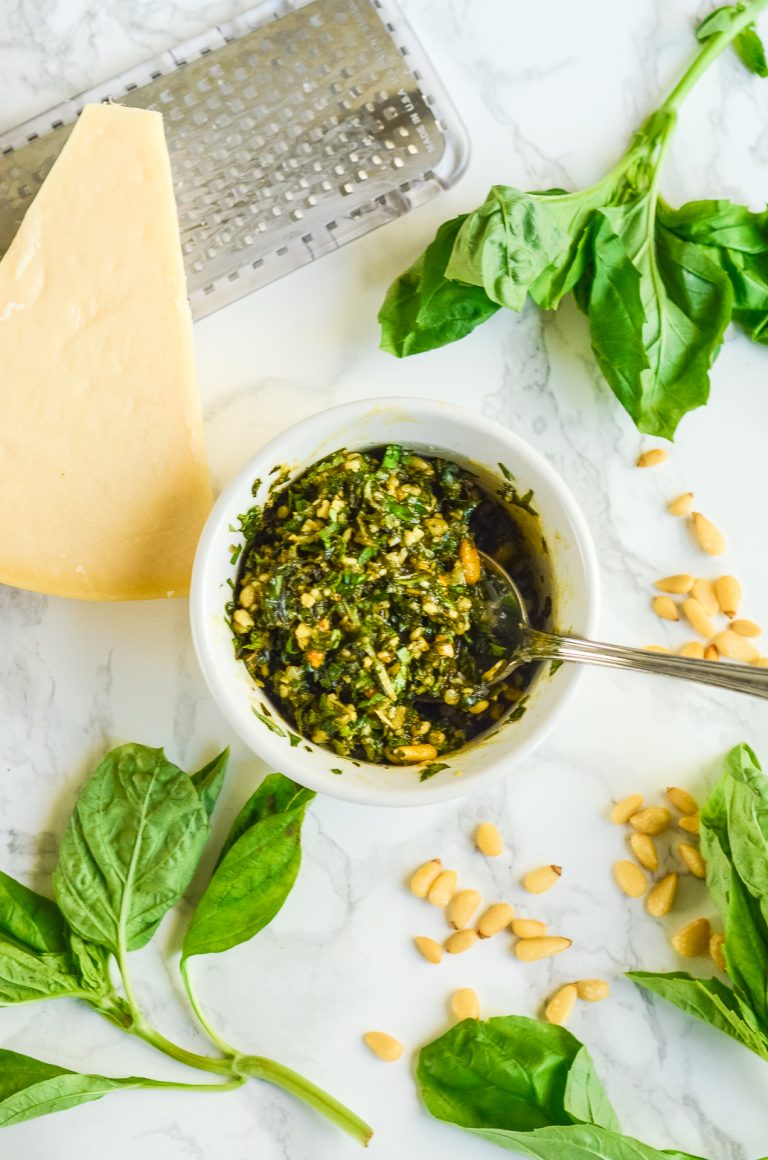 When you first think of pesto, you probably think of the traditional Genovese version. But did you know that pesto is actually a type of sauce, not a flavor? Let's look a little closer at the two methods for how to make pesto, as well as my favorite Genovese recipe, and other recipes that use pesto.
What Is Pesto?
Pestos are an entire family of n0-cook sauces made by using whole ingredients and grinding them down into a paste. Pesto actually translates into pestle, which is the traditional way of making pesto. Some of the well known versions of pesto are:
Genovese Pesto. This is made of basil, garlic, pine nuts, cheese and olive oil, and is the Italian version of pesto.
Pistou. This French version is similar to the Italian, but has fresh tomatoes and no pine nuts.
Anchoïade. This version is made using anchovies with garlic, herbs, oil, and sometimes olives.
Tapenade. Often used as a spread, this version favors olives, capers, and olive oil.
How To Make Pesto In A Mortar and Pestle
If you're going for authenticity though, using a mortar and pestle will give you the best results.
Paste. Add the ingredients that aren't herbs, liquid, or cheese into the bottom of the mortar. Lightly pound and grind to form a creamy paste.
Herbs. Add in the fresh herbs (working in layers if needed) and grind until the pesto is formed and the leaves have been crushed into small pieces.
Fold. Gently fold in the olive oil and cheese (if used) with a wooden spoon or the pestle until combined. Season with salt and pepper.
One thing to note about using a mortar and pestle: If you fill it too much, the ingredients will fly out of the mortar when pounded; especially dry ingredients like the pine nuts. Once the harder ingredients have been cracked, grinding will do the bulk of your work for you, and help keep everything inside. Also, using the traditional mortar and pestle method allows you better control over texture. I personally like my pesto a bit chunkier.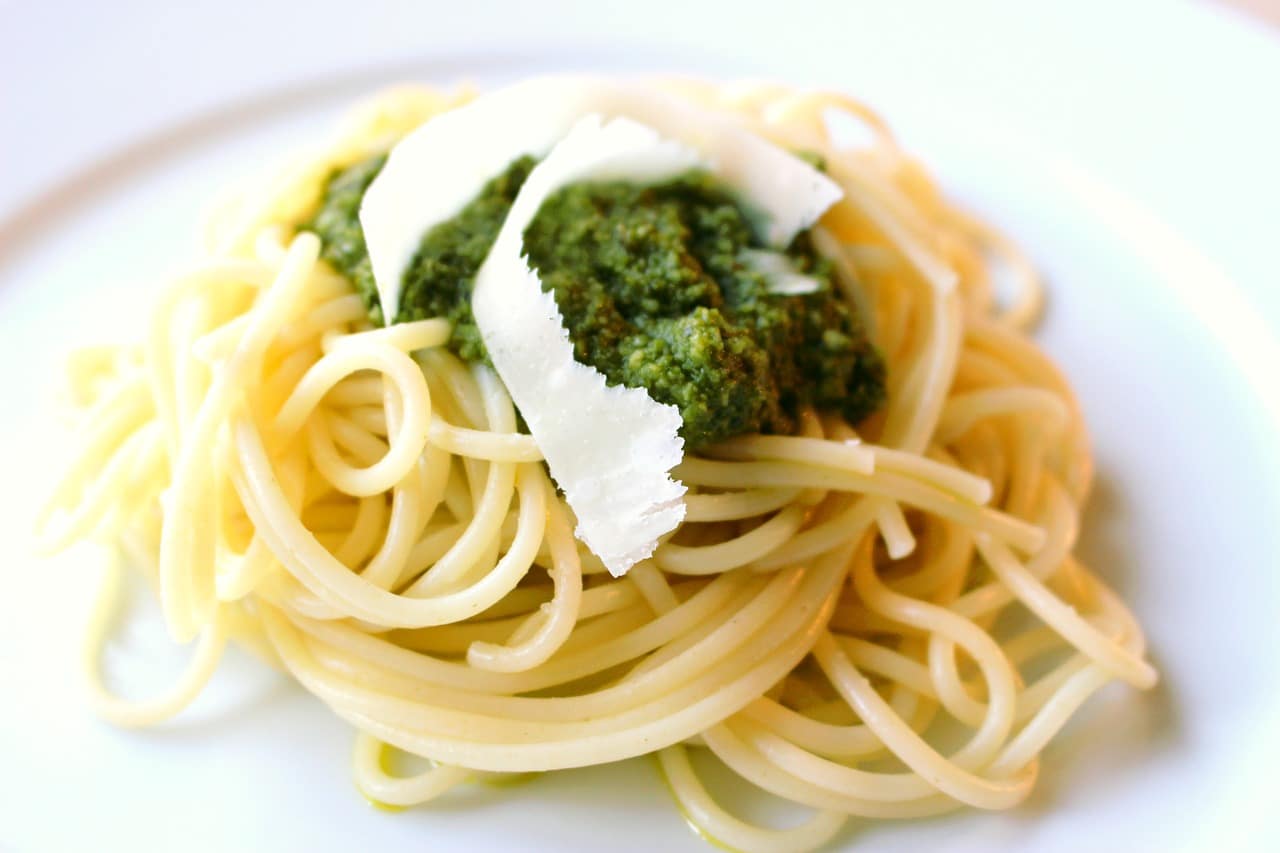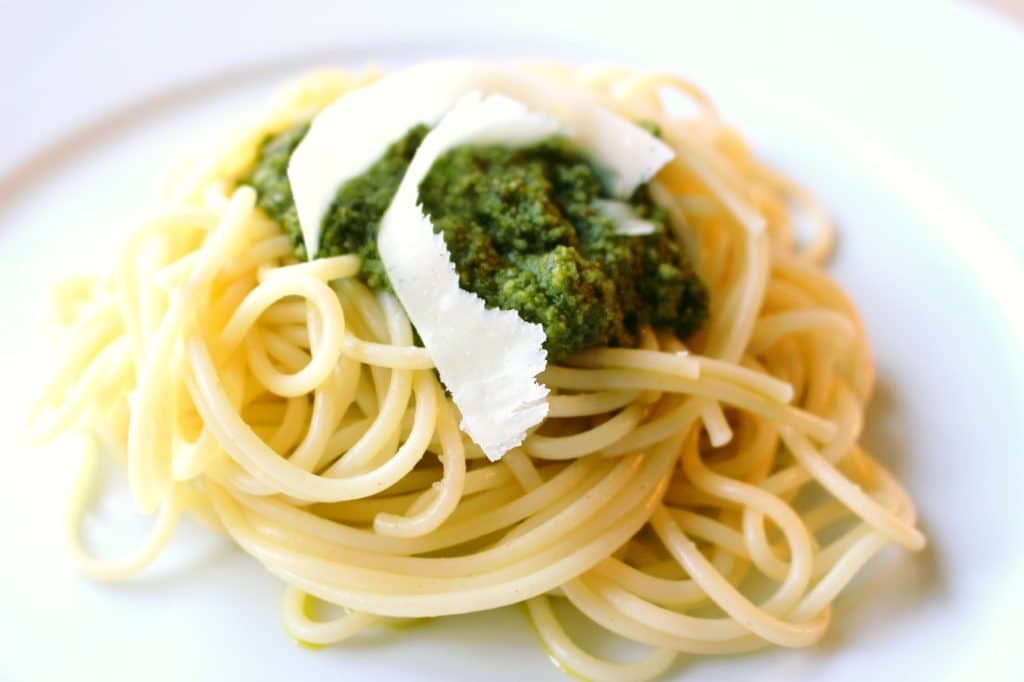 How To Make Pesto In A Food Processor
If you're making a large batch of pesto, you may find that you prefer using a food processor. It's much faster than a mortar and pestle, and usually maintains color better than grinding.
Pulse. Place all your ingredients except the oil into the food processor. Pulse until the ingredients are chopped small, scraping down the sides as needed.
Liquid. Drizzle in the olive oil while continuing to pulse until the desired consistency is reached. Season with salt and pepper.
Unless you're making enough for freezing or for a restaurant, you want to use the smallest food processor you have. If your food processor is too large, it won't chop the ingredients small enough before adding the olive oil; and if you remember from our discussion of making vinaigrettes, if you are too vigorous with your olive oil it will become bitter. While there are certain benefits to the speed and ease of using a food processor, it also comes with subtleties to avoid.
Genovese Pesto
Also known as Pesto alla Genovese, this is the most common form of pesto available. As a beloved sauce, it's flavor is bright and refreshing, but still comforting at the same time. You can use it as a base, a spread, a sauce, or a garnish for many different meals!
---
Get your free printable grocery list for this Genovese Pesto recipe HERE.
---
Above you'll find a printable grocery list for everything you'll need to make your Genovese pesto. If no amounts are listed, you can purchase the smallest amount the store offers and still have some leftover.
Practice Makes Perfect: Recipes Using Pesto
If you would like to try out some of my favorite recipes that use pesto, I recommend:
Thanks so much for stopping by!
Happy Cooking! 🙂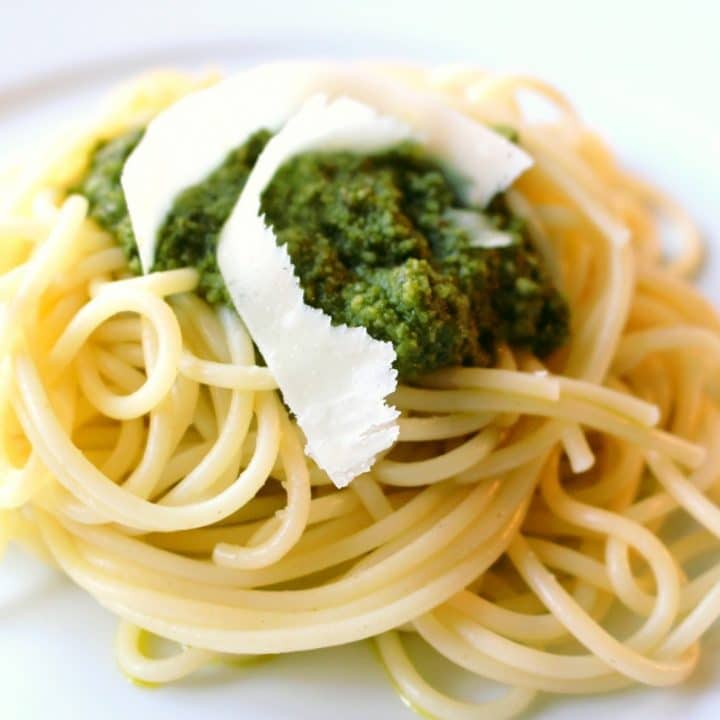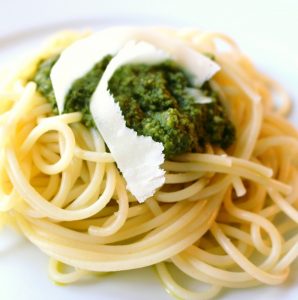 How To Make Pesto + Recipes Using Pesto
This recipe for traditional basil pesto is wonderful over pasta, and also makes an excellent sauce on grilled meats, fish, and vegetables. You can even use it as a garnish in soups!
Pin it for later?
Ingredients
2

garlic cloves

,

, peeled

3

teaspoon

toasted pine nuts

4

oz

fresh basil leaves

1

teaspoon

salt

2

oz

parmesan cheese

,

, grated

¼

cup

extra virgin olive oil
Instructions
Grind together the garlic and pine nuts until a smooth, creamy paste is made. If you're using coarse salt, add it as well.

Next, working in batches, add in the basil leaves until a paste is formed and the leaves are crushed and broken down into small pieces.

Gently fold in the olive oil and grated cheese until incorporated.
Notes
When you're buying the basil, make sure to account for the stems in the weight - you need 4 ounces of leaves.
Nutrition
Serving:
1
Tablespoon
|
Calories:
51
kcal
|
Fat:
4.9
g
Tell me how much you love this recipe
and show off how you made it!