These rich and flavorful homemade brioche hamburger buns are perfect for your next cookout. Unlike the store bought ones, these hold up to the weight and messiness of your burgers!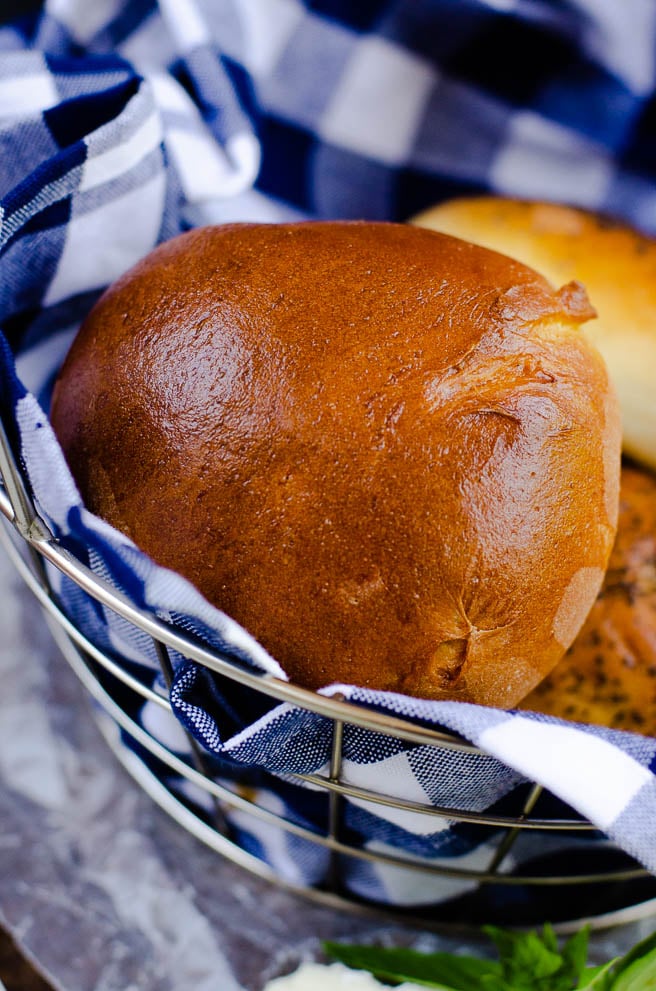 Is it just me, or do store bought hamburger buns disintegrate under the weight and moisture of a burger? To offset this, I either have to cook my burger to bone dry or go light on the toppings. I don't want to spend all that time making a phenomenal gourmet burger just to have a lackluster bun.
If this annoys you as much as it does me, then meet your new best friend: homemade brioche hamburger buns. Brioche is often thought as a delicate bread, but these burger buns are sturdy enough for the messiest burger.
If you're ready to level-up your cookout, keep reading to find out how to make perfect brioche hamburger buns.
What Are Brioche Hamburger Buns?
Brioche is a French bread that is known for being more tender and flaky than traditional breads.
While some breads can be made by just throwing together warm water, yeast, and flour, brioche is a "rich" dough. This means that it utilizes other ingredients bring fat into the dough; primarily eggs, milk, and butter. The fat makes the brioche softer with a more appealing flavor and texture. It also adds a slight yellow tinge to the bread.
Brioche is great for a myriad of different purposes. When it comes to hamburger buns, it creates a rich and chewy bread that doesn't easily fall apart. The extra flavor that comes from the rich dough also makes it a great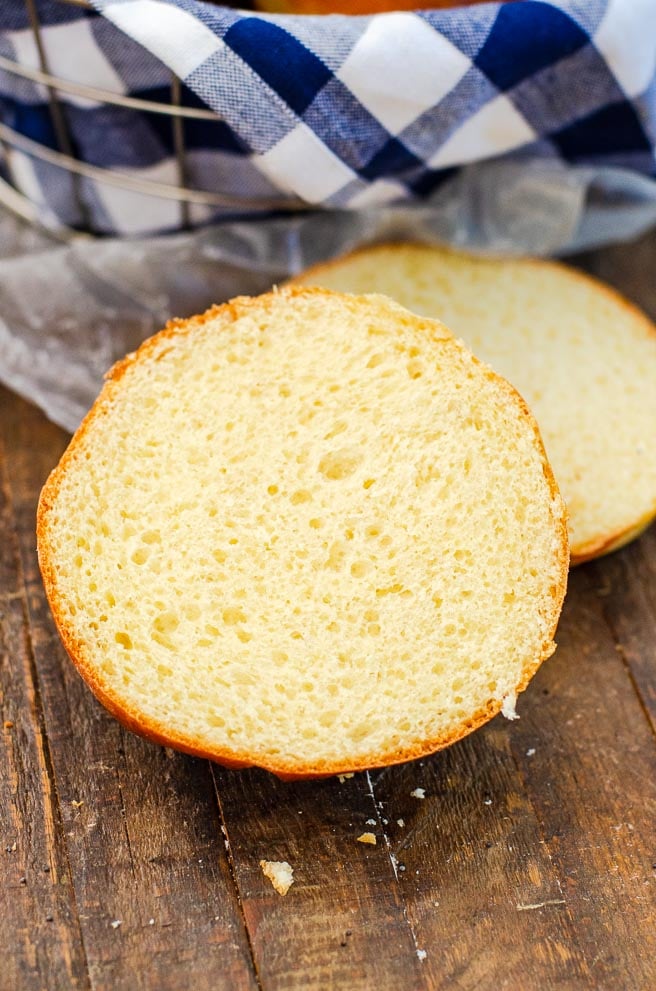 What Is The Best Bun for a Burger?
Honestly, the answer varies for the type of burger you're making. When it comes to using a brioche burger bun, I recommend using them for gourmet burgers. Since brioche is a "rich" bread, use it with a "rich" burger. (My brie, green apple, and basil burger, for example.)
The nice thing with this brioche recipe is that it doesn't melt under the weight of a juicy burger. Even though brioche is tender, it doesn't have to be delicate. For a sturdier burger bun, bake it to an even deeper golden brown.
Should I Toast My Brioche Burger Buns?
I rarely serve a burger without toasting the buns. Toasting adds flavor, crunch, and helps the buns absorb moisture from the toppings without getting soggy.
To toast your brioche hamburger buns, you only need to slice them in half and grill for a moment or two. If you really want to accelerate the process and add some extra flavor, brush the buns lightly with olive oil first. As the flames lick and cook the oil, it elevates the taste.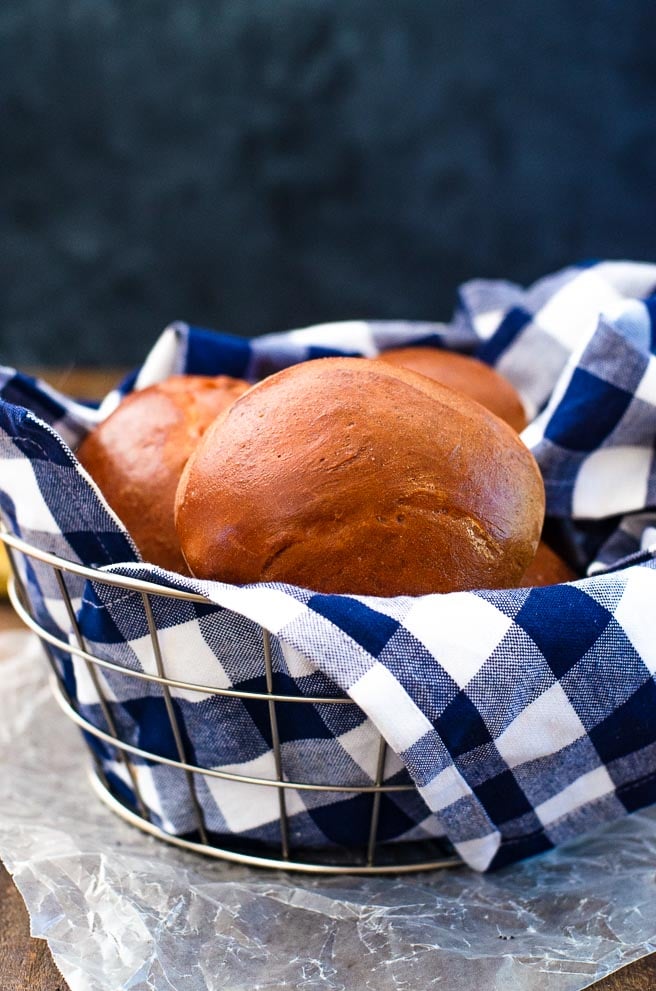 How To Make Homemade Hamburger Buns Even Better
These culinary tips can help you make this brioche hamburger buns out-of-this-world. Especially the one about how to scald milk. This is an important step in making brioche as it makes the bread light and tender.
How Long Do Brioche Buns Last?
If you keep them in an airtight container, they will last at room temperature for about a week.
If the brioche buns have too much moisture in the container then they will get soggy or even potentially mold. If you live in a humid environment or see this happen, use a dry paper towel. Just loosely place one on the top and bottom of the bottom of the burger buns to catch moisture. Check it every day or two to see if it needs to be changed.
Alternatively, you can use a paper bag to absorb the excess moisture.
If you make too many or want to prepare for the future, the baked brioche buns can be frozen. Wrap them tightly in plastic wrap before putting them in an airtight container in the freezer. They will be good frozen for up to three months.
Once you are ready to use the frozen buns, unwrap them before thawing. This allows the moisture to evaporate instead of being trapped in with the buns. Toast them lightly in the oven (around 300 degrees) or on the grill before serving.
Ways to Use Homemade Hamburger Buns
If you're looking for some inspiration for ways to use these brioche burger buns, look no further. Here are some of my favorite gourmet burger recipes that pair perfectly with the rich brioche.
Brie Burger with Basil and Green Apple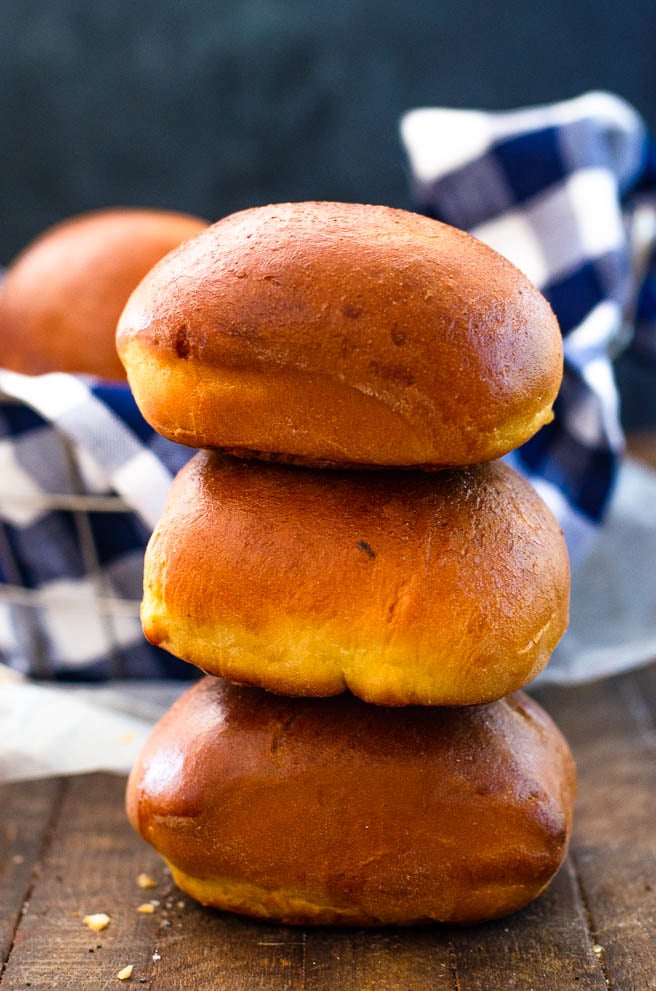 Homemade Brioche Hamburger Buns Recipe
The bake time for this homemade hamburger bun recipe is brief. However, there is a large difference in browning between thirteen and fifteen minutes. The darker your buns get, the harder they will be on the outside. Hard isn't necessarily bad though because this means that they'll get soggy slower.
If you choose to use the optional sesame seeds, the buns won't brown as quickly as without. Aim for 15-17 minutes if you use the toppings.
---
Thank you so much for stopping by!
Happy Cooking!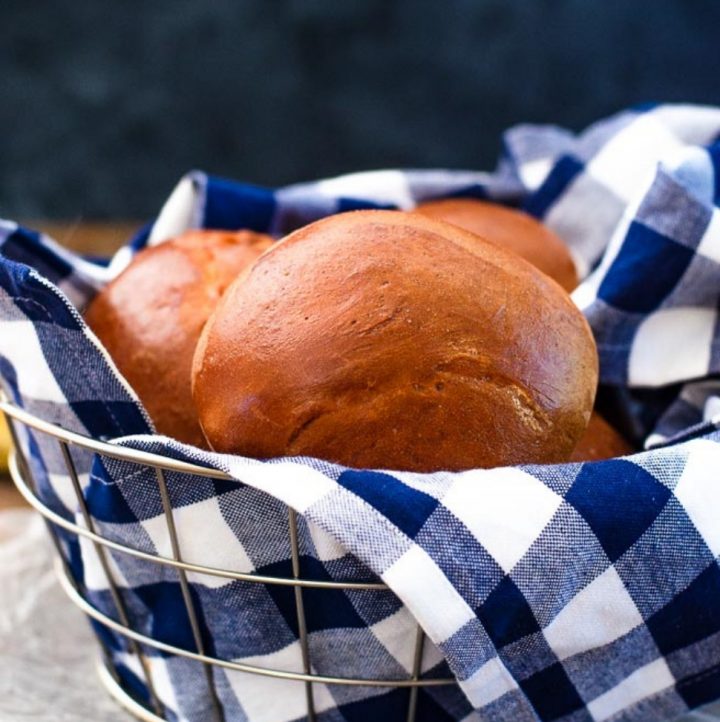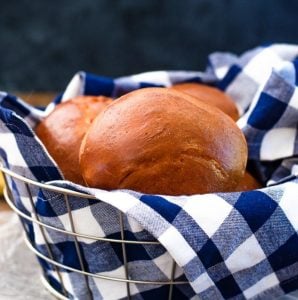 Homemade Brioche Hamburger Buns
These sturdy, but tender, homemade burger buns are perfect for your next cookout. Not only do they have a rich and delightful flavor, but they can be don't get soggy as easy as the store bought ones!
Pin it for later?
Ingredients
1.5

cups

milk

¼

cup

sugar

1

Tablespoon

salt

2

Tablespoons

dry-active yeast

5

eggs

,

room temperature

5-6

cups

all-purpose flour

½

cup

(one stick) butter

,

room temperature

1

Tablespoon

sesame seeds or poppyseeds

,

(optional)
Instructions
Pour the milk in a small saucepan and place over low heat until scalded. (180°F). About

5 minutes

. Turn off the heat and stir in the sugar and salt.

Let the milk cool down until it reaches around 105°F. Stir in the yeast and let sit for

10 minutes

or until very foamy.

Transfer the milk mixture to the bowl of an electric mixer fitted with the dough hook. Lightly beat four of the eggs in a small bowl then add the beaten eggs into the milk.

Add four cups of flour to the milk and turn the mixer on medium. Knead the dough until the flour is combined. It should be a little dry.

Lower the speed of the mixer and add in the butter one tablespoon at a time.

Add in the rest of the flour ½ cup at a time or until the dough is combined and not sticky to the touch. Knead the dough for

5 minutes

.

Grease a bowl, place the dough in it, and cover the bowl with a slightly damp towel. Place somewhere warm to rise for one hour or until doubled in size.

Line a baking sheet with parchment paper. Pour out the dough onto a lightly floured surface and cut the dough into 12 equal pieces.

Trying to handle the dough as little as possible, gently roll each piece of dough into a ball. Place them onto a sheet pan lined with parchment paper, two inches apart. (Six to a baking sheet.) Cover with wax paper, and let rise in a warm place for

30 minutes

.

Preheat the oven to 400°F for at least

20 minutes

.

Beat an egg with 1 teaspoon of warm water to make an egg wash. Brush the tops and sides of each burger bun then sprinkle optional poppy seeds or sesame seeds on top, if desired. Bake the buns for

13 to 15 minutes

, or until golden brown on top.

Let cook completely, cut in half and toast on the grill before making delicious burgers.
Notes
If you're using the homemade hamburger buns immediately after baking, wrap them in a kitchen towel to keep them warm and fresh.
Nutrition
Serving:
1
bun
|
Calories:
320
kcal
|
Carbohydrates:
45
g
|
Protein:
9
g
|
Fat:
10
g
|
Saturated Fat:
5
g
|
Cholesterol:
90
mg
|
Sodium:
690
mg
|
Potassium:
131
mg
|
Fiber:
1
g
|
Sugar:
5
g
|
Vitamin A:
365
IU
|
Calcium:
62
mg
|
Iron:
2.8
mg
Tell me how much you love this recipe
and show off how you made it!