These garlicky roasted purple potatoes are the perfect gluten free side dish. Serve them with breakfast or dinner to complete a meal!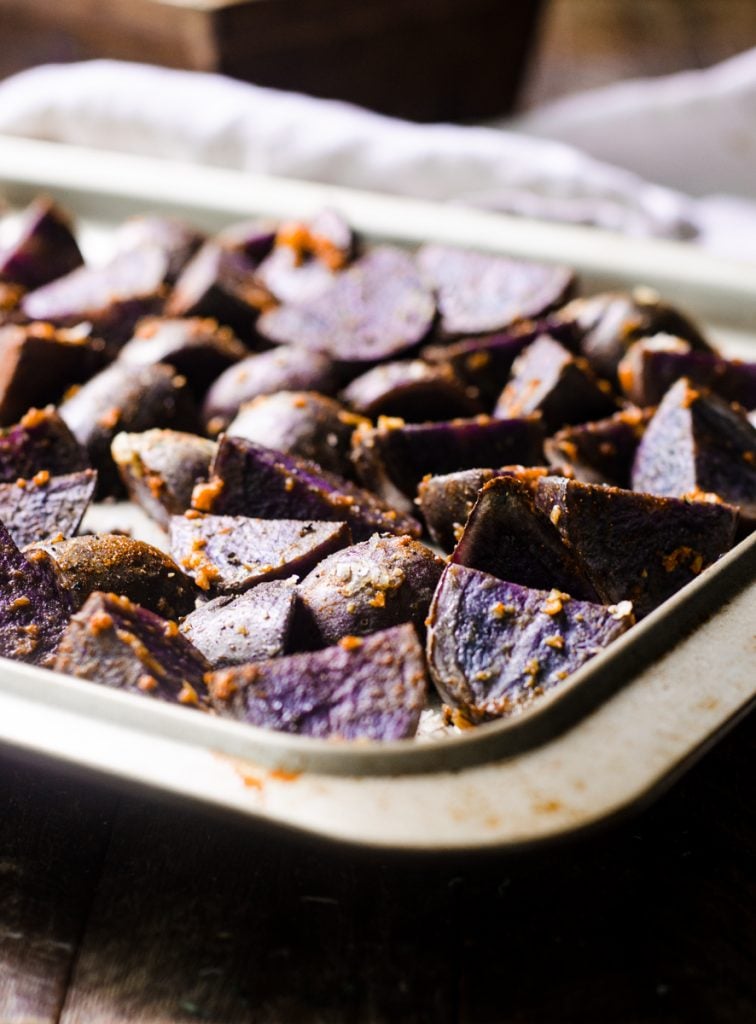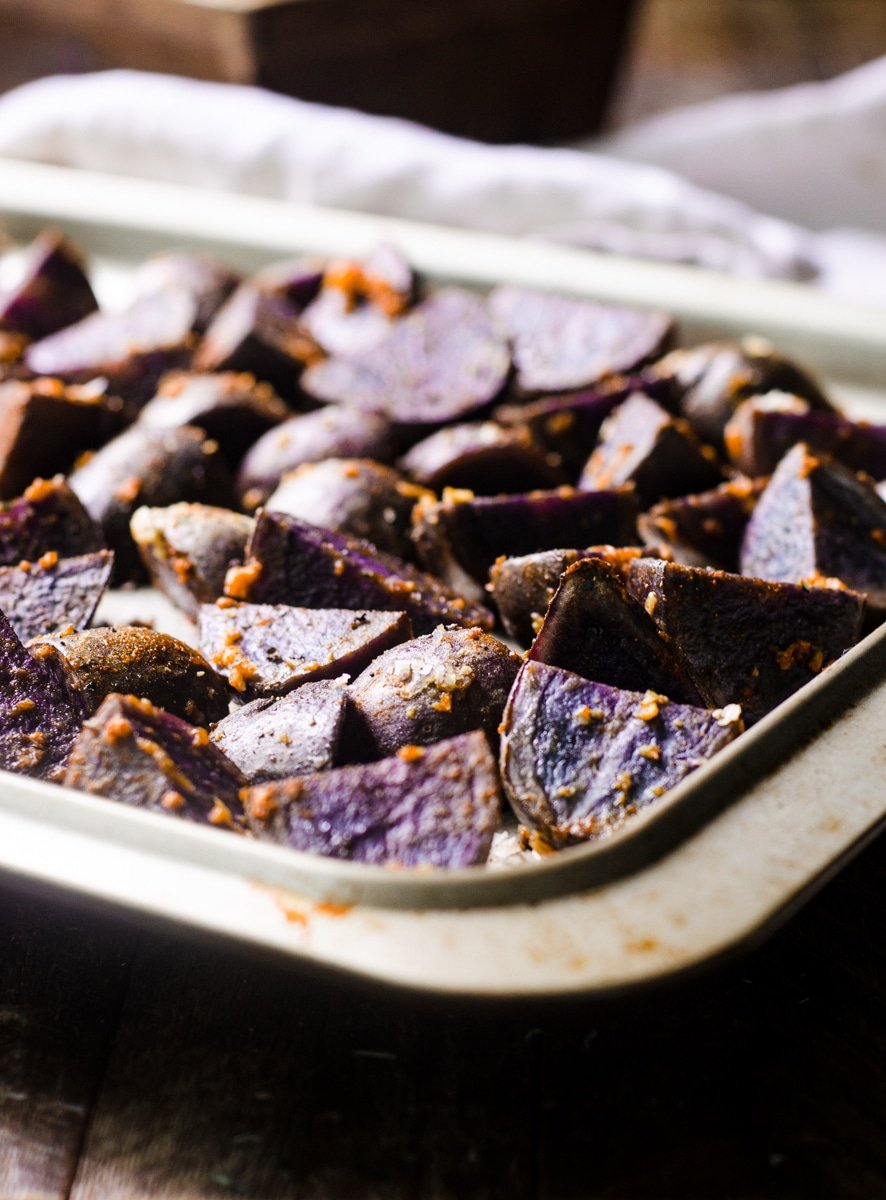 This garlicky roasted purple potatoes recipe is so simple to make. Just toss them with the paprika, garlic, salt in pepper in a large bowl and bake on a baking sheet 25 minutes. Then you have an excellent and colorful side dish.
What Are Purple Potatoes?
Purple potatoes are a non-modified heirloom potato variety. The most common ones types at the grocery store are purple peruvian, purple majesty, or purple viking.
The purple color in the potatoes is naturally occurring and comes from a pigment called anthocyanin. This pigment is an amazing antioxidant that is four times more potent that a russet potato.
Roasted purple potatoes do maintain most of the color when cooked, it just darkens with caramelization.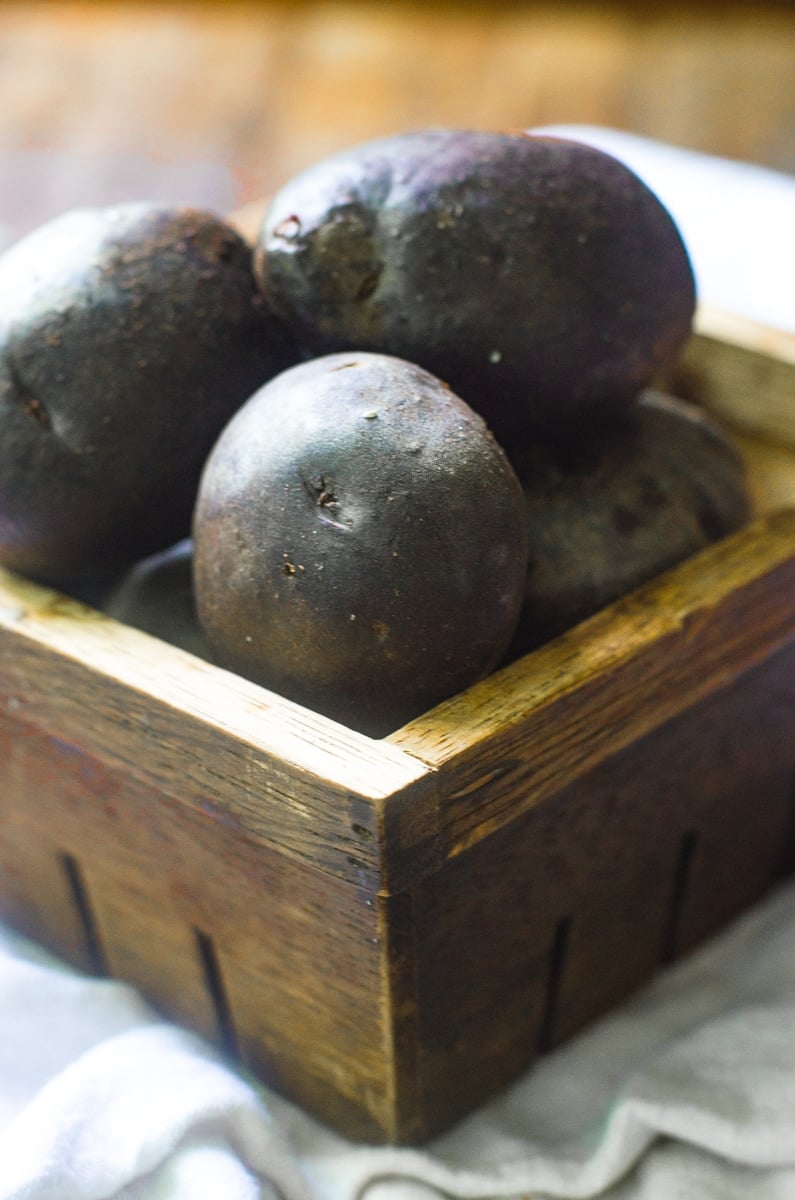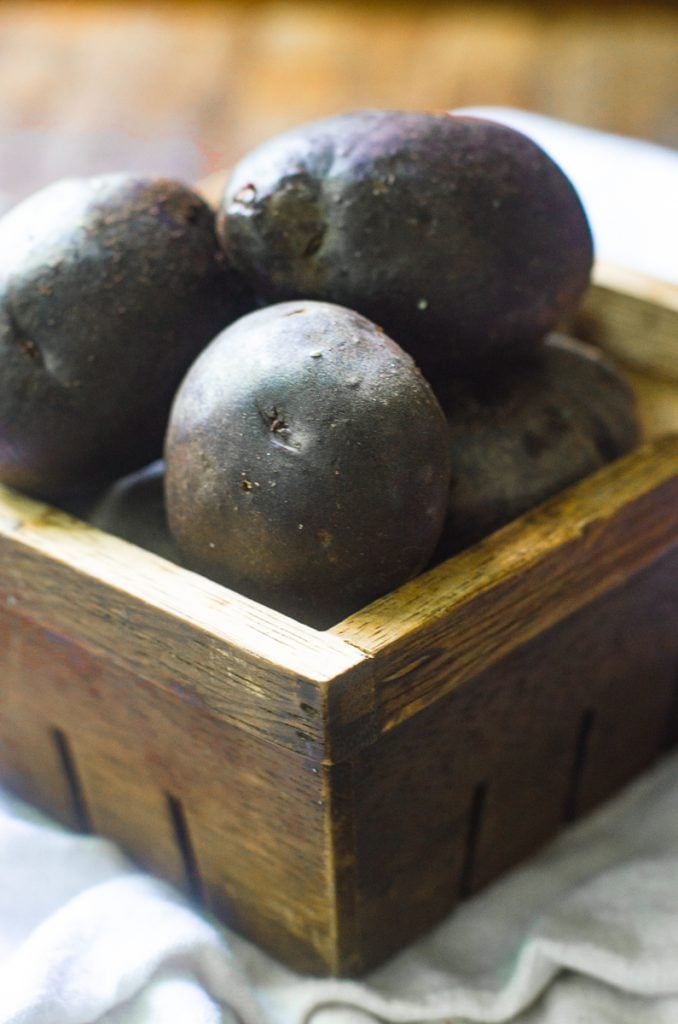 Do They Taste The Same as Regular?
It depends on what you define as a regular potato. If you're comparing them to russet or white potatoes, then you'll be a little disappointed.
Purple potatoes are a waxy variety similar to fingerling or red potatoes. They are lower in moisture and starch so they are perfect for roasting.
Boiling or making roasted purple potatoes works well because they hold their shape really well. They are firm on the outside and fluffy on the inside.
They taste almost identical to a standard waxy red potato, so if that variety is how you define regular, you will not be disappointed.
Do I Peel Them?
Since the bulk of the anthocyanin are in the peels, I recommend leaving them on for the extra health boost. If you don't care for the texture of the peel, it can be removed.
No matter which way you choose, make sure to rinse and scrub the outside of the potato to remove any dirt or debris.
What If I Don't Have a Garlic Press?
I love using a quality garlic press for this recipe because it makes all of the garlic uniform in size. If you don't have a garlic press, you can also use any garlic mincing tool or a really sharp knife.
If you choose to mince it with a knife, take your time and try to get the pieces as uniform as possible. If you have some that are too small they will burn while large ones own't cook.
I actually love using slices of garlic cloves with these roasted purple potatoes because of the visual appearance. They also get a sweeter flavor as they roast with the potatoes, similar to roasted garlic.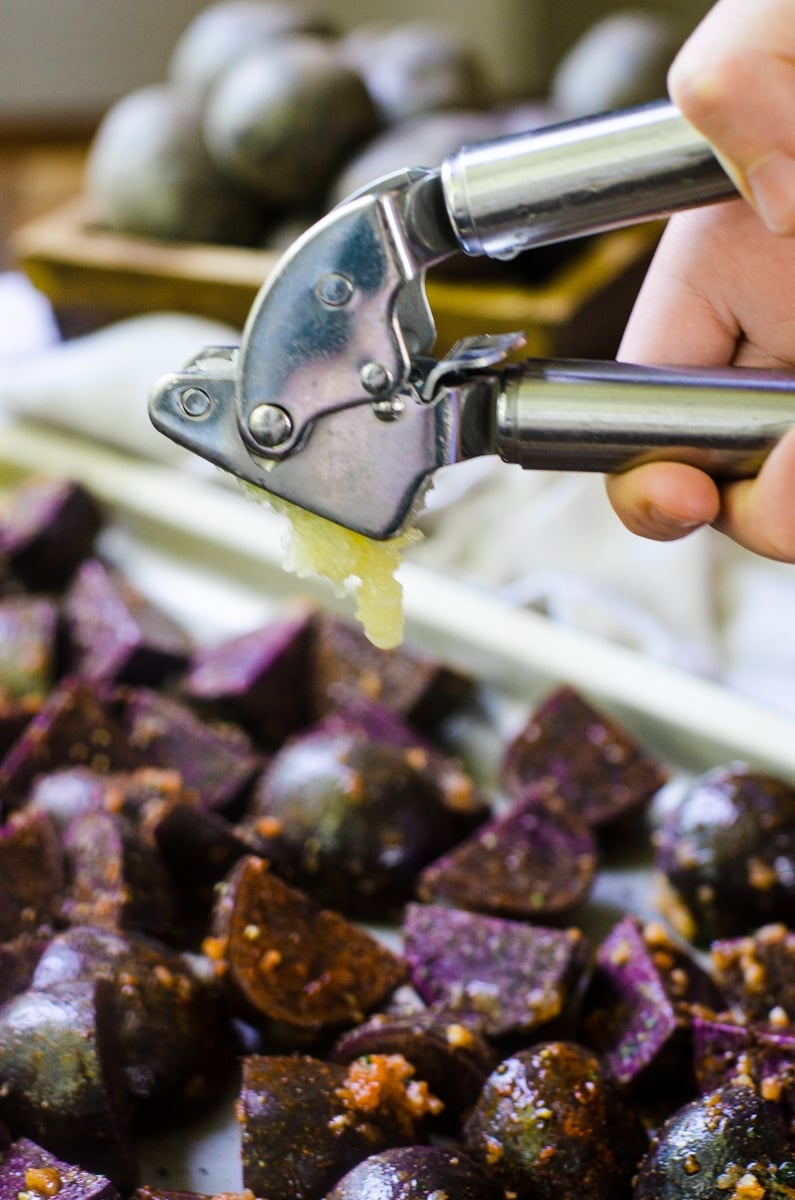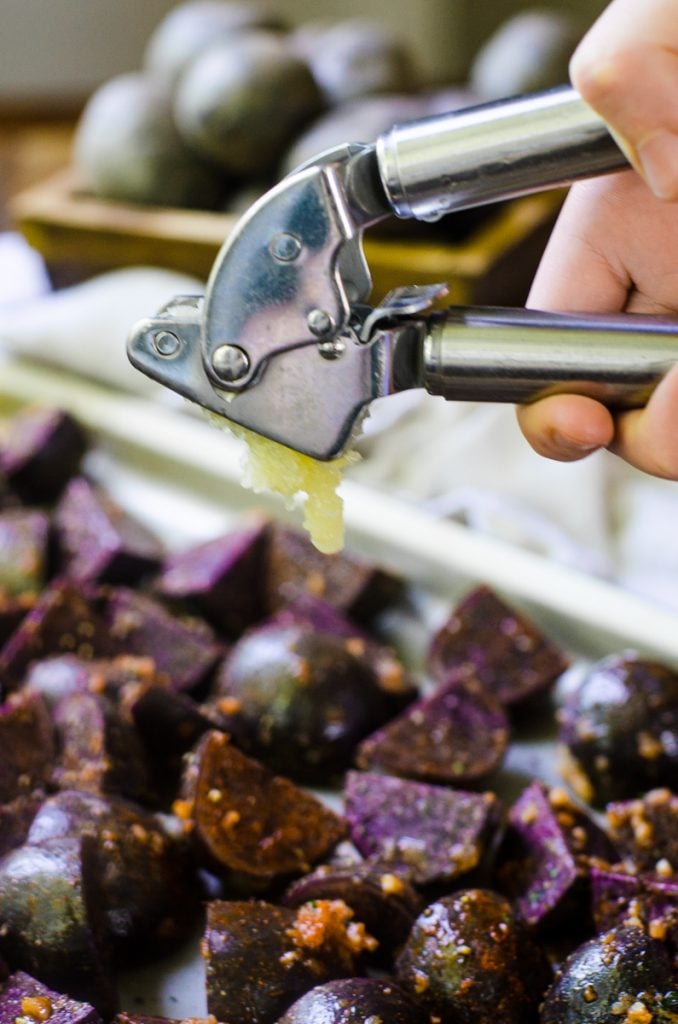 How Do I Cook Them?
To begin, start by rinsing and scrubbing each potato. Make sure any dirt and debris is removed and they are ready to cook. If you are peeling, go ahead and do that too.
Cut the potatoes into a uniform size and shape. I usually quarter them brecause they are often the size of an oblong golf ball.
Place the potatoes into a large bowl and add in the paprik, salt, and pepper. Use a garlic press to add an entire head worth of garlic cloves on top of the potatoes and toss with the olive oil.
Once the potatoes are completely and even coated, transfer them to a sheet pan for roasting. Bake in a 400 degree preheated oven for about 25 minutes, or until a knife inserted through goes easily in and out.
Top Recipe Tips
If you use a garlic press, the garlic will be in clumps. Stir a moment or two longer than you think to try to break them apart and get them evenly coated on the purple potatoes.
Roasted purple potatoes will be firm on the outside and soft inside. Preheat the oven to 400 degrees and spread the potatoes on a baking sheet. Try to keep the potatoes from touching for best success.
You can line the sheet pan withe parchment paper or a silicone baking mat for easier cleanup. However, they may not get as firm on the outside as if you cooked them directly on the baking sheet.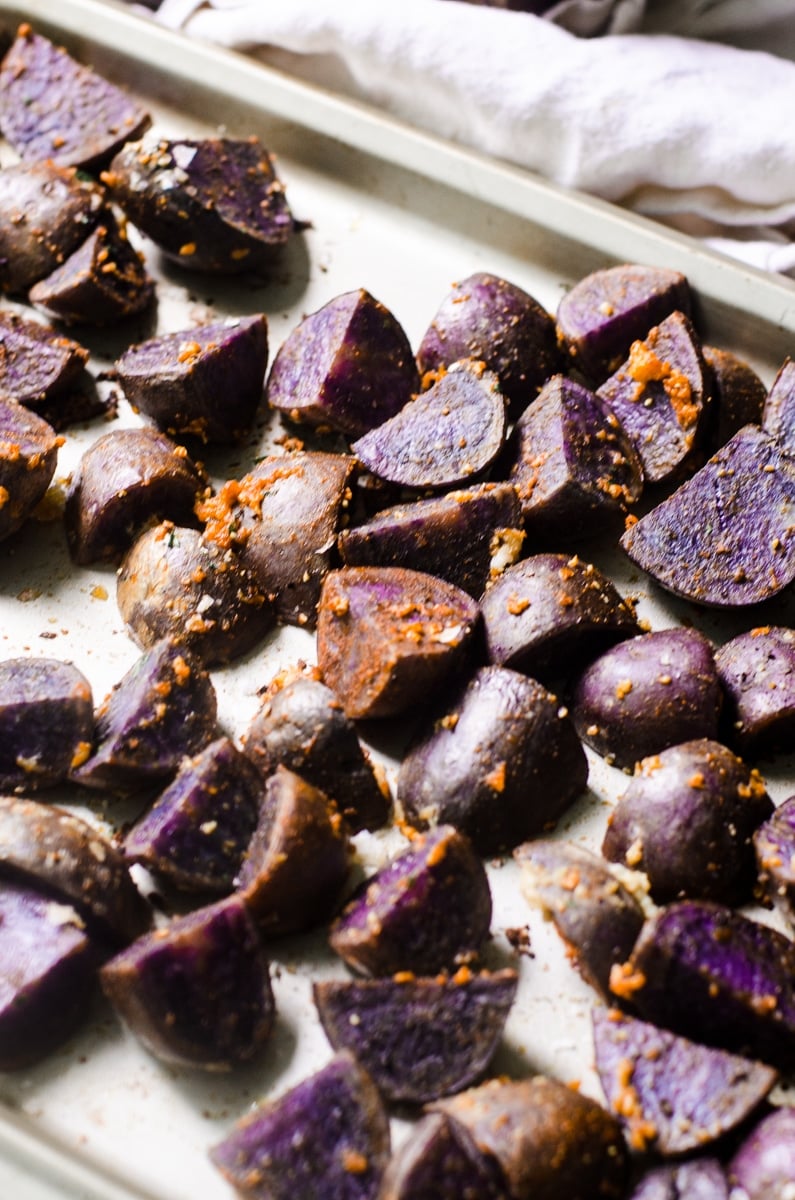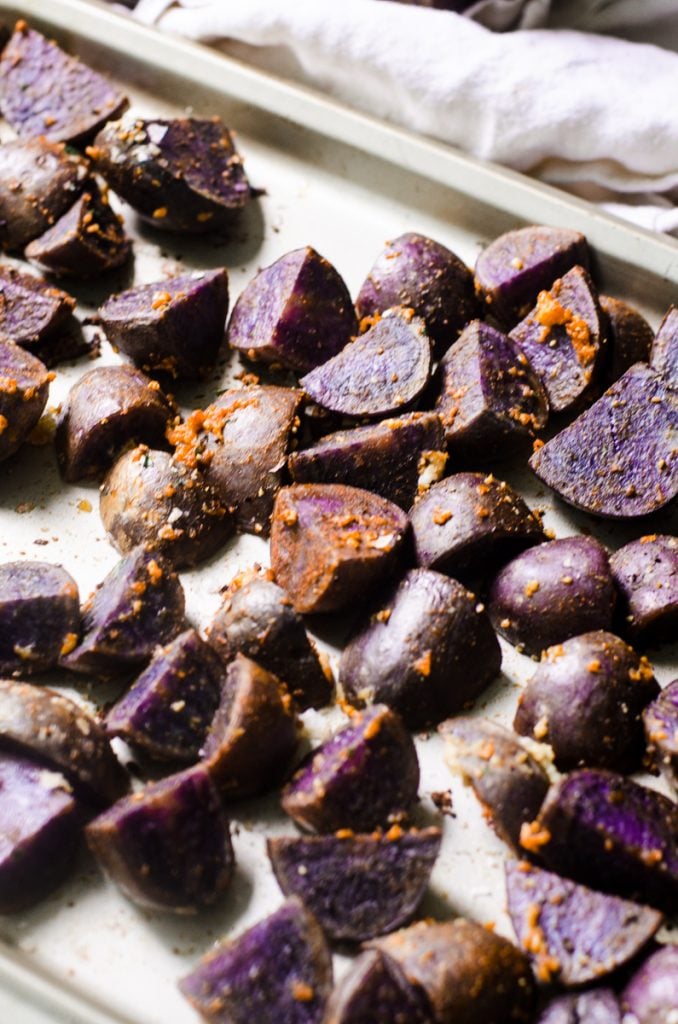 Roasted Purple Potatoes Recipe
These gluten-free purple roasted potatoes are great to have in your repetoire. They are done quickly and are colorful; a great way to get eat more of the rainbow.
---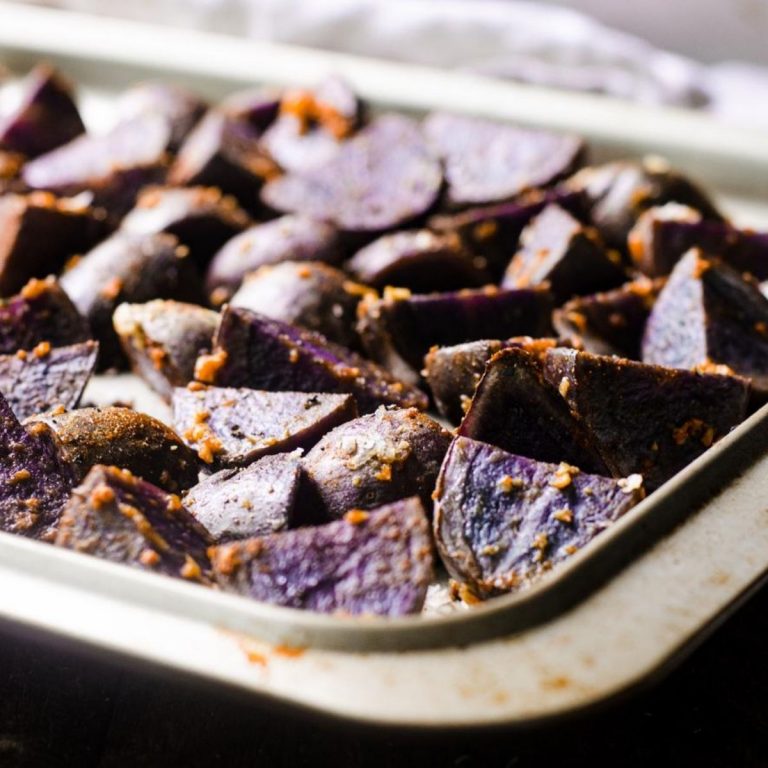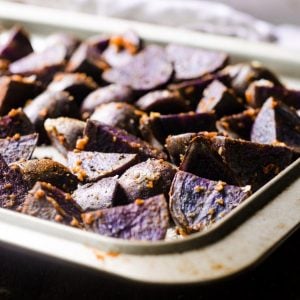 Seasoned and Roasted Purple Potatoes
These delicious roasted purple potatoes are a quick and easy side dish that is so delicious.
Pin it for later?
Ingredients
3

pounds

purple potatoes

,

quartered

1

Tablespoon

olive oil

½

teaspoon

paprika

1

head

garlic

salt and pepper

,

to taste
Instructions
Preheat the oven to 400°F.

Scrub and rinse the purple potatoes then pat them dry. Cut them into quarters (or evenly sized pieces) and put them in a bowl.

Mince or use a garlic press to cut the garlic. In a large bowl, mix the garlic, paprika, olive oil, salt and pepper until evenly coated. If the garlic clumps, just keep stirring until it breaks apart.

Transfer to a baking sheet and cook for 25 minutes, or until the outside is browned.
Nutrition
Serving:
1
serving
|
Calories:
203
kcal
|
Carbohydrates:
41
g
|
Protein:
5
g
|
Fat:
3
g
|
Saturated Fat:
1
g
|
Sodium:
15
mg
|
Potassium:
974
mg
|
Fiber:
5
g
|
Sugar:
2
g
|
Vitamin A:
82
IU
|
Vitamin C:
46
mg
|
Calcium:
36
mg
|
Iron:
2
mg
Tell me how much you love this recipe
and show off how you made it!