This yogurt marinated chicken recipe is sponsored by Safeway. All opinions are my own. Thank you for supporting the brands that keep Food Above Gold working.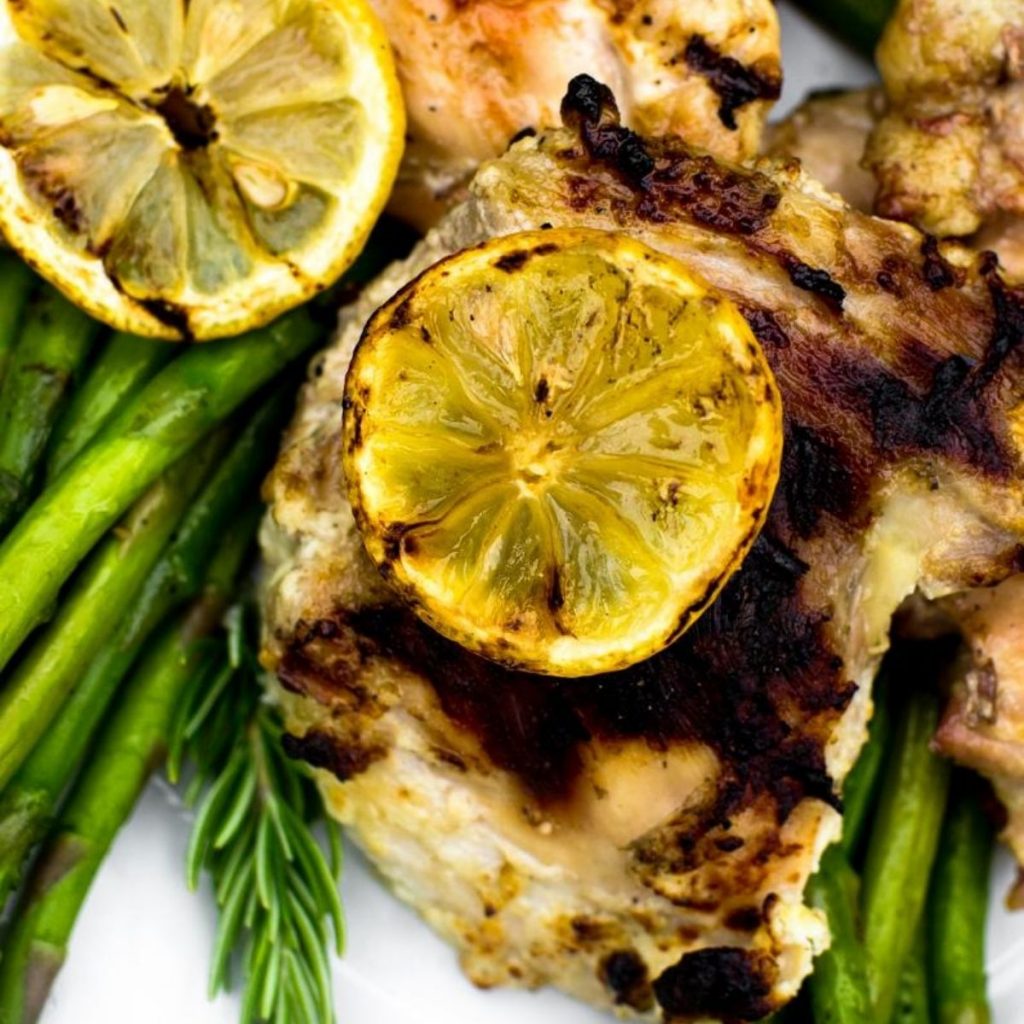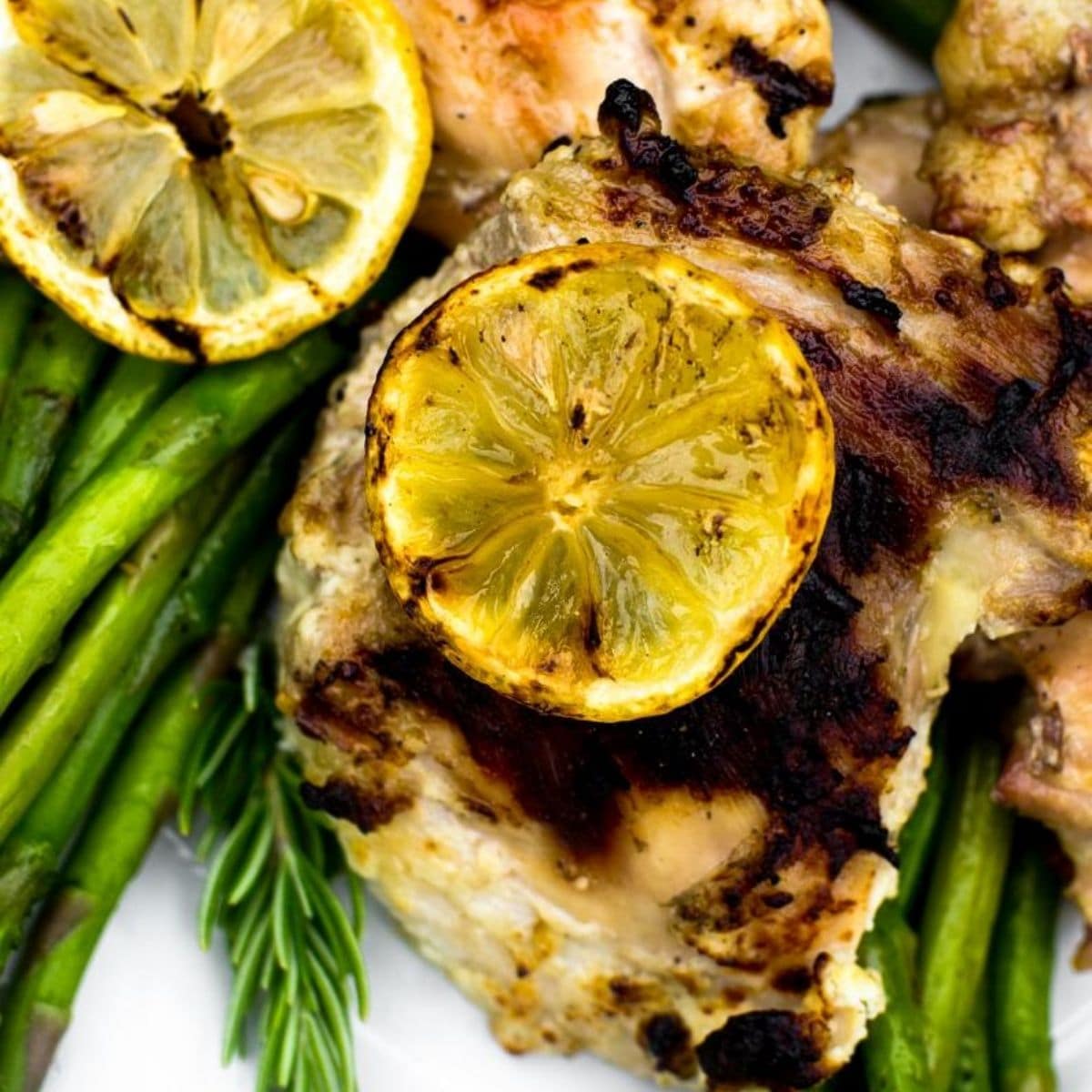 This garlicky yogurt marinated chicken recipe is an easy way to get excellent flavor with little work. It tastes great grilled or baked and similar to a greek yogurt chicken marinade it adds extra protein.
What Does Marinating In Yogurt Do?
The goal of marinating is to both add flavor and tenderize the chicken. Yogurt is an acidic food that works as a vessel to permeate the meat and bring flavor into the chicken. This is perfect for the lemon zest and juice.
The calcium in this yogurt based marinade helps tenderize the meat similarly to aging. It does a month's worth of work in just a few hours. This result is chicken that is so tender it can almost be pulled apart by hand.
Marinades usually need fat to ensure the chicken stays moist. However, the yogurt does double duty and has both the acid and fat.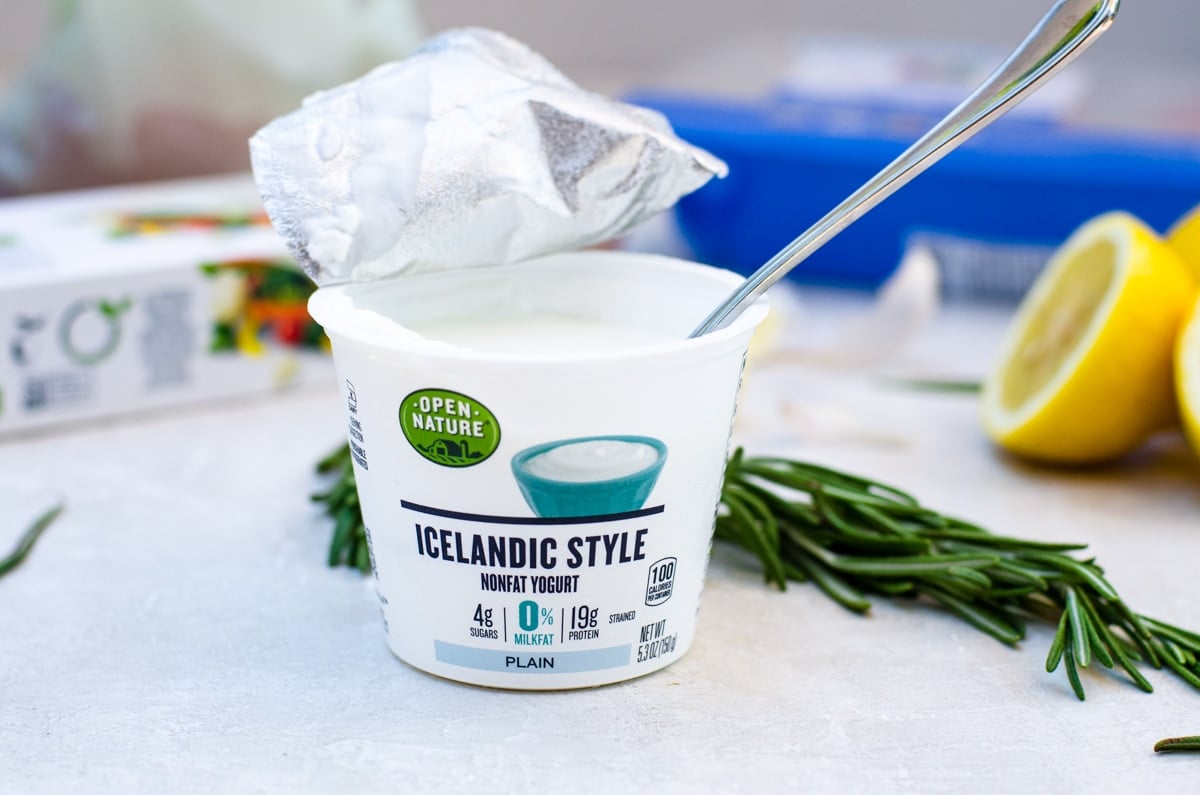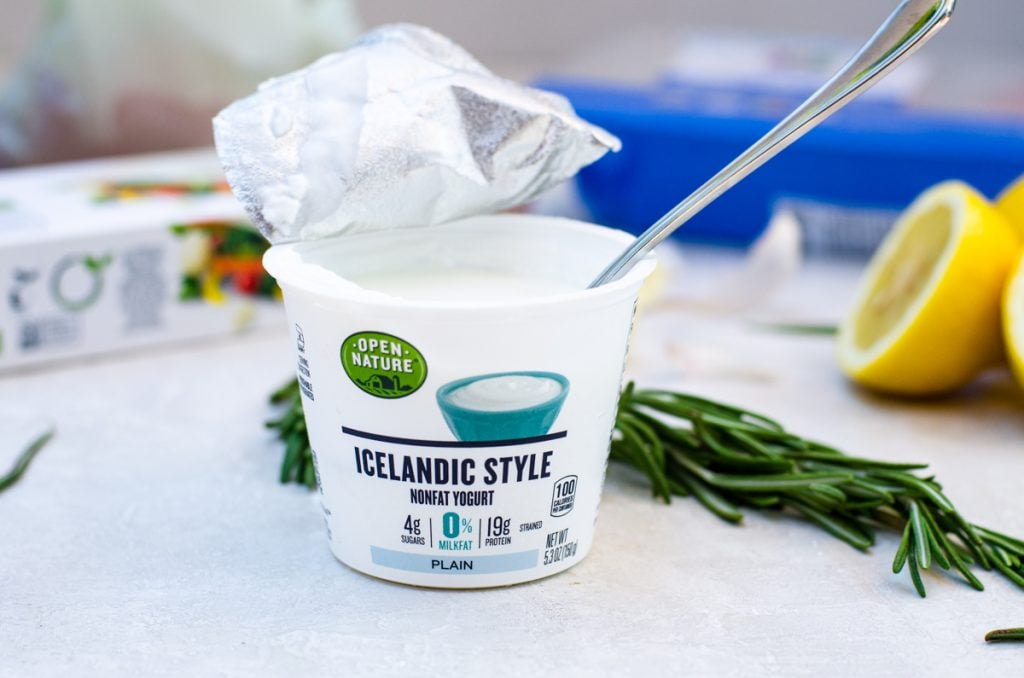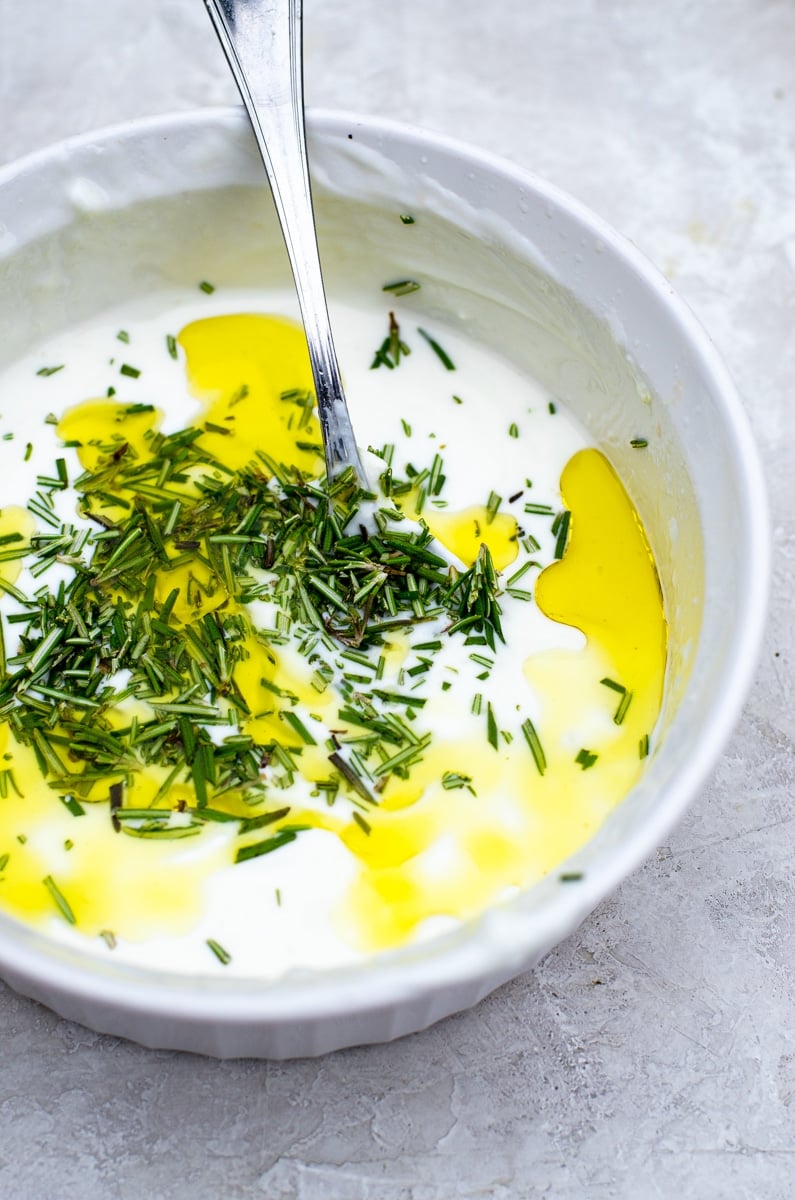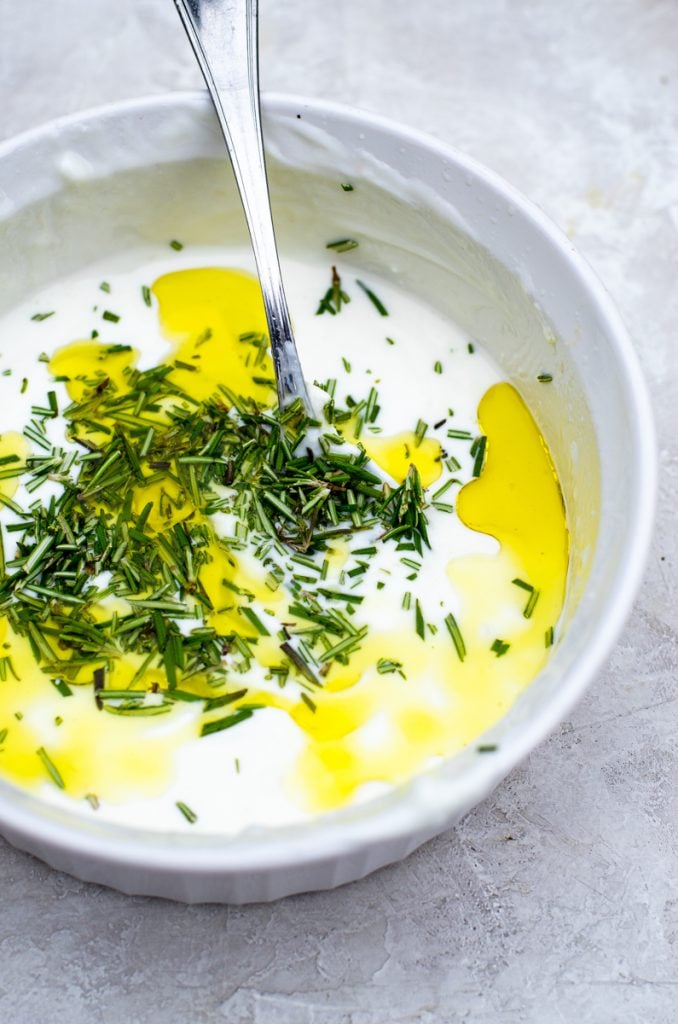 What Kind Of Yogurt Should I Use?
Any full fat plain variety of yogurt will work, but I like using Open Nature® Icelandic yogurt myself. Also known as 'skyr', it is very similar to greek yogurt. Only EVEN MORE protein packed.
The main difference between greek and Icelandic yogurt is Icelandic yogurt is thicker, creamier, and a little less tangy. Unlike a greek yogurt chicken marinade, this doesn't overpower the meat with a sharp, acidic flavor.
My local store knows I like trying new products, so this was actually recommended to me by my favorite cashier. This new, on trend product is sold exclusively through Safeway stores, so make sure it is on your next grocery list. Plus, all Open Nature Products are minimally processed and free of artificial flavors and preservatives.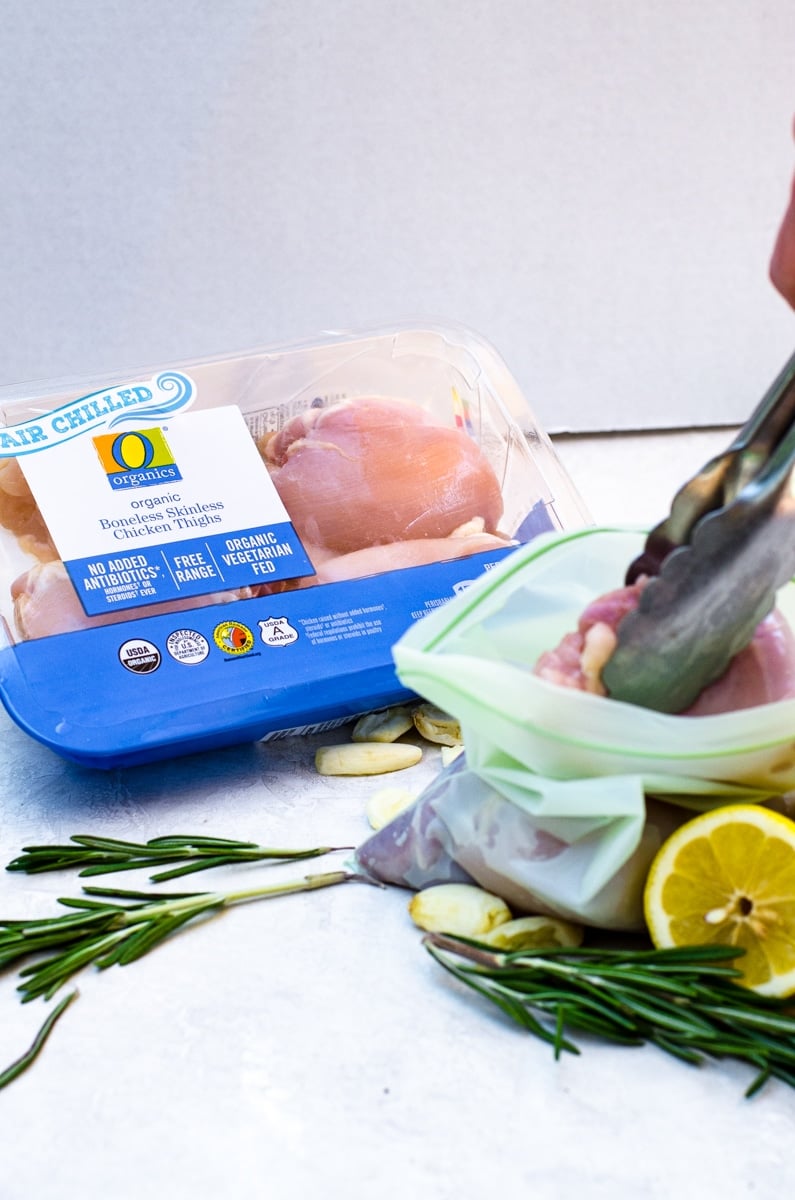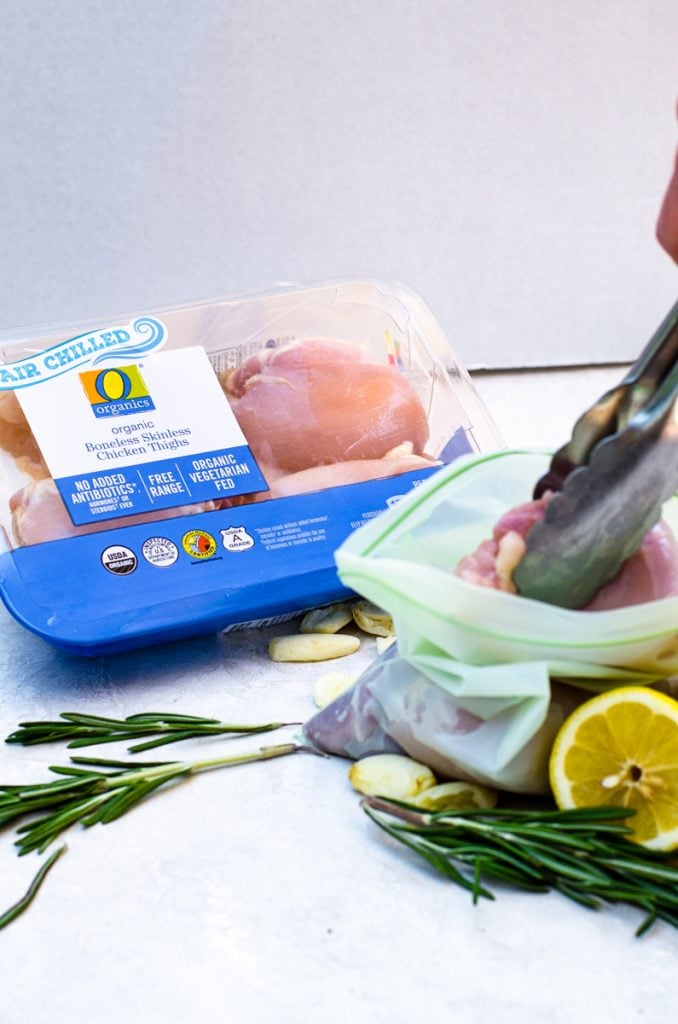 Easy Cleanup, Compostable Marinating
When I make yogurt marinated chicken, I like to use Open Nature Compostable kitchen bags. Not only does it make marinating super easy, but I feel so much better about my environmental impact.
I love how using a resealable plastic bag instead of a baking dish cuts down dishes. But hate that it is a single use item. It is also easier to fit the bag into a full refrigerator because it conforms to the space around it. Now, with the compostable kitchen bags I don't feel guilty about using a wonderful convenience item!
Plus, marinating in a bag cuts down food waste because you don't need extra ingredients to cover the chicken pieces. As long as you remove the most air possible from the compostable bag, the yogurt mixture should entirely surround the chicken.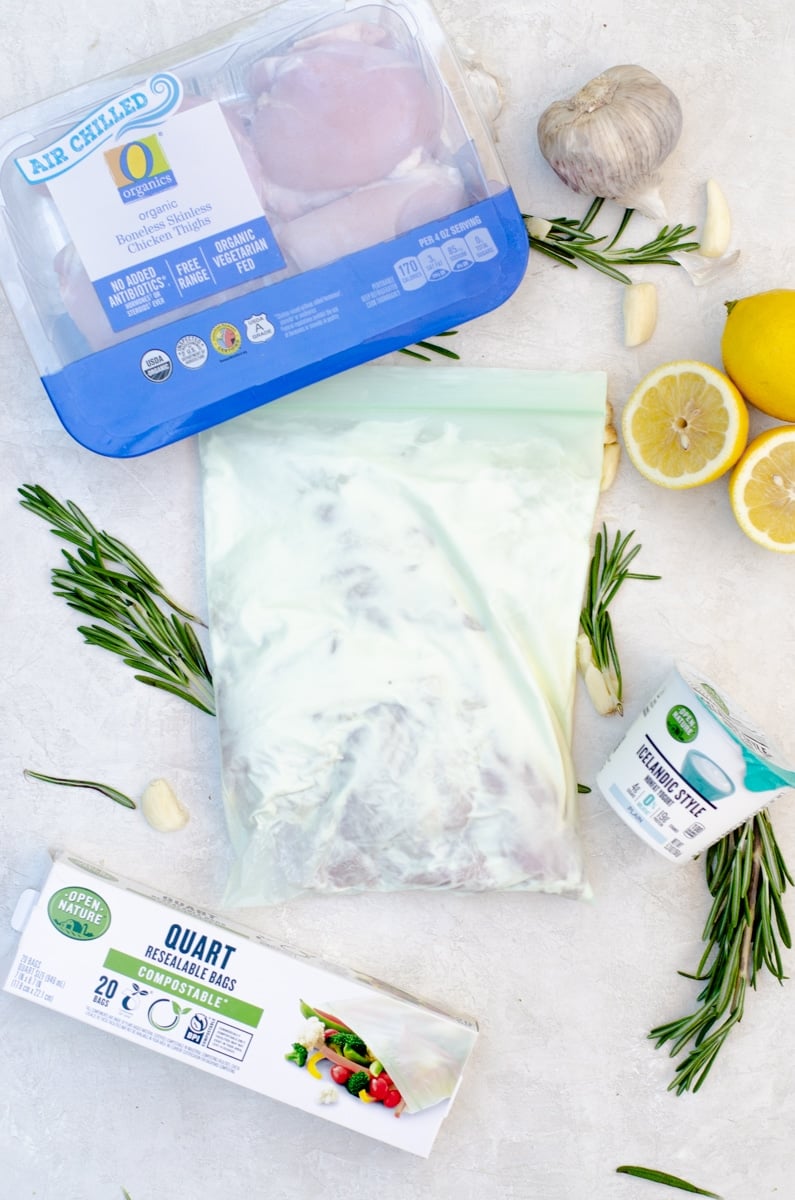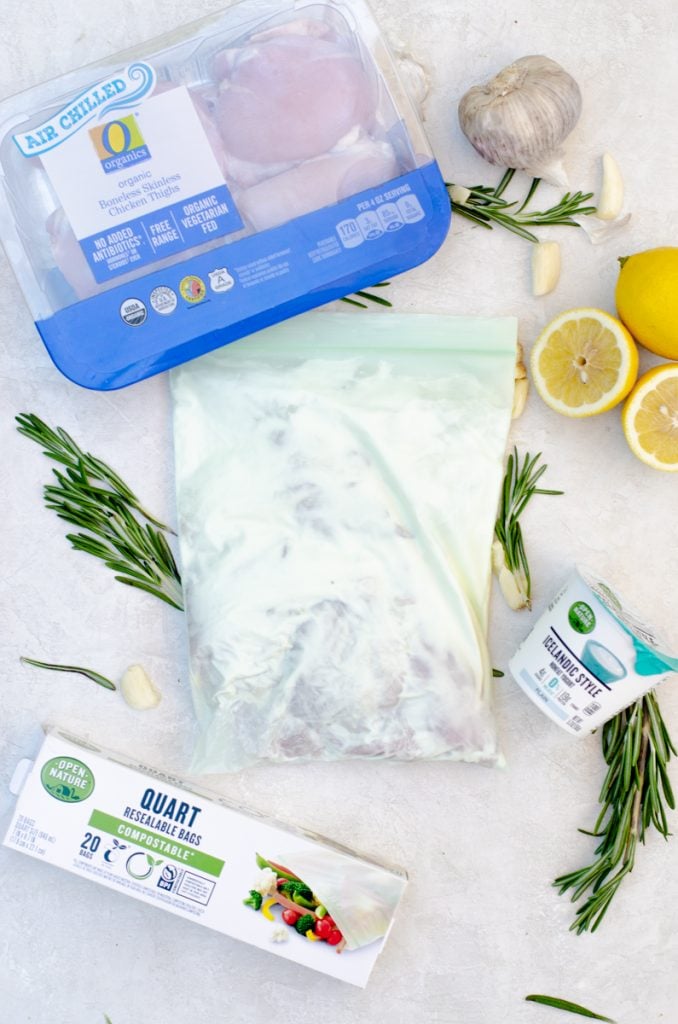 Do You Rinse The Marinade Off Before Cooking?
The yogurt marinade provides flavor by permeating the meat, but leaving the chicken coated provides extra flavor. Especially if you grill. The fat in the yogurt caramelizes with the high heat of cooking and gives a delightfully flavored crust.
In fact, I recommend giving the chicken a turn to coat it in the marinade before tossing on a gas grill. 
How Long Should I Marinate?
Marinating too long can make meat get chewy and mushy. So for this yogurt marinated chicken recipe I recommend at least 30 minutes, or ideally up to 4 hours. Going much past 12 hours or overnight is likely to make the proteins break down and change the texture.
After you remove the air from the sealed bag, massage the marinade into the chicken pieces for a minute or two. This helps the chicken absorb the marinade. It only takes a couple of minutes, but helps cut down the amount of time it takes to marinate. It also makes sure the marinade gets into any crannies.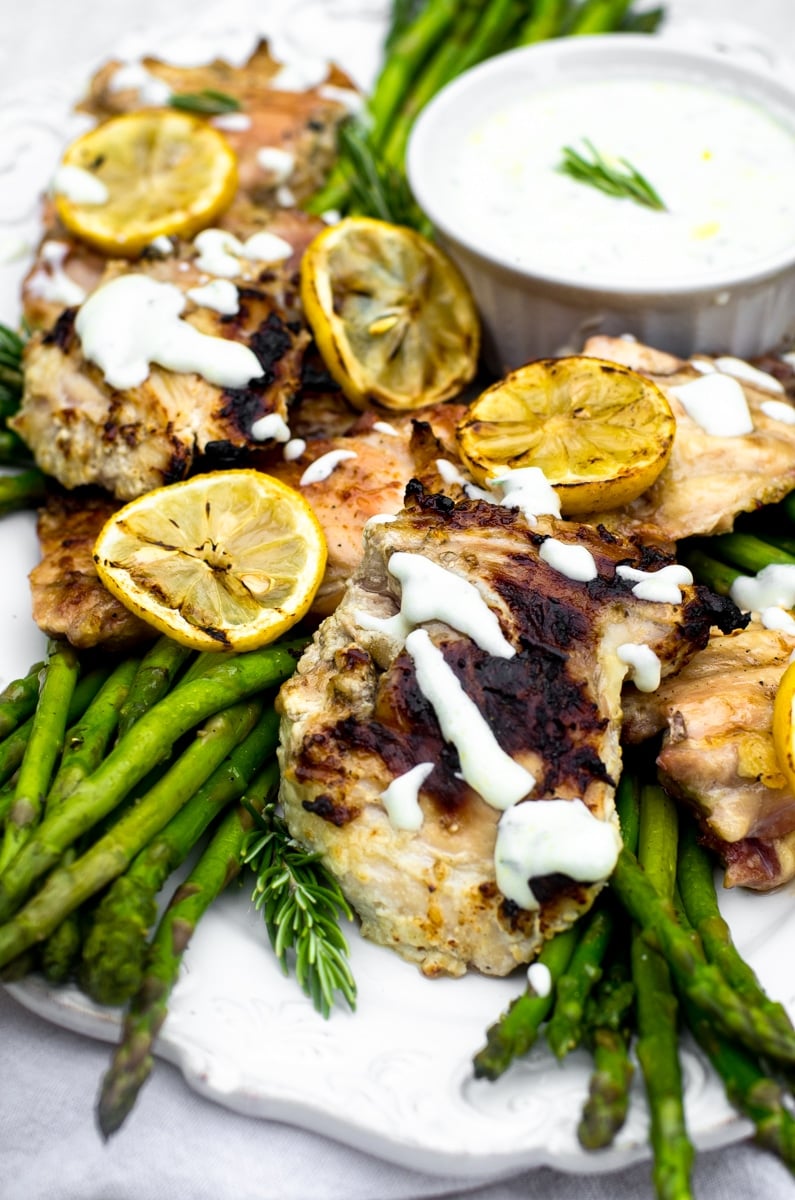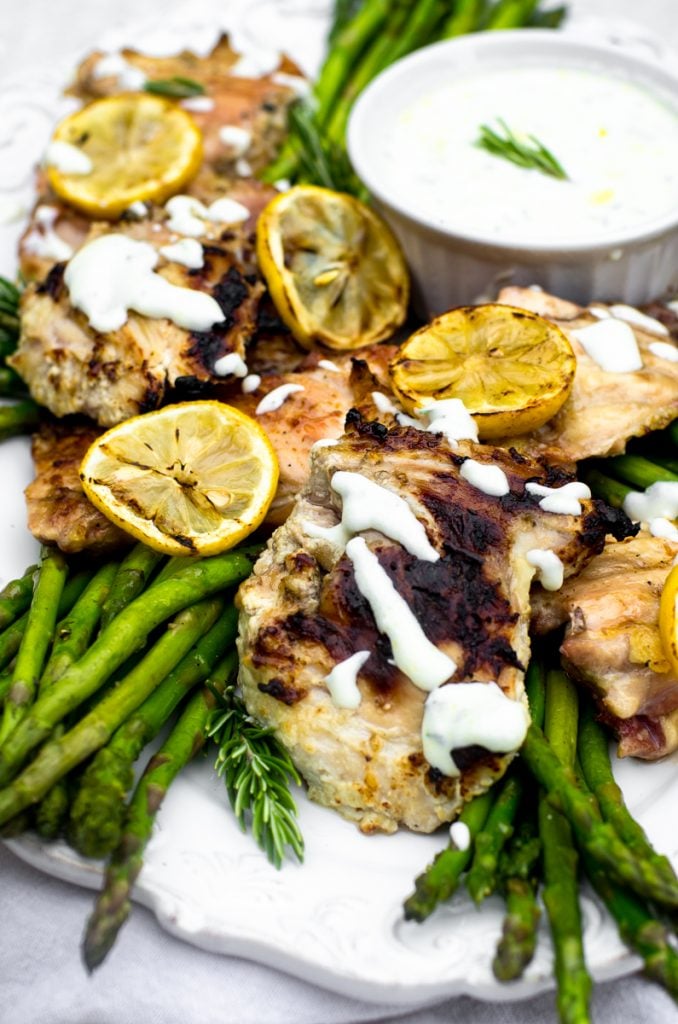 What Chicken Cut Is Best?
One of the great things about this recipe is that it works well with both light and dark meat. This means that either chicken breasts, or boneless skinless chicken thighs are great to use.
Personally I like to use air-chilled chicken because the clean, minimally processed flavor is so much better than other brands. It doesn't taste watered down and you can get whatever cut of chicken you might like for this recipe. And as a bonus, Safeway sells air chilled chicken in both Open Nature and O Organics® brands for whatever fits your desires.
If you use chicken breasts, I recommend using the flat end of a meat mallet to pound them a little thinner. Usually the pointy end of the chicken breast is significantly thinner than the rounded one. Flattening the chicken so that the thickness is evenly distributed helps it cook quickly and prevents raw spots.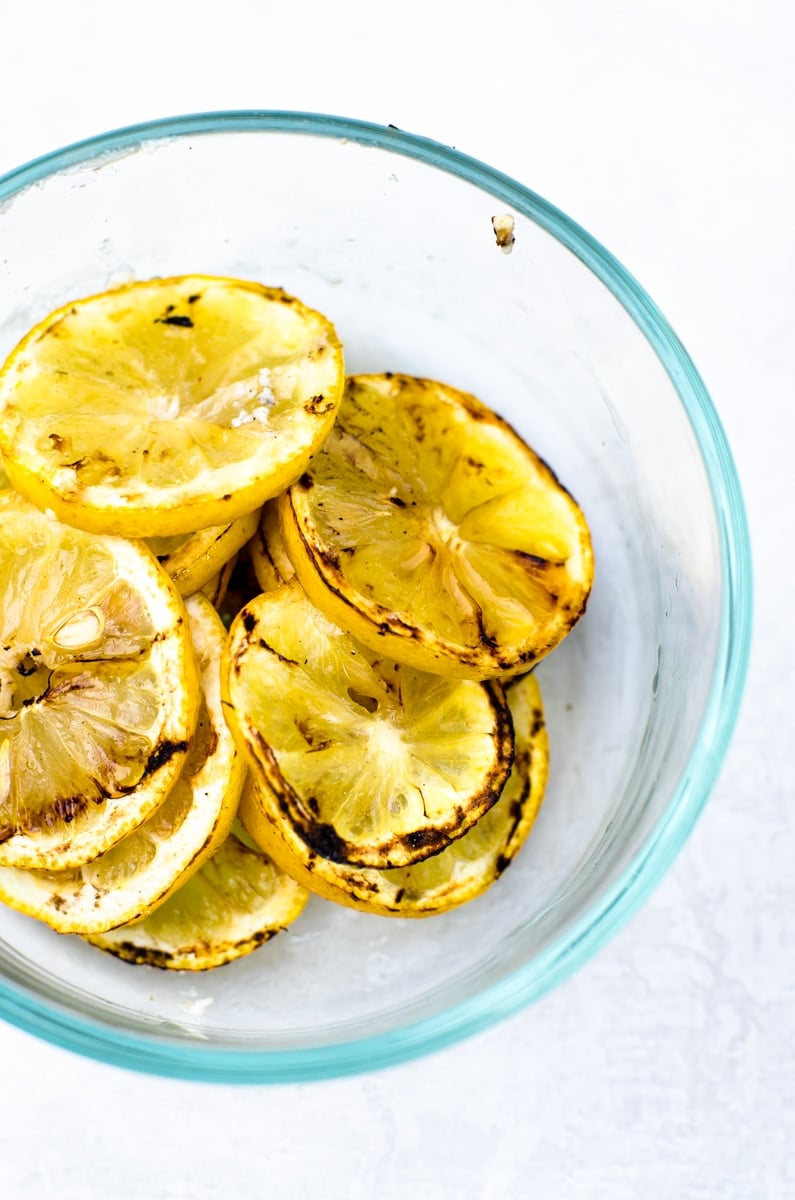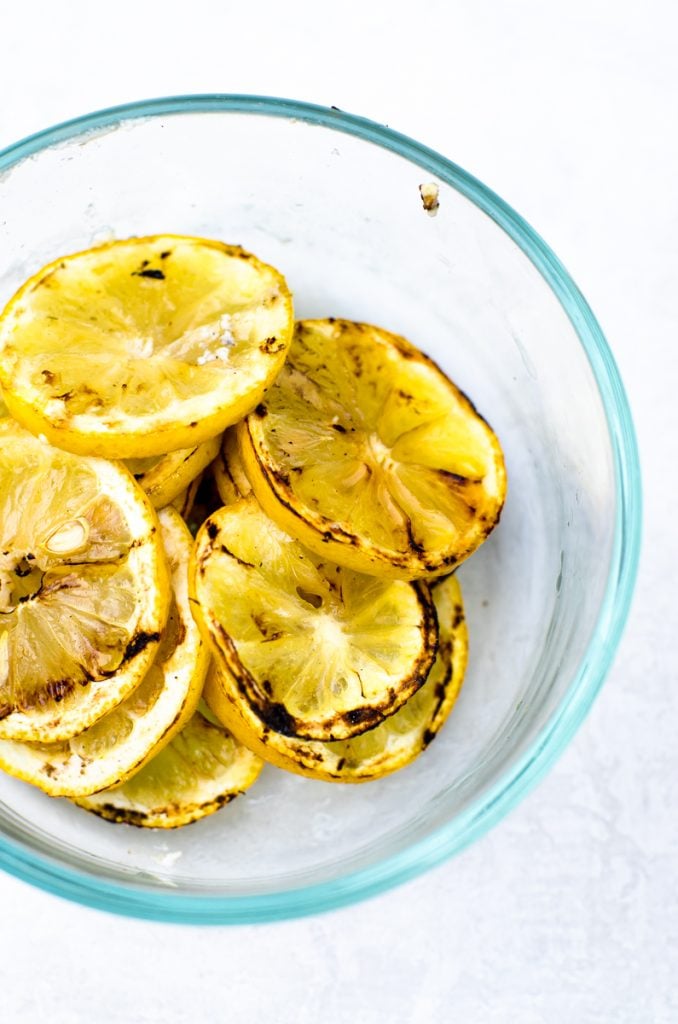 Top Recipe Tips
To get a really prominent garlicky flavor, crush the garlic with the flat side of your knife. This releases the oils in the garlic for a stronger flavor. (That's why crushed garlic is wetter than minced.)
A sprig of fresh rosemary in the marinade adds extra flavor without getting pieces of burnt herb on the grilled chicken. Just choose a sprig that is on a tender stem, not a woody one. The woody stems can change the flavor.
Brush the hot grill with olive oil before adding the chicken. This keeps the marinade and meat from sticking to the grill's grates.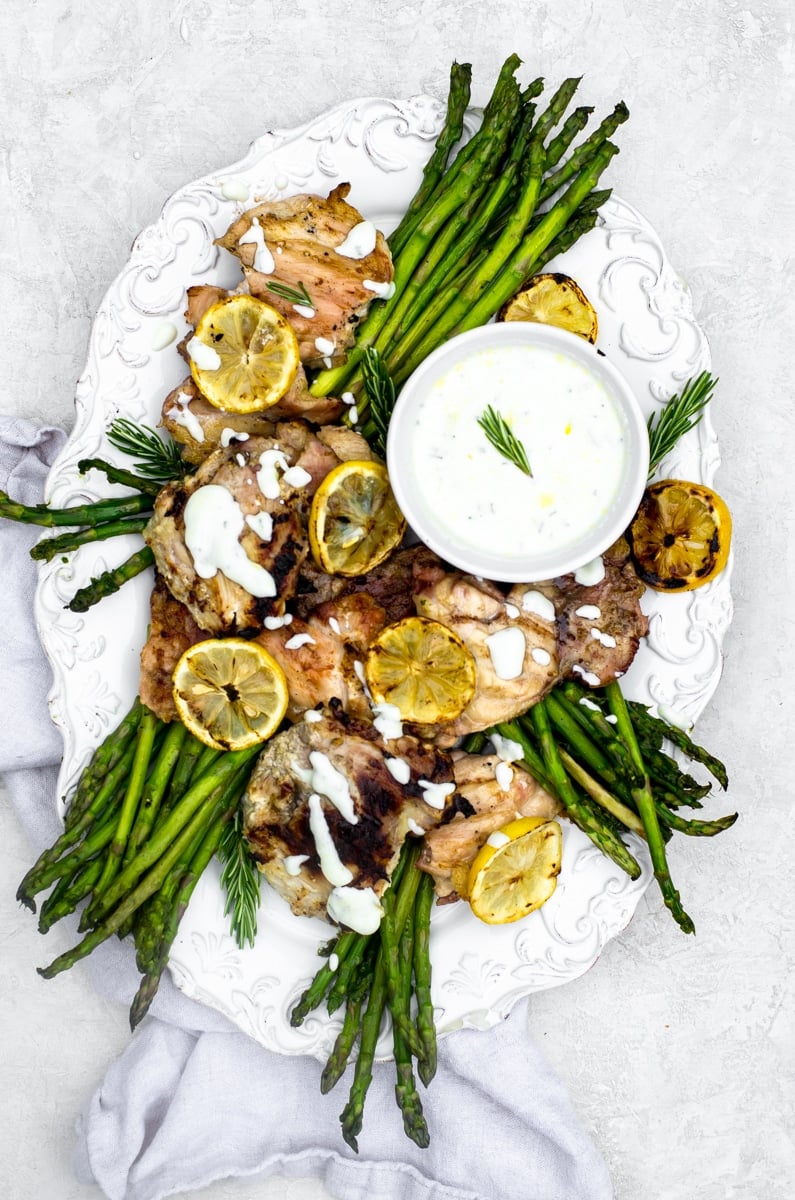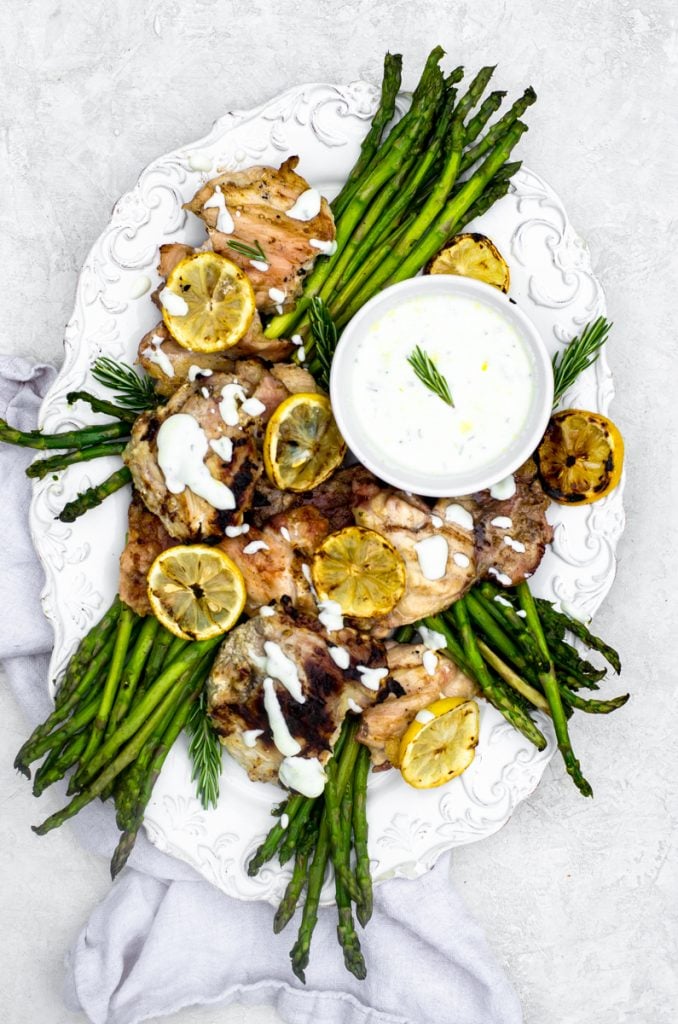 Icelandic Yogurt Marinated Chicken Recipe
Even though it is thicker than a greek yogurt chicken marinade, the lemon juice thins it out a bit. (Similar to a tzatziki sauce.) Make sure to fully massage it into the chicken for maximum impact.
---
Make grocery shopping simpler with this printable grocery list for this yogurt marinated chicken recipe. Everything is listed in standard grocery store amounts. If no size is specified, even the smallest package provides more than enough.
Thanks so much for stopping by!
Don't forget to try the minimally processed Open Nature products and USDA certified organic O Organics products exclusively at your neighborhood Safeway stores and online. Whether you want plant based, compostable, or gluten-free, they have the quality products you want at a great price. Visit www.safeway.com/exclusivebrands to see the selections!
You can also find them exclusively at the Albertsons Companies family of stores, including Albertsons, ACME Markets, Jewel-Osco, Vons, Pavilions, Randalls, Tom Thumb, Shaw's, Star Market, United Supermarkets and Carrs/Safeway. Visit Safeway.com to find a store near you. Plus, they have a bunch of meal plan prep tips and recipe inspiration.
I love their Grocery Delivery and Drive Up & Go™ service where you order online and pick up in the parking lot. It's so easy to the call the number and they bring your ordered groceries out to your car. It makes shopping so much easier!
Happy Cooking! 🙂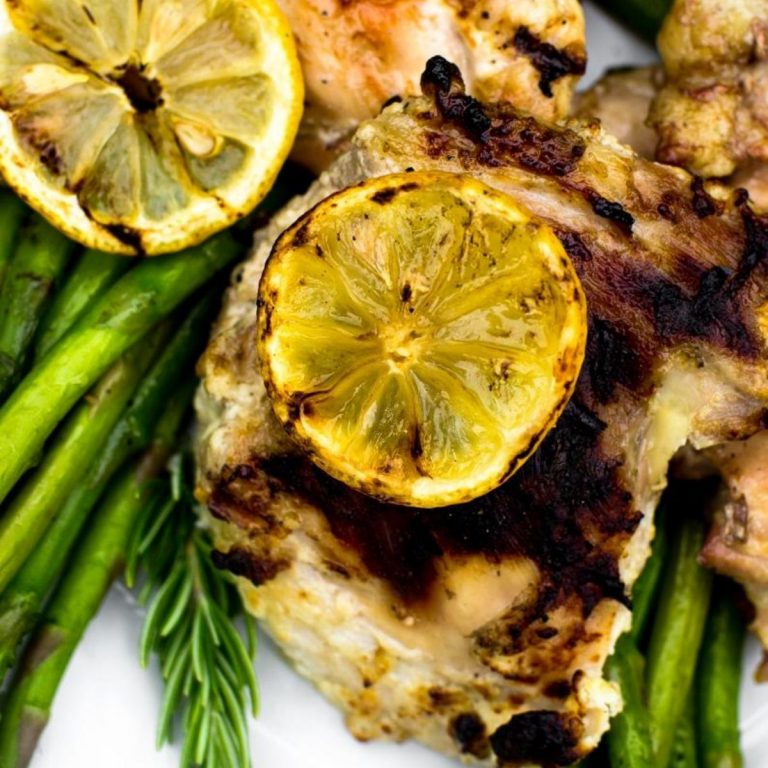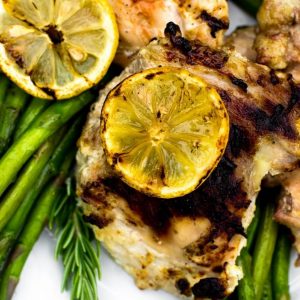 Icelandic Yogurt Marinated Chicken
Packed with flavor, this versatile chicken marinade is easy to whip together and tastes wonderful with many side dishes.
Pin it for later?
Ingredients
1

pound

air-chilled chicken breasts or thighs

1

package of plain Open Nature Icelandic yogurt

¼

cup

olive oil

2

lemons

,

zested and juiced

8

cloves

of garlic

,

crushed

1

sprig of rosemary

,

optional
Instructions
In a compostable kitchen bag, combine the Icelandic yogurt, olive oil, lemon juice, lemon zest, garlic, and rosemary.  Seal the bag and shake until combined. 

If needed, pound flat the chicken pieces then season them with salt and pepper.  Transfer them into the compostable bag and remove as much as from the bag as possible before sealing.  Lay the bag flat and refrigerate until ready to use, no more than 12 hours.  

Preheat your grill to a medium high heat.  Using tongs, remove the chicken from the marinade and let any excess drip off.  Place the chicken on the grill and cook until the chicken no longer sticks to the grill grate.  Flip, and continue to cook until the internal temperature of the chicken reaches 165°F.

 Remove and let the chicken rest for 5 minutes before serving.
Notes
For a beautiful presentation and extra flavor, grill extra lemon slices.  They need 2-3 minutes per side to get grill marks.
Make a second batch of the marinade to use as a serving sauce on the chicken or for dipping bread into. 
Nutrition
Serving:
1
serving
|
Calories:
273
kcal
|
Carbohydrates:
7
g
|
Protein:
19
g
|
Fat:
19
g
|
Saturated Fat:
5
g
|
Cholesterol:
111
mg
|
Sodium:
90
mg
|
Potassium:
331
mg
|
Fiber:
2
g
|
Sugar:
1
g
|
Vitamin A:
88
IU
|
Vitamin C:
30
mg
|
Calcium:
34
mg
|
Iron:
1
mg
Tell me how much you love this recipe
and show off how you made it!