Looking for a great way to get in the mood?  The The Aromatic Arousal Cocktail (Basil Ginger Gimlet) is made with two of the strongest aromatic aphrodisiacs, basil and ginger, which make it alluring and seductive.   This post is sponsored by Drizly and helps keep Food Above Gold ad free for your enjoyment!  As always, all opinions are my own.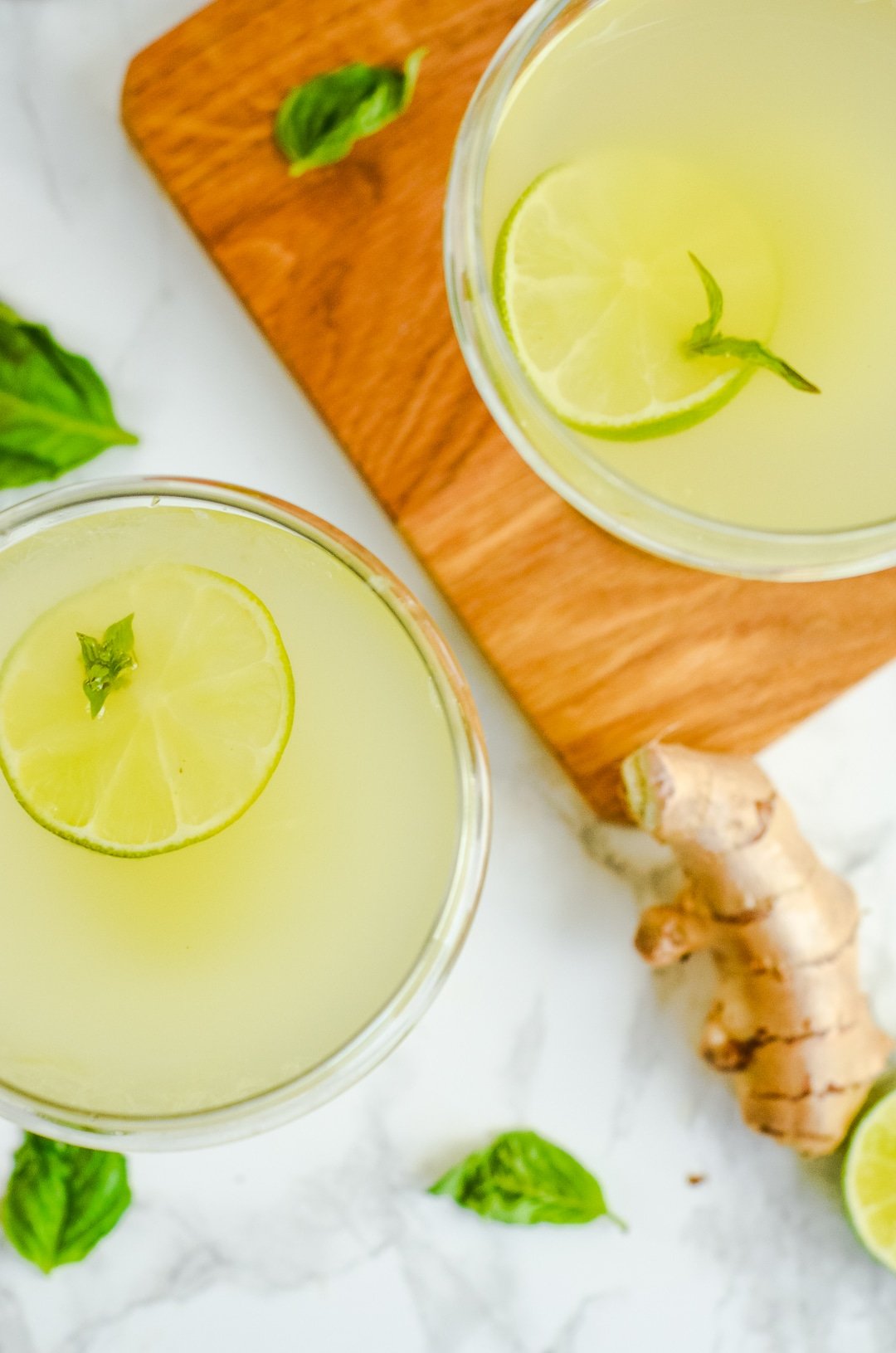 Cocktails were supposed to be the last week of our month of aphrodisiacs, but I'm too excited about this one to wait.  Gimlets are one of my favorite cocktails out there and this Aromatic Arousal Cocktail (Basil Ginger Gimlet) has two very powerful aromatic aphrodisiacs.  Take your time with this cocktail…sip it slowly and allow the alluring aroma tempt you.
Skills & Techniques
To make this Aromatic Arousal Cocktail (Basil Ginger Gimlet) perfectly sultry, make sure to become a master of these culinary skills first.


Get Your Booze Delivered
If you've checked out my Salty Irishman Coffee Cocktail, then you've already heard about Drizly.  If you haven't, you're about to meet your new drinking buddy.  Drizly is an alcohol delivery service that gets your alcohol to your door in one hour.  If you are in one of their delivery zones, you just simply order online, then someone picks up the ingredients for you from a local store and delivers them to your door.  They will even pick up the garnishes you need!
This is seriously brilliant.  Not only are they a time saver, but they support your community and it's an alternative to running to the store when you've already had a few.

Basil Ginger Gimlet (The Aromatic Arousal Cocktail)
Traditionally, gimlets are made with Navy Strength gin, which is 57% alcohol by volume instead of 40.  You don't need to go for the navy strength if you don't want to, but it will definitely give your Basil Ginger Gimlet a stronger gin flavor.  Additionally, for a little extra impact from the basil, I recommend using a bud of basil and piercing you garnish lime round with it (pictured above).  This will help boost the aromatic impact of the basil.
---
 Get your free printable grocery list for this The Aromatic Arousal Cocktail (Basil Ginger Gimlet) HERE.
---
This grocery list has everything that you'll need to make this Aromatic Arousal Cocktail (Basil Ginger Gimlet) recipe.  To help in making grocery shopping simple, each ingredient is listed in easy-to-find grocery store amounts.  If there is no amount specified, that means that you can buy the smallest (or largest) container available and still have plenty left over.
Thanks so much for stopping by.
If you would like to check out some of our other seductive aphrodisiac recipes, here they are:
Happy Cooking! 🙂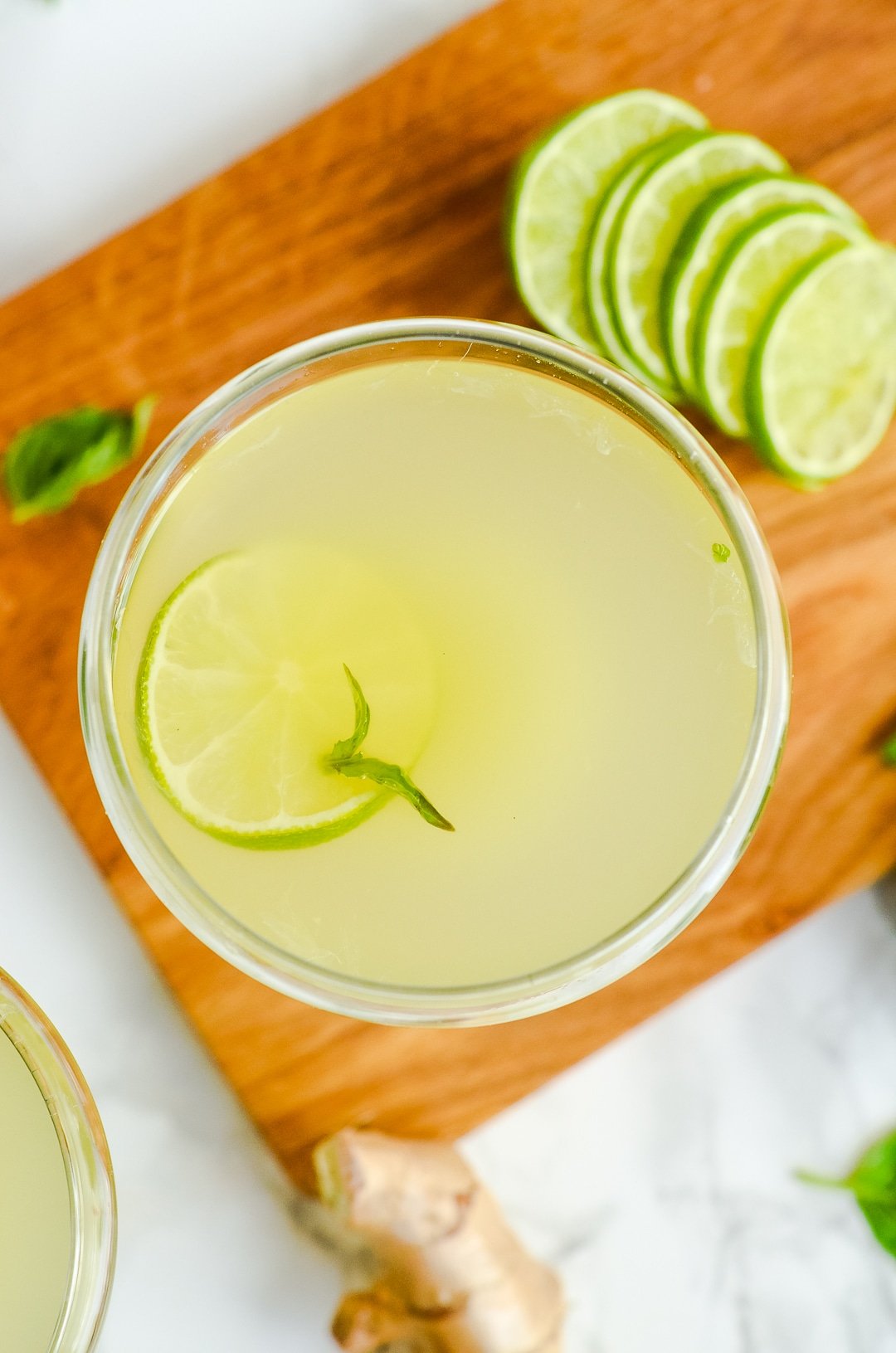 The Aromatic Arousal Cocktail (Basil Ginger Gimlet) – #SexyEats
Even though this cocktail is shaken, the aromatic aphrodisiacs in it will certainly stir your loins.
Ingredients
1

inch

piece of fresh ginger

, peeled and sliced thinly

5-6

large basil leaves

1

lime

1/2

oz

simple syrup

2 1/2

oz

gin
Instructions
Cut the lime in half. Set one half aside and cut the other half into 2 thin rounds.

In the bottom of a cocktail shaker, muddle together the ginger, and one slice of the lime. Add in the basil and muddle until the basil leaves are wilted.

Squeeze one half of the lime until it measures .5 oz of lime juice. If that one half of the lime doesn't give you enough juice, use the rest of the other half that you didn't cut into rounds.

Pour the fresh lime juice, simple syrup and gin into the shaker and fill with ice. Shake until the cocktail is very cold - about 15 seconds.

Pour into a chilled cocktail glass and garnish with the other lime round.
Recipe Notes
The sweetness of this cocktail varies greatly depending on the simple syrup you are using.  If you don't like a sweeter cocktail, start with half the simple syrup and add more if needed.
Pre-chill the cocktail glass by filling it with ice and letting it sit for 5 minutes before use.