This all-purpose pineapple and citrus marinade is a great way to give a fresh, bright flavor to anything that you're cooking!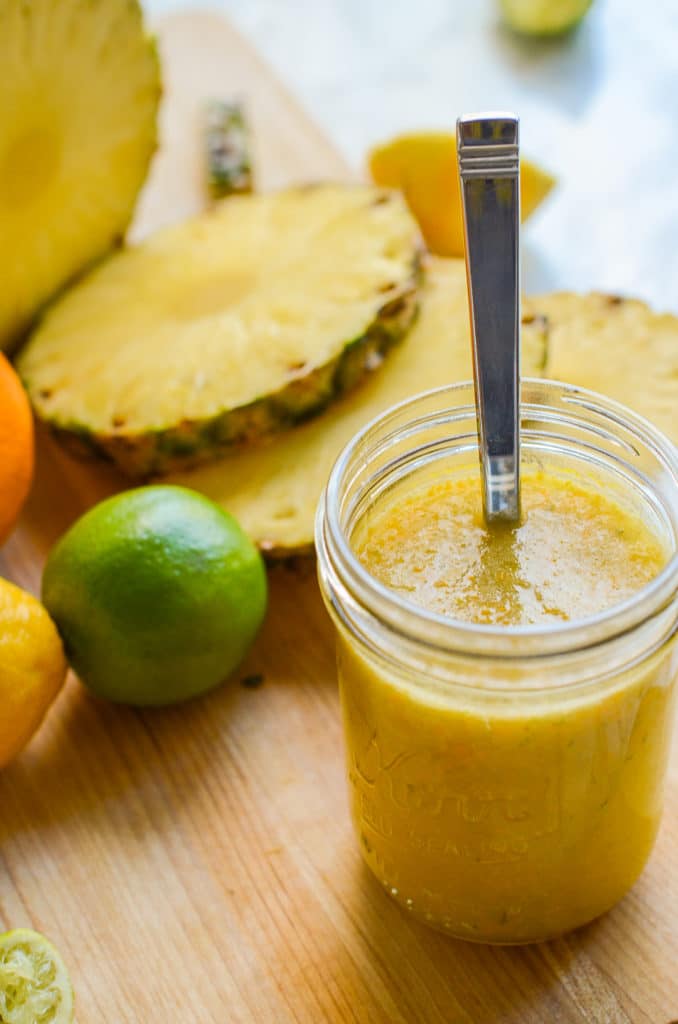 I don't know about you, but after the holidays I always want food that is bright and fresh. Today's All-Purpose Pineapple and Citrus Marinade will give you just that.  Plus, it is delicious on pretty much anything – pork, beef, chicken, veggies, you name it!
Skills & Techniques
If you want to make this All-Purpose Pineapple and Citrus Marinade like a sauce-boss, then here are some culinary proficiencies I recommend brushing up on.
How To Marinate.  This explains what is necessary for making your meat tender as well flavorful.
How To Buy & Store Citrus.  I hate wasting money on produce that goes bad.  Find out what to look for at the store when buying your citrus and how to keep it fresh once it's home.
Basic Guide To Citrus Juicers.  Get the most out of your citrus by finding the best juicer for you!
Cooking Methods.  Just like how this marinade works for any type of protein, it also works for any cooking method.  Make sure you know how to get the most out of your food by mastering the methods!
How To Purée.  For using fresh pineapple in the marinade.
Storage & Leftovers
One of the great things about this All-Purpose Pineapple and Citrus Marinade is that its stores really well.  Whether you made more than you needed, or you want to prep-ahead for another day, this marinade is perfect for being kept at the ready.  If you think you'll use it quickly, it can last in the fridge for up to a week.  If you think it will be a few weeks until you can use it, it will keep in the freezer for up to 6 months.  Freezing liquids can be tricky, so I recommend putting a batch in a tightly sealed freezer bag then laying it flat to freeze.  This will make multiple batches easy to stack and take up less space in your freezer.  Don't forget to label it though! 🙂

All-Purpose Pineapple and Citrus Marinade
If you can, I highly recommend using fresh pineapple instead of juice for this recipe.  All you need to do is purée the fruit in a blender or food processor before adding it.  The fresh fruit will give a much brighter and fresher flavor than store-bought juice (especially if it's frozen or concentrate).
---
Get your free printable grocery list for this All-Purpose Pineapple and Citrus Marinade recipe HERE.
---
This grocery list has everything that you'll need to make this All-Purpose Pineapple and Citrus Marinade recipe.  To help in making grocery shopping simple, each ingredient is listed in easy-to-find grocery store amounts.  If there is no amount specified, that means that you can buy the smallest (or largest) container available and still have plenty left over.
Thank you so much for stopping by!
If you would like to try some of our other marinade recipes, I recommend:
Happy Cooking! 🙂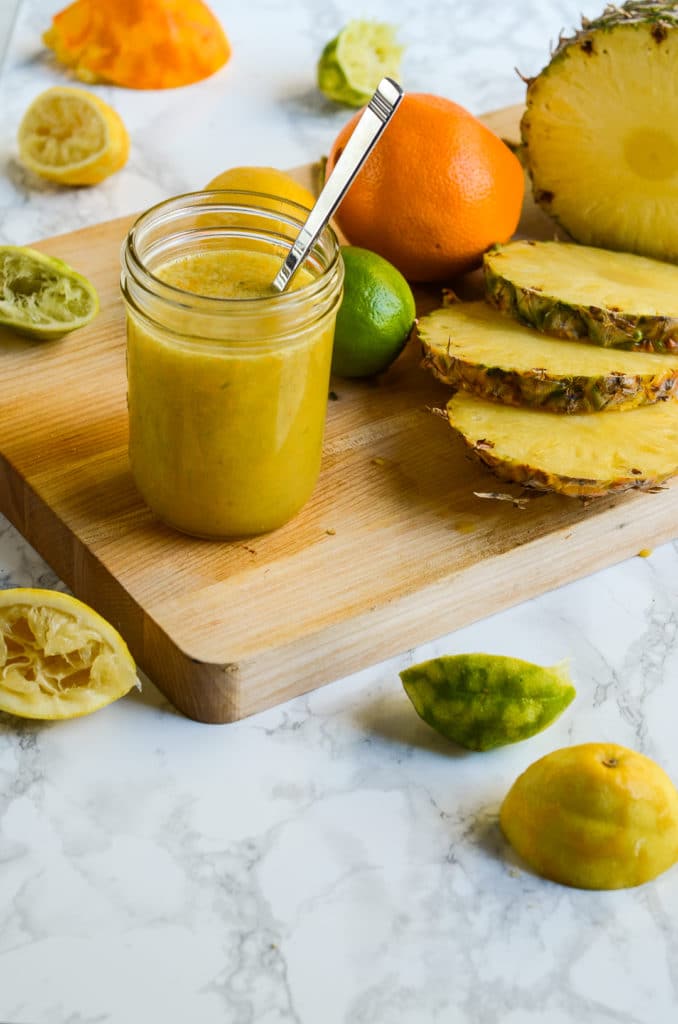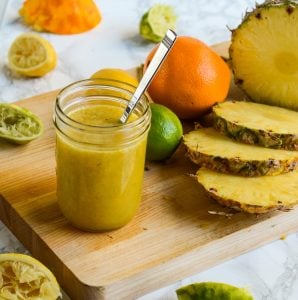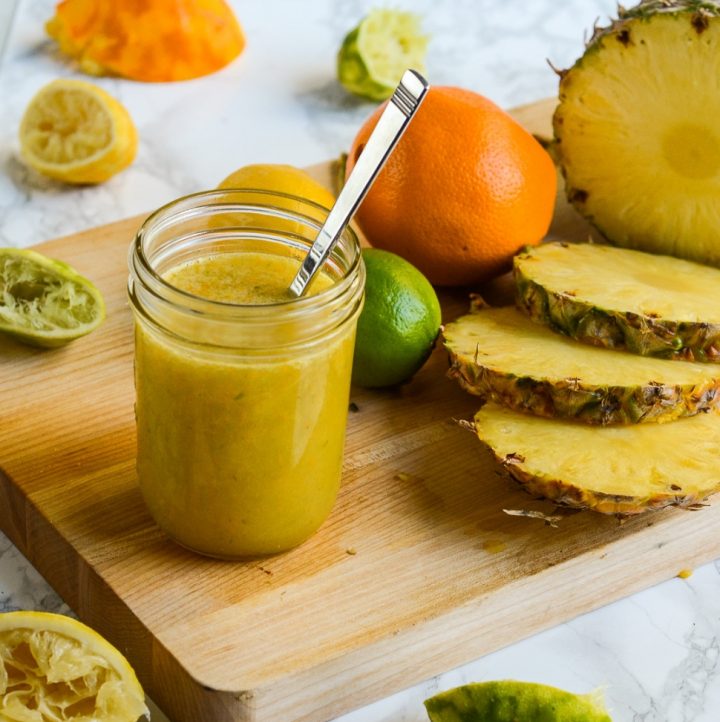 All-Purpose Pineapple and Citrus Marinade
The bright and fresh marinade will make anything you're eating taste like summertime at the beach!
Pin it for later?
Ingredients
1

large orange

,

, zested and juiced (about 1/3 c.)

2

limes

,

, zested and juiced (about 1/3 c.)

2

lemons

,

, zested and juiced (about 1/3 c.)

3/4

cup

pineapple juice or purée

1/4

cup

neutral flavored oil

,

(like refined avocado oil)

1

tsp

salt
Instructions
Combine all ingredients in a large bowl and whisk together. Use the smallest container that the food you will be marinating will fit into, and cover with the marinade. Let marinate up to 4 hours. Discard marinade after use.
Notes
If you're using this marinade on fish, only marinate the fish for up to 30 minutes or it may start to "cook" from the acid.
Nutrition
Serving:
1
serving
|
Calories:
665
kcal
|
Fat:
56.2
g
Tell me how much you love this recipe
and join fellow foodie friends @foodabovegold
0